Portable generators may come in handy in a variety of scenarios, including supplying electricity in an emergency when the mains power goes out.
During camping vacations and outdoor activities, they also provide energy and power for all of your electronics.
There are a variety of sizes, voltages, and fuel sources to choose from, and costs vary based on these and other criteria.
Portable generators cost between $600 and $2,500 on average, with most homes spending about $1,200 for a 5,500-watt gas-powered unit.
On the low end, a $1,000-watt gas-powered device for basics only costs $250, while on the high end, a 10,000-watt diesel-powered machine on wheels costs $7,000.
Price of a Portable Generator
Portable Generator Installation Cost
National average cost
$1,200
Average range
$600-$2,500
Low-end
$250
High-end
$7,000
Cost of Portable Generators by Fuel Type
Portable generators can cost anything from $200 to $6,000.
There are various aspects that influence the price; for example, the fuel source has a significant impact on the price of these units.
They are classified according on the type of fuel they use.
They are most typically powered by gasoline, but they can also run on liquid propane, natural gas, or diesel.
You'll need to choose the greatest fuel source for your needs in addition to picking the proper size unit.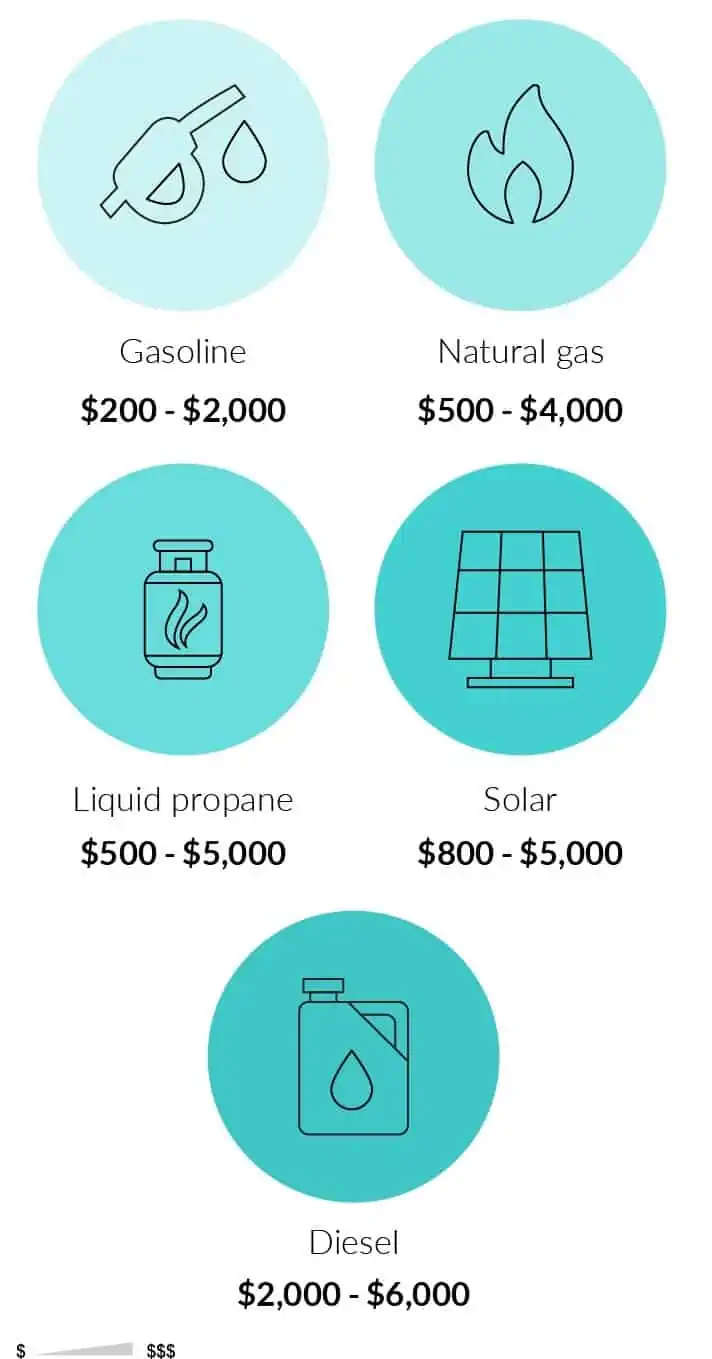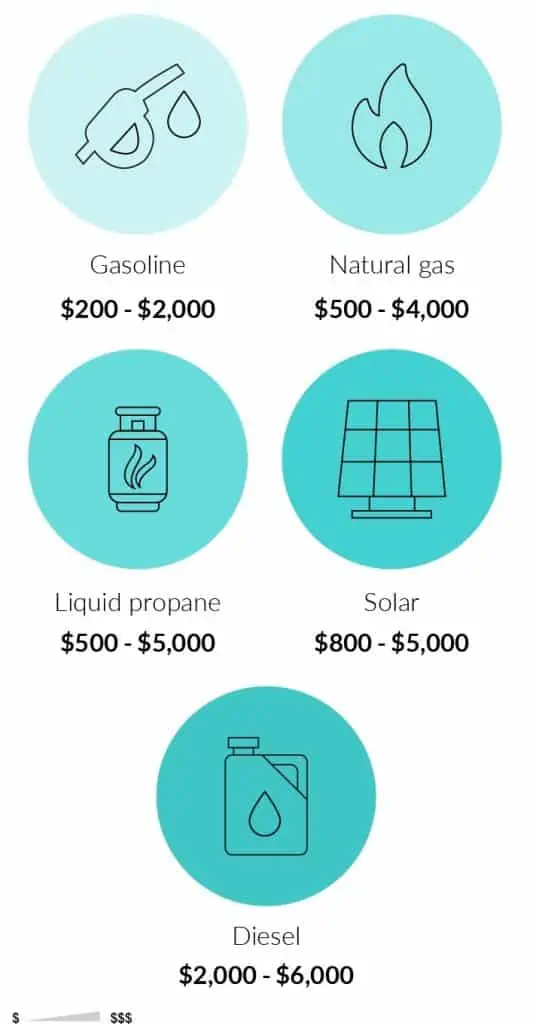 | Fuel Type | Unit Price (Materials Only) |
| --- | --- |
| Gasoline | $200 – $2,000 |
| Natural Gas | $500 – $4,000 |
| Liquid Propane | $500 – $5,000 |
| Solar | $800 – $5,000 |
| Diesel | $2,000 – $6,000 |
#1. Price of Portable Gasoline Generators
A portable generator fueled by gasoline ranges in price from $200 to $2,000.
The most prevalent form of vehicle in America is a gasoline-powered vehicle, which is popular among many because of its low cost and widespread availability of gasoline in most areas.
On the negative, gas is difficult to store for extended periods of time, particularly during the winter or in cold weather.
#2. Portable Generators for Natural Gas
A natural gas portable generator may set you back anywhere between $500 and $4,000.
For many consumers, natural gas versions are appealing since they may be immediately connected to the utility grid's gas connections.
This eliminates the need to store gasoline and ensures that there is always a supply available.
Natural gas units may be much more costly than standard gasoline versions, thus this extra convenience comes at a cost.
#3. Portable Generators Using Liquid Propane Price
Because propane is commonly available and economical in many regions, liquid propane 1 portable generators, which cost between $500 and $5,000, are also a practical choice.
The size and weight of the canisters make it difficult to store liquid propane for long periods of time.
Furthermore, liquid propane units have a lower overall durability.
You may wish to consider another fuel source if you want a device that will last a long time.
#4. Price for a Portable Solar Generator
A solar-powered portable generator may cost anywhere from $800 to $5,000, depending on its capacity, features, and other variables.
These models cost more than other power choices, but they come with free gasoline.
You won't have to worry about gases being released into the atmosphere if your unit is turned on.
These machines come in a variety of sizes and can handle a wide range of applications.
#5. Portable Diesel Generators Are Expensive.
Depending on the size and functionality, these generators cost anywhere from $2,000 to $6,000.
Diesel portable versions are usually the most costly, but they are frequently more powerful and efficient than those that run on other fuels.
Diesel, on the other hand, may be the best option if you want a high-power unit.
There are a variety of sizes and styles to choose from.
The fact that diesel burns cleaner than gasoline is an additional bonus.
Price of a Portable Generator based on its Power Capacity
A portable generator may cost anywhere from $200 to $6,000, depending on its power output.
Models differ greatly in terms of the amount of power they generate and the efficiency rating they get from their fuel source.
Some are significantly more powerful and efficient than others, capable of powering many big appliances or being used to power construction equipment on job sites.
Others are considerably smaller, suitable to power an electric grill or television at a camping.
Homeowners should think about how much electricity they'll need and then look for a unit that meets their needs.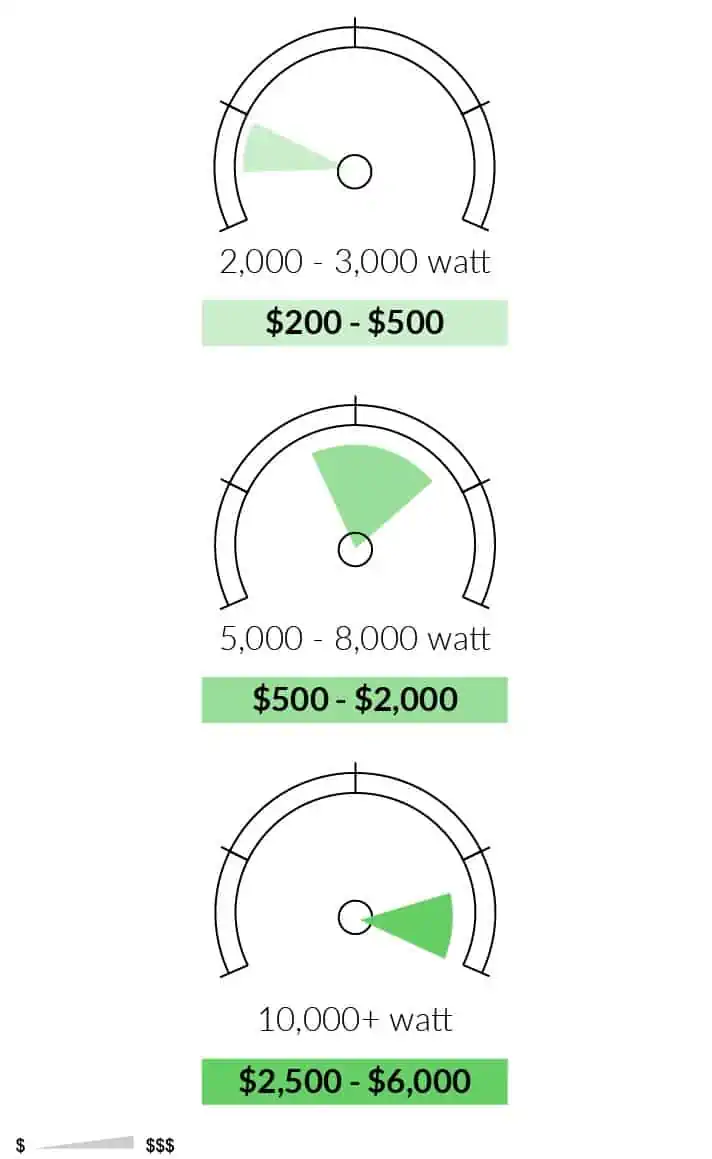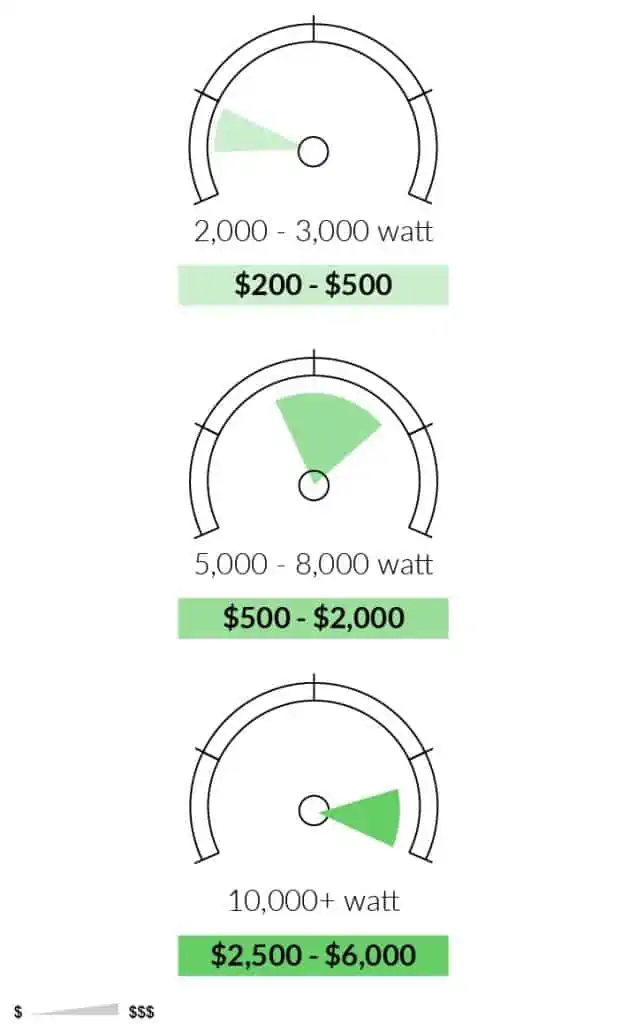 | Wattage | Unit Cost (Materials Only) |
| --- | --- |
| 2,000 – 3,000 watt | $200 – $500 |
| 5,000 – 8,000 watt | $500 – $2,000 |
| 10,000+ watt | $2,500 – $6,000 |
Price of a Portable Generator by Brand
A portable generator may cost anywhere from $200 to $6,000, depending on the model.
Aside from power capacity and fuel source, the brand you pick may have an impact on the price you pay for your unit.
Some brands only function with a single fuel type or source, while others provide a variety of possibilities.
We'll look at the most popular brands, their prices, and other factors in the table and subsections below.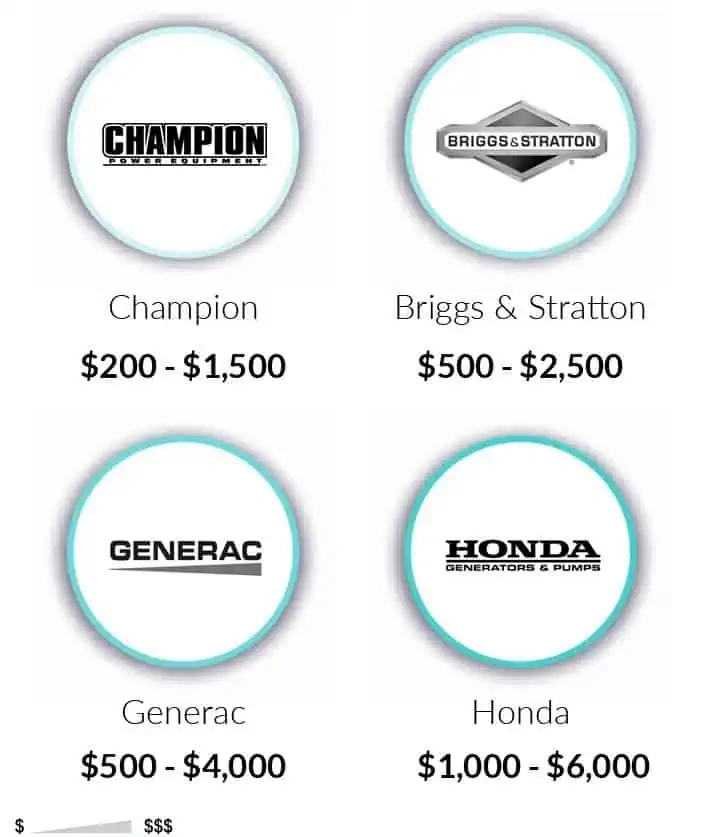 | Brand | Unit Cost (Materials Only) |
| --- | --- |
| Champion | $200 – $1,500 |
| Briggs & Stratton | $500 – $2,500 |
| Generac | $500 – $4,000 |
| Honda | $1,000 – $6,000 |
#1. Portable Generator by Champion
The typical price of a Champion portable generator is between $200 and $1,500, depending on the power, fuel source, and other amenities available.
Champion versions are a more cost-effective choice, and are often suited for lesser power requirements such as camping or emergency backup.
The wattages offered may be more restricted than with other manufacturers.
This company, on the other hand, has a number of interesting options for individuals looking for a practical, inexpensive device.
#2. Portable Generator by Briggs and Stratton
The price of a Briggs and Stratton portable generator nowadays varies from $500 to $2,500, depending on the fuel source and wattage used.
Briggs & Stratton is a world-renowned manufacturer of outdoor power equipment and engines.
People may choose from a variety of alternatives, including various feature-rich versions for home usage, backup power, and much more.
Smaller systems are more cost-effective, but bigger systems or those that use premium power sources will be on the upper end of the price spectrum.
#3. Cost of a Generac Portable Generator
Generac generators vary in price from $500 to $4,000, depending on the type and wattage of the device.
Generac manufactures a variety of commercial devices, as well as household portable and emergency types.
They have versions that operate mostly on gasoline, but they also have natural gas and other possibilities.
Higher-end systems will have more power and features, but there are types to suit every demand.
#4. Cost of a Honda Generator
When you pick Honda, you can anticipate to pay between $1,000 and $6,000 for your vehicle.
Honda is known for producing high-quality engines for automobiles as well as outdoor power equipment such as generators and lawn and garden equipment.
Honda vehicles are designed to operate on ordinary unleaded gasoline, so if you're searching for anything unusual, this brand may not be at the top of your list.
Honda, on the other hand, is a leading brand for high-end gas-powered cars.
Installing a Portable Generator: How Much Does It Cost?
When a professional electrician handles the task, the cost of wiring up a portable generator to residential connections varies from $50 to $100.
One of the nicest aspects about purchasing one is that it takes little setup.
Install the unit in the proper location, fill it with gasoline, connect it to your devices using an extension cable or transfer switch, and turn it on.
However, if you purchase a big model, you may want assistance in transporting it to the proper area.
If you don't understand how they function, an electrician can walk you through the fundamentals and help you set up the unit for the first time.
It should only take an hour or two, and you'll be lot more prepared as a result.
Installing a Transfer Switch for a Portable Generator Is Expensive
A transfer switch for your unit will cost between $200 and $500 to install.
The transfer switch alone costs between $300 and $500.
Instead of requiring extension cables, a transfer switch enables you to power all of your key appliances and gadgets in your house by immediately connecting via the circuit breaker box.
Depending on the kind of transfer switch, generator, and wiring in your house and circuit breaker box, the task takes three to four hours to complete.
Because the unit is firmly connected to your circuits, you can just turn the transfer switch on the unit and power all of your appliances and electrics without having to run extension cables to each of them after the installation is complete.
Cost of a Portable Generator Rental
Renting a portable generator will cost you between $50 and $100 per day, depending on the size and design you pick.
For customers who want long-term rentals, some firms may offer discounted weekly or monthly prices.
If you just need one for a short period of time and don't want to invest the money to buy one, renting one may be a better option.
When renting, keep in mind the wattage and fuel source, since you will be responsible for the cost of any gasoline, diesel fuel, or natural gas used by the unit in addition to the device itself.
What Size Portable Generator Do I Require?
It's not easy, but estimating how much electricity you'll need from your portable generator is achievable.
If you want to utilize it as a backup power source for your house, make a list of all the lights, appliances, and gadgets you want to remain operating in the event of a power outage.
Using the formula volts x amps = watts, calculate the wattage for each.
Then sum up the wattage for all of the gadgets and choose a model that fits.
If all of your equipment demand roughly 4,500 watts of electricity, for example, search for a 5,000-watt generator or greater.
Anyone contemplating purchasing a portable generator should examine the size.
They exist in a variety of sizes, ranging from tiny, portable devices that can be carried by one person to much bigger, bulkier variants that need numerous people to move about.
Larger units, of course, have greater power outputs, whilst smaller units are generally restricted to about 3kW.
When selecting a model that works for you, consider how and why you will use it.
A smaller model should sufficient if it is solely used for camping and modest outdoor occasions.
However, if you have a truck that can handle a bigger unit and need more power, you may choose to go with a larger model.
Portable generators are available in a wide variety of power capacities.
They begin with modest 2 to 3kW (2,000 – 3,000 watt) units, which are generally compact and inexpensive.
These are great for camping and just powering one or two items.
Larger 5 to 8kW (5,000 – 8,000 watt) units are commonly available in cart variants.
These may be used as backup power for a few lights, a water heater, and a few of appliances.
For people who want huge power increases, 10kW+ (10,000 watts) units are recommended, since they are considerably bigger and frequently require the use of wheels on the base to be transported conveniently.
They may be used as a backup for the whole home.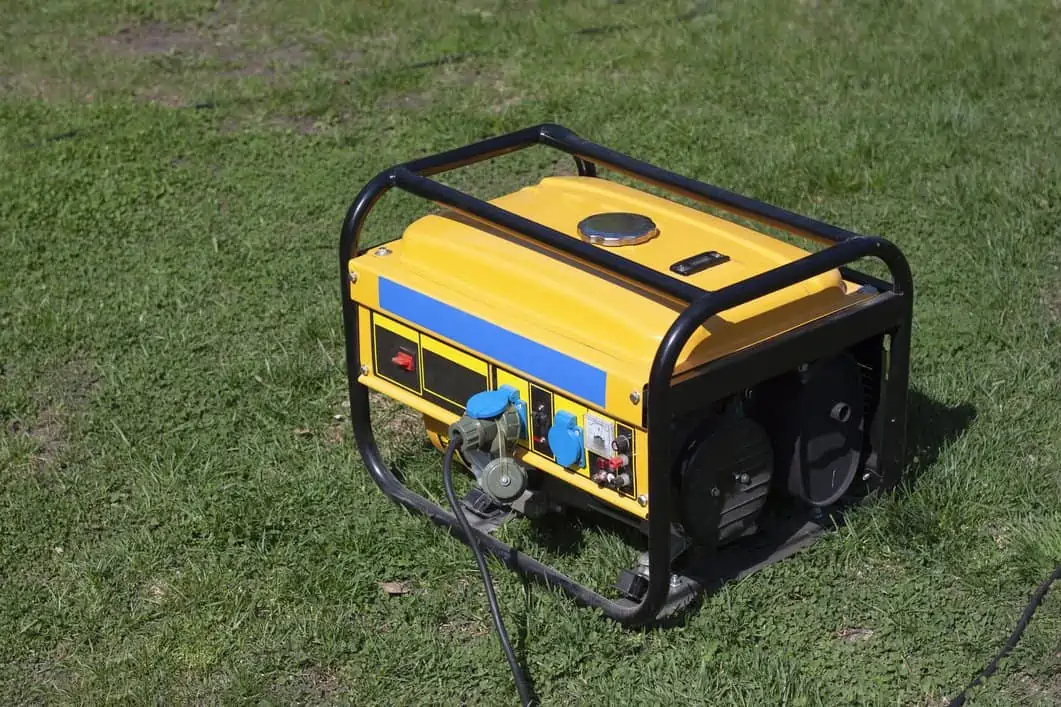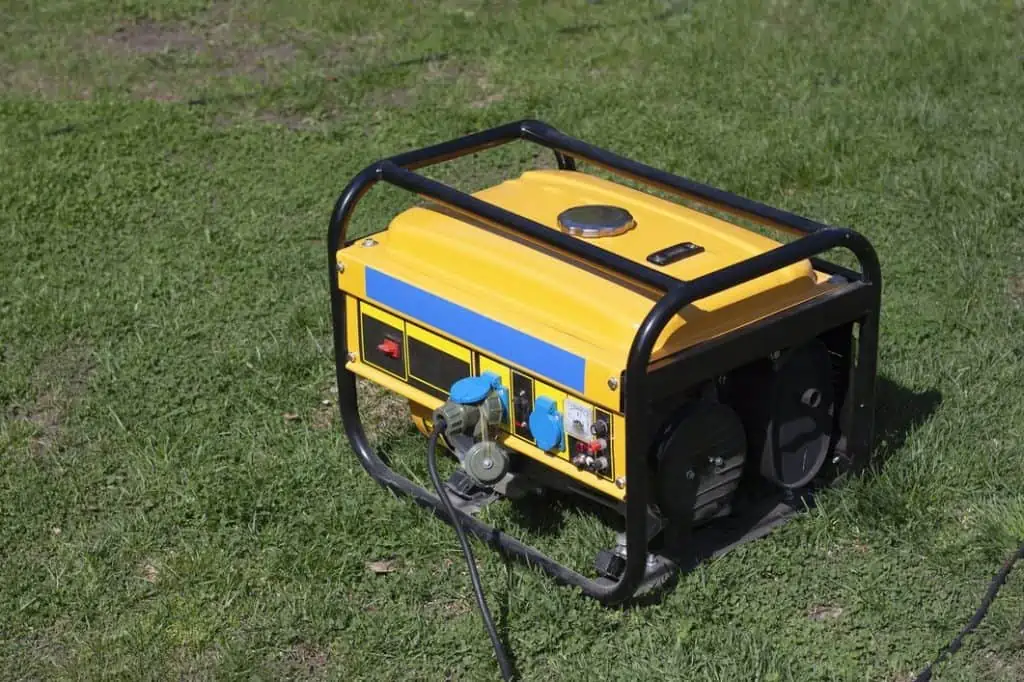 Safety Concerns with Portable Generators
Portable generators are built to be as safe as possible, but there are certain precautions you should take to avoid taking additional risks while using them.
To begin with, they should never be used inside.
They should always be at least 20 feet away from the house, with the exhaust directed away from the house.
Make sure there's enough room around the unit and that the exhaust isn't too near to any windows, doors, or other buildings.
Standby Generators vs. Portable Generators
Portable generators cost between $500 and $2,000, while backup generators cost between $2,000 and $20,000.
Despite the price difference, many consumers are undecided about whether to acquire a portable or a standby type.
There are significant distinctions between these solutions, and each has its own set of benefits and drawbacks.
Portable units, for example, are more adaptable in terms of their use since they can generally be taken about easily and utilized in areas such as work sites and campers.
They are also less expensive and more compact in general, and need less upkeep.
Standby generators are more costly and need more upkeep, but they are far more powerful and can power the whole house if the electricity goes out.
They operate without the need for human operation or fuel storage, and they may boost the value of your home.
They may be loud, take up a lot of room, and need frequent inspections on the downside.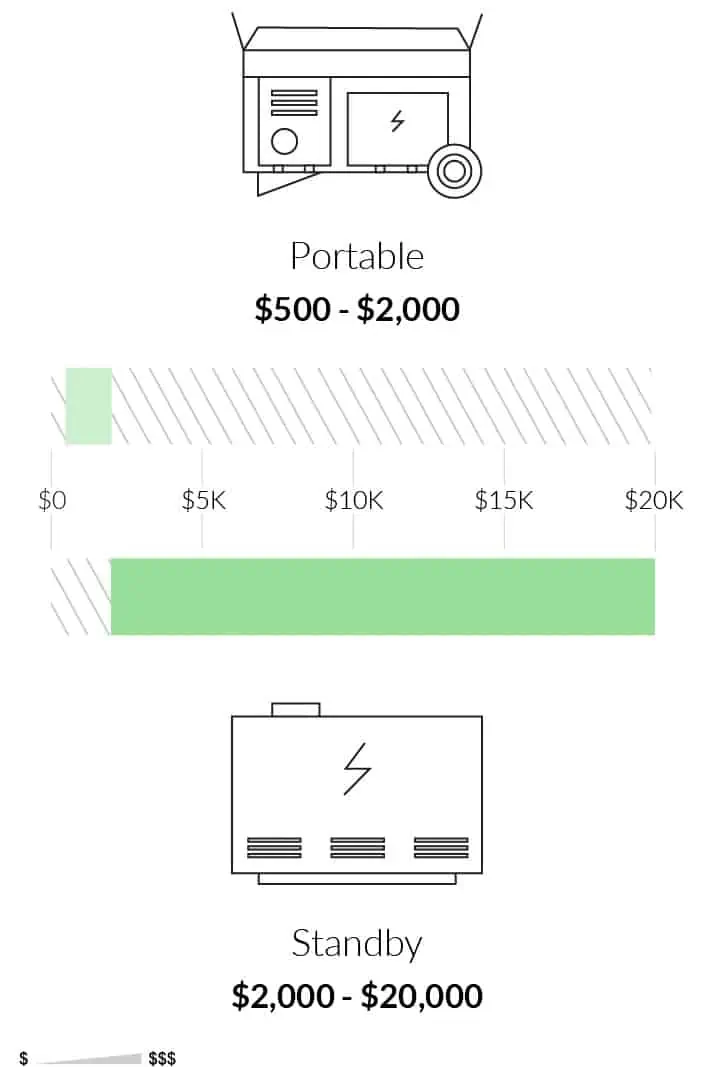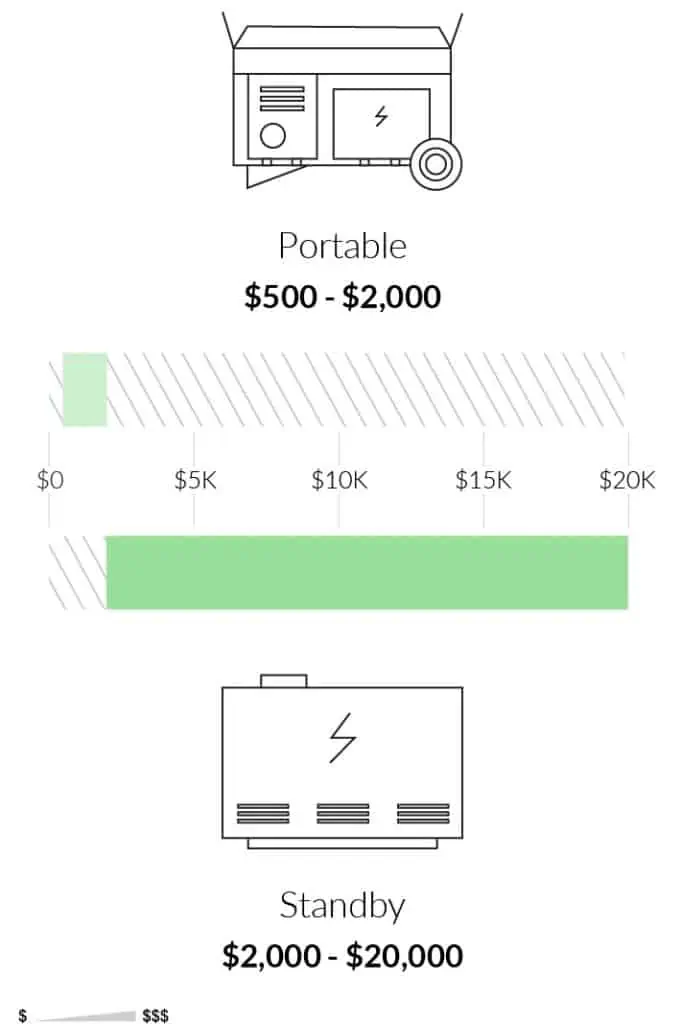 | Unit Type | Unit Cost (Materials Only) |
| --- | --- |
| Portable | $500 – $2,000 |
| Standby | $2,000 – $20,000 |
Costs of Enhancement and Improvement
#1. Extension Cord for Portable Generators
To equip your generator with all of the connections it needs to connect to your different appliances and electrics, you'll pay between $10 and $60 each extension cord.
Using extension cords hooked straight into the generator is the easiest method to connect a portable generator.
Consider how many outlets the unit has.
Do not get a unit that is too tiny or forces you to double-up on plugs by using a single split-style extension cable to connect many electrics.
If you're uncertain, talk to an electrician about the best options for installation.
#2. Wheels for Portable Generators
Wheel kits for portable generators range in price from $25 to $50, depending on the kind and size of the wheels.
Installing wheels on your model may make it simpler to carry it from one location to another if it is huge and difficult to lift.
Wheels are provided in many models, but not all.
If you discover a model you like but it doesn't come with wheels, it could be worth it to buy the wheel kit separately and install them yourself.
#3. Cover for a Portable Generator
You should buy a portable generator cover, which costs between $25 and $100 depending on the size and material.
The cost is influenced by the style.
Brand-specific, fitted covers are more costly, although generic, one-size cover models may be less expensive.
If your unit is kept outside or in an outbuilding, you should consider investing in a cover to protect it from the weather and prolong its life.
Additional Costs and Considerations
Safety features. Portable generators may endanger people's lives. This is why it's critical to employ caution while dealing with one. Consider a model with an automatic shutdown function, which turns the unit off if it detects too much carbon monoxide in the air.
Permits. While big standby generators need licenses, most states do not require permits for portable generators. To understand more, look up the regulations and legislation in your state.
Storage. Portable generators should always be used outside. They may, however, be kept inside in a garage or shed while not in use. Keep all of the fuel for it, such as propane or gas, in separate containers.
Maintenance. Apart from replenishing the fuel tank, portable generators don't need much maintenance in general. Check it for symptoms of corrosion or wear and tear on a regular basis.
Interlock device. An interlock mechanism, which functions similarly to a manual transfer switch but costs roughly half as much, is offered as an alternative. The cost of installing an interlock kit ranges from $450 to $950, with most individuals paying $50 to $150 for the device and the rest on labor.
Lifespan. Generators are aged in hours rather than years since they are not utilized continuously around the clock. The typical model is designed to endure 1,000 to 2,000 hours of usage, with standby versions lasting up to 4,000 hours.
FAQs
Is a permit required for a portable generator?
To guarantee that all generators are correctly placed, most towns and municipalities demand an electrical permit and a building inspection.
A Fire Inspector's permission may be required for gas-powered equipment.
How much does it cost to connect a portable generator to the power grid?
This is determined by the approach you choose.
The cost of connecting a generator to a transfer switch ranges from $500 to $1,000, but utilizing extension cords saves a lot of money.
They range in price from $10 to $60 per cord.
Is it possible to power a home with a portable generator?
Most critical equipment and services in your home, such as water heaters, refrigerators, and lights, may be powered by a portable generator.
Purchase one with appropriate power and a sufficient amount of fuel for your needs.
Is it worthwhile to invest in a portable generator?
If you live in an area where power outages or storms are common, owning a portable generator may save your life.
Even if the electricity goes out, it keeps your home operating.
Frequent campers, outdoor explorers, and construction workers may find them worthwhile.