RV bunk beds are the best option for families traveling in motorhomes.
Each youngster may have their own permanent bed thanks to bunks, which also take up less floor space than regular beds since they are RV bunks.
I've collected all of the fantastic ideas I've seen for RV bunk beds here for you to appreciate as well.
There are some really intelligent folks out there that have wonderful designs for bunk arrangements.
I hope they may serve as inspiration for anybody thinking about upgrading or installing RV bunk beds to their RV or travel trailer.
Check out the table of contents below to go right to the section regarding RV bunk beds if you have a particular query.
Ideas for RV Bunk Beds
I discovered these fantastic RV bunk bed ideas on Instagram.
Each image has a link to the original Instagram post, so I strongly advise you to visit their Instagram page to see more of their RV in general and the RV bunk beds in particular.
Converting a bunk house's brown and dark couch area into a set of brilliant, bright bunk beds that provide each youngster with a cozy little haven.
Related: Best RVs With Murphy Beds
These bunk beds, which take the place of the jack-knife couch, are so well constructed that they blend in with the original.
Look at these adorable bunk beds!
There are several drawers under these bunk beds.
The Longnecker family's magnificent Airstream has four bunks.
The @Troopnashville team has transformed some incredible RVs (see out their Instagram to see what I mean), and I like how these triple bunks, although being tucked away in the corner (and right next to the bathroom, no less), yet manage to appear snug and welcoming.
Related: How To Make An RV Dinette Bed More Comfortable
Bunk Beds From An Old RV
The modifications of several antique caravans I keep track of over here in Australia are listed here.
These have bunk beds, and I believe you're going to love them! We highlighted them in the piece on Travel Trailer Remodel Ideas.
#1. Wilde
@the_wilde_life_
Triple bunk beds fit within the Saville family's trailer, "Wilde." See more of this family's travels throughout Australia in "Wilde" on their Instagram at @the wilde life.
#2. VanWarro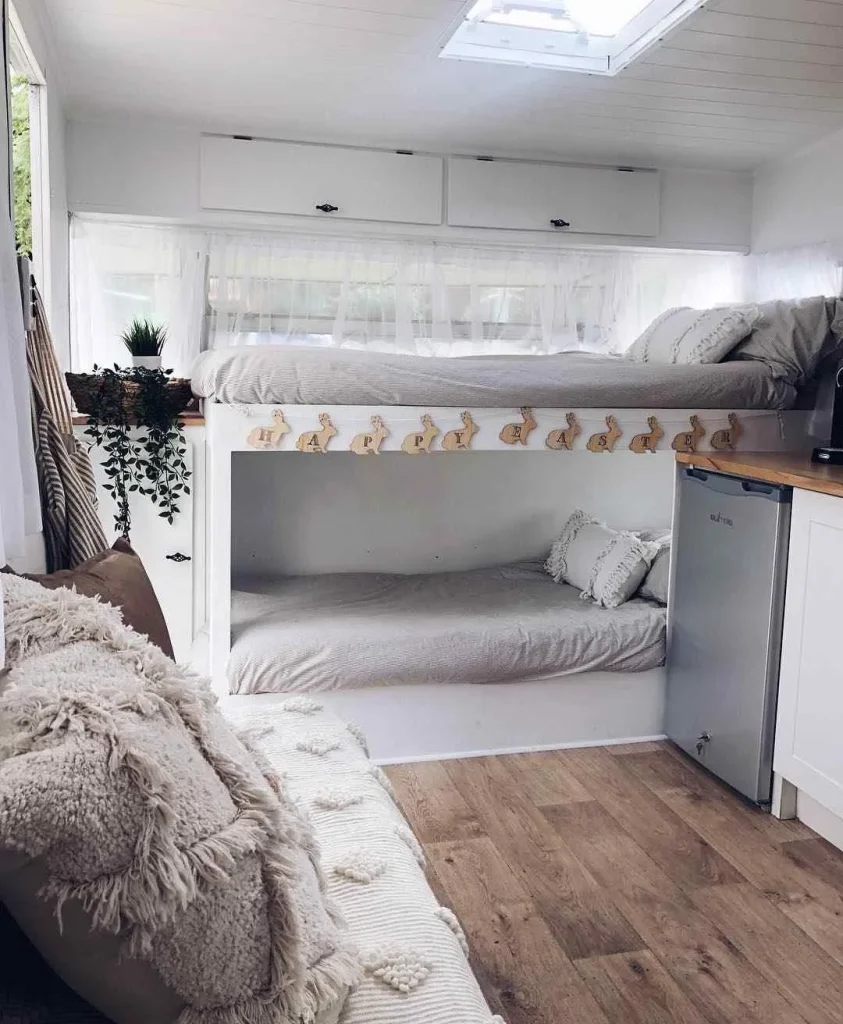 @vanwarro
These twin bunks are perfectly sized to fit down @VanWarro's one end.
#3. Daisy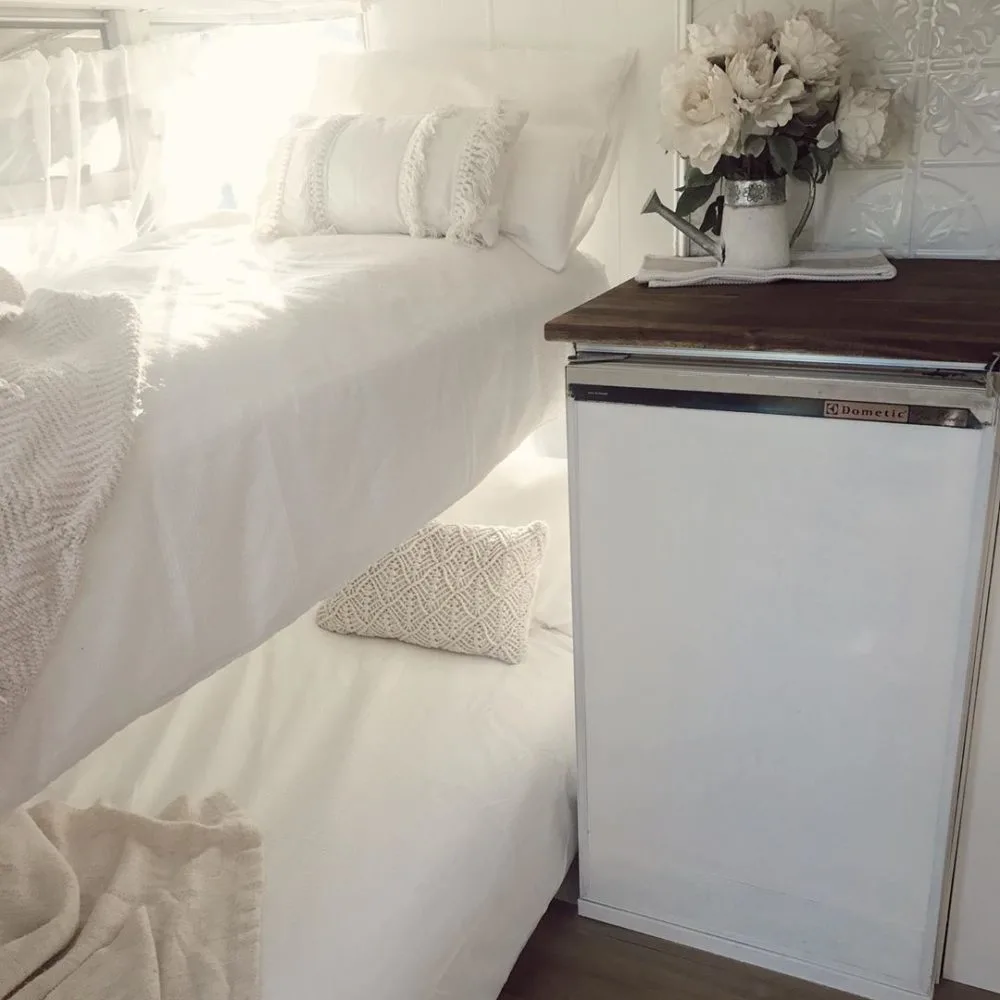 @ourlittletribe_
Daisy is a little 1979 Viscount caravan that Kasey and her family refurbished.
The double bunk beds appear so welcoming and lovely at one end!
#4. Mona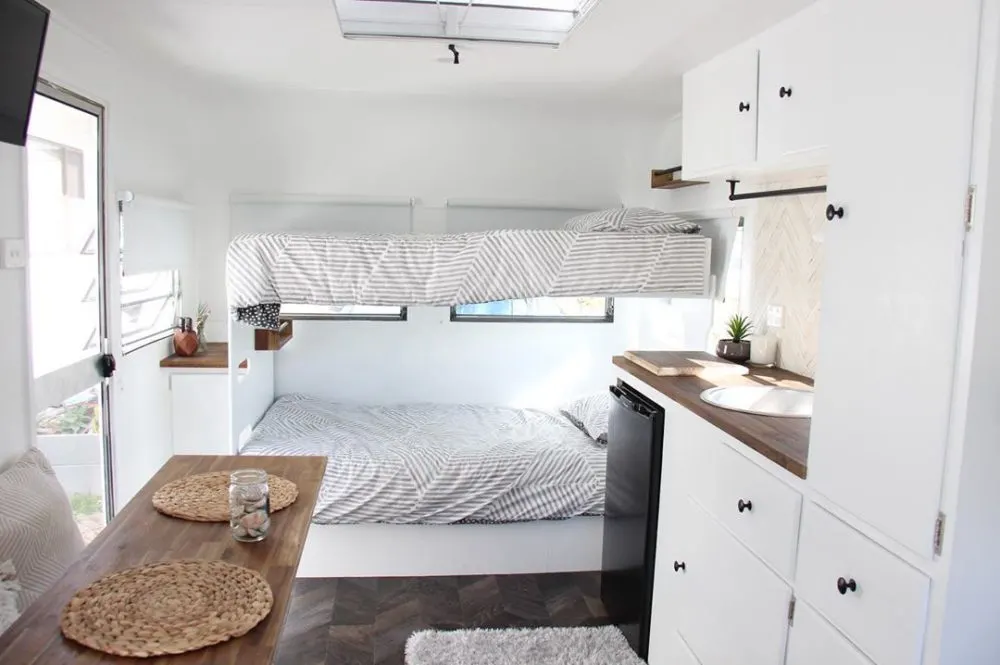 @monathemillard
I like Chris and Amanda's remodel, and the kids' bunk beds are fantastic!
#5. Sadie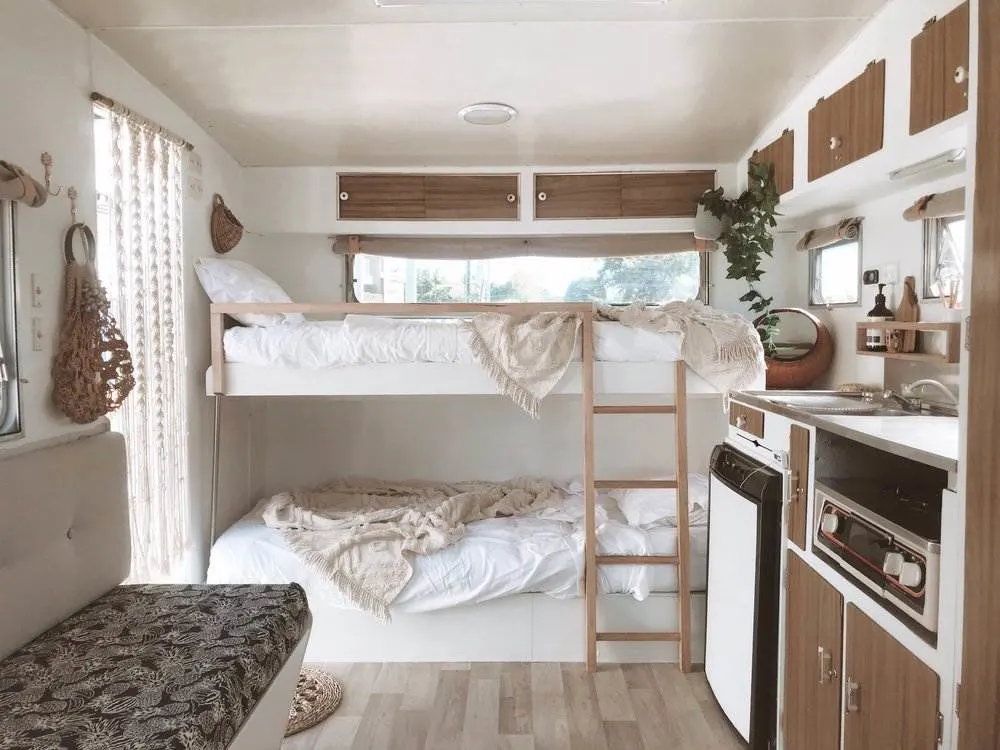 @weekendswithsadie
With her fantastic RV bunk beds, Sadie, a 1971 Spaceline caravan, allows this little family to enjoy weekend getaways.
On her blog, Weekends with Sadie (www.weekendswithsadie.com), you may learn more about Sadie and her restoration.
Related: Travel Trailers with Twin Beds: 15 Brilliant Twin Bed RVs
#6. Violet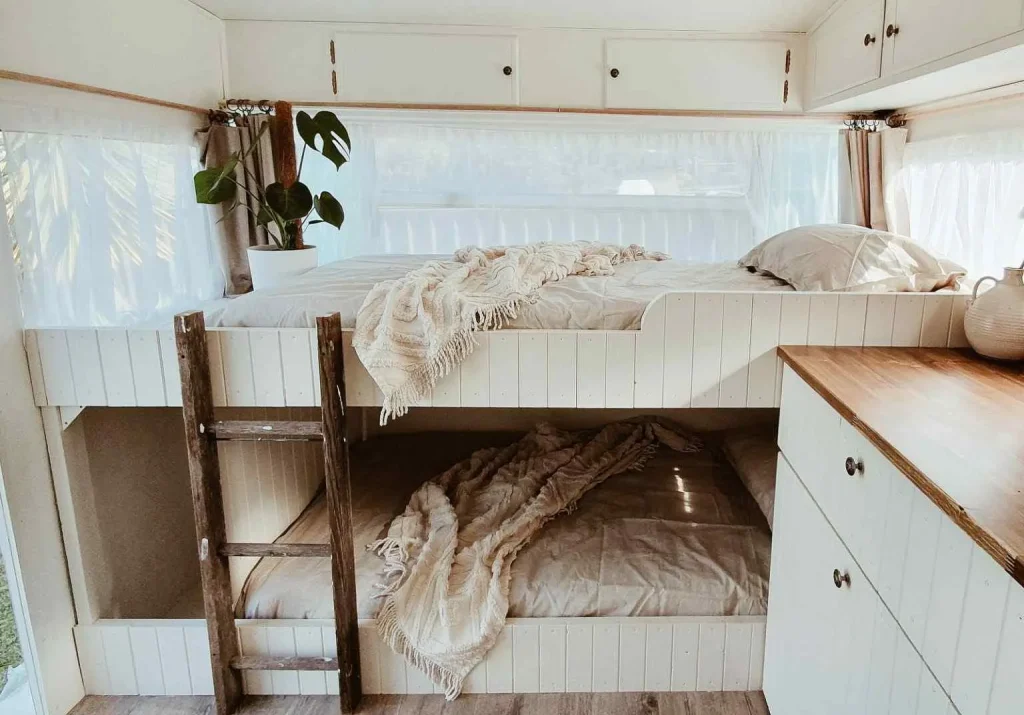 @huddyandme
You'll like Violet if you adore the old world/farmhouse style.
With the wood paneling on the side of the bunks and the well-used RV bunk ladder, these bunk beds are ideal.
On Lauren's Instagram account, @huddyandme, you can see more of Violet and her refurbishment.
Camper Mattresses
I can't suggest a "one size fits all" method since RV bunk beds come in so many various sizes, forms, and materials.
I've seen a large number of RVers who will purchase a foam mattress and trim it to size for their bed or bunk.
You may be able to determine what you need for your bunks by reading the material on this website on RV mattresses that I found to be very useful.
Related: RV Bed Lift – Read This Before Buying One
RV Bed Linen
You'll see more and more irate folks who HATE having to change the bunk bed linens as you look at more and more RV bunk beds.
Zip-on/zip-off sheets are really helpful in this situation.
When it's time to replace the sheet, simply zip off the old one and then zip the new one on.
The bedding is only placed on the mattress once.
Easy as pie!
Bunk Ladder for RV
You can see that most ladders for RV bunk beds are designed to accommodate the bunks in the aforementioned instances.
But here are some suggestions if you must buy an RV bunk ladder.
Bunk Bed Safety Net for RVs
Netting is used by @wilsongrandadventures to keep their young children secure in their bunk beds.
(Slide to see)
Using the ladder, @leisegangadventures designed a special gate for the bottom bunk (crib).
In order to keep the infant secure inside, @ourvintagecaravan installed a retractable fence on the bottom bed.
And here are a few inquiries I've had concerning RV bunk beds:
How Big Are Bunk Beds In RVs?
These bunk beds for RVs are often constructed to order and are thus sized to accommodate both the RV and the youngster who will be sleeping inside.
Even "standard" bed sizes might differ from one RV to the next.
It may be between 28 and 35 by 75 inches.
Do you have any more queries concerning the bunk beds for RVs? Post them in the comments section below, and we'll do our best to discover the solutions.
I hope these amazing RV bunk beds have given you some ideas! We've compiled a list of every manufacturer that makes a Class A RV with bunks in case you're shopping for a new motorhome (rather than remodeling one that already has bunks).
RV Bunk Bed Videos Suggestions From Youtube