You've undoubtedly already noticed that there aren't many brick-and-mortar businesses if you're seeking for new RV furnishings.
However, a lot of them will ship to your house, which is wonderful since it gives you more options! Here is a comprehensive list of every retailer offering RV furniture that we found while searching the web.
A Couple of Pointers
Make sure you know what you're searching for before you start shopping.
The key is to be prepared and armed with your dimensions, regardless of whether you're shopping for motorhome RV furniture, 5th wheel furniture, or travel trailer RV furniture.
Replacement Furniture for RVs
Here's a brief reminder that updating the furnishings in your RV might be an excellent way to freshen up its appearance.
When purchasing a secondhand RV, changing the dinettes, couches, and bed mattresses may make the vehicle seem like new right away.
Additionally, you might benefit from purchasing RV replacement furniture even if you're purchasing a brand-new trailer or motorhome.
What if you finally located the living room set of your dreams, but you're not quite satisfied with the design or color? No issue, you may get a set of your choosing to really transform that vehicle into the RV of your dreams.
Cheap RV Furniture: Where To Look
Everyone enjoys a good bargain.
If you can reduce expenses, why not do so? Camper furnishings might be pricey.
Check for a clearance or discounts area as you browse the websites on our list.
Try doing a shop search using terms like "RV sofa clearance."
Choosing Between New And Used RV Furniture
The shops on this list sell new furniture, but some of them could also have refurbished furniture available (used RV furniture that has been thoroughly cleaned and is ready for resale).
These are often returned goods that the purchasers never utilized in their equipment.
Actually, there is another another excellent resource for finding cheap RV furnishings.
If you're really fortunate, you may be able to purchase secondhand RV furnishings via Craig's List or other online classifieds.
To prevent frauds, just be careful to inspect the items you purchase and use your best judgment.
Let's start compiling a list of RV furniture retailers right now.
#1. Amazon
RV furniture may be found on Amazon in a broad range of options, as with many other products.
They offer various goods with free delivery and stock many of the top brands (and some even with Prime shipping).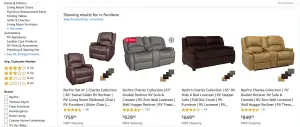 The RV furniture options on Amazon include couches, recliners, beds (including options for RVs), tables, and more.
They also sell outdoor furniture and all kinds of components and accessories.
#2. eTrailer
Who knew RV furnishings was offered on etrailer.com? In addition to their selection of furniture, they also offer a few components and accessories.

Despite the limited choices, they do seem to offer reasonable costs.
eTrailer offers more than simply towing and associated products and free guidance from their knowledgeable personnel.
They claim that their items have received an average of 400 hours of product training.
#3. Camping World
As suggested by the name, this national business sells everything RV-related, including the actual RVs.
They will mail it to you from their online shop if there isn't one close by.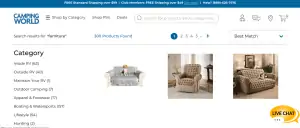 Similar to Amazon, Camping World has furnishings for both indoor and outdoor spaces as well as boats (that may or may not work for your RV).
They may assist you with the removal and installation of the furniture if you choose an in-store alternative.
#4. RecPro
RecPro sells and delivers directly to the public via their own website, in addition to being available on other websites.
They produce a variety of items, including couches, dinettes, tables, chairs, ottomans, and more.
A chair with motorised support to help you stand up is one of their more intriguing inventions.
#5. Bradd and Hall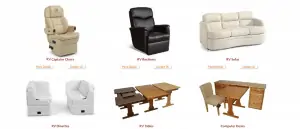 This business specializes in producing their own solid wood furniture, which is made to order and often ships after 4 weeks.
Dining tables, desktops, collapsible coffee tables, and wooden dinette booths are all produced by Bradd and Hall.
Additionally, they sell upholstered Flexsteel pieces like Captain's chairs and beds.
You may purchase products directly from the company's website, showroom, or authorized dealers.
#6. RV Furniture Center
The RV Furniture Center offers installation in their Idaho showroom and also ships from their online site.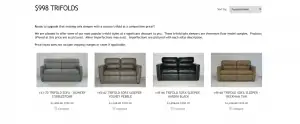 They feature memory foam mattresses that are "short queen" length in addition to the standard upholstered furniture such as recliners, couches, driver and passenger seats, and dinettes (60″ x 75″).
Finding a store that offers memory foam mattresses in a size that would suit an RV bed is wonderful since these mattresses may be considerably more comfortable than the standard RV mattress.
#7. Glastop
Every style of upholstered furniture you commonly find in an RV is available from this Florida-based furniture firm.
Both Class As and Class C captain's chairs have their own sections.
Along with certain replacement components, they also offer couches, dinettes, sectionals, ottomans, and wooden tables.
Major RV furniture manufacturers including Flexsteel, Villa International, Lafer, Lambright, and Sunbrella are among the names they sell.
#8. PPL Motorhomes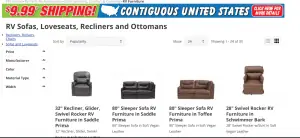 PPL is a Texas-based dealership that offers furnishings in addition to various sorts of RVs, not only motorhomes.
The problem is that it seems as if they carry a miscellaneous collection of items.
You could get a fantastic bargain since some of their pricing seem to be rather inexpensive in comparison to those on other websites.
#9. eBay
Indeed, eBay has both new and used RV furnishings.
Proceed with care while making any eBay purchases, since not all sellers are created equal in terms of dependability and product quality.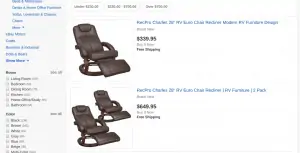 Fortunately, eBay does a fantastic job of safeguarding its customers from problems.
A lot of vendors provide "Buy It Now" or "Make An Offer" alternatives, so you don't even have to conduct an auction.
#10. RV Parts Nation
A little showroom video from RV Parts Nation shows some furnishings in use.
The business sells all of the typical RV furnishings.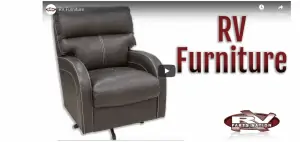 They also include a section with information on items to think about while purchasing new RV furnishings, such as safety and insurance.
#11. Villa International
Although you may purchase this furniture manufacturer's items elsewhere, ordering directly via their website gives you the added and distinctive option of ordering bespoke furniture.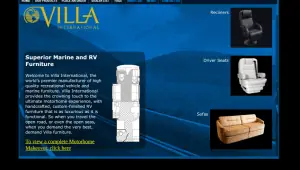 If you have a space where the typical furniture won't fit, this is an excellent solution.
This often happens when RV floor designs change and manufacturers go out of business or are acquired by new companies.
#12. Coach Supply Direct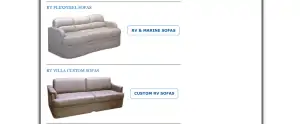 Although their name includes the word "coach," many of the items they offer would also fit in towable RVs.
If your RV has a couch and a dining table directly next to each other, it could be worth looking at some of their truly impressive-looking sofa/dinette combinations (as they often are).
This business does not accept online orders because they prefer that you contact them through phone or email to make sure they have all the necessary information.
However, they will ship to you and provide a shipping price when you place your purchase.
#13. Interiors of a Countryside
This Oregon RV furniture manufacturer offers well-known brands like Flexsteel in addition to producing hardwood cabinets and other pieces to order.
At their store, they will reupholster furniture, or they may even offer you the supplies to do it yourself (or pay someone local to you).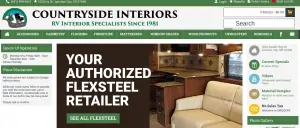 Shippable alternatives for secondhand and donated furniture are also available.
#14. RV Parking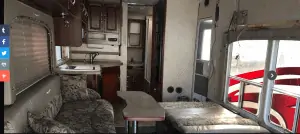 In many cases, the furniture removed from RVs that the insurance company has deemed unfixable is in excellent condition and may be purchased for a fair price.
Many of these RVs have body damage, but the interiors are still in good condition, therefore the furniture is in perfect condition.
Additionally, you might discover unusual things that are no longer offered by retailers of new furniture.
You can be sure it will fit properly if you obtain an identical replacement for your RV's year, make, and model.
The disadvantage is that you can only purchase what they currently have in stock, and the options are not always reliable.
You must make an order over the phone, but they will ship.
We advise you to have the salesman visually evaluate the item before you agree to purchase it, even if they provide guarantees on their items.
If you ask, they could also be willing to email you more images.
Even though it probably won't be in pristine shape, you should ask them to look for any visible flaws before having a large, costly piece of furniture sent to you.
Consider taking a look at it.
#15. Opulence Home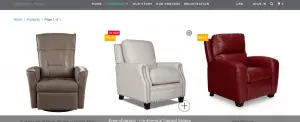 Despite not being a maker of RV furniture per se, certain RV retailers, such Camping World, do carry this company's goods.
They will ship to you if you want to purchase straight from them instead.
They have ottomans, living room chairs, and recliners in their collection.
Although many of the items seem to be tough to bolt down for safety, keep in mind that they may be more like to 5th wheel furniture than what is designed for travel trailers or RVs.
They may be a great change from the typical RV furniture.
#16. BuySeats
This website provides many kind of RV seats, including Captain chairs, recliners, couches, and dinettes, as one would expect.
Even furniture bundles are available, which is helpful if you're replacing all the RV seats and want it to match.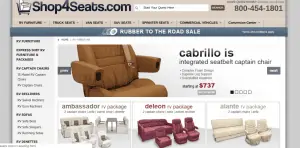 They have a wide variety of leather and fabric materials, upgrade options (such motorized recline), sizes in all standard sizes as well as bespoke sizes.
They also sell replacement seats if you need them for a truck, van, or SUV.
#17. IKEA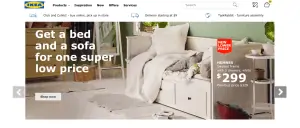 Obviously, IKEA does not sell furnishings exclusively for RVs.
But for a variety of reasons, you may find it in several RV and compact house remodels.
The first benefit is the price.
RV furniture is a speciality item, therefore it may become pricey.
Second, it is delivered dismantled so that it may fit through your RV's door.
A traditional couch or chair will probably not fit through the typical RV entryway if you attempt to carry one inside.
Thirdly, it is often lightweight.
This might be a drawback since IKEA's building could not withstand life on the road.
Fourth, they provide a wide range of possibilities, including cabinets and other items that are smaller in both width and depth than most pre-built furniture.
Finally, they have a ton of furniture that can be transformed, including cupboards with doors that can be used as a tables.
#18. Colaw RV Salvage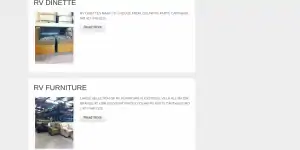 Its headquarters are in Missouri.
They carry a large number of the top brands, much like the salvage shop in Arizona.
However, you'll need to phone them or send them an email with a particular inquiry if you want to find out what they have.
As with the other salvage location, we advise requesting specific images and dimension confirmation.
You will probably need to make the order over the phone, but they will ship to you.
#19. RV Upgrades
It's technically not exclusively for RVs since this website only offers outdoor furnishings.
However, it seems that everything can be folded flat, and it appears to be rather lightweight, so you can definitely put it in your RV's basement storage spaces.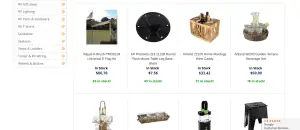 Their chairs come in a variety of designs, including recliners and those with connected trays for food or beverages.
Additionally, there is a camp kitchen, as well as folding chairs, tables, and benches.
#20. Dave & LJ's RV Interior Design
This firm will redesign and rebuild your RV for you if you live in the Oregon region.
If not, they offer couches, recliners, and captain's chairs for sale with home delivery.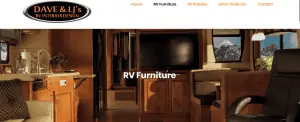 Additionally, they provide wooden dining chairs, end tables, and coffee tables for RVs.
Orders must be placed by phone, however their website includes product images.
#21. RV Part Shop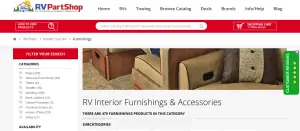 The RV Part Shop seems to offer just Lippert chairs and couches.
Despite having a Canadian basis, the corporation has warehouses in the United States, avoiding border costs.
#22. Affordable RV Furniture
From the frame up, this firm manufactures all of its furniture in the United States.
You may now choose from a wide variety of customisable choices in combinations you might not find from other manufacturers.
They build dinettes, couches, Captain's chairs, and all the standard furniture.
They also provide seat bases that are DOT-compliant so that everything may be securely screwed in.
#23. RV Furnishings
RV Furniture is the name of an RV furniture company, not to be confused with the RV Furniture Center (#5).
According to their website, they have been in operation for 20 years and are based in Kansas.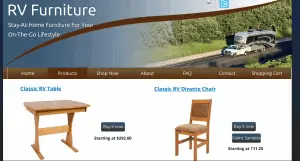 They produce dining tables and chairs out of solid ash, oak, cherry, maple, and beech wood.
The chairs' upholstery may be chosen from a variety of fabrics.
#24. Pleasureland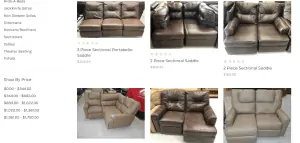 This RV business also has a facility that they refer to as a surplus parts warehouse.
They include all the standard fare, including chairs, dinettes, and tables.
They also offer a couple jackknife sofa bases made of wood.
#25. Walmart
Walmart retails certain RV accessories.
But online, they sell RecPro RV furnishings (sofas and recliners).
Additionally, they sell RV bunk beds and mattresses with reduced RV lengths.
Additionally, there are RV tables for use both inside and outside the vehicle.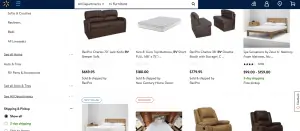 While some things originate from Walmart and are mailed straight from the manufacturer, other items are available for free in-store pickup.
Stores Where You Can Physically Purchase RV Furnishings
Many of the above listed websites also offer showrooms.
However, there are certain retailers that will not accept online orders or ship to you.
The list for both new and secondhand RV furnishings is provided below.
#26. RV Dealers
There are parts and service departments at many dealerships, and those with enough room will also carry furnishings.
The option to try on each item before purchasing it and avoiding shipping costs are two benefits of shopping locally.
Additionally, you may often request that the service division install the new furniture and remove the old.
This is a good idea since you want to make sure it is safe and secure while you are driving, particularly if the item is fastened down or linked to the wall.
Remember that some businesses may not have websites, and you could get the greatest offers there as they aren't required to pay for promotion.
#27. The Motorcoach Store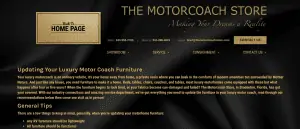 It is located in Florida's Bradenton.
They offer a service division in addition to selling luxury RVs and other vehicles, including boats.
They don't have any images of the furniture they're selling on their website, but a blog post claims that they sell and install RV furniture in all different kinds of recreational vehicles.
#28. Lazydays RV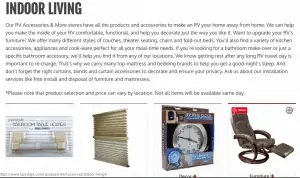 Out of their showrooms, this dealership, rental business, and service facility offer furnishings.
They are situated in Tampa, Florida, Loveland, Colorado, Denver, Minnesota, Tucson, Arizona.
In Tampa, there is even an RV resort.
Some of their furniture is available online.
#29. Trailers and RVs by Golden Gait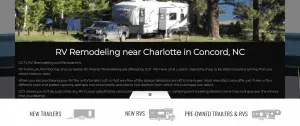 This Concord, North Carolina, RV vendor offers comprehensive renovation.
They also offer a custom cabinetry business if you require anything in unusual forms or sizes.
They can also reupholster furniture that already exists.
#30. RV Interiors for Recovery Room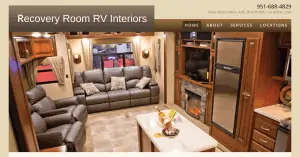 The Riverside, California-based Recovery Room offers both new and renovated furniture.
They also provide installation.
Other services include flooring replacement and window blind replacement.
#31. Craigslist
RV furniture may be purchased at a discount on your local Craigslist, however the variety and likelihood of it being used are both likely to be low.
Working with Craigslist may sometimes be a hassle since you have to weed out con artists and shady characters who place advertisements but don't follow through.
Check out the free section as well.
There are tales of couples who made modifications to their RVs.
The first person to arrive with their own tools, remove the sofa bed and dinette from the floor of the RV, and bring it outside was given a used motorhome sofa bed and dinette for free.
#32. Incredible Creations

Furniture is sold by the inside RV design and renovation business Amazing Creations in Junction City, Oregon.
They will also set up furniture that was purchased from them or somewhere else.
Custom cabinets, window treatments, flooring, appliance and electronics repair, and refinishing are additional services.
In Conclusion
Whew! That was a long list.
If you only asked other RVers you encounter, we're confident you could find more if you looked.
Additionally, if you have any suggestions, please post them here!