Do you always hunt for ways to make the most of the space in your RV? A Murphy bed for an RV is a practical space-saver.
It gives you more space in your camper for sitting and moving about throughout the day, as well as a cozy place to sleep.
To find out how to utilize an RV Murphy bed, continue reading.
We'll also look at the top seven choices available right now.
Let's get going!
What Is a Murphy Bed for an RV?
Murphy beds for RVs may be folded up against or into a wall.
Any size mattress is available, and it is supported by a wooden or metal frame for the sleeping posture.
Additionally, while not in use, the strut-supported structure is gently pushed up against a wall.
It expands the floor area and is especially useful in compact RVs.
Related: Best RV Bunk Ladder of 2023
How to Use a Murphy Bed in an RV
An RV Murphy bed is simple to use.
When it is lowered, it assumes the form of a conventional bed.
The bed is then easily pushed up and locked into place against or into the wall that it is intended to fit into.
For certain Murphy beds to fold into the wall, the bedding must be removed.
Others, however, let you retain your bedding in place so you may change from your bedtime position to your daily one with ease.
The Top 7 Murphy Bed RVs
Murphy beds are becoming a more common feature in the floorplans of RVs.
Let's examine seven of the top products now available.
#1. Leisure Van Unity Murphy Bed
MSRP: $172,070 as of now
RV Length: 25 feet 1 inch
The Unity Murphy Bed type of Leisure Van is a high-end Class C motorhome.
Its unique feature is the king-sized RV Murphy bed.
It is pulled up into the RV's driver-side slide-out, allowing for a smooth transition into the living area.
The bottom side of the frame, which is exposed while the bed is upright and fastened in place, houses a wooden wall.
For daily living, there are two rotating seats with a table in the middle.
A complete dry bathroom, kitchenette, wardrobe, and entertainment center are all included with the RV.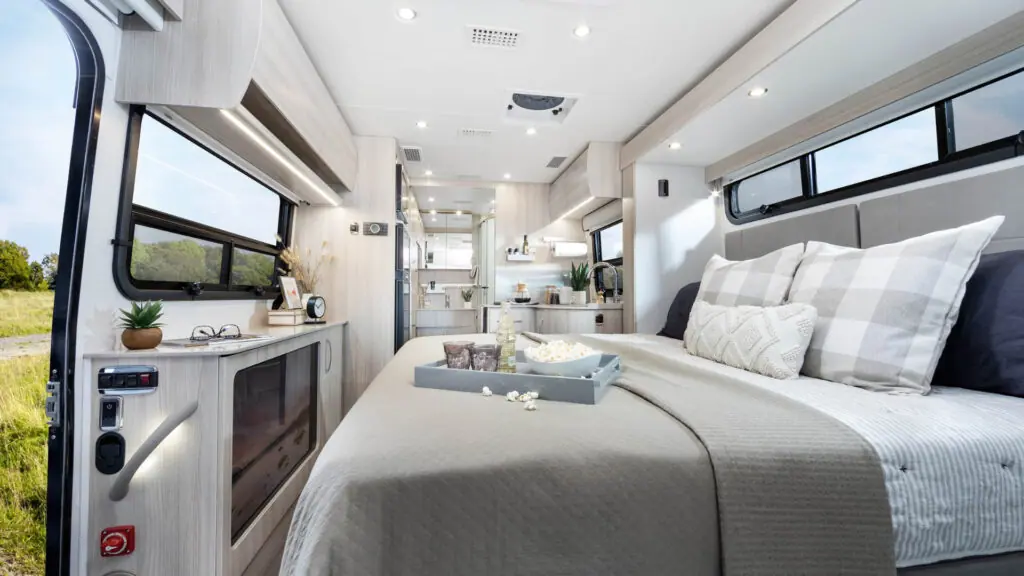 Related: Best Travel Trailers with Bunk Beds
#2. Airstream Atlas
MSRP: $289,911 as of now
RV Dimensions: 24 feet
The Unity variant of the Leisure Van is remarkably similar to the Airstream Atlas' RV Murphy bed setup.
It is a Class B motorhome, the Atlas.
A wooden wall and a full-sized sofa are seen when the bed is folded up into the slide-out.
To offer more seats for entertaining, the captain's chair may be turned to face the couch.
A portable table may also fit in front of the sofa or in the space between the captain's seats.
The Atlas also has a dry bathroom, an L-shaped kitchenette, a roomy closet, and an entertainment center located across from the sofa and Murphy bed.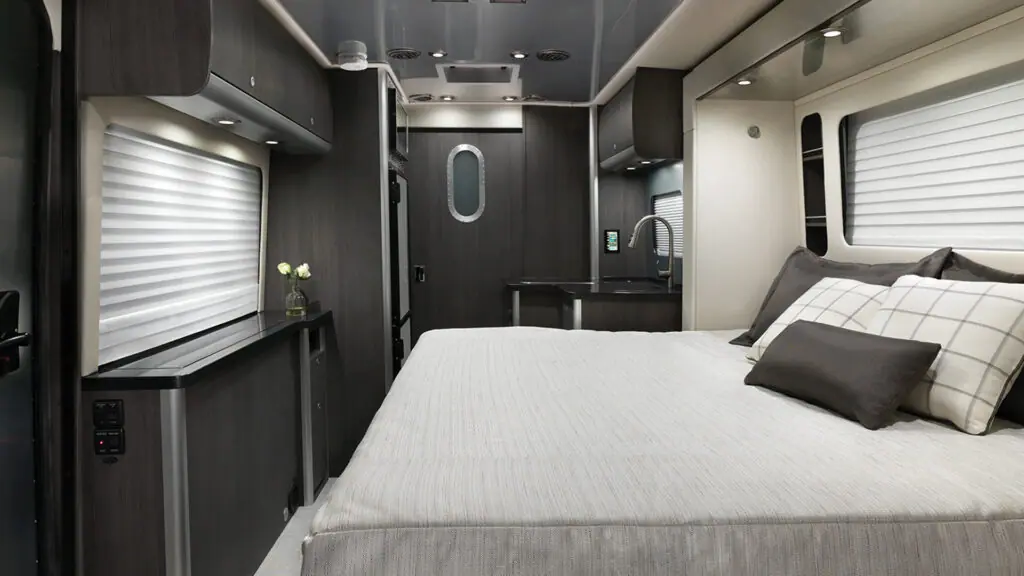 #3. Grand Design Imagine 17MKE
MSRP: $42,890
RV Length: 21 feet 11 inches
The Imagine 17MKE travel trailer by Grand Design has a queen-sized Murphy bed in the front.
Between two wardrobes, the bed folds up to meet the front wall, revealing a sofa with two storage drawers beneath.
The side slide-out of the travel trailer also has theater seats and a moveable table.
In addition, the trailer's back has a complete bathroom and a large L-shaped kitchen with plenty of overhead storage.
Surprisingly, the little travel trailer provides enough of space.
Remember: Are you preparing for your summer vacations? Then you must check out these 10 tips to make your road trip this summer unforgettable!
#4. Winnebago Solis 59P
MSRP: $128,311 as of now
RV Length: 19 feet 9 inches
The Solis 59P camper van from Winnebago features a flexible configuration.
The van's RV Murphy bed is in the back.
When not in use, it pulls up against the wall to show a sofa with a second couch against the other wall.
Between the two chairs, there is a movable table, and the floor is storage.
The Solis 59P includes a pop-up top to provide even extra sleeping and headroom.
It also contains two jump seats behind the swiveling captain's chairs, a tiny kitchen, and a wet bath.
#5. Jayco Jay Feather Micro 173MRB
MSRP: $20,663
RV Length: 20 feet 10 inches
A compact travel trailer without slides is the Jayco Jay Feather Micro 173MRB.
The compact choice is ideal for couples or lone travelers.
It features a loveseat when the bed is not in use since the front Murphy bed folds into the front cap of the trailer.
The 173MRB includes a complete bathroom with a toilet, sink, tub, and linen closet that extends the length of the trailer.
It also features a sizable kitchen with a dinette that seats two people.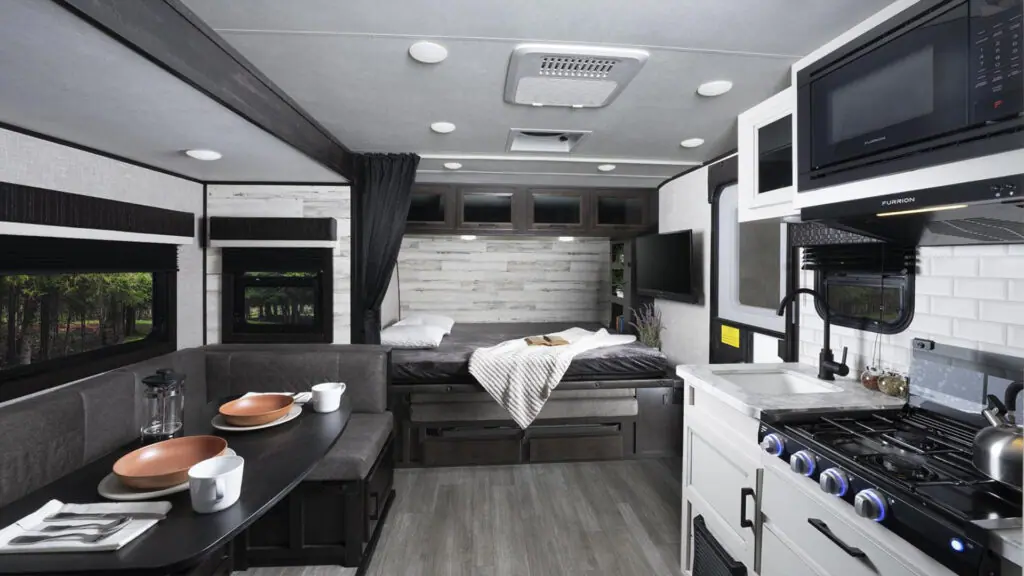 #6. Coachmen Freedom Express Ultra Lite 238BHS
MSRP: $47,119
RV Length: 25 ft. 9 in.
For a little travel trailer, Coachmen's Freedom Express Ultra Lite 238BHS boasts a lot of sleeping space.
It includes a u-shaped dinette that can be made into a bed, a queen-sized Murphy bed in the front, and double-sized bunk beds in the back corner.
Additionally, it has an L-shaped kitchen with storage and a complete bathroom.
Four people may sit at the U-shaped dinette during the day, and when the RV Murphy bed is tucked away, there are two extra seats available on the loveseat.
The 238BHS also has a pull-out outside kitchen.
Remember: Prior to buying an RV, you must choose the floor plan type that is best for you. See these awful RV floor layouts before making a purchase.
#7. Venture Sonic Lite SL150VRB
MSRP: $25,999
RV Length: 19 feet 8 inches
The Venture Sonic Lite SL150VRB travel trailer is a well-built, lightweight unit without slides.
It's a compact but powerful alternative with a Murphy bed in the trailer's front.
There is a loveseat after the bed has been pushed against the wall.
Both sides of the bed include wardrobe closets, as well as an above shelf.
The SL150VRB also contains a tiny kitchen and a full-sized bathroom with a closet.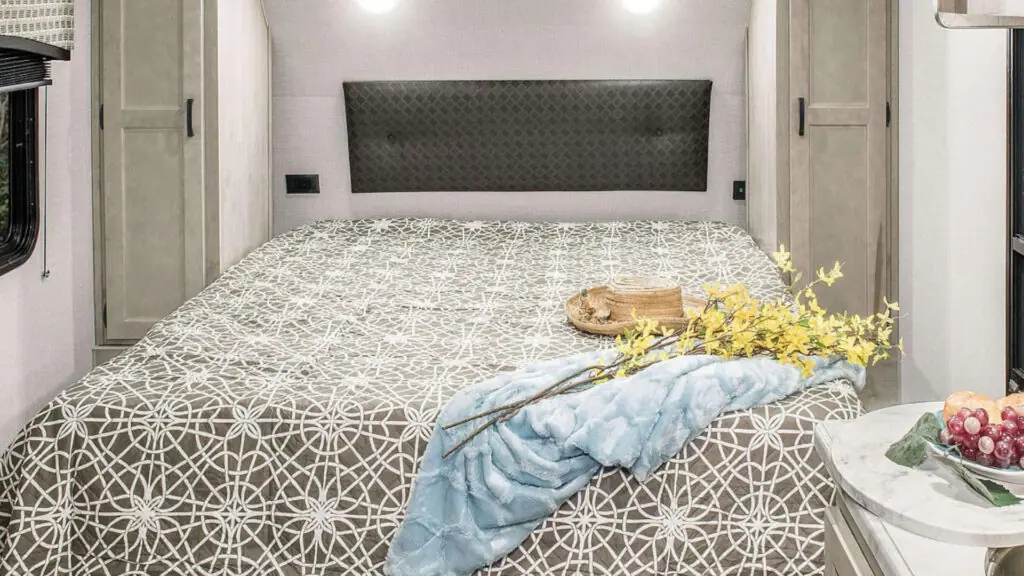 Murphy beds: Are They Usable Everyday?
RV Murphy beds are available for daily usage.
It is OK to raise and lower your RV bed every day if you are doing so while living in it full-time.
However, if the struts are utilized often, maintenance may be necessary.
In general, installing a Murphy bed in your RV is a low-cost and low-maintenance choice for adding room.
Related: Best Dog Camping Beds for Travel
Use a Murphy Bed in an RV to Save Space.
The best option for buying a tiny RV and yet having enough space for sitting and movement throughout the day is an RV Murphy bed.
There are floorplans featuring a Murphy bed available for both motorized RVs and pull behinds.
Which of the choices on our list would best suit your travel preferences?
RV Murphy Bed Videos Suggestions From Youtube