More floorplans are being built by RV manufacturers to fit every family as more individuals purchase recreational vehicles to reside in or spend their summers traveling.
Adults who want to travel together but do not want to share a bed might consider choosing a travel trailer with twin beds.
The top 15 twin-bed travel trailers are listed below.
Note: The one-bedroom travel trailers with twin beds are the subject of this article.
Check out our articles on the best fifth wheels with loft sleeping areas, best travel trailer bunkhouses, and best travel trailers with two queen bedrooms if you're seeking for more sleeping space.
Twin-Bed Airstream Travel Trailers
The most common maker of travel trailers with twin beds is Airstream.
They include twin bed floorplans in many of their models, and some even have numerous twin bed layouts.
The external length of the trailer is indicated by the number in each floorplan name.
Related: Best Travel Trailers with Bunk Beds
Airstream Classic Twin Bed Floorplans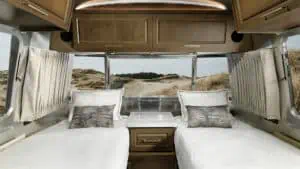 The Classic features the biggest twin bed floorplans in the industry and is Airstream's premier travel trailer model.
Classic versions have all the comforts of home since they are designed for full-time living or long road trips in mind.
The Classic variants of Airstreams provide greater storage capacity than any other model because to their abundance of huge cupboards and roomy closets.
Additionally, residential-style kitchens, bathrooms with heated shower floors and heated towel racks, retractable TVs, and power controls for blinds and lighting are features of vintage Airstream travel trailers.
The Comfort White interior with white cabinets is one of several interior design choices available to campers.
#1. Classic 30RB Twin

The main bedroom at the back of the 30RB Twin floor plan contains two twin beds.
Directly in front of the bedroom is a cross-hall bathroom, which has a shower on one side and a toilet on the other.
The front of the trailer has a large couch with two recliners next to the panoramic windows.
Along with a complete kitchen, the trailer also has a dinette table.
#2. Classic 33FB Twin

The biggest travel trailer with twin beds produced by Airstream is the Classic 33FB Twin.
The front of the trailer houses the double bedroom.
A roomy three-piece bathroom with a big vanity and plenty of storage space is located towards the back of the trailer.
A motorized dinette that can be quickly transformed into extra sleeping space, a reclining couch, and an integrated workstation are all included in the main lounge.
Related: RV Bed Lift – Read This Before Buying One
Airstream Flying Cloud Twin Bed Floorplans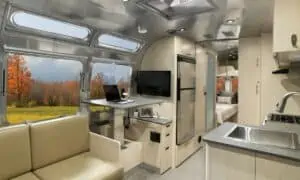 There are five floorplans with twin beds in the Flying Cloud series of travel trailers, which has the most floorplans of any Airstream model.
Every family will find the ideal Flying Cloud among the various variations available.
For maximum comfort, the twin beds in Flying Cloud trailers include pillow top mattresses made of memory foam.
Additionally, all Flying Cloud models have Quietstream temperature control systems, which swiftly warm or cool the cabin without making a lot of annoying noise.
These travel trailers come with light maple cabinets and a choice of tan or gray upholstery inside.
#1. Flying Cloud 25FB Twin

There is a front bedroom and a bathroom with a separate shower in the Flying Cloud 25FB.
A convertible dinette with an extra-long bench seat for lounging and watching TV is located in the front lounge.
A three burner stove, a refrigerator, and a spacious sink are features of a compact yet useful kitchen.
#2. Flying Cloud 25RB Twin

The front bedroom layout of the same length, the 25RB, has all the same characteristics.
The position of the dinette and lounge and the bedroom/bathroom are switched in the 25FB and 25RB, respectively.
#3. Flying Cloud 27FB Twin

The Flying Cloud 27FB layout is almost similar to the Flying Cloud 25FB model and makes use of the additional room to provide greater storage.
A sizable wardrobe closet next to the bathroom and bigger kitchen cabinets are two examples of these storage improvements.
#4. Flying Cloud 28RB Twin

The Flying Cloud 28RB's rear bedroom features twin beds and is close to the bathroom across the hall.
A separate dinette that can be turned into a bed and a wide couch can be found at the front of the RV thanks to the larger design.
A tiny closet for hanging clothing is also included in the 28RB.
#5. Flying Cloud 30RB Twin

The 30RB, the biggest twin-bed travel trailer from Flying Cloud, also offers a rear bedroom, a bathroom across the hall, a convertible dinette, and a sizable couch up front.
There is a large closet with plenty of room for hanging clothes next to the shower.
Related: Spacious Travel Trailers with Two Queen Bedrooms
Airstream International Twin Bed Floorplans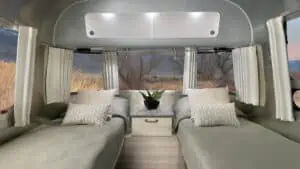 The International travel trailer range from Airstream is intended to make it easier to camp within the great outdoors.
The Quietstream temperature control system is included in all International RVs, just as it is in Flying Cloud trailers, to help reduce noise.
They may be upgraded with a solar panel and batteries as well.
These chic trailers have natural seashore-colored linens, cool wood tones, and crisp, contemporary designs.
Two interior design packages are available for purchase, one with light blue upholstery and the other with light gray upholstery.
International 25FB Twin

The International 25FB's floorplan is almost identical to that of the similarly sized Flying Cloud.
The bathroom with a separate shower across the hall from the front bedroom is close by.
A convertible dinette with an exceptionally long bench seat is also included in the front lounge.
Airstream Pottery Barn Twin Bed Floorplans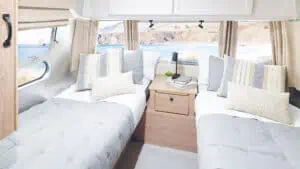 These 28-foot travel trailers, which were created in collaboration between Airstream and Pottery Barn, have timeless design, unique furnishings, and custom storage options.
An outdoor table that hangs from the window and canvas storage bins are a few of the particular features of the Pottery Barn special edition versions.
A solid wood oak dining table, linen drapes, a sofa with kid-friendly performance fabric, and a concealed fold-out table are some of the traditional design components of the Pottery Barn RV.
These trailers also come with a Pottery Barn accessory package that includes a doormat, a 16-piece dinnerware set, a folding table and chair set, and other items.
Airstream Pottery Barn 28RB Twin

The Pottery Barn 28RB features a twin-bed back bedroom and a bathroom across the hall.
Under the panoramic windows at the front of the RV is the bespoke couch.
A complete kitchen, a convertible dinette, and a small wardrobe are all included in the layout.
Several Trailers With Twin Beds
All additional twin-bed travel trailers that are presently being produced are listed in full detail below.
The order of these trailers is alphabetical.
#1. Bigfoot 25B25RQ (Twin Bed)
Length: 25 feet, 6 inches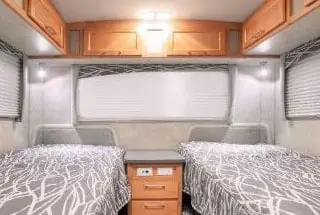 The Bigfoot 25B25RQ, which is made by Bigfoot RV, has a double bed option.
The entrance of the trailer and the twin bedrooms in the back are separated by a curtain door and a few partial walls.
The bedroom space has three large windows that let in a lot of natural light, but the day to night blinds may easily filter out any nocturnal lights.
The trailer also has a complete kitchen with a microwave, oven, and cooktop.
It also has a three-piece bathroom.
Outside the bedroom is a long wall of storage cupboards and drawers.
The RV has a dinette in the back that converts into a cozy seating area thanks to an extended bench on one side.
#2. Forest River Flagstaff Micro Lite 22TBS
Length: 23 feet, 11 inches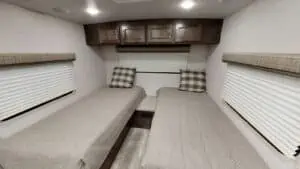 The Forest River Flagstaff Micro Lite 22TBS is a lightweight travel trailer with two beds that weighs less than 5,000 pounds.
The front of the smaller, open-floored travel trailer is furnished with twin beds.
The two twin beds may be simply transformed into a king bed by using a mattress insert that fits in the space between them.
In the trailer's back is a complete three-piece bathroom.
A wide, U-shaped dinette and a complete kitchen with a roomy pantry and a fold-down counter extension for more space for food preparation are also included in the lightweight trailer.
The best place to put shoes is an aperture beneath one of the twin beds, which is immediately next to the entrance.
#3. Forest River Rockwood GeoPro G15TB
Length: 16 feet, 4 inches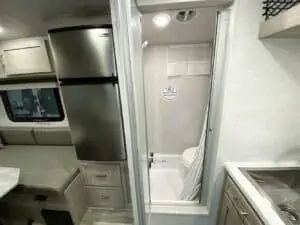 The Forest River Rockwood GeoPro G15TB travel trailer is even more compact than the Flagstaff twin bed trailer.
This GeoPro is the ideal adventure twin bed travel trailer since it is just 16 feet long and weighs less than 3000 pounds.
The twin beds are situated on each side of a table that can be removed to provide seats for sitting.
This compact travel trailer is equipped with everything you need to set up residence while on the road.
A huge sink, a refrigerator, a built-in stove, and a microwave oven are all included in the front kitchen.
A wet bath comes with a shower and an RV lavatory.
Clothing and equipment may be stored in cabinets above the twin beds and loft areas at each end of the trailer.
#4. KZ Escape E20 Hatch
Length: 23 feet, 10 inches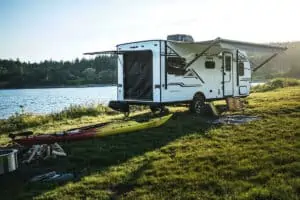 The KZ Escape E20 Hatch is a second little yet formidable travel trailer with two bedrooms.
The front of the trailer has twin beds with an open layout.
By inserting the center mattress cushion provided, the twin beds can be made into one king-sized bed.
A kitchen with a sink, microwave, two-burner stove, and pantry is also included in the trailer.
The toilet and a separate shower are located in the two-piece bathroom.
The Escape's namesake Hatch, which is situated at the back of the RV, is its most distinctive feature.
The hatch is a large back door that opens vertically to get plenty of fresh air in and easy access to storage.
#5. Oliver Legacy Elite II
Length: 23 feet, 6 inches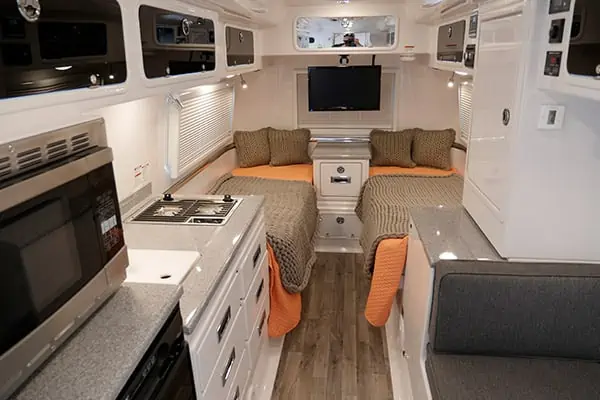 The Oliver Travel Trailers Legacy Elite II is a high-end fiberglass camper with twin beds.
Two twin beds are positioned in the back of the open-concept trailer.
The two-person dinette can accommodate one more person by turning into a bed.
Between the two beds, a television that may be used as sitting is suspended.
The back of the travel trailer has a spacious wardrobe closet and a complete three-piece bathroom.
Other distinctive features include day-to-night window curtains, an EZ winterizing system, and LED floor lighting.
The trailers are available for the manufacturer direct, and there are five different interior design possibilities.
#6. Winnebago Micro Minnie 2108TB
Length: 22 feet, 7 inches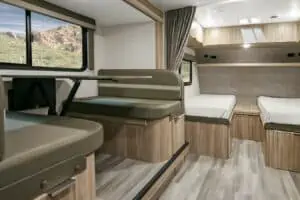 The Winnebago Micro Minnie 2108TB is last but not least on our list of travel trailers with twin beds.
The trailer's front houses the twin beds, which may be joined together to form a single king bed.
The RV's beds are exposed to the main area, but a dividing curtain provides seclusion.
A single slide-out provides additional living space and may be used to house a couch and table or a dinette table and seats.
The RV's back is entirely taken up by a roomy three-piece washroom.
Each twin bed has a window next to it for cross-ventilation, ensuring a restful night's sleep with fresh air.
Related: Your Kids Will Love These RVs with Bunk Beds
RV Twin Bed Videos Suggestions From Youtube