Although leather is a remarkably long-lasting and simple-to-care-for upholstery material, it does sometimes need cleaning and treatment.
Follow our advice to freshen up your leather furniture if it is looking drab.
Leather furniture adds a touch of luxury to your room's dcor with its plush texture and feel.
Fortunately, leather doesn't need the meticulous upkeep you may associate with other finer things, despite its luxury.
All leather chairs, couches, and chaises eventually need a little maintenance, however.
Be assured that learning how to clean leather furniture is not difficult and simply requires equipment that most homeowners have on hand.
Materials & Tools
Vacuum (with brush attachment)
Cloths made of clean cotton or microfiber
Vinegar
Little bucket
Step 1: Thoroughly Vacuum The Furnishings.
The first step in cleaning leather furniture is to take off all of the dust and loose particles from the sofa or chair before beginning the cleaning process.
A vacuum cleaner with a brush attachment will make this task simple.
If there are any, remember to clean in between the cushions of the furniture.
When completed, use a cotton or microfiber cloth to clean everything.
Step 2: Thoroughly Examine The Furnishings.
You now know which portions of the furniture are in the worst condition after inspecting it while cleaning and washing it down.
You should concentrate the majority of your cleaning efforts on these areas.
Step 3: Apply Diluted Vinegar To Trouble Spots
You may use a simple yet efficient DIY cleanser consisting of equal parts vinegar and water to take care of the problem areas.
Combine the two in a little bucket, then dab a cloth corner with the mixture.
To clean the filthy areas of the leather, wring out the cloth until it is moist but not wet.
After each few strokes, rinse the towel to prevent spreading any dirt.
Step 4: Quickly Wipe The Leather Down.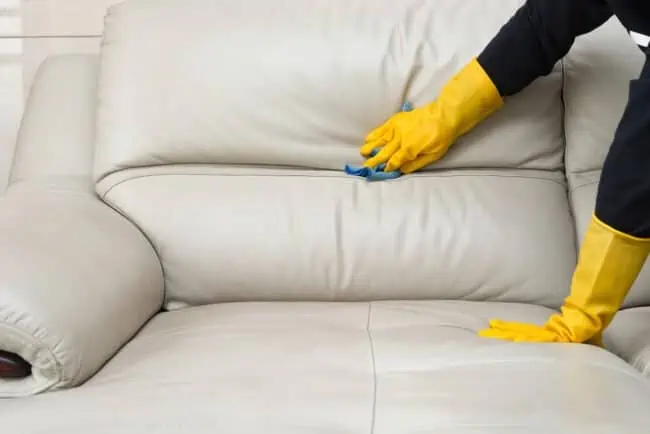 After that, apply a dry towel to the areas you treated with the water-and-vinegar solution, being sure to cover each one completely.
The leather's enemy is saturation, thus you should never let it to become so wet throughout the procedure.
Step 5: Buff The Furniture After Applying Conditioner.
Apply a tiny quantity of a commercial or home-made leather conditioner to a clean, lint-free cloth after you're happy with the cleaning of your leather sofa.
Apply the conditioner to a discrete area of the piece of furniture by rubbing it in a circular motion.
Make care to work the conditioner into the leather completely before allowing it to soak for around an hour.
If you are happy with the outcome, check the area and repeat the process, applying conditioner part by section, to the remainder of the piece of furniture.
Before you sit down with your popcorn, buff the conditioner with a clean towel and allow it completely air dry.
Additional Leather Cleaning Advice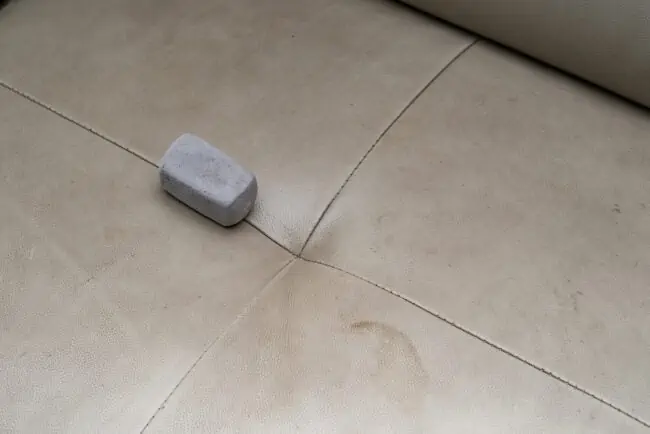 Have uninvited guests spilled something on leather furniture, and you're wondering how to remove the stain? Don't lose hope—you can probably stop the mishap from creating a permanent stain, but you'll need to act swiftly to be effective.
Different stains need various treatments.
#1. Degreasing Leather: A Guide
Grease stains should be removed using a clean, dry towel.
Water shouldn't be added since it can encourage the oil to penetrate the leather.
If the oil is already dry when you discover it, try adding baking soda on the spot to pull the grease out.
After a few hours, leave the baking soda on and wipe it off with a towel.
#2. How to Get Rid of Mold and Ink
For removing ink from leather, rubbing alcohol can be the answer.
Use a cotton swab to dab alcohol over, then wipe the stain until it disappears.
For the future, keep in mind that many homeowners have had success removing bothersome areas of either mold or mildew on furniture with rubbing alcohol.
#3. Cleaning White Leather
Leather in shades of white and beige is particularly prone to stains.
Choose a solution of equal parts lemon juice and cream of tartar to remove black stains from such pieces.
Make a paste out of the two, apply it to the stain, and let it sit for 10 minutes.
Use a wet towel to remove it.
In general, use caution when using stain-removal agents on leather; some could do more damage than good.
Always test a cleaning solution on a hidden area of the furniture first.
In this manner, nobody is likely to notice if anything goes wrong!
If none of the aforementioned advice or techniques prove useful, think about getting professional help.
FAQs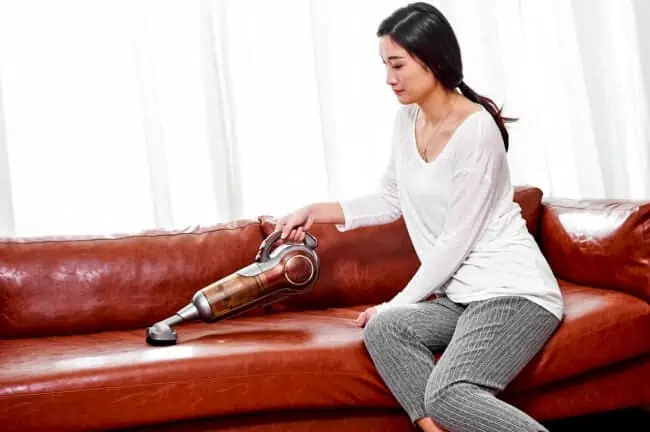 After reading the steps in our technique, you're almost an expert in leather cleaning and will soon be able to proudly display your spotless leather sofa.
To fully comprehend the dos and don'ts of how to clean leather chairs or other leather furniture, have a look at these last pieces of information.
Then just collect a few tools and start working.
You'll wonder why leather furniture cleaning wasn't done sooner!
What works best for cleaning leather furniture?
The best way to clean leather furniture is with a 50-50 mixture of white vinegar and water, which is gently brushed over the surface of the leather to clean it after giving it a thorough dusting with a clean, soft cloth.
Is Vaseline harmful to leather?
Vaseline will give leather an instant gloss and suppleness, but its benefits are short-lived.
To get long-lasting effects for cleaning and conditioning, it is preferable to adhere to the above instructions.
What should you avoid using to clean leather?
Avoid using strong commercial cleaning products, such as window cleaner, to clean leather furniture.
Olive oil, hairspray, shoe polish, and nail polish remover should also be avoided.
How often should leather be cleaned?
Leather furniture may be cleaned as often as every six weeks, but you can almost likely spread out your cleanings to twice a year.
How To Clean Leather Recliners Videos Suggestions From Youtube