You've come to the perfect location if your old RV might need some new upholstery.
A 1987 Airstream Argosy trailer that we bought is now undergoing a complete inside and exterior makeover.
We're reupholstering the backrest of an RV sleeper couch in the video we're sharing today.
Our sleeper couch, often known as a jack knife sofa, has severe damage to the fabric and foam, thus we will replace both.
The sleeper couch upholstery project consists of many steps, including this guide.
Make sure to see the instructional videos for reupholstering the seat cushion (#300576XHT) and the side panels (#300577XHT).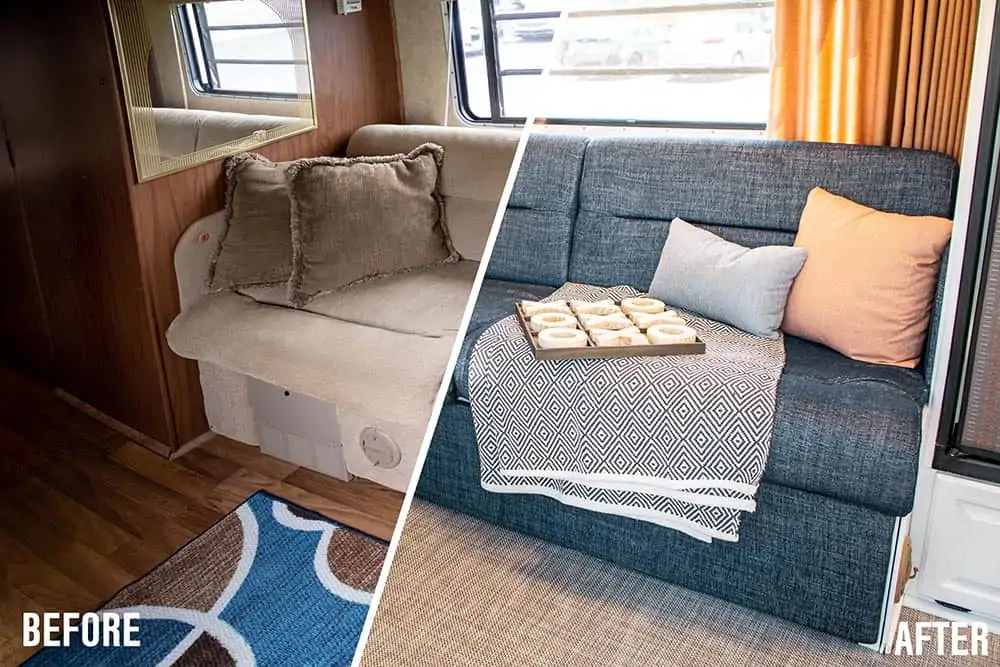 Our three-part RV sleeper couch video series includes a before-and-after comparison.
The jack knife pull-out couch must be disassembled and its fabric must be removed first.
After thoroughly disassembling the couch, you may start creating the patterns for the various upholstery components.
A word of advice: Before you remove the old fabric from the couch backrest, take pictures of it so you have a reference when you apply the new fabric.
If you can remember how the couch first appeared, it will make the reassembly procedure go more smoothly.
For our RV couch, we settled on Crypton® Home upholstery material.
For the couches and upholstery of your RV, Crypton textiles are a fantastic option.
They have abrasion resistance, stain and odor resistance, and are simple to clean.
Crypton textiles are made to withstand everyday use; they are childproof, petproof, and spillproof.
You can choose the ideal Crypton upholstery fabric for your family among its many different textures and hues.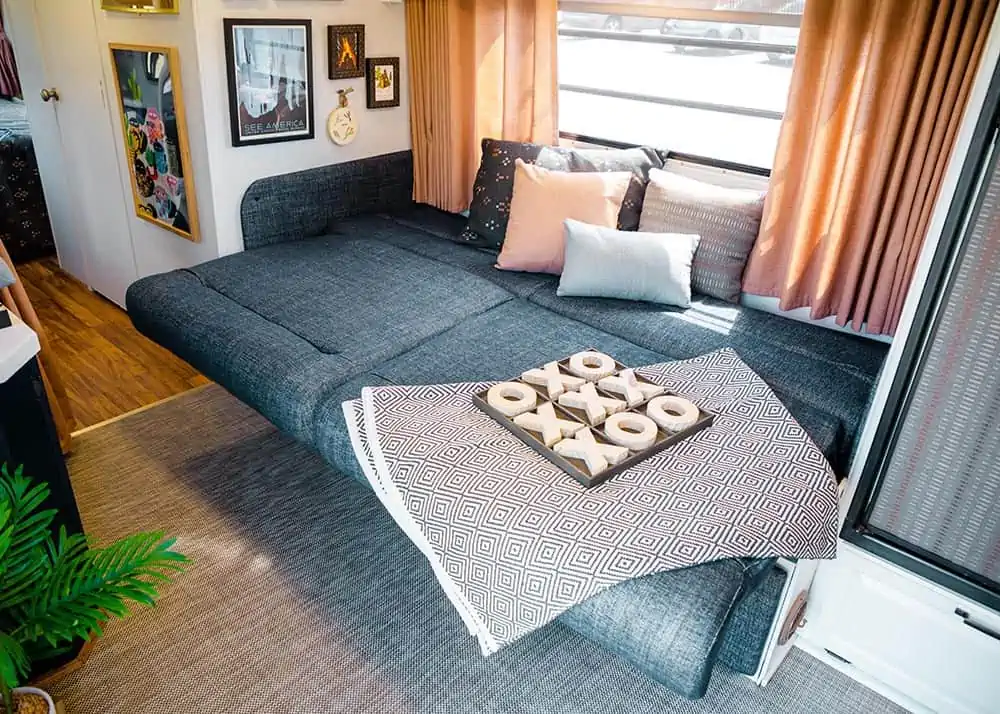 Here is how the sleeper sofa appears when it is extended.
We'll demonstrate how to measure for new fabric, how to measure and cut replacement foam, how to calculate the size of the fabric pull, how to make pleats, how to stitch boxing, and more in this video for the RV couch backrest.
Start by watching the video below to learn how to transform your own RV couch.
Chapter Videos
Intro — 0:00 min.
Disassembling the Jack Knife Sofa — 0:52 min.
Removing Fabric Cover — 2:18 min.
Measuring & Cutting Foam — 6:13 min.
Determining Fabric Cut Sizes — 14:42 min.
Cutting Fabric to Size — 18:53 min.
Determining Size of Fabric Pull — 23:26 min.
Sewing Fabric Pull on Fabric — 27:31 min.
Creating Pleats — 30:11 min.
Sewing Boxing to Plate — 33:06 min.
Reducing Fabric Pull Gap — 38:28 min.
Sewing Cording on Fabric's Edges — 41:26 min.
Attaching Cushion to Metal Frame — 42:46 min.
Materials & Tools List — 59:46 min.
Supplies List
High Density Polyurethane Foam (Medium) 4″ x 36″ x 80″ (#284M3680)
Medium Density Polyurethane Antimicrobial Foam (Soft) 1″ x 48″ x 80″ (#181S4880)
3M™ General Trim Spray Adhesive (#73211)
Décor & Upholstery Fabric from Sailrite – We used Crypton® Home Nomad Indigo (#122984)
Top Notch® 9 Silver Gray 60″ Fabric (#120450)
Seamstick 1/4″ Basting Tape for Canvas & Upholstery (36 yds.) (#122065)
Nimbus™ Cotton Duck 12 oz. White 57" Fabric (#122833)
Hog Rings for Upholstery – Sharp Point (#121880)
Tools List
Sailrite® Blade Foam Saw V2 with Carrying Case (110V) (#121244)
Clear Acrylic Ruler 6″ x 24″ (#102400)
Tape Measure 120″ (#102986)
Dura-Skrim® Patterning Material 74″ (#103134)
Gingher® 8″ Scissors Right Handed (#19104)
Grease Marking Pencil White (#101026)
Sailrite® Standard Fabricator® Sewing Machine Package (110V) (#400500)
Cording Foot Set 1/4″ for Fabricator® (#400414)
Multiuse Pins 1-1/2″ (250 pack) (#102985)
Deluxe 5-1/2″ Magnetic Sewing Guide (#103597)
Hog Ring Pliers (#100950)
Socket Set, Screwdriver, Wire Cutters, Marker, T Square, Needle-Nose Pliers
Reupholster RV Furniture Videos Suggestions From Youtube