Are you searching for suggestions for a new RV dinette? Maybe you just bought your first RV.
It's a sweet travel trailer with a roomy living space in the center and bunk beds for the kids in the rear that's perfect for your family.
But how are you going to arrange your whole family around a little dinette? How can you improve the functionality and comfort of this eating area?
This is a very typical issue for many RVers.
Dinette areas are limited, and not everyone can use the conventional designs.
Let's examine five alternatives to RV dinettes to help you design a space that better serves your family's requirements.
Replace Your RV Dinette to Transform Your Space
The living area is often one of the first areas that RVers seek to personalize.
The living room, dining room, and kitchen are all included in this.
It's not too difficult to replace your dinette, and it's one of the most useful improvements that many families need.
Whether it's a booth, a U-shaped table, or a free-standing table and chairs, RVers often struggle to make use of this area.
You may add additional storage, more seats, create a multi-purpose space, and so much more with these RV dinette replacement ideas.
The most important thing is that you and your family need the room to operate.
If you need office space, make that place your workspace.
Build benches to fit your family if you require seating for six people.
Below, we provide several wonderful suggestions.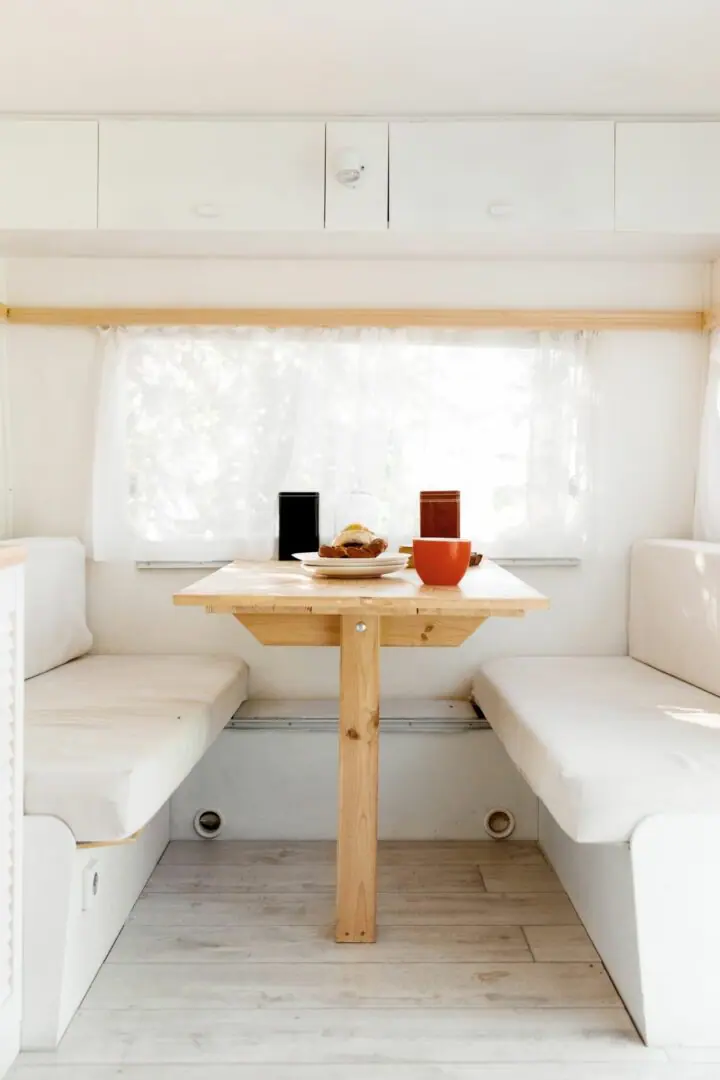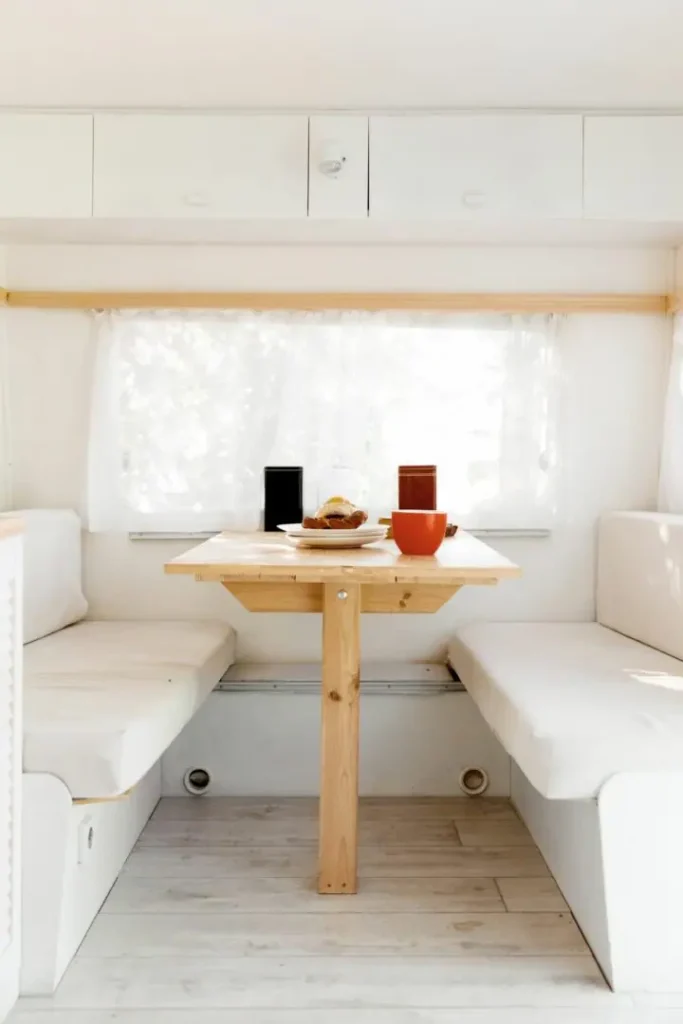 Do You Need a Dinette in Your RV?
You don't really need to have a dinette, so keep that in mind when we look at particular RV dinette replacement suggestions.
If you often dine at restaurants or outside on picnic tables, you may want to think about totally changing the layout of the area.
There isn't much space in RVs.
If you don't need a dinette, take it out and replace it with something more useful since you want every area to work for you.
There is no requirement that all RVs include a specific inside dining area.
5 Ideas for RV Dinette Replacement
Here are five fantastic alternatives for RV dinettes to help you unleash your inner artist.
You may use this list as a starting point to make your eating area more useful for you and your family.
You have many options, including increasing your living area, adding extra storage and seating, making an office nook, maintaining the appearance of a classic dinette, and using the furnishings you like.
#1. Arrange A Table And Chairs.
Even while this could resemble your existing arrangement, your RV can still reflect your own style.
Purchase some leopard-print pillows if you like the pattern.
Buy a piece of live-edge wood for your tabletop if you desire it.
The atmosphere of your RV will change even if you just replace your present table and chairs with a fresh set.
Additionally, you may add storage to the chair's seats.
To store homeschool textbooks, extra napkins, paper plates, or card games, look for ones that can be flipped up.
Any little amount of additional storage you can fit into an RV will be useful.
A table with a leaf or extension is another option.
These are popular with big families.
When not in use, you may fold it up so that it doesn't take up any more room.
However, you may provide your family a considerably bigger dining area for meals.
Setting up a table and chairs in a booth dinette frees up more room since the seats can be moved around.
Simply move the chair towards the aisle if you need extra space for your elbows.
#2. Establish A Home Office.
Today, a lot of RVers do their businesses while traveling.
Replace the RV dinette with a home office if you're one of those working digital nomads or are just working remotely for the week.
Working parents may find this to be of particular importance.
Children may learn when to leave a parent alone when they have a set place of employment.
You have a few choices depending on where your RV dinette is located.
You'll likely have a lengthy area to build a workstation with space for a computer, printer, twin screens, or anything else you need whether it's in the front or back of the RV.
You could have a smaller area if the RV dinette is to the side, but you can open it up to give the impression that you have more space.
To make the area seem larger, install a long tables that runs along the wall rather than protrudes into the room.
The views are often among of the greatest from the dining areas.
So you'll feel like you're working outside if you work facing the windows.
Imagine working while gazing out into the Pacific Ocean's raging waves, the crimson canyons of Utah, or the granite cliffs of Maine.
#3. Add A Bench With Storage.
Installing a storage bench is among RVers' most popular improvements.
It could be manufactured to order or purchased from a shop.
Replace two of the seats on a free-standing dinette with a storage bench.
Of course, this increases your storage, but it also alters the dining room's appearance.
With a little adjustment like this, it can seem more personalized.
Three kids may fit on a bench for many households.
There are just four seats in the free-standing chairs.
So you have more space to sit around the table if you swap out two seats for a bench.
The storage bench can be made multi-purpose so that it can be slid into the living area and used as a coffee table or ottoman.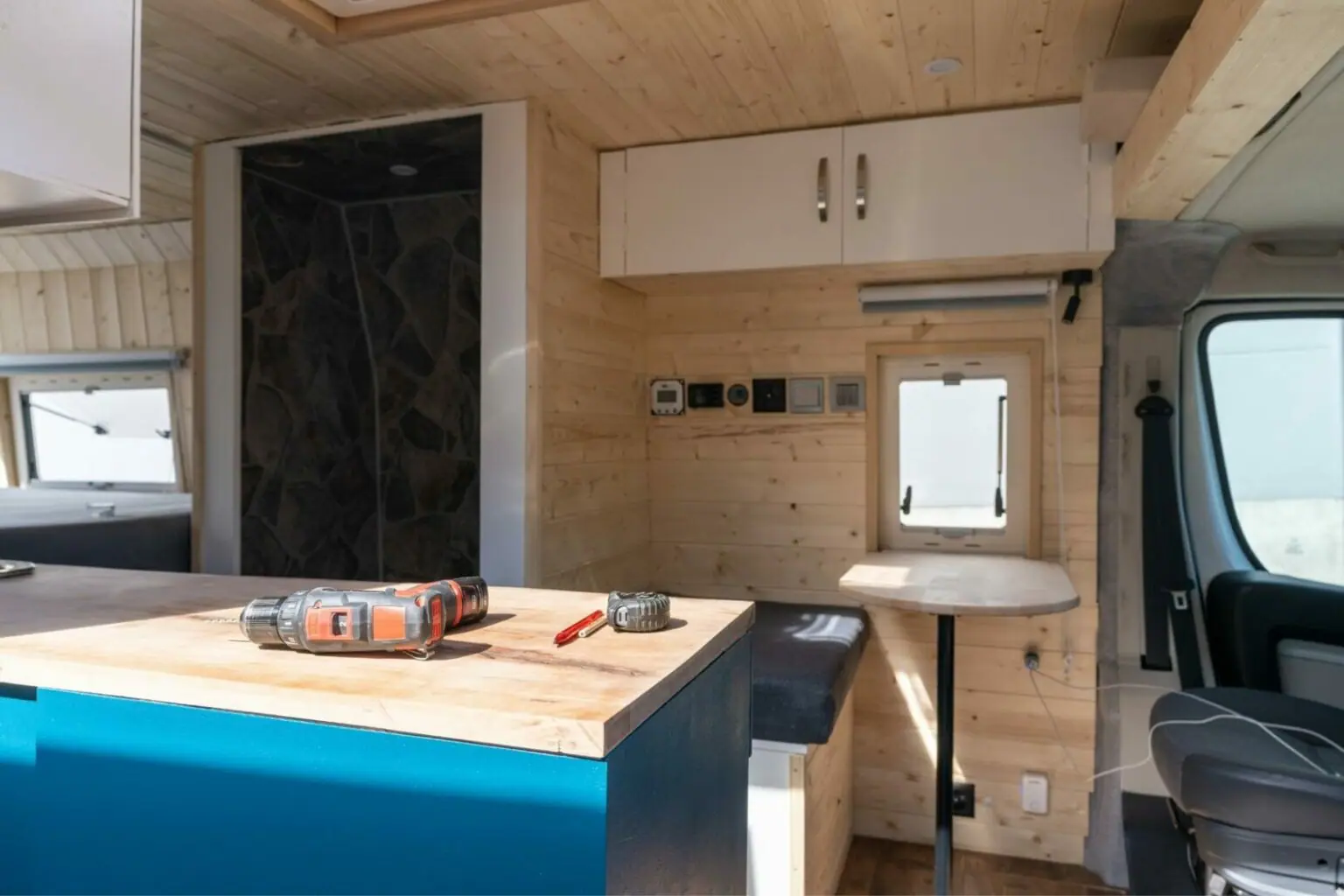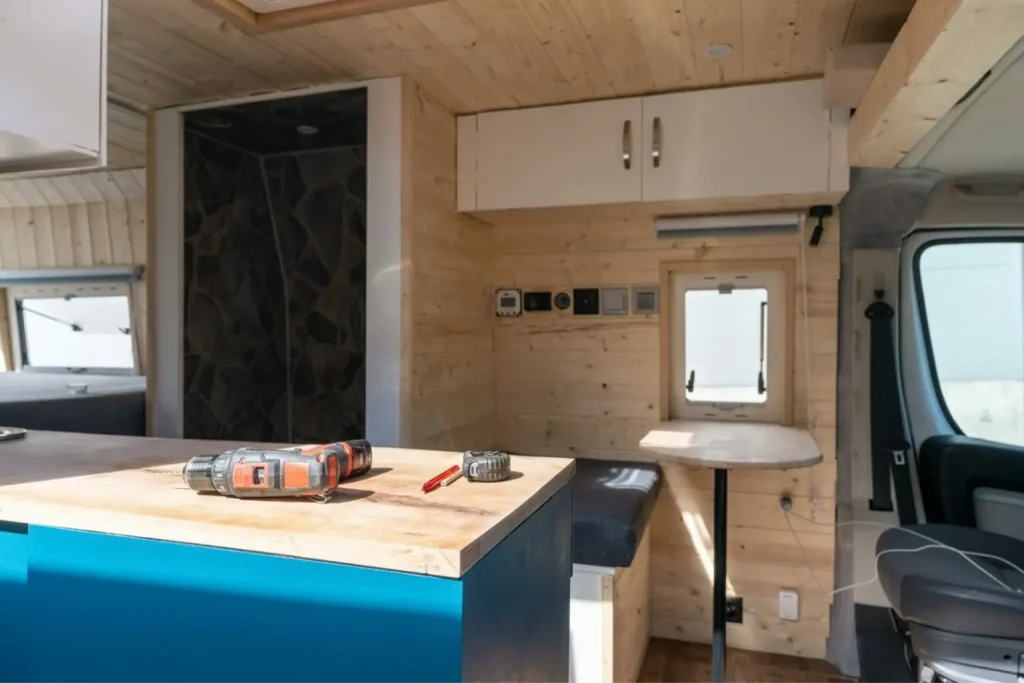 #4. Construct a Special Couch
Another option for replacing an RV dinette does not include a table at all.
You may design a unique sofa if you don't want to preserve the dinette section as a dining area.
For bigger families or people who like entertaining, this might be ideal.
As was previously said, some RVers prefer to dine at nearby restaurants or outdoors.
You may continue to eat indoors and utilize TV trays if necessary with this makeover plan.
But the room's primary attention shifts.
You have extra space for hosting game nights, hosting parties for friends, watching the big game, or doing anything else that suits your lifestyle.
Additionally, you may have your sofa built to accommodate extra storage below.
To put canvas bins or tubs below, raise it on a pedestal.
#5. Replace It With A Couple Of Chairs
You may also replace the dinette with recliners if you need more living space but don't want a sofa.
This is excellent for compact RVs without an added living area.
Some travel trailers lack a separate section with a sofa and simply contain a kitchen and dinette.
You've made a new area for relaxing by removing the RV dinette and adding recliners to the space.
Additionally, double and triple check your measurements to make sure that any furniture you add to your RV fits the area.
While installing recliners, make sure they are snug when lying back.
Additionally, make sure you can fit them through the little entranceway.
While remodeling RV rooms may be exciting and entertaining, if you don't take accurate measurements, your day can rapidly end in disappointment and despair.
Make Your RV a Whole New Space
Your RV renovation will take some time.
It also takes effort, patience, and a lot of trial and error.
But even simple adjustments may significantly improve your quality of life and trip experiences.
Don't be afraid to swap out the regular RV dinette with a more useful one.
This makeover won't cost much and won't take very long.
Additionally, personalizing your RV increases its sense of comfort.
Do you have any further suggestions for replacing RV dinettes?