Here is a guide on replacing the sofas, couches, recliners, and dinettes in your RV.
Your camper trailer or RV may need some improvements as it gets older to be in good shape.
Or maybe you want to renovate the inside of a secondhand RV you plan to purchase.
A wonderful approach to improve the appearance and use of your RV is to replace the furnishings in your camper or RV.
Whatever your circumstance, you undoubtedly have a few inquiries concerning RV furnishings.
We'll try our best to respond to some of these queries, such where to get RV furniture from and what the best RV furniture is.
We'll also look at some of the top replacement furniture alternatives available.
Products from various categories, such as sofas, couches, and recliners, will be included.
No matter what kind of furniture you want to buy, you will be able to make educated decisions as a result.
You want your RV to feel like a second home.
It makes logical that many individuals desire to make changes after buying an RV because of this.
Therefore, switching out a few pieces of furniture is typical.
This is OK, but you must ensure that you replace it with furniture that fits.
Take your time during this procedure, and you will soon have the ideal RV setup.
How Hard is It to Replace the Furniture in My RV?
Modern furniture alternatives are so plentiful that replacing your outdated camper trailer furniture is simpler than ever.
You might swap out your complete dinette and get a new one, a jackknife couch, theater seats, or recliners, for instance.
Additionally, you may change your RV mattress in addition to the furnishings! It may as well be cozy all the time! All of your furniture may even be ordered online and delivered directly to your door!
Before You Replace Your RV Furniture, Have A Plan.
Without a sound plan, you would not renovate a conventional sticks and bricks house.
This is valid for RV renovations.
Without first contemplating how everything will go together, you shouldn't start taking out and purchasing furnishings for your camper trailer.
Remember that a whole RV redesign demands the same remodeling care and attention as you would give to a more permanent house since your RV is often your sole home and your "home away from home."
To Make The Most Of Your Space, Choose Furniture With Several Uses!
When considering RV furniture alternatives, keep in mind that it must be able to be transformed into something different.
When you plan out your RV furniture makeover, keep in mind strategies to save space and enable you to acquire fewer but more useful items.
Convertible furniture is quite useful for the master bedroom, bunkhouse, kitchen, diner, and other areas of your RV.
A couch or dinette, for instance, may be made into a bed.
Likewise, benches with storage below are fantastic space savers.
The same goes for furniture items that draw out or conceal themselves, such tables that fold up or chairs that recline.
Can Regular Furniture Be Used Instead Of RV Furniture?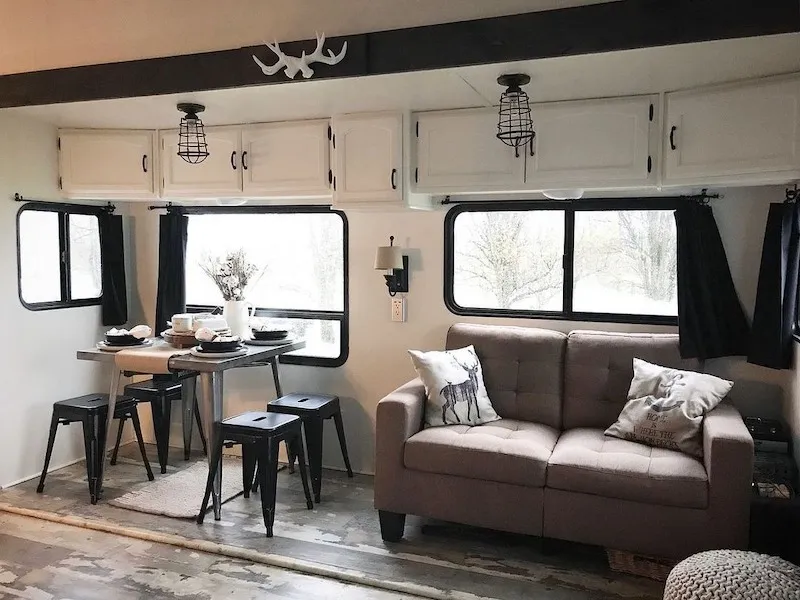 In certain cases, you may be able to swap out your RV furniture for residential furniture.
However, you'll want to check that you can secure the household furnishings so they won't fly off if you slam on the brakes!
Additionally, home furniture may not have the same multipurpose capabilities as RV furniture.
For instance, the couch could not be a bed, and the bench seating at the dinette might not have storage space underneath it.
However, you may swap out your original RV furniture with standard, non-RV-specific home furniture.
You may utilize standard home furnishings in your RV as long as the specifications match and the items are not too weighty.
By doing this, a new world of colors and designs will become available to you, allowing you to personalize your RV as you choose.
It will also enable you to transform your RV into something that resembles a house rather than a transportation.
Keeping Your New RV Furniture Safe
One of the most crucial tasks in replacing the outdated furniture is securely securing your RV's furnishings.
If your furniture is not properly secured, it could move while you are driving your camper trailer down the road or, worse yet, cause serious harm to you or your camper trailer.
Your new RV furniture must be securely fastened to the floor.
However, it does not serve as the sole determinant of how safe and secure anything is.
Here are some additional factors to think about:
Check to see what is in the floor you are drilling into and what sort of flooring it is.
Always be aware of where your liquid tanks are located.
Don't forget to diagram the other crucial mechanical components beneath your flooring as well.
How to Replace Your RV Dinette with a New Table and Chairs by Removing Your Old Dinette
Nowadays, replacing the dinette is a relatively common renovation undertaking.
Many individuals prefer a more conventional table and chairs over the outdated booth dinette configurations.
In reality, a table and chair option is offered by several RV manufacturers.
It truly isn't that tough to replace your booth dinette.
Make sure there aren't any tanks, pumps, wiring, or water heaters under your booth seats before you start.
You should start by removing the dinette table. It will include a few screws that were used to secure the RV table. Use a screwdriver or an electric drill to carefully remove these screws.
Once the original RV dinette table has been unscrewed, search for the wall-mounted bracing. You will also need to get rid of it.
It is a good idea to now remove the old RV dinette cushions after removing the wall bracing. This will make it simple for you to get rid of the old cushions and the slats beneath the dinette seat.
If there are any pull-out drawers, you should remove them after you have taken out the old slats, cushions, and table. These or foldouts are sometimes seen in RVs and may be taken out without having to undo any screws.
You should be able to see the bottom of the booth area after you've taken everything out of your old RV dinette. Let's now take out the booth's last few screws. Since the RV builder will secure this with hefty screws, some elbow grease may be required.
Finally, remove the original dinette seats' screws. Voila! You are prepared for a modernized RV dinette or a typical home table and chair set.
Where Can I Get furniture for an RV?
There are several locations you may start your search if you're searching for RV furnishings.
Where you search, though, depends on what you're looking for.
You may buy RV furniture from a number of websites if you're seeking for it.
Notably, Amazon also offers normal furniture and RV furnishings.
You may get RV furniture from a variety of internet retailers, however.
Online retailers with a good reputation for selling RV furnishings include Etrailer, Camping World, and RecPro.
In-person purchases of RV furnishings are possible, although these shops are not as frequent.
You will thus need to do a search of the shops in your neighborhood to choose one that offers RV furnishings.
There will definitely be a store where you can buy RV furnishings in your neighborhood, but it won't be the same for everyone.
Does Ikea Offer Furniture for RVs?
Ikea is one of the world's most popular furnishing stores.
It is renowned for being accessible to practically everyone and for having furniture that is simple to build.
Thankfully, they do provide RV furnishings.
Additionally, it's simple to locate the dimensions of their standard furnishings.
Therefore, it is simple to locate alternatives at Ikea if you wish to replace your RV furniture with standard furniture.
What RV Furniture Is the Best?
The best RV furniture is a question for which there is, however, no definitive solution.
Your own tastes and the sort of RV you possess will determine that.
However, there are a few things you can do to make sure you acquire the greatest RV furniture for your needs.
Prior to making a purchase, you should first take your time and carefully consider a number of things.
You will be shown a selection of furnishings in this manner, allowing you to view all of your possibilities.
Additionally, if at all feasible, you should attempt to choose your furniture in person.
Online shopping is quicker and faster, but it also removes the human aspect of a transaction.
You may test out the furniture for yourself when you visit a furniture shop.
You may recline on a chair, sit on a sofa, or lay in a bed.
This can help you determine your level of satisfaction with the furnishings more accurately than any internet review.
Therefore, even though it could take longer and be more work, making a purchase in person might make you happy in the long run.
Excellent Ideas for RV Replacement Furniture
Replacements for RV Jackknife Sofas
We'll start looking at some RV furniture alternatives for you here.
We'll start by taking a look at a few of the greatest alternatives to an RV jackknife couch.
#1. THOMAS PAYNE 68" Jackknife Sofa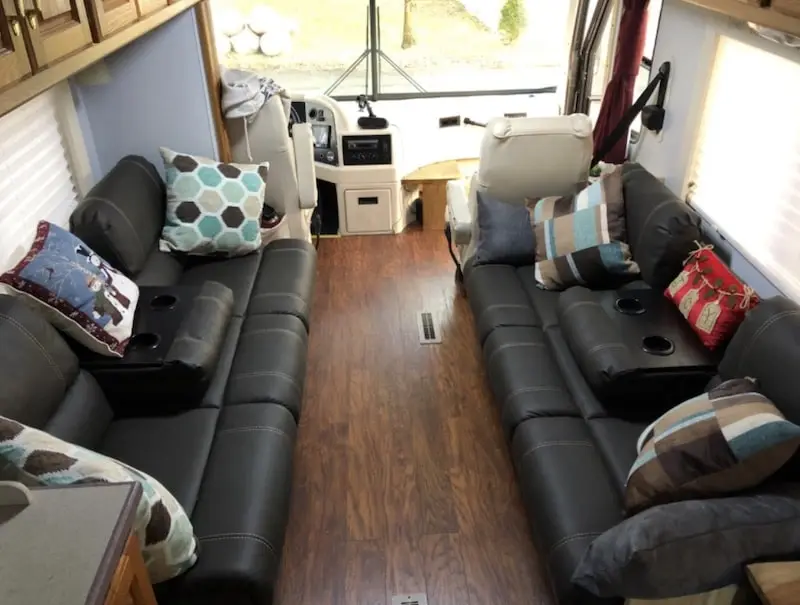 This THOMAS PAYNE jackknife couch is made of supportive, high density foam and is upholstered in low maintenance PolyHyde with contrast topstitching.
It is a lightweight, adaptable piece of furniture that may help you save room inside.
You'll be able to put additional items below the sofa since it will attach to the coach wall.
In addition, it may be easily transformed into a bed.
Additionally, the couch is 68 x 28 x 23 inches.
The sofa is 42 inches deep overall when it is in the bed position.
This sofa works nicely with a universal leg kit, which is available separately.
#2. RecPro Charles Collection | 60" RV Jack Knife Sofa w/Arms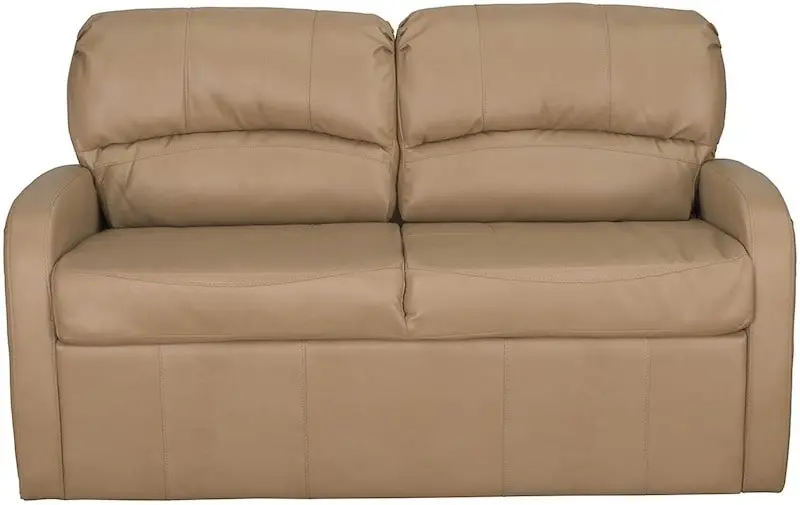 Faux leather, usually known as polyurethane, is used to create this jackknife couch by RecPro.
The couch is compact and only needs three inches of clearance.
It is 60 x 29 x 35 inches in size.
Furniture to Replace a Trifold Couch
We'll examine a few trifold couch replacement options for you in this article.
#1. THOMAS PAYNE 62" Tri-Fold Sofa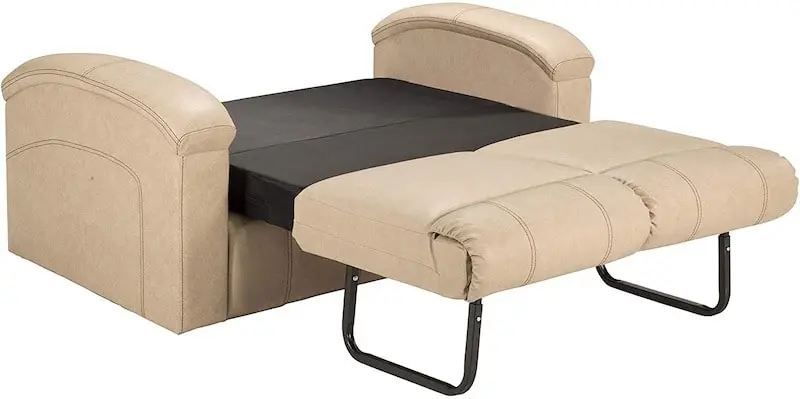 The THOMAS PAYNE tri-fold couch is intended for luxury during the day and sound slumber at night.
High density foam has been used to build the sleep surface so that no support bars may protrude and obstruct your sleep.
Additionally, it boasts an easy-to-assemble lightweight aluminum design.
The couch is 62 by 34 by 38 inches.
Finally, a one-year limited warranty is included.
#2. THOMAS PAYNE 68" Trifold Sofa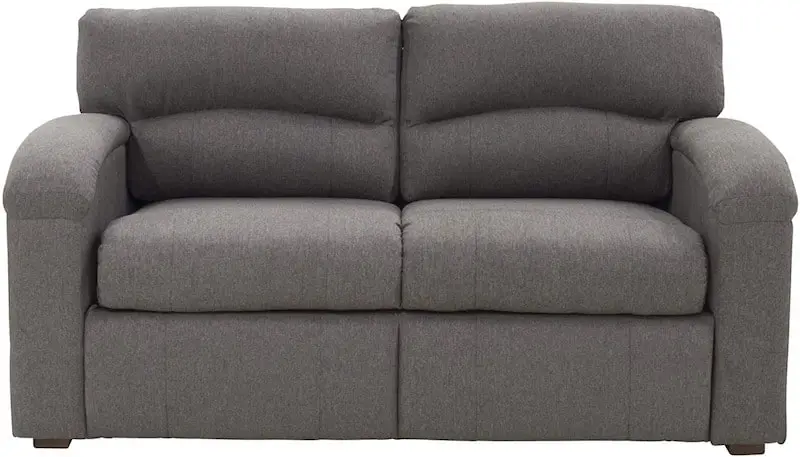 This THOMAS PAYNE tri-fold couch offers a cozy spot to relax during the day and sleep at night.
Its supportive, high-density foam construction will make you feel as if you are sleeping on a cloud.
Furthermore, you won't have to be concerned about support bars poking through and disturbing your sleep.
Additionally, the couch boasts Majestic Chocolate PolyHyde upholstery with contrasting topstitching that requires little upkeep.
The couch is also manufactured of lightweight metal, which facilitates simple assembly.
The sofa's measurements are 68 x 34 x 38 inches, and it has a one-year limited guarantee.
Furniture For Replacement Theater Seats
Here, we'll examine some of the greatest theater seating replacement alternatives currently available.
#1. RecPro Charles Collection | 67" Double Recliner RV Sofa & Console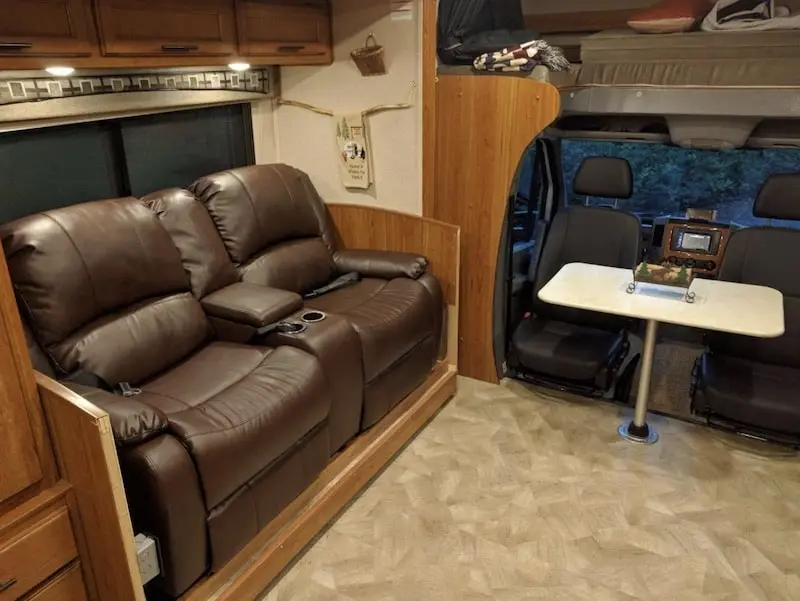 There aren't many better alternatives than this one from RecPro if you're searching for theater seating to replace the sofa in your RV.
It is composed of enduring and simple to clean imitation leather and measures 67 x 39 x 37 inches.
Additionally, since it is a space-saving recliner, it is a fantastic choice for RVs and trailers.
To completely recline, there can be no more than three inches between the chair and the wall.
Between the two seats, there are a pair of cupholders as well.
#2. RecPro Charles 58" Powered Double RV Wall Hugger Recliner Sofa RV Loveseat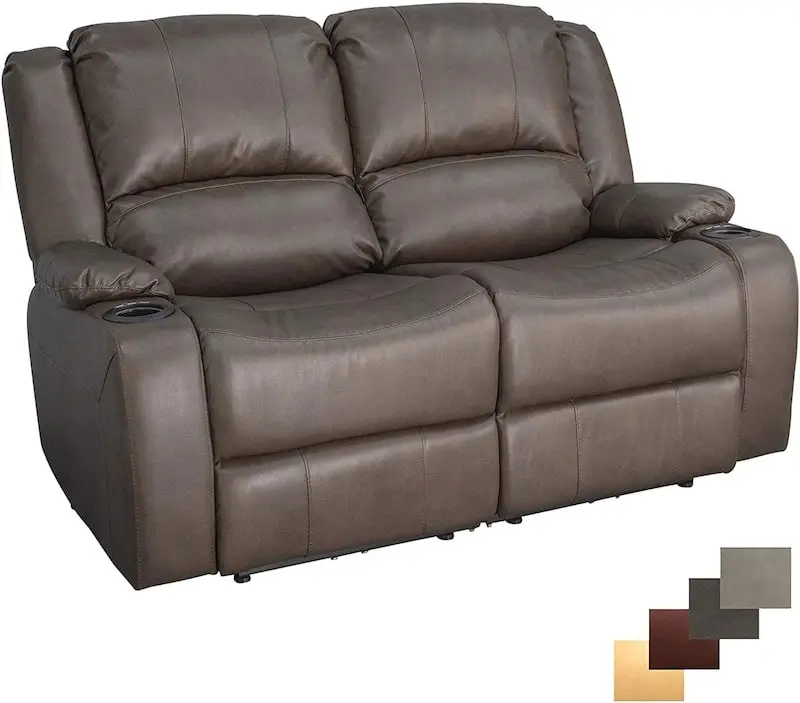 The modular design of this wall hugger recliner couch from RecPro makes installation simple.
Additionally, it is a double zero wall hugger recliner that saves room.
This implies that, when you recline, you only need to allow three inches between the wall and the sofa.
In RV furnishings, having this additional room is really useful.
For convenience of usage, the sofa also offers motorised reclining capability.
You won't ever have to be concerned about your phone dying since it also features a USB charger developed just for you.
This item does need to be put together by you.
But it also includes instructions that walk you through each step.
Furthermore, regardless of your degree of skill, it is incredibly simple to put together.
Furniture for RV Recliner Replacement
There will be days when all you want to do is unwind when you spend weeks at a time traveling in an RV.
You'll want a cozy chair to unwind in on such days.
Here, we'll examine some of the top alternatives for RV chair replacement furnishings.
#1. RecPro Charles Collection | 30" Swivel Glider RV Recliner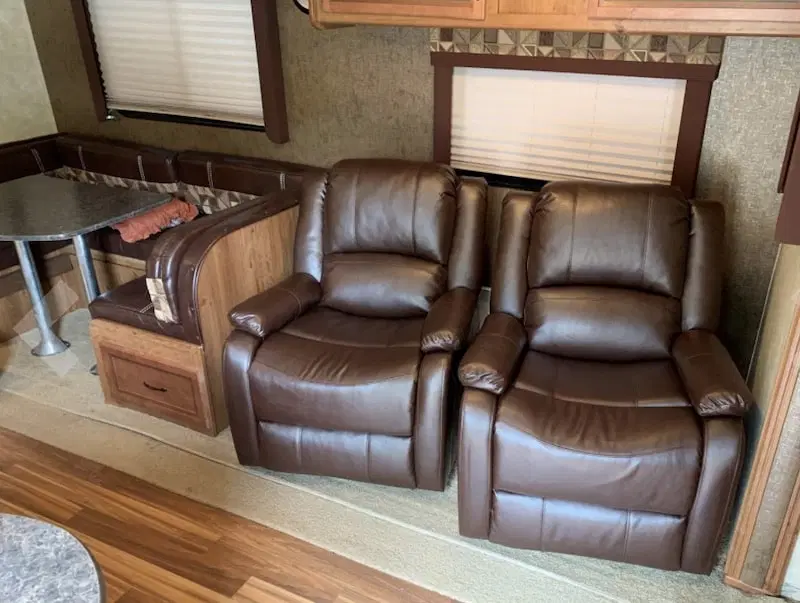 RV owners have a lot of options with this pair of RecPro RV recliners.
They may be installed in RVs and other small areas because to their distinctive modular design.
To recline, there must be 12 inches of clearance.
It comes in two cartons and takes less than five minutes to put together.
The headrests, backs, and seat cushions on the chair's back are cushioned.
The Toffee Faux Leather makes it very simple to clean.
Last but not least, it measures 37 x 30 x 39 inches.
#2. ANJ Electric Recliner Chair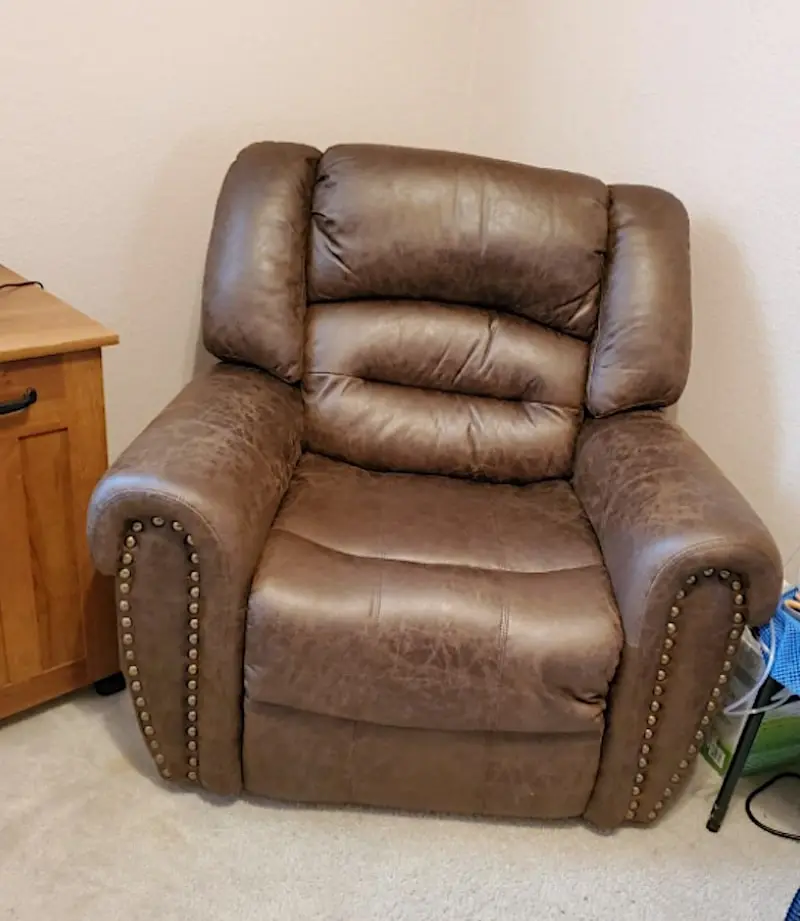 Two straightforward buttons operate the electric reclining mechanism on this ANJ recliner.
They have a very mild button you may click to start the reclining feature.
This makes it a great choice for those who are physically limited as a result of aging or sickness.
Because the designers packed it with too many cushions, it is also exceedingly sturdy and comfy.
As a result, you may relax in the chair in the utmost comfort while watching a movie or reading a book.
It also has a sturdy steel design that guarantees 25,000 usage.
Additionally, a USB charging connector is included with the chair, located on the right side.
In addition, it is made of hygienic, breathable leather.
The chair is 39 x 28 x 39 inches in size.
Finally, ANJ offers a one-year guarantee and a free exchange for any installation issues, damaged, or missing components.
#3. ANJ Power Massage Lift Recliner Chair with Heat & Vibration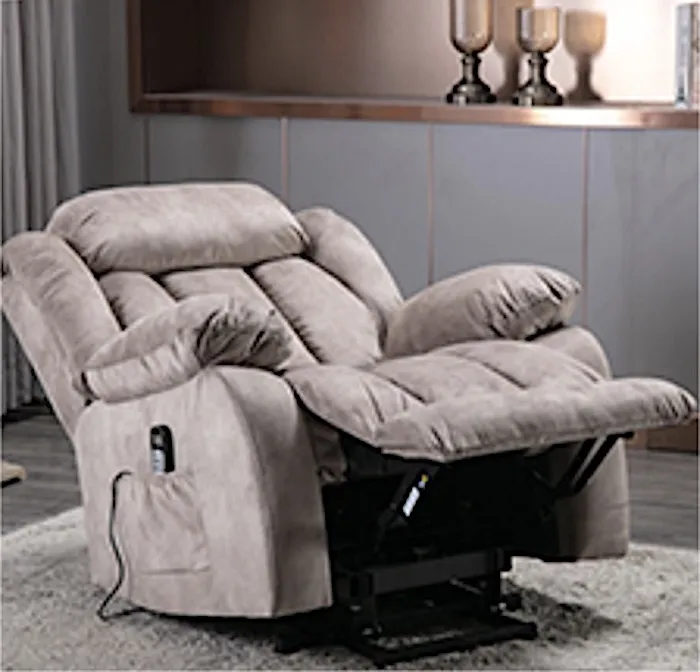 This ANJ RV recliner has heat and massage features.
The recliners that provide you a variety of options are the greatest.
With this chair, every day will seem like a spa day.
You may discover the massage that you need thanks to its 10 various modes.
The shin, thigh, lumbar, and shoulder are the four main body parts that are massaged.
The chair also has a reliable and useful hydraulic lift recliner.
It boasts a contemporary design and a single motor that lets you raise and tilt it to stand up or recline.
You ought to be able to effortlessly change to any unique position using this design.
The measurements of this chair are 39 x 39 x 40 inches, and it is covered by a one-year guarantee.
Furniture For A Replacement Dinette Booth
The dinette will be our last piece of furniture to examine.
Most of your meals while traveling will be consumed at your dinette.
If necessary, it may also be turned into a sleeping space.
Here are a few possibilities for dinettes in need of replacement.
#1. RecPro Charles 42" RV Dinette Booth with Storage Converts to Bed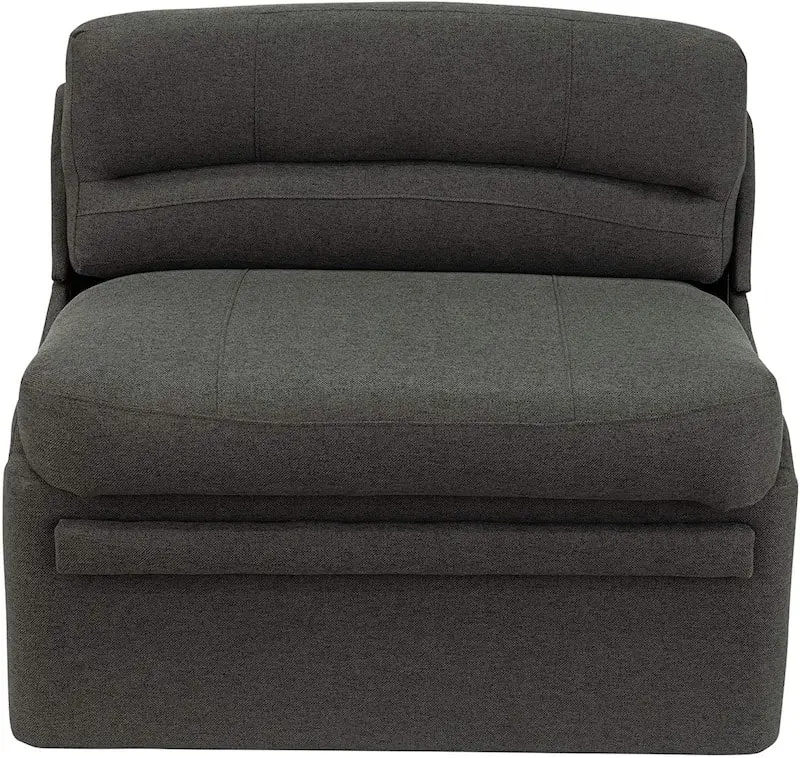 RV owners might consider this storage-equipped booth from RecPro.
RecPro aims to provide furniture with robust and functional designs, and this item is no exception.
Besides serving as a seat, it will also feature storage space.
A storage space may be seen behind the seat cushions when they are removed.
Having some hidden storage space is incredibly useful since every square inch of an RV is precious.
Additionally, materials designed to last a long period were used to create this product.
The fabric is woven specifically to prevent fading from sunshine and wear and tear, and it is very simple to clean.
Additionally, it features resilient foam that will rebound.
You may be sure that this piece of furniture will survive for many years as a consequence.
In certain RVs, weight might be a concern.
All of them have limitations, and if you have a big RV, you could sometimes have trouble crossing certain highways and bridges.
You may thus need to reduce the number of items in your RV in order to save weight.
Thankfully, this piece of furniture weights just 58 pounds, which will assist you with that problem.
#2. RecPro Charles 36" RV Dinette Booth with Storage Converts to Bed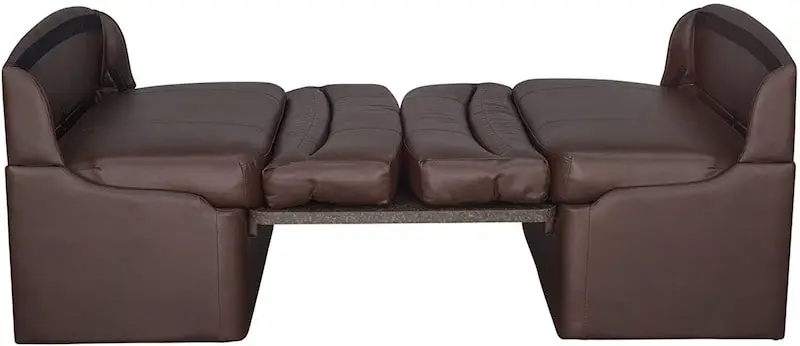 RecPro is also the manufacturer of the storage-convertible dinette booth for RVs.
Similar to the last dinette, this one has roomy storage behind the benches.
There are four hues available: Putty, Toffee, Chestnut, or Mahogany.
If necessary, it may also be made into a bed.
Finally, if you like, you may buy this item alone or as a set.
Find And Install The Ideal Replacement RV Furniture For You.
We hope that after reading our guide on RV replacement sofas, couches, and recliners you have all the knowledge you need to begin personalizing the appearance of your RV.
Although there is a lot to take in, it should all be beneficial as you go.
After all, having too much knowledge is preferable than having too little.
You will thus be one step closer to having the ideal RV setup if you apply this advice.
The fact that you can swap out RV furniture for standard furniture as long as the specifications match may surprise new RVers.
Additionally, you may not be aware of where to hunt for RV furnishings.
Online, fortunately, offers a wide range of choices.
You will discover things that are a great match for you if you take your time and carefully consider your alternatives.
If you can shop in-store rather than online, you should make the effort to do so.
Shopping in person enables you to feel the furniture.
You'll feel more at ease when you finally decide to buy because of this.
You will soon learn that you have a variety of possibilities when you begin your search for the finest RV furniture replacement solutions.
You must thus figure out how to focus your search.
The easiest approach to do it is to stick with a select few well-known brands and producers.
That explains why THOMAS PAYNE and RecPro are represented by so many of the goods we highlighted.
Both businesses are well-known and reputable and provide high-quality goods.
FAQs
What if I'm unable to afford new RV furniture?
Is your camper trailer's furnishings a little shabby and worn out? Have the UV rays from the sun that enter via the windows harmed the furnishings in your RV? Or maybe your adorable dog, Fido, fell in love with your RV sofa a bit too much and left his mark with his little nails.
Whatever the situation, you may refurbish the furnishings in your camper trailer on a budget!
Custom cushions made from the fabric of your choosing may be made by a nearby seamstress or upholstery business.
If necessary, they can even completely reupholster the sofa or chair so you won't have to buy a new piece of furniture to replace it.
Another alternative is a do-it-yourself approach, for which we have discovered a wealth of information on Pinterest.
Many of the DIY articles we discovered don't need sewing, which is wonderful if you don't have access to one.
If investing in brand-new furniture is not an option for you, one of the aforementioned ideas could work.
Although it could also be a little challenging to locate the ideal replacement components and fabric to match your current RV furniture.
You might be able to go ask for advice on furniture replacement at your neighborhood RV dealer.
RV dealers often have additional furnishings or connections that they may provide to you as a fantastic alternative.
Buyers beware, though.
Reupholstering used RV furniture is much more costly than purchasing all new pieces.
This is not meant to imply that we should discard perfectly nice furniture that just need minor "cosmetics" maintenance.
But if you have a limited budget, it is something to think about.
Should I Upgrade My Old RV Furniture or Repair It?
Maybe there's simply a little rip or something occurred to the camper trailer's furnishings while you were travelling down the road that requires a quick patch.
Thankfully, there are a few quick modifications you can do to your worn-out RV furniture that won't cost you money to replace or reupholster.
Use some cut-to-size Velcro bits as a temporary solution.
Velcro may come in handy in a hurry, so we always keep some in our kitchen trash drawer!
A bungee cord may also be used as an emergency furniture mend when traveling.
Any rapid, durable solution you need may be quickly and securely fixed, even a broken furniture leg.
Replacing RV Furniture Videos Suggestions From Youtube