Depending on how your RV is configured, the captains chairs (the driver's and passenger's seats) may be the seats that get the most use.
You can be spending a significant chunk of your day in such chairs if you travel often (as opposed to being in one place for an extended period of time).
In other words, the driver's seat will be occupied the whole time! Heck, I certainly hope it is!
Additionally, if you have captains chairs that can be turned to face the living room, you'll be using them even when you're not moving.
Because of this, it's critical to have supportive, comfy seats that can last a long day of driving while still being cozy for a night out with friends.
They must be practical, durable, attractive, and comfortable.
Therefore, let's examine RV captains chairs.
Replacement Captain's Chairs for RVs
Naturally, your RV already has captains chairs, but if you're remodeling it or the seats are damaged and can't be replaced, you may want to replace them.
Consider the following factors while shopping for new captains chairs for an RV:
It's usually preferable to get the identical chair you already own (if that model was comfortable for you). In this manner, you will have a chair that you are certain will fit in the designated location.
Upholstered furniture that will complement your existing or future design
Base placement: Verify that the chair's base plate will fit properly and be able to be securely fastened to the floor.
Verify that your RV can accommodate the swivel mechanics and any electric chair components.
Attempt before you buy. If the captain's chair for your RV is something you're purchasing online and it's not precisely the same model as the one you currently own, check if you can try it out someplace. I've heard that some of the less expensive captains seats are not the most comfy, particularly after a long journey. So try to test the desired chair out first. Possibly try sitting on a chair provided by another RVer, a nearby RV manufacturer, or a dealer. Even though it could be challenging, it would be ideal if you could try the chair out before purchasing it.
Manufacturers of RV Captains Chairs
Captains chairs are one of those areas of RV furniture where you don't want to cut corners.
Obviously, the most essential thing when driving is to feel secure and comfortable.
Amazon is my "go-to" source for, well, everything, but they're not the perfect type of provider for an RV captains chair replacement.
For this, you should actually contact an expert RV furniture maker.
I've included a few brands of captains chairs for RV furnishings below that could be able to assist you in finding the ideal replacement chair.
Captains Chair Covers for RVs
Your simplest and least expensive alternative for maintaining your RV captains chairs in excellent condition is to purchase RV captain chair covers.
This will aid in preventing UV deterioration, excessive wear and tear, and pet-related damage to the chairs' upholstery.
If your upholstery is already beginning to show indications of degradation and you want to stop any more damage, using captain chair seat covers is an excellent solution.
If you want to modify the look of your motorhome but don't want to re-upholster, RV seat coverings are a great alternative.
Just be aware of measurements and make sure you measure properly if you're planning to utilize coverings.
Here are several possibilities for RV captains chair coverings.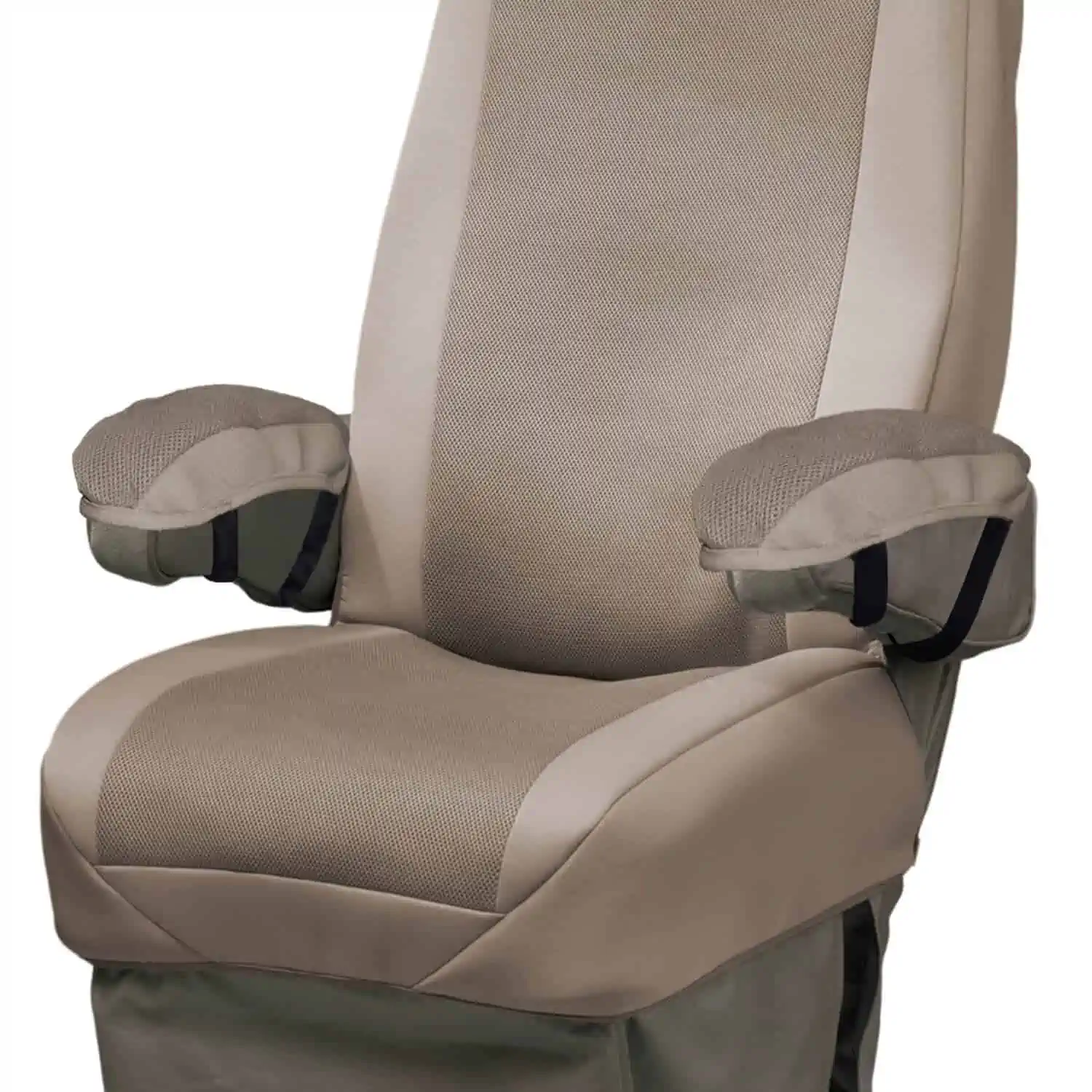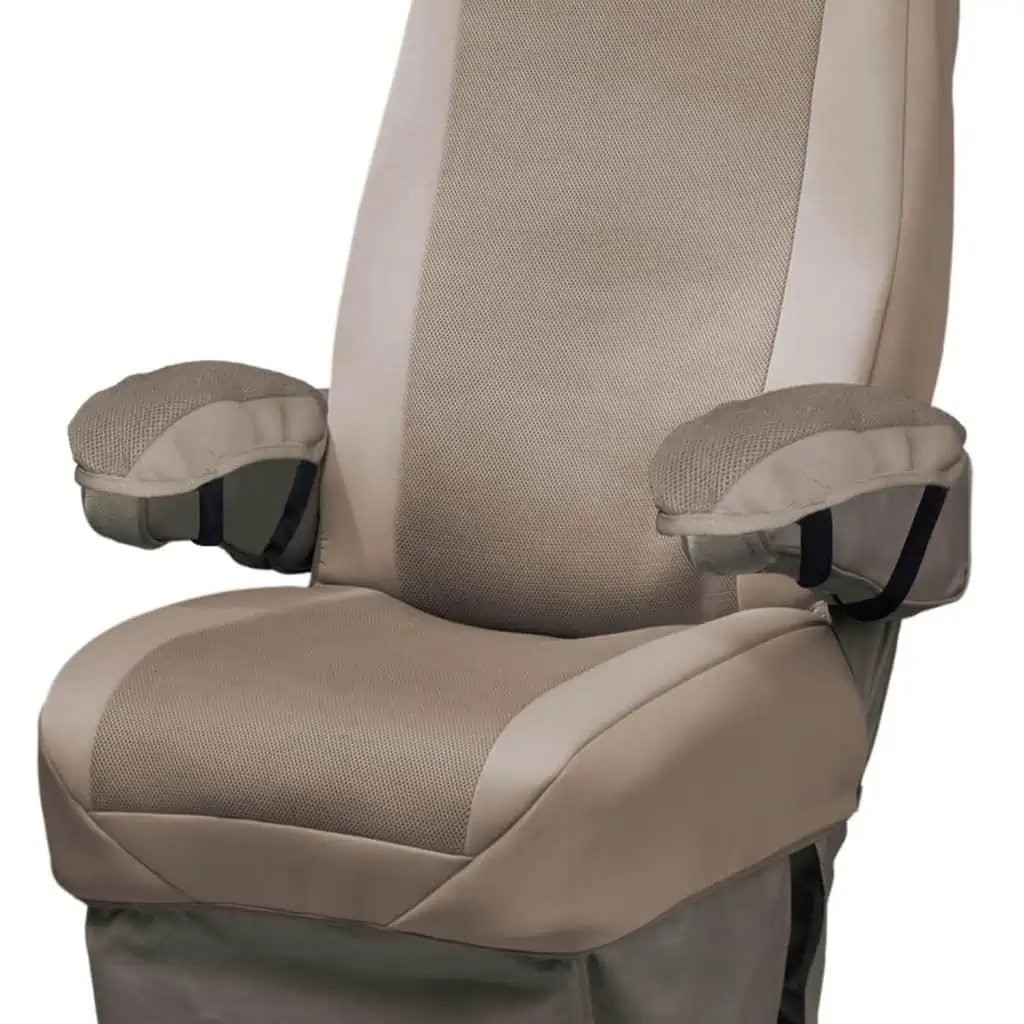 One of the reviewers of this seat cover used them to cover his Flexsteel RV captains chairs, and he was pleased with the results (see the part below where I discuss this).
To get the arms in, they did need a little jiggling, but once he worked it out, he was satisfied.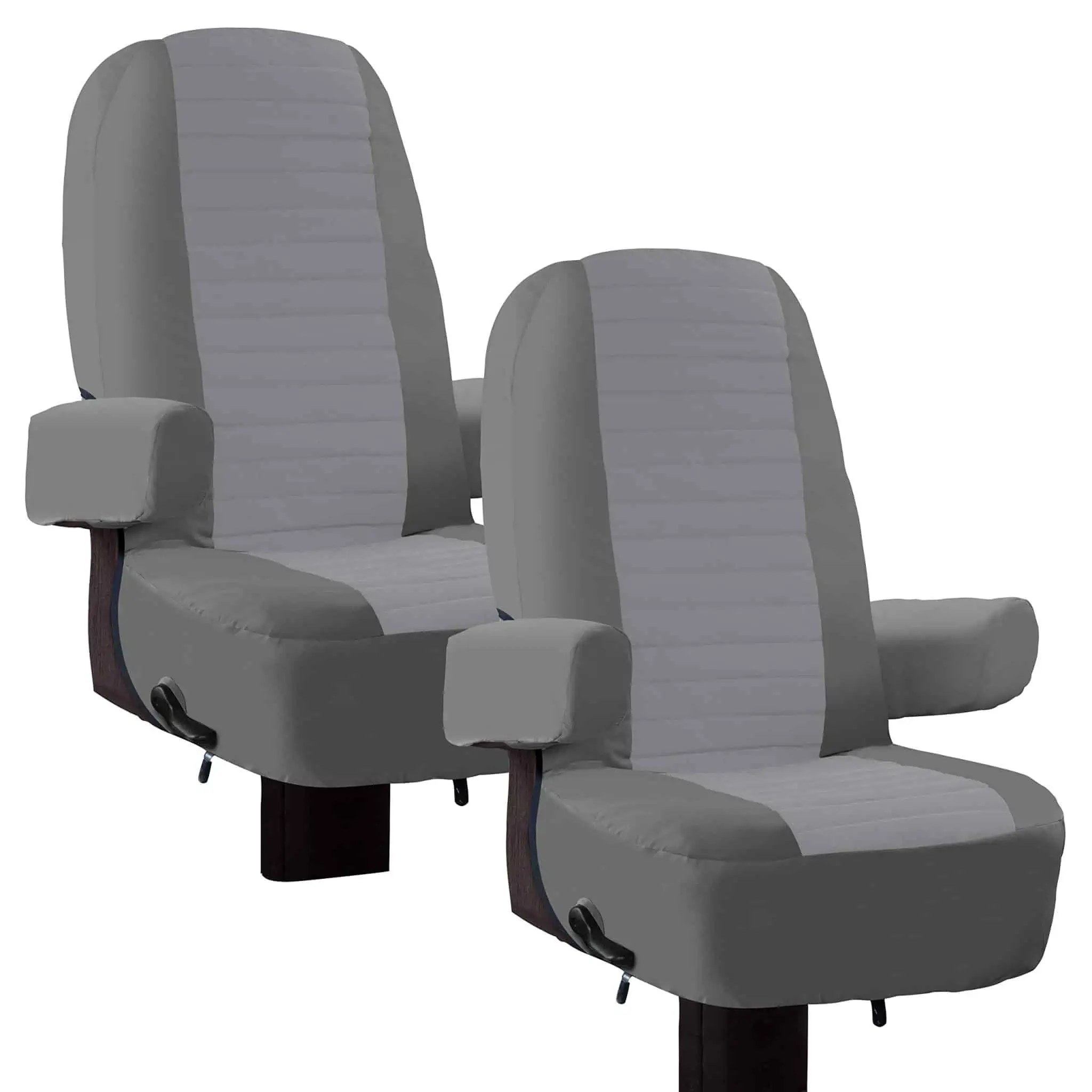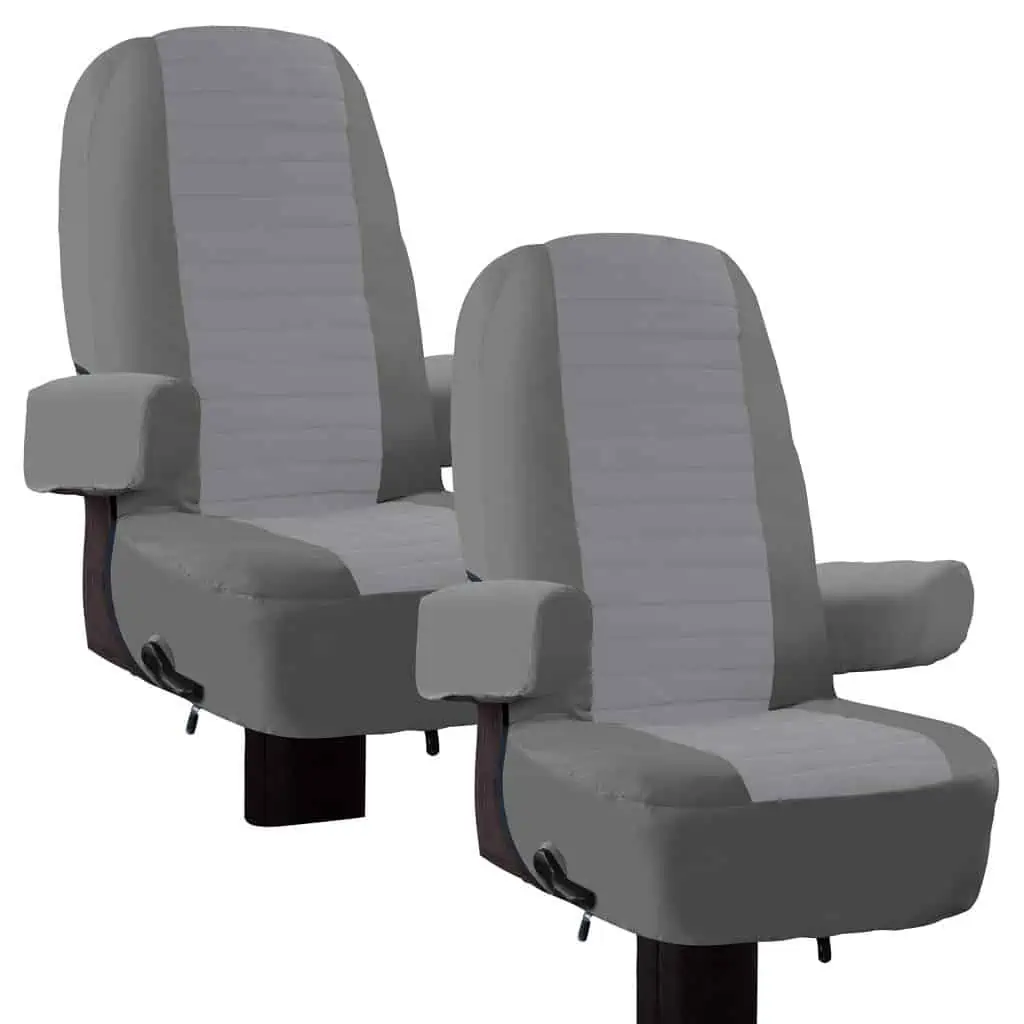 You should take meticulous measurements to ensure that these ones will fit your chairs, according to one of the reviewers of this product.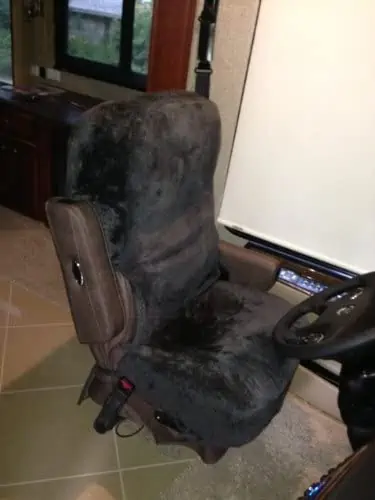 A Word About Flexsteel RV Captains Chairs
Even though they are a little more expensive than the knockoffs, Flexsteel captains chairs appear to have a reputation for being the most comfy.
And a lot of RV manufacturers come equipped with Flexsteel RV captain's chairs.
However, I've seen a number of complaints online regarding certain Flexsteel captain's chairs that had fake leather upholstery that had long since worn out.
It seems to have an impact on a number of Flexsteel items manufactured between 2013 and 2015.
Here is a blog article by Technomadia's Chris & Cherie discussing the problems they had with their captains chairs and the solutions they came up with.
(Scroll down to almost the bottom of this post.)
Have the captain's seats in your RV been replaced? Or did you decide to use a captains chair seat cover for your RV?