Does your RV or camper need a makeover? Or maybe you want to improve the RV you just bought used? In any case, updating and improving your RV's furnishings is a terrific way to breathe new life into it.
Replacement of RV furniture may be as easy as purchasing a new chair, but if you don't know where to seek and what to get, it can also become quite difficult.
This article will assist you in locating the greatest RV furniture bargains for your makeover.
We examine several RV furniture producers, the secondhand RV furniture market, and advice on picking the best furniture for your vehicle.
To assist you along the road, you also get a free guide for measuring RV furniture.
RV Furniture Types
Depending on the sort of RV or camper you have, the layout of your motorhome, and of course your own preferences, RV furniture comes in a wide variety of shapes and styles.
However, the majority of motorhomes are furnished with certain basic RV items, such as the following.
#1. RV Beds
Without a designated sleeping room, a motorhome cannot be considered complete.
Small queen-sized mattresses that can accommodate an RV mattress, bunk beds, smaller adjustable beds, and sofa-turned-beds that function as lounging areas while not in use are all examples of RV beds.
No matter what size RV you buy, in order to fully take use of the benefits of #riglife, you must have a comfy sleeping room, whether devoted or not.
#2. Dinette Sets for RVs
RV dinette furniture is the second-most crucial kind of furniture in your camper.
This might just be a foldable table with camping chairs or a separate dining table and chairs or even a dining booth.
In order to be able to eat (and sometimes even make) your meals in peace, you need a certain piece of furniture for your dinette.
#3. RV Couches
When it comes to RV furnishings, comfort comes first.
Recliners for RVs are essential since lengthy road journeys may be exhausting.
They are often put in the RV cabin, particularly in larger Class A motorhomes where they serve as Captain's chairs.
However, you may also get a recliner for your RV and set it up anywhere you choose within your vehicle.
#4. RV Sofas
Every RV must include a living room where you can unwind.
This is crucial for RV households with children.
RV couches are identical to ordinary sofas, just smaller and more versatile.
For instance, many RV couches include storage spaces under them or can be expanded to become a sleeping.
The Best Way to Pick RV Furniture
There are many things to consider while picking the appropriate RV furnishings.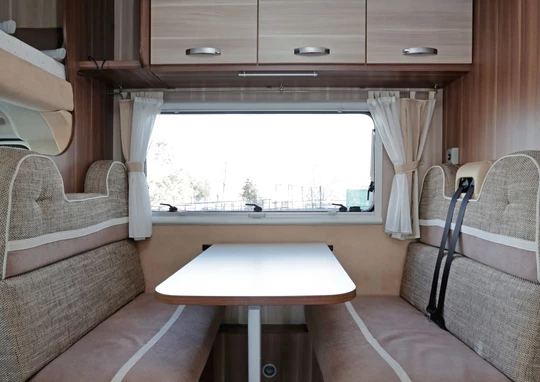 #1. The Interior of Your RV
The size and layout of your RV should be your first priority when selecting the appropriate furnishings for it.
Large sofas will simply not fit inside pop-up campers, it may not be physically feasible to place bunk beds in Airstream trailers, and pre-assembled furniture might not fit through your RV entrance.
The key is to carefully measure the inside of your RV and choose furniture items that will really fit within.
Don't forget to take measurements for the width and height of your RV door.
(Check back later for a measurement guide for RV furniture.)
#2. Size and Form
The actual design and size of the furniture items are the second most crucial factors to take into account when purchasing RV furniture.
Before replacing any existing furniture in your RV, be sure to thoroughly measure each piece so you have a precise idea of how much space the new furniture will take up.
A circular dining table could fit better inside a cabin dinette than one with sharp edges, so pay attention to the form of the furniture you're selecting.
For a Class C motorhome, a two-position recliner may be more appropriate than a fully reclined one.
#3. Weight
The Gross Vehicle Weight Rating of an RV lets you know how much weight the vehicle and all of its stuff can safely carry together.
This information is often included in the RV's user handbook.
Make sure the furniture you choose doesn't weigh more than your RV can comfortably support.
It is crucial to weigh each individual item separately before adding their weights to see if you are under the limit.
Generally speaking, choose for lightweight, multipurpose furniture items.
#4. Design
Think about the overall style and look you desire for your motorhome before changing your RV furnishings.
This will assist you in selecting the appropriate furniture style that complements the theme.
A dining table with a light marble top, for instance, would go in well with a contemporary chic theme.
A rustic feel would be complemented with leather chairs.
#5. Functionality
The RV interior is always constrained by space.
To save room within your RV, use furniture items that may serve many purposes.
A clever lift-top ottoman, for instance, may serve as both a seat and a place to store your RV necessities.
You can also use it as a dinette or coffee table by placing a wooden tray on top of it.
If your RV doesn't have enough room for a recliner, a futon chair that also serves as a sleeper may be a big space saver and a terrific option.
#6. Price
What sort and style of RV furniture you may purchase will depend on your budget.
We advise splurging on often used things like RV beds and mattresses.
Good memory foam couch beds may last you for a very long time and are a wise investment.
Don't forget to check for used or pre-owned furniture, particularly for goods like dining tables and chairs.
Some very incredible bargains are available.
#7. Durability
You should spend money on RV furnishings that will withstand use and the passage of time.
Since RV furniture must withstand a life on the road, it must be more durable than furniture in your house.
You don't want to get furniture that, after a few weeks of usage, begins to creak.
Due to the fact that these furniture items are manufactured exclusively for RVs, many RVers choose to purchase their furniture from RV furniture retailers and stores.
Best RV Furniture Stores: Where to Buy RV Furniture
Here is a list of the top RV furniture shops and businesses, however you may purchase furniture for your RV from just about any furniture store (as long as it is the appropriate size, shape, and weight for your RV).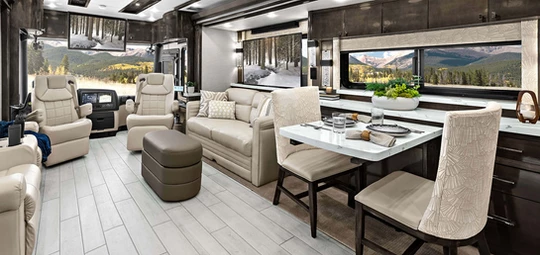 #1. Hall and Bradd
The genuine wood dining tables, desktops, foldable coffee tables, and wooden dinette booths made by Bradd & Hall are their specialty.
But that's not all; they also have Captain's chairs and beds made of Flexsteel, as well as furniture made by Villa, Fjord, and Lafer RVs.
Orders may be placed via their website, showroom, or authorized dealers.
#2. Center for RV Furniture
In its Idaho showroom, the RV Furniture Center offers a wide range of installation services, including the setup of brand-new dinettes, carpet, flooring, and furniture.
Additionally, they provide queen-sized memory foam mattresses for your RV, which are the perfect upgrade from regular RV bed mattresses.
On their website, you can also browse a large selection of Thomas Payne RV furnishings.
Their website allows you to place an online order and have your purchases delivered.
#3. Glastop
Recliners, couches, dinettes, sectionals, ottomans, and wooden tables are just a few of the furniture items available from the Florida-based RV furniture manufacturer and supplier Glastop.
They also provide Lambright RV furniture and have distinct areas for captain's chairs for both Class A and Class C RVs.
On their website, customers may purchase Glastop RV furnishings.
#4. Direct Coach Supply
RV furniture is available from Coach Supply Direct at discounted rates.
On their website, in addition to bespoke RV furniture, you can also discover collections from Lambright, Villa, and Flexsteel.
You must phone them or send them an email to make an order instead of doing it online.
Once they have all of your information, they will send the furniture to you.
#5. Interiors in the Country
Oregon-based Countryside Interiors manufactures RV cabinets and furnishings.
You may purchase from their enormous selection of RV furniture online or have custom fittings made at their store.
They also provide upholstery services, as well as the raw materials if you want to do it yourself.
#6. Amazon/eBay/Ikea
Although bespoke RV furniture producers are excellent, you shouldn't disregard Amazon RV furniture or Ikea RV furniture.
These websites provide some fantastic products at even more unbelievable pricing.
Furniture like dining tables, chairs, couches, and other RV amenities are very easy to locate on eBay.
The Best Places to Look for Used RV Furniture
RV furniture may be quite costly, so if you want to keep your costs down, consider buying used, reconditioned, or pre-owned RV furniture.
You may get fantastic furnishings at bargain prices on the sizable market for RV surplus items.
#1. Vehicle Parts Nation
A excellent source to locate extra RV furnishings is RV Parts Nation.
From couches and recliners to RV dinette furnishings, everything is available.
#2. RV Salvage Colaw
Colaw has a big collection of inexpensive RV furnishings.
At their showroom, you can buy new and old RVs as well as RV components.
#3. Affordable RV Furniture
Discount Customized aftermarket RV furniture is housed in RV furniture.
Larger RVs, campers, vehicles, and trailers may all have furniture.
#4. Rverscorner.com
You may find a list of RV salvage merchants on Rverscorner for each US and Canadian state.
You may browse through the furniture alternatives from a reputable salvage dealer in your area.
Replacing RV Furniture: How to Do It
RV furniture replacement needs planning, preparation, time, and money.
You shouldn't make this choice carelessly.
Here are some pointers to assist you in your travels.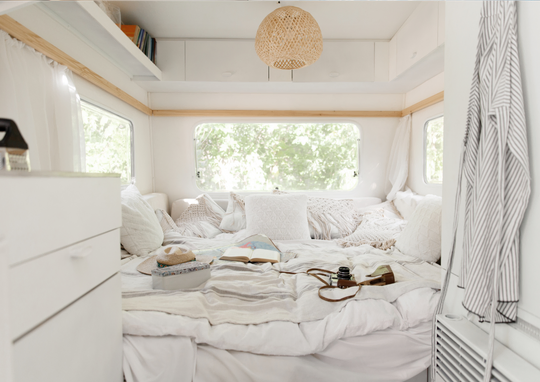 #1. Plan Ahead
Rome wasn't created overnight! You can't expect one to redesign the inside of your RV either.
Spend some time considering the design of your new RV in detail.
Choose a theme, choose a color scheme, and make a list of all the furniture pieces you wish to replace or purchase new.
Set a spending limit for your makeover and divide the money amongst your motorhome's various parts or individual furnishings items.
You may select the best RV furniture at the best price with the aid of a strategy.
#2. Think about Upgrading
The style and comfort of your RV may be updated in a variety of ways, not only by replacing outdated furnishings.
An outdated piece of furniture might sometimes benefit from a little reupholstering.
Many makers of RV furniture also provide upholstering services, or you may do it yourself.
#3. Measure! Measure! Measure!
If you do decide to purchase new furniture, be sure to measure everything, including the piece of furniture itself, your motorhome's length, breadth, and height, as well as the size of the RV door.
You don't want to spend all that money on the ideal RV furniture only to discover that it won't fit through the door.
Note: For information on how to get the proportions correct, see the RV furniture guide that is included below.
#4. Don't Restrict Your Choices
Don't restrict your selections just because you may be tempted to purchase a ready-made piece of furniture from a reputable RV furniture manufacturer.
Additionally, you may buy a lot of cheaper assemble-yourself furniture similar to what you would find at Ikea.
You may also use your imagination and invest in quirky small accents to give your RV character.
Don't ignore secondhand shops and suppliers of aftermarket furniture; you may discover some great items there.
#5. Visit the Market
Once you've located what you're searching for, shop around to see if you can get a better deal.
Checking with several RV furniture makers to see if they have the same or a comparable item offered at a lesser price is a smart idea.
Additionally, keep a look out for sales and discounted pricing.
#6. Examine Reviews
If you are purchasing in-person or online, be careful to read the reviews to determine whether the RV furniture is really worth the cost.
Product reviews may assist you evaluate the furniture item's quality and durability as well as the retailer's character.
#7. Try Going In Person To See The Pieces.
If possible, try to inspect the furniture in person before placing an online purchase to ensure that it is the proper size, shape, color, and quality.
Make sure you are purchasing the precise furnishings you need since RV furniture is not cheap.