There are several reasons why RV owners would be interested in upgrading their furnishings.
Older furniture has either become outdated, they want more room to accommodate more guests, or a piece of furniture is unpleasant or doesn't suit their lifestyle.
However, there are several factors to take into account while updating RV furnishings.
The flexibility to move furniture in and out of the RV, awkward furniture and mattress sizes, and, most significantly, the need for RV furniture to be kept in place for safety reasons are all factors to take into account.
In this article, we'll go further into RV furniture improvements and all the factors you should think about when choosing furniture that fits your home's style, décor, and way of life.
Let's start now!
Can the Furniture Be Changed in an RV?
You can, indeed.
It is entirely feasible to replace RV furniture, but there are a few things to keep in mind while making plans for your new furniture.
For a number of reasons, many RV owners have changed their interiors.
Either the RV is older and requires new furnishings since the old ones are so worn out, or the owner wants a more contemporary design.
Certain RVers wish to expand the number of beds the vehicle can accommodate, so they replace the unpleasant, inadequate couch that some RV manufacturers usually supply with a sleeper sofa.
Others who have used their RVs for a while have suggestions for RV furniture upgrades, such as adding cozy RV recliners like they have at home.
Or maybe they are working on the go and want a distinct workplace rather than a sofa.
And although few people, unless the bed is destroyed, replace a whole RV bed, RV mattress replacement is rather usual.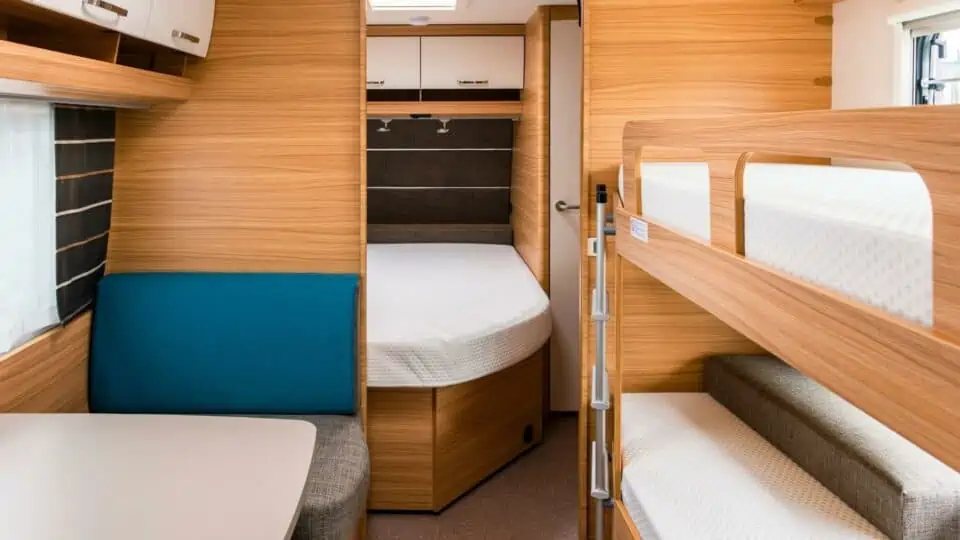 New RV beds are among the most often upgraded items by campers.
Can I Use Regular Furniture in Place of My RV Furniture?
Depends, really.
It is undoubtedly feasible if you have the appropriate furnishings in mind.
However, it's crucial that you keep the RV's weight in mind.
As a result, you cannot just add conventional furniture to an RV without taking the weight into account and planning how you will securely fasten the furniture.
These are not only aesthetic factors.
These are ALL CONSIDERATIONS FOR SAFETY.
For good reason, RV manufacturers employ lightweight furniture, but they must secure every piece of furniture within the RV to ensure that all safety standards are satisfied.
So, although you may be able to swap out an item of RV furniture for a piece of standard furniture in certain circumstances, you can't simply bungee tie the furniture in place and call it good.
We're not suggesting it's impossible to use bungee cords for lightweight furniture as long as they're secured in a secure way and strong enough to prevent substantial movement.
Velcro with a strong duty is the same.
In fact, businesses like RecPro will teach you how to use these techniques to secure your RV furniture.
However, as RV furniture manufacturers BraddAndHall note, this isn't as secure as actually bolting the furniture down.
Therefore, it's crucial to ensure that the furniture is properly secured, and hiring a professional to do it is a very excellent idea.
Flying furniture might be fatal in the event that your RV is involved in an accident or even if you have to stop it quickly.
Due to the fact that RV furniture tends to be a little bit smaller than standard furniture, you should also take into account the amount of room you have (thinner backs, more slender arms, etc).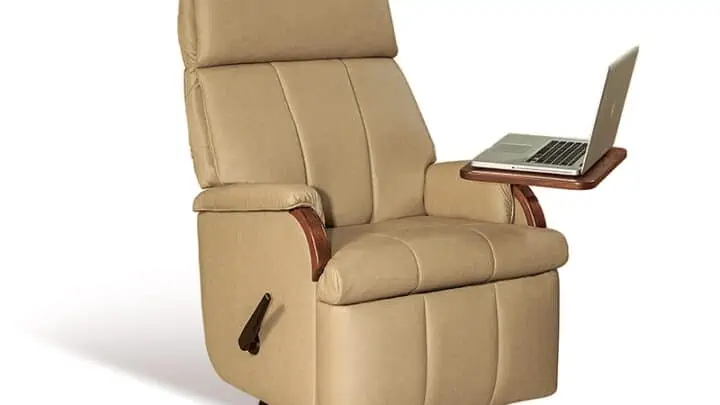 Furniture made specifically for RVs is intended to be a little bit lighter and smaller than "normal" house furniture.
(Image courtesy of BraddandHall)
Also keep in mind that certain RV furniture is designed to be disassembled into smaller pieces for easier transit through small RV doorways.
Regular furniture could be more difficult to move into.
Also keep in mind that shifting and changing certain furnishings in your RV can interfere with its ability to serve several purposes.
For instance, if you decide you'd like a different kind of dinette but your present RV dinette can be converted into a bed when necessary, you should be aware that you can lose the additional sleeping area for visitors.
More significantly, you should consider whether you can live without any storage that is part of the RV furniture you want to replace.
Also keep in mind that sometimes a piece of RV furniture may be kept in a position that prohibits the replacement of that piece with a piece of standard furniture, such as a fresh water tank.
Last but not least, if the seats in your existing RV have seat belts, you should really examine if you can drive without them.
The removal of that piece of furniture will result in fewer individuals being able to legally and securely travel in the RV while it is driving since it is never safe for passengers to ride in an RV without using their seatbelts.
Do Regular Recliners Work in RVs?
You can utilize a standard chair in an RV, but you should give the recliner you want to bring into your vehicle some attention before you make this RV furniture improvement.
You must first ensure that you can fit the chair inside the RV.
That may be difficult, as we've already indicated.
Keep in mind that big RV furniture items are often designed to be disassembled for simple entrance via cramped RV doors.
Additionally, you must take into consideration the recliner's reduced footprint (both when it is upright and when it is reclined), as well as the chair's weight.
Last but not least, consider how you'll keep the chair in place while traveling.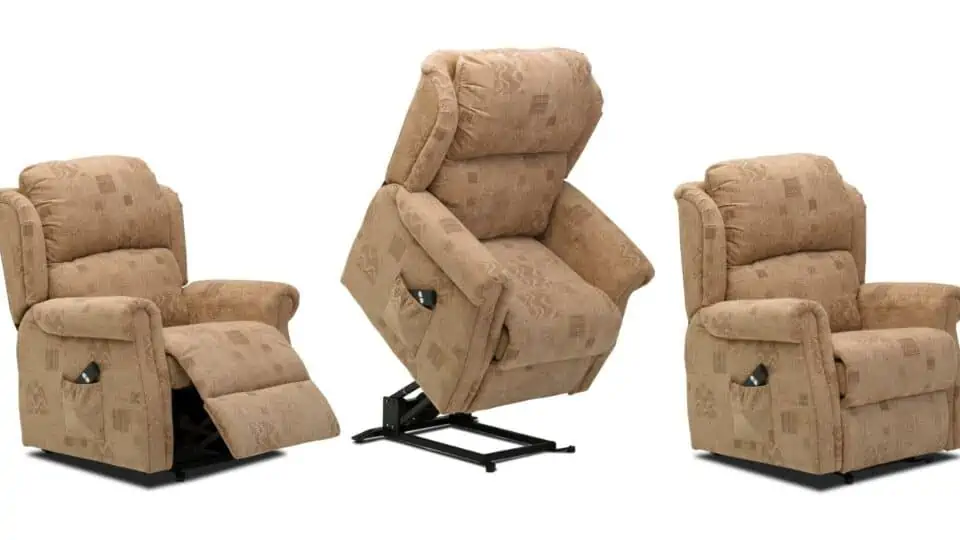 Regular, full-sized recliners may be rather huge and may be difficult to fit into an RV area as well as through the entrance of an RV due to their size.
Smaller recliners that suit RV spaces better and can be pushed through RV doors more easily are among the choices for new recliners for RVs (in some cases).
For inspiration, have a look at our article on compact chairs for RVs.
Can a Couch Be Replaced in an RV?
You can change the sofa in your RV, but we'd want to emphasize what we just said regarding ordinary recliners.
A sofa is a substantial, sizable piece of furniture.
Anything could be difficult to load it into the RV, and it has to be securely fastened for safety.
Additionally, you only have a tiny area to deal with, so make careful to acquire precise dimensions before buying.
Weight is usually a significant factor with an RV, so keep that in mind as well.
Consider your total RV weight as well as where that weight will be located within the RV or travel trailer before bringing a piece of furniture that is too heavy into your vehicle.
Keep in mind that the appropriate loading of a travel trailer is essential for controlling trailer sway when making any significant alterations.
How Can a Couch Be Removed from an RV?
The issue of "How do you get a sofa inside an RV?" may be more crucial.
The easier process may be taking an RV couch out of an RV, particularly if it is an RV-specific sofa that is made to separate into two or three halves… or is just compact enough to fit through an RV door without being disassembled.
But you may find our video on removing an RV fridge useful if you need help moving a big piece of furniture into or out of an RV.
While chopping furniture or appliances in half to remove them is not something we advise, it COULD be your only choice.
The windshield glass (or a portion of it) may be removed in RVs as an alternative.
Additionally, you may be able to open up a huge window in a non-motorized RV so that a large piece of furniture can enter or exit the vehicle.
Make sure you have a solid strategy on how to handle it and measure (again and again).
Where Can I Get Fresh RV Furnishings?
New RV-specific furnishings may be purchased in many different locations.
There are many additional stores as well as the ones listed below that provide good quality RV furnishings as well as a wide assortment.
The following five retail RV furniture vendors provide a solid location to begin your search:
#1. Bradd And Hall
A reputable provider of high-quality RV interior components, including seats and upgrades, is Bradd and Hall.
They've been in the business of doing this for 40 years, and they excel at it.
At their facility in Elkhart, Indiana, where their showroom is situated, they can provide expert installation.
They provide countrywide shipping to DIYers and are a high-class organization with a high-class offering.
#2. RecPro
Another seller of high-quality RV appliances, furnishings, and components is RecPro.
RecPro, which is based in Bristol, Indiana (near Elkhart), has been recognized since 2017 and has been in the RV furniture industry for 12 years.
RecPro distributes top name-brand RV supplies from suppliers like Atwood/Dometic Suburban and SHURflo in addition to their own line of goods.
The warehouse has a big selection of items, offers competitive pricing & quick delivery, and has grown to be a popular vendor for many RVers who are remodeling their RVs.
#3. Camping World
Although Camping World is known to the majority of RVers, you may not be aware that they provide things to aid in upgrading your RV furnishings.
With items like couches, recliners, ottomans, and jackknife sofas that give extra sleeping space, their Kathy Ireland brand of RV furniture has long been a favorite.
#4. Lippert – Thomas Payne Collection
In addition to being based in Elkhart, Indiana, Lippert is a well-known provider of RV goods of various kinds.
High-end, cozy furniture from their Thomas Payne RV Furniture collection is available in a range of styles and is made with great workmanship.
Through Lippert, you can get couches, recliners, theater seats, and even mattresses big enough to fit an RV.
#5. Coach Supply Direct
In case you didn't know, Elkhart, Indiana is the center of RV country, and Coach Supply Direct is a retailer of RV and marine furnishings nearby.
They also do RV upgrades and flooring installations.
Coach Supply Direct is a wholesale provider of seats and accessories for RVs, boats, and utility vehicles.
From RV captain's chairs to booth dinettes, recliners, blinds, beds, and even RV batteries, they provide a wide range of products.
How Can Old RV Furniture Be Used?
Selling used RV furniture in your neighborhood on Craigslist, Facebook Marketplace, or other local sales forums is probably your best option if it's still in good condition.
Due to the growing popularity of remodeling vans and schoolies (old school buses), there is a sizable market for secondhand RV furniture in excellent shape today.
Have You Upgraded the Furniture in Your RV?
We'd be interested to know whether you've upgraded your RV's furnishings.
Leave us a comment and fill us in on the specifics!