There's a good reason it's called "camping." And if you spend the whole of your journey curled up indoors on the sofa, well…
Obviously, that's a wonderful experience, but you're ultimately sacrificing a lot of what an RV can provide you!
For the #RVlife to be fully appreciated, you must take use of the outdoor possibilities offered by your travel trailer or motorhome.
It's also easy to go outdoors and enjoy them firsthand since so many of our finest campsites and RV parks are located in breathtaking wilderness areas.
You can go hiking, kayaking, or simply have a picnic in the park.
But you may also take in the beauty of nature without ever leaving the RV park! Even the most comfy RV sofa is not as enticing as spending time outdoors thanks to all the fascinating RV devices, accessories, and outdoor furniture sets available.
Having the appropriate furniture on board also makes outdoor entertainment much more inviting when you meet new people at the campground.
You can host events like s'mores roasts around the campfire, cold beers with freshly grilled food, and more while still taking in the natural beauty that probably first attracted you to the camping lifestyle.
How can you possibly err?
As a result, we've put together this article with a list of not just some of the greatest outdoor patio furniture we've found, but also a ton of additional gadgets and gizmos you may not have known existed but will definitely want to add to your RV packing list once you do.
Here are our top picks for outdoor entertainment, whether you're searching for a glamping experience or something a little more rustic.
Garden Furniture
What element of any outdoor entertainment setup is most crucial? The furnishings that will keep you and your visitors snug and comfortable while you are spending time in Mother Nature.
If the campground's rough, wooden bench is your only choice, you probably won't go to bed until after midnight.
Keep in mind that the amount of goods you can put out may vary depending on where you're staying before we dig into some of the various possibilities on the market today.
The luxury campsites at certain campgrounds really come with wrought-iron chairs and outdoor tables, while other locations may not have enough room for you to spread out everything you've packed.
We advise selecting campgrounds with expansive patio areas, especially with concrete slabs or gravel to assist keep you and your equipment dry and comfortable if you're going to be putting an emphasis on outdoor entertainment.
But even when you're boondocking off the grid, you can create a peaceful front porch experience with the correct equipment.
What you need to make it happen is listed below!
#1. A Superior Ground Mat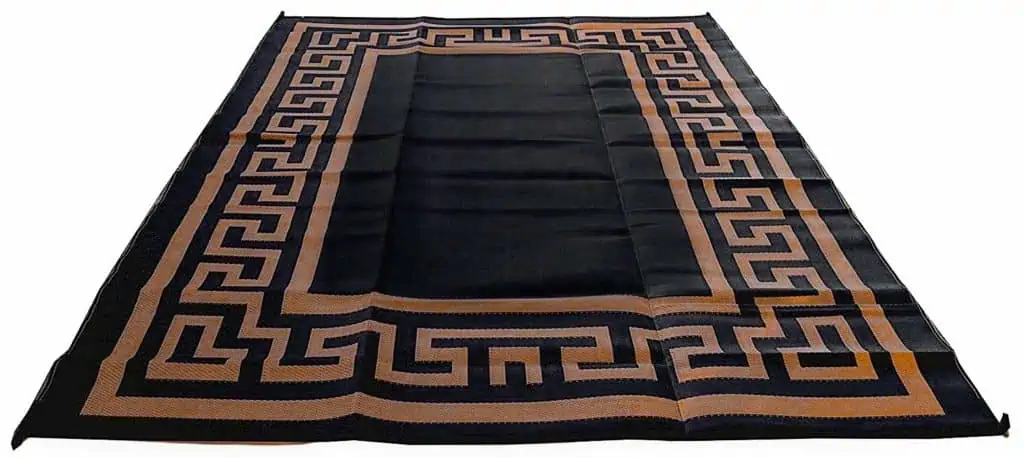 The canopy on your RV turns the side of your vehicle into a living area by shielding you from the sun and weather.
But you also need to safeguard your feet and the feet of your furniture.
Any camping group that intends to spend a substantial amount of time outside must have a good ground mat.
You never know, some of the campsites you visit may have elaborate concrete slab foundation.
However, it's improbable that you'll discover it at each and every one.
A ground mat will also make mom happy since it will be far less probable for everyone to drag mud and dirt into the vehicle when they go inside to get something to eat or use the restroom.
Overall, it's a minimal expense compared to the value it will provide you.
#2. Tablecloths, As Well As Tablecloth Clamps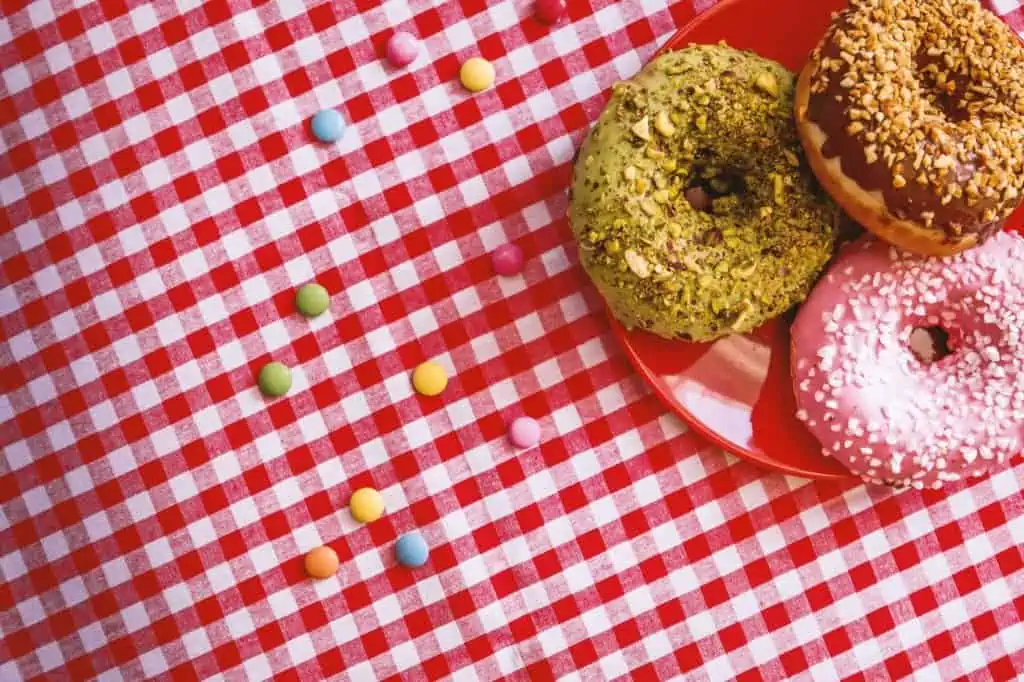 Not performing tasks while on vacation is one of the things we cherish the most, we don't know about you.
Since they can be quickly washed for use again or, in the case of disposables, simply thrown away and replaced totally, outdoor tablecloths may make cleaning after entertaining a breeze.
Naturally, you don't want the tablecloths to disappear before supper is over, but depending on where you're camping, the prevailing wind may have other ideas.
So get a set of reusable tablecloth clips to finish off your outdoor picnic accessories!
#3. Luminosity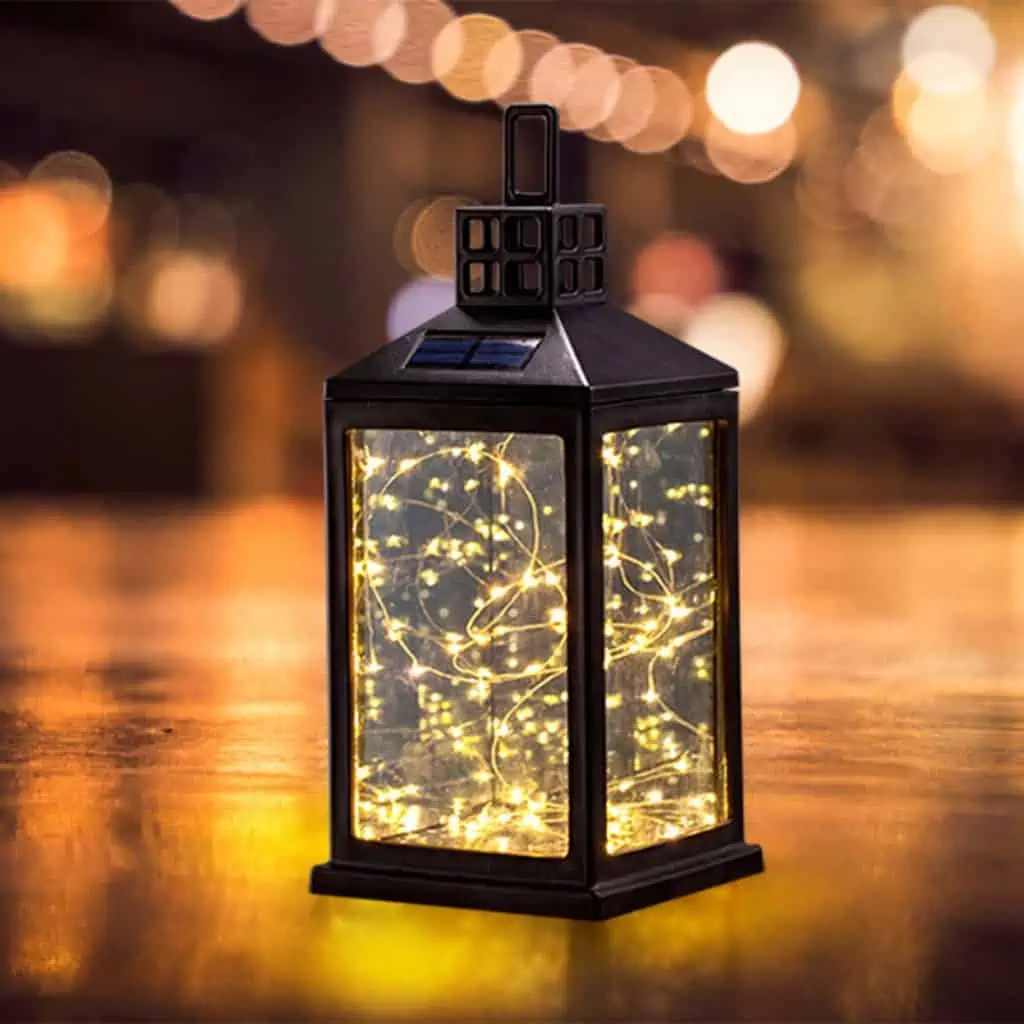 You won't be heading inside because the sun has set if you're throwing this party the proper way.
You'll just be beginning, if anything!
Aside from preventing people from stumbling while moving about, investing in some adorable and practical outside lighting can make your entertainment area much more welcoming for those lingering after hours.
We've previously written about several excellent LED camping lights to take into account, which have more durable batteries and don't become as warm as conventional lighting.
However, there is definitely a space where you may exercise some creativity.
Tabletop lanterns are lovely, but how about these ingenious anchored torches for your pathway or these charming fairy string lights to add a little magic to your patio?
#4. Candles With Citronella Or Bug Zappers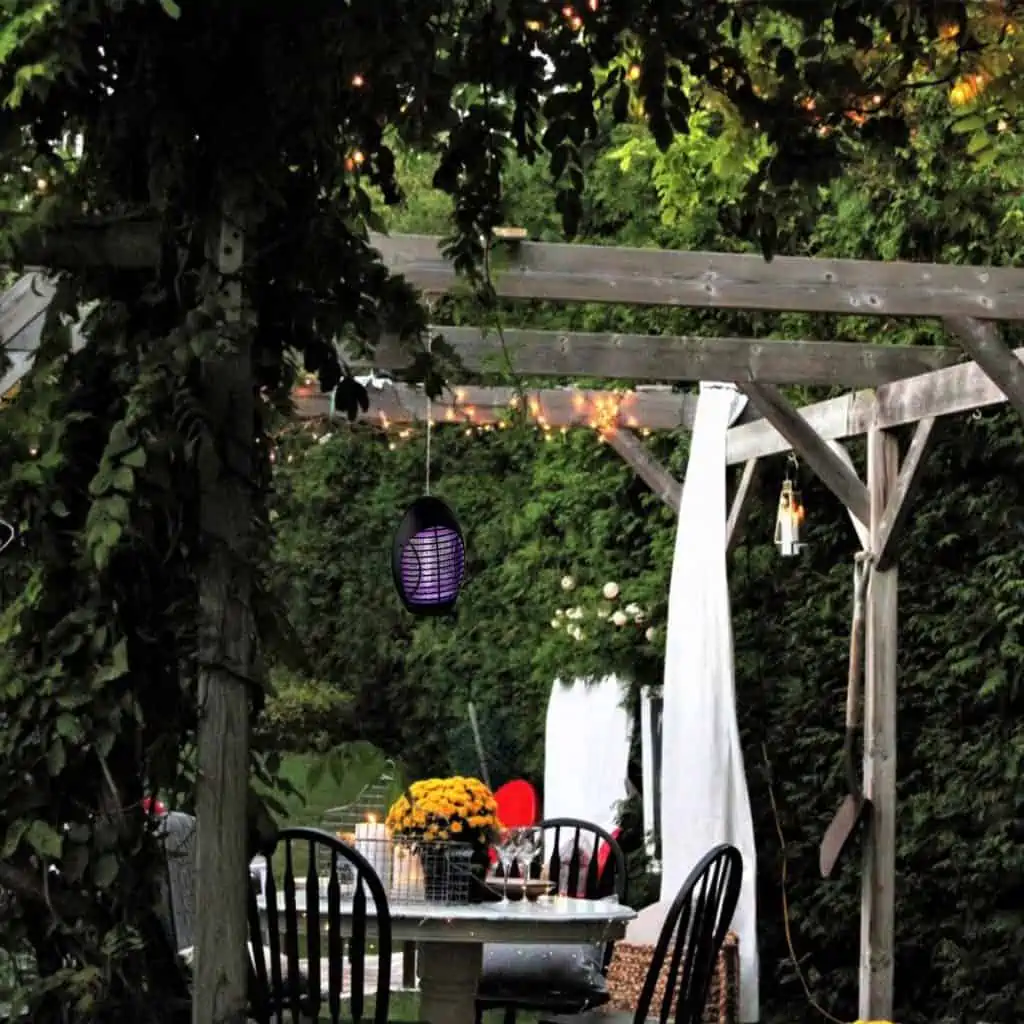 It can be a camping custom to coat yourself with sticky insect spray.
However, it's acceptable for some customs to expire.
In areas like Savannah or the Great Smoky Mountains, if you're going to spend any time outdoors, you're going to run across bugs, and let's face it, they're simply not welcome to the party.
A wide range of solutions have become available to campers thanks to modern technology, one of which is the electric insect killer, or "bug zapper," which uses its UV light to attract unwary mosquitoes and flies.
They are promptly electrocuted as they arrive, so they can't interfere with your time spent outside.
(Plus, many find that purple light to be quite calming.)
Although these insect zapping devices may be purchased for a start-up cost of around $25, there is an analog alternative in the form of citronella candles.
These reasonably priced, all-natural candles have been used for years to keep insects away.
They also offer a little fragrance to your outdoor experience.
Alternatively, you might try both.
Outdoor Chairs
This is where the rubber hits the road in terms of outdoor patio furniture.
You can probably count on your campsite to have a flat surface like a picnic table, but unless you want to spend the whole night sitting on those rock-hard wooden benches, you'll need some other alternatives.
But camp furniture has advanced significantly, so you're no longer restricted to those flimsy fold-outs that collapse at the slightest provocation! Here are some possibilities for patio furniture that will make you and your guests want to stay out till the early hours.
(Just be sure to keep it down if your camping neighbors are asleep.)
#5. Improved Fold-Up Camping Chairs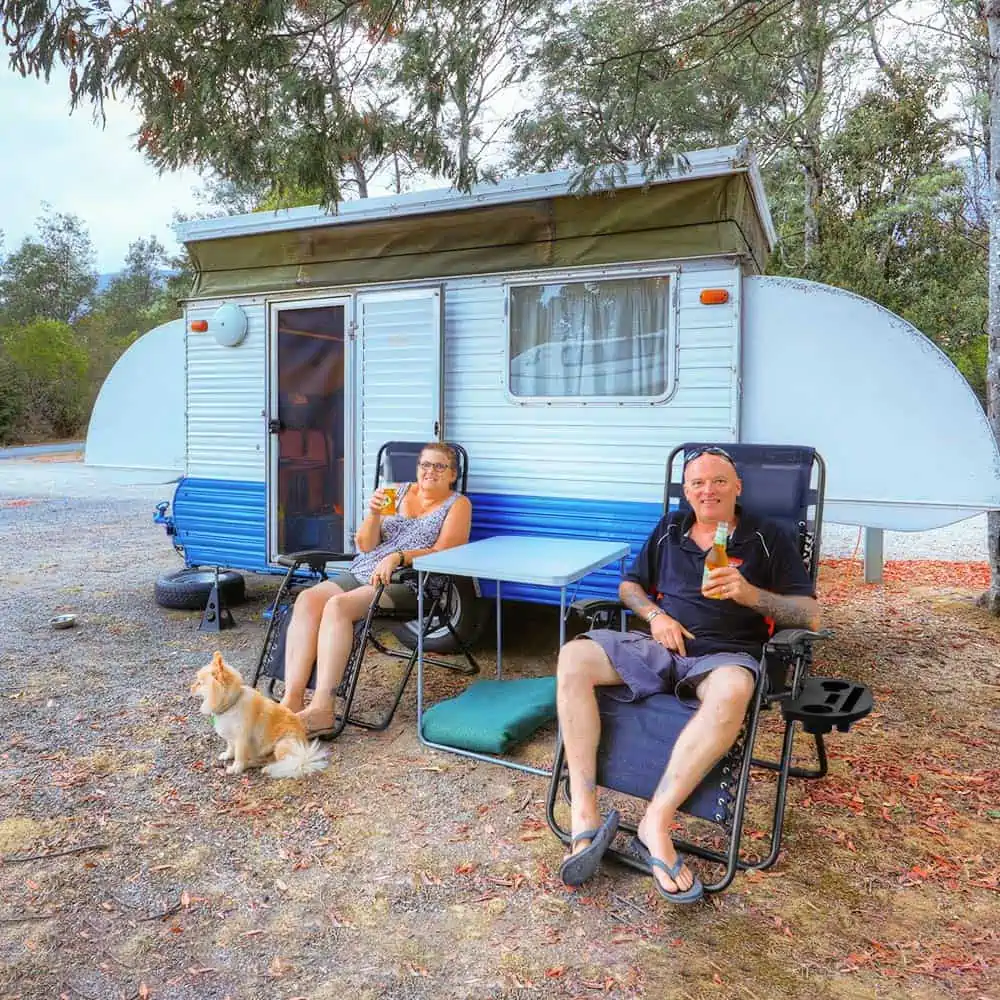 Even when something is a classic, it may always be enhanced.
These Homall "zero gravity" chairs are well-padded and robust, in contrast to the cheap seats you can get in almost any camp shop.
They also recline, in case you need a quick nap.
In addition to easy tray tables and cup holders to keep all of your favorite goods close at hand, the designers have thought of everything.
And they continue to collapse flat for very simple storage, which is always a worry for knowledgeable campers who are aware even that under-cabin basement room is limited!
#6. A Child's Camp Chair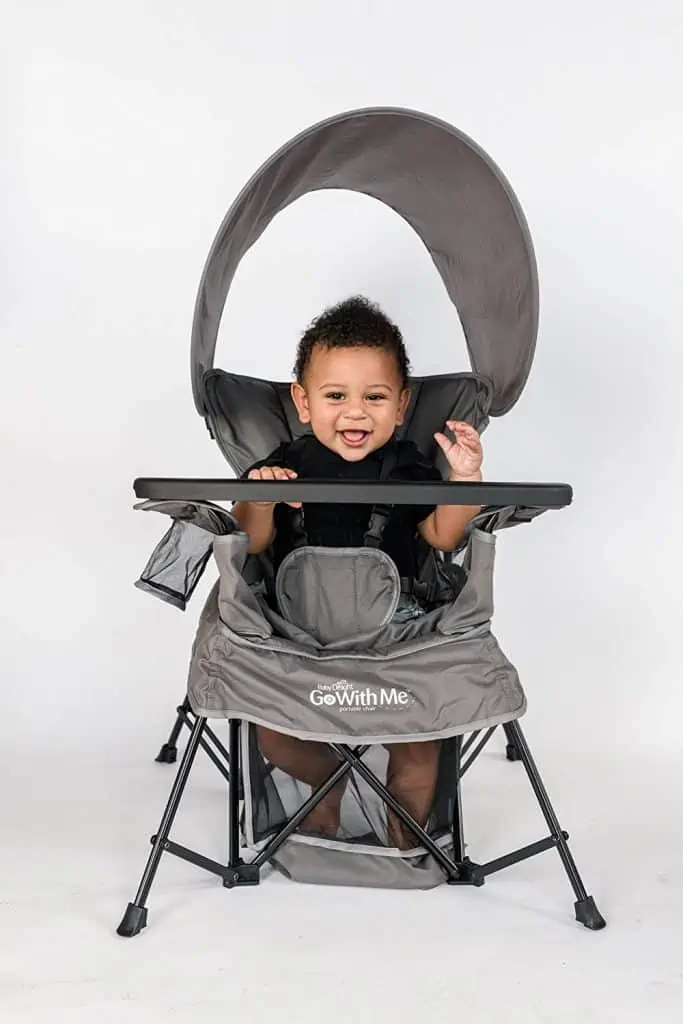 Little campers also need a comfortable seat! This kid-sized folding chair is suitable for both indoor and outdoor usage, and it can be adjusted to sit, stand, and support kids up to 75 pounds.
Additionally, it has a detachable snack tray, a sun cover, and folds down compactly for simple storage and travel while keeping Junior well-fed and sheltered.
Additionally, it is available in seven hues, including vibrant, exciting colours like lime green and pink, so your child can look stylish while doing it!
#7. Floating Canopy Chair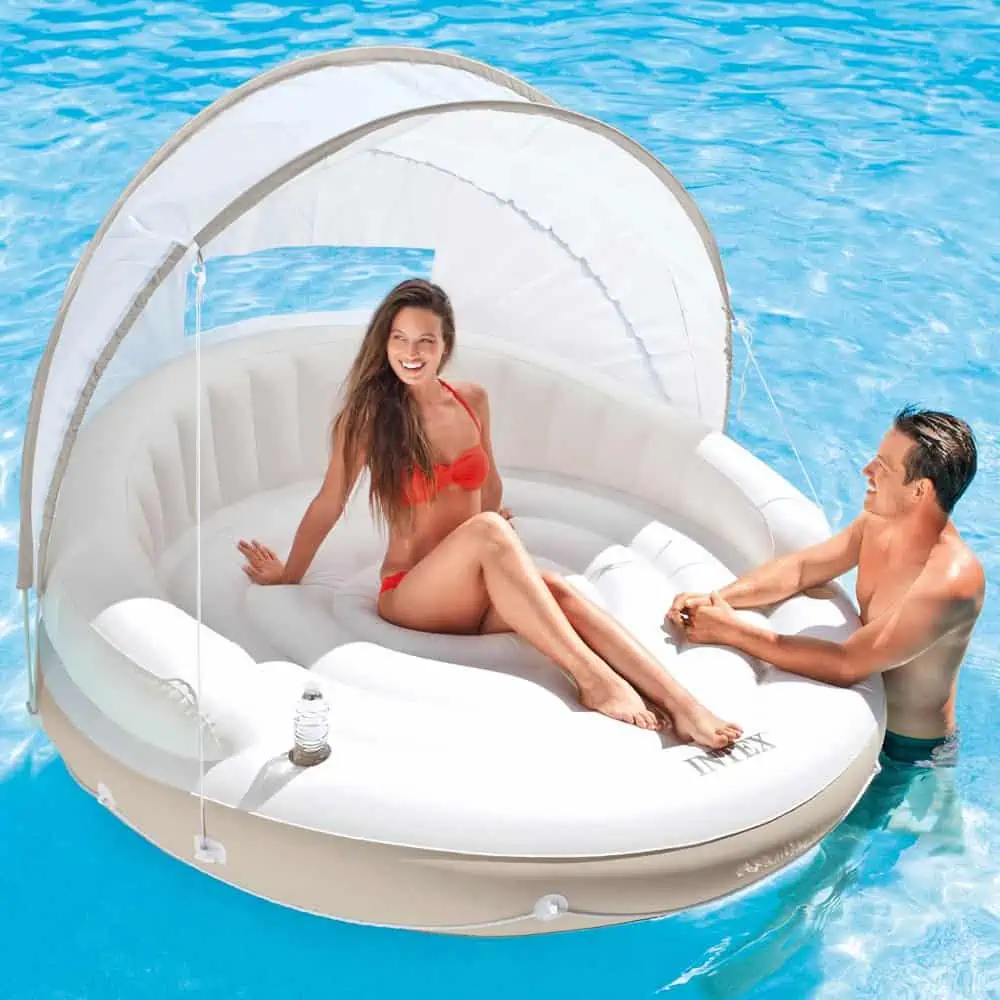 A camp chair isn't always sufficient.
(Or maybe you like the pool at the RV park than the patio.)
The pool raft concept is elevated to a whole new level by the addition of the inflatable canopy couch.
When you're feeling comfy, the broad base can comfortably accommodate two people, and the two built-in cup holders make sure your drink is nearby and at the ready.
You may select how much exposure you want since the sunshade is removable, and it is equally comfortable in or out of the water.
(Hint: if you want to fill it up fast and effortlessly, don't forget to bring an electric air pump.)
#8. Lounge Chair With Ottoman Outside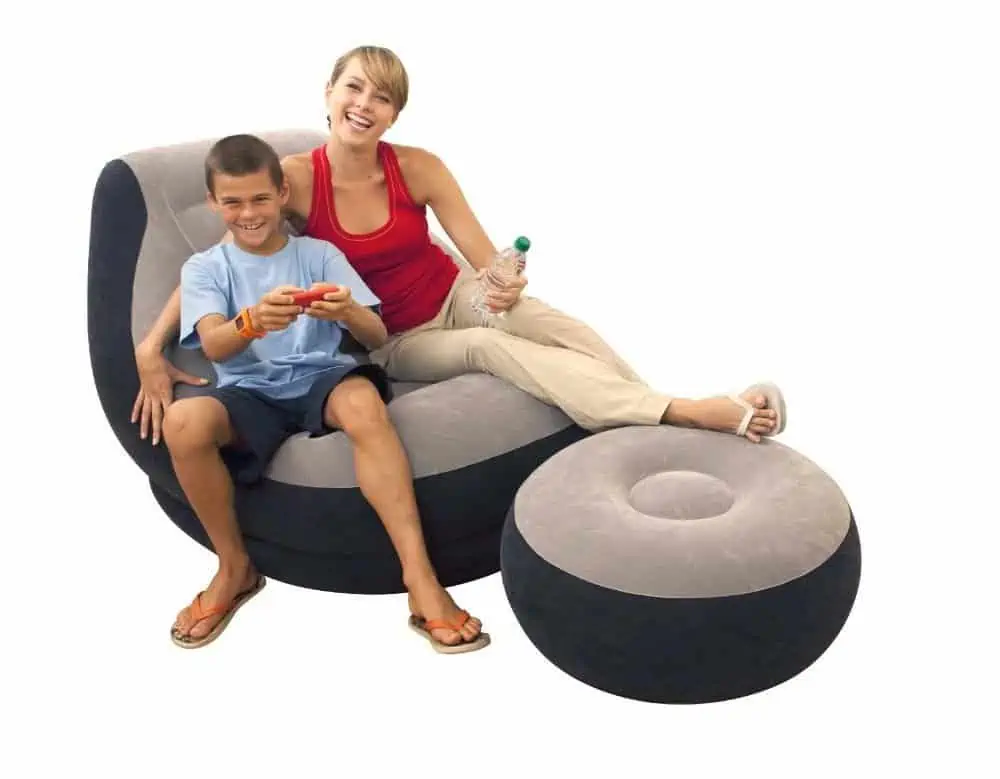 Who says super-comfy lounge chairs can only be used indoors? No matter where your feet may have led you, you may truly kick your feet up with this inflatable lounge chair and ottoman.
Additionally, the chair works just as well inside as it does outside, so you can use it as additional seating if you're hosting an indoor fiesta (or if the weather decides your outdoor gathering can't go on as long as you'd like).
Have we mentioned that Amazon offers free delivery on orders over $25 and the whole package costs less than $50? Pretty fantastic offer, no?
Outdoor Camping Equipment
The table is covered, and you have chairs.
Even the mood lighting and insect zappers are turned on.
Check out these fascinating gadgets and accessories, however, which may truly take your outdoor entertainment game to the next level, before you declare your outdoor entertainment space to be "perfect."
#9. A Top-Notch Picnic Basket And Tote Bag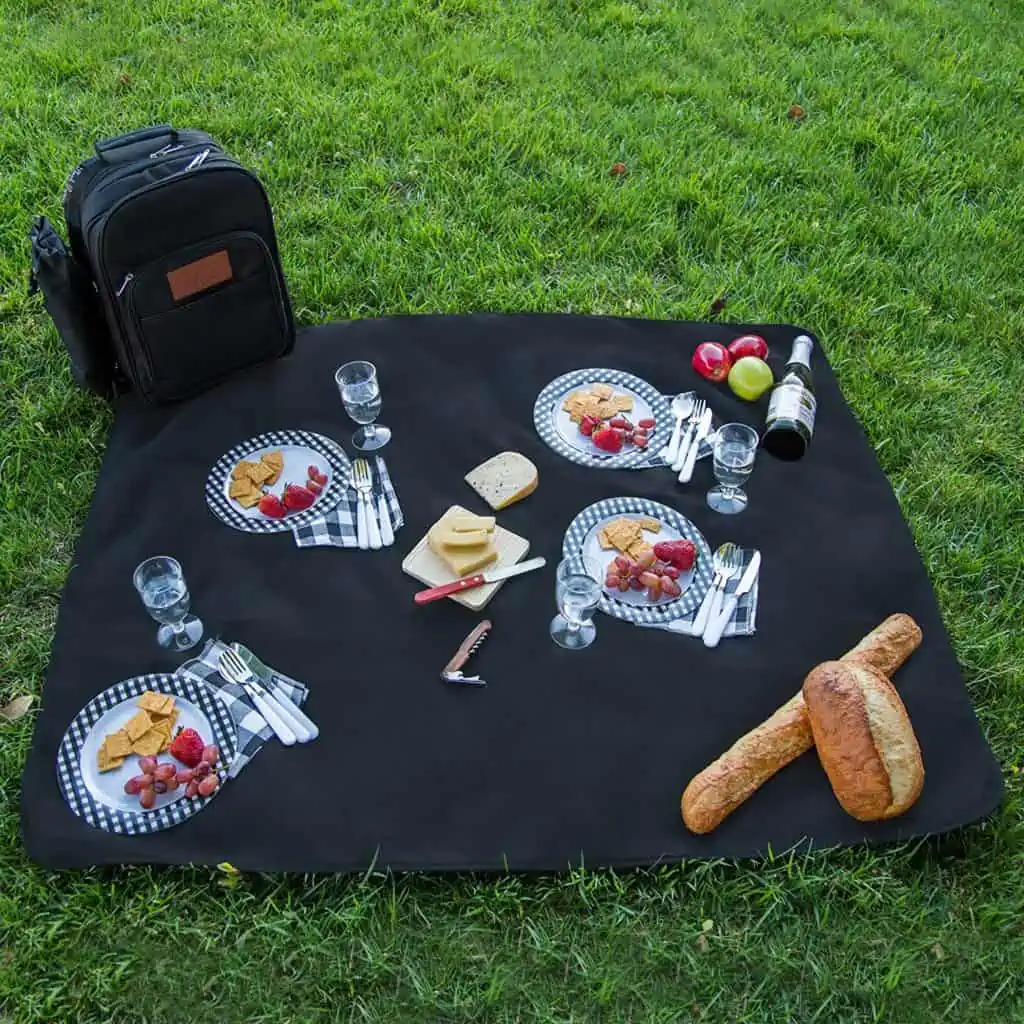 Undoubtedly, a traditional picnic basket has some appeal.
But it's difficult to disagree with an all-inclusive, insulated picnic pack that comes with dishes, silverware, a fleece blanket, and a retractable wine bottle holder.
When you want to move the party outside of your RV patio, this compact, ordinary-looking backpack is ideal since it contains absolutely everything you need.
This bundle includes service for four people, making it ideal for a double date or family outing.
It has a cooler section that keeps your food fresh until you locate the ideal picnic location, and it is large enough to accommodate not just one, but two bottles of wine.
(Because let's face it, one bottle won't be enough for four people.)
#10. A Wine Bag For Outside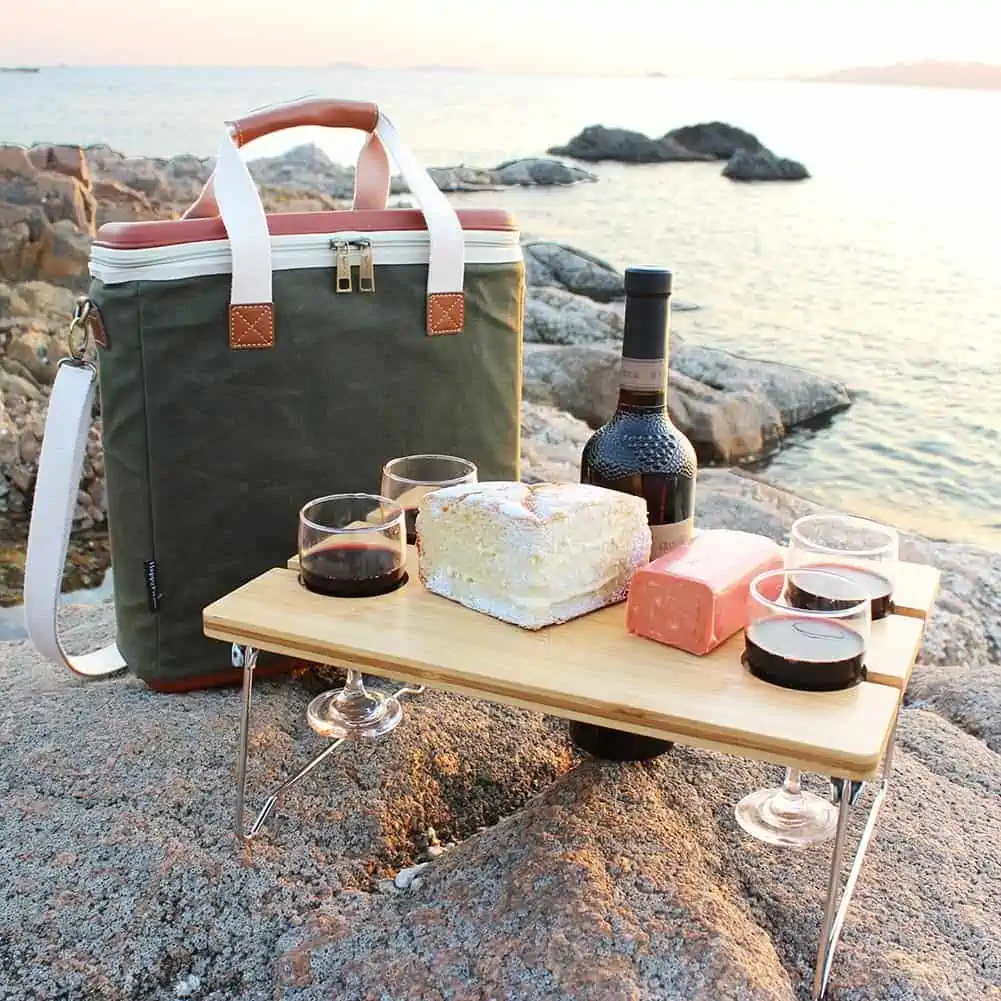 Regarding wine…
You may not need the complete picnic setup.
You either already have a set of outdoor plates and silverware or you want to grill.
(More to follow on that, by the way!)
But a bag designed specifically to handle the wine portion of the scene? That gadget could still be extremely useful!
Whether it's a chilly chardonnay or a pinot noir that's just just below room temperature, this EVA molded 3-bottle wine bag is insulated to keep your vino chilled to the proper degree.
In case you decide you do want to bring along a little snack, it comes replete with four break-resistant wine glasses, an all-in-one wooden corkscrew, a wine bottle stopper, and even a cheese set.
Even the wine glasses have places to sit on the board, and it has legs to keep it off the ground, so you can have your mini-picnic on your patio or someplace else in the park, maybe by the pool.
When filled with wine and cheese before giving it away, this package also makes a fantastic present for a birthday or anniversary!
#11. Glasses And Plates That Won't Break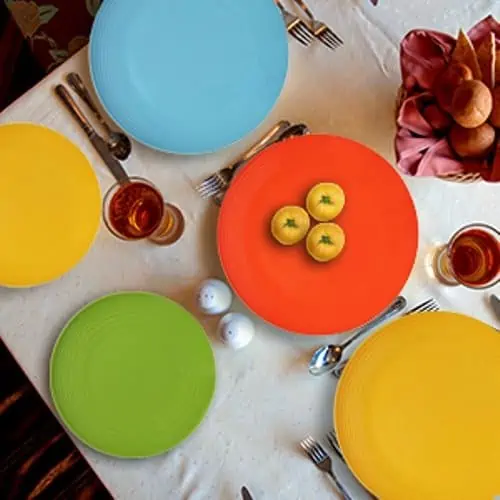 Outdoor tableware often refers to throwaway paper or plastic plates that regularly bend when filled with even a little amount of macaroni and cheese.
For many campers, this is a sad reality.
These plates are not only horrible for the environment and smelly waste bin fillers, but they also cost more over time and, let's be honest, aren't that much fun to use.
But you don't have to limit yourself to depressing disposables if you eat outside! You only need to buy some shatter-resistant dishes, like this 12-piece Melamine set.
It has bright colors, is shatter- and chip-proof, and eating off of it won't make you feel bad about yourself.
Of course, serving a decent outdoor lunch requires more than simply dishes and bowls.
Without a decent wine to wash it all down with, the celebration isn't complete.
We advise campers to get these stylish, "unbreakable" wine glasses since their stemless design makes them as travel-safe as is practical.
Because, really, wine doesn't taste the same when it's served in a Solo cup.
(We have attempted. Numerous times.)
Don't forget to use your cutlery, too! Plastic spoons, forks, and knives must be abandoned.
You may use a standard metal set that you would buy for the inside of your house or RV, but there is something to be said for the lightweight, durable cutlery sets created specifically for camping.
For those times when you're feeling very upscale, some of them even include straws and chopsticks!
#12. A Portable Barbecue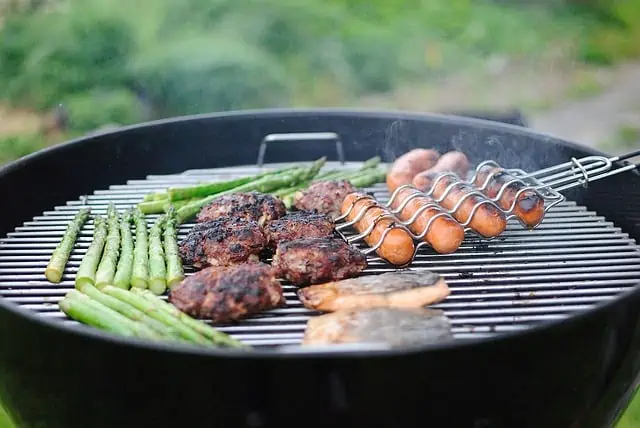 Outdoor cooking is the one thing that cannot be compromised when it comes to camping, yet not all RV parks and campsites include a fire pit or grill.
Our best recommendation is to spend money on a portable grill of your own to guarantee that your outdoor kitchen remains working regardless of where you put it up.
No matter what you choose, you want to be sure you can keep cooking! You may choose between a little, table-top charcoal grill and something more sophisticated (like this Coleman portable stand-up propane grill).
Although standard fare like hot dogs and hamburgers is required, a well-managed grill may provide a wide variety of unexpected treats, including desserts.
Even better, if you get a pizza stone that is suitable to use on a grill, you can use it as an outdoor pizza oven! See our guide page for RV grillers for much more information on how to become the designated campsite grillmaster.
#13. A Grill Grate For A Campfire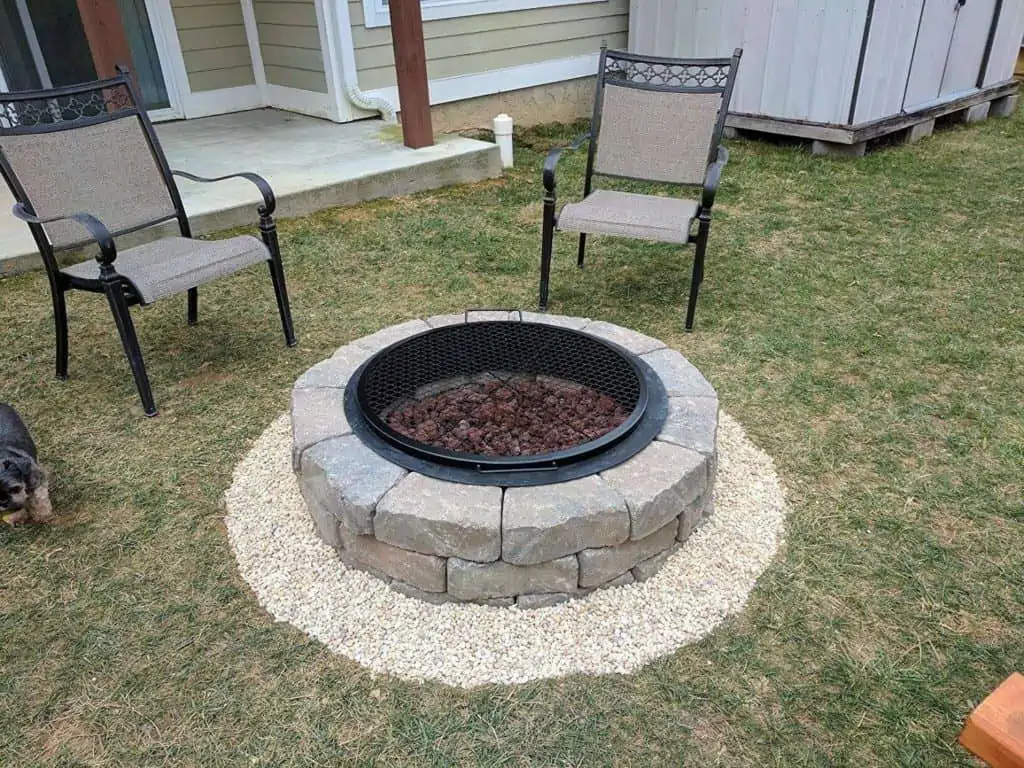 When you prepare one of your favorite grilled foods while camping, do you want to go all out old school?
Instead of using a conventional grill, think about using a campfire grill grate, which converts any open flame into a cooking surface.
Nothing compares to the sensation of building a fire and cooking a fresh supper over it, particularly if you do it by hand (without the use of accelerants) and the food is something you personally fished or hunted! The greatest kind of camping, not to mention a way to feel a little closer to and more appreciative of your food.
#14. Grilling Extras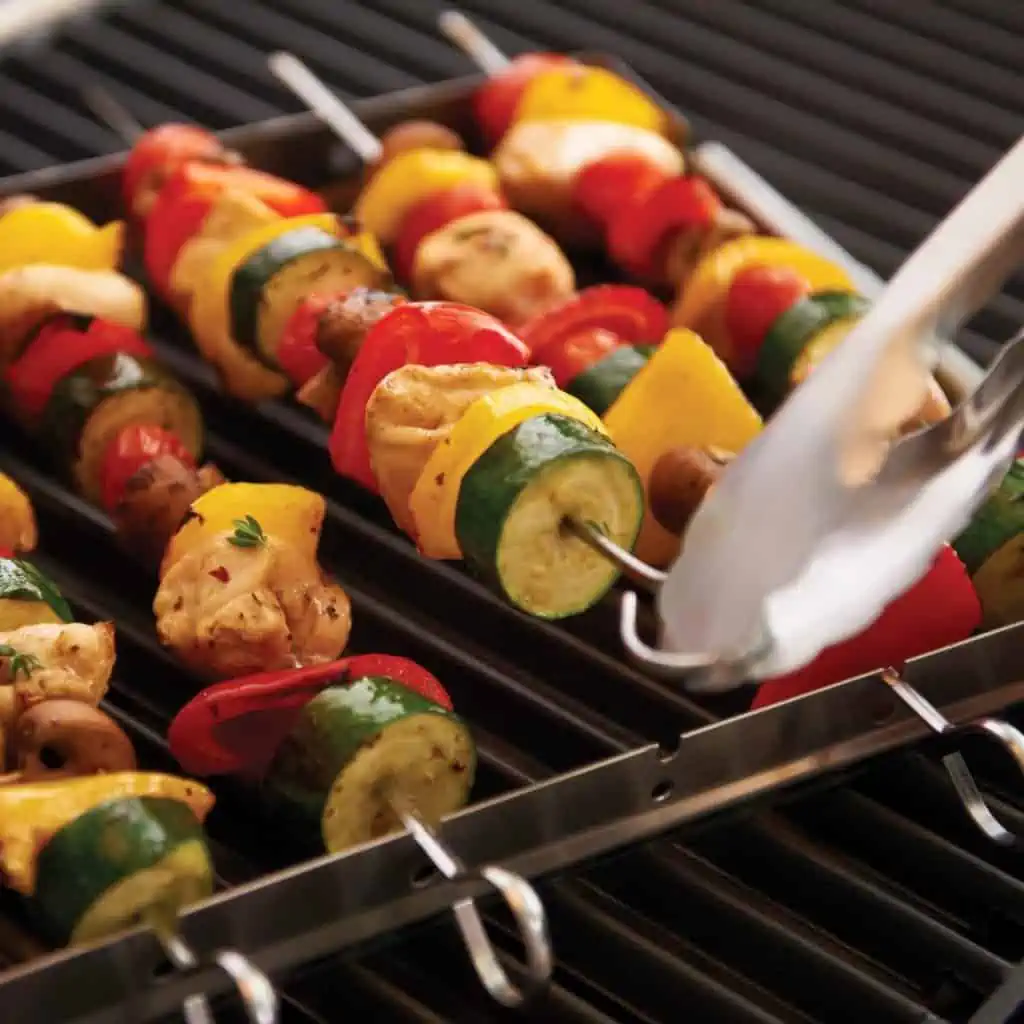 On the grill front, you're ready to go.
However, unless you're a superhero, it's likely that you can manage that delectable, charring food with only your bare hands! Due to advancements in grilling technology, a premium set of grill accessories is an important must rather than just a pair of tongs and a scraper.
(However, you do need them as well.)
Since an all-inclusive kit costs less than $50, we advise beginning with a basic set of grill accessories.
The majority, like this one on Amazon, have a convenient carrying case and cover the essentials, including a spatula, tongs, brush, and scraper.
After that, you may begin including some more inventive accessories, such as a barbecue basket, which makes grilling smaller objects like veggies or shrimp much simpler.
Do you like foods that are fork-free and simple or do you like Mediterranean cuisine? Consider purchasing a metal kebab set as a reusable, waste-free alternative to those inconvenient wooden skewers.
You may also assemble your own set of grilling tools à la carte by picking up necessities like grill brushes and spatulas whenever you want to from your preferred suppliers and manufacturers.
Also, be sure you always have a meat thermometer on hand! Giving someone food sickness unintentionally won't get you any brownie points with the grillmaster.
#15. American Flag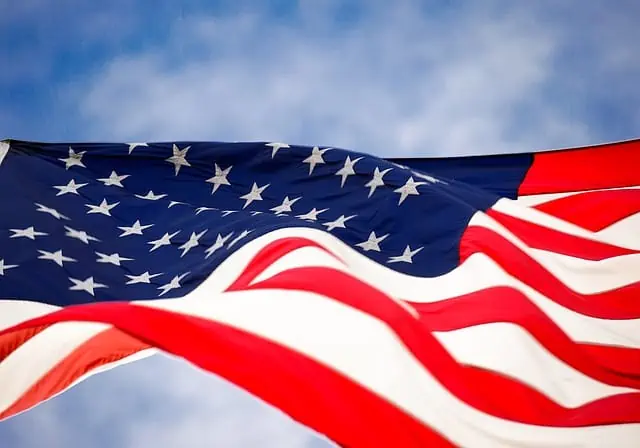 There is no denying that American RV campers are among the most patriotic.
(After all, they've typically been around enough of the nation to understand just how varied and beautiful it is.)
So display that pride to complete your outdoor entertainment arrangement.
One of the finest ways to show your patriotism is to get a waterproof American flag.
Plus, the stars and stripes are just plain attractive.
If you want a more imposing configuration, you may buy a foldable flag pole or just put your flag on the arms of your RV awning.
In any case, every time your park neighbors cast a look in your camper's direction, you and they will be reminded of how fortunate we all are to be living in and exploring this nation.
RV Camping: A Wonderful Outdoor Activity
It's no secret that RVing is one of the greatest ways to do it if you like being outside.
Traveling in a travel trailer or motorhome gives you the freedom and flexibility of being on the road while also providing you with the luxury and convenience of having your own own home, complete with a bed, bathroom, and kitchen.
Of course, if you've never traveled in an RV before, it might at first appear intimidating.
(As can pretty much anything that turns out to be wonderful.)
Thankfully, you've found RVshare to be the ideal resource.
We're dedicated to assisting you in making your trip a success by offering the most up-to-date camping ideas and information, in addition to offering some of the highest-quality rental cars in the industry at some of the best costs.
For instance, after purchasing all those cool outdoor accessories described above, you may be cautiously assessing your vacation budget.
(We guarantee they're worthwhile.)
However, there are many methods to save costs when traveling without compromising the greatness of your trip.
Our first piece of advice is to reserve your RV rental with RVshare (spoiler warning).
Renting via a peer-to-peer marketplace may help you save money since you're dealing with reputable, local owners who are also explorers.
They can afford to pass on those savings in the form of much cheaper per-night rental fees since they don't have to worry about the high overhead expenses of operating a typical RV rental company.
Along with saving you money over the course of your rental, renting a vehicle via RVshare gives you access to a wider range of vehicle types, which is fantastic if you want to purchase your own RV in the near future.
You could just be able to locate a fifth wheel, fold-out camper, or vintage bus in an RVshare ad close to you if you wish to try camping in one.
(If you continue working with a regular dealership, it will be more harder!)
Additionally, we provide some of the greatest insurance protection in the RV rental sector.
From the minute you pick up the keys until the moment you return them, each of our rentals is protected with A-rated coverage.
We also provide optional 24/7 roadside assistance access.
You never have to be concerned about the security of your sensitive information since all conversations and financial transactions take place via our secure platform.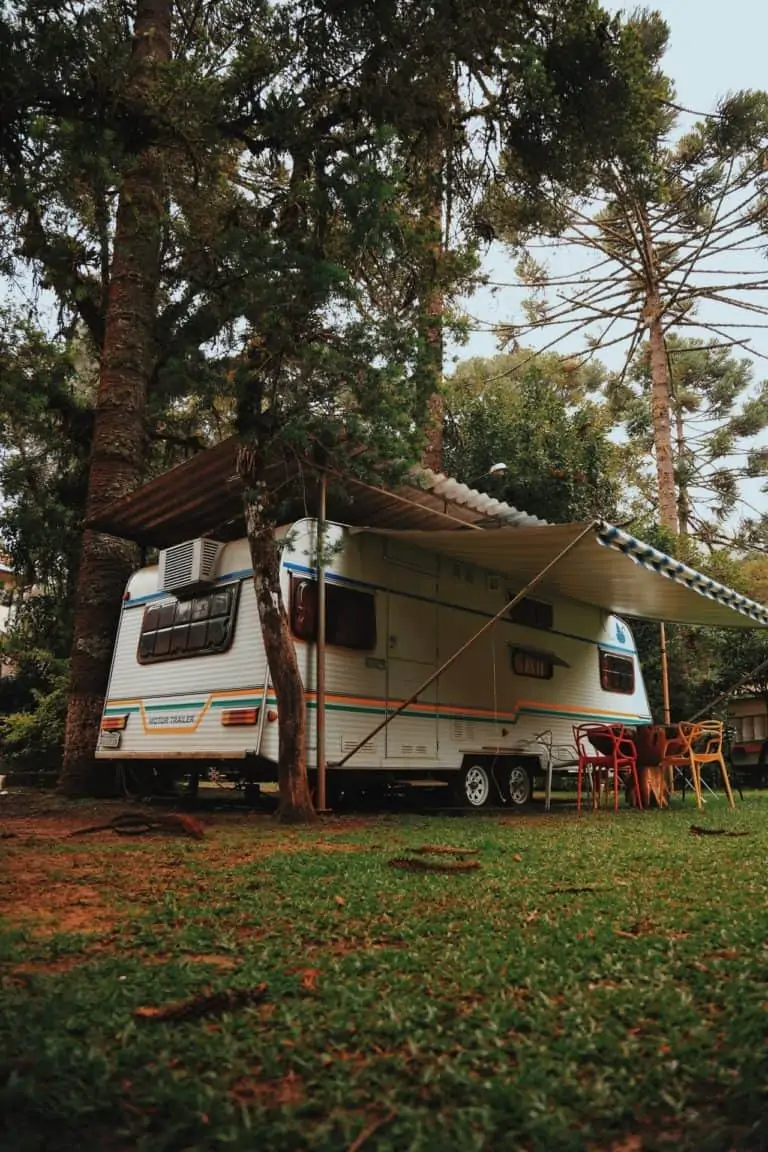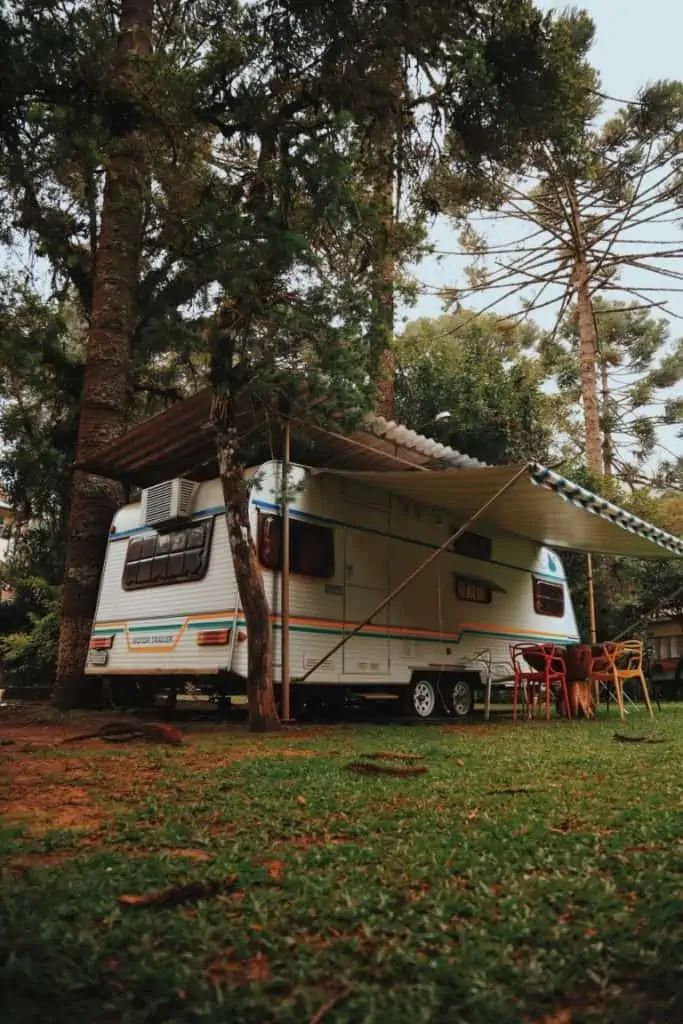 Of fact, the cost of renting an RV is just a portion of your entire trip expenses.
Even while it's a significant outlay, there are additional charges that may add up quickly, particularly when it comes to camping expenses.
Yes, boondocking is fantastic.
However, the majority of campers want sporadic access to shore electricity, water, and sewage facilities.
(Apart from the clubhouse, pool, and other resort-style features offered at certain upscale campsites.)
You must join Passport America if you want to experience the height of camping luxury without paying premium costs.
There are several other RV camper discount clubs available, but this one may be our favorite, and here's why.
When you join up for Passport America, all participating campsites will give you a 50% discount on the cost of your camping accommodations.
And the number is still growing—about it's 1900 so far! The annual membership fee is less than $50, and it is considerably less expensive if you join up for many years at once.
It's simple to understand how fast your Passport America membership may pay for itself when you consider that some of the well-known campsites in busy locations cost up to $75 or $100 each night!
We hope that this piece has assisted you in locating the technology you need to spend time outdoors, taking in nature, whether you go in an RVshare rental, an RV you hire from a standard dealership, or your very own rig.
One of the main reasons people start RVing in the first place is to unplug from their all-digital indoor environment, and we can assure you that the reality outdoors is far more pleasant.