Comfort is an important part of RVing since it allows you to maintain a positive attitude and mental state no matter where you are.
Fortunately, sleeping in your RV can be made more pleasant with the finest RV couch bed.
These items are quite adaptable, since they may be utilized as a couch, lounger, and, most importantly, a bed.
An RV couch sleeper is essential for maximizing space, whether you're traveling alone or with company.
In this post, I'll share my top picks for RV couch beds that met or exceeded my expectations.
Let's take a closer look at each product in my sofa bed reviews.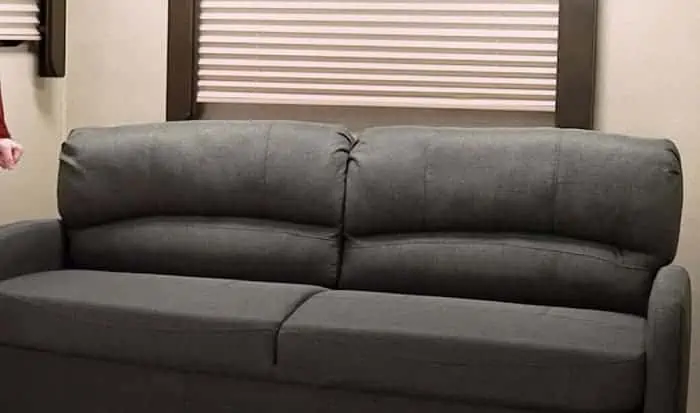 Reviews of the Best RV Sofa Beds
This RecPro Charles Sofa Bed is a space-saving double zero wall hugger that reclines flat with just three inches of clearance.
I bought this furniture to replace an RV couch sleeper, and my sleep has improved since then.
This camper sofa bed is both comfy and long-lasting.
There is ample cushion all around the couch to make sleeping in a fully reclined posture quite comfortable.
The mattress seems to be six inches thick, while the bed frame is made of solid metal.
Another feature I appreciate is the scaled design, which makes the camper couch bed in my RV living area appear classy.
The mahogany hue complements my décor, so the RV sofa blends in well.
Finally, I admire how simple this RV couch bed's polyurethane (PU) cover is to clean.
I like how simple it is to form a bed with this jackknife couch bed—just take down the seat and lay it flat.
The storage area behind the RV pull out sofa is my favorite since it allows me to store a couple blankets and pillows.
Furthermore, since it comes in parts, this RV sofa is simple to construct within the RV.
Heads-up: However, since the bolts are a touch soft, they are readily cross-threaded.
When I attempt to open the jack knife flat out, the sofa moves.
So I used L brackets to secure the sofa to the floor.
Pros:
With its zero wall hugger design, it saves room.
With its deep cushions, it is quite comfortable.
With its scaled pattern, it's stylish.
The bed frame is made of a robust metal bed frame and an easy-to-clean PU fabric.
There's a storage pocket for all of your bedtime needs.
It's simple to manufacture and assemble a bed.
Cons:
Soft bolts that cross-thread readily are included.
It's possible that some bracket attachments will be required to anchor the sofa.
Bottom Line: With its deep mattress, the RecPro Charles Jack Knife RV Couch is a comfy sleeping sofa for RVs.
Furthermore, since it comes with a convenient storage compartment, this camper sofa is ideal for RV owners with limited living room space.
#2. Camper Comfort 68" Rollout RV Sleeper Sofa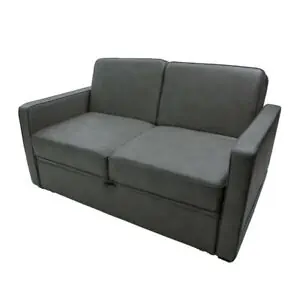 With its pull-out mechanism, Camper Comfort is a smart alternative to a jackknife couch.
This RV fold out sofa, in particular, folds out by the loop to provide a large sleeping space of roughly 70 x 60 inches.
The cushions are all part of the couch bed and do not come free, which I enjoy.
The accordion-style RV couch sleeper folds out simply and glides back together swiftly.
Best of all, because to its deep cushion, it's really comfy to sleep on.
When the gift came, I was happy to find that it fit perfectly in my class C RV doorway.
It arrived in parts, which made it simple to fit through the tight entrance of my RV entryway.
The hue Coddington Pebble came with mine, and it looks great in my little RV living area.
The imitation leather material is attractive and has a pleasant touch.
It has a silky feel to it and is simple to clean with a moist towel.
More impressively, the seat area and backrest can lie flat, providing enough sleeping room for two persons.
Heads-up: However, since mine arrived without directions, this RV fold down sofa bed is a little tricky to put together on your own.
I also discovered a little wire protruding from under the cushion, which I clipped and hoped would do no harm.
Pros:
There's enough room for two individuals to sleep comfortably.
It's simple to take out the bed and restore to the original configuration.
All of the cushions are secured as part of the couch bed.
For added comfort, the seat is thickly padded.
It was delivered in parts to make it easier to get through the RV entrance.
It has a sophisticated appearance and a silky feel to it.
Cons:
Due to the lack of directions, it was a little difficult to put together.
I observed a wire hanging out below the table, which indicates poor manufacturing quality.
Bottom Line: Overall, the Camper Comfort RV Sleeper Sofa is the finest space-saving option since it has a spacious sleeping area.
With a small push, this RV sofa bed transforms into a bed and returns to its original configuration.
RecPro's 65-inch RV sleeper sofa is a lovely RV hide-a-bed couch that can sleep two people.
I like how neatly the memory foam mattress is concealed behind the seat cushions.
To reveal the 5-inch mattress, the mechanism pulls in a single action.
I like that the 5-inch thick mattress is supported by a lightweight all-metal frame for added durability.
Also, the way the cushions are nested, I never imagined a massive mattress would be hidden underneath them.
This vintage hide-a-bed couch is covered in a lovely linen fabric material with a natural gloss.
I chose the fossil hue, which looks fantastic in my RV's living room.
Surprisingly, the linen fabric seems to be long-lasting, since my dog did not scratch the couch when she climbed on it.
Because I haven't observed any symptoms of pilling or shedding, I believe this mattress hide-a-bed couch will survive for years.
During the summer, I like how cool and soft this RV hide a bed couch feels on my skin.
The weave of the material, I thought, made it breathable and allowed more air to move freely.
Heads-up: However, I discovered that when this sleeper couch is exposed to intense sunlight, it becomes brittle.
For my budget, the pricing was also a little high.
Pros:
Completely tucked in to keep the mattress hidden.
Pulls out a thick mattress to provide a comfortable resting space
The inherent shine of linen gives it a sumptuous appearance.
Breathable fabric allows for greater ventilation, which keeps you cool.
With its metal frame and linen fabric, it seems to be long-lasting.
With its deep memory foam mattress, it is easy to sleep.
Cons:
A little over the top
When exposed to direct sunshine, it becomes weakened.
Bottom Line: Overall, the RecPro RV Hide A Bed Sofa is an excellent option for hot vacation places since the chair's permeable linen cloth keeps it cool.
Because everything is so tightly packed, you'll never see that a mattress is hidden under the cushions.
#4. THOMAS PAYNE 379929 Grantland Doeskin Trifold Sofa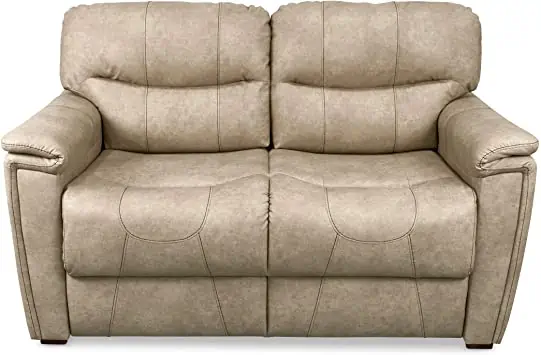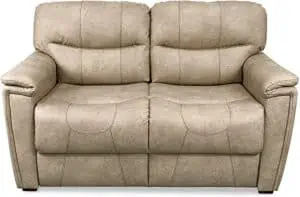 With its 379929 Grantland Doeskin model, Thomas Payne delivers one of the greatest tri fold sofa beds on the market.
This low-maintenance tri-fold RV couch is great for RV owners traveling with children and pets.
While sleeping, I like the support that the high-density foam gives.
Unlike standard hide-a-bed versions, which have support bars that protrude through, there are none here.
Because it is not readily destroyed, I believe this Thomas Payne product will survive longer than an air mattress hide-a-bed.
I bought this Thomas Payne product to replace a sleeper couch in my RV, and I'm happy with the upholstery's longevity.
The Grantland Doeskin Polyhyde cover, in particular, seems to be scratch-resistant no matter how hard my cat claws it.
The sofa bed cover also has a topstitching pattern to reinforce the seams and keep the couch bed together.
It was really simple for me to expand the Thomas Payne bed.
I was surprised by how soft and comfy the pillows are.
The tri-fold sofa bed is also simple to clean, using just light soap and water.
Heads-up: However, while sitting, this Thomas Payne tri-fold RV couch does not provide appropriate lumbar support.
I also observed that the legs of the couch bed would scrape the RV floor, so I added some sliders underneath it.
Pros:
Low-maintenance and easy-to-clean
Because there are no protruding support bars, sleeping is quite comfortable.
With its top stitch structure, the polyhyde cover feels sturdy.
Scratch-resistant and not easily destroyed
It's simple to fold out into a bed.
Surprisingly comfortable to sleep on.
Cons:
When sitting, there is insufficient lumbar support.
When not put with sliders beneath, it may harm the floor.
Bottom Line: Overall, the Thomas Payne Trifold Sofa distinguishes out because to its long-lasting polyhyde upholstery.
This Thomas Payne product is also ideal for traveling with children and dogs since it is minimal maintenance.
Best Choice Products makes a fantastic RV replacement couch bed with futon, which I like.
This convertible folding futon sofa bed is ideal for not only sleeping but also playing sports and movies on the television.
The adjustable backrest is one of my favorites since it can be adjusted to three different settings.
The drop-down console with two drink compartments is my personal favorite since it's ideal for movie evenings.
It merely takes a few seconds to remove the arms and set the back to its maximum reclining position when it's ready to sleep.
The linen fabric upholstery seems to be robust enough to endure many years.
Furthermore, this style of fabric seems to keep me cool on hot days.
Even better, if fabric becomes soiled, it's simple to spot clean with a little solution.
Surprisingly, assembly was a simple since all I had to do was attach the legs to the product.
I enjoy that the pillows are detachable since it allows me to create a larger resting space without them.
Furthermore, the complete couch bed seems to be substantial due to the four sturdy chrome legs that hold the full weight.
Heads-up: However, there isn't enough padding on the couch bed, making it hard to sleep for lengthy periods of time.
I didn't get the sinking sensation that thick memory foam mattresses give me.
My tall brother's feet dangle over the edge of the bed, hence the size is a bit tiny for him.
Pros:
For added comfort, it adjusts to three different reclining settings.
In the centre, there are two beverage holders.
In seconds, it assembles and converts into a bed.
With detachable pillows, it provides additional sleeping room.
The linen cloth upholstery is easy to clean and keeps me cool.
With the chrome metal legs, it seems to be strong.
Cons:
Due to the absence of a cushion, it is a little unpleasant to sleep on.
For taller folks, this isn't the best option.
Bottom Line: Overall, the Best Choice Products are the best of the best. For added convenience, a folding futon is one of the finest RV sofas sleepers. Making a bed and putting it together is a snap, and there are two beverage containers in the center.
#6. Serta Palisades Upholstered 73" Sofa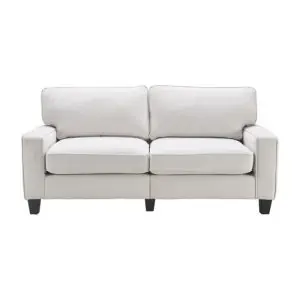 The Serta Palisades is a contemporary RV couch that provides excellent comfort whether you're sitting, reading, or just resting.
I chose the grey hue, and I'm thrilled with how adaptable it is in my RV living area, since it goes with any décor.
The memory foam on this RV sofa is my favorite feature since it feels so cozy that I can feel myself slipping into it.
I'm impressed with how well the pillowed back cushions maintain their form even after regular usage.
Because the memory foam was able to keep its form for such a long period, I assume it is dense.
The product's packaging is another item that has pleased me.
The couch arrived in a small package that fits well in the tight doorway of my RV.
Furthermore, the setup was quite simple since it only took me a few minutes to connect everything together.
Because the seat depth is within the comfortable range of 20-22 inches, I've never felt such at ease sitting on an RV couch bed.
In addition, the polyester upholstery has a high level of resistance to unsightly drooping.
Best of all, even when exposed to direct sunshine, the color does not fade.
Heads-up: Note that this is a normal couch type that does not convert into a bed.
I also ripped a zipper on one of the cushions, which made me doubt its durability.
Pros:
It's a pleasant place to sit and unwind.
High-density foam maintains its form for an extended period of time.
Grey is a neutral hue that goes with everything.
It's packaged safely and compactly.
Within minutes, you can put it together.
The polyester fabric does not sag or discolor.
Cons:
It is not possible to convert it into a bed.
Made with what seem to be fragile zippers
Bottom Line: Overall, the Serta Palisades is an excellent RV couch for lounging, reading, and other forms of leisure.
The plush cushions make sitting and resting more pleasant, even if this product does not convert to a bed.
This jackknife couch has the same contemporary design and comfort as the rest of RecPro Charles' product ranges.
I like the Mahogany color and 72-inch length since it goes with practically any RV interior.
All Charles sofas come with the same plushy bounce-back fill and creamy-soft Suprima Fabric as this love seat.
Plus, the poly-leather seems to be water-resistant since it didn't absorb the water from my drink when I dropped it once.
Surprisingly, the fabric feels soft while while being robust enough to endure a long time.
This travel trailer sleeper couch is really easy to use.
To create a bed, just fold the backrest down with one hand.
Because the structure is composed of metal, I feel safe when I lie down on this couch sleeper.
The armless shape of this RecPro Charles jackknife couch is one of its best features.
This design makes the goods more suitable for sleeping as well as displaying the artwork I hung on the wall.
This sleeper couch comes in a variety of colors, including putty, toffee, and chestnut, in addition to mahogany.
Heads-up: The assembling procedure is my sole pet peeve since it necessitates the use of equipment such as a hand drill and a screwdriver.
This product also doesn't hold up well in the sun.
Pros:
It comes in a variety of colors, including Mahogany.
Suprima leather is both soft and durable.
Because of the metal frame, it is water-resistant and seems to endure a long time.
For improved comfort, it has a bounce-back fill.
With one hand, swiftly converts into a bed.
More room and convenience are provided by the armless design.
Cons:
It's a little scary to put together since it necessitates the use of equipment.
It doesn't hold up well in the sun.
Bottom Line: Overall, the RecPro Charles RV Jackknife Sofa stands out due to its ease of conversion into a bed.
The Suprima leather material and aluminum structure of this travel trailer sleeping couch wow.
YAHEETECH is another outstanding lazy boy RV sleeping couch that reclines from 105 to 180 degrees in three configurations.
The good news is that changing the angle of the backrest is as simple as folding it forward and backward.
This RV couch is sturdy enough to support my body while sleeping, which I like.
The pillows are also a lovely touch since they double as seat cushions, making sitting more comfortable.
Surprisingly, the linen cover seems to be durable, since it stayed in excellent shape after my dog scratched it.
Because the frame is constructed of robust plywood and the legs are made of metal, the whole structure seems substantial to me.
When I'm sleeping with my dog, there are two metal legs in the center, which provide greater support.
The armrests are my favorite since they are stylish and ergonomically constructed to relieve strain on my hands when sitting.
I like that the kit contains all of the essential components as well as easy-to-follow instructions for assembly.
Besides, the product arrived in a little box that fit well in my RV's doorway.
Heads-up: However, several screws did not fit in the holes, so I had to drill them out.
When I'm not using the pillows as seat cushions, I can feel the frame through the sitting area.
Pros:
Three angle positions are simple to modify.
Two pillows are included for further comfort.
To support the body when sleeping, it should be firm and durable.
Ergonomic armrests and a durable linen cover are included in the design.
Metal legs provide additional support for the whole structure.
The compact box includes all necessary hardware and fits through tight doors.
Cons:
Some screws are misaligned with the holes.
It has a harsh feel about it, particularly in the sitting area.
Bottom Line: Overall, the YAHEETECH Sleeper Sofa is awe-inspiring in its adaptability.
This RV sofa sleeper can be reclined in three different positions to suit your needs.
Saemoza has a multipurpose sofa bed that can easily be converted into a chair, ottoman, lounger, or bed.
It was purchased for my nephew in Canada, and I believe it will fit well in his little RV.
I'm really rather pleased with this little RV couch bed's capabilities since it can handle a significant amount of weight.
My nephew weighed around 400 pounds, and the couch bed was able to support him without swaying.
The adjustable backrest is my favorite since it can be adjusted to five different angles.
This one appealed to me since it can quickly transform into an ottoman and a bed.
Because to its innovative folding shape, this product takes up less room.
The best part is that this sleeping couch is portable and easy to transport.
The high-density foam has stereo lines to protect the spine, and the linen fabric seems to be comfy.
I appreciate how the dust cover is held in place by a concealed magnet.
More significantly, the device does not need any assembly and is ready to use immediately out of the box.
Heads-up: However, keep in mind that this sofa sleeper is rather little.
There's barely enough room for one person.
I also received a model with an uneven base, so I had to use a spacer to prevent it from swaying.
Pros:
It's versatile since it can swiftly change into several shapes.
Despite being light, it has a significant weight capacity.
There is no need for assembling.
Space is saved thanks to a unique folding design.
With its high-density foam and linen cover, it is very comfortable.
Five different angle options are available with the adjustable backrest.
Cons:
There is just enough room for one person to sleep.
At the base, it's a little irregular.
Bottom Line: Overall, the Saemoza is an excellent RV couch bed due of its space-saving design.
This product is one of the most versatile sofa beds available, since it may be used as an ottoman, lounger, or bed.
This RecPro Charles Collection 60″ RV couch sleeper has a zero-wall hugger recliner design that eliminates the need for a mattress.
This was acquired during a year-end RV couches clearance sale, and I'm pleased with its quality.
Because the material is softer than I imagined, this is one of my favorite camper couch beds.
The material is polyurethane or synthetic leather, which has a scaled pattern that adds to its elegance.
Furthermore, I like that it does not collect water, making it simple to clean and preserve over time.
Due to its robust metal structure, it stays stable when completely reclined into a bed.
Even when my brother's weight exceeded the 150-pound limit, I observed no wobbling concerns.
I can also store my blanket in the little storage compartment beneath while I'm not sleeping.
Furthermore, the high-density foam on this sleeper couch makes it incredibly comfy for me.
The foam retains its original form even after extensive usage.
The armrests are also a plus since they provide additional comfort and stability when sitting.
Heads-up: However, while sleeping, these armrests might get in the way.
These items constantly seem to land on my knees.
In addition, the 60-inch length is a little short for me, therefore I should have chosen a longer one.
Pros:
There's no need to worry about a concealed mattress.
Faux leather is supple and simple to maintain.
With the scaled design, it looks stunning.
Metal frame provides stability, while ergonomic armrests provide comfort.
High-density foam is soft and supportive, and it keeps its form.
There is just a little amount of storage room for blankets.
Cons:
When sleeping, armrests tend to restrict mobility.
60 inches is a little on the short side.
Bottom Line: If you don't want to bother with a mattress, the RecPro Charles 60″ RV Jack Knife Sofa With Arms is a great option.
This kind of couch converts to a bed by simply pulling out.
Another piece of furniture that may be utilized in the RV is this convertible sofa bed.
This piece of furniture has the ability to convert into a bed, recline at three different positions, and carry two drinking cups.
I enjoy the central drop-down console since it can store two drinks, making it ideal for a movie night.
The backrest adjusts to three different angles to ensure that I am in the most comfortable reclining posture possible.
When reading and watching TV, I discovered that 140 degrees was my sweet spot.
The RV sofa bed's complete design is really luxurious.
The imitation leather appears rich, and the metal legs, with their slightly tilted form, are elegant.
This RV couch, if not mistreated, should last a long time.
The detachable cushions are my favorite since they double as armrests while you're seated.
It's also quite easy to turn this product into a bed.
Best of all, the assembly is relatively simple, requiring simply the connection of the legs.
Heads-up: However, this RV couch sits rather low, yet it is still attractive.
I also find the seat cushion to be a little stiff, which makes sitting a little unpleasant.
Pros:
Three distinct angles of recline
In the centre, there's a built-in drink holder.
With the metal legs, it looks quite attractive.
The faux leather material seems to be durable.
In a sitting posture, removable cushions may also be used as armrests.
It's simple to convert into a bed and put together.
Cons:
Sits very low, practically touching the ground.
With its hard seat cushion, it's a little unpleasant.
Bottom Line: Overall, with its metal legs and sumptuous fake leather upholstery, YAHEETECH delivers one of the most beautiful sofa beds.
Furthermore, I believe the drop-down console is its finest feature since it can carry two beverages for added convenience.
HOMCOM has a one-person couch bed that is trendy and attractive.
This couch bed was purchased as a present for my father, who had rapidly worn out his Flexsteel RV sleeper sofa.
The black birch wood frame is robust, and it contrasts well with the cream-white velvety cushions.
My father weighed 250 pounds, and the metal wings and back have held up admirably.
Thankfully, both armrests can be easily slid up and down to create a bed, lounger, or loveseat.
I really like the two huge accent pillows since they provide additional support and comfort whether sitting or laying down.
These pillows have zippered detachable covers, making them simple to clean and maintain.
I like the medium-density foam because it molds to my body and relieves my aching back and hips.
Because it's made of polyester, it's very stain-resistant and long-lasting.
Above all, it's really simple to put up by myself.
After unpacking the package, which took around 20 minutes, all I had to do was place the cushions.
Heads-up: However, the bottom wood slats seem fragile since one of the boards was easily snapped.
The foam is also a touch hard to sleep on, but it's OK for a little nap.
Pros:
A strong frame and a stain-resistant polyester cover are included.
The adjustable armrests provide for simple mechanics.
Two large cushions are included for further support.
Pillows with removable covers and zippers are simple to clean.
Sore muscles are relieved with medium-density foam.
In only a few minutes, you can put this together.
Cons:
The bottom wood slats seem to be fragile.
For sleeping comfort, it's a little stiff.
Bottom Line: Overall, the HOMCOM Chaise Lounger Sofa Bed is a wonderful alternative to hide-a-beds since it can be converted into a bed with a simple armrest modification.
Furthermore, the contemporary style is a great accent to the RV living area.
#13. RecPro 72" RV Jackknife Sleeper Sofa With Drop-Down Console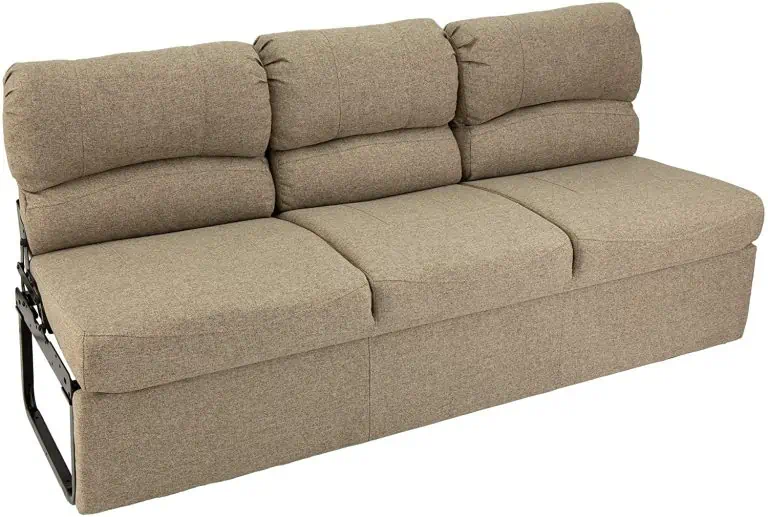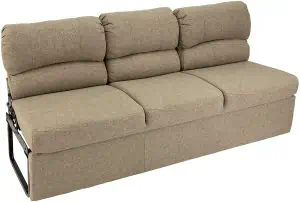 One of the most roomy RecPro models I purchased is the 72″ Jackknife Sleeper Sofa.
I chose the hue Oatmeal Cloth, which goes nicely with neutral greige tones.
This RecPro model appeals to me since it has a drop-down console for holding drinks while viewing TV or movies.
Because the cupholders are in the center, it's easy to share them between two individuals.
Also, the fact that the cupholders are constructed of stainless steel gives me confidence in their quality.
This sleeper sofa's whole structure is also built of metal, making it durable enough to hold a considerable weight.
My sister weighs roughly 150 pounds, and the couch bed comfortably supported her.
I appreciate that the couch has no armrests since it gives my RV space a more expansive appearance.
Surprisingly, cleaning the linen cover with mild detergent was simple.
In addition, since the linen fabric is smooth and cool to the touch, I find it really nice to sleep on.
Best of all, with its natural fiber appearance, it looks fashionable.
Heads-up: However, while sleeping on the backrest's curves, it might be a little unpleasant.
This RV couch bed is also a significant investment since it costs a lot of money.
Pros:
It has a lot of sleeping space.
Two solid stainless steel cup holders are located on the drop-down console.
With its all-metal structure, it'll last a long time.
The absence of arms gives the impression of more space.
The linen cover is soft and simple to clean.
It's stylish and can hold a lot of weight.
Cons:
Because of the curvature in the backrest, it's a little unpleasant to sleep on.
It comes at a heavy price.
Bottom Line: Overall, I'm happy with the quality of the RecPro 72″ Jackknife Sleeper Sofa, which has a sturdy linen cover and aluminum frame.
I really like the fact that the drop-down console has two cup holders, making it one of the finest camper sofa beds for entertainment.
All couch beds can suit the DynastyMattress Cool Gel Memory Foam.
When the original mattress in my RV air mattress hide-a-bed couch wore out, I attempted to save it by replacing it with this one.
The mattress is one of my favorites since it fits to my spine and easily aligns it with my neck.
It has a foam foundation with a layer of gel soft memory foam on top, which I find really pleasant.
Even while sleeping in hot temperatures, I never break a sweat.
Another positive aspect of this product is its size, which is comparable to that of a full-size bed mattress.
As a result, it can comfortably accommodate two persons.
Fortunately, the mattress comes with a machine-washable zipper cover, so I can launder it in the washing machine.
I didn't feel the metal bars or springs on my back as I did on prior couch beds, thus this mattress was a huge improvement.
I also like the fact that the shipment came suctioned, which relieved me of the load of having to carry it into my RV.
Fortunately, removing the mattress from its plastic packing was simple.
Heads-up: However, since the mattress does not roll back up within the sofa, I must manually roll it up with a bungee rope.
There may also be a little odor when it comes.
So I let the mattress air out for three days to allow it to fully expand and eliminate the stink.
Pros:
During hot weather, the cool gel top layer keeps you cool as you sleep.
Without the sense of springs or coils, this mattress is very pleasant to sleep on.
Can aid in the appropriate alignment of the spine and neck
It is large enough to accommodate two persons.
For convenience, it comes in a well-suctioned package.
For simple cleaning, it comes with a washable cover.
Cons:
Will not roll back into the couch bed
It's possible that there'll be a tiny stench when you open the box.
Bottom Line: Overall, the DynastyMattress Cool Gel Memory Foam is an excellent purchase for RV couch beds since there aren't many alternatives for mattresses.
As a result, if your RV sleeping couch with air mattress fails, I suggest this product.
Before You Buy An RV Sofa Bed, There Are A Few Things You Should Know.
Now that you're aware of your possibilities, let me walk you through the fundamentals of selecting the greatest couch bed for your RV.
Here are some key points to remember regarding RV couch beds.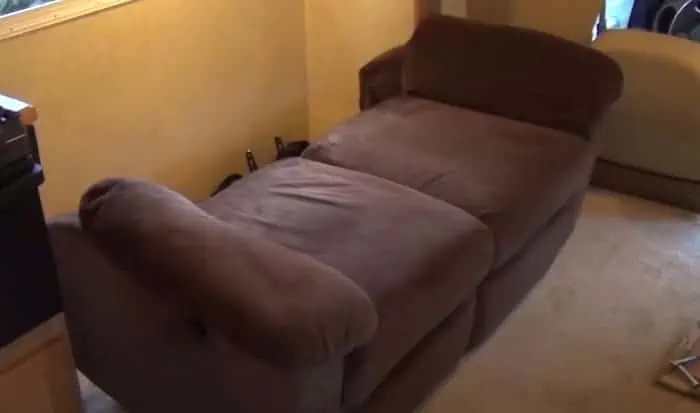 The Various Kinds Of RV Sofa Beds
Understanding the numerous models available and which one suits in your RV living room is one of the most essential things to know when choosing an RV couch bed.
Let's take a look at each of these variations in more detail.
Sofa Beds with Hide-A-Beds: These sofas resemble ordinary couches, but they conceal a foldable mattress within. The memory foam, innerspring, or polyester filling used in the pull-out mattress are all options. Because of the soft cushions, this type is the most comfortable, but it may be cumbersome and requires more work to get in and out of.
Sofa Beds Jackknife: Jackknife couches are taller than sleeper sofas, making them simpler to enter and exit. Because these couches instantly fold out to a full-size mattress, this layout is more handy. Furthermore, the cushion is generally firmer, making it more durable to support more visitors for longer periods of time. It may, however, be pretty unpleasant, so you may want to add a softer foam mattress on top.
Sofa Beds with Three Folds: Tri-fold sofa beds are fantastic for providing two more sleeping rooms to your vehicle. This couch bed is a little bigger than a jackknife, but not as big as a hide-a-bed. Although these couch beds are more comfy than jackknife sofas, I still recommend a mattress topper.
The Advantages and Disadvantages of RV Sofa Beds
All RV owners understand that the most important factor to consider when purchasing RV furniture is utility.
The major advantage of RV couch beds is that they allow you to add an extra sleeping area to your trailer without taking up any more room.
You won't have to walk around a bed in the main room of your RV or worry about additional storage.
An RV couch bed may be utilized for sitting, sleeping, or relaxing.
If you want to entertain visitors and have them sleep over, this is a terrific alternative.
Sofa beds with a stylish design may also be a pleasant addition to your living area.
Some couch beds even have additional storage room for your extra possessions or stuff.
Because these items are designed to be versatile, they are frequently made to endure a long time.
This utility, however, comes at the cost of increased weight, so you may need assistance transporting this furniture from one location to another.
When sleeping on the curves and folds of the couch, there's also the matter of discomfort.
Additionally, cleaning around the additional folds and holes might be difficult.
What Should You Look For In An RV Sofa Bed?
Getting the characteristics you want is the key to obtaining the ideal RV couch sleeper.
Now that you know what sort of couch sleeper to choose for your RV, let me go over some of the other crucial things to look for.
If you expect to use the RV couch bed regularly, it's best to choose one that's built to last.
A robust structure is used to construct the most lasting sleeper couches.
Avoid items made of plastic or particleboard, since they are quickly destroyed.
In terms of durability, real or fake leather outperforms all other materials.
Cotton, linen, and polyester are the most long-lasting textiles available.
Another important consideration when purchasing an RV couch sleeper is comfort.
When purchasing online, it's impossible to determine the product's degree of comfort, so you'll have to depend on reviews or go shopping in person.
Sit and lay down on a couch bed to see whether it will hold your weight.
The finest comfort comes from high-resilient foam, but it might be costly.
Polyurethane foam is a less expensive option, but you should pick a greater density or it will degrade over time.
Look for a memory foam mattress if you suffer from persistent back and neck ache.
The worst thing you can do is fall in love with a piece of furniture only to find out it won't fit in your RV living room.
So, before you go shopping, measure the space where you want to install your RV couch bed to be sure it will fit in your RV doorway.
Remember to include in wall clearance and seat depth, since these factors might add to the overall size of the room.
Look for a model with a larger weight capacity to ensure that the couch bed will not collapse rapidly.
Consider how many persons the couch bed can accommodate as well.
Cleanliness is a key feature of the finest RV sofa beds.
Faux leather or polyester textiles are usually the finest choices.
These materials can successfully withstand stains and spills.
If you have dogs, check sure the upholstery is simple to clean and won't scrape from their claws.
The mechanics also indicate how easy the couch bed is to use.
Clic-clac couch beds are simple to convert into beds since all you have to do is recline completely or lower the back.
These mechanics often have a function that allows for additional storage space.
The A-frame mechanism is the easiest to convert to a bed since all you have to do is pull out the front.
Look for a pull-out and lift-up mechanism if you wish to position the couch bed against a wall.
A three-fold and roll-out mechanism is perfect for greater comfort since it provides the same level of support as a mattress.
If your RV couch bed provides more than simply sitting and sleeping, it's a real pleasure.
Even pillows and blankets may be stored in the finest RV couch beds.
Others feature center drop-down consoles that can carry two drinking cups.
Because greater features come at a higher price, consider what specific characteristics you want.
What Company Produces the Best RV Sofa Beds?
RecPro produces the greatest RV couch beds since all of its products are composed of long-lasting PU.
This business also provides a large range of luxury furnishings to make your RVing experience as pleasant as possible.
With its jackknife shape, their couch beds are comfy and run effectively.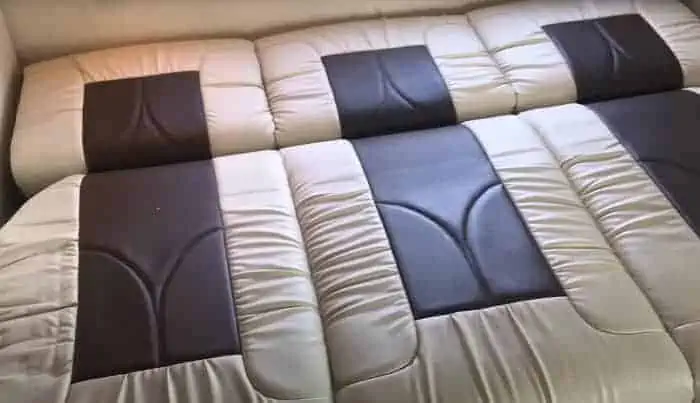 What Is the Dimensions of an RV Sofa Bed?
Most RV sofa beds have a twin-size bed capacity of 38″ x 75″ and are available in a variety of sizes.
Other types conceal a mattress, allowing for a full-size bed of 53″ x 75″ in size.
Make sure you assess the available space in your RV before purchasing an RV couch sleeper, regardless of the size.
What Can I Do To Improve The Comfort Of My RV Sofa?
To make the RV couch more comfortable, the greatest thing you can do is add a mattress topper.
To create a new hotel bed ambience, clean the mattress and spritz it with a pleasant spray.
If the mattress topper isn't enough, throw a fluffy blanket on top of the bed and fluff your pillows before placing them on top of it.
Is it Possible to Sleep in an RV with a Regular Sofa Bed?
Absolutely! A normal sofa bed may be installed in an RV if the measurements fit within the available space.
To keep the normal sofa bed steady while driving, you may need to tie it with bungee cords or tape.
What is the Recommended Thickness of a Sofa Bed Mattress?
The usual thickness for a sofa bed mattress is 4.5 inches.
Because this varies from one couch to the next, it's crucial to measure your specific sofa mattress to ensure it fits.
It's critical that you acquire the right mattress size for the mechanism to work properly.
What Should I Do With My RV Sofa Bed?
The manufacturer's instructions may determine the cleaning needs.
However, dust and dirt may usually be removed from your couch bed using a vacuum.
Don't forget to clean the mattress once you've unfolded it.
Spot cleaning is advised for stains and spills.
Blot the spots with a moist towel soaked in water and mild detergent.
Also, rotate the mattress on a regular basis to avoid uneven wear.
Conclusion
When RVing, you shouldn't skimp on comfort — enjoy comfortable sitting, reclining, and sleeping with the greatest RV couch bed.
If I had to select only one, I'd go with the RecPro Charles 70″ Jack Knife RV Sofa since it usually comes with a little storage area for your bedroom supplies.
If you don't like the jackknife couch layout or just want more sleeping room, the Camper Comfort RV Sleeper Sofa Rollout RV Sleeper Sofa is a nice option.
The RecPro RV Hide A Bed Couch, with its breathable linen cover and deep cushions, is another comfy RV sofa bed.