Today, we're going to take a look at some of the most relaxing and practical seating choices for RVers to unwind in their vehicles whether reading, working, napping, or watching the most recent episode of The RVers.
We'll respond to your inquiries regarding RV recliners and provide the top five compact RV recliners.
An RV Recliner: What Is It?
A recliner for an RV must fit into a smaller area, survive travel, and adhere to weight restrictions for RVs since it is made specifically to be used in an RV.
Recliners for RVs are often built of lightweight materials and can typically be fastened for safe travel.
A Wall-Hugger Recliner: What Is It?
Compared to standard recliners, a wall-hugger needs extremely minimal wall clearance to recline.
A lot of wall-hugger recliners, including dual-seat theater recliners, only need 3 to 3.5 inches of wall clearance in order to recline completely, as you can see in our analysis of some of the most well-liked tiny recliners for RVs.
Can a Regular Recliner Be Placed in an RV?
If your RV has enough room for the chair and you can get it inside, you can definitely install a standard recliner in it.
Assembling a bigger piece of furniture after it is inside your RV is easy thanks to the fact that many small recliners for RVs come in two or three sections.
If you have your heart set on a conventional chair, you should be quite certain that you can get it inside the RV (without taking off the windshield!) and that there is enough room for it there.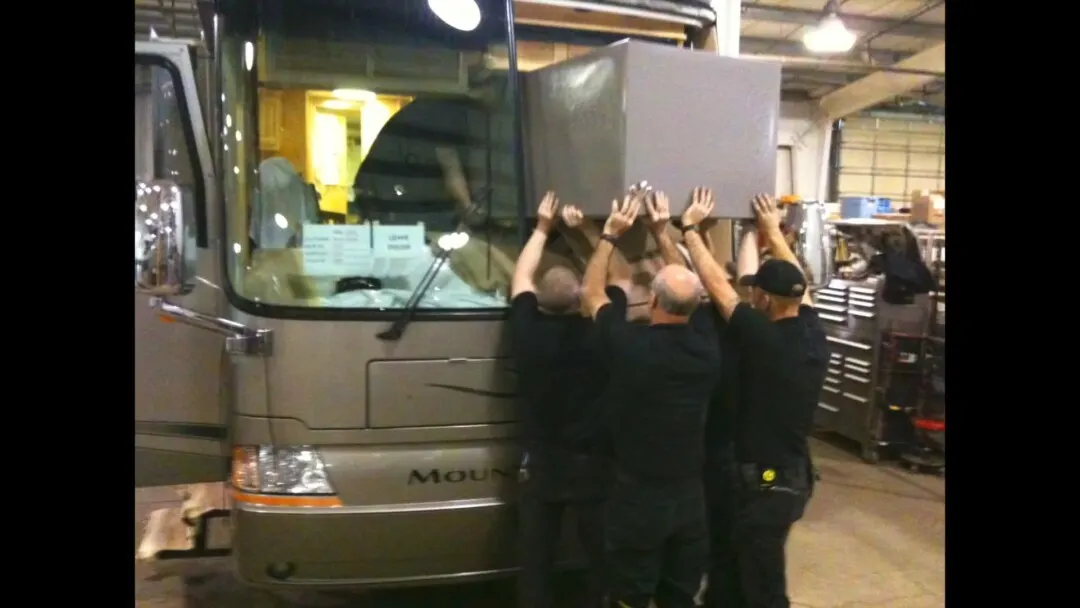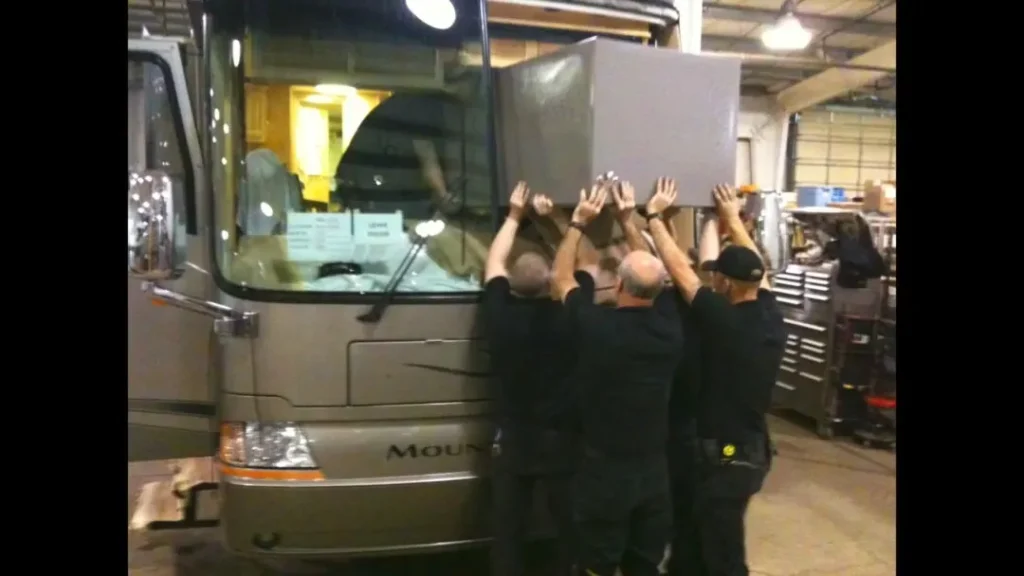 What Features Come Standard in the Best Small RV Recliners?
The best RV recliners have a variety of characteristics.
Before we look at some of the greatest compact recliners for RVs, let's take a brief glance at them.
#1. Size
When attempting to fit any new furniture into an RV, size is a crucial factor to take into account.
Making your RV as comfortable as possible is the ultimate goal, and room is always restricted to some extent regardless of the size of your motorhome.
Therefore, having the required room for an RV chair is crucial, and a decent RV recliner must have a size that fits that area.
#2. Materials & Fashion
Material and style are significant attributes that are often individualized.
Most of us would want a new piece of furniture to complement the décor of our RV, but some of us would rather have leather than fabric or a modern European design than a chair that looks "overstuffed."
In any case, choosing a nice compact chair for an RV starts with the material and styling choices.
#3. Comfort
One of the most crucial characteristics of a decent RV chair is comfort.
If the furniture you bring into your RV isn't comfortable, it isn't worth your money or the space in your vehicle.
If you can't sit in the chair comfortably whether reading a book, working on a project, watching TV, or just unwinding, it isn't worth having in your vehicle.
Like a bed, a recliner is a piece of furniture that you must like.
It's a smart idea to allow customers to test out furniture before they purchase it or to provide them a brief trial period in which to do so.
#4. Cost
Budgets are a concern for almost all of us.
Where you start your search for a new RV chair will depend on your budget, but if at all feasible, try to avoid sacrificing comfort for savings.
A lot of us like relaxing in a cozy chair.
However, if price is a concern, it would be wise to put off making a purchase until you have some more cash saved away for a higher-quality item.
That would include a recliner, since there is no use in owning a chair that isn't comfy.
After all of that, the key here is to select the ideal RV chair for you.
So let's get started with a few things our study recommends you should think about when you purchase.
5 of the Finest RV Small Recliners
#1. Lambright Lazy Relaxor RV Recliner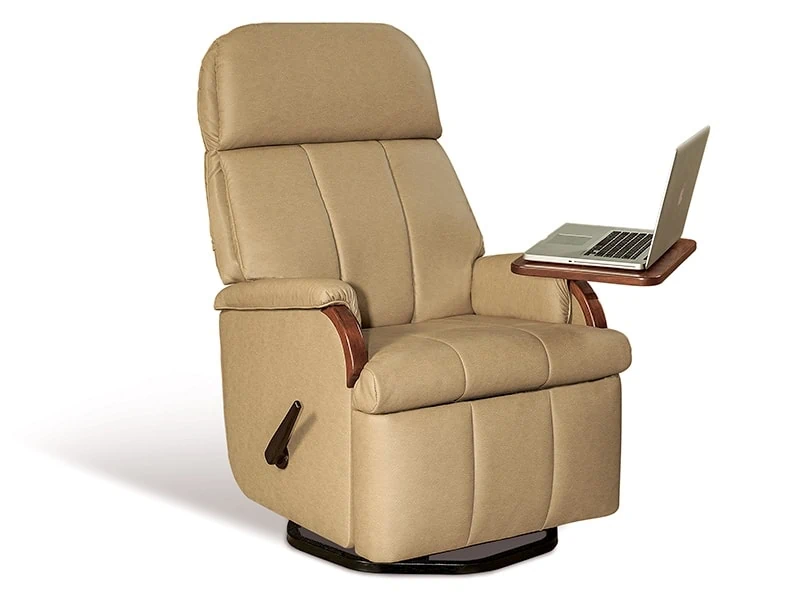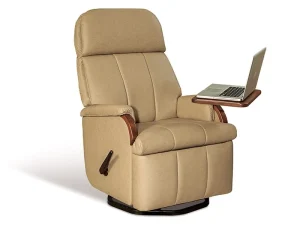 For the last 10 years in a row, this wall-hugger RV chair has been BraddAndHall's best-selling item.
It has a freestanding ring base swivel and is the first Lambright recliner.
The Lambright Lazy Relaxor is a rocker with a swivel base that is free of charge and is created by Amish craftsmen in the USA.
These premium RV recliners are 27″ wide, real wall-huggers, and come in a selection of fabrics, vinyl, and ultra-leather.
They just need 3″ of wall clearance.
Both a drop-down side table and a 110V power recliner are options.
The Lambright Lazy Relaxor Lite, a smaller (24″ wide) version of this chair, and the Lambright Houston RV Theatre Seating, a double reclining theater seating arrangement in the same manner (the recliners function separately and need just 3.5″ of wall clearance), are also offered by BraddAndHall.
There are four hues available for this modern European-style recliner: Putty, Chestnut, Mahogany, and Toffee.
RecPro's Nash models include a dual-recline function with a kick-out that extends to 45″ at the first level of recline and 56″ at the second level.
The Nash is a low-profile recliner, but in order for it to completely recline, the base of the chair must be 11″ from the wall.
These chairs, which are very well-liked by reviewers and have a weight restriction of 250 pounds, only weigh 50 pounds.
RecPro's Charles collection is another another extremely well-liked option.
The chair is big and comfy enough to sleep on, and it is made of soft Suprima leather (polyurethane).
It just needs 3″ of wall clearance when fully reclined.
These chairs from the Charles series weigh 88 pounds since their bases are made entirely of metal.
The chair in this image does not swivel, but some of the choices in the Charles collection do.
Despite the fact that these recliners are well-liked by RV owners, some reviews have expressed concern that they may be challenging to recline if you have back issues or a weakness in that region.
(A power option is available for an extra fee.)
Additionally, we found a few reviews from people over 6 feet tall who complained that the legs of the chair were uncomfortable to sit on while completely reclined.
Another dual-reclining theater seat with storage for beverages in the middle is this one.
According to reports, this wall-hugger just needs 3″ of wall clearance to recline completely.
It's made of imitation leather fabric and is offered in a variety of colors.
The armrests on this chair choice are cozy and cushioned.
It reclines manually.
For each seat, the maximum weight capability is 350 pounds.
Although these chairs don't entirely recline, reviewers claim that they do so just enough to allow for comfortable resting.
#5. Lambright Luxe RV Recliner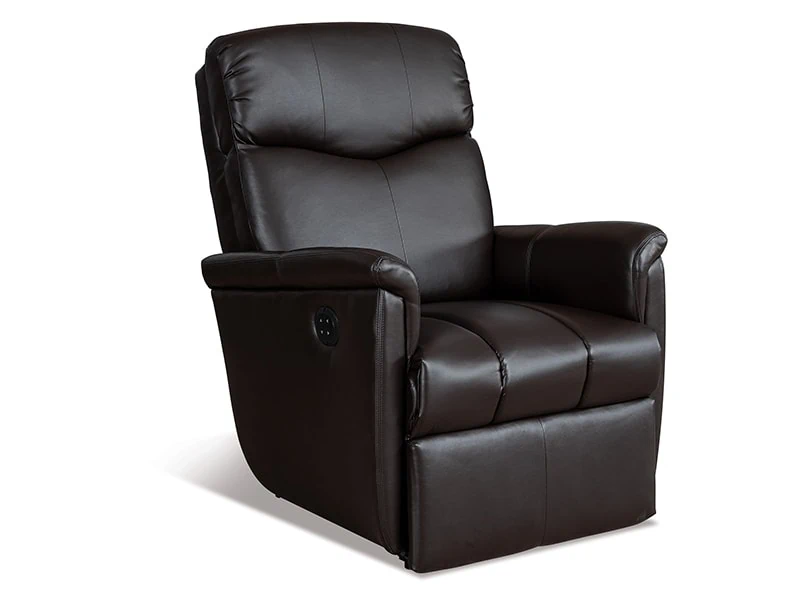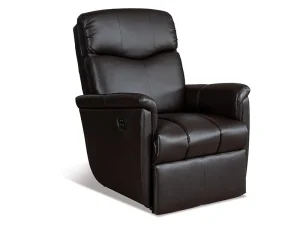 Another choice from BraddAndHall is their Luxe trademark recliner, which is a freestanding ring base swivel chair produced by Amish in the USA.
This 28″ wall hugger by BraddAndHall needs 3.5″ of wall clearance in order to completely recline.
This recliner is also offered at no extra cost as a rocker with a swivel base, albeit it is not a wall hugger.
The 90-pound Luxe versions come in four different materials and weigh 90 pounds.
Final Opinions on the Best RV Small Recliners
There are a lot of great alternatives that give comfort and quality without necessitating a sizable amount of room if you're in the market for one or two RV recliners.