It goes without saying that owning an RV may be expensive.
The expenses associated with owning an RV may really start to mount, from the original purchase through maintenance and renovations.
Many people choose to live without items and furnishings since buying them fresh from dealers might cost an arm and a leg.
But having a limited budget should not mean giving up on your ambitions for a chic and modern RV interior.
Fortunately, there are alternative ways to get old RV furniture, including DIY projects and online auction sites.
Check out these five cost-effective methods to locate secondhand RV furnishings.
Where To Locate Old RV Furnishings
Retailers
Web-based markets
Wholesalers
RV wrecking yards
DIY initiatives
#1. Retailers
While merchants do offer new furniture, there are sometimes some excellent discounts on lightly used items as well.
Used items are often offered at a reduced price even if they have never been used.
They may be trade-ins or the result of others renovating their interiors.
To find out whether they offer secondhand furniture and if any items are presently available, get in touch with your neighborhood RV merchants.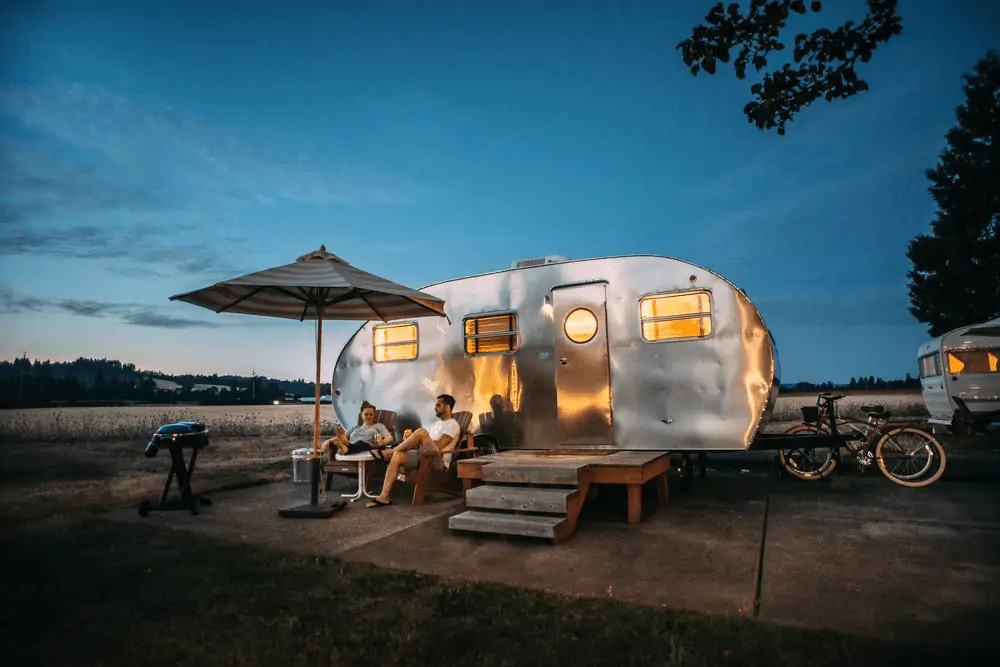 #2. Web-Based Markets
Look for discounts on secondhand furniture around the nation on websites like eBay.
Instead of throwing their old furnishings in the trash after purchasing new ones, individuals often attempt to sell them for a profit.
Local offers could also be available on websites like Craigslist and Facebook Marketplace.
Online stores with local features are convenient since they allow you to see the furnishings before making a purchase.
Never undervalue the power of a good "used RV furniture near me" search.
Internet search
#3. Wholesalers
Similar to physical stores, there are many internet vendors that provide used and reconditioned RV furnishings.
Don't forget to account for delivery costs when making purchases online, whether from a wholesaler or a website like eBay.
These prices, particularly for big things, might be so exorbitant that you can wind up paying the same amount as you would for a brand-new item.
#4. RV Wrecking Yards
Similar to pick-a-part auto yards, RV salvage yards may be treasure troves of furnishings and RV components.
People often sell their old, inoperable RVs to these yards, which then let customers to explore the inventory and purchase specific pieces or furnishings.
In a salvage yard, you won't likely discover furniture that is more recent, but you may be able to uncover a wonderful antique item that only needs some love.
You may need to go out of your way to discover an RV salvage yard since they are less popular than your typical vehicle yard.
Our recommendation Organize a vacation around it!
#5. DIY Initiatives
Put on your worn-out overalls and put in some work building DIY RV furniture.
Frequently, you can build or renovate furniture using discarded materials from around your home or RV and a few hardware shop goods.
Making personalized items that suit your individual demands and aesthetic preferences yourself is another wonderful method to save money.
The internet is your greatest friend when it comes to doing it yourself, whether you're beginning from scratch or reusing old furniture.
RV blogs and vlogs provide a plethora of project inspiration and how-to information.
You'd be astonished at how much information a single Google search may turn up.
Things To Consider When Purchasing Secondhand
It's not the same as walking into the shop and buying something new when you buy secondhand products.
Here are some considerations to ponder when purchasing secondhand RV furnishings.
#1. Ensure You Have The Necessary Equipment.
Make sure you have everything you'll need for a good installation of the new furniture before making a purchase.
Some items, like an RV mattress, don't need any specific tools, however other items, like a cabinet set or table, can need drills, saws, and other tools.
#2. Visit Locations Often
Purchasing secondhand could require some patience as you wait for the ideal item.
Even if the component you need isn't there right now, it could be tomorrow.
Additionally, be sure to often check websites since you want to be the first to get a fantastic offer.
#3. Keep Track Of Your Measurements
Nothing is worse than investing on new furniture just to find that your RV isn't big enough for it.
Before you go shopping, make certain you are aware of the size of your room.
This will guarantee that everything fits perfectly.
Every dimension should always be measured at its broadest point.
#4. Purposefully Take Advantage Of Flaws
Some people avoid clothing with even the slightest wear.
But a few tiny imperfections and blemishes may be advantageous when purchasing old furniture.
Make use of them to your advantage while haggling over a price with the merchant.
#5. Seek For Healthy Bones.
Here, we're referring to the furniture's framework.
Both durability and aesthetics are essential.
If you have a chance to inspect the item before buying it, evaluate its integrity.
Do you think it's strong enough to handle normal wear and tear? Minor flaws can easily be corrected, but serious structural faults might cause more serious complications in the future.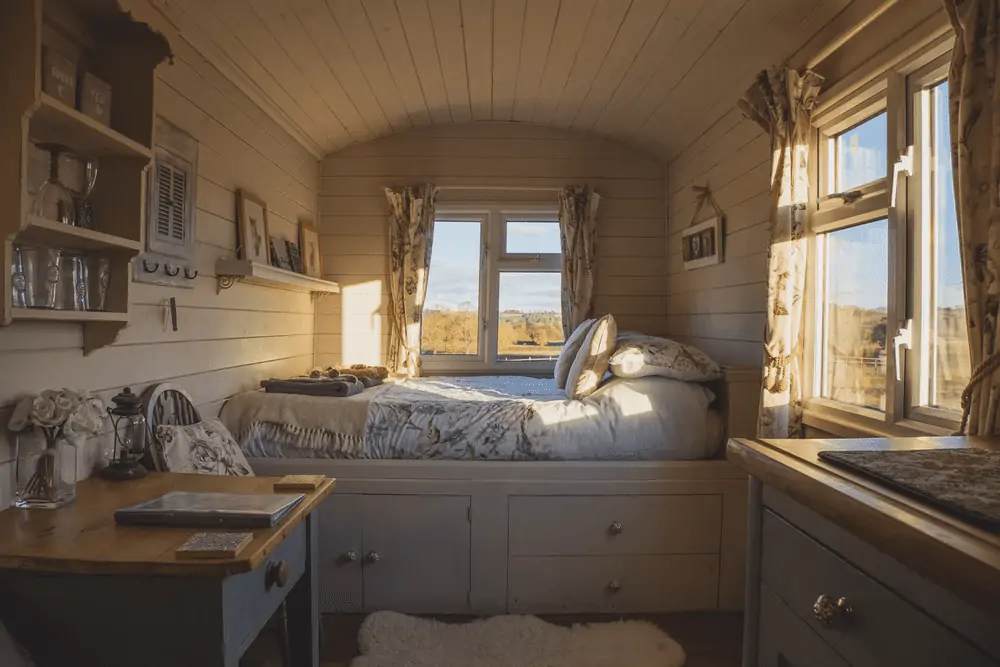 #6. Prepare Your Aesthetic In Advance
Some RVers have certain ideas in mind for how they want the inside to look.
When purchasing secondhand, it may be challenging to find whole furniture sets, which might result in a mix-and-matched design.
Great if that's the aim! But if you'd rather have some coherence in your design, think forward to what colors and materials will go well with your RV's current furnishings.
A little advance preparation is quite helpful!
Begin Looking For RV Furnishings.
Finding used RV furniture is a terrific way to save expenses and retain more money in your pocket for when you're ready to go.
Start your used furniture hunt for affordable pieces by Googling "RV furniture for sale near me."
Plan ahead, exercise patience, and often check in with vendors to locate the greatest offers.
Your ideal RV interior need not be expensive; it may just need a bit more work.