The purpose of RV batteries is to ensure that you have enough power to operate all of your camper's electrical appliances and equipment, including your lights, fan, air conditioner, furnace, refrigerator, water pump, and water heater.
They will make your home away from home more comfortable and your holiday more pleasurable once they are up and running.
Because your batteries are so crucial, you must ensure that they are always in good working order.
One approach to achieve this is to shield it from various natural elements as well as the shocks and bumps of travel.
You can't simply leave your batteries out in the open.
It is dangerous to leave it exposed to the elements in your camper.
It might be damaged, and then you'll be without a power supply and have to spend a lot of money on a new battery.
This is why you should always keep your batteries secure by storing it in a camper battery box.
However, not all battery boxes are created equal, which is why we're here to assist you in selecting the finest RV battery box available.
The 8 Best RV Battery Boxes of 2021 are Reviewed.
Let's go right into the top RV battery boxes currently available on the market.
Here are our entries for easy navigation:
Image
Product
NOCO HM318BKS
Locking tabs ensure the lid is securely connected to the base
Adjustable divider to fit various battery sizes
Allows air circulation
Attwood Group 27 Battery Box
Made of high quality plastic material
Great price
Comes with mounting hardware
Camco Regular 55362 Battery Box
Plenty of room for the battery
Well made
Lightweight but durable
NOCO HM426 Dual GC2
Four-corner fastening system for easy installation
Large cable entry holes for heavy gauge wires (up to 4/0 AWG)
Large internal reservoir to collect battery acid
Camco 55375 Heavy Duty Double Battery Box
Heavy duty, corrosion-resistant
Dual battery box
Straps help secure the battery
MTS Company 250 Battery Box
Built to last
Vented on top and at the bottom
Seachoice 22080 USCG
Acid resistant
Has a hold down strap
Lid provides easy access to battery cables and wires
Better Built 67011386 ATV Tool Box
Water resistant
Lockable paddle handle
With handles on both sides
Continue reading to see why they made our list of the finest battery boxes for your RV.
Product Dimensions: 17.63 x 10 x 10.5 inches
Item Weight: 1.85 pounds
Voltage: 12V
Inclusions: 42-Inch Battery Box Strap, Mounting Hardware, Group 24-31 Snap-Top Battery Box
The NOCO HM318BKS Snap-Top Battery Box is a heavy-duty group 24-31 battery box that may be used with 12 volt batteries in RVs, boats, trailers, and other vehicles.
It includes an adjustable divider that allows batteries of various sizes to fit comfortably within.
It is weatherproof and can withstand temperatures as low as -20 degrees Fahrenheit while still providing protection.
It also stands up to UV rays, acid, gas, and oil leaks.
This trailer battery box is built to resist the harshest conditions.
It can withstand the bumps on the road as well as harsh terrain.
It keeps the 12 volt battery from moving about within the box while yet allowing for enough air circulation.
It also protects your battery terminals from short circuits and collects battery acid.
The top of this NOCO battery box is firmly fastened to the box's base thanks to proprietary locking tabs.
The handles have been strengthened as well, so you can carry it about without damaging it when you need to move it.
This is a low-cost battery box that has been certified and tested to satisfy the American Boat and Yacht Council (ABYC) E-10. 7 requirements and the US Coast Guard Code of Federal Regulations 183. 420.
This is why you can be certain in its quality, and it comes in convenient packaging that makes it simple to use.
Pros:
The lid is firmly linked to the base thanks to locking tabs.
Divider that may be adjusted to match different battery sizes
Allows for air flow.
Heavy-duty construction
The American Boat and Yacht Council and the US Coast Guard Code of Federal Regulations are both met.
Cons:
Some Group 31 customers say that the battery's size is only suitable till Group 30.
Product Dimensions: 10.12 x 18 x 21.75 inches
Item Weight: 2 pounds
Inclusions: Attwood Group 27 Battery Box – Box and Strap Only
When it comes to excellent items, Attwood ensures that we get only the finest.
This battery box complies with the requirements of the US Coast Guard and the American Boat and Yacht Council.
This Attwood battery box has been identified as an original equipment manufacturer battery hold-down device.
This is a vented battery box with a maximum height of 10.5 inches for Series 27 batteries.
It has been designed to be very durable.
It has been tested at temperatures ranging from -20 to +120 degrees Fahrenheit.
It is entirely acid resistant due to its polypropylene structure.
It's made of tough straps that can withstand 350 pounds of stress.
This is about four times the US Coast Guard's required force resistance!
The battery box features huge rolled-edged grips.
This feature makes it simple to move it from one location to another.
Aside from its low price, its packaging includes mounting hardware and pre-drilled holes for wires, making it ready to install and use right away.
The instructions are also molded directly into the device, so you may refer to them at any moment if you need more information about its usage or installation.
Pros:
Constructed from a high-quality plastic
A fantastic price
Includes mounting hardware
Cons:
Some people object to the perforations in the top cover, claiming that they allow water to enter the box.
Product Dimensions: 11 x 9 x 13 inches
Item Weight: 15.8 ounces
Inclusions: Camco 55362 Battery Box – Group 24
The Camco Regular 55362 Battery Box is designed to accommodate batteries with a group size of 24.
It even provided extra space for the battery connectors.
These are manufactured of high-quality polypropylene and are acid-resistant to a hundred percent.
These boxes are designed to be both light and strong.
They met the criteria of the US Coast Guard and the American Boat and Yacht Club.
This trailer battery box has a smooth appearance and a straightforward design.
These boxes are corrosion resistant, allowing you to use them for a long time.
The battery box comes with a woven hold-down strap and foot clamps to keep the battery secure, as well as stainless steel screws for attachment.
Pros:
There's enough area for the battery.
Well-crafted
Lightweight but tough
Price that is reasonable
Cons:
Some customers have expressed dissatisfaction with the strap's quality.
Product Dimensions: 18.25 x 14.25 x 14 inches
Item Weight: 6.98 pounds
Voltage: 6V
Inclusions: (2) Star-Knob Mounting Screws, Dual 6V Commercial-Grade Battery Box
The NOCO HM 426 Dual GC2 Battery Box is a commercial battery box that can hold two 6V batteries.
It may be utilized in maritime, automobile, and recreational vehicles.
This marine battery box has also been certified to fulfill the US Coast Guard and American Boat and Yacht Council's requirements and regulations.
This twin battery box was created with tough situations in mind.
It is weatherproof and can safeguard your battery even in temperatures as low as -40 degrees Fahrenheit.
It may also protect your batteries against UV rays, gas, oil, acid, and other harmful substances.
The battery is securely protected within this battery box thanks to a four-corner fastening mechanism.
It features vents for the expulsion of gases.
It features a huge battery acid reservoir within and efficiently collects battery acid.
The interior of this ventilated battery box protects your RV battery secure.
It prevents water from entering and moisture from accumulating.
It's intended to prevent battery connections from coming into touch with each other via mistake.
It's intended to be simple to put together.
Big cable entrance holes allow large gauge cables to flow through with ease.
Two star-knob mounting screws are also included in the kit.
Because of its high quality, Noco offers some of the most popular battery boxes, ensuring that your RV batteries are safe and secure wherever you travel.
Pros:
Easy-to-install four-corner fastening system
Heavy gauge wires (up to 4/0 AWG) may be inserted via large cable entrance holes.
Battery acid is collected in a big internal reservoir.
Cons:
A higher price
When moving the battery box, there are no handles, making it difficult to carry.
Product Dimensions: 24.25 x 14.5 x 11.5 inches
Item Weight: 5.39 pounds
Inclusions: Battery Box, straps and hardware
Because of the quality and usefulness of their goods, Camco is one of the most trusted companies.
The Camco 55375 Heavy Duty Double Battery Box is composed of tough, corrosion-resistant polypropylene to keep your trailer battery secure and shielded from the environment, battery acid, and pollutants that might harm it.
Camco has produced another another high-quality and unique product.
The US Coast Guard and the American Boat and Yacht Club approved this heavy-duty battery box.
This ensures that your RV battery will be safe and secure within a Camco 55375 Heavy Duty Double Battery Box, and that your batteries will last longer.
It can accommodate two 6V Group GC2 batteries or two 12V Group 24/24M cells.
It comes with two hold down straps to keep the lid firmly attached to the box's base.
Pros:
Corrosion-resistant, heavy-duty
Box with two batteries
The battery is held in place by straps.
Cons:
The material has been described as fragile by several buyers.
It can only fit two normal RV batteries inside. If one of the batteries is an RV deep cycle battery, it will not fit.
Interior Dimensions: 7"W x 13 1/2"L x 10"H
Item Weight: 2.35 pounds
The 250 Battery Box from MTS Company is a ventilated trailer battery box.
It features a vent hole on top and a drain hole on the bottom to allow for proper air circulation and to ensure that water from the battery charging and discharging cycle does not build within the box.
This is made of tough, vacuum molded plastic that complies with the Recreational Vehicle Industry Association's specifications.
The vent kit is offered separately and is meant for installation within the trailer.
Buyers have the option of top mounting it.
It is compatible with deep cycle RV batteries in the Group 27 and Group 29 sizes.
This vented battery box is one method to ensure that your RV battery is always safe and secure from undesirable factors, and that it is in excellent working order.
Its worth is enhanced by the simplicity of its design.
It delivers on its promises with such efficiency that it is a fantastic value at any time.
Pros:
Constructed to last
Vented at the top and bottom
Cons:
Some customers are perplexed by the design and size chart.
Product Dimensions: 14 inch x 7-1/4 inch x 10 inch
This Seachoice Standard Battery Box is designed to accommodate one group 27 RV battery.
This marine battery box is made of acid-resistant polyethelene and serves to protect your RV battery from the environment, battery acid, and damage while you're on the road.
It has a hold down strap to guarantee that the lid is firmly attached to the battery box's base.
The lid has been constructed specifically to provide for fast and convenient access to battery connections and wiring, making installation a joy.
It also comes with mounting gear to ensure that it is firmly secured in its location.
The American Boat and Yacht Club and the US Coast Guard have defined criteria for the Seachoice 22080 standard battery box, indicating that it is of high quality.
It is fairly priced and provides excellent value for money.
Pros:
Resistant to acid
Features a securing strap
Battery cables and connections are easily accessible thanks to the lid.
Affordable
Cons:
Some people believe the strap's quality might be improved.
Some people have problems with the lid's vent holes, and they have to adjust it so that water does not go inside.
Product Dimensions: 20 x 12 x 9.5 inches
Item Weight: 10.47 pounds
Only aluminum is used in the Better Built 670113686 ATV Tool Box.
You can rely on its durability.
It's also scratch-resistant.
It will also ensure that water does not get near your RV battery.
It has a paddle handle that is both simple to use and lockable, providing added protection for your valuable battery.
It may also serve as a storage box for camper essentials like the jack, chocks, and tie downs.
When you need to move it inside your camper, the grips on both sides make it simple to grasp.
It also incorporates auto-lift shocks for easy access and one-handed operation.
You'll enjoy how it seems like it's made of aluminum diamond plate and how well it suits the inside of your trailer.
The diamond plate design is a show-stopper. A one-year limited warranty is included with this package.
Pros:
Resistive to water
Paddle handle that can be locked
Both sides have handles
One-handed entrance with auto-lift shocks
Cons:
What Is The Purpose Of An RV Battery Box?
So, what exactly is an RV battery box and what use does it serve?
A battery box for an RV is a carrying case for the battery.
It's designed to keep it safe from the environment and other conditions that might wreak havoc on its performance.
It's small enough to fit in a small location, tough enough to provide adequate protection, and light enough to take everywhere.
Consider it a protective casing for your RV battery, ensuring that no water, moisture, gas, or anything else that may leak from your engine reaches your battery and compromises its ability to provide you with a dependable power supply.
It's an important equipment to have in your RV since it ensures that your battery is in excellent working order.
We're all aware of the high cost of RV batteries and the difficulties that come with not having a consistent supply of power for our electrical gadgets.
But, more importantly, destroying your battery may result in serious damage to you and your family.
What Is The Mechanism Behind It?
The RV battery box works by isolating your battery from the rest of your camper by providing it with its own enclosure.
Your battery is safe from harm while in transportation since it has its own casing.
As you drive in your RV, you will encounter several bumps, shocks, and difficult terrains, making it hard to prevent the contents of your camper from shifting.
A battery box will provide you piece of mind knowing your valuable battery is protected from factors that might damage it.
This will assist you in ensuring that your power supply is always in excellent working order.
The Different Types of RV Battery Boxes
You'll come across several battery kinds while shopping for the finest camper battery box on the market.
That is why we believe it is in your best interests for us to acquaint you with them in order to assist you in selecting the ideal one for you.
#1. Simple Battery Box
Metal or plastic are used to construct this sort of RV battery box.
It's one of the most cost-effective battery boxes on the market.
This is often what new owners purchase, and they eventually upgrade to other varieties.
A simple camper battery box is small and light.
The plastic ones may be stored inside your RV, while the metal ones can be welded or attached to the exterior of your camper to save room.
#2. Battery Box with Vents
The interior of a vented battery box features pre-drilled holes or tubes that allow the battery to be thoroughly aired.
This is the most often suggested battery box because it allows for optimum air circulation, which helps your battery last longer.
This is the greatest form of camper battery box for those that use their travel trailer batteries all of the time.
It's possible to put it up inside the trailer.
#3. Battery Box with Changes
An existing battery box is used to make this sort of camper battery box.
Instead of purchasing a new battery house, some features and enhancements have been added to the existing one, such as a lock, a vent, or the addition of another housing to create a dual battery box.
#4. RV Battery Box (DIY)
This is the sort of RV battery box you would create for your own RV battery.
Some RV owners prefer to build their own travel trailer battery box due to financial constraints, while others do so so that they may personalize it with all of the characteristics that they desire in a battery box.
They have the option of selecting the material and color of the camper battery box.
They may install whatever locks, bolts, tubes, or other features they wish.
Instead of being restricted to what is offered on the market, people are free to do anything they choose.
RV Battery Boxes Have a Lot of Advantages
These are the reasons why an RV battery box is a must-have item.
#1. Provide Complete Battery Protection
A camper battery box serves this function primarily.
Its purpose is to safeguard your battery.
Because you're constantly on the go in your RV, there's a good chance you'll hit some potholes and your batteries will get pushed over or struck by anything hard while you're traveling.
Your battery's performance and power supply will be affected if it sustains damage.
Having an RV battery box can provide you piece of mind when traveling, knowing that your battery is always safe and in excellent working order.
#2. Make Security A Top Concern.
A battery box for your camper will keep you safe.
Because batteries contain chemicals, they may endanger your health if not properly handled.
Accidental spills, acid leaks, and the release of dangerous gasses and chemicals into your trailer may all be avoided.
This might have a negative impact on your health.
It acts as a first line of defense in the event of a battery malfunction.
#3. Battery Life Is Extended.
Because it protects your battery from the weather, an RV battery box will help it last longer.
Because your battery is kept safe and sound within this sturdy housing, it will last longer.
You can count on your battery to always be in top shape.
#4. Make Sure Your Battery Is Safe.
You may be shocked to learn that RV batteries are a target for thieves.
These are pricey items, and they should be able to sell them for a profit.
So you need safeguard your RV batteries, which you can accomplish by storing it in a camper battery box.
#5. This Is For Your Convenience.
Placing your battery in a box makes it more portable and simple to transport.
You may take it with you wherever you go to meet your power requirements.
#6. It Keeps Everything In Order.
A camper battery box aids in the organization of your belongings in your RV by providing your battery its own home, ensuring that it is not mixed up with other items such as tools and hydraulic jacks.
It also helps to keep your battery clean.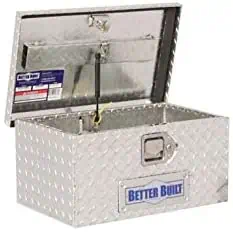 When Purchasing An RV Battery Box, What Should You Look For?
Of course, you want the greatest RV battery box possible.
When looking for your own trailer battery box, keep the following points in mind.
#1. Durability
You're acquiring a trailer battery box to keep your RV's battery safe from the weather.
Make sure that the one you purchase is constructed of high-quality materials so that it can provide the protection you want while also lasting a long period.
The walls of the RV battery box should be sturdy and supportive, and the top should be able to be firmly sealed so that no amount of road shocks, bumps, acid leaks, or impact can harm your battery.
When your trailer battery box is composed of heavy-duty materials, it will keep your battery safe and aid to increase its lifetime and performance quality.
#2. Weather-Proof
It's a smart idea to invest in a waterproof RV battery box.
This manner, it will be able to protect your battery from the elements like as heat, cold, rain, moisture, dirt, fog, and other things that might harm it.
Look for a water and rust-resistant trailer battery box.
It should also be resistant to corrosion.
Because you travel to various locations at different seasons of the year, your battery is likely to be exposed to a variety of weather conditions.
Give it the safeguards it needs so that it can endure longer and function at its best.
#3. Price
When purchasing anything, price is usually a key consideration.
Look for the greatest value for your money rather than the cheapest RV battery box available.
Because of all the advantages it provides for you and your battery, a battery box is a wise investment.
#4. Size
Your RV battery should be able to fit in your trailer battery box.
This means you'll need to know the size of your RV battery to figure out which box will fit.
The ideal RV battery box will be able to contain your battery while also leaving enough room for air to flow within.
It should also be small and lightweight so that it is simple to transport and does not take up too much space.
#5. Options for Mounting
There are a variety of mounting solutions available for trailer battery boxes on the market.
Select one that you will be able to mount and install without difficulty.
The less complicated, the better.
It's critical that you can install your trailer battery box to keep it from slipping, dropping, or tipping over, particularly when traveling.
You'll be able to lock it in place and not have to worry about your RV batteries being harmed while you go over bumps and harsh terrain.
#6. Accessibility
When you need to open your RV battery box, it should be simple to do so.
Of course, you'll need to check or charge your battery from time to time.
It should be simple for you to open its housing for rapid access during these occasions.
#7. Inventive Features
Yes, certain versions include built-in smart capabilities that enhance the battery box's value.
Battery meters and USB ports are examples of these features.
You won't have to acquire additional instruments to discover the state and health of your RV battery if your battery box comes with battery meters.
You should keep in mind that these features will raise the price of your battery box, but they're always worth considering for the increased value and convenience they provide.
Final Thoughts
An RV battery box is critical for assuring your safety and extending the battery's life.
However, with so many choices and features available on the market today, finding the ideal RV battery box for you may be extremely difficult and daunting.
Always keep in mind that cost and value should always be considered simultaneously.
Look for a low-cost RV battery box with all of the qualities that will keep you and your battery safe, such as durability, weather protection, size, mounting choices, accessibility, and smart features.
These parameters will determine the price of your battery box, but if it has all of these vital qualities, you'll receive the greatest deal.
FAQs
What are the prices of battery boxes?
On the market, there are a variety of RV battery boxes to choose from.
They come in a variety of pricing ranges.
There are devices for less than $10 on the market, but you'll also find industrial quality RV battery boxes for more than $100.
Our recommendation is that you don't have to acquire the most costly one available, but you shouldn't go for the cheapest one either, since this may imply reducing the unit's quality.
Examine the RV battery box's durability, weather resistance, size, mounting choices, and affordability in our buyer's guide.
There are battery boxes in the $20-$30 range that are dependable and constructed of high-quality materials.
RV battery boxes that are reasonably priced provide the most value for your money.
Why is it necessary to vent RV battery boxes?
To reduce overheating, your RV battery box should be able to circulate air.
It will also aid in the prevention of leaks.
Overheating and battery leakage are both dangerous.
They have the potential to cause fires and battery explosions.
They have the potential to harm you as well as damage your batteries and other items it comes into touch with.
This is also why you should check the electrolyte and water levels in your battery.
To avoid water loss, you keep your vent caps on when charging your battery.
Water will assist avoid overheating, but since water turns to vapor, there must be vents for it to travel through.
Your vented RV battery box's holes will keep you safe while also extending the life of your battery.
When your battery is overcharged, particularly if it's a lead acid battery, gas is released.
Even though your battery is enclosed, some gasses may escape.
An extra layer of safety is provided by a battery box.
How do I put my RV battery box together?
You should carefully attach your RV battery box so that it stays there and movement is minimal, particularly during travel.
There are a variety of ways to connect your RV battery box to your vehicle, but these are the most typical.
The Bolting Technique

Your RV battery box is secured near a power source.
The bolts will keep your RV battery box firmly in place, no matter how tough the terrain becomes.
To hold the battery box in place, most RV owners use 2inch bolts on all four corners.
The Velcro Approach

Attaching your battery box to your RV is significantly simpler when you use industrial grade Velcro.
But first, you'll need to drill a hole in your camper where you want to install the box.
Then, to ensure that the Velcro adheres correctly to the surface, make sure it is clear of debris and moisture.
The next step is to make a hole in the battery box of your RV.
This is where the Velcro will travel through to reach the battery housing's bottom side.
Once both sides are in place, the battery box may be placed on the floor.
However, bear in mind that the Velcro technique should only be used as a temporary form of battery box installation since it will soon wear out and no longer be able to hold your battery box firmly in place.
How can I keep my RV battery box safe?
Some RV battery boxes are already equipped with a fastening device for quick and simple installation.
You may use wires to secure the battery box in your RV.
Some lids have locks on them so you can keep your battery safe inside.
If you choose, you may also utilize chains.
Thieves will have a hard time getting and removing your RV batteries if you use these battery security techniques.
How do I keep my RV battery box clean and maintained?
It's critical to keep your RV battery box clean and maintained.
You may then inspect it for any dents or damage that may have occurred during transit.
Here's how to go about it:
1. When doing your regular maintenance, make sure your RV battery is unplugged. This is to avoid electrocution and injury.
2. Wipe any dust and grime from the surfaces of your RV battery and battery box with a moist cloth. Water doesn't mix well with electricity, so don't use it.
3. Examine the battery compartment of your RV carefully. Examine the area for any fractures or damage. If there are any cracks, be careful to fill them as soon as possible using epoxy or duct tape. It's important to remember that water and other substances may get in via those openings and destroy your RV batteries.
4. Instead of risking harming your RV battery, obtain a new battery box if the damage is irreversible.
You may also refer to your battery box's handbook for more information on how to keep it in good working order.