You've made the decision to construct an RV, and your enthusiasm is palpable.
Though, thinking about the things that go into making an RV, you still feel a little anxious in the back of your mind.
Your RV's power system is most likely one of them.
At a Glance: The Best Solar Panels for RVs
Best RV Solar Panel Kits
RV400D RV Solar Kit – Best RV Solar Panel Kit
WindyNation SOK-400WP-P30L Solar Kit – Runner Up
ACOPOWER Solar Panel Kit – Best Solar Panels for Travelling
GP-PSK-120 Solar Kit – Best Portable Solar Panel Kit
GS-540 Solar Kit – Honorable Mention
Best RV Solar Panels
Renogy 100W Solar Panel – Overall Best RV Solar Panels
WEIZE 200W Solar Panel – Runner Up
Renogy 160W Flexible Solar Panel – Best Flexible Solar Panel
HQST 100P Solar Panel – Best for Low-lit Settings
Newpowa 200W Solar Panel – Best Polycrystalline Solar Panels
RV solar panels and kits may give access to the essential luxuries of contemporary life whether boondocking or camping off the grid.
However, determining the number of panels required for your unique energy requirements or locating a kit capable of powering your equipment might be a difficult task.
Relax, since this article will clear up any misunderstandings and make RV solar power easier and less stressful for you.
Review of the Best RV Solar Panel Kits
A solar panel kit is an excellent choice if you are new to solar power or just want to avoid putting together the whole system.
To create solar electricity, it consists of a combination of solar panels and a battery bank linked by a wire.
Here's a list of the top solar kits for RVs to meet all of your electricity requirements.
#1. RV400D RV Solar Kit – Top Pick
Renogy is the most well-known solar brand in the business, providing high-quality solar panels and systems for boats, cabins, trailers, and recreational vehicles.
The Renogy400D is a tough kit with a corrosion-resistant aluminum frame that can survive strong winds, snow, and prolonged outside usage.
The package also includes MC4 connections and an Adventurer 30A PWM charge controller, which is designed specifically for RV and camper use.
The specialized PWM charge controller gets the RV400D the largest number of favorable ratings among all the RV solar panel kits we tested, thanks to the company's strong customer assistance and warranty choices.
Except for a battery bank, the package includes practically everything you'll need to produce solar electricity.
Pros of RV400D
A solar panel kit with a lot of features.
Durable metal frame that can endure the elements
The charge controller was created with RV uses in mind.
Warranty on panel replacement for 25 years
The most popular solar panel package.
Cons of RV400D
A battery is not included with the package.
The four panels occupy a large portion of the roof.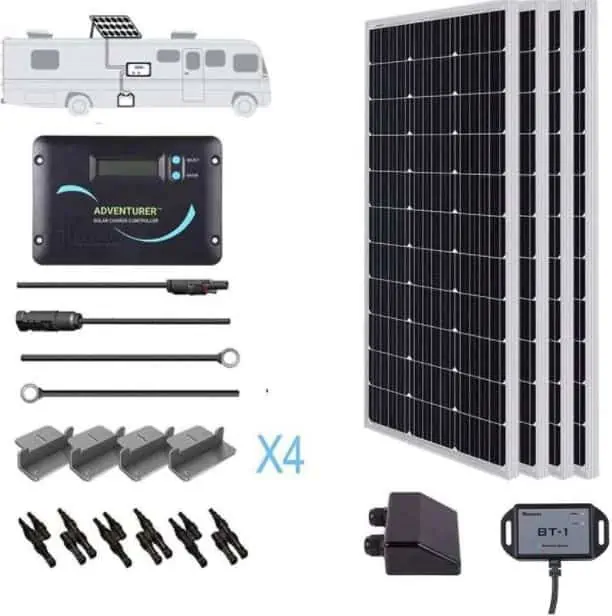 #2. WindyNation SOK-400WP-P30L Solar Kit – Runner Up
Another well-known solar company is WindyNation, which is noted for its high-quality goods.
The SOK-400W solar panel kit is a full package that includes everything you'll need to get started with solar energy.
Four solar panels, a solar charge controller with a battery temperature sensor, a user-adjustable LCD, and all required wires and mounting hardware are included in the package.
The cell type is one difference between the SOK-400WP and the RV400D.
The SOK-400WP panels are polycrystalline, which means they aren't as efficient as monocrystalline panels.
The SOK-400WP features four battery banks and a 1500-watt solar inverter to convert DC to AC power, unlike the Renogy RV400D kit.
It's a cost-effective alternative for newbies with little to no solar experience, as well as users who don't want to go through the effort of researching and acquiring different RV solar system accessories.
Pros of SOK-400WP-P30L
An all-in-one package for RVs, cabins, and watercraft.
It has four 100Ah batteries.
Cost-efficient
The panel has a 5-year guarantee, while the rest of the equipment has a 1-year warranty.
Cons of SOK-400WP-P30L
The package comes with everything you need and there are no options for equipment.
The solar wire has been deemed too short for general usage by several reviewers.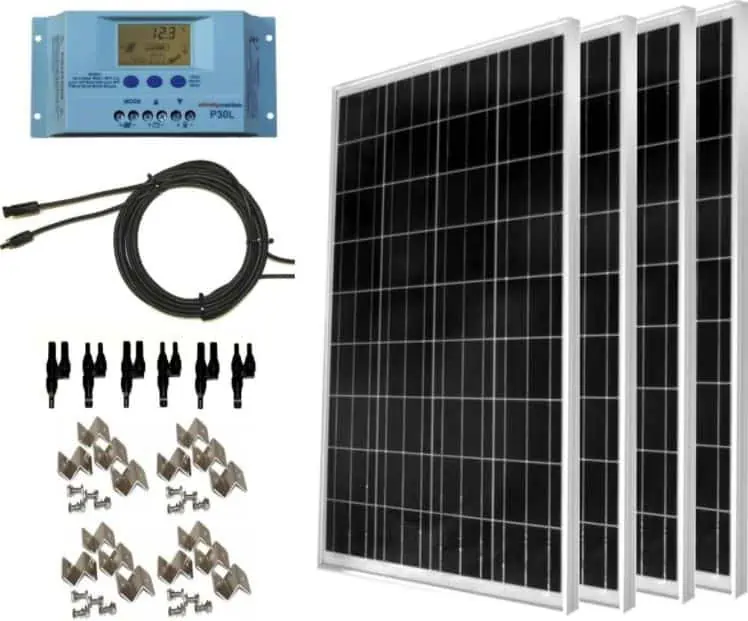 #3. ACOPOWER Solar Panel Kit – Best for Travelling
The ACOPOWER solar panel set will meet the majority of your basic energy demands if you're a perennial traveler.
It's a small kit with laminated panels and a straightforward folding design that can survive the elements.
The equipment is especially beneficial for campers who carry their solar panels on a regular basis to power their electrical goods.
The 105W solar monocrystalline panel kit may be used to charge phones, laptops, and other portable devices.
The portable solar kit contains a 10A PWM charge controller, as well as a USB outlet, SAE adaptor, and battery clamps, making setup a pleasure.
All of the additional equipment that comes with the device may be stored in the suitcase panel design.
Pros of ACOPOWER 105W Kit
Lightweight and compact
Installation is simple.
Solar panel that can be carried around
It's packaged in a protective case.
Cons of ACOPOWER 105W Kit
The wiring has a design issue, according to the complainant.
Setup and installation instructions are vague.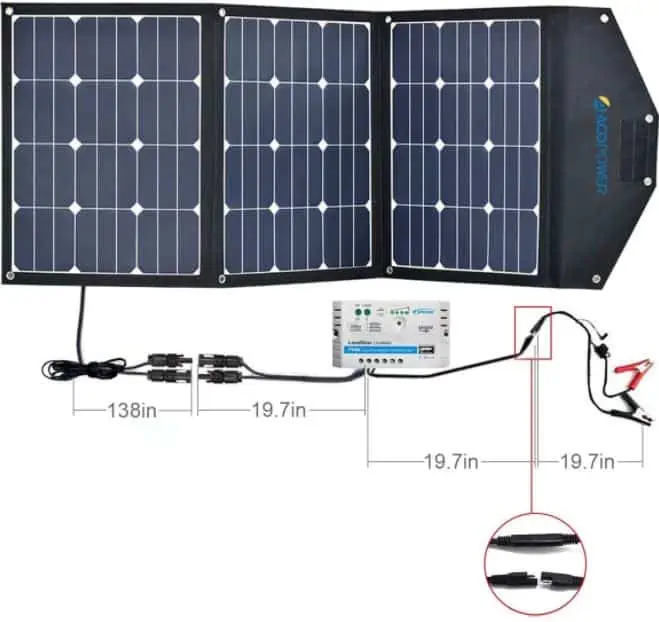 #4. GP-PSK-120 Solar Kit – Best Portable kit
For individuals who don't want to connect a kit to their RV's roof, the Go Power! GP-PSK-120 monocrystalline solar kit provides a handy battery charging solution.
For its outstanding performance, the unit has received a 4.5-star rating.
It's simple to put together and produces around 120 watts of solar electricity.
The package also includes a solar adapter, an XLR-style solar socket, and a controller for monitoring the system.
The carrying case, which improves the unit's mobility, is a prominent feature of the GP-PSK-120 kit.
To power your RV, just adjust the folding legs for sun exposure and attach the battery clamps to your battery.
Pros of GPS-PSK-120
Portability
Legs that can be folded and adjusted
The battery clamps make connecting the batteries a simple.
Cons of GPS-PSK-120
Pricey
Poor charge regulator complaints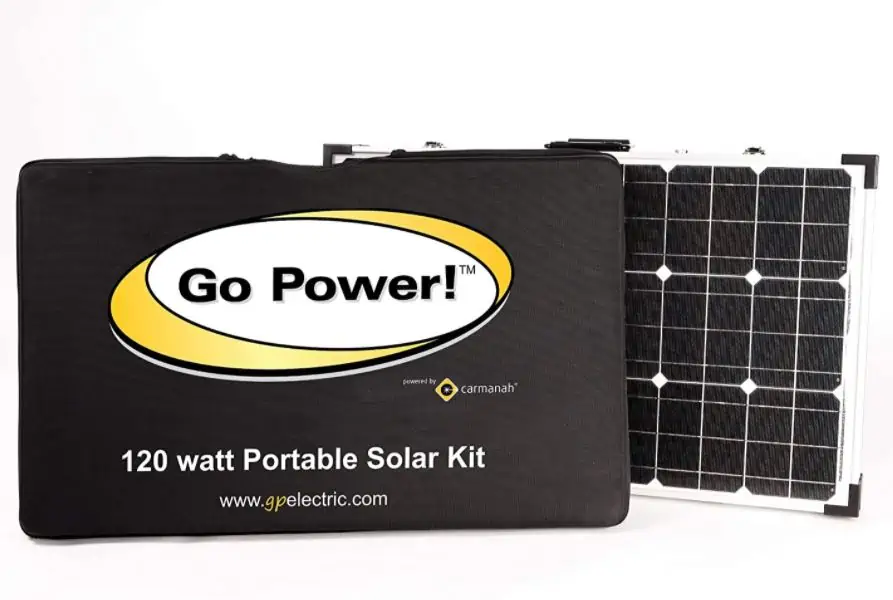 #5. GS-540 Solar Kit – Polycrystalline Solar Panels
The 540W kit from Grape Solar is an off-grid solar system designed for RVs, yachts, cottages, and small residences.
The package produces enough electricity to charge batteries and operate all of the required equipment, including as lights, fans, pumps, phones, and computers.
Three 180W solar panels with anodized metal frames and a sealed junction box are included.
A 40A PWM charge controller is also included in the system, which keeps the batteries from overcharging.
The Grape Solar kit, unlike the WindyNation 400W kit, does not include a battery bank.
The system includes all additional gear, including an inverter, charge controller, cables and connections, as well as a remote monitoring app and LCD display.
Pros of GS-540
With a quick-connect instruction, it's simple to put together.
Outlets and USB ports
Panel guarantee of 5 years
Cons of GS-540
Pricey
For mounting, you must construct your own panel rack.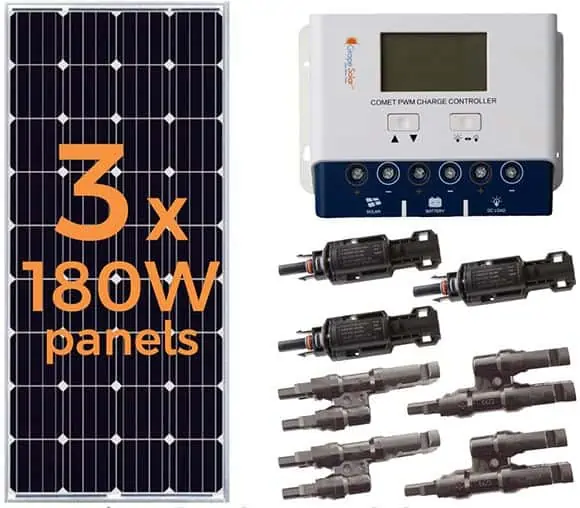 Review of the Best RV Solar Panels
If you're putting together a unique solar power system, you'll need to buy each component individually.
Unlike solar kits, a DIY solar panel system needs technical knowledge to acquire and install all of the components.
The solar panel is the most significant part of the setup, which we'll go over in the next section.
We've got everything you need to power most, if not all, of your electrical appliances, from fixed 100W panels to incredibly flexible monocrystalline RV solar panels.
#6. Renogy 100W Solar Panel – Best Overall
Renogy's 100W 12V solar panel takes the top spot on our list of the finest RV solar panels for a variety of reasons.
When compared to typical 100W panels, the panel is more compact, making it a space saver.
It's also great for RVs, campers, and boats because of its small size.
The panel's exceptional performance and consumers' faith in the organization are reflected in the 2,881 Amazon ratings.
The monocrystalline panel comes with a junction box, weatherproof male and female connections, and can easily be extended to accommodate additional panels.
It also comes with pre-drilled holes for easy installation on a variety of surfaces.
The panel's greatest efficiency is ensured by the very clear and anti-reflective glass.
When you add in the corrosion-resistant aluminum frame, you get a panel that is ideal for long-term outside usage.
Pros of Renogy 100W Panel
Strong winds and snow loads are not a problem.
With pre-drilled holes on the back, this item is very adaptable.
Expandable to any size
Compatible with a variety of mounting options
Warranty on transferrable power output for 25 years
Cons of Renogy 100W Panel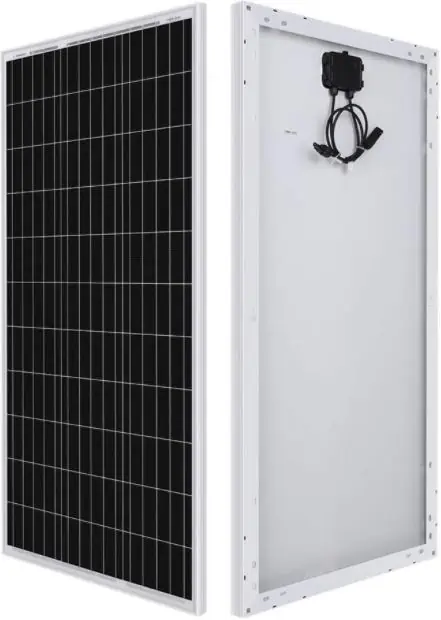 #7. WEIZE 200W Solar Panel – Runner Up
WEIZE, as one of the leading solar energy companies, offers high-quality solar panels at an affordable price.
The WEIZE 200W panel, which delivers up to 21% efficiency in clear weather, maintains the tradition of high performance.
The panel's anodized aluminum frame makes it corrosion-resistant and long-lasting in severe environments.
The solar panel is waterproof and has tempered glass and a sealed connection box for best outside performance.
For boats, cabins, and RVs, the panel has a 2.6-foot cable with connections and delivers 5.3-amp power.
WEIZE 200W, like the Renogy 100W panel, comes with pre-drilled holes for Z-brackets, tilt, and side pole mounting.
The mounting hardware, on the other hand, is not included with the panels.
Pros of WEIZE 200 Panels
Solar cell with a high efficiency
Can tolerate harsh weather conditions
Installation is complete.
Cons of WEIZE 200 Panels
To connect the two panels, you'll need a 2 to 1 MC4 connection.
It does not come with any mounting hardware.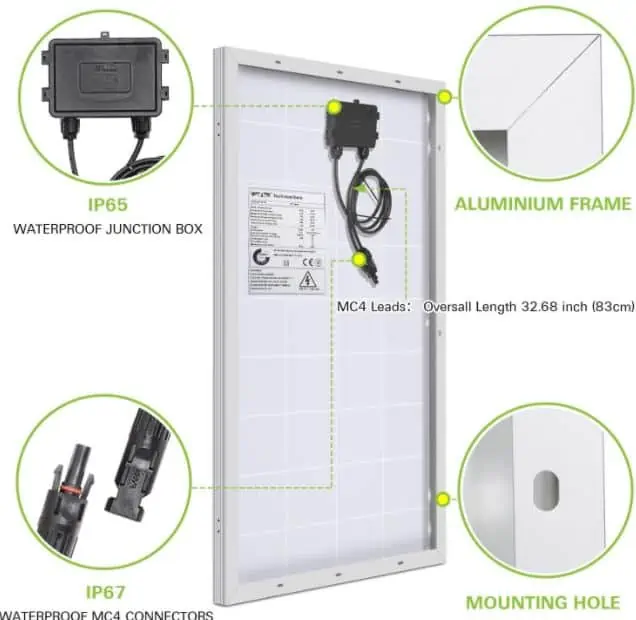 #8. Renogy 160W Flexible Solar Panel – Best Flexible Solar Panel
The Renogy 160W gives the greatest performance of all the flexible solar panels we tested for RVs.
It's lightweight, simple to install, and of greater quality than other flexible panels available.
The monocrystalline panel has the best flex range of any flexible solar panel, with a maximum flex range of 248 degrees.
The Renogy 160W is also an excellent choice for curved roofs and uneven surfaces.
The panel is around 95% thinner than rigid solar panels, making shipping and installation much easier.
The panel can endure air drag, severe winds, and large snow loads despite its small size.
It may be put on roofs, RVs, camper vans, trailers, boats, other curving surfaces and has six metal reinforced mounting holes.
Pros of Renogy Flexible Solar Panel
Flexibility of up to 248 degrees arc
Transport and installation are simple.
Waterproof to the core
Cons of Renogy Flexible Solar Panel
The length of the positive panel lead is insufficient (5.9 in)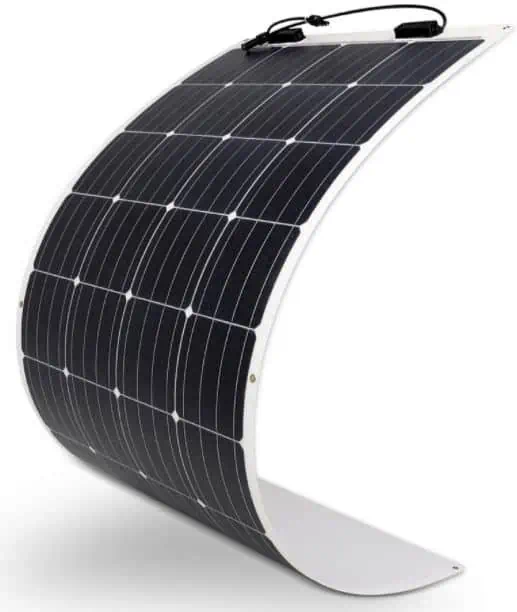 #9. HQST 100P Solar Panel – Best for Low-lit Settings
If you prefer a polycrystalline panel over the more common monocrystalline ones, the HQST 100P is the one for you.
For effective power conversion, it's a high-quality panel with very clear and anti-reflective tempered glass.
It also includes MC4 connectors and leads for easy installation.
Waterproof, the panel can even survive a low-pressure water splash.
The impact-resistant panel can readily withstand large snow loads and high winds.
This type, like the rest of the solar panels on the list, has a corrosion-resistant metal frame.
The panel's general construction is intended for prolonged outdoor usage.
The unit's excellent conversion efficiency, especially in low-light settings, is an outstanding characteristic.
If you often camp or travel to low-light areas with dense cloud cover, the HQST 100P may be your best option.
Pros of HQST 100P
Even in low-light situations, this technology is incredibly efficient.
Compatible with a variety of mounting options
A drainage hole and mounting holes are included.
Cons of HQST 100P
The chord is too short to be used on a daily basis.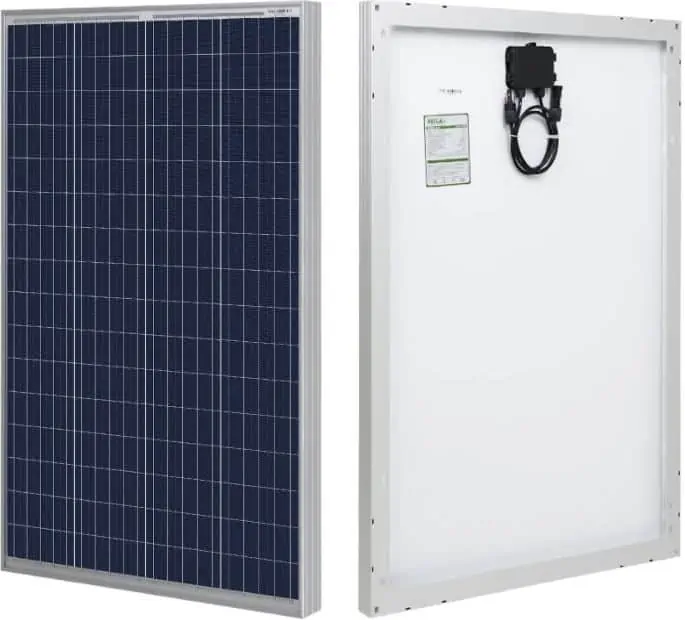 #10. Newpowa 200W Solar Panel – Best Polycrystalline Panel
Newpowa's two-piece 100W solar panel also makes our list of the best off-grid solar panels.
It has a heavy-duty anodized aluminum frame that can produce 200 watts of electricity.
Rain, hail, and snow are not a problem for the panel because of its durable construction.
The Newpowa RV solar panel is designed to withstand the demands of intensive use.
The installation procedure is straightforward and does not need any difficult processes.
It works with a variety of mounting choices, including walls, flat surfaces, and poles.
Pros of Newpowa solar Panel
Dependable and heavy-duty
Setup is simple.
Warranty on transferrable power output for 25 years
Cons of Newpowa solar Panel
Junction box of poor quality
Some installation components aren't included.
The majority of these solar panels may be combined to create a customized solar system.
The panels, on the other hand, are worthless until they are linked to other solar system components, as explained in the next section.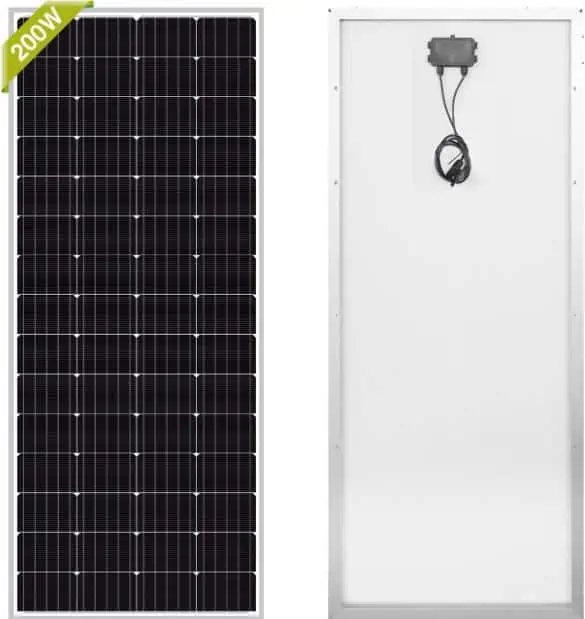 The Most Basic Solar RV Setup
Solar panels, batteries, and a power converter are required to put up a robust RV solar system.
The basic RV configuration is best shown in the diagram below.
The solar panels on the RV absorb solar energy and utilize it to replenish the batteries.
While solar panels and deep cycle batteries may meet most RV power demands, some RVers want their rig to have all of the same features as their residences.
To take use of these features, the system must be supplemented with extra solar power components.
These are some of them:
Charge Controller for Solar
A solar charge controller is an important part of a solar power system.
When the battery reaches its maximum charging capacity, it checks the charging capacity and controls the current flow.
The charge controller regulates the current flow from the panels to the batteries when the battery bank is full.
Solar charge controllers are divided into two categories.
At an affordable price, typical Pulse Width Modulation (PWM) controllers regulate the flow of electricity to a charged battery.
Maximum Power Point Tracking (MPPT) controllers are more costly, but they have a lot of advantages.
PWM (pulse width modulation) controls.
They are 30% more efficient and provide you more control over how the batteries are charged.
Inverter and Converter for Solar Power
In certain circumstances, RVers may need to convert between various RV power kinds.
For example, if you want to use solar energy to power an AC appliance, you'll need an inverter to convert the 12 volts DC from the battery bank to 120 volts AC.
You may learn more about the two forms of RV electricity and how they function in the sections below.
Types of RV Power
Until you have a fundamental grasp of how an RV's electrical system works, it might seem complicated.
Electric appliances in RVs are powered by two different forms of electricity.
The following are examples of power types:
#1. 120-Volts AC Power
In most cases, we utilize a 120-volt (or 220-volt in certain countries) AC power supply in our houses.
Microwaves, TVs, air conditioners, toasters, and other high-voltage appliances are among the gadgets that utilise it.
For a'shore line' connection, most campsites and resorts supply an electrical pedestal or similar suitable outlet.
A heavy-duty power wire that came with your RV may be used to connect to the source.
The cable may be either a 30-amp or 50-amp system, depending on your RV.
Smaller RVs, travel trailers, and pop-up campers typically require 30 amps, but bigger RVs often use 50 amps.
#2. 12-Volts DC Power
All of the fundamental RV components and equipment are powered by a 12-volt DC system, which is powered by a battery.
Your RV's 12-volt equipment, such as the furnace, water heater, most lights, fans, and USB connections, will be powered by a fully charged battery.
Everything except high-voltage equipment rated for AC power may be used as long as your battery (or battery bank) is charged.
RVers who like boondocking or prefer camping without electric connections may appreciate the DC power system.
In such instance, you may charge your batteries and power your equipment using solar panels.
To set up a solar system, you'll need a solar cable to connect the panels, batteries, controller, and inverter.
While there is no wire specially built for solar-powered systems, there are many cables certified for different applications.
A solar system may be wired in two ways.
Series wiring
Parallel wiring
#3. Solar Panels Connected in Series
A series connection is formed when the positive terminal of one panel is connected to the negative terminal of another panel.
The voltages of the panels add up in series connections, but the amperage stays constant.
For example, if four panels with a rated amperage of 5 amps and a voltage of 12V are connected in series, the output will be 48V and 5 amps.
#4. Solar Panels Connected in Series
The positive terminal of one panel is linked to the positive terminal of another panel in parallel wiring.
In a parallel connection, the system's amperage increases while the voltage stays constant.
At 12 volts, the system will generate 20 amps in the example above.
In the event that a panel in a series connection fails, the whole system crashes.
In a parallel connection, however, a damaged panel has no effect on the output of the other panels.
Solar Panels Come in a Variety of Shapes and Sizes
The quantity of energy a panel captures is determined by the cell type, maximum wattage, and structure of the panel.
The many kinds of solar panels are discussed below depending on:
Cell Type
Panel Structure
Portability
Solar Panel Types Based on Cell Type
Several years of research and development have resulted in a variety of solar panel types.
Solar cells are classified into three groups based on the kind of solar cell.
We'll take a deeper look at each one below.
#1. Solar Panel Using Monocrystalline Crystals
Monocrystalline solar panels are the most common variety on the market today.
The solar cells of these panels are made out of a single silicon crystal, commonly known as an ingot.
A single monocrystalline panel has 60 or 72 solar cells with efficiency ranging from 17% to 21%.
The electrons may readily pass through the monocrystalline solar cell since it is made up of a single silicon crystal.
As a result of the free flow of electrons, the panel's efficiency is greater than that of other kinds of solar panels.
Monocrystalline solar panels are more expensive due to their greater efficiency and power rating.
#2. Solar Panel using Polycrystalline Crystals
Users that wish to install a solar system on a budget choose polycrystalline panels, also known as multi-crystalline panels.
These panels with squares and uncut angles are distinguished by their blue speckled tint.
Polycrystalline panels are made by melting raw silicon rather than monocrystalline panels, which is a cheaper and quicker technique.
This results in decreased efficiency (15 to 17 percent), a shorter lifetime, and a lower cost.
#3. Solar Panel Made of Amorphous Silicon (A-Si)
The A-Si solar panels employ triple-layered technology and are thin film solar panels.
They're quite adaptable and can withstand greater temperatures.
The biggest disadvantage of amorphous solar panels is that they take up a lot of room, making them unsuitable for RV use.
Thin film solar panels are less expensive than monocrystalline and polycrystalline panels, but they have a shorter lifetime and an efficiency rating of 10% to 13%.
Solar Panels: Rigid vs. Fixed
Depending on the construction of the panel, solar panels may be rigid or flexible.
Here's how they're different from one another.
#1. Solar Panel, Rigid
The most popular solar panels are rigid solar panels, which include an aluminum frame that protects tempered glass.
They're recognized for their toughness, and they can usually endure harsh weather conditions including rain, wind, and hail.
These panels are mounted on robust brackets and may be tilted to get the most sun exposure.
Because rigid RV solar panels are very hefty, installing too many of them may cause air drag and impair your fuel economy over time.
#2. Solar Panel with Flexibility
Flexible solar panels are more adjustable than rigid panels and weigh much less.
Curved surfaces, non-traditional RV forms, campers, and light cars are all good candidates.
They are the greatest solution for a stealth solar system due to their very low profile.
Flexible solar panels must be installed securely; otherwise, air drag may cause them to fall off the RV's roof.
They are scratch-prone and so less durable than their stiff counterparts.
Solar Panels: Fixed/Mounted vs. Portable
Fixed solar panels, as the name implies, are permanently attached to the RV's roof.
They simply need to be installed and connected once, and they don't need to be maintained.
Fixed panels are very tough and can resist a lot of abuse.
For those who are new to solar energy, portable solar panels are an excellent place to start.
These panels are portable and may be put anywhere the sun shines.
Portable solar panels have the benefit of being able to be positioned anywhere in the sun while camping in the shade.
Because the portable panel is powered by solar energy, you may recharge your batteries using a heavy-duty power cord.
What Is The Best Kind Of Solar Panel For An RV?
Now that you've learned about the many kinds of solar panels, you may be asking which ones are ideal for your RV.
Here are a few things to think about before choosing a solar system to address this question.
How Frequently Do You Go Off The Grid?
If you're going to be boondocking and camping in locations where there aren't any power connections, we recommend getting mounted panels with monocrystalline solar cells.
You simply have to set them up once, and you'll never have to worry about them again.
Solar panels that are mounted are sturdy and can withstand all types of weather and low-pressure water jets.
Do You Want The Comfort Of Your Own Home?
If you're a full-time RVer, installing permanent RV solar panels with a power converter to convert 12V DC electricity to 110V AC power is a good idea.
You'll be able to recharge all of your AC-powered equipment while on the road with this.
How Frequently Do You Have Days That Are Overcast?
If you're going camping in an area with a lot of cloud cover, solar panels that function well in low light are an excellent choice.
For individuals who regularly park their RVs in the shade, a portable solar panel is an excellent option.
It's simple to travel and set up in a sunny location.
Consider The Roof Of Your RV.
Almost any kind of solar panel may be installed on a standard RV roof.
If your vehicle's surface is uneven, though, you'll be restricted to flexible panels.
They are more lightweight than rigid panels, but they are less efficient.
Flexible panels have the disadvantage of being easily removed by air drag unless they are securely installed.
Consider The System's Expandability.
Make sure to properly arrange and install your solar panels if you want to extend your RV solar system in the future.
You should also avoid solar kits since they frequently restrict your expansion options.
The ideal solar panel for an RV is one that is customized to your requirements.
With these considerations in mind, you'll be able to choose an appropriate RV solar panel.
To Power An RV, How Many Solar Panels Do I Need?
Before you even think about putting solar panels on your RV or camper, you need find out what kind of energy you use on a daily basis.
When determining the needed number of panels, you should consider your usual power usage, as well as the wattage of individual panels and sun exposure.
By calculating the amount of energy used by each gadget, you may determine your average power usage.
This list will give you an idea of how much watts certain appliances use.
The majority of RV solar panels provide between 100 and 400 watts of electricity.
This indicates that if a 400-watt solar system is in direct sunshine for 6 hours a day, it will create 2,400 Wh of solar electricity per day (400-Watt x 6 hours).
A single 12V battery with 300 Watts of solar panels would be sufficient to power basic RV appliances (light bulbs, fans, and water pump) as well as a few gadgets (TV, modem, and laptop).
If you want to incorporate energy-hungry items like a refrigerator and a microwave, you'll need to add 1 or 2 100 Ah batteries, bringing the total solar power to 400-600 watts.
These are the bare minimums for keeping the basic appliances operational.
More is always better when it comes to solar electricity.
What Are the Prices of RV Solar Panels?
When it comes to solar panels for an RV or camper, you usually have two choices.
You may either buy a solar panel kit that includes all of the essential solar equipment, or you can build your own solar system.
The cost of the kit ranges from about $100 for simple RV solar applications to several hundred dollars or even thousands of dollars for heavy-duty installations.
You may also purchase all of the components individually and connect them to power your gadgets.
The cost of such a system is determined by the cost of individual pieces of equipment.
The hardware is listed below, along with a ballpark pricing estimate for each item.
Solar panel: $70 to $500+
Batteries: $100 to $1,200+
Charge controller: $15-$400
Solar adapter: $15-$50
Inverter or converter: $150-$350+
Mounting hardware: Less than $50
Smaller solar panels are very inexpensive, with some costing less than $100.
These panels can fulfill basic RV energy demands (LED light bulbs, fans, and so on), but they aren't designed to power high-powered appliances.
You may spend a few hundred dollars more to buy one or two 100-Watt panels with mounting gear to operate power-hungry equipment.
You'll need to spend upwards of $1,000 on the panels and another $1,000 on the accompanying technology if you're living completely off the grid or like boondocking for a long amount of time.
Most manufacturers provide up to 25-year panel warranties, as well as supplementary warranties for the solar system's accompanying components.
Many RVers wonder whether solar panels for RVs are worth the money because of the high upfront cost.
Let's see what the answer is!
Is It Worthwhile To Invest In Solar Panels For An RV?
Electricity is one of the most important considerations while camping or boondocking.
While some campsites offer electric connections, some of the most beautiful spots either don't have electricity or have restrictions on its usage.
When you use solar electricity, you don't have to worry about running out of power as long as the sun is shining.
For a variety of reasons, solar power is a popular choice among RVers.
We've included a few of them below.
#1. Energy That Is Free Of Pollution
Solar panels have the advantage of producing clean electricity.
Because the RV solar panel system has no moving components, it produces no mechanical noise while it generates electricity.
#2. There Is No Need For Upkeep.
To produce power, RV solar panels need minimal to no maintenance.
All you have to do is place them in the sun's direction and connect them to the batteries.
They are light and portable, making them excellent for boondocking or camping.
#3. Solar Panels Are Becoming More Affordable.
A basic 6kW solar system cost more than the average cost of an RV a decade ago.
However, in the past 10 years, the cost of solar energy per watt has dropped dramatically.
Solar panels, as well as supporting gear such as controllers and inverters, have been steadily decreasing in price due to technological breakthroughs.
While the initial outlay may seem high, the investment will most likely pay off in a few years.
The investment in an RV solar system is well worth it for these reasons.
Last Thoughts
Within a decade, solar panels went from being a rare product to an almost ubiquitous commodity.
We can't predict what the technology environment will bring us in the future since it is always evolving.
If you were to purchase a solar kit or panel today, we would strongly suggest the ones mentioned above.
These solar panels and kits can provide you with enough electricity to keep you comfortable while traveling.
They'll provide you peace of mind and allow you to enjoy the comforts of your home even while you're not there.
You can simply set up the system with a little solar expertise and the essential tools on hand.
However, if you've never worked with electricity before, we recommend seeing an expert before attempting to use any of the equipment.
Best Solar Panel For RV Videos Suggestion From Youtube