A 2017 American Camper Report found that 74% of campers use a smartphone when they're away from home.
In addition, a lot of individuals who travel in RVs, trailers, cabins, and boats now need off-grid electricity to contact their loved ones.
But what happens if your battery runs out of juice?
A 100 watt solar panel kit can be the solution if you're an explorer or camper who needs to keep your electronics charged.
Solar panels are ideal for real off-the-grid explorers since they enable you to charge your electronics without depending on outlet power.
Which one should you get, then?
I examine the top 100 watt solar panel kits available here.
10 Best Kits for 100 Watt Solar Panels
#1. Renogy 100 Watt 12 Volt Solar Starter Kit – Best Overall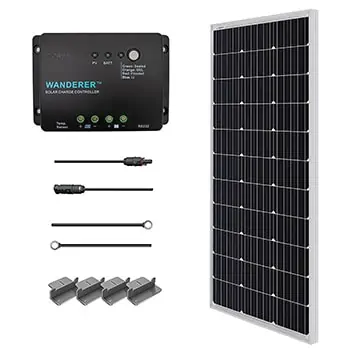 A high-efficiency monocrystalline system, the Renogy 100 Watt 12 Volt Solar Panel Kit operates at around 21% efficiency.
Since it comes with pre-drilled holes that make it simple to mount it to the roof of your RV, shed, or anyplace else you may want to install this panel, I discovered that it is best utilized for RVs, trailers, sheds, cabins, and boats.
The fact that this 100 watt solar panel system comes with all the necessary attachments means that there was not much I needed to buy individually, apart from the fact that it is silent.
This kit is the best option if you want a cost-effective, high-quality system.
Pros
Impressive efficiency of 21%
Weather-resistant and corrosion-resistant
Can endure water jets of low pressure
Decent prices
Low-key operation
Cons
The charge controller is plastic.
#2. Renogy New 100 Watt 12V Solar Premium Kit – Best Premium Option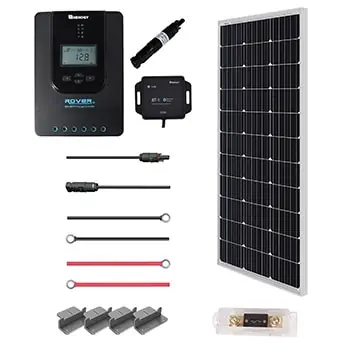 This is another excellent kit that is well worth your money if you're seeking for a durable and dependable 100 watt panel that will provide you with watt hours for years to come.
The efficiency of the Renogy New 100 Watt 12V Solar Premium Kit is the same as the previous one at 21%.
Additionally, it performs better in dimly lit areas.
These solar panels can withstand a lot of abuse and damage since they are constructed with extra thick low iron tempered glass that is strong and impact-resistant.
This makes it ideal for transporting when you need to move quickly, such as during an emergency or when camping.
This system's Bluetooth module, which you can link with an app on your smartphone to see real-time charge status, was another feature I particularly appreciated.
Pros
Very robust structure
Impressive efficiency of 21%
Improved performance in low light
Includes MPPT charge controller
Connects to a smartphone app
Simple installation
Cons
#3. Jackery SolarSaga 100W Solar Panel – Most Efficient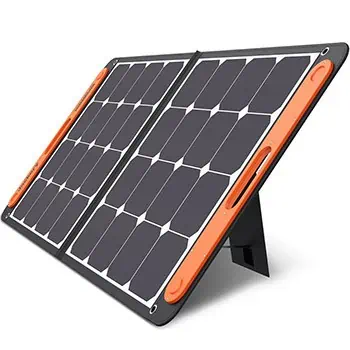 Jackery has continued to surprise me with their solar power panels since I reviewed their power station; the Jackery SolarSaga 100W Solar Panel has a 23 percent efficiency.
This 9.1lb lightweight panel is foldable and has a kickstand, making it suitable for use as backup power on sunny days or for going on camping vacations.
You can even charge your smartphone straight from the solar panels thanks to the solar charger's two 5V USB ports.
Nice things
I thought the kickstand and foldable feature were fantastic additions, making the panel perfect for camping excursions.
Pros
High performance 24 percent
Weight: 9.1 lbs.
Foldable with a carry handle and a kickstand
USB ports two
Cons
#4. Renogy 100W 12V Monocrystalline Solar Starter Kit With Wanderer Charge Controller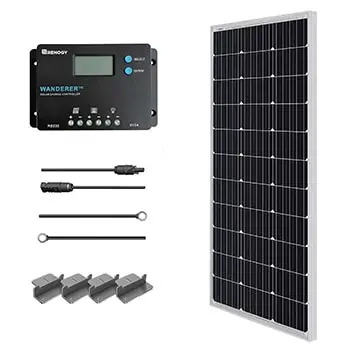 This quiet 100 watt solar panel system from Renogy is a wonderful choice for beginners interested in RVs, trailers, and other lengthy outdoor activities.
The Renogy 100W 12V Monocrystalline Solar Starter Kit has corrosion-resistant aluminum frames that, with proper maintenance, are quiet and simple to install.
These 100 watt solar panels include electronic safeguards against overcharging, overload, short circuits, and reversed polarity, so even a beginner error won't likely cause the battery to catch fire.
You should be cautious while shifting the regulator since it doesn't always grip the wires firmly.
Pros
Low-key operation
Easy to use and ideal for beginners
Battery safeguards built in
Fantastic for campers and RVs
Cons
The wires aren't always firmly held by the regulator.
No labels are on the wires.
#5. RICH SOLAR 100 Watt 12V Polycrystalline Solar Panel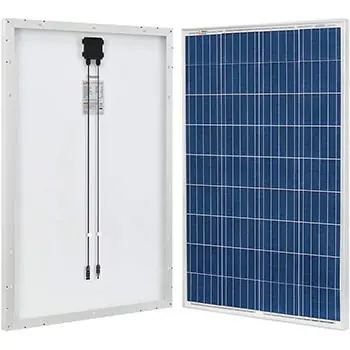 According to your demands for solar electricity, you may use this popular 100 watt panel from RICH SOLAR either in series or parallel.
You need to be aware that the 100 Watt RICH SOLAR panel is a polycrystalline panel, which will never be as good as monocrystalline panels.
The only benefit is how inexpensive they are; that's all!
This panel is designed to function effectively on overcast days with little sunshine.
The output, according to some users, is closer to 50–75 watts than 100 watts.
However, it's simple to attach this to the roof of your RV, trailer, or shed thanks to the 14 pre-drilled mounting holes.
It lacks the four mounting brackets that are often provided in systems like this, which is actually rather annoying.
Pros
Sequence of pieces
Budget-friendly
Low-light efficiency
Anodized metal frame and tough tempered glass
Cons
Sometimes with little power
Arrived damaged for some users
Less effective (polycrystalline panels)
#6. Rockpals 100W Foldable Solar Panel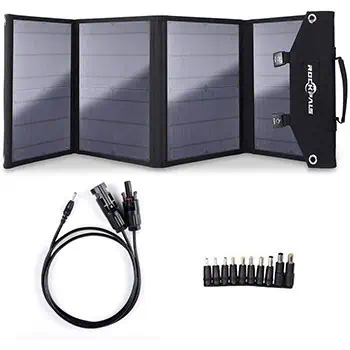 This foldable panel, which was designed with solar generators in mind, is portable and has a carry handle, making it suitable for camping excursions and other temporary outdoor settings.
For well-known solar generators like the Jackery and Goal Zero, Rockpals' 100W foldable solar panels were specifically created.
Thanks to the many adapters and accessories for various generator kinds.
It may not be as efficient as it sounds since many people report they never reach 100 watts with this device.
If you have a limited budget, you should only take them into account.
Pros
Several adapters were supplied.
Mobile and foldable
Cons
Fails to function for certain people after 6–12 months.
Seldom exceeds 100 watts
Unable to work with Jackery 440
#7. Goal Zero Boulder 100 Briefcase, 100 Watt Monocrystalline Solar Panel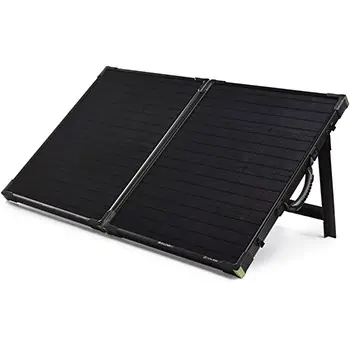 Here is Goal Zero's intriguing venture into the field of solar panels, which is best known for its Yeti portable power stations.
As its name implies, the Goal Zero Boulder 100 Briefcase literally folds up like a briefcase, making it simple to transport when camping.
Furthermore, it is incredibly lightweight, which is advantageous if you are a lone traveler.
These 100W solar panels are rather pricey, despite the fact that the construction quality and brand reputation are undeniable.
It's not the best option if you're not a big fan of the Goal Zero brand, however, since this product is NOT made with other Goal Zero power stations in mind.
Pros
Lightweight
Folding briefcase style
Cons
Just a 12-month warranty
Expensive
Only for Goal Zero items.
#8. Newpowa 100 Watts 12V Polycrystalline Solar Panel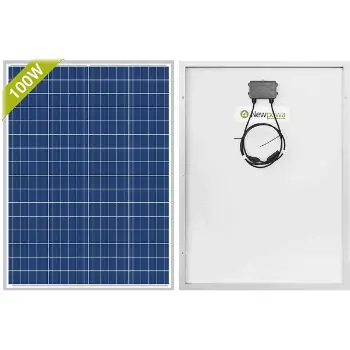 Sincere to say, I was perplexed by the evaluations that were overwhelmingly favorable for the Newpowa 100 Watts 12V polycrystalline solar panels.
The reviewers have given the panels very favorable evaluations, although I disagree with several of them.
First of all, this is a polycrystalline panel; anybody who claims it is a high efficiency panel is either lying or has no knowledge of solar panels.
The poor performance in low light is the next problem.
The whole power output of these 72 cells may be reduced by 50% if a leaf or shadow were to fall on one of them.
In other words, you have to keep them towards the sun.
That's a big problem!
Pros
Good construction quality
Connector and panel surface that is waterproof
Cons
Problems include leaves and shadows.
Specialized connections
Unclear directions for beginners
#9. ACOPOWER 100W Monocrystalline Solar Panel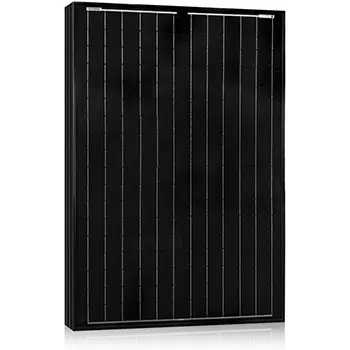 For homes, boats, and trailers, ACOPOWER 100W monocrystalline solar panels are suitable.
My buddy enjoys having them on the top of his house.
They have corrosion-resistant frames and iron-tempered glass, as well as a watertight junction box, making them durable under all weather conditions.
However, these solar panels are not foam-wrapped and often come broken, so be prepared to sob if your delivery guys are overbearing.
It's a poor choice.
Something from reputable companies like Renogy or Jackery would make me feel more at ease.
Pros
Dependable design
Fair price
Cons
In panels, condensation may develop.
Voltage seems limited.
Often harmed in transportation
#10. WindyNation 100 Watt Solar Panel Kit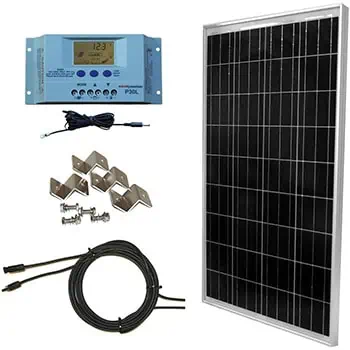 For his cottage in the woods, my friend uses a couple of these WindyNation 100 watt solar panels, and according to him, on a GOOD day, they may provide up to 350 watt hours of electricity.
The majority of the time, however, it's far less.
Although a solar controller is supplied with these panels, the general build quality seems a touch flimsy.
Even though they don't make it clear when you purchase it, it is also polycrystalline.
Typical polycrystalline panels are blue, yet the sales sites show black panels instead!
This is strange!
Pros
Includes a solar charging controller
Cons
Sometimes missing parts
Low-cost construction
Polycrystalline
FAQs
Can a refrigerator be powered by a 100 watt solar panel?
No, a 100 watt solar panel is unable to power a typical US refrigerator on its own.
How is a 100 watt solar panel connected?
A charge controller, a power inverter, and some kind of deep cycle battery are all need to connect a 100 watt solar panel.
Keep in mind, however, that every system has a unique configuration, so you should consult the user guide for your particular device (s).
How much electricity is generated by a 100W solar panel?
In ideal circumstances, a 100W solar panel generates around 18V or 5.55 amps of electricity.
The actual output, however, will be closer to 3.5 to 4 amps each day.
How long does it take a 100 watt solar panel to fully charge a 12 volt battery?
Under ideal circumstances, a 100 watt solar panel can fully charge a 12 volt battery in around 14 hours.
However, because most individuals are not exposed to optimal sunshine, it can take considerably longer.
100 Watt Solar Panel Kit We Suggest
I would definitely suggest the Renogy 100 Watt 12 Volt Starter Kit if you're searching for a solar energy kit that can assist keep your RV, boat, trailer, or cabin operating when the sun isn't shining too much.
With all the necessary attachments included and a silent operating efficiency of 21%, this monocrystalline kit eliminates the need for further purchases.
For real off-grid travelers, it is also incredibly useful in wet and severe weather.
The Renogy 100 Watt 12V Starter Kit has more than enough power to suit your demands, whether you're powering an off-grid cabin or charging the batteries in your smartphones.