Assume you spend a significant amount of time camping, particularly in an RV.
In such situation, a generator will be required to power some of the essential appliances, such as the refrigerator and the electric coffee maker.
However, there are many brands to choose from, and deciding which one to bring with you isn't always straightforward.
We've chosen ten different models to evaluate so you can figure out which brand is best for you.
We've gone through the advantages and disadvantages of both gas and battery-powered generators so you can see what each has to offer and learn more about them.
We've also included a quick buyer's guide that explains how generators function and what to look for when shopping for one.
Join us as we explore output power, fuel type, noise, runtime, and other factors to help you make an informed decision.
In 2023, a Quick Comparison of Our Favorites
Rating
Image
Product
Details
Best Overall
WEN 56200i Portable Inverter Generator
2

000 watts

53 dB noise level 7cc4-stroke engine
Best Value
Jackery Portable Power Generator
Eco-friendly

4-volt lithium-ion battery

Solar ready
Premium Choice
Generac 7127 iQ3500 Portable Inverter Generator
3

500 watts

Digital display

USB ports
Champion 100263 Portable Inverter Generator
Electric start

59 dB noise volume

3

400 watts max
Honda EU2200i Portable Inverter Generator
48 to 57 dB noise level

Can link to a second model

6 hours runtime
The Top 10 RV and Camping Inverter Generators
Our recommendation for the finest overall inverter generator for RVs and camping is the WEN 56200i Portable Inverter Generator.
It has a 4-stroke engine with a displacement of 79.7 cubic centimeters (cc) that produces 1,600 watts of continuous power and 2,000 watts of peak power.
It has a 1-gallon petrol tank and can operate for up to 9.4 hours on a single tank.
It also has a USB connector, so you can charge your phone with it.
You may also get a WEN parallel kit, which enables you to connect several units for even more power, and the noise generated is just 53 decibels (dB), so it won't annoy neighboring campers.
The WEN 56200i was a hit with us, as it easily powered all of our camping gear.
The only criticism we have is that it is rather tall and may not fit into the same area as other generators.
Even though it is lightweight at just 48 pounds, it might benefit from a pair of wheels.
Pros
Wattage: 2,000
Noise level: 53 dB
4-stroke engine with a displacement of 7cc
Weight: 48 pounds
Fuel tank with a capacity of one gallon
Running time: 4 hours
USB connector
Cons
For the money, the Jackery Portable Power Generator is the finest inverter generator for RVs and camping.
This generator is environmentally friendly and is powered by a 14.4-volt lithium-ion battery that can be charged using a wall outlet or the cigarette lighter in your vehicle.
Because the generator is solar-ready, you can also buy a solar cell and use it to power it.
The Jackery model's drawback is that it doesn't produce much power, making it only acceptable as a laptop and mobile phone charger.
If they are the only items you need to power, it's a green option; but, if you also need to power refrigerators, kettles, and other appliances, 200 watts of continuous electricity with a 400-watt maximum won't enough.
Because charging a laptop takes a long time, most gadgets will be linked to the generator for the most of the time.
Pros
Eco-friendly
Lithium-ion battery with a voltage of 4 volts
Prepared for solar
Charge in a variety of ways
6 pound
Cons
Maximum power output: 400 watts
Slowly charge
Our top-of-the-line inverter generator for RVs and camping is the Generac 7127 iQ3500 Portable Inverter Generator.
It has an 80cc 4stroke engine that can provide up to 3,500 watts of electricity to charge and power your electronics.
It has USB connections for your smartphone and laptop, and the all-steel housing is built to survive for years, even in the harshest of environments.
It features a 1.06-gallon tank, and the electronic start makes getting the machine started much easier.
A single tank may provide up to 11 hours of electricity.
The Generac 7127 iQ3500's main flaw, in our opinion, is that it's extremely heavy to transport to the campfire, weighing in at 109 pounds.
We would have been content with a set of wheels as well.
Pros
3.500 wattage
Display on a computer
USB ports are available.
Enclosure of steel
Start using an electric motor
A tank with a capacity of six gallons
Each tank will last 11 hours.
4-stroke engine, 80cc
Cons
The Champion 100263 Portable Inverter Generator is a dual-fuel generator, which means it can operate on gas or propane.
It has a 192cc engine that can output up to 3,400 watts while producing just 59 decibels of noise.
It runs for 7.5 hours on a tank of gas or 14.5 hours on a tank of propane and is air-cooled.
If you don't have too many gadgets requiring electricity, Economy mode will help save fuel and keep the generator operating longer, and the fast touch screen makes modifications simple.
Unfortunately, the Champion 100263 is too hefty for some folks to get into position at 95.7 pounds.
Even if you plan to utilize the recoil start, you'll need 12 volts of battery power, which might be a pain if you haven't charged or replaced the battery.
Pros
Dual-fuel vehicle
Start using an electric motor
59 decibels of noise
Maximum power: 3,400 watts
Engine displacement: 192cc
Air-cooled
5 hours on gas, 14.5 hours on propane
Mode of operation: economy
Panel with a quick touch
Cons
7 oz.
Recoil start requires battery power.
The Honda EU2200i Portable Inverter Generator is a well-known generator from a brand known for its long-lasting engines.
It features a 3.6-horsepower (HP) motor that can generate up to 2,200 watts, and two machines may be linked together for a total of 3,600 watts.
Depending on how many devices you're charging, you'll receive anywhere from 4 to 9.6 hours of battery life.
It's simple to transport to the camping since it's just 40 pounds.
The major issue we encountered when testing the Honda EU2200i was that it was exceedingly difficult to start and required an excessive amount of pulls to get going.
There are no USB connections to charge your phone or laptop, and it has already been subject to two recalls, so make sure you pick the most recent model.
Pros
Noise levels range from 48 to 57 decibels.
It's possible to connect to a second model.
The movie lasts 6 hours.
40 pound
Wattage: 2,200
Cons
There have been two recalls.
It's difficult to get started.
There is no USB port.
The SUA2000iV Portable Inverter Generator from A-iPower is a 2,000-watt generator that only weighs 46 pounds.
It is powered by a 79cc engine that generates just 58 dB of noise when in operation.
Low-idle technology saves fuel for longer runtimes when less power is required.
A USB port provides clean power to your phone and laptop.
As a result, it's an excellent pick for the finest inverter generator for camping.
Starting the A-iPower SUA2000iV was difficult, particularly when it was brand new.
It may be possible to make it start a bit easier by playing with the choke switch.
There's also no gas cutoff to assist burn off surplus gasoline in the engine once you're done working and keep the carburetor from clogging.
Pros
Wattage: 2,000
46 pound
Engine size: 79cc
Noise level of 58 decibels
Low-idle technology is a kind of technology that reduces the amount of time
USB connector
Cons
It's difficult to get started.
There is no gas shutdown.
The Westinghouse iGen2200 Portable Inverter Generator has a strong 80cc 4-stroke engine that can provide up to 2,200 watts while emitting just 52 decibels of noise.
It comes with a 1.2-gallon tank that may last up to 12 hours before needing to be refilled.
It includes two USB connections for charging your smartphone or laptop, plus it's parallel enabled, so you can connect more than one unit for extra power.
The Westinghouse iGen2200 had the issue of requiring a substantial amount of care before it could be started for the first time, including adjusting the spark plug and cleaning the carburetor.
Even after we completed the maintenance, it continued to splutter and spit out puffs of smoke every now and then.
Pros
4-stroke engine, 80cc
Wattage: 2,200
USB ports are available.
52 decibels
Tank capacity: 2 gallons
Running time: 12 hours
Capable of working in parallel
Cons
Smoky
Sputters
Before you can start, you'll need to do some maintenance.
The Pulsar G2319N Inverter Generator is powered by an 80cc 4-stroke engine that produces up to 2,300 watts.
Its engine noise is kept to a minimum of 59 decibels, and it has a USB outlet for charging your phone or laptop.
At half load, the 1.18-gallon tank will keep the generator operating for up to 4.8 hours.
The Pulsar G2319N's most serious flaw is a continuous engine whining that occurs when the generator is working.
It isn't too loud, but it is noticeable and may bother nearby campers.
Another issue we encountered was changing the oil without pouring it into the compartment, which may result in leaks.
Pros
Wattage: 2,300
47 pound
USB connector
59 decibels
A gasoline tank with a capacity of 18 gallons
4-stroke engine, 80cc
Cons
Whining of the engine
It's difficult to replace the oil.
#9. Briggs & Stratton P3000 Inverter Generator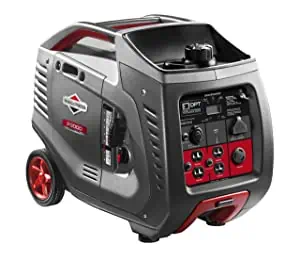 The Briggs & Stratton P3000 Inverter Generator has a 1.5-gallon fuel tank and a 3,000-watt output.
It boasts a strong 171cc engine that produces just 59 decibels of noise.
The generator's 1.5-gallon fuel tank enables it to operate for up to 10 hours before having to be refueled, and the LCD screen is simple to read and keeps you informed about output numbers, remaining fuel, and other critical information.
It's a lot simpler to get into place with the connected wheels.
The Briggs & Stratton P3000 has a few drawbacks: it weighs 96 pounds, the housing is made of fragile plastic, and the handle is particularly weak.
This is the most likely of all the brands on this list to fail.
Pros
Wattage: 3,000
Fuel tank with a capacity of 5 gallons
Running time: 10 hours
Engine capacity: 171cc
Display (LCD)
Wheels are included.
59 decibels
Cons
96 pound
Handle is flimsy.
Not long-lasting
Another battery-powered generator that can be recharged by plugging it into the wall is the PAXCESS Portable Camping Generator.
It features a massive internal battery that can charge your smartphone or laptop numerous times before having to be recharged, yet at just 7.1 pounds, it's nearly light enough to carry about all day.
The LED display is simple to see, and wireless charging is possible on the machine's top.
It also features a normal outlet and is eco-friendly, since it uses no fuel and emits no pollutants.
We enjoy the PAXCESS generator and many other manufacturers, but because we're talking about RVs and camping, it's unlikely to be strong enough for your requirements.
It only produces roughly 330 watts of continuous power, making it ideal for recharging laptops and other comparable compact gadgets.
Another issue with this brand is that it rapidly loses power when unplugged, so you don't get much use out of the enormous battery.
Pros
Large storage capacity
Charging without wires
Display with LEDs
Battery-powered
Friendly to the environment
1 pound
Cons
700 watts of power
It immediately loses its charge.
How to Choose the Best Inverter Generator for RVs and Camping (Buyer's Guide)
Here are some considerations to ponder when selecting an inverter generator for your camping vacation.
What is the Process of Using a Generator?
A generator operates by turning a power generator with an engine.
To generate electricity, a gas-powered engine usually rotates an alternator similar to the one in your automobile.
Alternators work by passing a copper wire through a magnetic field to generate electricity.
The more power it creates, the quicker it flows across the field.
What Is an Inverting Generator, and How Does It Work?
An inverting generator contains all of the internal components required to create alternating current like a conventional generator does (AC).
However, since engine performance impacts the quality of electricity, it may fluctuate significantly even with well-running machines, but it can deteriorate much worse with a rough-running engine because the alternator will be working at a variable speed.
This is referred to as "dirty electricity." Most older equipment, such as an electric coffee maker or a refrigerator, will operate perfectly.
Modern computerized circuits in laptops and many other gadgets, on the other hand, will not function well with this level of power and will need something "cleaner."
By adding two extra stages to a regular generator, inverting generators clean up the electricity.
The first step transforms the filthy alternating current to direct current (DC), which is similar to what a battery produces.
The second step converts DC to AC, however this time the AC is not reliant on a smooth-running motor since it generates AC from DC, ensuring that the power sent to your devices is highly clean and free of fluctuations.
The motor may operate at high speeds as long as it provides enough current for the generator to convert it to DC, resulting in pure AC.
#1. Type of Fuel
The power for the inverting generators in this list comes from one of three sources: gasoline, propane, or electricity.
#2. Gasoline
The most popular and original method to power a generator is using gasoline.
Gas generators are cheap and powerful, and the engine is well-known and relatively simple to fix and maintain.
Gasoline is the most detrimental to the environment and creates the most destructive pollutants of the three kinds.
It will also need the greatest upkeep to keep it working smoothly.
Pros
Cons
Emissions that be harmful
A lot of upkeep is required.
#3. Propane
Propane is quite comparable to gasoline, however it is cleaner and more costly.
While they are still harmful to the environment, they are much more efficient and emit far less pollution.
Because the gasoline burns more effectively, you'll need less of it.
However, since the engines aren't as common, they'll be more difficult and costly to maintain.
Propane is also a little more difficult to get by than gas.
Pros
Powerful
Less polluting than gasoline
Cons
Expensive
Negative impact on the environment
More difficult to get
#4. Electric
Electric generators are the final category on our list, and it's important to note that they're not genuine inverting generators since they don't convert filthy to clean electricity.
They are grouped with inverters because they create clean energy.
An electric generator must be charged before use, either using solar power or by connecting it into a wall or a vehicle cigarette lighter.
These generators make no noise and are environmentally friendly, but they are frequently more costly, generate less power, and are harder to fix.
Electric generators are ideal for charging cellphones and computers, and they may also be used to create a portable workspace for individuals who work from home.
They will not, however, provide enough power to operate a refrigerator or air conditioner, which are common in RVs.
Pros
Operation that is quiet
Friendly to the environment
Cons
Low-voltage
Repairing it is difficult.
Expensive
#5. Power Consumption
Determining how much electricity you need is one of the most critical things to accomplish when buying a generator.
You calculate your power requirements by adding up the wattages required by each of your gadgets.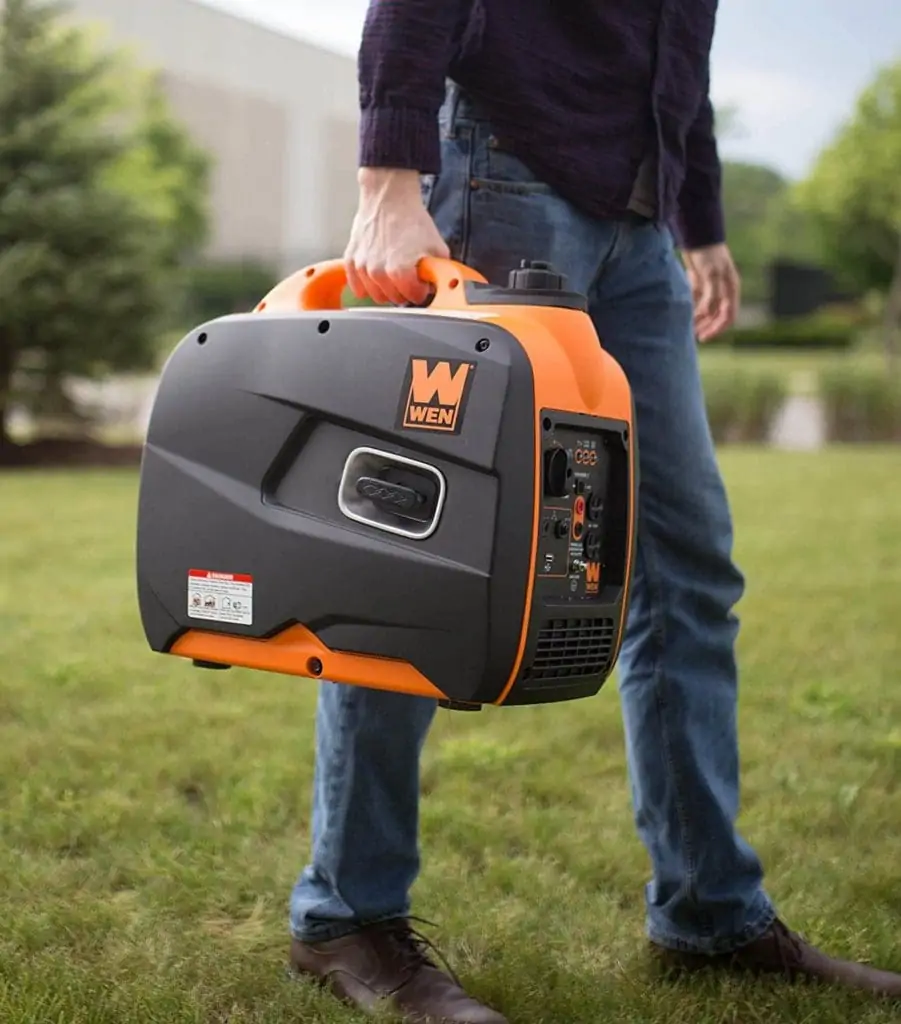 Consider the following scenario:
150 watts from two 75-watt light bulbs
80 watts electric blanket
1800 watts space heater
2,030 watts total
In the scenario above, you'll need a generator with a constant power output of at least 2,100 watts.
#6. Maximum Power
Many gadgets take more energy to start up than they do to keep running.
The peak performance rating of the generator will inform you whether it can manage the first power spike.
A coffee pot, for example, typically consumes 800 watts, but it consumes an extra 800 watts during startup.
The coffee pot will not work on a 1,000-watt continuous run generator with a peak of 1,500 watts because it would require 1,600 watts when it goes on, which is more than the machine peak rating.
A 1,000-watt continuous run generator with a peak of 2,000 watts, on the other hand, will easily power the pot.
#7. Weight
When camping, the weight of your generator is significant since you must transfer it to your destination.
In an RV, it isn't as vital.
Still, you don't want to take a big generator into the woods, therefore we included any generators weighing more than 100 pounds on our list as heavy.
However, the weight of the generator will be determined by your physical capabilities and transportation needs.
#8. Outlets
Before you buy an inverted generator, double-check that it has all of the outlets you'll need to power your equipment.
It should contain at least one standard outlet connection for connecting your household equipment.
Because they are all inverting generators, at least one USB port should be available for connecting your smartphone or laptop.

Conclusion
We hope our evaluations have been helpful in assisting you in selecting an inverted generator for your RV or camping vacation.
We believe that the WEN 56200i Portable Inverter Generator is the best option since it provides adequate power for the most popular camping items while staying portable.
If you're on a budget, the Jackery Portable Power Generator is a good option.