A power converter is an important part of any recreational vehicle's electrical system.
With this in mind, it's no surprise that learning a little bit about how to find the finest RV converter is highly advised for all RV owners.
Most vehicles have two independent electrical systems, one of which is 120-volt AC, which gives electricity to high-wattage and high-power consumption equipment such as air conditioners, hair dryers, coffee makers, and ovens.
Another is the electrical system's low-voltage component.
This provides 12 volts DC to some objects, such as lights, that do not need a large current consumption.
Onboard batteries may sometimes power them, giving adequate power in the event that you don't have access to a generator or an external power source.
It's crucial to remember that your power converter may convert 120-volt AC electricity to 12-volt DC whenever you connect to a power source at a campsite or run off a generator.
This makes it more compatible with low-voltage batteries and electrical systems.
The converter may also give a kind of electricity, allowing the power generated by the batteries to be used.
It may also be used to recharge them.
If you're seeking for a device that can convert AC to DC power and power pumps, fans, lights, and other DC-powered gadgets in your RV, you'll need to invest in a reliable converter.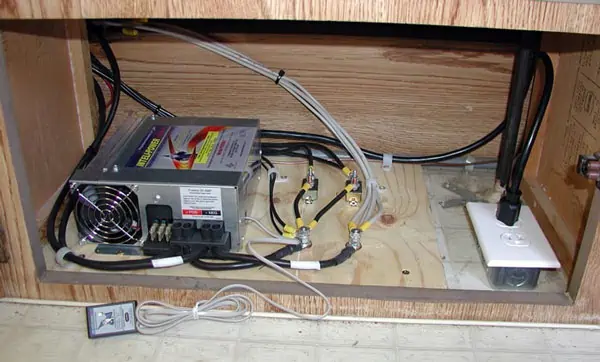 11 Top-Rated RV Converter Reviews
#1. PowerMax PM4 55A MBA Power Converter
The PowerMax PM4 55A MBA is a good option for RV owners who need to replace their failing RV converters.
This camper 110 to 12 volt converter is a good substitute for factory-installed converters, supplying power to the batteries and other RV equipment.
This converter, like the WFCO, offers 55 amps and 800 watts.
It's plenty to run a variety of RV equipment and fixtures.
Because of this converter, lights, auxiliary fans, and other 12-volt appliances will never stop working properly.
This four-stage smart converter charger is superior to other alternatives in terms of recharging RV batteries.
Bulk, absorption, and float are the only modes available on a three-stage charger.
A four-stage charger with an equalization mode, on the other hand, protects the battery against electrolyte stratification.
This lithium battery RV converter offers appropriate safety measures to protect power cells.
It offers consumers piece of mind by guarding against reverse polarity, overheating, and overloading.
The open design of this product, together with the cooling fan, allows more efficient heat dispersion.
Surprisingly, the cooling fan makes almost little noise.
The harsh buzzing sound of certain RV converters will never irritate you.
This device also has a lower price than the WFCO Black, making it a more inexpensive converter.
The size of this battery converter charger is the only drawback I can perceive.
This product, which measures 12.3 by 8.7 by 5.6 inches, may not fit certain RV converter mount boxes without modification.
Overall, this converter is a great investment.
Because it offers great power as promised, RV owners will never be disappointed.
Pros
Intelligent four-stage battery charger built-in
Provides 55 amps of electricity, with a maximum output of 800 watts.
Three safety-enhancing technologies
Heat dissipation is increased with an open design and a quiet fan.
OEM converters may be replaced with this product.
A cost that is fair
Cons
It's possible that the RV converter mount box will need to be modified.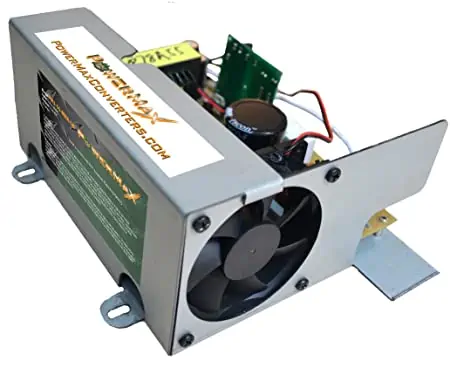 #2. WFCO WF8955PEC Power Center Converter Charger
The WFCO WF8955PECB is a 55-amp RV converter that converts alternating current into useable power for motorhome equipment.
It has characteristics that are equivalent to those found in factory-installed RV converters, offering RV owners piece of mind when it comes to upgrading their units.
The 55-amp output capability of this RV converter is ideal for powering various 12-volt appliances and fixtures in my vacation trailer.
It can also take up to 940 watts and 130 volts, ensuring that RVs may be plugged into almost any shore power pedestal.
This RV power converter charger also offers three-stage battery charging capabilities, allowing RV owners to securely and effectively recharge their batteries.
I'll sleep better at night knowing that this converter will protect my camper's batteries and provide a full charge when I wake up the next day.
I like how this converter has an open-top design that makes it simple to install and use.
The container may be opened via a slot, enabling individuals to undertake maintenance inspections without having to contact an RV electrician.
It's worth mentioning the safety features.
Electrical overload, short circuits, and overcurrent will never be a problem for RV owners.
In addition, the converter safeguards the system against reverse polarity and overheating.
When the converter's sensors detect a large electrical demand, it instantly starts a cooling fan.
I'm delighted to see that this RV converter charger is a good substitute for the Elixir ELX60, Parallax 7355, and Atwood APS5530.
Regrettably, technical advancements have caused the product's price to rise somewhat above that of competitors.
Nonetheless, I would suggest this RV converter to anybody looking for a solid system for converting 120-volt shore power to clean, efficient 12-volt electricity.
Its clever design and a slew of safety features make it the perfect converter for today's RV owners.
Pros
More RV gadgets can be powered with 55 amps.
It can handle up to 940 watts of power and 130 volts.
Three-stage battery charger built-in
Installation and operation are simplified thanks to the open-top design.
For safety, there are many protection features.
It's a good substitute for well-known RV converter brands.
Cons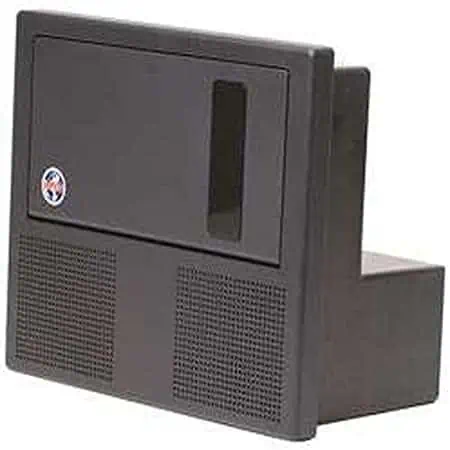 #3. PowerMax PM3-55 Power Supply Converter Charger
When looking for a high-quality RV converter, the PowerMax PM3-55 Power Supply Converter Charger is one of the goods that is sure to catch your eye.
One of the many aspects of this item that instantly attracted me was the simplicity with which it could be installed.
You may select one that fits your requirements among the several sizes available.
It also comes with mounting flanges and an AC power wire that can be plugged into any regular 110/120-volt outlet.
If you own a recreational vehicle, you'll be pleased to learn that this particular converter charger is ideal for RV use.
This means you may use it to provide electricity to your car.
This particular model features a DC output and a junction set screw type.
Such a design impresses me since it allows for the clean removal of heavy-duty battery charge cables and their insertion into the junction.
It also ensures that it will be securely fastened.
Aside from being utilized in your recreational vehicle, I'm happy to report that it also works well in any application that requires 12-volt DC power with larger amps.
In fact, you may use it on your test bench to keep your battery banks topped out.
Furthermore, this particular 3-stage converter charger has smart chargers as well as a current limiting design that helps to immediately switch off the electricity in the event of short circuits or overload.
However, one drawback that users of this power converter may have is that when it is turned on, the fan makes some noise.
Pros
Facilitates installation.
Appropriate for RV use
Ensures that it can be tightly tightened.
Smart chargers are included.
It has a current limiting design that turns off the power automatically.
Cons
When the converter is turned on, the built-in fan creates some noise.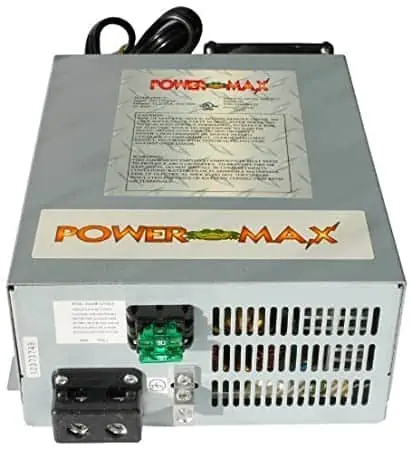 #4. Progressive Dynamics PD9260CV Inteli-Power 9200 Converter
The Progressive Dynamics PD9260CV is another excellent RV power converter to consider.
One feature of this 60-amp converter that I find particularly amazing is its capacity to provide very dependable and filtered DC power to all of your RV's 12-volt appliance and lighting circuits.
I'm also happy to report that the converter allows for quick and safe battery recharging in your RV.
With the aid of its built-in reverse battery protection, it can also avoid any harm caused by faulty battery lead connection.
You may also choose from a variety of sizes available with this power converter.
I'm also delighted that it can safeguard your equipment, particularly against low-voltage anomalies that might cause damage.
It is mostly due to the presence of low-line voltage protection.
Furthermore, due of its electronic current limiting capability, it can automatically reduce the output voltage when it reaches maximum capacity.
Another feature that appeals to me is the charging wizard embedded into the device.
Such a device is operated by a microprocessor and is meant to continuously check the voltage of your RV battery.
As a consequence, you'll get a safe and quick recharge.
It's also a flexible system.
It's basically because it has three charging voltages and four working modes to select from.
The option will be based on the battery's use and condition.
The unit's long-term reliability is further ensured by the unit's built-in protection mechanisms.
However, like the last power converter, this one from Progressive Dynamics makes some audible noises from its built-in fan.
Pros
Can provide filtered DC power to all of your vehicle's onboard appliances and lights.
Ensures that your RV batteries are recharged safely and quickly.
Constantly monitors the voltage of your RV's battery.
With three charging voltage choices and four operation modes, this charger is versatile.
It has a variety of safety measures.
Cons
Sounds produced by the fan are audible.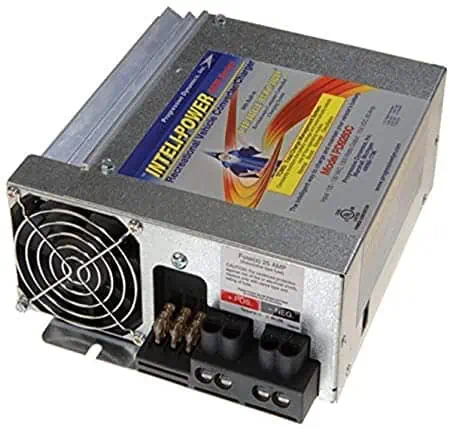 #5. Cantonape 1000W Car Power Inverter AC Converter
The Cantonape 1000W Car Power Inverter AC Converter is a dependable gadget that converts 12-volt battery power to 110-volt electricity.
It is a reliable and efficient technology that allows RV owners to use various electrical equipment in their RV.
This RV power converter converts energy stored in RV batteries into 1,000 watts of continuous electricity.
Its 2,000-watt peak power output makes it ideal for power-hungry appliances.
People will never be concerned about the energy conversion efficiency of this product.
This camper trailer converter converts at least 90% of DC energy into AC power, which is sufficient to operate electric appliances.
It also has two pairs of AC and USB outlets, which I enjoy.
Two 110-volt devices or fixtures and two 5-volt devices may be plugged in by RV owners.
I like the digital display on this RV converter since it's bright and has good contrast, making it easy to use and monitor.
Also notable are the built-in safety measures.
I'll never have to worry about my RV's electrical system short-circuiting, overheating, or overloading.
The product's under-voltage and overvoltage protection will also provide RV owners peace of mind.
Unfortunately, this product only has a modified sine wave design, which means it will not work in ovens or refrigerators.
Most RV inverters I've seen use pure sine wave technology, which makes them more adaptable in terms of energy conversion.
Nonetheless, many RV owners find that using an RV converter to power their RV equipment is beneficial.
It features four outlets to accommodate four appliances and electronics, making RVing more interesting, convenient, and comfortable.
Pros
At least 90% efficiency in power conversion
Operating power is 1 kW, with a maximum power of 2 kW.
For easy operation and monitoring, a large digital display is provided.
For further flexibility, there are two AC and USB power connectors.
Multiple safety mechanisms ensure that your device is protected to the fullest extent possible.
Cons
This isn't true sine wave technology.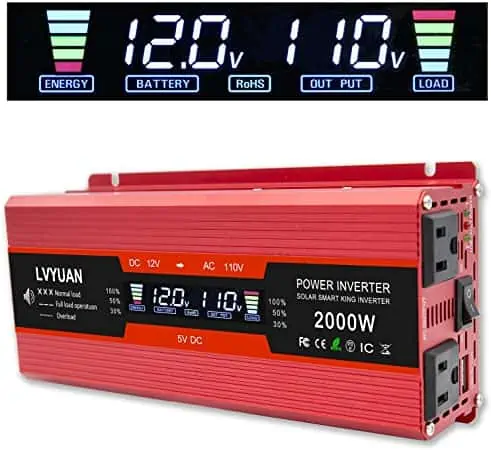 #6. WFCO WF-9855 55-amp Deck Mount Converter
The WFCO WF-9855 55-amp Deck Mount Converter is another product I can suggest if you need to replace an RV power converter.
What I like most about this unit is that it can provide dependable and clean electricity for all of your RV appliances and devices.
What's more, it can do so without the need for any filtration from a battery.
This converter, which comes in a variety of sizes, may be used to replace an RV converter battery charger or any other outmoded or malfunctioning mount converter.
It may also be used to upgrade your current system.
Simply replace your old single-stage power converter with this high-performance 3-stage power converter from WFCO to complete the change.
I'm particularly delighted to report that, in contrast to other power converters, this one seems to run silently.
It's because its cooling fan will only turn on when it's needed.
Another feature of this device that I like is that it does not interfere with any transmissions, including radio and television signals.
Its automated 3-stage battery charging technology also helps to extend the life of your battery.
The fact that this device has electronic current limiting is also a huge plus since it works to automatically switch off the power, particularly during short circuits or overloads.
One concern is that, although the built-in fan works whenever it's required, it doesn't seem to be capable of pulling cold air from outside.
Pros
Without filtering the battery, it provides dependable and clean power.
It may be used to replace converters that have become outdated or have failed.
Encourages silent operation.
Doesn't obstruct TV or radio reception
With its electronic current limiting architecture, it provides protection.
Cons
The built-in fan doesn't appear to be able to pull cool air in from the outside.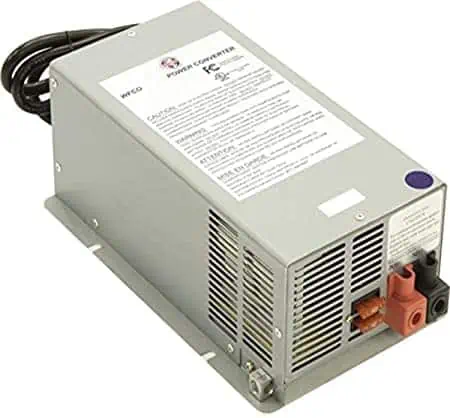 #7. IOTA Engineering Converter and Charger
This particular device from IOTA Engineering is another power converter that comes in a variety of sizes.
This 75-amp converter and charger is one of the most completely functioning power converters available on the market today.
Its switch mode technology comes in handy when it comes to providing high-quality power to your battery.
It also converts electricity dependent on your recreational vehicle's requirements.
This unit's ability to provide clean DC output is really valuable to me.
It's quite remarkable to me, especially given how effectively it works with the IQ smart charger.
I am certain that it is capable of offering an autonomous three-stage battery charging method.
As a result, you can charge your RV's battery securely while ensuring that it lasts a long time.
Another noteworthy feature of this device is that it is capable of charging any types of 12-volt lead acid batteries.
The absorbed glass mat, gel cell, and flooded batteries are examples of these.
It also has the benefit of allowing you to use it with a nominal VDC load up to 75 amps with the assistance of its carefully regulated regulation.
Furthermore, the voltage of this unit is regulated such that it can only give its maximum current for a certain duration.
As a result, you can be certain that the battery will not be subjected to excessive and unnecessary stress as a result of the cells heating up.
One disadvantage is that it employs screw terminals, which might cause the cables it accepts to get rather heated when the device is fully operational.
Pros
Provides the battery with high-quality, safe electricity.
The battery is charged in three stages automatically.
Battery charger for RVs that is safe to use.
Can be used with any kind of lead-acid battery.
Uses a highly regulated system.
Cons
When the equipment is completely operational, the accepted cables of the screw terminals might get heated.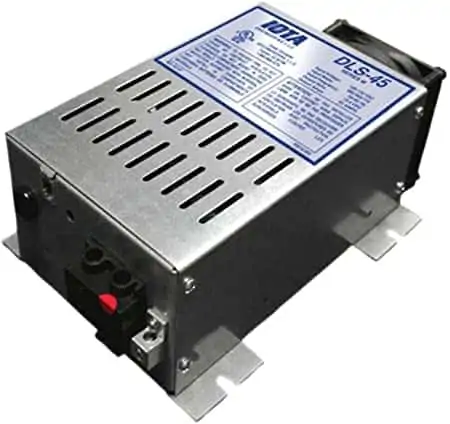 #8. Parallax Power Supply (8345) 45-amp Converter/Charger
I am certain that the Parallas Power Supply 45-amp Converter will meet the needs of all recreational vehicle owners who need a high-quality power converter.
You may also choose from a variety of sizes for this product, allowing you to choose one that is ideal for your needs.
It has a 3-stage 45-amp charger, which I believe does an excellent job of giving reliable power to the equipment in an RV.
One feature of this power converter that I really enjoy is that it can leave a lot of juice to operate additional 120-VAC devices.
This is due to the fact that this converter was intended to function with 120-VAC 15-amp branch circuits. This item also appeals to me because of its strong steel casing. It will also include a fuse block with 11 settings to pick from, as well as indications for a blown fuse, to ensure everyone's safety.
Another feature I like about this device is that it can be upgraded to include TempAssure technology, which is very useful for maximizing the machine's capacity to charge the battery.
All you have to do is install the 4400TAU module from the same company, Parallax.
It's also protective in that it shuts down immediately if it approaches the maximum power necessary.
One issue is that it is deeper than comparable converters on the market today, which may need the relocation of a compressor during installation.
Pros
Those who want extremely dependable power converters for RV usage may find this product useful.
It has enough power to run 120-volt gadgets.
A strong steel enclosure is included.
For added safety, blown fuse indications are included.
Turns off on its own
Cons
In compared to other converters available today, this one is more in-depth.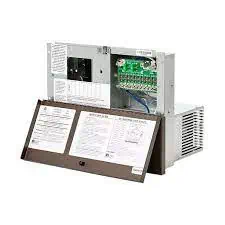 #9. Go Power! GPC-55-MAX 55-amp Converter
The Go Power is another converter/charger that I am certain will make an immediate positive impact on everyone who need it.
GPC-55-MAX Charger/Converter The 4-stage charging method of this item has really amazed me.
I am certain that such a method can charge wet cell and flooded batteries to 100% capacity.
Because it can charge in four phases, it can handle battery banks with up to six batteries.
This converter, which comes in a variety of sizes, can meet the demands of a variety of customers, making it one of the most versatile units available in the category.
I like that this converter is also built to be portable.
Because of its modest size, I had an easier time installing it and fitting it into the limited space in my recreational vehicle.
Due to the fact that it comes with a 15-amp socket, it is very straightforward to install.
It is also constructed such that when more than one battery is charged in the system, the numerous batteries are charged at different levels.
The equalization step of this converter's full charging system also ensures that the batteries are charged at a greater voltage than usual.
As a result, all of the batteries will have the same charge level.
The equalization step also operates automatically if the battery bank requires it, making it more convenient.
One disadvantage of this RV converter is that it is louder than other power converters available on the market.
Pros
Wet cell and flooded batteries may get a charge of up to 100%.
Battery banks with a maximum of 6 batteries may be handled.
It has a small footprint.
Installation is simple and fast.
Through the equalize step, provides the greatest ease in giving the same level of charge.
Cons
Other power converters are noisier.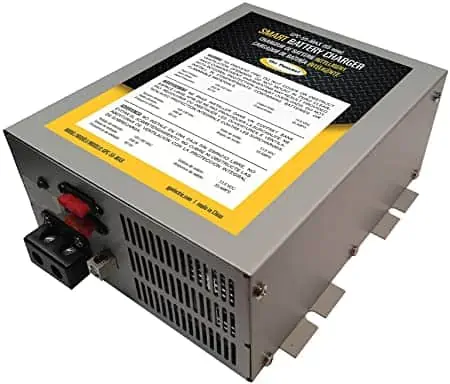 #10. Arterra WF-8955-MBA 55 DC Amp Replacement
In my list of suggestions, I'd like to add the Arterra WF-8955-MBA 55 DC Amp Replacement.
One of this product's biggest selling points, in my view, is its automated 3-stage charging method.
Its power input, which may exceed 950 watts, is also something to be proud of.
Installing this converter is similarly a simple and fast procedure.
It also does not need a large number of tools.
In reality, you'll only need two screws, two DC cables, and three AC wires to complete the installation, which should take no more than 10 minutes.
It may also be used as a replacement for all of your power centers.
The 3-stage converter also has the benefit of being able to handle all of your recreational vehicle's charging needs.
It may also help your batteries last longer.
Additionally, it may aid in the proper maintenance of your RV batteries.
It also seems to be a wonderful match for the majority of areas.
I also believe that this RV converter delivers excellent value for money.
It comes at a very reasonable price, making it a worthwhile purchase.
Furthermore, as compared to comparable RV converters currently on the market, it seems to operate more quietly.
It also works correctly, particularly when it comes to resolving your 12-volt troubles.
However, certain instructions are missing, particularly when it comes to installing and running it.
Fortunately, it has a clear and easy design, making it simpler for you to figure out how to connect the pieces together and use the device.
Pros
The simple and rapid installation procedure
It may be used as a viable alternative to power centers.
Can properly manage the charging needs of your RV
Extends the life of your battery and ensures that it is well-maintained.
It has a basic and uncomplicated design.
Cons
Its installation instructions are missing.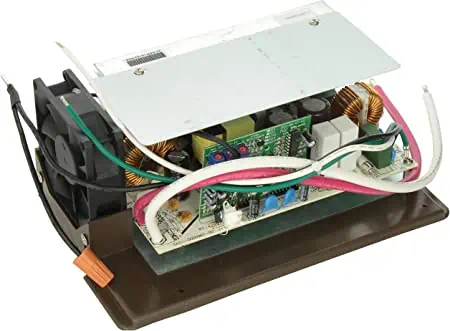 #11. WFCO WF-8735-P 30-amp Power Center
The WFCO WF-8735-P 30-amp Power Center is the last device I'd recommend to RVers in need of a converter.
Given its capacity to provide up to 35-amp DC output as well as a very reliable nominal 13.6 VDC, which is ideal for your onboard appliances and electronics, it's a really decent device.
This 30-amp power center appeals to me since it can provide power with or without the use of a battery.
It's also simple to use since it doesn't take any extra filters to get it up and running.
It offers a three-stage charging technology that extends the battery life.
It's also handy since it's totally automated.
I'm also certain that this RV converter will alleviate your concerns and provide you with piece of mind.
Its reverse polarity and short circuit protection are the key reasons for this.
This improves the converter's dependability and safety.
It has a cooling fan that only turns on when it's needed, ensuring that it runs quietly.
What's more, the front-cooled fan's installation does not need any additional space requirements.
It also protects against potential problems including reverse polarity, overcurrent, overload, overheating, and short circuits.
Another advantage of the converter is that it does not interfere with other signals, such as those from your radio or television.
The only disadvantage is that it does not come with detailed installation instructions.
Pros
Can power all of your onboard electronics and equipment
There is no need for further filtering while using the converter.
It has a three-stage charging method that works well and extends battery life.
The cooling fan only turns on when it's needed, resulting in a quiet operation.
Provides protection against problems such as reverse polarity and overcurrent.
Cons
There are no clear installation instructions included.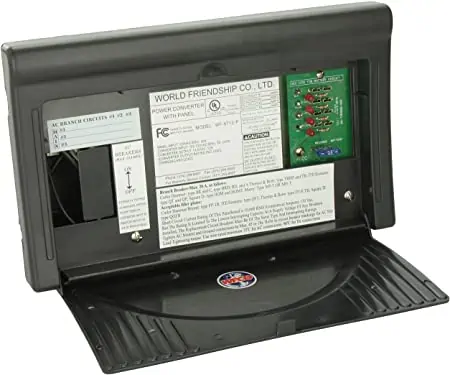 How Do You Make the Best Decision?
If you're searching for the greatest RV converter, keep in mind that you'll have a lot of options.
This is the primary reason why you should undertake extensive study on all of the available converters for recreational vehicles on the market.
When looking for a reliable RV converter, one thing to keep in mind is its capacity.
You must select one with the adequate and appropriate capacity for your car.
You should also keep in mind that the more the capacity, the heavier and bulkier the item will be.
A bigger-capacity converter also comes at a higher price.
As a result, your objective is to choose a converter that can handle the power needed by your equipment without being too huge and heavy.
It also shouldn't be overly hefty.
Another thing to keep in mind is that the power level that your converter can manage is critical to ensuring that all of your onboard gadgets are safe to use.
To safeguard your safety, seek for a converter that can handle at least 10% to 20% more power than your highest-wattage gadget.
For example, if you intend to bring a hair dryer that uses 1,400 watts on your vacation, choose a converter that can handle at least 1,600 watts.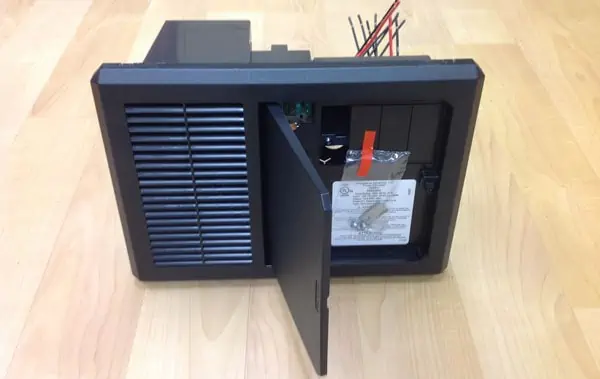 Troubleshooting for RV Converters
If you have issues with your RV converter, there are a few things you can do to troubleshoot it.
In most circumstances, the first step in the RV converter troubleshooting procedure is to figure out what the issue is.
Due to a shortage of electricity, the converter may fail to work.
There will be times when the power supply is accessible, but in inadequate quantities.
Another issue with your RV converter is when the defective battery drains the charge from the regular batteries.
In this scenario, it's preferable to look at each battery separately.
This is useful for detecting whether or not they are fully charged.
Additionally, you may need to use a multimeter to check the batteries' ability to recharge.
This will reveal if they have a tendency to lose charge over time.
When it comes to troubleshooting RV electrical issues, particularly the converter, the first step is to determine if the power converter is, in fact, the component that has failed within the system.
Check the voltage at the entry point of the power converter after connecting it to the power source.
It should be between 108 and 130 volts.
A reading that falls within the specified range is considered normal.
Then, at the point where you connect the converter to the 12-volt DC box, verify the actual voltage.
It should be between 11 and 13 volts to verify whether it is working properly.
Whether the displayed values are below the specified range, you will immediately know if the converter is malfunctioning.
After you've reviewed the two locations and ruled out the problem, it's time to look at the individual components.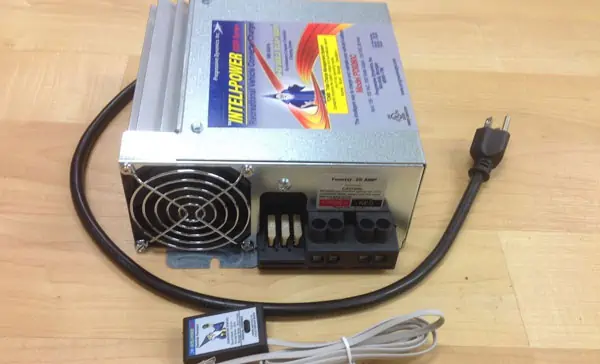 Other Important Considerations
What is an RV Converter, and how does it work?
If you want to convert 110-volt household (AC) electricity to 12-volt battery (DC) power and charge your RV's batteries at the same time, you'll need an RV converter.
The converter's primary function is to reduce 120-volt AC to 12-volt DC whenever you connect into an outlet or use a generator.
It does this by supplying more than enough power to all 12-volt devices and appliances in your car.
If you don't have access to electricity, your RV's battery will power all of the above-mentioned devices and appliances.
With the converter, you won't have to worry about your vehicle's batteries being drained.
This is feasible every time you connect to the power grid or start the generator.
Also, keep in mind that the RV converter doubles as a battery charger.
It maintains the power of the batteries by charging them.
It's best to seek for a smart converter since it's a great improvement regardless of the kind of RV you have.
The charging operation of a smart converter charger is often performed in four stages/cycles.
The first is bulk, which is the main component of the cycle and is responsible for getting the battery close to 90% charge.
The following cycle is absorption, which involves gradually lowering the charge amp and gently charging the battery's last 10 to 20% before going on to the next.
The next step is the float, which guarantees that your RV batteries are kept charged at low voltages.
This is important in order to avoid electrolyte loss.
The last step is the equalization, which attempts to boost the battery's voltage.
The major goal here is to get rid of any sulfur that has developed on the battery plates.
It's worth noting that sulfur accumulation in the plates might shorten the battery's life and damage the charge quality.
What is the mechanism behind it?
A power converter is well-known for being an important part of an RV's electrical system.
It's worth noting that most coaches and RVs have two independent but equally important electrical systems.
The first system provides high-wattage and high-power appliances with 120-volt AC power, such as air conditioners, coffee makers, and hair dryers.
The second system is known to be a low-voltage component, delivering 12-volt DC to other objects that do not need significant current demands, such as lighting.
These products are occasionally powered by onboard batteries, which provide electricity when you are not connected to a generator or another external source of power.
When you use a generator or connect to a power source at a campsite, your converter converts 120-volt AC electricity to 12-volt DC power.
This kind of conversion is ideal for low-voltage batteries and electrical systems.
Your RV converter's energy may really replace the power supplied by your batteries.
It also has the ability to recharge the batteries.
You might choose for simple converters that just have one step.
This is often seen in low-cost and ancient coaches.
If you want a converter with a more advanced internal circuitry, however, you should choose for the more contemporary models.
Because the circuitry is smart enough, it is capable of properly conditioning and charging the batteries.
Some converter devices may provide a fixed voltage of about 13.2 volts.
These are not ideal options since they tend to impede the batteries from receiving a full charge.
They also have a shorter service life.
If at all feasible, use contemporary converters with modern multi-stage charging circuits.
The four operating stages/cycles stated previously – bulk, absorption, float, and equalize – are among them.
RV Converters Come in a Variety of Shapes and Sizes
There are many types of RV converters, each of which is designed to meet the demands of a certain kind of user.
To determine which sort of converter you need, you must first learn more about them, including what each type can do.
Multistage converter — An equalization technique is commonly used with a multistage converter or charger.
This kind is appropriate for anybody searching for a cost-effective option for charging many types of batteries, including lead-acid batteries.
Previously, the only converters available had a set voltage or a basic single stage design.
It would be prudent to seek for a multistage converter while they are still in use today.
It's because it works with today's more modern electrical systems.
It's worth noting that these sophisticated electrical systems now rely on delicate electronics and printed circuit boards.
With that in mind, it's hardly surprise that they'll want a more extensive charging mechanism.
A multistage converter may help with that.
It also produces a clean DC voltage output and encourages rapid charging.
While utilizing a multistage converter is time consuming, it is well worth the effort since it ensures that your RV's batteries are properly maintained.
High-output converter — This sort of converter is ideal for individuals who want a converter that can fulfill their electrical system's greater power demands.
This means the converter can provide up to 80 to 90 amps, ensuring that even the most demanding requirements are satisfied.
Extreme temperatures in certain parts of the country may also have an impact on the batteries.
It might have a detrimental impact on the discharge and charging of the batteries.
It may also have an impact on one's lifespan.
Using a high-output converter may help mitigate this danger.
Deck mount — When it comes to styling, you have the option of choosing a deck mount RV converter.
This is a device that you may attach to a sidewall or the floor using screws.
It may be installed almost anyplace as long as the spacing criteria are met.
It may be installed in a compartment or hatch, within a cabinet, or beneath a seat, among other places.
It may also be installed in any other location where the power supply can be rerouted.
Distribution panel – Another kind of RV converter accessible to anybody who enjoys traveling on the road is the distribution panel.
Many people choose for this design if they need to replace a converter that has already been installed.
It's a huge panel unit that you can insert in the cutaway wall of your RV while keeping it conveniently accessible and visible.
The circuit breakers and fuses, which are normally hidden behind the door or main panel, are generally visible in this layout.
With this functionality, you may easily reach it if you need to replace or repair anything.
Aside from the kinds and designs previously described, keep in mind that certain versions have a battery charging circuit.
This permits the 12-volt home batteries to be charged while the RV is plugged into shore power.
However, even if the converter has a battery charger, it will not be able to charge a completely dead battery.
The Advantages of Using an RV Converter
There are several advantages to installing the appropriate one for your RV.
The following are a handful of them:
Ensures the correct operation of your onboard appliances and fittings – It's worth noting that you'll need a fully functional RV converter to for all of your vehicle's electrical fixtures and appliances to work. It is primarily because it is capable of effectively distributing electricity throughout your car.
Prevents the home batteries from being completely depleted — This advantage is achieved by converting incoming 120-volt AC power into 12-volt DC power for your house system. When you connect the RV to a generator or shore electricity, the RV undergoes a similar metamorphosis.
Enables for correct and even power distribution — An RV converter is beneficial since it allows for proper and even power distribution to different AC and DC circuits located within your vehicle. It does this by receiving main power from a generator or grid and distributes it to multiple branch circuits. The distribution is made feasible because to the breaker's separate switches.
Charges home batteries – Another important advantage of having a converter in your recreational vehicle is that it guarantees that your house batteries are always completely charged when you connect it into a shore power outlet. When the generator is running, it also ensures that the battery is fully charged.
However, keep in mind that, although having a battery charge mechanism, the item only offers a very modest charging current.
In other words, it won't be able to charge home batteries effectively if they're low on charge.
In this case, a high-output, self-contained battery charger is required.
How to Troubleshoot an RV Converter
When your RV converter is unable to execute its intended job, there are a few things to consider.
If that's the case, you'll need to do some simple troubleshooting in order to get it working again.
When troubleshooting, keep in mind that the machine requires appropriate voltage input to run and function properly.
Begin by scrutinizing or evaluating the voltage at the precise socket where your RV was plugged in.
Check the voltage of the campsite outlet using a portable multimeter.
The voltage should be between 108 and 130 volts, although 120 volts is preferable.
The next step is to see whether the circuit is protected by a GFCI (ground fault circuit interrupter).
Whether this is the case, check to see if the interrupter has been triggered.
Another item to look at is the electricity going into the converter in the RV.
Look inside to see if there are any fuses.
Any burned-out fuses must be replaced with the appropriate replacements.
The next step is to pay attention.
If your device hums, you'll know it's in good working order.
The next step is to take a DC voltage reading.
This is the voltage at which the electricity from your converter is sent to the DC breaker box.
If the voltage is at 12-14 volts, you know it's working well.
Any value less than that indicates a faulty RV converter.
Another thing to keep in mind is that RV converters include a tiny fan that serves to cool the internal components while the units are operating.
While utilizing the converter, the cooling fan tends to switch on and off.
It is also controlled by a temperature sensor.
A 120-volt AC power supply is also used for the cooling fan.
With that in mind, be extra cautious while measuring voltage.
Make as much use of the AC meter scale as feasible.
Also, make sure that the voltages reach the cooling fan's motor via the sensor.
If you observe that its motor operates smoothly, this indicates that you may jumper wire the sensor to enable the cooling fan to work.
Another option is to upgrade to a multistage charger, which may be accomplished either by adding new components or by changing the whole device.
This will have a significant impact on the battery's performance.
The good news is that there are a variety of innovative and high-tech options available today.
With that in mind, you should be able to select one that meets the adaptability and power requirements of your RV.
Make a habit of inspecting the RV converter on a regular basis.
This will assist you in quickly identifying problems and resolving them.
Getting your converter to operate for as long as possible will never be an issue if you master these troubleshooting and maintenance recommendations.
You may expect it to last a long time if used properly.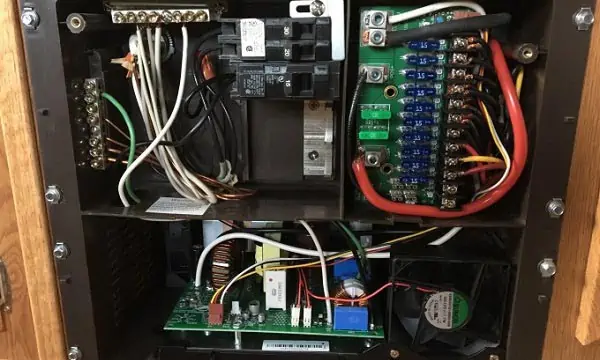 FAQs
I'm not sure what size RV converter I'll need.
The amount of RV converter you need is determined by the precise power requirements of the equipment you want to use at a given time.
In this instance, it's advisable to think about your appliance's surge power and continuous power ratings.
Make that the continuous rating is high enough to withstand all of the loads that are operating at the same time.
Also, make sure the converter can take the first surge of all loads that may start all at once.
The amps or watts of the appliances you want to operate should also go into your decision.
In my RV, where is the power converter?
The power converters are usually located near the electrical control panel in RVs.
Owners of RVs should search for a tiny fan or vent near the control board to disperse heat generated by the converter.
Behind the fan or vent should be the converter.
Turning off all motorhome lights, the air conditioner, and other loud equipment might also help find the RV power converter.
People may listen for a small humming or buzzing sound and follow it to the position of the converter.
If this procedure does not work, the RV manufacturer may be contacted to discover the position of the power converter.
Alternatively, RV owners may confirm the device's exact positioning in the owner's handbook.
Some RV owners, however, may no longer have the owner's manual.
In such scenario, users might look for printable PDF user instructions on the internet.
On the RV community forums, people may also ask questions.
There's a good likelihood that other RV owners know where the power converter is in the travel trailer.
What kind of guarantee does an RV converter come with?
It all relies on the brand and manufacturer or provider of your RV converter.
Popular RV converter manufactures typically carry a guarantee of 1 to 5 years in most circumstances.
Just make sure you understand the warranty requirements before purchasing an RV converter.
Make sure you receive one with a working serial number.
Note that in most circumstances, this serial number is required for any warranty-covered service work.
It also ensures that the services you use are handled efficiently and effectively.
What is the purpose of a power converter in an RV?
Vent fans, lights, thermostats, freezers, and other onboard devices are often powered by the RV power converter.
It's important to remember that this power converter for your RV is only required if you want to charge your RV batteries after plugging them into shore power.
If you're going to utilize a generator, it could be necessary.
If you live in an area where there is a lot of sun and you utilize solar electricity, you may avoid using the converter.
However, since the weather in most places is dynamic and changeable, it is advisable to have this installed in your car.
What is an RV converter and how does it work?
When you connect the RV converter into a source of energy or power, or when you use an onboard generator, it starts working.
In this situation, the converter's primary function is to convert 120-volt AC to 12-volt DC, which is then used to power all of your onboard 12-volt appliances, facilities, and accessories.
If you are not connected to an electrical source, the battery in your recreational vehicle will provide power to all of your 12-volt facilities and appliances.
If this is the case, the RV converter's purpose is to keep the battery from draining once you've hooked it in.
How can you determine if an RV converter is defective?
There are a few indicators that will allow you to quickly assess whether your RV converter is already failing or performing poorly.
However, in the vast majority of situations, you will be able to tell whether your converter is performing poorly or is defective if it stops working.
Your 12-volt DC controllers or fixtures may lose all power as a consequence of this.
Another clue is if your RV converter still provides power but it is insufficient, preventing it from running your 12-volt DC gadgets.
However, the issue is generally not seen until the 12-volt batteries onboard have completely depleted their charge.
This is the primary reason why you must keep a close eye on the condition of your RV converter.
How do you put an RV converter together?
Although RV owners may install an electric converter for their camper themselves, it is recommended that they hire a professional to do so.
However, if the procedures are followed to the letter, the process might be simple.
1. Disconnect the RV's battery ground cable and disconnect the RV from the shore power.
2. Select a place for the camper converter that allows for good ventilation and heat dissipation. It's advisable to put the converter somewhere where nothing can get in the way of its cooling fan.
3. Read the electrical wiring schematic provided by the converter manufacturer and follow the method step by step. Four terminals with color-coded wires are found on most converters. The white wire connects to the negative battery terminal on the RV, while the black or blue wire connects to the shore power. A black or red wire connects to the battery feed terminal on the RV, while a white cable connects to the ground post on the shore power.
4. Connect the RV battery wire to an electrical outlet and reconnect the RV's umbilical power connection.
5. Using a voltmeter, check that the current is less than 14 volts.
What is the best way to replace an RV power converter?
It's not difficult to replace your old and broken RV power converter.
It just needs a basic installation procedure.
All you have to do is search the market for a very dependable converter that precisely meets your requirements.
Installing the new converter will be simple once you get it.
There are also fan-cooled RV converters that provide steady and clean 12-volt DC power to your lights and other onboard equipment in your RV, camper trailer, or motorhome.
Choose versions with 45 amps, 60 amps, or 80 amps if feasible, so they can precisely match the power needs of your car.
If you want to upgrade an outdated travel trailer or motorhome or repair your 12-volt DC breaker panel, a power converter, which also comes with a trustworthy breaker system, is a good option.
It will provide you with clean and reliable 12-volt DC power that you can use to power your car.
What is the cost of replacing an RV converter?
Depending on the amperage rating and features of the converter, the cost of replacing an RV converter may range from $150 to $1,600.
A 30 amp RV converter, for example, is less expensive than a 50 amp RV converter.
The average RV owner spends at least $400 on a replacement unit.
Although it may be tempting to save money by replacing the RV converter yourself, it is preferable to hire a professional since many individuals find the installation difficult.
For changing the converter, some RV experts charge $65 per hour, while others charge as much as $189 per hour.
While hiring a professional may increase the cost of replacement, it is well worth it for your safety.
After all, no one wants to be stuck in an RV with a ticking time bomb.
Is it possible to use an RV converter without a battery?
It is dependent on the kind of converter.
Before removing your converter from the battery, be sure to check with the manufacturer.
Even so, replacing the batteries as soon as possible is critical, particularly if you plan to tow your RV.
How can you tell whether your RV converter is in good operating order?
If your RV converter accomplishes its primary purpose of converting home electricity to battery power, it is in good operating order.
With this feature, you may anticipate the converter to charge the RV power converter's batteries automatically.
If it is successful in giving appropriate power to lights, thermostats, vent fans, refrigerators, and other equipment within your recreational vehicle, you can be sure it is operating effectively.
 
What is the best way to test an RV power converter?
You may test your RV power converter in a handful of different methods.
One method is to discover where your recreational vehicle's 120-volt electricity enters the system.
In this scenario, a voltage meter may be used to determine if power is being fed to the converter charter.
After that, you'll need to connect your car to a functioning generator.
The most essential thing to remember in this phase is to double-check the reading.
The optimal reading in this scenario is between 103 and 130 AC.
Any harm to your cellular gadgets or appliances will be avoided with such a range.
If the voltage measurement exceeds 120 volts, there's a danger your onboard appliances may be damaged or cause further electrical issues while you're on the road.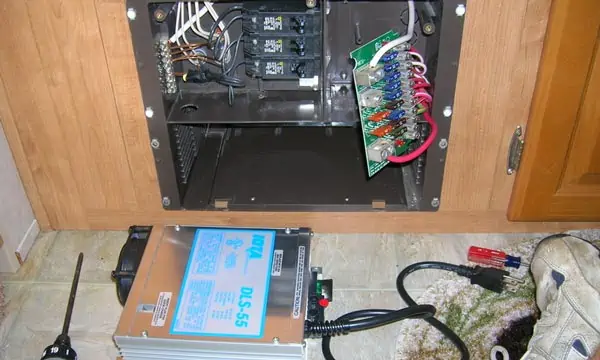 Conclusion
The finest RV converter is an essential part of any recreational vehicle, particularly if you want to ensure that all of your gadgets work as they should.
Fortunately, with the correct knowledge of the many goods available in this business, picking the ideal one for your unique rig is simple and straightforward.
Thank you for taking the time to read this article.
With our evaluations and ratings, you can learn more about how to pick the best RV solar panels and RV generators.
Please also have a look at the most reliable RV surge protectors, RV inverters, and RV deep cycle batteries to ensure that you choose the proper one for your RV's power and electrical needs.
Best RV Converter Videos Suggestions From Youtube