Are you having trouble deciding which solar charge controller is ideal for RVs? Many rig owners struggle with this duty, so it's vital to know you're not alone.
There are several moving pieces, resulting in much more complication than is required.
However, by assisting you through the whole procedure, I want to minimize these concerns.
This advice will cover a wide range of subjects, including identifying purchase criteria, advantages, and which kind best suits your requirements.
I'll also go through 14 solar charge controllers that I believe are the finest on the market.
All of these interactions should provide a customer with all of the information they need to make an informed purchasing choice.
Continue reading, and I'll make sure you make the best decision possible.
Reviews of the Best Solar Charge Controller for RVs
This section will have 14 reviews to give you a better idea of what's out there.
These RV solar charge controller reviews will help you understand what a top-tier solar charge controller looks like and what it can do for an RV owner.
Renogy's Wanderer Li 30A 12V PWM Solar Charge Controller has a stellar reputation among solar-powered rig owners.
It has a number of characteristics that make it considerably simpler to use this natural resource.
The LED indicators, for example, are a great example of one.
They notify users to important battery information and charge status.
These lights will keep you informed about the status of your rig's battery throughout the charging process.
This product's battery lithium battery mode was also a big hit with me.
This design element gives you more flexibility than most other PWM alternatives.
This mode, after all, enables the controller to function with a wide range of 12V battery banks and kinds, including most 12V lithium versions.
Another appealing feature is the device's user-friendly UI.
Several consumers remarked on how easy it was to use this gadget in comparison to other brands.
This compliment appealed to me as someone who loves simplicity.
When you consider the product's RS232 port, which enables consumers to connect to Renogy's Bluetooth module, it becomes much simpler.
This functionality allows you to control and monitor anything from your smartphone using an app.
None of these characteristics, however, can compare to the product's finest feature: its pricing.
There aren't many solar charge controllers that can provide effective outcomes for this price.
When looking for a product like this, it's always wonderful to find a good deal.
I was a little dismayed to see that this model lacked a built-in battery temperature sensor.
It does, however, have a connector for one, so you may purchase that sensor separately.
It's a bit of a pain, but the low cost of this gadget may be well worth it.
EEEKit's RV PWM Solar Charge Controller is a great option if you're searching for a basic model.
It's regarded as one of the most user-friendly RV solar controllers on the market today.
But don't let its simplicity fool you; it has some impressive features.
The product's huge LCD display, for example, is a feature that everyone will like.
It will ensure that viewing the status and data information is simple.
Even when a beam of sunlight reaches your computer, the icons and screen are easily visible.
This display also makes it simple to switch modes and change certain charging process settings.
As a consequence, while using this RV solar panel controller, the user will never feel out of control.
The many built-in safeguards in this device should also appeal to you.
Short-circuit, reversal, overload, and open-circuit safeguards are all included, ensuring that everything runs smoothly.
In reality, these safeguards will significantly extend the life and efficiency of your battery.
Each one is a great addition to guarantee that you can use the charge controller and your rig's battery for a long time.
However, the device's biggest selling point is how simple it is to set up and use.
Anyone who reads this essay shouldn't have any trouble putting it up or utilizing it.
Trust me when I say that if I can accomplish both, you shouldn't have any problems.
However, I wish the manufacturer's customer service had higher ratings.
In this PWM solar charge controller review area, several customers felt compelled to express their dissatisfaction with it.
However, I do not believe that this problem should dissuade anybody from considering the product.
EPEVER's MPPT 30A 12V/24V RV Solar Controller is one of the most efficient solutions available.
This device makes use of superior MPPT technology to achieve a 99.5 percent efficiency rate.
Most of its rivals can't come close to matching this outcome.
You should also be happy with its conversion rate of 98 percent.
This feature guarantees that the product can fully use the energy generated by your solar panels in order to charge your solar power system.
If these figures aren't enough to persuade you, the largely good feedback in this MPPT charge controller review section should.
There's no reason to suppose this product won't work as advertised and produce the outcomes it promises.
Another feature worth noticing is the product's isolated RS485 port.
Using an app on your phone, you can easily monitor and alter settings.
You won't find a more user-friendly method of operation than one that you can operate with your hands.
In terms of safety features, this EPEVER solar charge controller has various built-in safeguards.
Over-discharging, overcharging, and PV reverse polarity safeguards are among the features that guarantee your solar system operates securely and reliably.
The only drawback to this item is its price.
If money isn't an issue, I don't understand why this equipment shouldn't be purchased.
It contains everything a person may expect in a product and provides positive outcomes.
What could a rig owner want more than that?
Renogy's Adventurer 12V/24V PWM Charge Controller is a good alternative for buyers who want an easy-to-mount solution.
It was created to be flush mounted on the inside walls of a camper or motorhome.
This product's adaptability should also appeal to you, since it can operate with sealed, flooded, or gel batteries.
Furthermore, it is compatible with both 12V and 24V, allowing it to be utilized in a wider range of settings.
I also found the product's 4-stage charging to be more than enough.
Over-charging and over-discharging difficulties may be avoided using this four-stage approach.
It's a simple technique to extend the life and performance of your battery in a motorhome.
It features the same built-in precautions as our previous alternatives to prevent any future issues: overload, short-circuit, overcharging, and reverse polarity.
The device even has a self-diagnostic mechanism to provide an extra degree of defense against system flaws or installation errors.
You may feel certain that this model is more than capable of coping with any problem that arises.
As a consequence, I believe Renogy has covered the majority of the features a consumer would seek for in these products.
The device's pricing does not harm its argument, though.
It should be well under any reasonable price for a PWM solar charge controller.
I wouldn't mind spending this much money on the quality of this device's creation and adaptability.
However, I was disappointed to learn that several consumers had expressed worries about the device's lifespan.
After a few years of use, it seems that the product will break down.
If you're seeking for a longer-term solution, these worries may lead you to explore elsewhere.
Because it is one of the most modern solutions available, Victron's SmartSolar MPPT 75/15 Solar Charge Controller is a popular choice among rig owners.
Its design incorporates cutting-edge technology, providing it with qualities that enable it to function well.
The product's use of Bluetooth is one of these features.
It will guarantee that you can monitor and operate the controller using a device such as a smartphone, as with any Bluetooth function.
It ensures that you can control the controller from practically any location.
When the installed device utilizes your internet connection, you'll have access to the Victron Remote Management Portal.
It's a feature that allows you to have complete control and power over this gadget regardless of where you are or what time it is.
As a consequence, these features work together to guarantee that you never miss a bright day when it comes to charging your rig's battery.
The inclusion of MPPT technology in this product attracted buyers, since it prevents any electricity generated by your solar panels from being wasted.
The load output function of the product should also not be disregarded.
It will assist to avoid damage from flat batteries, ensuring that your batteries run for a long period with no problems.
To be honest, any function that increases battery life is always a winner.
The SmartSolar's battery life function should also impress you, since it ensures that the SmartSolar tries a full recharge every day.
This feature will disconnect electricity every day until your battery achieves full charge capacity if it is unable to finish the recharge.
In this Victron solar charge controller's evaluations, however, some consumers did mention a few shipment concerns.
This product seems to come late or in damaged packaging on occasion.
However, this shouldn't deter you from choosing this gadget since its performance is worth putting up with these drawbacks.
Another MPPT controller that can effectively monitor the charging process of your solar system is the OOYCYOO 12V 24V Auto 40/60/80/100A RV Solar Regulator.
It will guarantee that the electricity generated by your solar panels is utilised to its full potential.
Buyers will like its great durability in addition to its efficient tracking outcomes.
This may be attributed to its ABS housing, which is resistant to heat, impact, and low temperatures.
I can't think of a circumstance in which this model wouldn't meet its usual excellent standards.
The metal cooling teeth on this device also pleased me.
This design feature is added to aid with heat dissipation.
As a consequence, the working temperature will be kept low, lowering the danger of overheating.
The LCD display on the device is another great feature that allows you to keep track of what's going on.
It'll keep you informed about vital details like whether or not the batteries and solar panels are linked to the controller.
You'll also benefit from a number of other well-known features that I've detailed in previous reviews.
Multiple levels of built-in safeguards, multi-stage charging, and compatibility with numerous battery types are among them.
Each of these characteristics will only add to the model's utility and attractiveness.
It's difficult to envision a rig owner being dissatisfied with the features of this RV battery charge controller.
You may even choose from nine different color schemes.
However, all of these great advantages come with a major disadvantage.
As you may expect, the price of this equipment is rather high.
To take use of these fantastic features, you'll have to part up a substantial sum of money.
Are you seeking for a solar charge controller that can handle a variety of applications? The RICH SOLAR 40-Amp 12V/24V MPPT Solar Charge Controller may be ideal for your requirements.
It has the ability to detect both 12V and 24V DC system voltages automatically and effectively.
This model works with a variety of deep cycle batteries, including flooded, lithium, gel, and sealed batteries.
As a consequence, this gadget will appeal to a broad range of circumstances where a solar charge controller is required.
You may also choose between three different amperage options: 20-amp, 30-amp, and 40-amp.
RICH SOLAR made a concerted effort to guarantee that their product could be used in as many different settings as feasible.
But none of this variety would matter if the product was ineffective.
Because our gadget employs MPPT technology, this isn't the case.
This technology enables the gadget to have a tracking efficiency of at least 99 percent, which is among the best among these items.
Its overall design, which is composed of die-cast aluminum, will also benefit you.
To avoid overheating, this design material will keep everything cool.
With a design like this, there's no reason to think the product will be prone to wear and tear.
The RS232 connector on this gadget impressed me since it enables the user to utilize Bluetooth connectivity.
This feature, like some of the others, guarantees that you can operate the gadget via a smartphone app.
The RS232 connector on this gadget impressed me since it enables the user to utilize Bluetooth connectivity.
This feature, like some of the others, guarantees that you can operate the gadget via a smartphone app.
The Flexmax 80 FM80 MPPT 80 AMP Solar Charge Controller from Outback is the priciest choice on our list.
However, there's a reason for the increased price: it has functions that the other alternatives don't.
This solar charge controller, for example, may be programmed to charge voltages ranging from 12 to 60 volts.
Most of our other alternatives can't compete with this level of customization.
This product's illuminated display, which has 80 characters, also amazed me.
Unlike any other charge controller, this display will provide more information regarding the process's state.
The screen will even keep track of system performance for up to 128 days.
As a consequence, you'll have all the information you need to stay on top of what's going on with your solar panels and batteries.
The device also uses active cooling technology and thermal management cooling to guarantee that it performs to its full potential even in temperatures as high as 104 degrees Fahrenheit.
It also doesn't hurt that the product's use and installation methods are both simple.
During my time with the gadget, I found both chores to be a simple to do.
It also helped that the supplied instructions were simple to read and follow.
Outback's customer service was also praised by several purchasers, which is unusual in the consumer industry.
To be honest, I couldn't locate a single individual who was prepared to criticize their customer service.
I simply wish this device didn't cost as much as it does, given that it fulfills all of my requirements for a charge controller.
However, if you're seeking for the greatest choice, you won't find one more equipped than this.
If you're searching for a budget-friendly alternative, the ALLPOWERS 20A RV Solar Charger Controller is a good choice.
It's really one of the most affordable solutions on our list, and it's not short on high-quality features either.
The product's simple installation method is one of these benefits.
Several customers even said that setting up this device was more easier than setting up their previous controllers.
Given the cost, several people were surprised at how simple it was.
This product's capacity to provide top-flight heat dissipation also amazed me.
This feature is critical because it stops the core temperature from rising too high, preventing overheating.
As a result, the product may function properly without any problems.
The two USB ports are also not to be overlooked.
Both of these ports will be quite beneficial in that they will allow you to charge a variety of devices.
It's another example of ALLPOWERS' commitment to making their products user-friendly.
The product's LCD display and several built-in safeguards should also appeal to you.
These characteristics are critical in ensuring that anyone is fortunate enough to purchase this amazing product does so in a safe and simple manner.
Despite all of these wonderful characteristics, the most notable aspect is the pricing.
ALLPOWERS is offering a great deal on this model, so bargain hunters should take advantage of it.
It's a fantastic charging controller that's also reasonably priced.
When it comes to durability, though, the item isn't the most dependable.
Given the price, this shouldn't come as a surprise, but it was mentioned in a few reviews.
However, I still believe that purchasing this model is worthwhile, since its benefits greatly exceed this one drawback.
The 60A MPPT Solar Charge Controller from Onesolar is a strong candidate for finest MPPT charge controller for the money.
It achieves this position thanks to features like as its real-time energy analytics function, which keeps customers fully informed about the charging process.
This function allows you to quickly see operational statistics and the device's current status.
Of course, the LCD display's clarity and readability aid in this regard.
Both of these characteristics combine to make this model useful to the person who uses it.
This product's capacity to function with 12V, 24V, and 48V solar panels piqued my interest.
This feature makes the product useful for a broad range of rig owners.
In each of these cases, the product's MPPT technology has shown to be more than enough.
Short-circuit, reverse polarity, overload, over-discharge, overcharge, overheating, and under-voltage are all built-in precautions, so you don't have to be concerned about safety.
In other words, this Onesolar gadget has accounted for everything that may go wrong.
Aside from its amazing functionality, I was pleased to learn that this model offers several color options.
Even though it may not seem to be a major problem, I usually find it useful to have some aesthetic alternatives with these gadgets.
During your RVing travels, you won't have to deal with anything you don't want to look at.
However, hearing a few consumers complain about durability difficulties irritated me.
These aren't the kinds of issues I'd anticipate from a high-end company like Onesolar.
It's also worth mentioning that many other consumers were satisfied with their purchase.
It's conceivable that these were one-off occurrences rather than the norm.
Given the excellence of their last two, we shouldn't be shocked to see another Renogy on our list.
The Rover 40 Amp MPPT 12V/24V Solar Charge Controller from Renogy distinguishes itself from the other two variants by using MPPT technology.
As a consequence, consumers should anticipate greater outcomes from this model than from earlier Renogy models.
The device's capacity to function with both 12V and 24V solar power systems was also a plus.
The product's four-stage charging procedure might be very beneficial to both sorts of systems.
In fact, it'll function in tandem with the device's ability to regulate for temperature to extend the life of your battery.
It will also improve the overall performance of your system.
This model is also compatible with a variety of deep cycle battery types, including lithium, flooded, gel, and sealed batteries.
It's apparent that Renogy's gadget is ready to use its excellent MPPT technology in a variety of settings.
Aside from these characteristics, this device has all of the functionality I've come to expect from a charge controller from this manufacturer.
An LCD screen, LED indicators, an aluminum heat sink, and Bluetooth capabilities are among the features.
There isn't a single feature missing from this model that I would like.
This business done a fantastic job of covering all the bases in terms of what a rig owner could want in a solar charge controller.
It also helps that it's simple to set up and utilize.
However, I was disappointed to see Renogy get poor customer service ratings.
There are just a few complaints, but based on my previous experiences with the brand, this is something I didn't expect to see.
The Xantrex 40-amp Solar Charge Controller accomplishes its work without causing any difficulties or inconvenience to the user.
Because of its reputation for having a rapid and easy installation procedure, it may provide this advantage.
Because this model has several complicated characteristics, I was surprised at how simple it was.
However, even for someone like myself who isn't very good with electronics, the instructions were clear, precise, and simple to follow.
Aside from the simplicity of installation, I was pleased with the product's strong microprocessor, which extends the life of your battery.
You may rest comfortable knowing that this feature was designed with stability in mind and operates quietly.
Another enticing feature is the product's three-stage battery charging cycle.
This cycle ensures that the current and voltage settings appropriately reflect the level of charge of your battery.
As a result, the charging procedure will be as quick as possible, keeping your battery in top condition for longer.
You may rest easy knowing that this device complies with both UL and cUL safety requirements.
These certifications show that the gadget was thoroughly tested before being given to the public.
It's an extra layer of protection to guarantee that nothing bad happens as a result of its use.
Its flexibility to function with 12V, 24V, and 48V systems will further please buyers.
The product's PWM technology has shown to be more than competent in monitoring a solar power system's charging process in each of these scenarios.
The fact that this model has a few reviews talking about its durability was a little concerning.
After a few years of frequent usage, the device seems to have durability difficulties.
Even if the scenario isn't perfect, it's still one of the finest PWM solar charge controllers on the market.
Sunway Solar Panels' 12V Solar Charge Controller is a good option for rig owners who don't plan to utilize their solar electricity all of the time.
It's a basic, practical instrument that can easily monitor the charging process of your solar system.
The ease with which this product may be installed is appreciated by the majority of purchasers.
This feature stems from the rapid connect and disengage clips' versatility.
The controller can be easily attached to your solar panels and batteries thanks to these clamps.
The LED indications on this gadget were really enticing to me.
These lights will indicate if the battery is suffering low voltage (green), charging properly (yellow), or facing excessive voltage concerns (red) (red).
These three indicators make monitoring more easier than it would be on a low-cost device like this one.
The ABS plastic casing of the device also makes it more robust than expected.
I couldn't believe individuals were praising the product despite the fact that their evaluations were harsh.
To be honest, I don't think tough comes to mind when I'm looking at a cheap purchase like this one from Sunway Solar Panels.
However, the key benefits of this type are its ease of use and low cost.
Buyers who are looking for a good bargain should not sit on their hands and wait for something better to come along.
Given the product's consistent features and performance, it nearly seems too wonderful to be true.
I was surprised to see that this option did not include a weatherproof solar charging controller.
For someone who owns an RV, this may be an issue.
However, the cost and features make coping with the inconvenience worthwhile.
#14. Go Power! GP-PWM-30-Amp Solar Regulator
Go PowerGP-PWM-30-Amp !'s Solar Regulator might be an excellent alternative if you're seeking for a highly functioning PWM type controller.
It comes with a long range of impressive features that any rig owner would appreciate.
The product's built-in USB charging port is one of these characteristics.
This feature piqued my interest since it assures that you may charge a variety of devices, from phones to laptops.
It has a little more flexibility than you'd expect from a charging controller.
Another element that drew my attention was the product's four-stage charging method.
When you charge your rig's batteries, it will prevent any overcharging.
This gain may be attributed to the crucial fourth step of equalization.
Its equalization step ensures that every cell in a battery bank is charged at the same rate, eliminating the risk of undercharging or overcharging.
As a consequence, your batteries will function for a longer amount of time and be more productive.
The LCD display on this device was also a hit with buyers.
Many of them went out of their way to compliment it for being more user-friendly than their prior models.
It's always a plus when one of these gadgets makes keeping track of the charging process simple.
This device is also compatible with a variety of battery types, including lithium, wet cell, gel, and AGM batteries.
It's simply another feature that demonstrates the model's general adaptability and ease.
However, I was disappointed to see two problems in the evaluations for this RV solar controller.
A few buyers complained that the product's screws came free from time to time, raising questions about its durability.
Furthermore, for a PWM model, it has a pretty hefty price tag.
Buyer's Guide to the Best Solar Charge Controller for RVs
Purchasing an RV solar charge controller may be a time-consuming procedure that needs much more consideration than most people realize.
In reality, a number of critical elements will play a big influence in selecting which one is most suited to your requirements.
I'll go over these characteristics in more detail below so that a consumer understands what the finest solar charge controllers should look like and what they should provide.
As a consequence, making the best decision will be a lot easier and less stressful.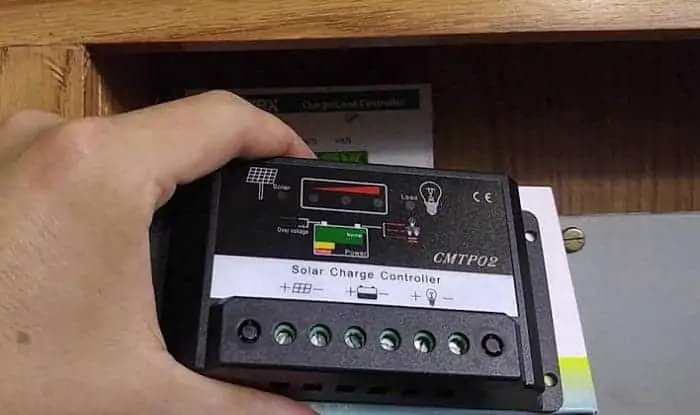 #1. The Amp Rating of the Charge Controller
The amp rating of any product is one of the first things to think about.
This factor is important since it determines the maximum amps that may be directed at your batteries.
A person with 100-watt solar panels with six amps of electricity, for example, would not need a 10-amp charge controller.
This condition would need a higher amperage requirement, which the charge controller would be unable to provide.
To put it another way, your two 6-amp solar panels will generate 12 amps, but the controller will only use 10.
It turns out to be a waste, which is the last thing any rig owner wants.
To prevent this problem, I recommend purchasing a solar controller with a 25 percent greater amp rating than the maximum output of your solar panels.
This 25% wiggle space will aid in planning for times when solar panels generate more electricity than predicted.
During RVing trips, it happens a lot more frequently than people think.
To take use of it, you'll need all of the essential tools.
Plus, having an extra 25% will allow you to install more solar panels in the future.
#2. Switch or On/Off Button
Some charge controllers don't include an on/off button or switch, which is one of the most useful functions.
Although it may seem to be a required design feature, certain alternatives will be missing.
If you're anything like me, you should avoid these goods at all costs.
It is easy to comprehend why it is necessary.
An on/off switch enables you to turn off the gadget without removing the battery fuse.
As a result, this feature makes it more simpler for RV owners to use the product.
It turns out to be an important consideration that no one should disregard throughout the procedure.
So, before you purchase, double-check that your RV solar charge controller includes one.
It's not a choice that any rig owner will come to regret.
#3. Adjustability
Another element to consider is the adaptability of each product.
To be honest, I'd suggest looking for a model that has an adjustable charging voltage set point.
It will enable users to adjust voltage throughout the charging process of the panel depending on the battery type: gel, AGM, or flooded lead-acid.
Owners of rigs who are unsure about the proper voltage can contact the battery's manufacturer for further information.
These businesses will have no trouble giving the information required to make the ideal change.
In any case, having an adjustable shifting voltage setpoint will help the charging process go more smoothly.
This function will very certainly be included in the repertoire of every top-tier option.
#4. Is There A Switch To Switch Between Dry Camp And Shore Power?
Any rig owner would be prudent to seek for a dry camp/shore power switch as an option.
You'll be able to switch your battery's charge setpoint between standby and maximum power.
As a consequence, the charging process' efficiency will be maximized.
When going outside of an RV park or campsite, owners should switch to maximum power.
Whenever you're not connected to a shore power source, high power is the best option.
You're better off utilizing standby mode if you're using shore power.
This mode will also come in handy if you're storing your rig for an extended length of time and want to keep your batteries charged.
Given this information, it's easy to understand why this function is regarded as a must-have for any top-tier choice.
#5. Durability
When purchasing gadgets such as a solar charge controller, durability will always be a factor.
You'll want a solution that can provide exceptional outcomes over a long period of time.
As a result, consumers should look into the materials used to create their selected model.
To estimate the durability of any product, I recommend reading both the product description and user reviews.
These sites should provide you all the information you need to determine if it'll keep up over time.
#6. What About A Temperature Sensor For The Battery?
The designs of most high-quality charge controllers will contain a battery temperature sensor.
What is the purpose of this feature? It will guarantee that your batteries are never overcharged or undercharged, ensuring maximum efficiency.
This will be provided via battery temperature sensors, which will examine your battery's temperature and alter the charging setpoint appropriately.
This process guarantees that problems like excessive water loss or plate sulfation don't raise their ugly heads.
To put it another way, a battery temperature sensor will help maintain your batteries in excellent operating order.
It also doesn't hurt that this feature ensures that your batteries are always charged to the correct amount.
#7. Cost
The pricing of each product will also influence your ultimate decision.
Some of these solar charge controllers can be quite pricey, so having a well-planned budget is essential.
It's critical to consider what you want from one and to establish reasonable budget ranges based on your desires.
Someone who wishes to acquire a battery temperature sensor, for example, will have to pay extra.
To be realistic, your budget should include this rise.
By restricting your options, this tool may make the whole procedure more manageable.
You should be able to navigate through all of the choices much more easily after that.
After all, the budget will ensure that you are selecting from options that are tailored to your requirements.
It will result in a more efficient purchasing procedure.
FAQs
Our FAQ section will aim to address and answer any unanswered queries you may have.
It should be the last resource used to make an informed conclusion throughout this process.
After reading this section, you should be able to make an informed decision.
What is the purpose of this?
The first thing to understand about solar charge controllers is that they serve as the heart of your RV's solar system.
It will guarantee that everything in these systems runs smoothly and efficiently.
Because it controls the voltage and current flowing from your solar panels, it's capable of filling this duty.
These charge controllers will prevent your batteries from getting overcharged as a result of this.
Your batteries will not charge properly if you don't have one, and they may be damaged.
It will, at the very least, significantly reduce their longevity.
Because of this, they're a must-have for anybody wishing to employ solar panels on their RV vacations.
Of course, this remark does not apply to folks who use trickle chargers, which are smaller panels.
The benefits and drawbacks of utilizing a solar charge controller in an RV
Dealing with variable weather conditions is one of the most difficult aspects of owning an RV solar power system.
Regardless of what any weatherman/weatherwoman says, it's a variable that only Mother Nature can manage or forecast.
As a consequence, solar energy is relatively unreliable due to weather conditions.
Its strength varies on a variety of conditions, including the season, location, time of day, and so on.
Due to a variety of variables, your rig's solar panels may sometimes be unable to supply enough electricity to fully charge your battery.
In other circumstances, the sun may be too intense and provide an energy burst, ensuring that your panels function to their full potential.
Both of these scenarios would result in a significant quantity of solar energy issues, which might damage your rig's batteries or battery.
A shortage of energy, for example, might result in an ultra-low discharge, reducing the battery's lifetime.
An excessive quantity of solar energy, on the other hand, may cause your battery to overheat, drastically lowering its lifetime.
On a journey, a rig owner does not want to cope with these kinds of situations.
A solar charge controller comes in helpful in this situation.
It'll be installed between your solar panels and battery to regulate how much electricity your battery receives.
As a result, it will ensure that the battery does not have a low discharge rate or overheat.
You now have a better understanding of the advantages of having one of these gadgets.
It's a good approach to ensure that your rig's solar energy system operates at peak performance for a long period.
In terms of drawbacks, I can't think of a single reason why a solar RVer wouldn't want or need one.
However, these goods will be an extra expense that rig owners must include into their budgets.
What size solar charge controller do I require?
When it comes to determining what size solar charge controller is required for their scenario, RV owners are prone to getting a bit twisted out of shape.
But I guarantee that finding it out isn't as difficult as you would think.
With the appropriate direction, it's really rather simple to find out.
First and foremost, these controllers are rated depending on two factors: the current (amps) of your solar array and the voltage of your rig's solar system.
As a result, customers will need a system that can manage the power and current generated by your solar energy system.
Buyers will almost always need a controller with one of the following volt ratings: 12, 24, or 48.
However, it's important to remember that devices with volt ratings ranging from 6 to 60 bolts are available.
Similarly, their amperage ratings will vary from 1 to 60 amps.
This level of diversity causes individuals to become more perplexed than required.
After all, a customer has a wide range of options to pick from.
But, once again, there's no need to be concerned since determining what's best for you isn't difficult.
A rig owner with an RV solar system with 14-amp and 12-volt ratings, for example, will need a charge controller of at least 14 amps.
Other things to consider include light reflection, random increases in current levels, and so on.
However, you may avoid this problem by purchasing a model with an amp rating at least 25% greater than your solar system's.
As a consequence, a 14-amp system would need at least a 17.5-amp charge controller.
To power your system, I recommend getting a 12V type with a 20-amp rating.
After all, no manufacturer will create a 17.5-amp item, so you'll have to round up a little.
Isn't this additional amperage, though, harmful to your solar system? It doesn't, since experts often advise purchasing one with more than a few more amps.
This step will allow you to easily install extra solar panels.
PWM vs MPPT: which is better?
During your search, you've probably come across the words PWM (Pulse Width Modulation) and MPPT (Multiple Pulse Power Transmission) (Maximum Power Point Tracking).
They were used to categorize charge controllers into two groups.
Each kind, as you would think, has scenarios where it would be a better alternative than the other.
I'll go through both types below so you can figure out which one is ideal for you.
PWM (Pulse Width Mod (Pulse Width Modulation)

Within this sector, PWM solar charge controllers are considered the older types.
As a result, these devices are often less expensive than MPPT versions.
The voltage and current coming from your solar panel into the rig's battery are regulated by these controllers.
Based on the voltage size of your battery, this PWM charge controller will calculate the amount of current your battery requires.
When this voltage reaches the battery, it will separate from the panel and keep the battery at the proper voltage.
These devices are recognized for lowering the danger of overcharging, in addition to providing a productive working procedure.
However, as compared to MPPT solutions, these goods have one major disadvantage.
They can only supply enough solar energy to meet the voltage requirements of a battery.
As a consequence of this defect, all energy generated in excess of the demand is lost.
As a result of this difficulty, PWM models are not the most efficient.
These gadgets should only be considered by buyers who want something basic and don't want to spend a lot of money.
MPPT is an acronym for Multi-Purpos (Maximum Power Point Tracking)

MPPT versions, as previously said, are the most sophisticated sort of solar charge controllers.
This is due to the fact that they are much more efficient than their PWM competitors.
It's a bit more difficult to describe how they operate.
The first thing to remember is that on those beautiful bright days, your solar panels will create more electricity than your battery can manage.
MPPT devices are meant to address this problem by transforming the increased voltage into more current.
These devices will then use the extra current at a lower voltage, resulting in no power loss.
As a consequence, a rig owner may more effectively utilize their solar panel's maximum output to charge a battery.
It's also worth noting that MPPT solutions are more competent and well-suited to coping with higher-voltage solar systems.
When the voltage ratings on your solar panels and battery don't match, you'll want to choose this kind.
In this case, PWM devices aren't going to function.
However, there is one disadvantage that comes with all of these great advantages.
These devices are much more expensive than PWM versions.
Because of this, it's critical to consider how much solar power you'll be using throughout your vacation.
If you're going to use it often, I don't understand how someone could believe buying anything other than an MPPT option is a good idea.
PWM devices are ideal for short-term solar power consumers since they don't put a huge hole in their wallet.
A 30 amp charge controller can handle how many watts?
It will depend on the model a consumer chooses.
In most circumstances, a 30-amp controller's maximum watt input will be between 450 and 600 watts.
Before making a final purchase, please double-check the product description for this information.
How do you set it up?
The installation procedure varies depending on the controller.
People may need to put them next to the solar panel, inside the RV with the battery, or outdoors with the batteries.
Some people may need to install it as a separate component from the panels and batteries, but it must still be linked to them.
In any event, transmission losses in a stand-alone system like an RV should be kept to a minimum.
This advantage arises from the fact that the power generated by your rig's panels is restricted to the amount of energy used by the load connected.
I'd also recommend keeping the charge controller away from any heat sources or moving components.
After all, it's one of the most important components of your RV's solar system.
It's important to minimize the number of possible problems to a minimum.
Overall, the design of a solar charge controller will be determined by the interior and architecture of your rig.
These factors have a significant influence on the positioning and commissioning of the solar system and its components on a rig.
What is the best way to utilize it?
The "brain" of your rig's solar system is the solar charge controller.
It'll operate with the other pieces to create power for the rig by controlling the discharge and recharge cycles of your battery.
These gadgets, in particular, will adjust and monitor the voltage and current based on the needs of your battery.
However, how you use it will be determined on the model you choose.
Some of these machines include a simple user interface with buttons for controlling the adjusting procedure.
You'll also come across Bluetooth-enabled alternatives, which let you manage anything from your phone.
The procedure of utilizing a product differs significantly from one to the next.
Do you have any suggestions for care and upkeep?
It's not difficult to maintain a solar charge controller.
It's only a matter of inspecting the wiring connections once a year to ensure they're clean and secure.
There isn't much to it outside of this assignment.
Conclusion
You now have all of the information you need to make an informed decision regarding the best solar charge controller for RV.
At this stage, it's all about putting everything you've learned into practice throughout your quest.
From there, finding the appropriate one should be rather simple.
But if you have any questions, please don't hesitate to ask them in the comments area.
I'll do my best to respond to your message as soon as possible.
Thank you for taking the time to read this!