Any RV or camper that has running water needs to have a water pump, especially if it is off the grid.
An RV water pump is used to transfer water from the fresh water tank of your RV to the sink faucets in your kitchen and bathroom, the indoor and outdoor showers, and the toilet.
The finest RV water pumps are reliable and, if at all possible, silent.
Regardless of whether your campground has a municipal water connection, you want a water pump you can trust to provide water where and when you need it.
Pumps may not last forever, therefore sometimes a new water pump is required, as we reported in a previous piece about replacing the water pump in our own RV.
In order to help you be ready in case "water pump replacement" ends up on your RV "Honey Do" list, today we're going to look at five of the finest water pumps currently available.
Which RV water pump is best for you will depend on a number of significant aspects, including water flow, power efficiency, water pump size, and the RV itself.
Let's start by looking at how your RV water pump works and how you can tell when it needs to be replaced.
How Do RV Water Pumps Operate?
An RV water pump's main function is to deliver water from the vehicle's freshwater holding tank to different water access locations including taps, showers, and toilets.
The water pump on an RV normally has to be connected to your 12V power source.
Typically, the size of the pump required to deliver enough flow to all locations will depend on the size of your RV.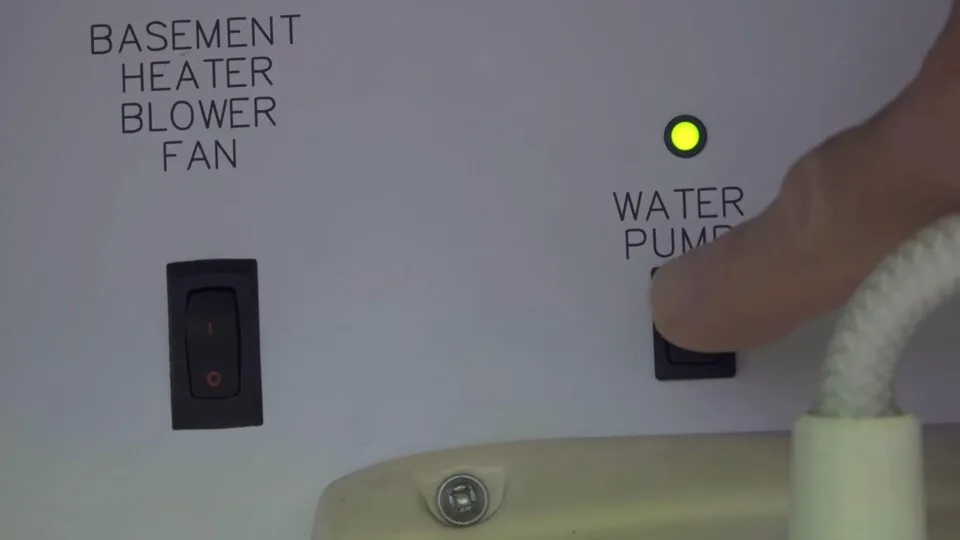 Advantages Of A Water Pump For RVs
The advantages of an RV water pump are substantial since it's a crucial element that enables us to camp in comfort wherever we go.
You can shower, flush the toilet, wash your hands and dishes, rinse off your muddy dog or your sandy shoes, brush your teeth, hard boil eggs, and pretty much anything else that requires running water in your RV without having to be connected to a municipal water source thanks to your RV water pump and your fresh, gray, and black water tanks.
You already know how much we like boondocking.
And even if we are camping in the middle of the desert, we can do all of the aforementioned tasks (with the exception of washing a muddy dog since we lack a dog).
We have a water pump that presseurizes our plumbing, distributing water from our fresh water tank throughout the system, making all of this feasible.
Let's look at how you could determine whether the water pump in your RV needs to be changed.
Does Your RV Water Pump Need to Be Replaced?
You may do some troubleshooting to assist you identify the problem's root cause if your water pump isn't working properly.
Here are a few of the most typical warning signs of a malfunctioning water pump:
No water is being turned on or moved.
Of course, the most apparent sign would be if you couldn't get water when you needed it or if the taps didn't work while the water pump was working.
It's audible.
The sound that the RV water pumps produce when the water is flowing is something that many of us can hear and have become used to.
Your water pump may need to be replaced if it starts to produce an odd or loud noise.
There is a leak in the water pump.
It could be necessary to repair the whole water pump or a damaged component if you inspect your water pump and see that the area surrounding it is moist or that water is dripping from the pump itself.
Make sure the leak is coming from the pump and not from a nearby plumbing connection by doing a thorough investigation.
Note: A leak or an open valve in your plumbing system may be the cause of your water pump operating even if you are not attempting to run water from any faucets, showers, or toilets.
However, air in the plumbing pipes might also be at blame.
Run water up at all faucets (and the toilet) until the water flows smoothly without air bursts before concluding there is a leak.
There is no leak if the pump's cycling stops.
If not, begin looking for indications that water is dripping from a pipe or plumbing connection.
Of course, check to see whether your fresh water tank is still full.
Depending on the problem, it's possible to fix a damaged water pump sometimes.
You may be able to fix the device if a gasket needs to be replaced or if a component of the pump is fractured.
However, there are many times when purchasing a new one is both simpler and more cost-effective.
This is partially due to the fact that water pumps are luckily not very costly or challenging to repair.
Let's now examine five of the top RV water pumps currently on the market.
The Top 5 RV Water Pumps.
The size of your RV is a consideration when deciding which of the following alternatives is best for you.
You should think about the required GPM and PSI for pumping water from your fresh tank to your faucets.
Even while having a high flow rate can entice you (more is better, right? ), because you'll be utilizing it without access to utilities, it might not be that crucial.
That's an important thing to remember.
Water conservation and utilizing your water pump go hand in hand as boondocking is when you'll be using it the most.
When replacing or improving a water pump, it's important to consider the potential current requirements.
Less than 10-amps are typically needed for pumps.
Therefore, you must make sure the wiring, fuse(s), switches, and/or latching controller (a component that enables several switches to turn the pump on and off) are sized properly for the replacement.
If not, you may also need to update your wiring or other components.
#1. Remco AQUAJET-AES 3.4GPM
We decided to utilize this pump when our RV's original water pump broke down.
The unit that was installed in our 2005 Newmar Mountain Aire is exactly what this one replaces.
Since our first pump lasted more than 14 years of continuous usage, which included a lot of boondocking, we were certain that a new one would be just as reliable.
PLEASE NOTE: We recently highlighted our pump, and it seems that this helped them sell out on Amazon! Alternatively, you may find them at Camping World if they're still unavailable.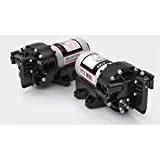 Aqua Jet H2O Pump, Remco Industries 55AQUAJET-AES, 3.4 Gpm, 12V
Liquid Temperature: 140°F (60°C) Max.
Amps: 10 Max.
$174.99
The 5-chamber diaphragm of this 12V pump delivers a maximum flow rate of 3.4 gallons per minute at up to 65 PSI.
The appliance is designed to operate silently, and the variable speed setting ensures a steady flow of water without abrupt cycling.
This unit can be operated dry and self-primed if your freshwater tank has been entirely drained (simply refill the tank with water to get it going again).
It includes an internal check valve to prevent backflow to the freshwater tank and can deliver water to up to four faucets.
A bypass valve is also included to guarantee silent operation.
Two related points: "Run dry" does not imply over prolonged periods of time since doing so might burn out a pump.

Additionally, "quiet" does not equate to "silent," since we can hear ours while it is operating.

Being heard without being too loud is what we're referring about.

Being able to hear the pump has a few significant advantages, particularly for dedicated boondockers like us who take water conservation very seriously.

First, you'll be able to hear anytime the pump is working, letting you know whether you've developed a leak or if you accidentally left a faucet partially open.

The loudness and regularity of the pump's cycles can serve as a benefit.

Your pump's sound at both high and low flow rates becomes an audible reminder of how much water you're consuming if you become accustomed to it.

The sound the pump makes when running and rotating fast while you brush your teeth might serve as a reminder to lower the flow or switch the pump off.

This type of reminder—an auditory warning to "Stop using so much water out here in the boonies if you want to stay very long"—is particularly useful if you often switch between full connections and boondocking.
This pump was a fantastic fit for our pre-existing wiring and 10-amp Intellitec latching switch controller since its maximum power need is 6.5 amps.
Additionally, thanks to built-in auto-reset thermal protection, our pump will shut off if used for an extended amount of time, enabling the internal parts to cool and assisting in the prevention of unit damage (remember, you shouldn't let it run empty for any prolonged periods of time).
Because of its "Quick Attach" plumbing connections, installation is simple.
Simply connect the connections to the piping that already leads to and from your old pump, and then snap them onto the new pump.
As a result, it is considerably simpler to connect it to the plumbing while working in the cramped areas where RV water pumps are frequently placed.
More is not necessarily better, as we have said.
That is precisely why we selected this model over its bigger, faster-flowing twin (5.3 GPM, even though Amazon incorrectly lists it as 3.5).
We don't need a larger water flow (3.4 GPM is plenty, particularly while dry camping and saving water), and it also ensured that we wouldn't have a problem with the power demand.
This is so because the bigger pump only uses a maximum of 6.5 amps, but our old pump (and the new one) uses a maximum of 10.
This ensured that it will work with our present electrical setup.
Finally, it's manufactured in the USA, which is always a plus, right?
#2. Shurflo Revolution 3.0GPM
Look no farther than the Shurflo Revolution RV water pump for a simple and fast installation or replacement.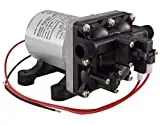 SHURflo 12v 3.0 GPM Revolution RV Water Pump # 4008-101-A65
$72.00
This particular pump from the Revolution series costs little and gives your RV a constant supply of water.
It has four separate pump chambers and a one-piece diaphragm that allows it to pump 3.0 gallons per minute at up to 55 PSI.
The majority of RVs' 12V power supplies should be able to run this device, which needs 7.5 amps of electricity to operate at maximum flow.
It has an internal bypass to ensure silent operation, is self-priming, can be safely run dry, and has thermal overload protection to stop the motor from overheating, much like the Remco unit mentioned above.
With a one-year guarantee and an average Amazon customer rating of 4.5 stars, most RVers seem to be really satisfied with this pump.
#3. Flojet "Quad Quiet" Pump
The Flojet "Quad Quiet" pump is another excellent choice on our list and is similarly simple to install.
With a maximum pressure of 35 PSI, the quad-chamber pump can produce up to 3.2 gallons per minute.
This unit is thus best suited for small-to-midsize RVs with less demanding applications.
Internal bypass stops pulsing water flow, sealed motor allows for run-dry operation, and self-priming guarantees that you won't have any problems if your tank runs dry.
The maximum power requirement is 7 amps, so typical RV wiring shouldn't provide any issues.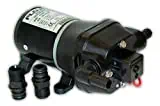 Flojet Quad DC Water System Pump, Bypass Included
Self-primes to a vertical lift of 2.4 meters
Higher flow rates are delivered by a four-piston configuration.
We are certain that this pump will perform admirably in your RV since it has received an overall rating of 4.4 stars on Amazon.
#4. Seaflo Self Priming Pump
The Seaflo Self-Priming Pump has an uncommon four-year guarantee and can pump out three gallons per minute at a maximum of 55 PSI.
This pump is self-priming, silent, and delivers smooth performance.
It may also be operated dry without suffering any harm.
It weights little more than four pounds.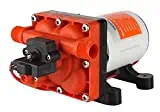 SEAFLO 42-Series Water Pressure Diaphragm Pump w/Variable Flow For Reduced Cycling – 12V, 3.0GPM, 55PSI
CSA 22.2 and UL 778 Certified
Positive Displacement Pump, 12 Volt, 3.0 GPM, 55 PSI
$68.99
More than 1500 reviewers have given this device an average rating of 4.5 stars, suggesting general satisfaction with the pump itself, despite some remarks about dissatisfaction with customer support.
#5. Remco AQUAJET-ARV 5.3GPM
This Remco model, which is also built in the USA, is a powerhouse, producing a maximum of 5.3 gallons per minute at up to 65 PSI.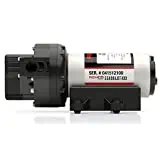 Remco (55-AQUAJET ARV Aquajet RV Series Water Pump
Aquajet Variable Speed RV Water Pump: This pump uses cutting-edge technology to automatically regulate the engine speed.
Rapid cycling is eliminated by Aquajet's gentle start function, and its unique 5-valve design can produce twice as much flow and pressure as comparable systems.
$234.95
This powerful pump has all of the same characteristics as the one we personally use (#1 above) and is its larger brother.
Additionally, it is a 12-volt pump with a 5-chamber diaphragm that provides a constant, silent water flow.
It features a built-in check valve to prevent backflow, and it may go dry briefly while still self-priming.
Because of the unit's strong motor and high flow rate, the wiring in your RV may not be able to handle the power requirements of this pump, which might be as high as 10 amps.
So make appropriate plans before purchasing this specific item.
Use A Filter Or Strainer To Safeguard Your RV's Water Pump.
Whatever type you choose to be the finest RV water pump for your requirements, make sure it is shielded with an inline sediment strainer.
There is no use in replacing or upgrading your old water pump only to have the new one fail on you as a result of silt or grit in the water supply.
Even if you utilize a whole-house water filter, it is always wise to safeguard the pump directly at the input.
One is probably already present in your RV, so now would be a good opportunity to check and clean it.
Pick purchase a unit like this and place it in line with the intake side of the new pump if the one that came with your RV is outdated, impossible to clean, or not included.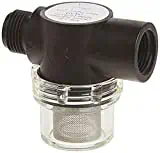 SHURFLO (255-313) 1/2″ Twist-On Pipe Strainer
SHURFLO CLASSIC SERIES STRAINER – Clear, efficient strainers save money by preventing the buildup of trash and other particles in the…
directly onto the pump head using screws.
$9.97
Which RV Water Pump Are You Going to Pick?
We hope that our list of the top five RV water pumps will be useful if you ever find yourself in need of one.
Although it's easy to overlook, your RV's water pump is crucial to your camping trip.
The flow and pressure of water between your fresh tank and various water outlets around your RV whether you're on the road or boondocking are fully controlled by the water pump in your RV.
If your present water pump breaks down, you'll be relieved to have a replacement that gets excellent reviews.
How to Change Your Own RV Water Pump
Check out our DIY video for instructions on how to install your own RV water pump now that you've determined which model is ideal for your vehicle:
A Fresh RV Water Supply, Please…
We avoid the difficulty, cost, and waste of bottled water, as we have often said.
We choose to drink water straight from our freshwater tank instead.
To safely do so, we make use of an Acuva LED water purifier.
SAVINGS OF 10%
10% off Acuva with coupon code RVGEEKS
Give up on bottled water! You may now clean your drinking water as major cities do by utilizing UV light.
Water is made safe to drink using a fraction of the area with Acuva's UV-LED system…Show More
Give up on bottled water! You may now clean your drinking water as major cities do by utilizing UV light.
Water is made safe to drink using a fraction of the area and electricity with Acuva's UV-LED technology.
Ideal for RVs.
Use the promo code mentioned below to get 10% off any Acuva system when making an online purchase from the Acuva website.