Some people don't think much of an RV's black water hose until it breaks while they're traveling.
Hopefully, you're not reading this right now for that reason.
In any case, finding a high-quality RV sewer hose is no easy task, and this article will assist you in choosing the best option for your camper.
Which RV Black Water Hose Is Best?
We looked at hundreds of black water hose for RVs and reviews from actual customers who purchased and used them in order to determine which one is the best.
We have chosen the best 8 rv black water hoses for you to take into consideration based on what they have experienced and shared, along with their key attributes, to help you make an educated choice.
Additionally, in order to make it simpler for you, we have created a list of important factors and commonly asked questions (FAQs) to take into account when purchasing a black water hose for an RV.
It is located in the article's body farther down.
Here is the introduction to the finest rv black water hose without further ado.
#1. Camco RhinoFLEX 15ft RV Sewer Hose Kit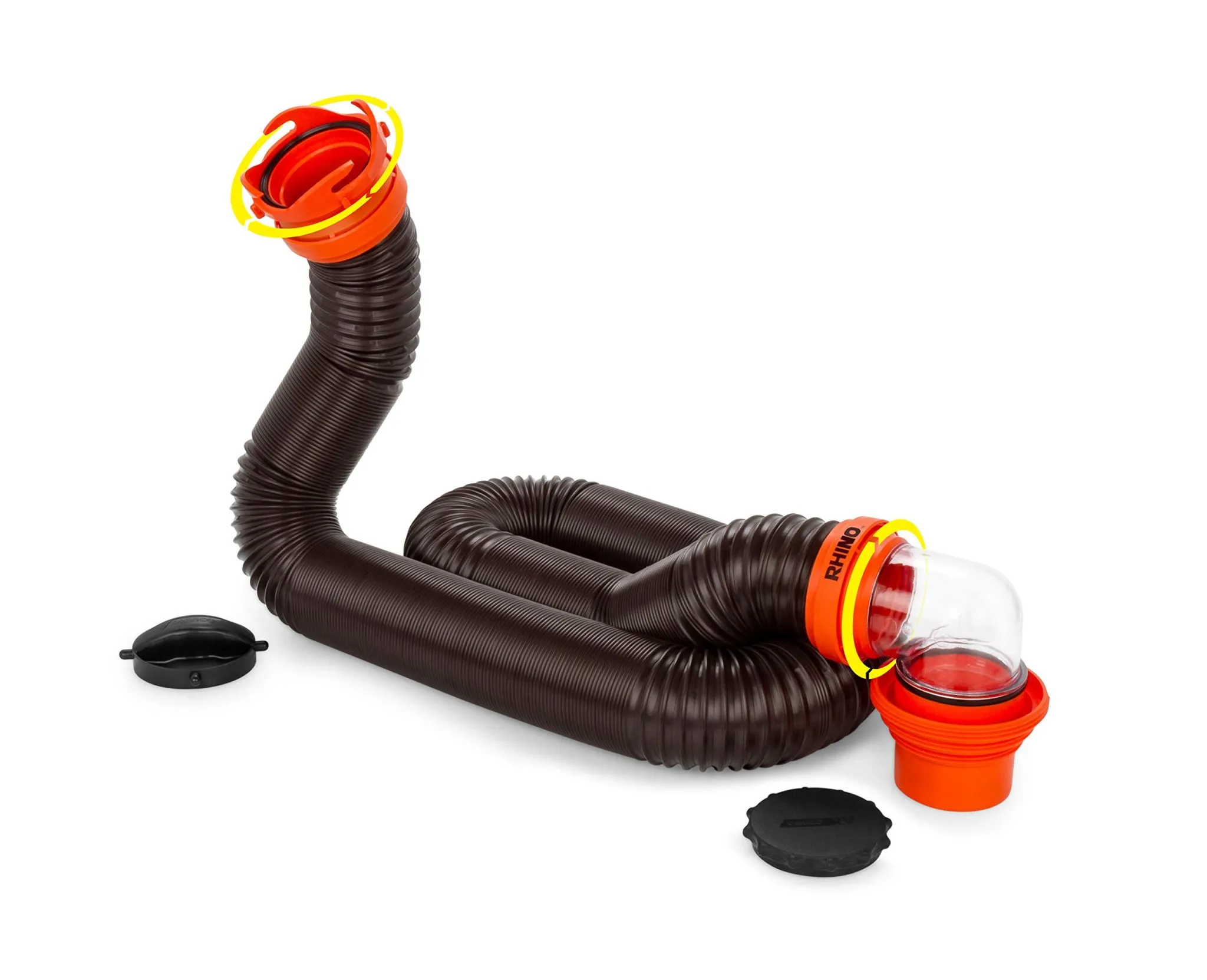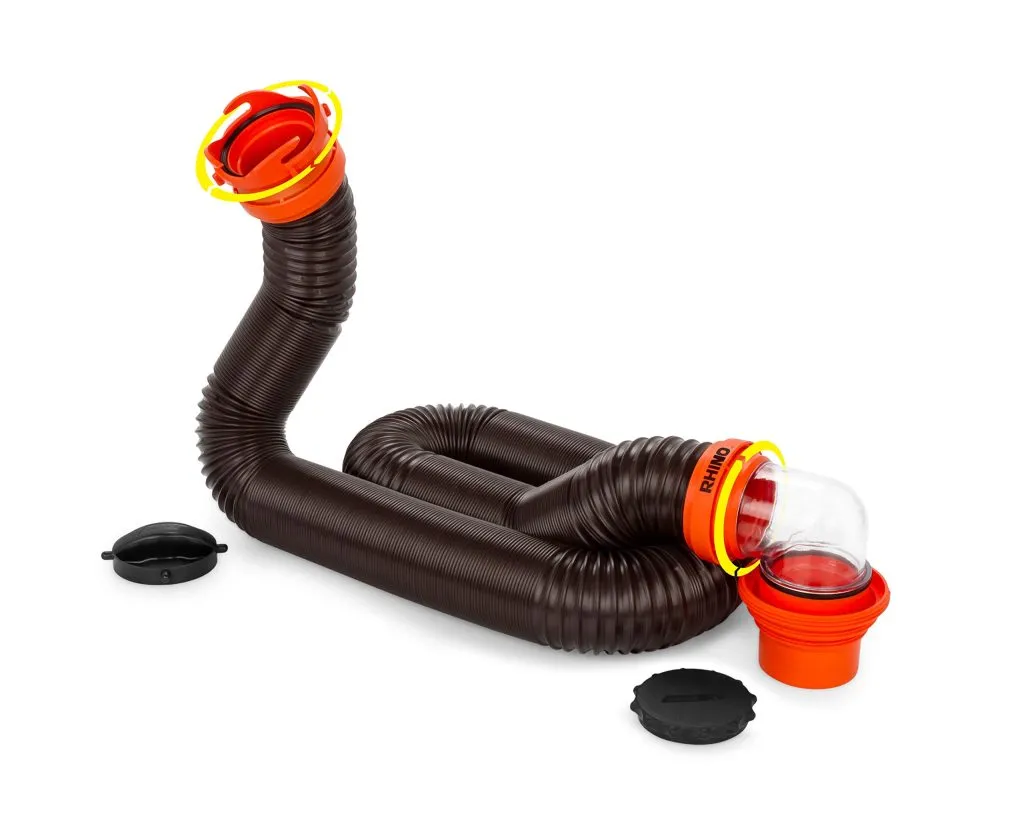 More Images
Specs
Price: (fewer = cheaper)
Size: 18.1 x 8.6 x 6 Inches (46 x 21.7 x 15.1 cm)
Material: Polyolefin
Adapter: 4-in-1: Swivel Bayonet
Visit it at a nearby store:
The 15-Foot variant of the RhinoFlex series, the Camco RhinoFlex 39761 Sewer Hose Kit, has all the premium features found in the 10-foot and 20-foot versions.
These contain two locking rings, a swivel bayonet adapter, a detachable 4-in-1 transparent elbow, and a secure connection between the RV and dump station.
The RhinoFlex 39761 hose has a 23 mil thick Polyolefin structure that makes it puncture and crush resistant.
Additionally, it has steel wire reinforcement, which aids in maintaining form while in use.
The hose has two end covers that prevent smells when in storage and compresses to a length of 56 inches.
Pros
Steel reinforcement added to a thick polyolefin material for durability
Reduces to 56 inches when compacted for storage,
A leak-proof connection to the exterior sewage is made possible via hose fittings.
Can to be extended in length by connecting to additional hoses
Cons
Lacks a smooth inside for simple cleaning,
If fittings are not tightened before usage, they may fall free.
#2. Camco RhinoFLEX 20-Foot RV Sewer Hose Kit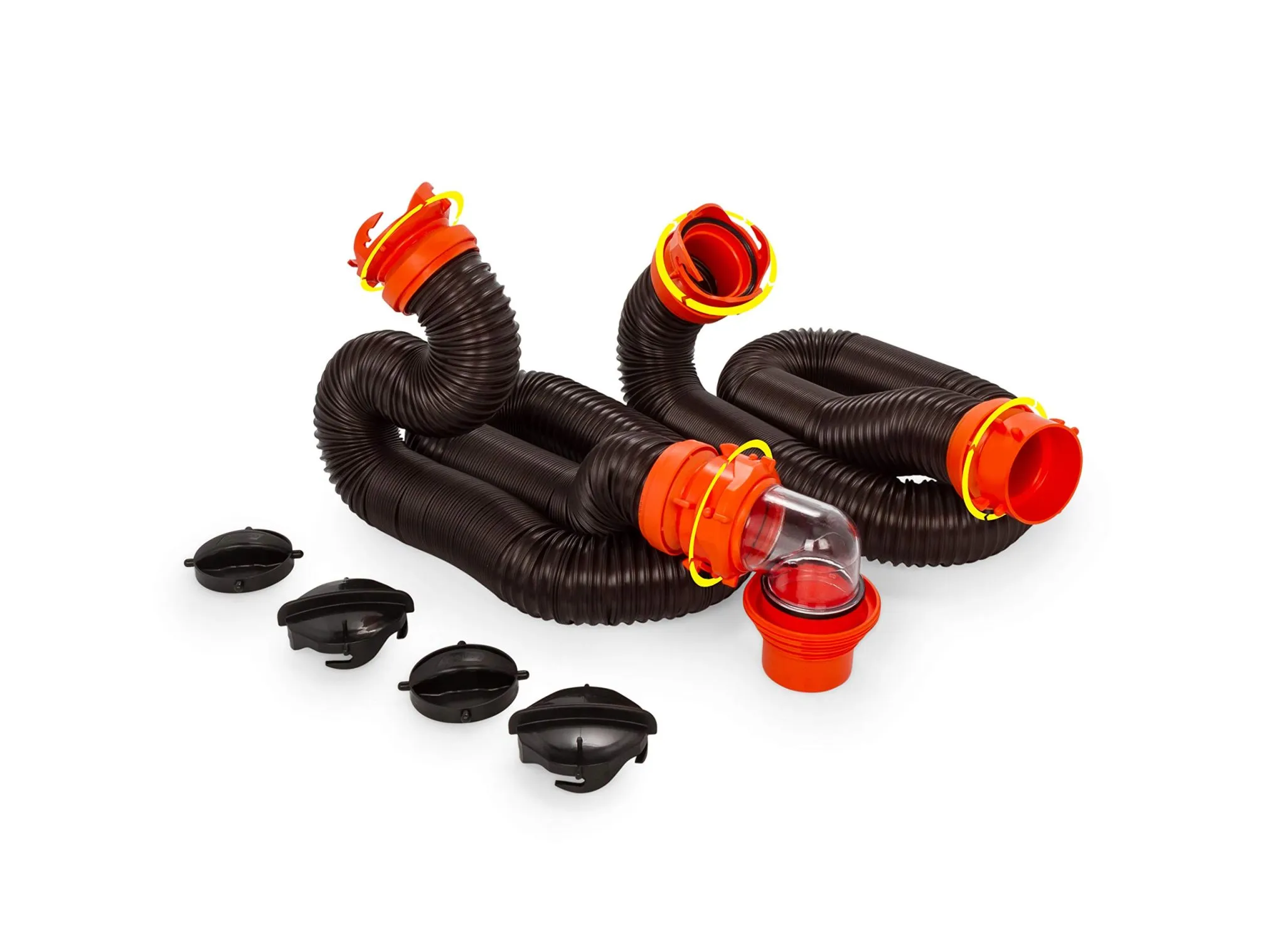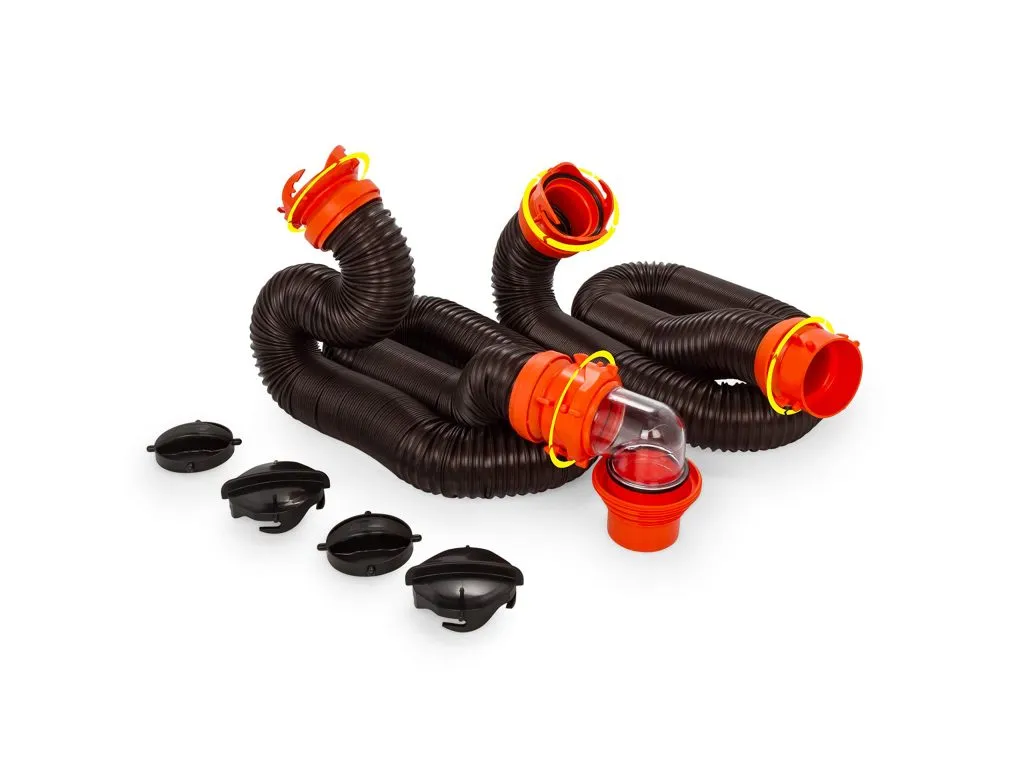 Specs
Price: ???????????????????? (fewer ???? = cheaper)
Weight: 6.3 Pounds (2.9 kg)
Size: 21.3 x 11.3 x 7.9 Inches (54.1 x 28.6 x 20 cm)
Length: 240 Inches
Material: Polyolefin
Adapter: 4-in-1
: Lug and Bayonet
Visit it at a nearby store:
The 20-Foot RV Sewer Hose model of the RhinoFlex line is the Camco 39741 RhinoFlex.
It has two 10-foot RhinoFlex sewage hoses with bayonet and lug fittings already connected that are designed for typical RV sewer outlets.
Additionally, it has a clear elbow with a removable 4-in-1 adapter that works with different dump station pipes.
High praise is given to the 39741 RhinoFlex hose for its sturdy polyolefin construction with steel wire reinforcement and its capacity to maintain form when bent.
The lug and bayonet fittings, on the other hand, arrive loosely fastened and need to be tightened before use to stop leakage.
Furthermore, one may join several hoses to increase the length to 30 or 40 feet, and the fittings can be detached for use with new hoses.
Pros
For frequent RV users, a strong and flexible hose
Shape retention when extended is made possible by reinforced hose material.
Securely compresses and incorporates storage closures for practical storage,
Various dump station pipes are compatible with the removable adaptor.
Cons
Fittings may leak when they are carelessly connected to the hose.
Some RV bumpers may not fit the hose because of its size.
#3. Thetford 17854 Titan 10 Foot RV Sewer Hose Extension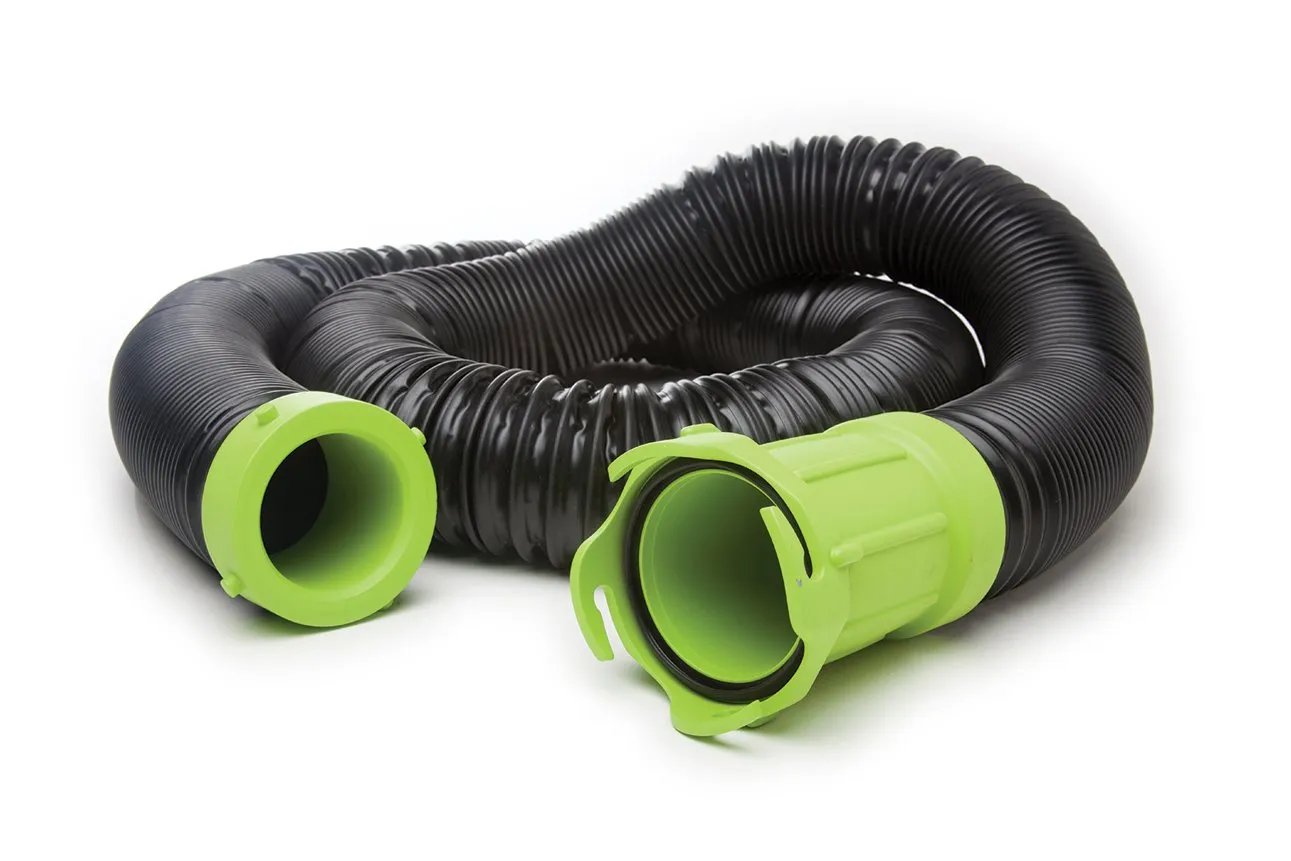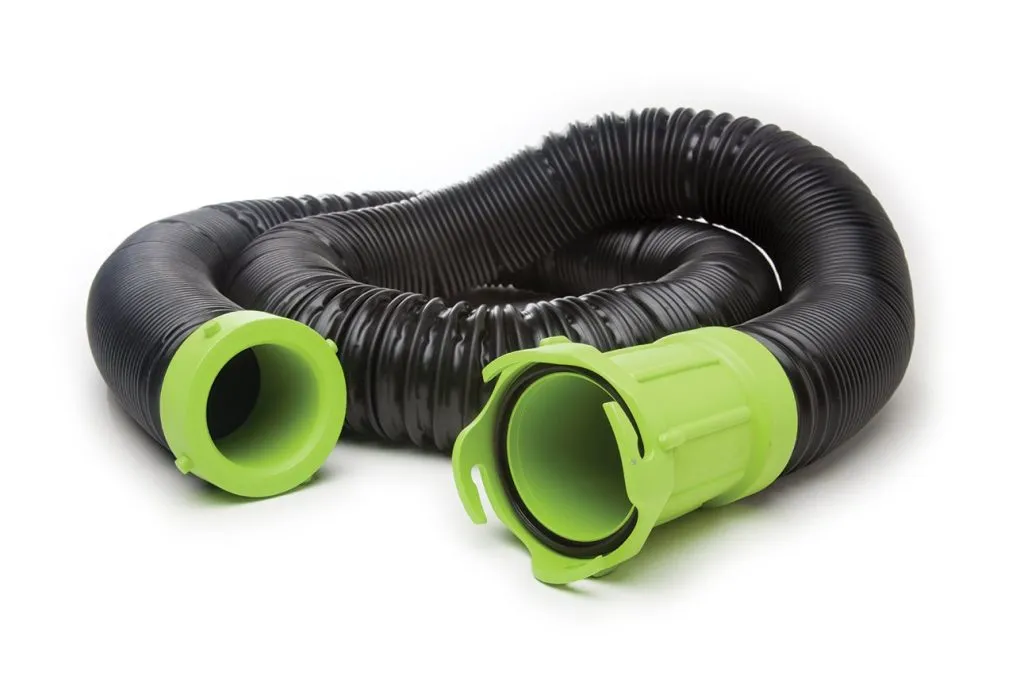 Specs
Price: ???? (fewer ???? = cheaper)
Weight: 2.7 Pounds (1.2 kg)
Size: 16.6 x 8.3 x 7.9 Inches (42.2 x 21.1 x 20.1 cm)
Length: 120 Inches
Material: TPE
Adapter: 5-in-1: Bayonet
Visit it at a nearby store:
When you don't have much storage room, long RV sewage lines might be a hassle.
Additionally, if the dump site is readily reachable, having a 10-foot sewage line like the Thetford 17854 Titan 10-foot speeds up the process of emptying your RV tanks.
The Titan 10 is a model with a fair price and strong heat and abrasion resistance built from TPE material.
It has a 5-in-1 adapter that firmly connects to the dump station and an Extended Grip universal bayonet attachment that connects securely to the RV sewage outlet.
Additionally, it includes end caps to stop leaks while in storage and replacement seals for when the original fittings wear out.
The Titan 10 is a fantastic value for the money and gets top marks for dependability and use.
On the negative side, a number of consumers have reported that the connection and hose joint on their Titan 10 hoses leaks.
The hose also takes up too much room and only compresses to a height of 6 feet.
It is, nevertheless, one of the most reasonably priced and adaptable solutions for heavy-duty applications.
Pros
Structure that is strong and flexible for heavy usage,
Easy to use lug type connections for common RV bayonet fittings
Affordable and offering excellent value,
Comes with convenience accessories.
Cons
Does not firmly compress for simple storing,
May leak when the hose and fittings are connected.
#4. Camco RhinoFLEX RV 5ft Sewer Hose Extension Kit with Swivel Fitting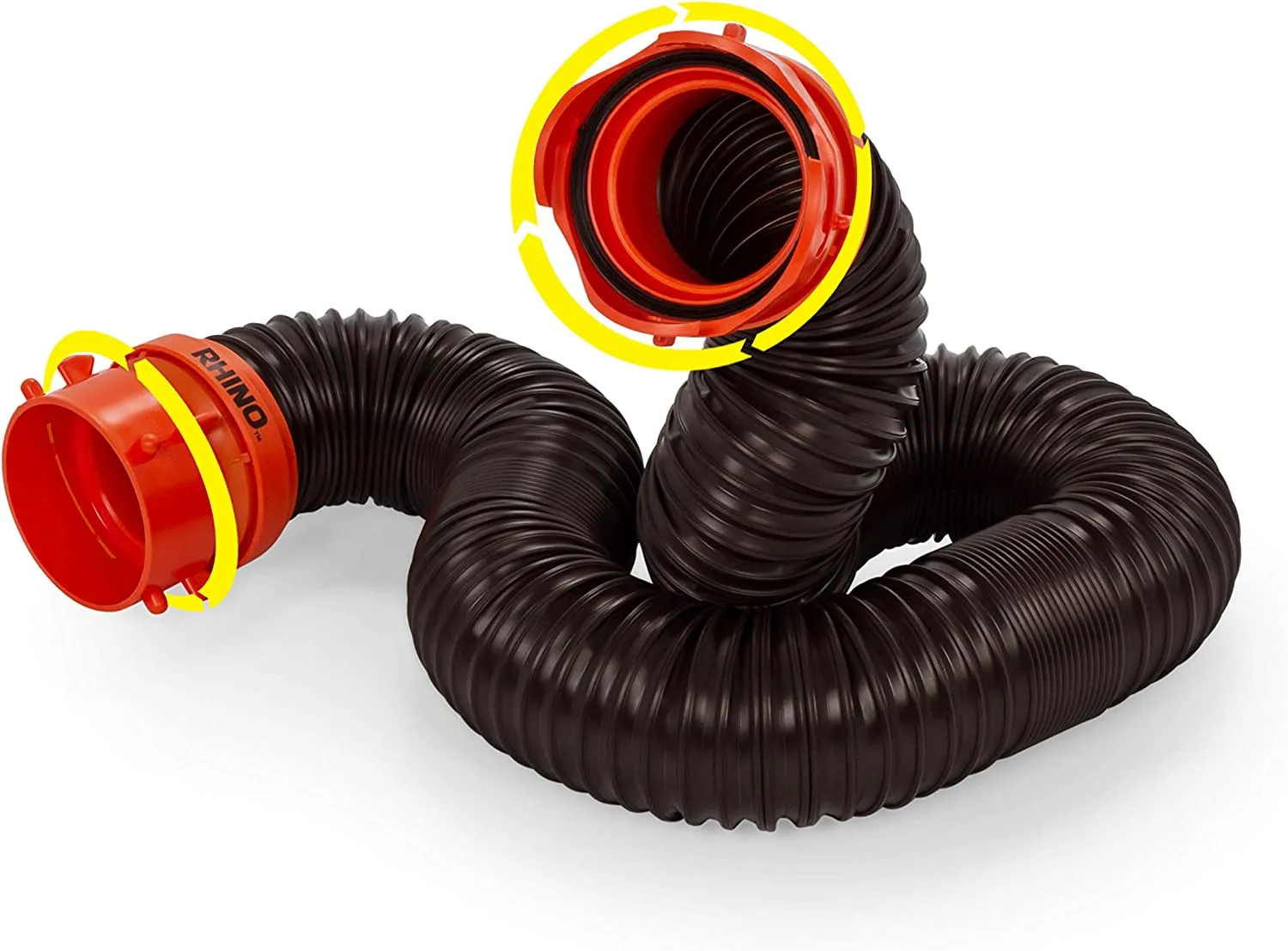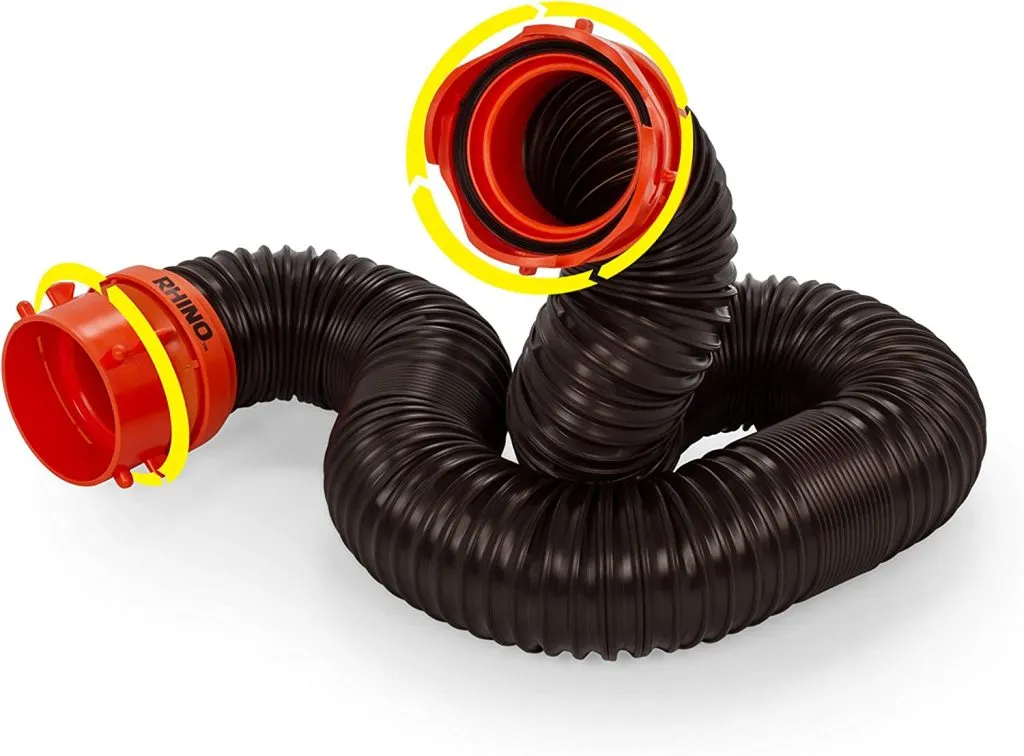 Specs
Price: (fewer = cheaper)
Weight: 1 Pounds (0.5 kg)
Size: 14.5 x 8.6 x 4.2 Inches (36.8 x 21.8 x 10.7 cm)
Length: 60 Inches
Material: Polyolefin: Swivel Lug and Bayonet
Visit it at a nearby store:
The Camco RhinoFlex 39765 is a wonderful choice if you want to increase the length of your RV sewage line.
It is a sturdy, flexible 5-foot extension hose with bayonet fittings and a pre-attached swivel lug that can be used with any RV sewage line.
The RhinoFlex hoses' loose fittings, which might burst open while in use without being tightened, are one of the problems consumers have with them.
A 23 mil heavy-duty polyolefin structure with steel wire reinforcement is another characteristic of the RhinoFlex 39765 that offers it outstanding shape retention for the optimum drainage.
It is also a tough substance that can survive crushing and abrasions from severe usage without being perforated.
However, as this hose is just an extension kit, it does not come with the elbow and adaptor to connect to the dump station.
Pros
Consists of a thick polyolefin polymer reinforced with steel wire.
Pre-attached fittings compatible with various RV sewage hoses are included.
The hose's rigid construction enables it to maintain form for greater flow.
Due of its 5-foot length, it may be used for a variety of purposes.
Cons
Before usage, fittings must be tightened.
Does not include fittings for the elbow and the adapter
#5. Valterra 15-Foot Dominator RV Sewer Hose Kit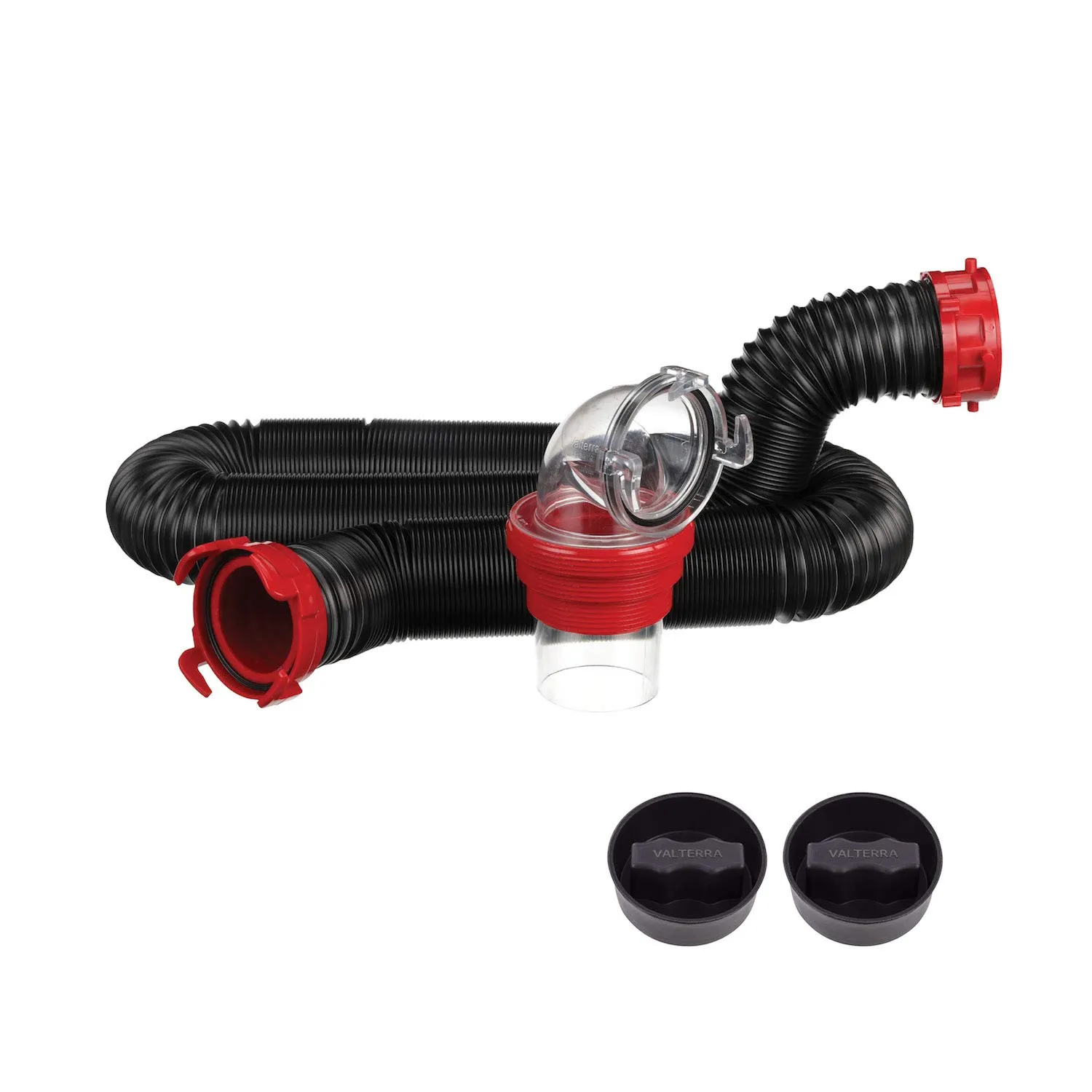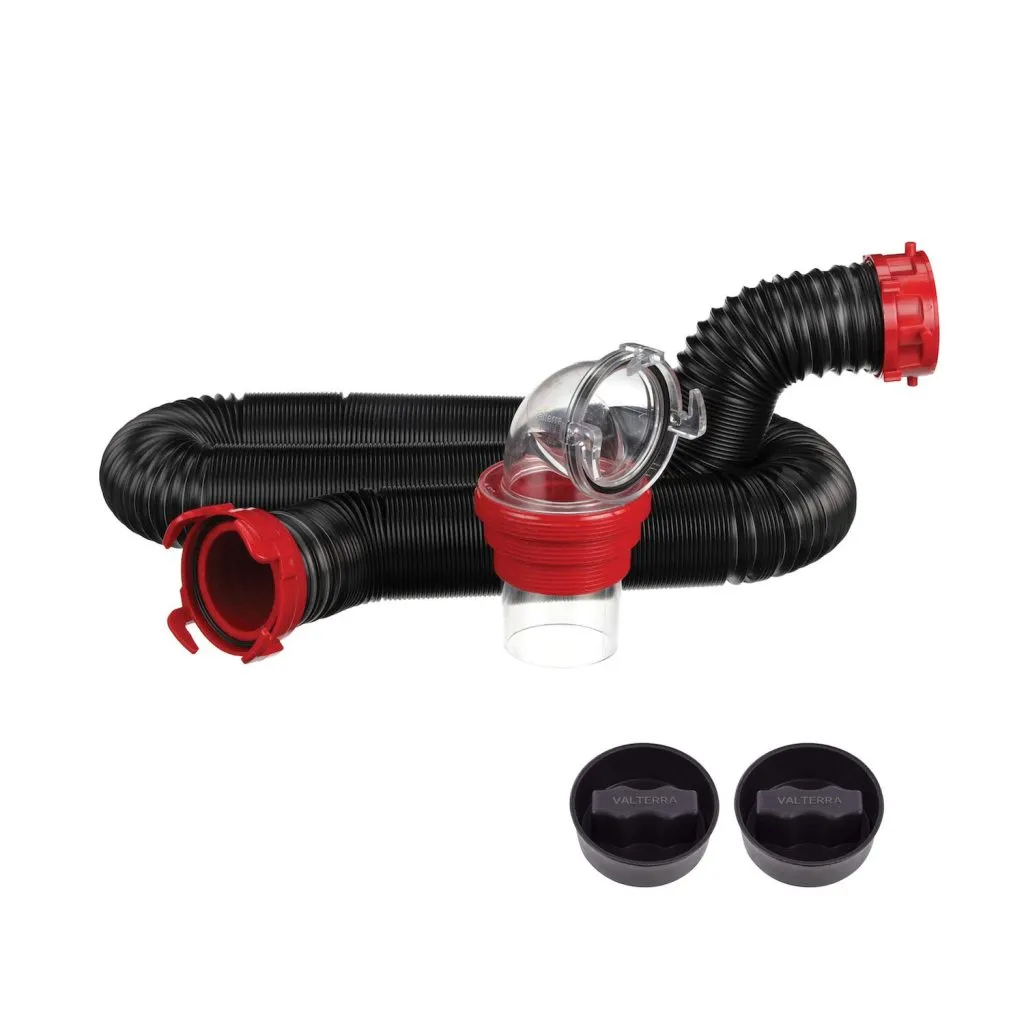 Specs
Price: (fewer = cheaper)
Weight: 6.5 Pounds (2.9 kg)
Length: 180 Inches
Material: 23 Mil Poly
Adapter: 4-in-1: Bayonet
Visit it at a nearby store:
The Valterra 15-Dominator is a premium RV sewage hose with pre-attached bayonet fittings and a 23 mil poly material construction.
Despite having a comparable construction quality, the Dominator costs a few dollars more than the RhinoFlex 15-foot hose.
The UV treated thick poly material of the Dominator hoses is robust in heavy-duty applications and is flexible with great form retention to facilitate improved drainage.
The Dominator's bayonet fittings are permanently connected, which maintains them firmly in place and tight enough to stop leaks during dumping.
The RhinoFlex fittings, on the other hand, need to be tightened before use since they come out of the box with a slack attachment.
Additionally, while connecting to the RV sewage outlet and dump station, the Dominator fittings swivel to eliminate kinks in the line.
This design enables the optimum drainage and keeps the hose flat.
Pros
To ensure longevity, the material is thick UV-stabilized poly.
Includes a clear sewer adapter with safe threaded connections,
Bayonet fittings that are permanently fastened provide a leak-proof fit.
Rotating fittings keep the hose flat and avoid kinks for optimum drainage.
Conveniently stores when compressed to 57 inches.
Cons
Possibly crush if ran over,
Its construction makes it more difficult to rinse than its rivals.
#6. Titan 20 Foot Premium RV Sewer Hose Kit – Thetford 17902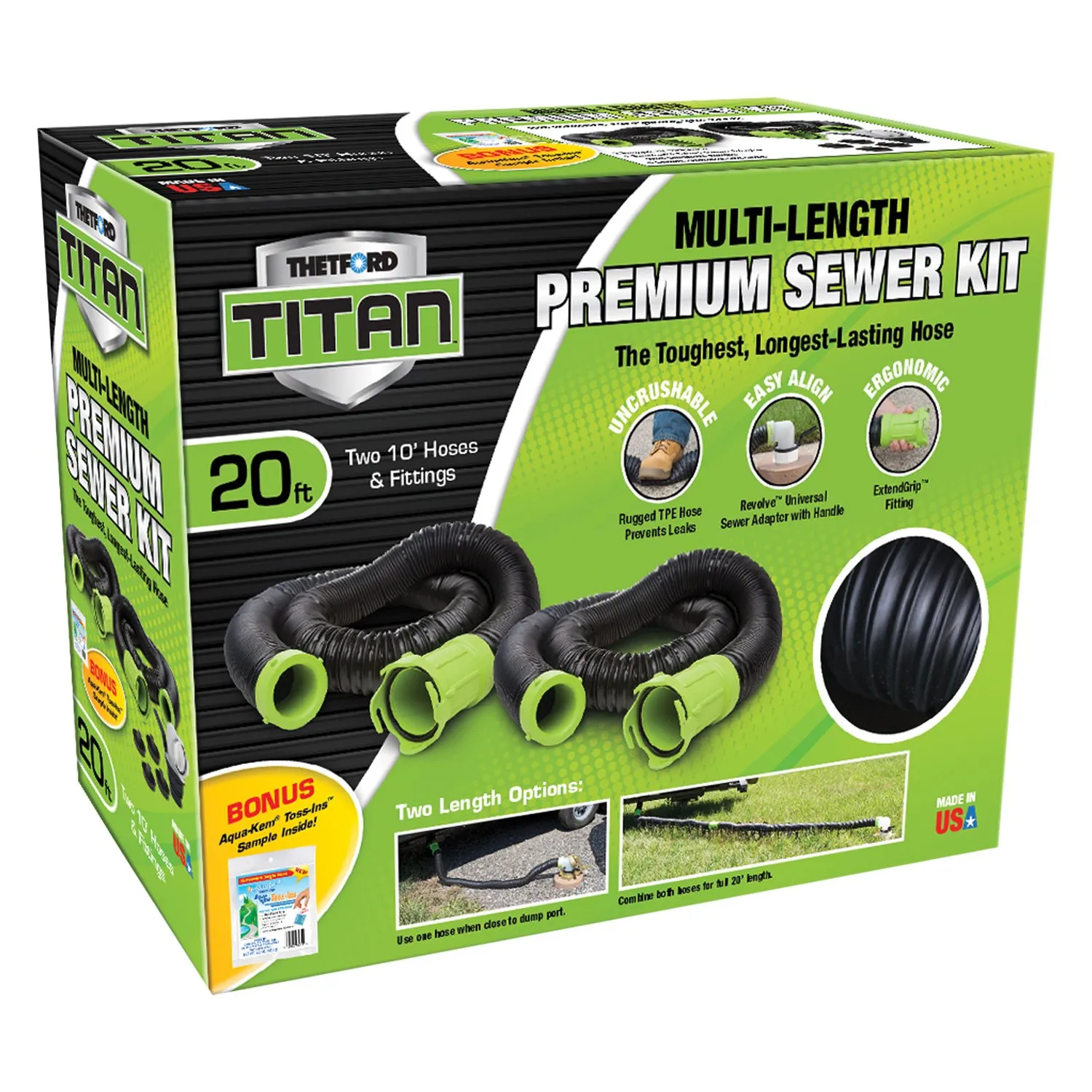 Specs
Price: (fewer = cheaper)
Weight: 7.1 Pounds (3.2 kg)
Length: 240 Inches
Material: TPE
Adapter: 5-in-1: Bayonet
Visit it at a nearby store:
One of the top RV sewage hose manufacturers is Thetford Titan, which provides sewer hose kits for regular RV campers that are both high-quality and reasonably priced.
Two 10-foot bayonet fittings are included in the Titan 17902 20-foot RV sewage kit to ensure a tight connection and no leaks at the RV sewer outlet.
The 5-in-1 sewage adapter and fittings may be connected to several brands of dump stations and sewer hoses.
Two end caps to secure the hose while it is being stored and a set of replacement fitting seals are also included in this sewage kit.
Titan 17902 hoses are made of an unique thermoplastic elastomer material with strong abrasion and puncture resistance to survive regular usage.
One of the most robust hoses on the market, the material also works well in very hot or cold conditions without breaking or crushing.
Another characteristic unique to the Titan brand is the bayonet fittings with a longer grip.
Better holding is possible when connecting your hose to the outlets thanks to it.
Pros
TPE structure that is strong and long-lasting for demanding applications
Innovative fittings provide leak-proof connections that are secure for dumping,
Storage is made simple by a two-hose system with a removable adapter.
To increase the length, hoses are compatible with various manufacturers.
Cons
Not enough compressed to fit in a typical RV bumper,
One cannot tell when dumping is finished due to the transparent adaptor.
Chemical resistance of hose material is lacking.
#7. CamcoRhinoFLEX 10ft Heavy Duty RV Sewer Hose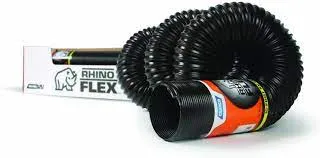 Specs
Price: (fewer = cheaper)
Weight: 1.8 Pounds (0.8 kg)
Size: 30.1 x 3.3 x 3.3 Inches (76.4 x 8.3 x 8.3 cm)
Length: 120 Inches
Material: Polyolefin
Visit it at a nearby store:
When you want a short sewage line, the Camco RhinoFlex 39671 is a 10-foot RV hose with a robust construction and flexibility.
To build a full kit, it is missing the bayonet fittings, adaptor, and storage caps.
On the other hand, it is a great option for replacement purposes and for extending the length of other Camco hoses.
Additionally, the RhinoFlex 39671 uses 23 mils of thick polyolefin material with superior chemical resistance and form retention instead of the vinyl substance used in normal RV sewage hoses.
Additionally, this hose has steel wire reinforcement for added toughness and the ability to repeatedly stretch and contract without losing form.
Pros
Thick polyolefin material for demanding applications
Simple to lengthen lengths by connecting to additional hoses and cutting to shorter lengths,
Reduces to 32 inches when compressed for storage as an emergency hose,
Crush-resistant and very good at holding its form
Cons
Comes without an adaptor and without fittings,
A touch more expensive than its rivals
#8. Camco Black 39551 Complete Rv Sewer Kit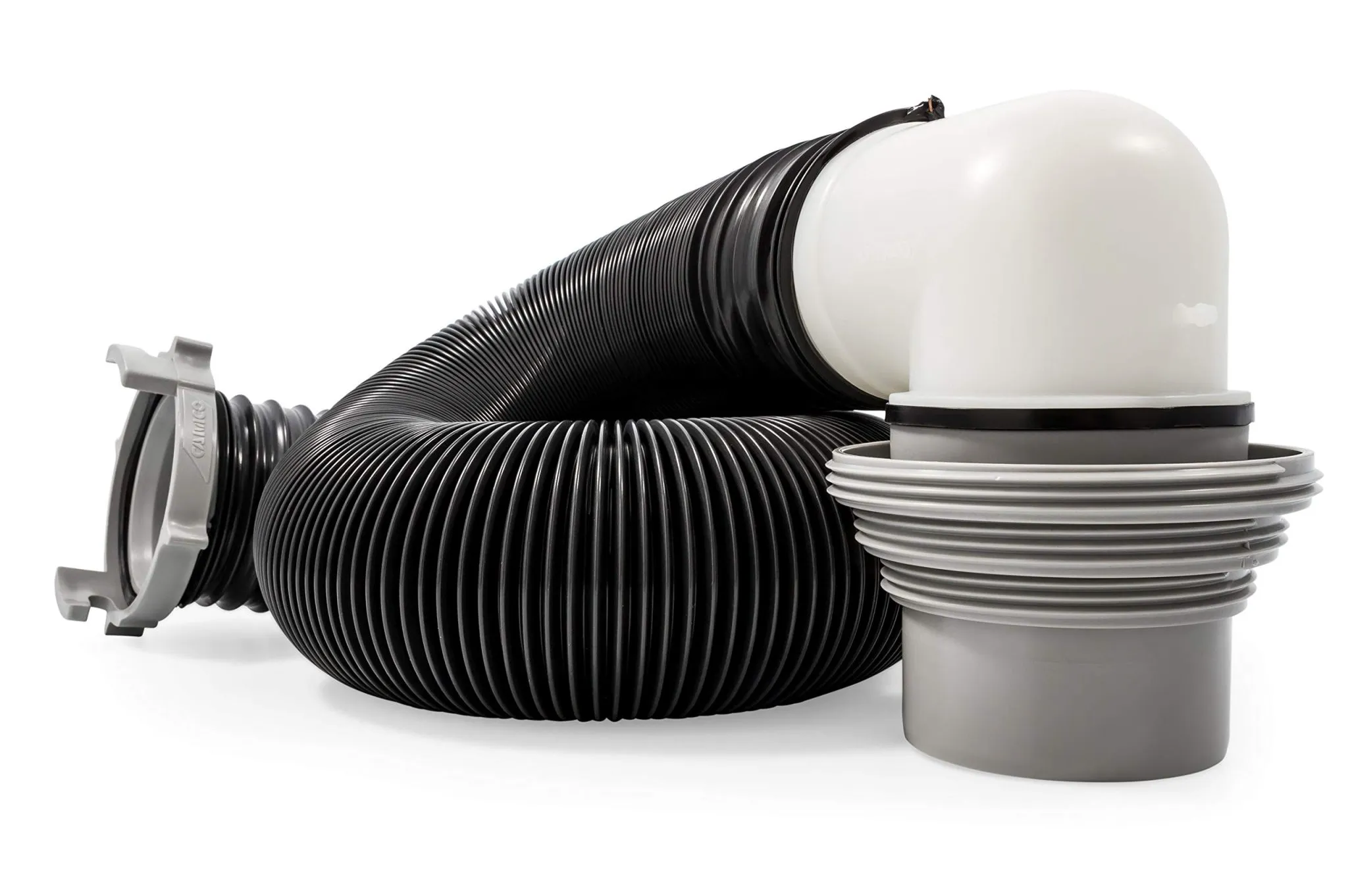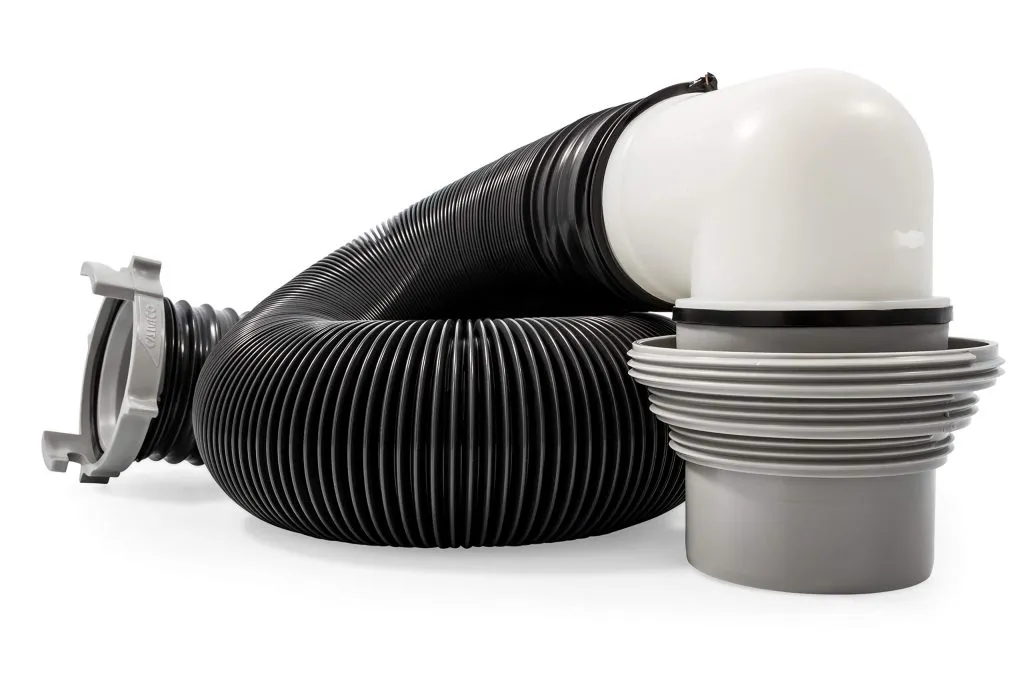 Specs
Price: (fewer = cheaper)
Weight: 1 Pounds (0.4 kg)
Size: 18 x 18 x 3.4 Inches (45.7 x 45.7 x 8.6 cm)
Length: 120 Inches
Material: HTS
Adapter: 4-in-1: Bayonet
Visit it at a nearby store:
For seasonal RV campers, the Camco 39551 is a full, ready-to-use 10-foot sewer kit.
The kit includes a 10-foot sewage line with a bayonet fitting already connected that fits regular RV sewer outlets.
The bayonet fitting, nevertheless, has drawn criticism from a number of customers for its potential to leak and unreliable connection.
The elbow fitting is transparent as well, which may be problematic for certain users since it prevents them from seeing how much is being dumped.
The 39551 is less adaptable since it has permanently connected elbow and bayonet connections, unlike other Camco hoses with removable fittings.
Additionally, even though it is more flexible than the robust RhinoFlex series, it may not completely extend to 10 feet in cold weather, which might be problematic if it is the only hose you have on hand.
The HTS material is moderately durable and lightweight for simple handling, so you will get decent service for the price.
Pros
For seasonal RV campers, high-quality and reasonably priced hose,
Fully assembled and prepared to use right out of the box,
The interior's flat surface allows for an unimpeded flow,
The detachable adaptor makes it simple to store in typical RV bumpers.
Cons
Doesn't completely extend in cold temperatures,
If connected to an RV outlet, a bayonet fitting can leak.
Verdict
We can claim with confidence that Camco RhinoFLEX 15ft RV Sewer Hose Kit is the finest rv black water hose on the market after doing extensive research, comparing products, and gathering information on these top rv black water hoses.
The Thetford 17854 Titan 10 Foot RV Sewer Hose Extension is a cheap option if your budget is a little bit more constrained.
Last but not least, we firmly propose the Camco RhinoFLEX 20-Foot RV Sewer Hose Kit if you're seeking for something with all the greatest features manufactured with high-quality materials and would want to evaluate all the premium possibilities out there.
Reviews on other RV Sewer Hoses
Optimal RV Sewer Hose
What to Consider Before Purchasing RV Black Water Hoses
#1. Materials
Many RV hoses are composed of materials that are unsuitable for transporting portable water, including the water you use for cooking and drinking.
When purchasing RV hoses that will be used for drinking, cleaning, or cooking, look for the phrase "drinking water safe" on the packaging.
This indicates that the hoses are free of lead, bromine, and other chemicals that might contaminate drinking water.
Instead, they include polyurethane or polyurethane materials made from polyethers that have UV stabilization.
Additionally, you should be aware that the drinking water safe hose may be quickly recognised by color.
They are usually available in either white or blue.
Also keep in mind that PVC hoses that claim to be lead-free may include other toxic chemical substances including phthalates, bromine, and antimony.
You may use any of these hoses for RV sewage hoses regardless of the material it is made of, however it is wise to purchase hoses in colors other than white and blue so you can distinguish them and store them separately.
#2. Length/Thickness
The length of an RV hose is sometimes determined by how far the RV is from a spigot or a dump station.
Hoses for RVs are always made in conventional lengths.
Most of them are 10 feet, 25 feet, and 50 feet long, with a thickness of 15 to 26 mils, or approximately 1/2 inch.
While the maximum length for an RV sewage line is typically 25 feet, the maximum length for a drinking water hose is 50 feet.
You may either purchase many shorter hoses or a single 50-foot long hose if you want a hose that is longer than 50 feet.
Due to fewer connections between the pipes, the single long hose helps to decrease the likelihood of leaks and also avoids water pollution.
But compared to utilizing many small hoses joined together, a single long line might also be more challenging for you to clean and store in the RV.
#3. Price
The cost of an RV water hose typically ranges from $30 to $100.
RV water hoses that are heated cost more than standard RV hoses.
When camping in locations where the freezing point is more likely to occur, they protect a pipe from breaking.
When in these very cold places, normal hoses freeze and get damaged.
Due to their excellent insulating qualities, they are also known as insulated water hoses.
They are often blue in color.
The heat strip, an electrical device, is often included with this kind of hose.
The heat strip is hooked into a valve next to the hose, warming it and preventing the water from freezing.
When the heat strip is not plugged in, the hose may also be used as a typical RV hose.
Last but not least, the price of an RV hose depends on its size and length.
Hoses that are longer in length are often more costly than those that are shorter.
#4. Portability/Storage
RV hoses may be readily stowed in the area provided in the RV bumper since they are compressible.
It is more difficult to store 50-foot hoses than shorter ones since the majority of RVs do not have adequate storage space for them.
As an alternative, they may be folded and stored within the RV in a container.
The 10-foot long hoses may also be compacted for simple storage to a length of around 3–4 feet.
However, employing many short, 10 foot hoses coupled together may easily result in water leaks and water contamination.
The advantage is that connectable small hoses are always simple to disinfect since you can always detach them to wash them inside and dry them off more quickly than lengthy hoses.
#5. Cleaning
When attaching your RV hose to the faucet after cleaning it, it's crucial to inspect the end for any lingering dirt particles.
Additionally, sterilizing your drinking water hose at least twice a year is advised.
This may be accomplished by briefly immersing the item in water that includes a bleaching chemical agent and then washing it.
After your camping vacation, be sure to drain all the water from your hose before disconnecting it to avoid germs like algae, spirogyra, and others that are drawn to water readily spreading within the hose.
The end of the hose should also be protected after disassembling it by hose caps or a plastic cover.
The cleaning method described above is more appropriate and practical when you have shorter RV hoses since longer RV hoses are harder to clean than shorter ones.
#6. Accessories/Attachments
A water filter is essential for your drinking water hose in terms of extra accessories and add-ons since it helps to eliminate contaminants that give the water an undesirable flavor and odor.
In order to utilize the water filter successfully, you need also replace and clean it often as directed by the producer or maker.
To regulate how much water flows into your RV, you also need water pressure regulators.
Low water pressure makes it hard to utilize the proper amount of water for any operation you need to accomplish, like cooking or taking a bath, while high water pressure might damage your RV's components.
In order to connect your hose to your RV without damaging it, a 90 degree elbow is also required.
Due to its endurance, brass is often used in their construction.
Last but not least, a fast connect, which is often constructed of brass, is the device used to quickly join many hoses together.
They are strong and built to resist strong water pressure.
FAQs
How do I determine the size of the RV sewage hose I need?
Purchase an RV sewer hose that is about the same length as the tube connecting your RV's sewage pump output to the back of your motorhome.
Make sure you purchase more feet or have an extension since some RV parks have far-off dumping facilities in the rear.
RV sewer hoses are they universal?
RV sewage pipes of today are quite similar.
They are put together with equal parts.
They have a three-inch diameter, roughly.
You must install a sewage hose fitting at the end of certain RV sewer hoses.
The task of mounting fitting is made easier by RV sewage hoses that include a size ring.
The simplest fittings are the bayonets that come pre-installed.
The dimensions of RV vehicles and camp sewage lines are taken into consideration while manufacturing RC sewer hoses.
Do I need support for my RV sewer hose?
In virtually all circumstances, you will want an RV sewer hose support, which is advantageous.
It elevates the RV home off the ground, keeping it clean and shielding it from people's feet.
Additionally, it maintains the RV sewage line in a slide-like configuration to ensure efficient drainage.
How do I clean the sewage hose on my RV?
Cleaning the sewage in your RV is a necessary evil.
You must adhere to these instructions for a quality cleaning.
Prior to flushing the grey water line, do the black water pipe.
Among them, Blackwater is the dirtiest.
The next step is to clean your sewage tank using a bleach and water solution.
Once there is no longer any debris, let it rest for a bit and rinse it many times.
Don't forget to clean the fittings as well.
The fitting should then be cleaned by being separated and submerged in bleach water.
Last but not least, you may also use a disinfectant or enzyme solutions created especially for cleaning RV sewer hoses.
How should I keep my RV hoses?
Your RV sewage lines may be stored using a variety of techniques.
The most typical technique is utilizing a bucket.
A built-in RV sewage hose is a feature of certain RVs.
An alternative is a plastic box.
In addition to all of these options, you may simply purchase a pre-made RV storage tube or make your own from PVC tubes.
Remember to keep RV sewage hoses carefully since they may still retain pathogens after being rinsed because they contain many bacteria, dirty water, and feces.