An inline Camco water filter is essential if you have a fresh water tank! Any water entering your camper or RV for use in cooking, drinking, or even taking showers should first go through an inline filter.
Before they reach your pipes, it eliminates germs, heavy metals, aluminum, and other impurities.
Overview of the Camco TastePure Inline Water Filter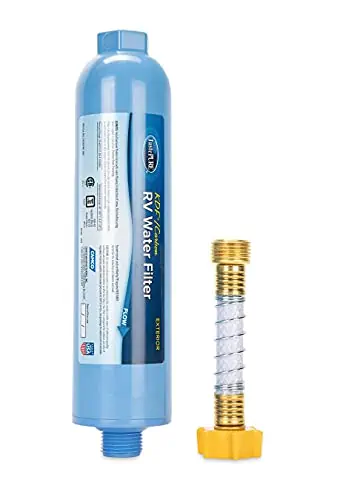 Camco TastePURE RV Water Filter with Flexible Hose Protector (40043)
20-Micron Hose Filter: Our GAC (Granular Activated Carbon) camper water filter reduces foul taste, odor, chlorine, and particles as small as 20 microns.
Secure Installation: The flexible hose protector on this RV water filtration system eases the pressure on the connections.
$29.99 −$10.82 $19.17
We like the Camco TastePure Inline Water Filter's adaptability and simplicity of usage.
It may be connected to any common hose to provide cleaner water for a variety of uses.
This straightforward, hassle-free water filter is ideal for use in boats, RVs, and tents.
Because it is a 20-micron sediment filter, it filters out particles larger than 20 microns.
It is certified low-lead and prevents bacterial development while being stored.
To lessen any pressure on the hose connection, the TastePure includes a flexible hose guard.
What Justifies the Need for an Inline Water Filter?
It is hard to tell for sure how pure the water sources that are designated as drinkable may be.
You may fill up your freshwater tank or containers at rest stops or petrol stations while you're on the road.
You can be allowing tainted water into your RV's plumbing system if you're not utilizing an inline filter.
Even if you and your family solely use bottled water, your freshwater tank's contents will still be used for cooking, cleaning, and taking showers.
You may be able to get an affordable yet necessary kind of protection from the Camco TastePure.
Our Preferred Attributes
Without initially outlining the advantages of a product, we wouldn't want to suggest it.
We like the Camco water filter for a number of reasons, including the following:
#1. Removes Aluminium, Heavy Metals, Hydrogen Sulfide, and Other Contaminants
Many water sources include one or more of these toxins, but there's no way to test every water source on the route to know what's in it.
So you need a filter that can filter out a variety of items.
This Camco product eliminates aluminum, heavy metals, hydrogen sulfide, mercury, cadmium, and a few other dangerous compounds.
Additionally, GAC (Granular Activated Carbon) filtration is used to lessen silt, chlorine, taste, and odor.
The Camco TastePure gives you priceless peace of mind for about $17 and complies with all national and state low lead laws.
#2. Flow Rate Is Increased By The Wide Body Inline Design.
You have probably seen slow-flow water filters in action if you have ever bought a water pitcher.
With the Camco TastePure, created in the USA, you can relax.
The breadth of the body and filter contributes to the exterior's high flow rate.
It quickly starts to work because it filters at a high capacity.
#3. Filter That Will Last the Entire Camping Season
The manufacturer guarantees the product to filter up to 500 gallons of water due to the large filter capacity.
This implies that for this camping season, you will only need to purchase one filter.
People who travel often should replace the filter twice a year.
Cons
Products will always have defects, and you'll have to evaluate if the drawbacks outweigh the advantages for yourself.
What we do know is this:
According to some reviews of the Camco water filter, a subpar O-ring seal may result in hose leakage.
They further claim that since the filter has a bad taste and smell, you should pass the water through it for 30 to 60 seconds before drinking it.
These are the two greatest complaints, but overall, people appear to be very satisfied with the product.
Alternatives to the Camco TastePure Inline Water Filter
The Camco TastePure is a terrific deal, but if you decide it's not for you, we've got a few more options for you.
#1. Clear2O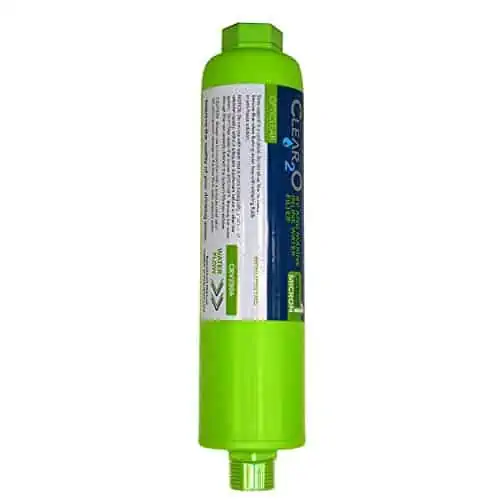 Clear2O® CRV2006 RV and Marine Inline Water Filter – Reduces Bad Taste, Odors, Chlorine and Sendiment in Drinking, Cleaning, and Showering Water (Green)
Contaminants are reduced using solid block carbon filters with 1 MICRON filtering.
UV-coated large body design that is durable.
$35.00
Similar to the Camco type, the Clear2O water filter is likewise an inline filter.
It should last between three and six months and filters for the same pollutants.
The most striking difference is the drastically lower micron rate, which, according to reviews, dramatically lowers water pressure.
The Clear2O takes a lot longer to purify the water since it employs a solid filter rather than a granular one.
The price of the Clear2O ranges from $30 to $42 depending on the seller.
#2. Amazon Basics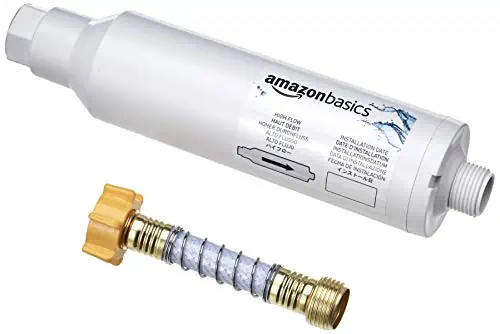 Amazon Basics Inline Water Filter with Flexible Hose Protector
For healthier, clearer, and better-tasting water, a 20-micron sediment filter with KDF technology is suited for outdoor usage.
Filters water that passes through it by connecting to a regular water hose or faucet; strong and long-lasting – can last…
$19.77
Similar to the Camco, this Amazon Basics inline water filter has a 20-micron filter and costs roughly $1 more.
Similar to the Camco, it has a short hose portion to lessen tension and kinking.
According to the manufacturer, Amazon Basics filters should last for roughly three months.
Reviewers report that this device has lower water pressure than the Clear2O filter.
One of the biggest benefits of employing the Camco concept is that.
Many reviewers who have tried all three of these solutions will go back to Camco water filters.
An inline water filter should definitely be included to your must-have camping equipment list, and many RVers and boaters seem to choose the Camco water filter.
Make sure it's the appropriate choice for you by doing your research to assist you.