In order to wash your hands, do the dishes, and take a shower in your RV, you need clean water.
You can assist guarantee your water is safe and pure by using an inline water filter.
Let's contrast Clear2O and Camco TastePure, two excellent choices for inline water filters.
Comparison Of The Clear2O And Camco Inline RV Water Filters
Your water may be efficiently filtered with either the Clear2O or the Camco TastePure inline RV water filters.
An inline RV water filter helps keep silt and other impurities out of the water system.
This guards against damage to your water heater, water pump, and faucets.
Both filters enhance the taste of the water in your RV by removing particles and smells.
The distinctions between Clear2O and Camco lie in the finer points.
Knowledge of Micron Filtration
A "micron" is a very tiny unit.
By the number of micron-sized particles they can trap, filters are graded.
For instance, a 100-micron filter will prevent the passage of dirt and particles bigger than 100 microns.
The filter blocks more particles the lower the number.
Anything smaller than 35 microns is considered microscopic, which means that it is invisible to the unaided eye.
The kind of particles you wish to filter will determine the micron size you want for your water filtration system.
You should have a filter rated for one micron or less for drinking water.
#1. Details for Clear2O Filters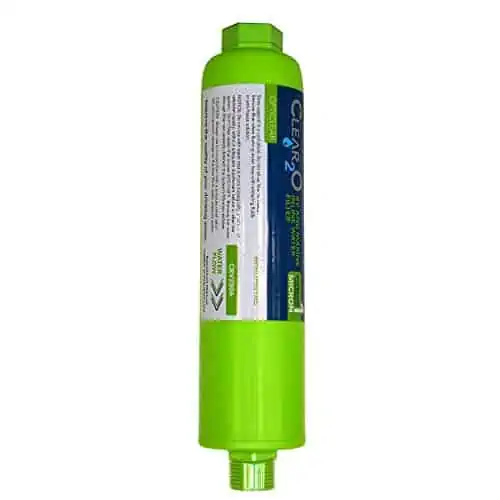 Clear2o CRV2001 RV Inline Water Filter – Reduces Contaminants, Bad Taste, Odors, Chlorine and Sediment in Drinking, Cleaning, Showering Water (Green)
HIGH-QUALITY WATER FILTRATION unique solid carbon block filters out impurities as small as one micron. Seventy times…
GET RID OF the water in campgrounds' awful sulfur taste and odor. Reduces sediment, chlorine, bad tastes, and odors…
Order from Amazon
The foul taste and odor of sulfur, which is often present in campsite water systems, may be removed with a Clear2O water filter.
Additionally, it reduces sediment and chlorine.
This long-lasting, large-bodied filter contains a strong carbon block filter that lessens water contaminates.
Water that is suitable for drinking, taking a shower, or washing your hands or dishes may be filtered by the Clear2O down to one micron.
Lifespan of Clear2O Filters
Depending on the particular circumstances it encounters, the Clear2O operates for three to six months.
You may need to replace the filter more regularly if there is significant demand from RVing.
A decrease in water pressure may indicate that it's time to replace the filter.
Average Cost
This is a significant distinction between Clear2O and Camco.
Due to their popularity and greater price, you'll often see them sell out.
If you can find one, consider purchasing more so you have one on hand for when it has to be replaced.
#2. Details of the Camco TastePure filter
Camco TastePURE RV Water Filter with Flexible Hose Protector (40043)
20-Micron Hose Filter: Our GAC (Granular Activated Carbon) camper water filter reduces foul taste, odor, chlorine, and particles as small as 20 microns.
Secure Installation: The flexible hose protector on this RV water filtration system eases the pressure on the connections.
Order from Amazon
Instead, a lot of RVers use TastePure filters.
This well-liked option employs a 20-micron granular activated carbon filtration system to lessen sediment, chlorine, and flavor issues.
When the filter is not in use, fluid treatment helps prevent things like germs and mold from forming in it.
TastePure Lifespan by Camco
The typical lifespan of this filter is three months.
However, the precise timing is dependent on usage, just as with other filters.
Watch for a decrease in water pressure.
Two- and four-packs are available from Camco so you can stock up on extras.
Average Cost
The TastePure is really affordable.
Additionally, sports goods shops and big-box merchants carry them.
What Is the Best Camco TastePure vs. Clear2O?
Some significant differences between Clear2O and Camco TastePure may be the determining factor for you.
Let's compare the results of the two filters.
#1. Clear2O Inline Water Filter Is The Best Overall.
Overall, we believe that the Camco TastePure is outperformed by the Clear2O inline water filter.
At one micron, the Clear2O filter can filter more thoroughly.
It also lasts longer.
It costs more, but it also filters more air for a longer period of time.
#2. Camco TastePure Is The Best Starter Or Budget Filter.
Some minute particles and germs are filtered out by the Camco TastePure.
Even if your budget is limited, it may still perform well.
If you're just starting out RVing and don't intend to drink the water from your RV's water system, think about using this filter to save some money.
Why an RV Water Filter Is Necessary
RVing is only possible with some form of water filtration device, particularly if you want to drink the water.
These filters assist in removing trash, silt, and sometimes even microorganisms.
Consider the fact that these filters safeguard not only you and your family but also your RV when comparing Clear2O with Camco filters.
It's crucial to have a consistent strategy for purifying your water sources while switching campgrounds.
One reason is to defend your RV from potentially harmful germs and sediment, but you'll also be protecting yourself and your family.
What technique do you use to filter the water in your RV?