The dealer most certainly attempted to sell you an extended warranty plan when you bought your RV, am I right? Investing in an RV surge protector is a fantastic method to provide the electrical safety all of your pricey electronic equipment in the RV needs.
An RV Surge Protector Definition
Surge protection really comes in two different forms.
The basic surge protector, which guards against power source electrical surges, comes first.
There is also the more sophisticated alternative, known as an electrical management system, which I like.
This style offers protection from a lot more electrical problems.
Both variants come in hardwired and portable configurations.
You connect your RV using the portable surge protectors by plugging them into the power pedestals found in RV parks.
Hard wired devices are permanently mounted in your RV, as opposed to portable ones.
As soon as you arrive at your RV location, you just hook your shore cable into the power source as usual.
#1. Surge Protection
Your RV is shielded by the surge protector from any electrical surges that could enter via the power pedestal.
This may result from a lightning strike, a power pedestal fault, or even a spike in voltage coming from the electrical wires.
The surge protector prevents it from ever entering your RV so it won't burn it.
#2. Electrical Control System
The available models for power protection are much better.
With a little more advanced technology, these surge protectors can defend against much more than simply electrical surges.
Low and high voltages are protected against by the EMS models.
Normal A/C voltage is 120, thus your RV's power will be turned off to prevent any potentially damaged appliances and electronics if the voltage drops below 104 volts or rises beyond 132 volts in the outlet you are hooked into.
The complete protection variants also provide protection from incorrect wiring at the power pedestal.
If there is no ground or if the pedestal is connected incorrectly, the EMS can know.
It will then off the electricity and prevent your RV from being exposed to this potentially hazardous condition.
Owning an insurance coverage like that is quite inexpensive.
Due to the fact that they provide so much more protection, EMSs are often more costly than surge protectors.
Given how many power problems we've had while traveling, I think taking the EMS route is absolutely worthwhile.
#3. Portable Devices
Portable units are convenient since they can be connected to your RV's power pedestal with ease.
Plug and play operation is all that's required to get things to function.
They are resistant to the elements, so sitting outdoors is not a problem.
There is no difference between them and hard connected devices in terms of protection.
The cable portion of many portable units has a metal ring around it so you may lock it with a chain or bike lock when you leave your campground.
#4. Hard Wired Equipment
Although setting up hard wired devices takes a little more work initially, they offer several benefits versus portable ones.
Mounting the hard-wired device next to your shore cable is necessary.
Either next to your breaker panel or in the bay where your cable enters the RV, this may be found.
These devices need to be protected from the elements since they are often not weatherproof.
After choosing the ideal location for the installation, you cut the shore cable and make sure that the end that goes into the EMS shore power input terminals is the one that comes from the power pedestal.
Connect the other end to the coach load output terminals inside the EMS unit (the end that connects to the breaker panel).
The device is ready to use after it has been correctly connected and placed.
A set-and-forget installation is what it is.
Although installation is more difficult, once it is installed you won't have to worry about theft, leaving it at a campground unintentionally, or forgetting to plug it in.
Since you usually won't be able to readily view a hard connected machine, most of them come with a remote digital display.
The unit's status and any fault codes will be shown on the remote control for your information.
A Hard Wired Unit Note
The hard connected devices have one drawback in that they are difficult to disconnect or avoid if there is a power outage at your campground but you are ready to take the chance of being exposed.
Models with a built-in bypass switch are available from Progressive Industries.
All EMS system features—aside from the surge protector—will be turned off by this switch.
If you don't mind running your RV on 103 volts but still want surge protection, this is a great feature.
The Need For Surge Protectors
To stop any electrical surges that could be delivered to your RV, you need a surge protector.
This could be the result of a power grid malfunction or a lightning storm.
Any plugged-in appliances or electronic devices will sustain significant damage from that electricity surge.
Your air conditioner's or your RV fridge's circuitry is quite delicate, and a surge will unquestionably fry the circuit boards.
Since there is really no way to predict when something like this will occur, the only real preparation you can make is to have a surge protector that constantly looks out for situations like that.
The EMSs also filter out any "bad power," so there is less chance of harming devices that are susceptible to it.
When a power source intentionally or accidentally lowers voltage, it is referred to as a "brown out."
This occurs quite frequently in regions where there is a summertime wildfire risk or where there is an unexpectedly high demand for electricity.
The voltage will be lowered by the power companies to lessen the load on the system, which can seriously harm the delicate electronics in your rig.
When compared to the price of a rooftop air conditioner or a new refrigerator, purchasing an EMS may cost a few hundred dollars, but it is a modest sum of money.
When looking at RV surge protectors and electrical management systems, there are two manufacturers that I advise utilizing.
Innovative Industries
The RV surge protector industry is dominated by Progressive Industries.
Depending on the type RV you have and your tastes, they provide a wide range of models.
They provide portable and hard-wired devices that are available in 30 and 50 amp variants, along with surge protector and EMS types.
At the moment, we are using their EMS-PT50X model.
Our 50 amp RV may be used with this type, which is portable.
It provides all the security my fifth wheel needs and is simple to operate and plug in, which is why I like it.
After hooking it in, the device will wait 128 seconds to check for any electrical problems before enabling electricity to reach the RV.
The current electrical condition is shown in a rolling display on the portable equipment.
It will display data on both electrical legs since our model is 50 amps.
Line 1 will be the first to display the voltage and amp use.
Line 2 will come next, displaying utilization of both voltage and amps.
The electrical signal's frequency will then be shown on the monitor.
Last but not least, whether there are any mistakes or mistakes in the past.
EMS Specs for Progressive Industries
The following are some of the protections that Progressive Industries' EMS units provide:
Surge protection with a 3580 joule rating
Response time of less than one nanosecond
Protection against over (>132v) and under (104v) voltage
Reversal polarity detection, open neutral, and open ground
Protection against 240-volt accidents
Protection against AC frequency
We've had this device for a while, and it's done a great job of keeping our appliances and electronics safe by cutting power to the RV when there is a problem.
Excellent customer service is also provided by Progressive Industries.
They provide replacements when a unit is faulty in addition to phone support to troubleshoot issues.
Given that they are a bit of an investment, they provide a lifetime warranty, which is fantastic.
The portable units have a metal ring on them that can be used with a chain or bike lock to fasten the unit to the power pedestal.
To lessen the likelihood that it will be stolen, lock it up.
Surge Guard by Southwire
When we were in our 30 amp travel trailer, I previously reviewed a Southwire Surge Guard Model 34931.
Our previous model was the 34830, and Southwire made some lovely upgrades to the 34931.
This specific model defends against:
Voltage spikes
Low voltage (102v) and high voltage (>136v)
Reverse polarity, open neutral, and open ground
Plug or outlet that is too hot
Faulty pedestal
Neutral high
I feel wonderful knowing that I'm shielded from all of these possible problems.
Over the past few years, while living in various campgrounds, we have observed a variety of potential electricity-related issues.
During the summer, the voltage at one campground would routinely fall below 100 volts in the early evening.
This was due to the fact that the majority of people were cooking food while using a microwave, an electrical heating device, and their air conditioners.
My refrigerator is sensitive to improper voltages, so this could have seriously damaged it.
Additionally, I've seen power pedestals with open grounds.
Your RV won't receive power from the surge protector, and the LCD display will show an error message.
#1. Establishing Southwire Surge Guard
It was very simple to use Southwire's Surge Guard.
Simply plugging it into the power pedestal and then plugging my RV cord into it caused the surge protector to turn on and start guarding my RV after a brief delay.
It continually shows both the voltage entering the RV and the number of amps I'm presently consuming.
This surge protector's ability to be used while converting down in power is even another fantastic feature.
We are able to pull up to a family member's driveway, step down from our 30 amp RV connection, and plug into their 20 amp residential outlet using a dog bone.
I used a dog bone adaptor to connect the surge protector into, and it still works well.
Additionally, since I can see how many amps I'm consuming, it's simple for me to remain under the 15 amps the receptacle is rated for.
This particular device contains LED lights that show when there is a problem, such a surge or if the RV is on.
Simply look at the lights to determine your level of protection.
#2. Improvements 34931
First of all, the physical design of this model has undergone certain upgrades.
Compared to the preceding box-shaped variant, it is much smaller.
I truly value this since my RV has limited storage room, therefore the smaller the better.
Additionally, they reduced the time after plugging the device in from 128 seconds to roughly 4 seconds.
It may seem little, but I truly appreciate not having to wait for the RV to turn on for the electricity to be good for two or more minutes.
A plastic ring has also been added to encircle the top wire component of the device.
This security ring allows you to use a chain or bike lock to secure the Surge Guard to the power pedestal.
These units aren't inexpensive, so it's wonderful to know you can lock it up when you leave your campground.
This is a terrific bonus.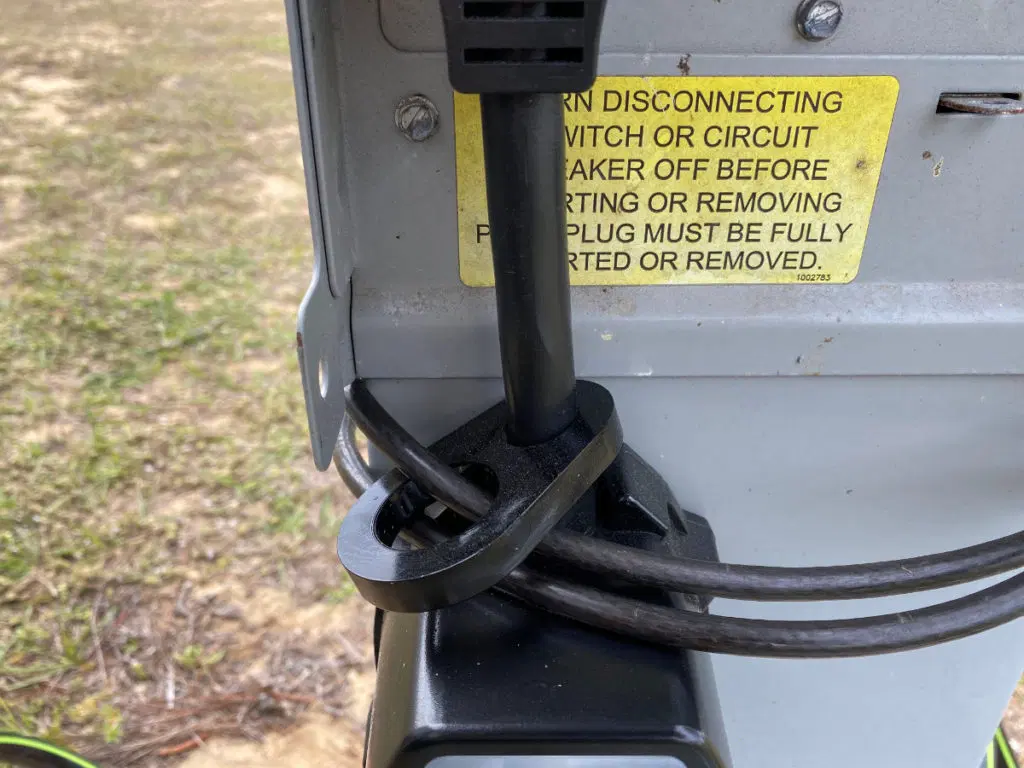 #3. LED Display Wireless
The Surge Guard's ability to work with a wireless LCD display is another excellent feature.
You can easily mount the display so you can keep an eye on the electricity inside your RV without having to leave to check the surge protector.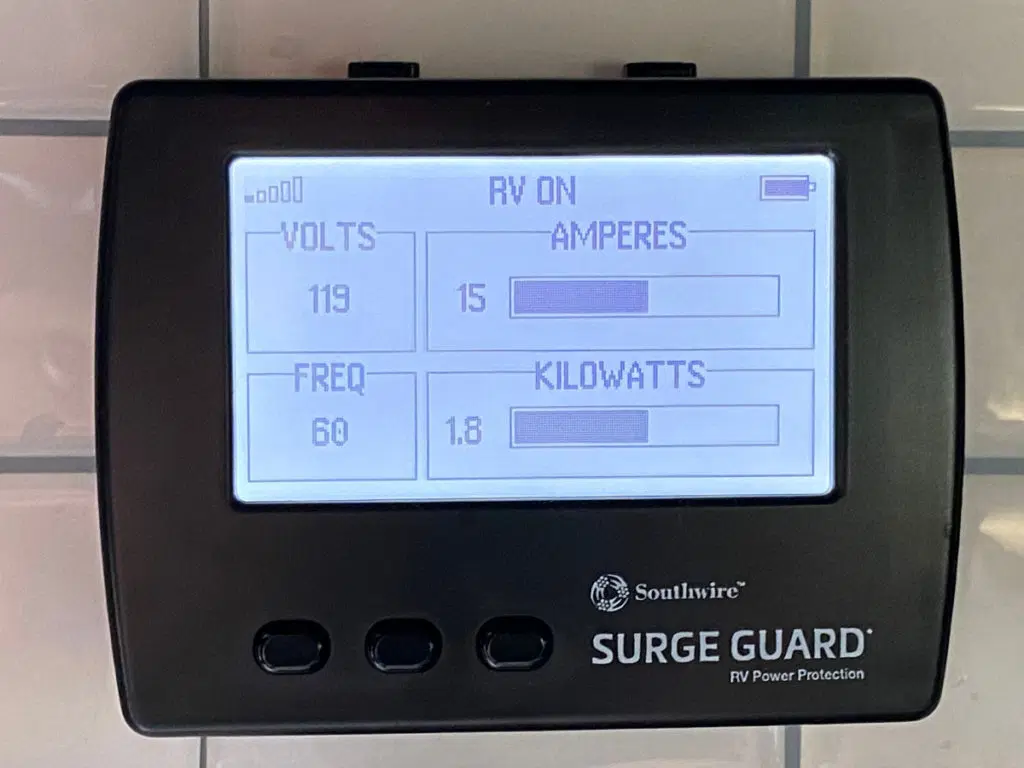 Simply inserting batteries and turning on the display allows for easy setup.
It'll locate your Surge Guard (you can verify this by matching the numbers on the unit with the ones that show on the display).
To finish the pairing, simply turn off the Surge Guard's power and turn it back on.
You may now check on your power status without leaving your setup!
Both 50 and 30 amps are offered for this model.
Surge Protectors at Work
What occurs then if your surge protector trips or if you experience a low voltage period and the EMS system shuts off the power to your rig?
Your rig will be safeguarded in any scenario, and the harmful electricity will be halted before it reaches it.
Depending on what went wrong, an error code will appear on the screen.
These trouble codes are shown for each brand.
Codes for Errors in Progressive Industries
E0 – Normal Operating Condition
E1 – Reverse Polarity (hot and neutral wires reversed)
E2 – Open Ground (no ground wire connection)
E3 – Line 1 High Voltage (line voltage above 132V)
E4 – Line 1 Low Voltage (line voltage below 104V)
E5* – Line 2 Voltage High (Line voltage above 132V)
E6- Line 2 Voltage Low (Line voltage below 104V)
E7 – Line Frequency High (line frequency above 69Hz)
E8 – Line Frequency Low (line frequency below 51Hz)
E9 – Data Link Down (call technical support)
E10 – Replace Surge Protector Module (call Progressive Industries Tech Support)
*Code only apply to 50 amp models
Error Codes for Southwire Surge Guard
REPLACE SURGE – Surge expended
OPEN GROUND – Open ground
REVERSE POLARITY – L1 or L2 wired to neutral or ground
L1 HIGH WAS 137V L2 HIGH WAS 137V – Voltage > 136
L1 LOW WAS 99V L2 LOW WAS 99V – Voltage < 102
NEUTRIP WAS 65A – Current > 130%
L1 AMPS WAS 56A – Current > 110%
RECEPT OVERHEAT – Overheating plug/receptacle
GND HIGH WAS 35V – Abnormal voltage on ground
OPEN NEUTRAL – Open neutral on coach side
FREQ HI DETECTED – Frequency > 70
FREQ LO DETECTED – Frequency < 54
The EMS system will then go through its 128 or 136 second reset wait when the situation has stabilized and the underlying cause of the problem has disappeared, and if everything is in order, power will be restored to your rig.
The prior error code will be shown on Progressive Units so you know there was a previous issue that has been fixed.
Surge Guard versus Progressive Industries vs. Southwire
Which of these two brands would I suggest? That is a valid query.
For each product line, they both provide safeguards that are quite comparable.
Both the EMS units and surge protectors have a lot of similarities.
Additionally, the build quality is extremely comparable.
Both are quite well built and provide fantastic all-weather protection.
They both include rolling screens with information about power and rings that let you lock them up for security purposes.
#1. Southwire Benefits
Progressive does not include a few excellent extras on the portable units, however the Southwire Surge Guard does.
One is the interior-mountable bluetooth display.
I prefer not having to walk outside to check the power since I can check it from within my rig.
This is particularly helpful when I'm using many big appliances and we're on a 30 amp connection.
Consider the microwave, electric water heater, and air conditioner.
I can monitor how many amps we're consuming, and if we start to approach 30, I can turn everything off to avoid tripping the breaker.
It comes online in only 4 seconds, which is another wonderful touch.
Though it's not a big problem, it's good to not have to wait more than two minutes.
#2. Progressive Benefits
These are thoughtful additions, but I like that Progressive has a more limited range for low/high voltage protection; this makes me feel better that our expensive electrical devices won't be harmed.
Our friends have both used Southwire surge protectors and portable Progressive EMS units at the same campground.
Whereas the Southwire device suddenly died, the Progressive unit maintained cutting power as it should due to low voltage.
It could have been a bad unit, but it served as an excellent benchmark for me.
For the RV plug in to the device, Progressive Industries does include an all-weather cover.
This is advantageous since it will shield the connection from the environment and even flying sand or dirt that may enter a loose connection.
Progressive also changed a unit for me, and it went extremely well.
They questioned me briefly about what was happening, I tried a few troubleshooting techniques, and then they approved a warranty replacement and shipped me a replacement machine.
They paid for the postage so I could return the flawed item.
I've never had to deal with Southwire's return policy, but browsing over their website, it seems like their goods are covered by a guarantee that is fairly comparable to mine.
You Should Purchase
Decide if your RV is 30 or 50 amps first.
Next, consider any additional dangers that your RV might face from electrical issues.
The most basic surge protectors are quite effective at preventing surges, but there are really a lot more dangers to be concerned about.
Going the EMS route is advised since low voltage and pedestal miswirings are far more common than true surges.
The electrical system is sometimes the first to age in campsites, which have a lot of them.
It is priceless to be shielded from this.
Decide if you want to spend the effort hard wiring the device in your rig after deciding whether you want only surge protection or complete power protection.
I've always chosen the portable approach, which has worked out great for me, but I do worry about our unit being stolen.
In the event that I ever need a replacement, I would invest in a hard-wired device so that it would be permanently placed and I wouldn't have to deal with the portable unit every time we moved to a new location.
Choose A Brand
Simply choose the brand after determining the surge protector type you want.
You really can't go wrong with either Progressive or Southwire, in my opinion.
Both are an excellent option since they are fairly comparable in terms of features, safeguards, and even pricing.
Both have made me happy, and if I ever need a new device, I wouldn't hesitate to purchase either brand.
An RV surge protector is a need if you own an RV.
All of your valuable equipment and appliances in the RV are protected for a little outlay.
Both Progressive Industries and Southwire Surge Guards are excellent products, so you can't go wrong with either one!
Along with these other RV Must Haves, a surge protector is a need for all RVers!