Surge protectors are often used by RV owners to protect the electronics in their vehicles.
These useful tools may eliminate a lot of bother.
Let's examine the Progressive Industries EMS-PT30X surge protector as an example.
The Progressive Industries EMS-PT30X is what, exactly?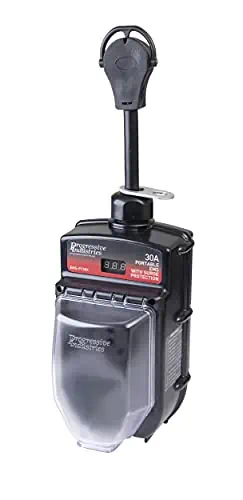 Portable RV Surge Protector Portable EMS-PT30X RV Surge Protector , Black
Surge Protection: 3-Mode / 1,790J / 44,000A. Ratings: 30A / 120V / 3,600W.
Operating Temperatures: -40C to +105C
Weather Resistant/designed for Outdoor Use
A 30 amp electrical management system (EMS) is available from Progressive Industries under the model number EMS-PT30X.
The capabilities of an EMS surpass those of a surge protector.
It monitors and corrects a wide range of electrical difficulties brought on by spikes in power, low or high voltage, and other problems.
In order to safeguard your rig, the EMS-PT30X can withstand power surges of up to 44,000A and can respond in less than one millisecond.
For quick diagnosis of power issues, it has a digital display.
All you have to do is plug it in, and then connect your RV extension cable straight to the EMS.
Justification for Using a Portable RV Surge Protector
A simple and economical method of protecting both your RV and yourself is to use an RV surge protector.
Your rig may sustain significant damage from electrical fires, endangering your safety.
Before your rig is connected, you will be aware of any shore power issues.
Additionally, having an EMS or surge protector might save your rig's electrical system from being destroyed if problems happen while you're there.
Although it may seem pricey, an EMS or surge protector is less costly than the alternative.
We Adore the EMS-PT30X Surge Protector for These Reasons
Heavy lifting may be accomplished by this surge protector.
Here are a few of our preferred features.
#1. Electronic Display
Some surge protectors for RVs include difficult-to-read LED light displays.
The Progressive Industries EMS-digital PT30X's display offers clear, accurate, and extensive information.
#2. Surge Protection in 3 Modes
Your rig will be better protected if it has multi-mode surge protection.
This approach is thorough enough to address problems from several problem points.
#3. Portability
Among your limited RV storage, several surge protectors take up a lot of room.
Smaller than most, the Progressive Industries EMS-PT30X.
Because of its mobility, storage and setting up are simple and fast.
Cons
We don't have many complaints about this EMS.
But no product is flawless.
#1. Lock Must Be Bought Separately
It's a good idea to lock up your EMS.
These expensive, readily-stolen gadgets cost several hundred dollars each.
The EMS-major PT30X's drawback is that a lock must be purchased separately, adding a little additional expense.
#2. EMS-PT30X by Progressive Industries Substitutes
The EMS-PT30X has a lot of qualities that we appreciate, but don't rule out other options.
Here are a few other options to think about.
#3. Progressive Industries SSP-30XL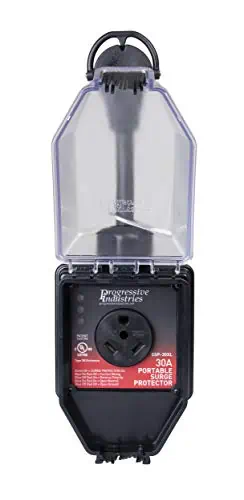 Progressive Industries 30 Amp Portable RV Smart Surge Protector With Cover (1 MIN), SSP-30XL
Surge Protection: 3-Mode / 825J / 22,500A.
Ratings: 30A / 120V / 3,600W.
Operating Temperatures: -40C to +105C
Open Ground, Open Neutral & Reverse Polarity Detection, Miswired Pedestal Indication, Surge Failure Indicator
The SSP-30XL is also produced by Progressive Industries.
This surge protector, like the EMS-30PTX, has a response time of less than one nanosecond and is used with 30 amp hookups.
Although it costs less, it doesn't provide as much protection.
This surge protector does not offer under- or overvoltage protection, in contrast to the EMS-PT30X.
Additionally, rather than a digital display, it has an LED indicator display.
Finally, compared to the 44,000A offered by the Progressive Industries EMS-PT30X, the surge protection is only 22,500A.
#4. Surge Guard 44260 Entry Level Surge Protector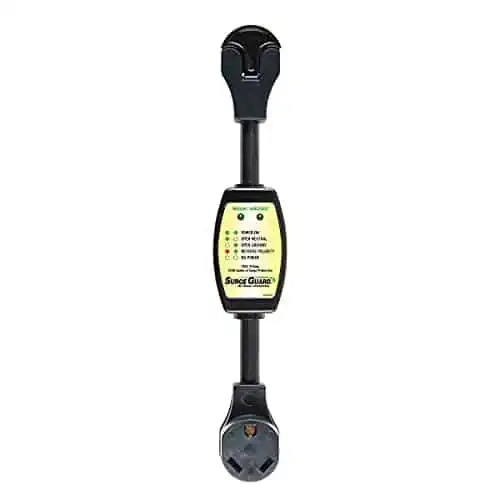 Technology Research Corp 44260 30 Amp Portable Surge Protector
Technology Research Corp 44260 30 Amp Portable Surge Protector
A generic surge protector is still preferable than nothing if you don't have money in your budget for an EMS.
With the Surge Guard 44260, you get that.
You'll gain some safety for your gear while saving a ton of money.
The Surge Guard detects defective shore power upon connecting in and works with 30 amp connections.
Additionally, it offers 2100 Joules of surge protection.
Compared to comparable 30 amp surge protectors, the Progressive EMS-PT30X RV surge protector is more expensive.
But there's a solid explanation for it.
When it comes to the breadth of protection provided, it dominates the competition by a wide margin.
For your equipment, do you have a surge protector?
EMS PT30X RV Surge Protector Videos Suggestions From Youtube