How To Use Solar Panels In An RV, Trailer, Or Fifth Wheel That Has Been Prewired With A Furrion Solar Port
Campers who often engage in dry camping, commonly known as boondocking, have grown to love solar panels.
Manufacturers of RVs and trailers became aware of this a few years ago and began equipping new versions with prewired connections.
Manufacturers with well-known names like Grand Design and Forest River are two examples.
These connectors make it simple to trickle charge your RV house batteries when your trailer is in storage as well as when you are camping outside and need to recharge your batteries.
The truth is that you may attach any suitable third-party solar panel.
I've gone to a few RV shops that attempted to sell me solar panels that are compatible with these Furrion connections.
I suggest the Acopower 100W solar panel with the Acopower Furrion adapter if you're seeking for the simplest method to utilize a solar panel with the Furrion solar port.
Additionally, I advise use an Acopower extension cord.
You just need that, and the majority of folks don't require more than 100W to recharge their RV batteries.
This 100W panel is safe to use with the Furrion solar port since it won't produce more than 10A.
I strongly advise purchasing a portable power station to enhance your boondocking experience even better.
Consider the Ecoflow River, which among other things includes a 288Wh extendable battery, three AC outlets, and USB A and C connectors.
As long as you connect the accompanying MC4 to XT60 adapter to the built-in bypass, which doesn't run via the charge controller, you may charge the River with the Acopower panel above.
Today I'll demonstrate how to utilize the Furrion solar port and provide some advice on solar panels.
The Adapter Necessary To Connect External Solar Panels To Furrion Solar Ports
Rare two-pin connector known as the Furrion solar port is not often seen on solar panels.
I'm sure you can guess why they would do this (hint: they make proprietary solar panels that use this port).
We require an adaptor to convert the MC4 connections found on the majority of modern solar panels into the 2 pin connectors used by Furrion.
That is what the Lixin MC4 to 2 Pin does.
Lixin MC4 to 2 Pin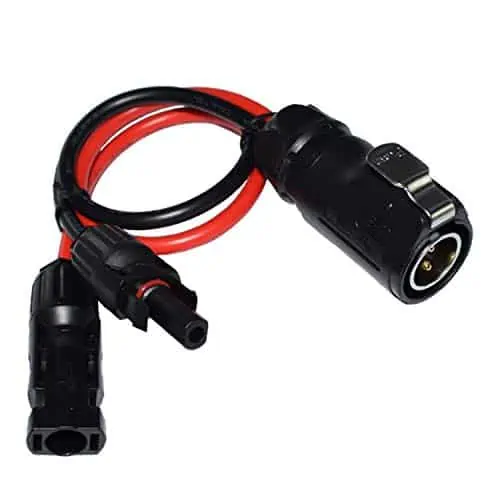 Notably, the positive (red) wire is connected to the MC4 male connection, whereas the negative wire is (black).
The majority of third-party panels from firms like Renogy, HQST, Newpowa, etc. are compatible with this.
You must purchase the appropriate adaptor for your solar panel.
The CNLEIFU MC4 to 2 Pin adapter is what you need if your solar panel includes a positive female MC4 connection and a negative male MC4 connector.
What Qualifies A Solar Panel For The Furrion Solar Port?
There is a 10A restriction on the Furrion ports I have seen (yours may be newer and different).
To avoid blowing a fuse, we need to remain below 10A, which is 120W.
You also need to be aware that the Furrion prewiring is nothing more than an electrical cable with a fuse attached that goes to your batteries.
To avoid overcharging, you must thus utilize a solar panel with a solar charge controller.
Whether you have a Grand Design or a Forest River RV, your trailer will feature the same Furrion solar port.
Exists a Furrion Solar Panel That Is Official?
You no longer need to purchase extra adapters since Furrion has recently launched a 100W panel that comes with a charging controller and the Furrion connection.
Recommendations For Solar Panels That Work With The Furrion Solar Port
Let's now examine a few excellent solar panel alternatives that have an integrated solar charge controller.
You may connect these panels to the Furrion port when they are used in conjunction with the Lixin MC4 to 2 Pin.
I have two of these Renogy 100W Portable Foldable Monocrystalline Solar Panels, one of which has a solar charge controller and the other does not.
They're fantastic for charging RV batteries, but I also use them with my power station.
The panels may be easily angled toward the sun thanks to the adjustable kickstand, and the supplied protective case keeps it safe while traveling.
You may check the amperage, battery voltage, and charging status with the solar charge controller.
It will function with your Furrion port when paired with the Lixin MC4 to 2 Pin.
Acopower 100W Portable Solar Kit – The solar charge bypass makes the Acopower 100W solar panel stand out.
This enables simultaneous charging of a power station and a 12V battery.
You would need the Acopower Furrion Adapter to utilize this with a Furrion solar port.
You may use the Acopower solar panel to recharge both your 12V trailer batteries and the portable lithium battery when used in conjunction with a power station like the Jackery Explorer 500, which enables you to utilize standard 120V equipment like TVs, PCs, and CPAPs.
Solar Panel Bundle Kit 12V 100W Monocrystalline from Renogy – A solar panel kit similar to this one that includes a charge controller is also an option.
The MC4 wires would be connected to the charge controller (male to negative, female to positive), and then the positive male MC4 connector from the panel would be connected to the female MC4 connector you set up in the charge controller and the negative female from the solar panel would be connected to the negative male from the charge controller.
In contrast to the output cables to the battery, the charge controller clearly indicates where the solar panel wires should go.
To connect the charge controller to the Lixin MC4 to 2 Pin, you will next need some Renogy MC4 Extension Cables.
Just make sure the MC4 male is connected to the charge controller's positive (by the battery icon).
Cable Extensions
You won't be able to place the solar panel too far from the port since most solar panels have very short wires.
I advise utilizing MC4 extension cords in the space between the solar panel and the adaptor.
The Windynation MC4 Extension cables are what I use and suggest.
Choose from a variety of lengths; I connected mine together with electrical tape to make them more manageable.
You should think about the overall amperage your panel will emit before buying extension cords.
I suggest using this calculator (click on Solar Cable Gauge Calculator) to see how long an extension cable may be with a certain gauge before the voltage loss exceeds 3 percent, since a 100W panel would produce roughly 6A.
You can also view the maximum current for various wire diameters below the calculator.
Can A 100W Solar Panel Run Anything?
To operate 12V items in your camper, such as your water pump, furnace fan, 12V TV, and lights, connect a 100W solar panel to your batteries.
It won't operate your microwave, air conditioner, or 120V TV, nor will it power any outlets.
You need an inverter that converts 12V DC power to 120V AC electricity in order to power your outlets using your 12V batteries.
The KRIGER 1100 Watt 12V Power Inverter is an example of this kind of inverter.
The 120V gadgets you own may be immediately plugged into this once it has been linked to your battery.
An increasingly common option nowadays is to purchase a solar generator since installing an inverter is a little more difficult than putting in a cable.
An inverter that supplies typical 120V AC outlets, a solar charge controller, and a 12V lithium battery are often found in solar generators.
I use an EcoFlow Delta Max with a 2400W inverter and 2016 Watt-Hours, and I connect my travel trailer to it using a Camco 15A to 30A connection.
This enables me to utilize the plugs and power my camper's whole interior.
On my little class C, it even runs the AC, although that just drains the battery for an hour.
On my RV roof, I have 200W of solar panels that I use to charge the EcoFlow.
The Delta Max charges my 12V trailer batteries when I connect it into my camper.
However, I do have a 100W panel kit mounted on the roof that is directly linked to my RV batteries; otherwise, the Delta Max would be wasting a lot more energy simply to trickle charge the batteries.
How Long Until My RV Batteries Are Recharged?
Without knowing the battery capacity and solar panel size, it is difficult to respond to this topic succinctly.
To see the post I published about this, go here.
Do Goal Zero Solar Panels Work?
Goal Zero solar panels don't come with a charge controller built in, thus you would need to plug one in between the Goal Zero sun panel and the Furrion connector.
With a Boulder 100, it might be feasible, but owing to the amperage, not with a Boulder 200.