Do you intend to travel in an RV during the winter? To safeguard the water system in your RV, you will want specialized tools.
The most crucial item is a hot water hose! Continue reading to view our top selections and learn how to choose the ideal one for your winter RVing circumstances.
A Heated Water Hose: What Is It?
A heated water hose either contains insulation throughout its whole length, a heating element along the length of it, or both.
These hose come in a variety of designs from different manufacturers, but they are usually thicker and heavier.
A heated water hose is designed to deliver a modest amount of electricity to maintain above-freezing temperatures throughout its whole length, allowing water to flow.
If a typical hose is left outside in below-freezing conditions, water flow will cease and potential harm can result.
Why Would Your RV Need A Heated Water Hose?
For RV owners, freezing weather may lead to a variety of problems.
A heated water hose is a necessary piece of RV gear, particularly for those who are moving about or staying put in areas with chilly winter climates.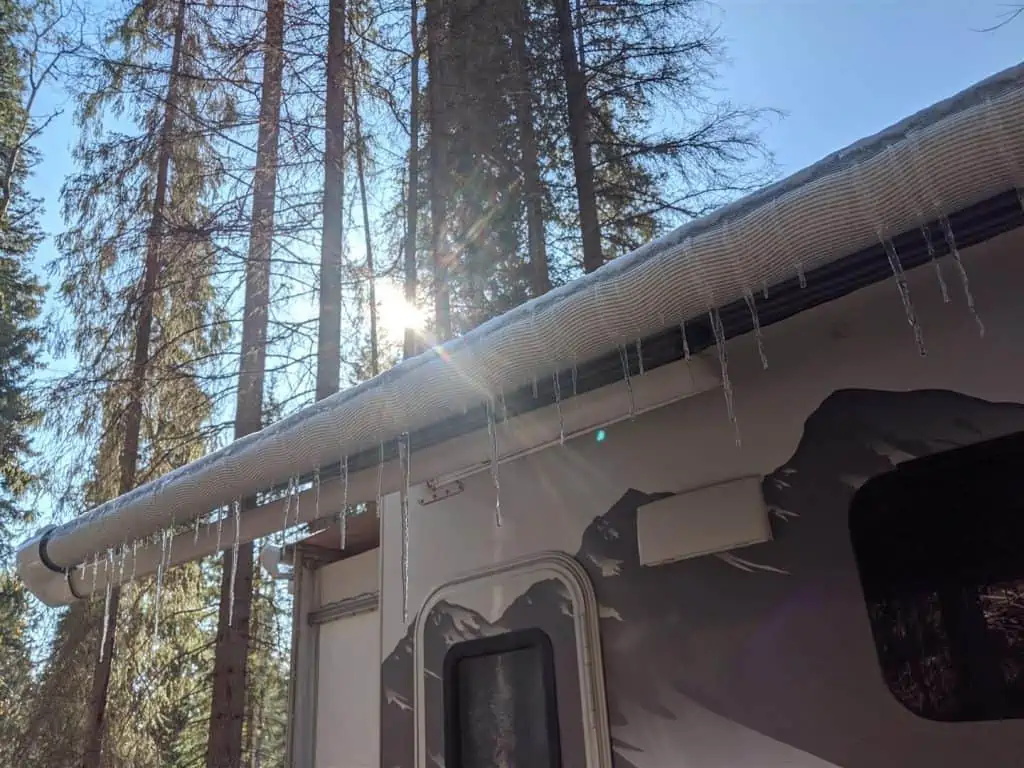 Water expands as it freezes.
In stick and brick structures, frozen pipes may break, giving homeowners hassles and expensive repairs.
Living in an RV is similar to living in a home, with the exception that the plumbing in an RV is much more flimsy and exposed.
Under the weight of the ice, plastic pipes and fittings are readily susceptible to cracking.
This results in leaky pipes, water damage, and mold growth, all of which may harm both people and animals' health.
In regions where it gets quite cold, many RV parks will insulate the water spigot and demand that visitors provide their own heated hoses.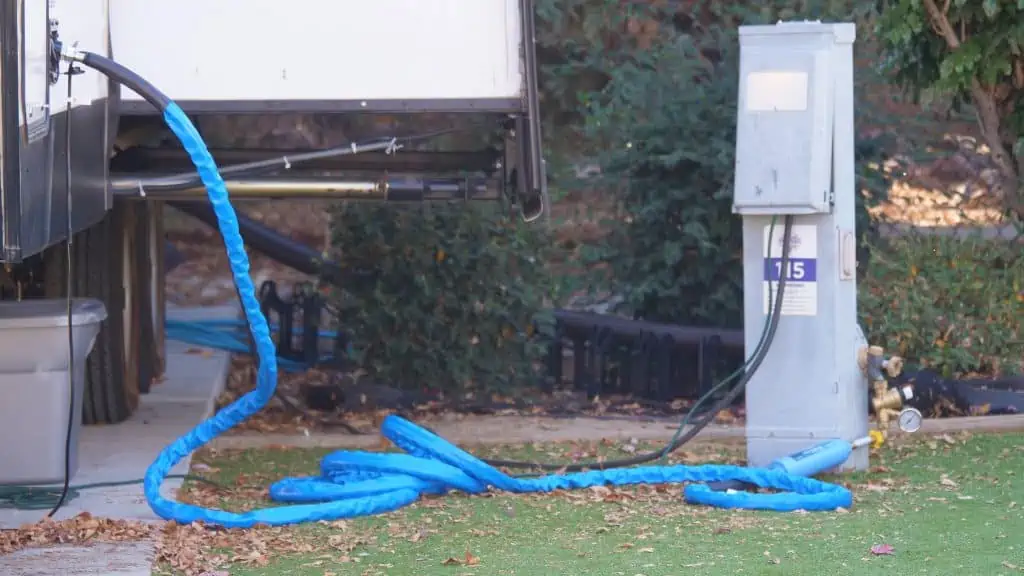 What Heated Water Hose is Best for Your RV?
There are many of heated hoses available for RV owners.
Along their length, these hoses include electrical heat strips that must be connected into an outlet.
This prevents the water from freezing, protecting your hose and your RV from harm.
The following elements should be taken into account while picking the best heated water hose:
Diameter: diameter and flow rate are related.
Length: Make sure your hose is long enough to reach the spigot from your RV.
Materials: Not all hoses can be used to transport potable water. If there are, it will be noted on the box. A drinking water safe or "for potable water usage" label should be present on your hose.
Burst pressure or PSI: The amount of water pressure the hose can withstand before bursting is measured in burst pressure, or PSI. To safeguard your hose and plumbing system, it would be a good idea to pair your hose with a water pressure regulator.
Energy draw: Because the hose is electric, consider how much power you'll need to take to heat it.
Self-Regulating: According to the temperature outside, the hose will switch the heating element on and off as required.
Temperature Rating: The range of temperatures the hose is capable of handling.
Cost: Frequently, you get what you pay for. Don't be afraid to spend more for quality and longevity, especially if you want to use this hose across many seasons.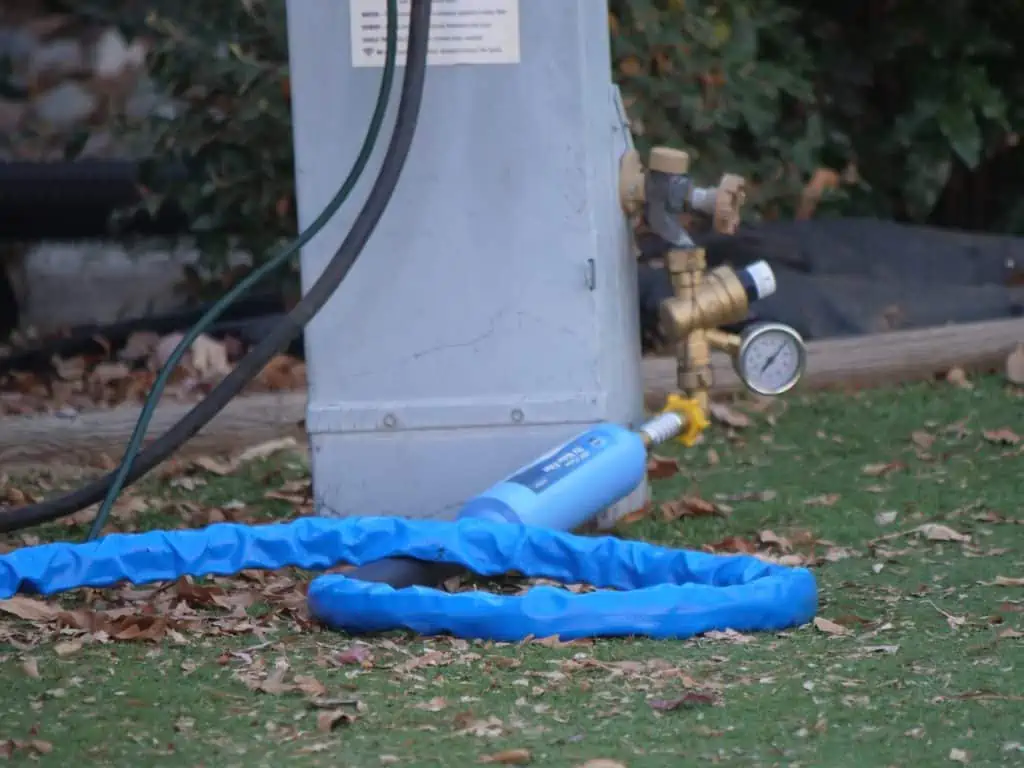 Best RV Heated Water Hoses of 2023
Here is a list of the top 4 heated hoses for your RV that we've put together with the aforementioned considerations in mind:
#1. Camco 25ft TastePure Heated Drinking Water Hose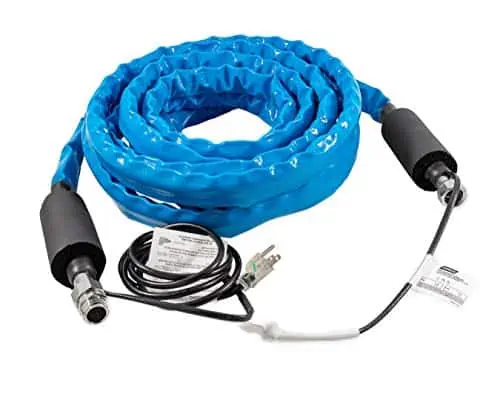 Sale
Camco Heated Drinking Water Hose for RV, 25 Feet…
Ideal for preventing water lines from freezing at -20 degrees Fahrenheit (-28…
Made with drinking water safe hose certified by NSF-61
Contains a female-to-male adaptor to enable water hookup.
$85.50
Observe on Amazon
The Takeaway: This hose includes an energy-saving thermostat, a sturdy exterior cover to guard against damage, and it can withstand temperatures as low as -25 F.
#2. FreezeFreeHose Heated Hose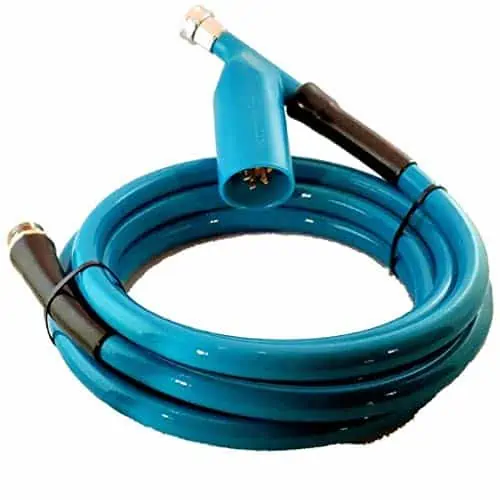 FreezeFreeHose Heated Water Hose
Stops the water within the hose from freezing.
Water that is safe to drink and is manufactured from tough, high-quality virgin…
Options range from 5′ to 100′ in length.
Observe on Amazon
The Lesson: When in operation, this hose is safe for drinking water and only consumes.06 amps of electricity per foot.
There are many length options for this self-regulating hose.
#3. Valterra Heated Fresh Water Hose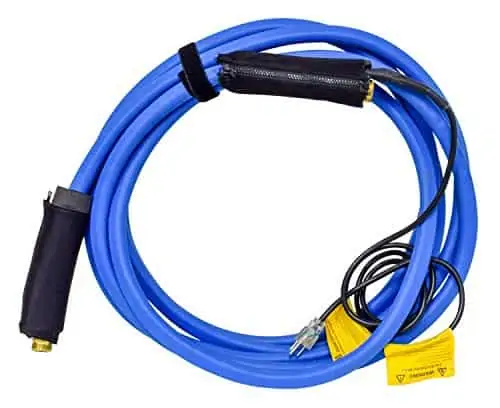 Valterra W01-5325 25′ x 1/2″ Heated Fresh Water RV…
RV HEATED WATER HOSE: "diameter hose offers fluid flow…
EASY TO USE: Self-regulating design does not need a…
EASY TO INSTALL: A light-up plug and a 6′ chord length make it possible.
$120.56
Observe on Amazon
The Takeaway: The Valterra Heated Fresh Water Hose is an automatic drinking water hose.
At each end of the hose are zipped insulators that provide further defense against frigid weather.
#4. NoFreeze Water Hose (+ Discount Code!)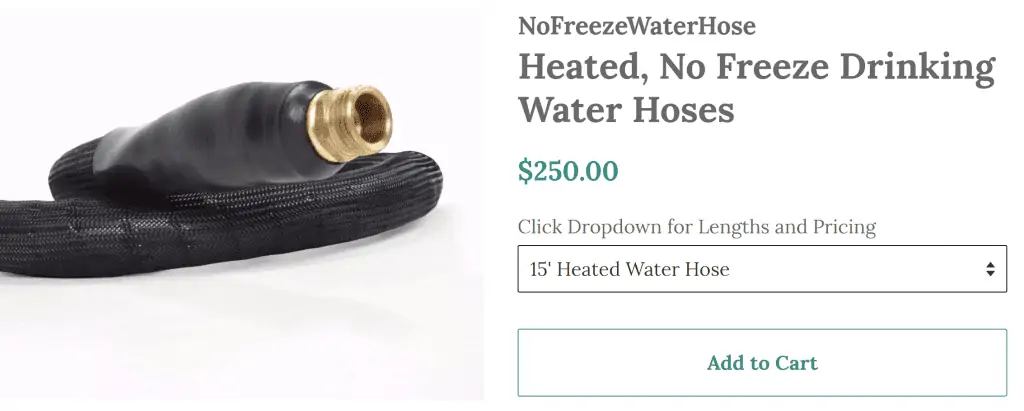 Available lengths for this heated RV water hose are 4, 15, 25, 35, 50, 75, and 100 feet.
Water continues to flow even at -30 degrees Fahrenheit.
High Purity LLDPE Water Hose serves as the hose's inner core.
This flexible, non-contaminating food-grade hose is perfect for use in applications involving food, beverages, and water.
Since the inner core is made entirely of pure white PVC, your water won't taste foul.
The male garden hose fittings are made of forged brass and will never leak, buckle, or torque and harm the hose.
The Female/Female Garden Hose Couple allows you to choose whether the plug should be at the spigot or the final connecting point.
The heater element has a heating wire that is self-regulating.
It uses just 1.5A for every 25 feet of hose.
This water hose's thermal insulation keeps it flexible between -20° C and 80° C, which is crucial for mobility and storage.
Optional Add-On: You may add "pigtails," or extra heat trace components, to your hose order that run 12 inches over the hose's end to encircle and shield connecting points.
The Takeaway: The No Freeze Water Hose is undoubtedly the best on the list while being the most costly! Any heated water hose will underperform the NoFreezeWaterHose, or your money back.
This hose is sturdy and long-lasting.
You won't find a heated water hose more competent than this one, which is certified to operate in temperatures as low as -30F.
For more information on their North Dakotan heritage and their quest to develop a hose that would continue to function even after other hoses fail, see their website.
Water Filters & Pressure Regulators
You should also make sure that any pressure regulators or pre-tank water filters connected to your RV water pipe are safeguarded.
You may place them behind the heated water hose so warmer water goes through them, inside your wet bay (if you have one), or wrapped in a large blanket or towel.
To assist avoid freezing, you may also put heat tape over them.
Alternative Techniques to Prevent the Fresh Water Hose on Your RV from Freezing
There are other methods you may use to prevent your fresh water hose from freezing if you don't want to purchase a heated water hose.
Buying your own heat tape and wrapping it around your current hose is the second-best choice.
This solution may work, but unless you additionally wrap your hose in insulation, you forfeit the heated hose's insulating benefits.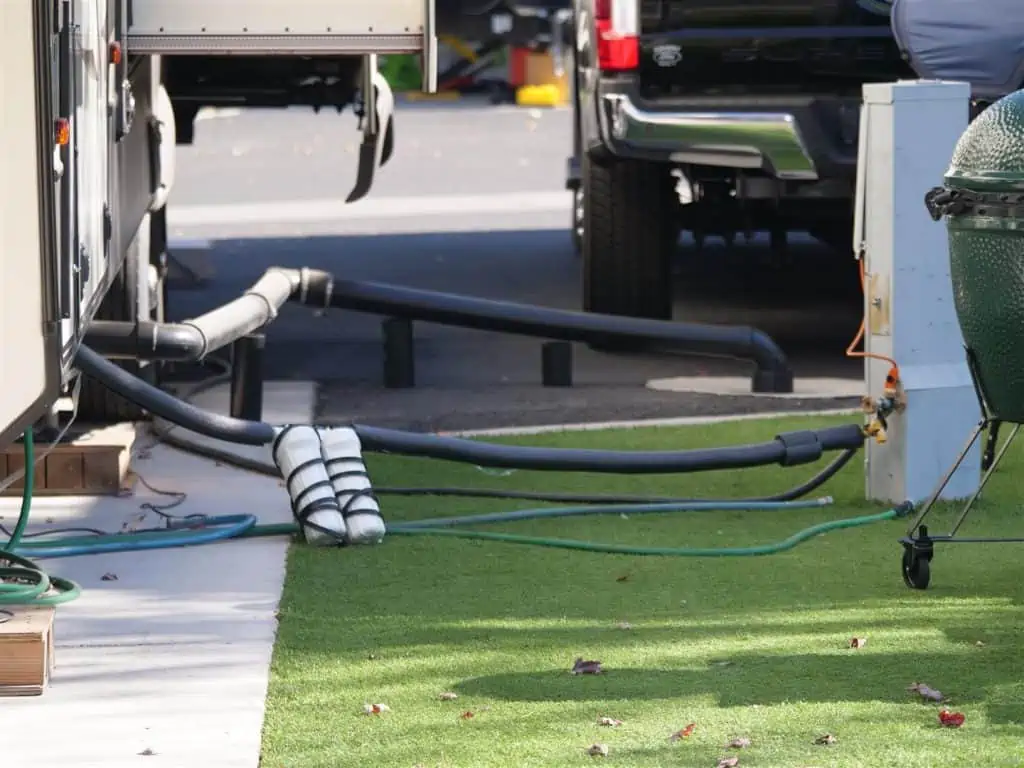 Alternately, you might leave your RV's water faucet leaking.
However, this is not advised and is not a sure thing.
When you leave water leaking, your hose might still freeze, harming both your hose and the plumbing in your RV.
Additionally, if you let your water trickle, your gray tank is probably going to be left unlocked.
A frozen waste water hose might result from this as well!
The bottom line: make sure your RV is covered if you're going to be camping somewhere with frigid weather! Don't scrimp on a heated water hose since doing so might cost you a lot more money down the road.
PS: Order your heated hose before the winter weather arrives!