A heated water hose is necessary if you spend any chilly nights in your RV.
When the temperature drops below freezing, this is your first line of protection against more serious problems with the internal drinking water pipelines in your RV.
Take it from someone who lived in an RV near Lake Tahoe for an entire winter.
Our plumbing was spared by the heated water hose in my RV, but I could only feel sad for the camp neighbors who delayed getting one.
One problem that may often be resolved with gentle heat and patience is a frozen water hose.
However, frozen water pipes inside of your RV often shatter.
In the unfortunate event that this occurs, you will have to repair your pipes and you may also have to deal with substantial water damage within your rig.
Therefore, if you reside in a colder region, obtaining an insulated RV water hose is the simplest and most cost-effective approach to preserve the pipes and have smooth running drinking water in your vehicle.
However, not all insulated water hoses that "promise" to keep your hose from freezing in the coldest weather truly do so.
I can assure you that many folks who purchased a heated water hose still had frozen pipes.
But luckily for you, we've combed the market and identified the top 5 choices for a replacement heated water hose for RV usage.
To find out which heated RV water hose will provide you with safe drinking water when camping in the cold, read the reviews listed below.
The Top 5 RV Heated Water Hoses for 2023
Insulation and a heating coil of some kind are two essential parts of a high-quality heated RV water line.
The simplest method to continue your analyses of these water hose alternatives is to carefully consider what we liked and didn't like about each of these hoses.
So that's a wonderful place for you to start when assessing these water hose possibilities.
That will enable you to begin to reduce your selections before reading our Buying Guide!
Here are the top 5 RV Heated Water Hoses for Keeping your drinking water line hose operational during below-freezing weather.
Camco 25ft TASTEPure Heated RV Drinking Water Hose
H&G Lifestyles Self-Regulating 12 FT Heated Hose For RV
Pirit PWL 100FT Heated Water Hose
Camco 22853 Premium Lead Free Drinking Water Hose
Valterra 5325 Heated 25ft RV Fresh Water Hose
#1. Best Overall Heated Water Hose: Camco 25ft TASTEPure Heated RV Drinking Water Hose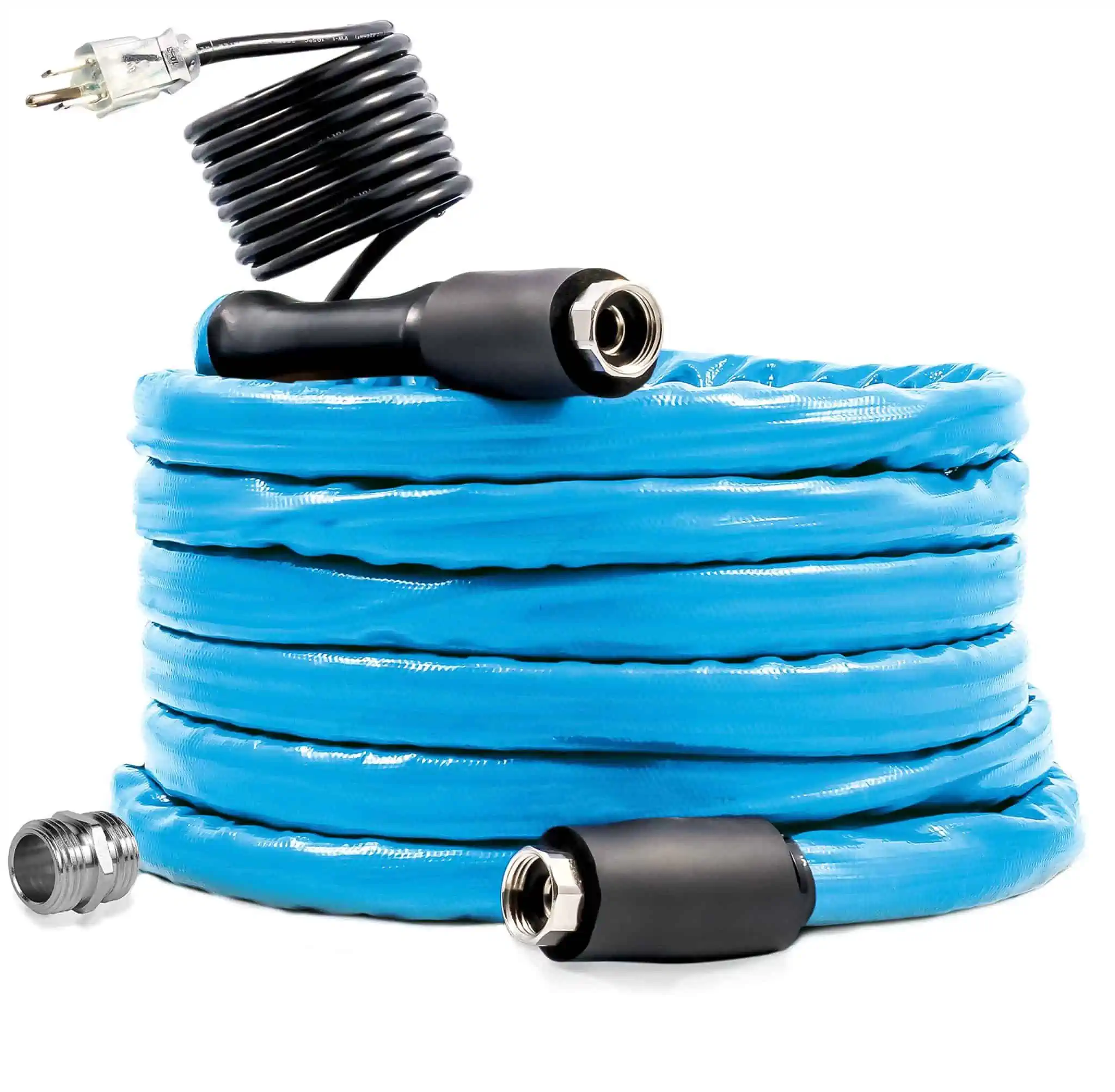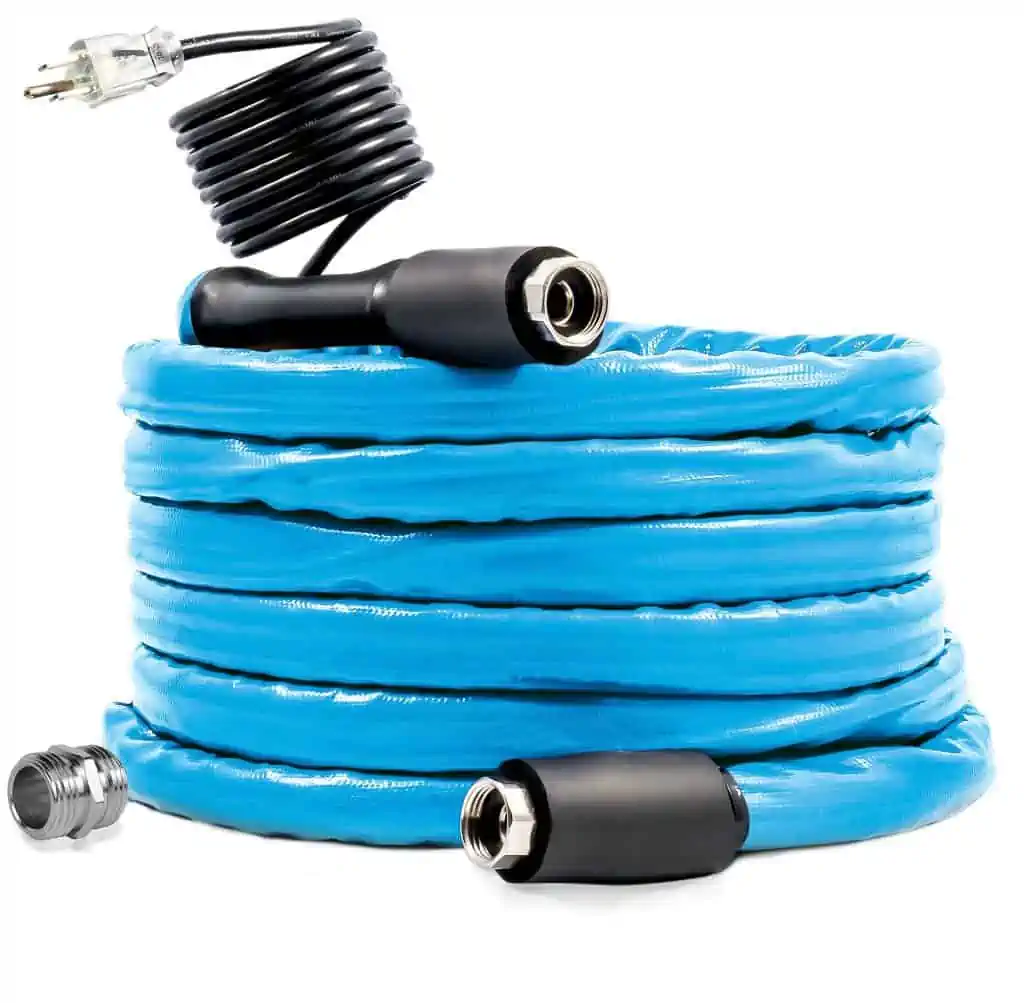 Check Amazon Prices
Look no farther than the Camco 25ft TastePure Heated Drinking Water Hose if you're seeking for a flexible heated RV water hose that earns our endorsement as the finest choice overall on the market.
This insulated RV water hose's 25-foot length is sufficient for the majority of RV campgrounds, and it is NSF-61 certified and BPA and lead-free.
I can speak from personal experience when I say that I relied on this specific insulated RV water hose for a whole five months throughout the winter.
The hose itself is encased in an all-weather, PVC-insulated outer sheath.
The heated coil travels between that sheath and the hose.
Additionally, it is certified to prevent water from freezing in conditions as low as -40 degrees Fahrenheit.
When switched on, the RV fresh water hose uses around 2.27 amps and needs a 120-volt AC power connection.
You won't have to bother about turning it on and off every day since it has plug-and-play capabilities.
Simply plug it in and let it prevent the freezing of your water.
The hose is strengthened for greater kink resistance and features a half-inch inner diameter for adequate water flow.
Other hoses may have this issue, but I personally have never had a problem with this hose kinking and preventing water flow when I was using it.
It contains a tiny thermometer at one end of the hose and a self-regulating heat source.
That end is intended to be connected to your municipal water line since, in principle, it will be cooler there than where the hose attaches to your RV.
However, it does come with hose fittings that match, giving you the choice of plugging it into your RV or straight into the power source at your campground.
Additionally nickel-plated, those fittings provide a robust construction that won't weaken with time.
Items We Enjoy
Lead and BPA Free: This insulated RV water hose is lead and BPA free and is approved to provide pure, safe drinking water.
Self-Regulating Thermometer: Adjusts the heating coil's on and off times to the outside temperature.
Kink-Free Design: Prevents kinking, which may reduce water flow or halt it altogether and harm the hose.
Matching Female Hose Fittings: These allow you to connect the hose into your RV's AC outlet or the power station at your campground.
Things That We Dislike
Price: Although it's not the most affordable hose on our list, this one has served me well. Additionally, knowing that cheaper hoses might break, I believe the extra expense up front is worthwhile.
#2. Best PVC-Free Hose: H&G lifestyles Self-Regulating 12 FT heated hose For RV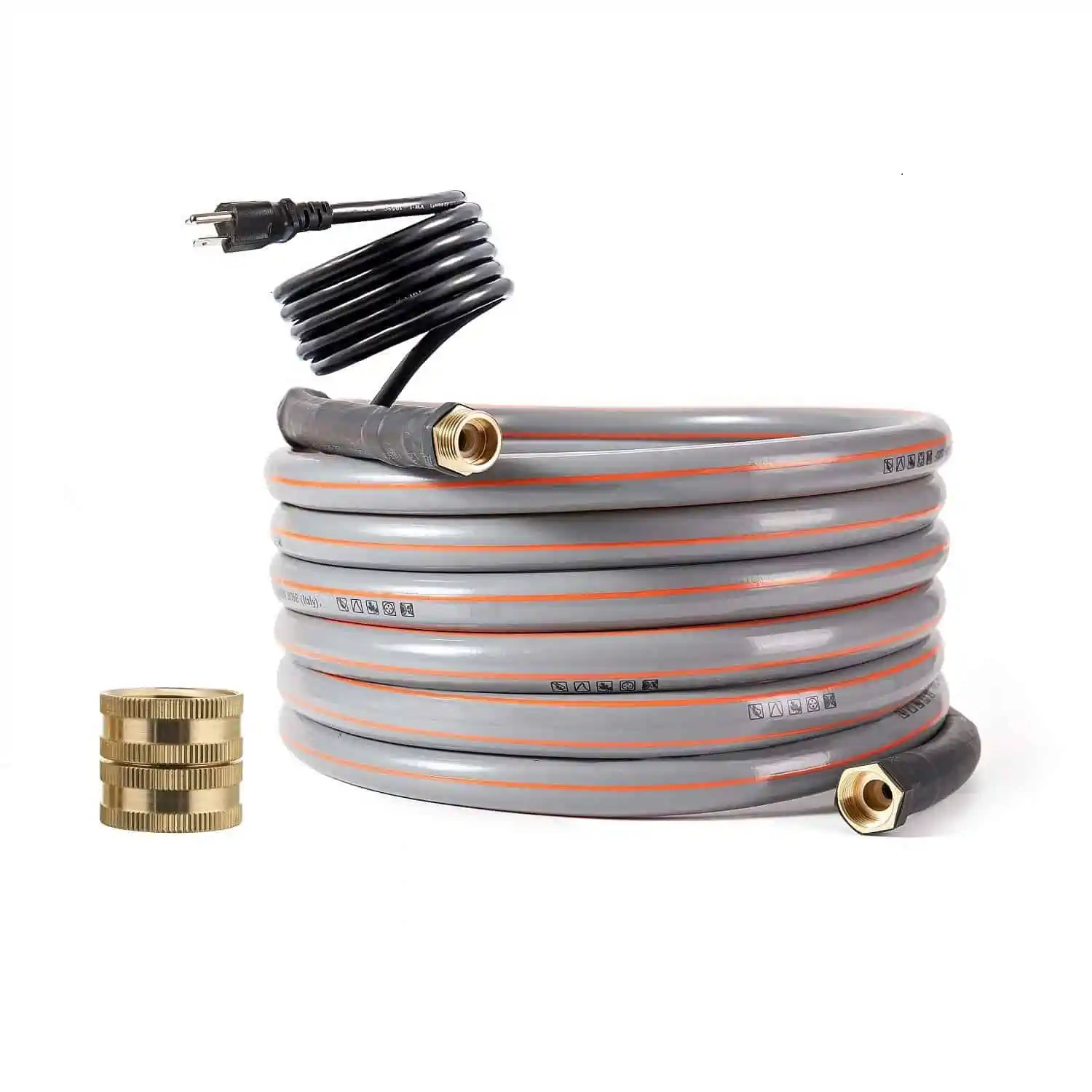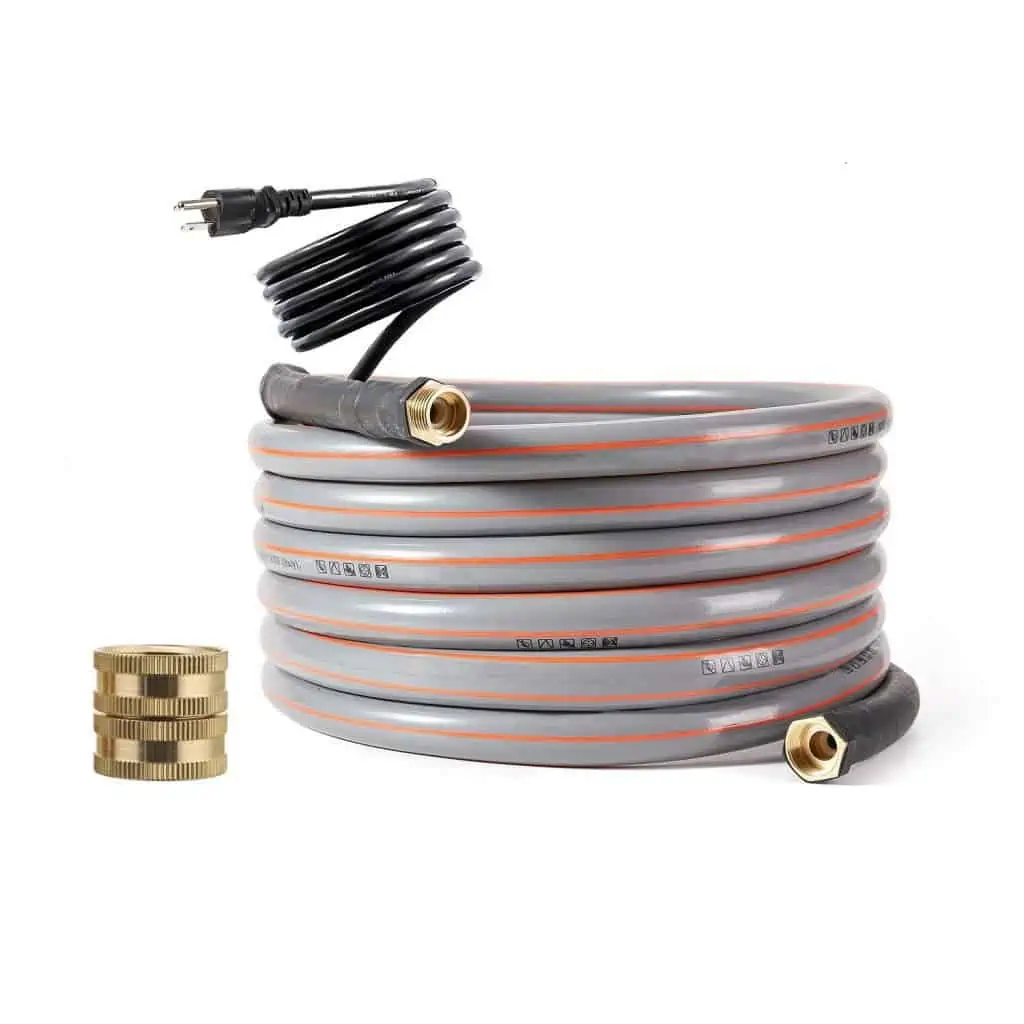 Check Amazon Prices
We suggest the H&G Lifestyle Heated Water Hose For RV if you're looking for a lead- and PVC-free heated water hose.
This 12-foot-long RV water hose is designed to provide pure, safe drinking water while also preventing it from freezing in conditions as low as -20 degrees Fahrenheit.
It uses only 0.8 amps when plugged in and requires a 120-volt AC power source.
As a result, it ranks among our list's more energy-efficient heated water hoses.
Moreover, it has female fittings that match on both ends so you can connect it into your RV or the electrical outlet at your campground.
Speaking of the fittings, they are manufactured entirely of solid brass for excellent durability throughout the course of a full winter of usage.
The heated fresh water hose has an abrasion-resistant cover on the exterior to shield it from the elements when it is left outside of your RV during the winter.
This hose's heating coil is built right into the hose itself.
Unrestricted water flow and consistent heating are features of this design.
Items We Enjoy
BPA and PVC Free: That hose offers pure, safe drinking water and is free of BPA and PVC.
Energy Efficiency: This hose uses just 0.8 amps.
Solid Brass Fittings: They are durable enough to withstand numerous seasons of usage.
Female Fittings On Both Ends: This enables you to connect it into your RV's AC outlet or the power station at the park.
Things That We Dislike
Length: Due to this hose's 12-foot length, you must park quite near to the water and electrical hookups at your site.
#3. Best 100-Foot Hose: Pirit PWL 100FT heated water hose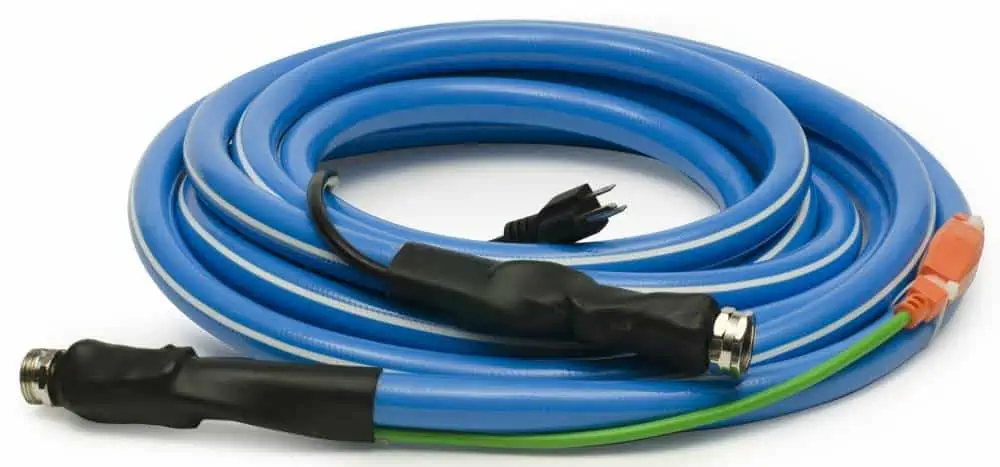 Check Amazon Prices
The Pirit PWL-03-100 100′ Heated Hose Series IV is a good option for those of you looking for a little more length to receive water from your municipal water connection into your RV.
This 100-foot hose is capable of preventing water from freezing in -42 degree Fahrenheit weather.
Additionally, this hose is very strong and can sustain water pressures of up to 200 PSI.
It comes with a 10-foot power hose and LED plug so that you can see it if you need to make any adjustments at night and make sure it's functioning.
When hooked in, the hose requires a maximum of 4.5 amps from a 120-volt AC power source.
You'll need to make some preparations to ensure that you install this hose in the correct direction since it has a male fitting on one end and a female fitting on the other.
Additionally, this hose may need an extra adaptor to work with certain RVs.
For more equal heating, this model's heating coil is built right into the hose.
Additionally, a thermostat is included in to ensure that the heating coil only activates when it is absolutely necessary.
Items We Enjoy
Hose Length: This 100-foot hose allows you the opportunity to park a bit farther away from the municipal water and electricity hookups at your site.
Temperature Rating: This heated water hose for RVs also has one of the finest ratings for temperatures, keeping water from freezing at -42 degrees Fahrenheit.
Lighted Electricity Plug: This makes it easier to verify if the heating coil on the hose is turned on and getting power.
Integrated Heating Coil: This promotes more equal heating throughout the whole length of the hose.
Things That We Dislike
Price: Because of this hose's superior quality, it is also more expensive.
Fittings: Some RVs may need a hose adapter to be compatible due to the male fitting on one end and the female fitting on the other.
#4. Best Budget-Friendly Hose: Camco 22853 Premium Lead Free Drinking Water Hose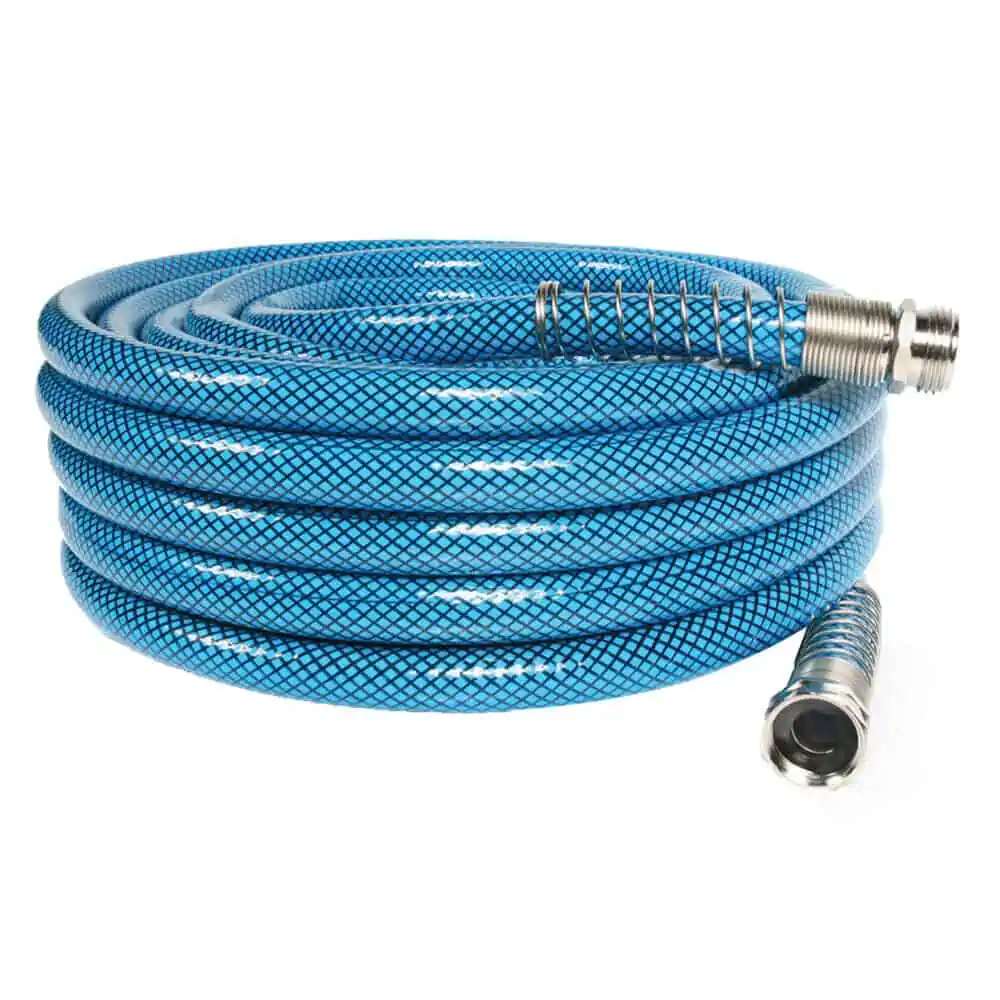 Check Amazon Prices
We'd advise the Camco 22853 Premium Drinking Water Hose if you're determined to purchase the least expensive heated water hose available.
This 50-foot RV water hose is 20% thicker than the majority of other typical RV drinking water hoses.
The hose itself is lead, BPA, and phthalate-free and has a 5/8ths-inch inner diameter to provide pure, safe drinking water.
This hose's design also ensures that your water won't taste strongly of plastic.
For added longevity, the hose incorporates machined fittings on each end that provide strain relief.
This is a very crucial issue since hoses often fail or break at these connections when used for prolonged periods of time.
You can be confident you're drinking safe water since it is NSF-certified and UV-stabilized for increased life.
Additionally, it has an anti-kink construction that helps to provide pressure-free water flow.
Additionally, this RV heated water hose doesn't truly include a heating coil, despite the fact that it complies with California's Low Lead content requirements.
It will be more resistant to colder temperatures than regular RV hoses because of its added thickness, but if you want to use it through an entire winter of subfreezing temps, you may need to wrap it in extra insulation.
Items We Enjoy
Length: It provides a 50-foot length to make it simpler to connect to additional city water connections that aren't directly next to where you wish to park your RV.
Thickness: It is 20% thicker than the majority of RV water hoses at 5/8 of an inch thick.
Safe Construction: This water hose is made without phthalates, lead, or BPA.
Machined Fittings: These provide increased tensile strength and endurance.
Things That We Dislike
Lack of Heated Coil: Although this hose depends on its added thickness for weather resistance, I wouldn't trust it to last a whole winter of subzero temperatures.
#5. Best With Zippered Installation Cuffs: Valterra 5325 Heated 25ft Fresh Water Hose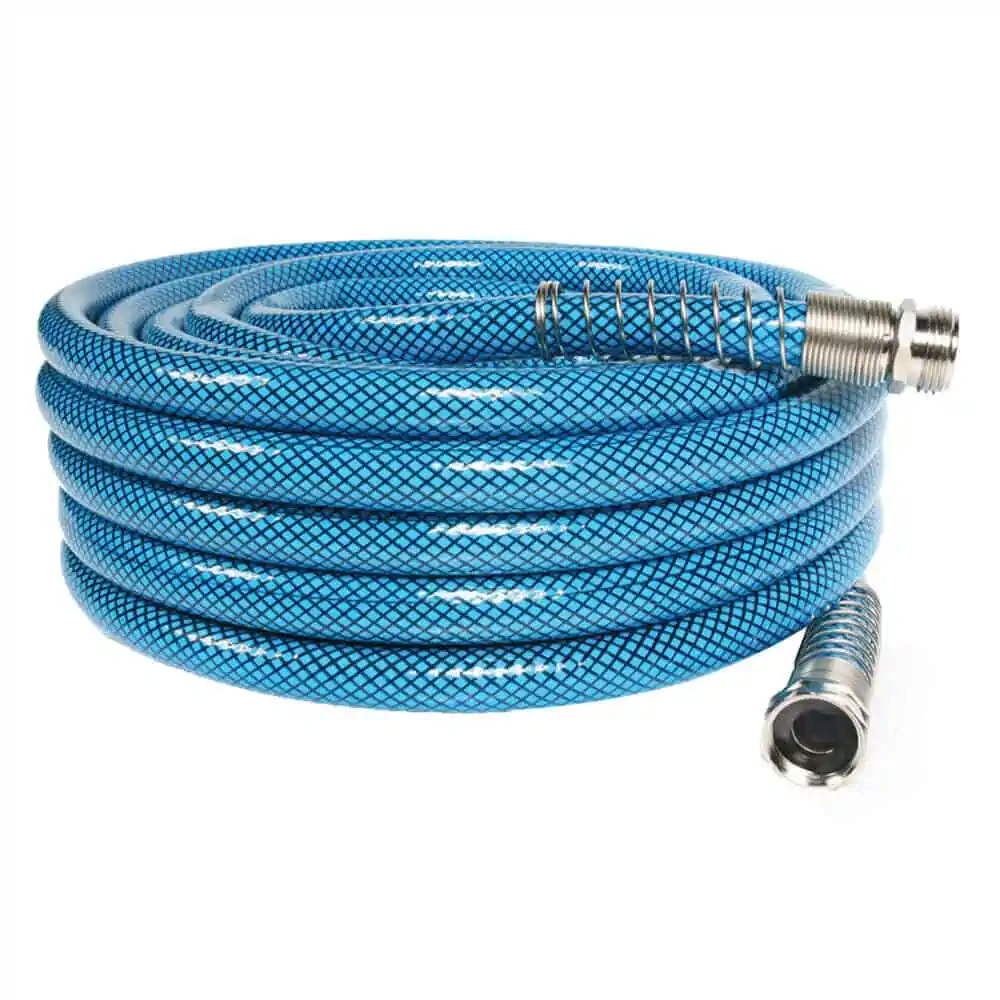 Check Amazon Prices
We suggest the Valterra W01-5325 25′ Heated Fresh Water Hose if you're seeking for a hose that will make it simpler for you to reach the hose connections after winterizing your vehicle.
This hose has a length of 25 feet and is certified to prevent your water from freezing in below-freezing weather.
The couplings where your hose connects to your RV and your municipal water connection are one of the places that some hoses fail to protect.
Even though the water in your hose is still liquid, if left uninsulated, these regions are still susceptible to freeze.
For this reason, a lot of hoses come with foam or rubber sleeves that are meant to be pulled up and around the fittings on each end of the hose.
The only issue with these sleeves is that if you ever need to disconnect your hose for whatever reason, they sometimes shrink and become extremely difficult to move.
By including zippered installation cuffs on their hose, Valterra has found a solution to that problem.
As required, these cuffs are simply fitted or removed.
Additionally, once fitted, they provide your hose fittings enough security.
This 120-volt AC power connection is required for this RV heated water hose, which has a self-regulating heating coil that detects the ambient temperature and adjusts its output as necessary.
Additionally, this hose has a half-inch diameter to provide reasonable water flow.
Items We Enjoy
Length: This hose is long enough to connect to most city water connections—25 feet in total.
Zippered Cuffs: These provide additional freeze protection at the hose's fittings on each end.
Hose Diameter: This hose's half-inch diameter allows for optimum water flow.
Things That We Dislike
No Exterior Coating: This hose has no extra insulation or coating for further heat protection.
Price: The cost of this hose is comparable to other hoses with greater features or better performance.
How To Pick Your RV's Best Heated Water Hose
It's time to comb through your alternatives to get the very finest heated water hose for your RV now that you have some excellent options on the table.
Here are some more criteria that might be used to assist you make a decision.
#1. Hose Size
Length is the first factor you may utilize to reduce the number of hose alternatives you have.
When parking at unfamiliar locations, think about how far you normally keep your RV from city electricity and water sources.
For me, purchasing a hose that is too short has already happened, so I err on the side of caution.
Having a longer water hose, meanwhile, might have drawbacks when it gets below freezing.
A longer hose will lengthen the time that water spends above ground and exposed to freezing temperatures as it moves from your water connection into your insulated RV during really cold weather.
This is why, if you live somewhere where the nighttime low is frequently below zero, a 50-foot hose isn't necessarily the best.
On the other hand, if you have a 12-foot hose, you are flirting with danger and greatly increasing the likelihood that it won't be able to connect to your water source when you drive into a new campground.
We believe that 25 feet is the ideal length for a heated water line used in an RV.
To prevent your water from freezing, this length strikes an excellent mix between usage and limiting exposure.
#2. Hose Dimensions
The amount and efficiency of water that a water hose can transport depend significantly on its diameter.
Naturally, a hose with a bigger diameter will be able to convey more water more quickly than one with a smaller diameter.
A water hose for an RV with a greater diameter will also hold more water inside of it all the time.
This indicates that there is a larger volume of liquid to freeze than there would be in a hose with a lower diameter.
The length of time it takes for the water to freeze will grow as there is more water in the hose at one time.
So, one approach to improve the likelihood that your water won't freeze at lower temps is to have a thicker, heated RV fresh water line.
Our recommendation is that you search for a heated RV water hose with a minimum diameter of 0.5 inches.
#3. Materials
The strength and purity of the water that passes through a hose will depend on the materials used in its construction.
The majority of these RV hoses are constructed from common rubber that is BPA and lead-free.
The majority of us now don't want these substances in our drinking water.
Despite the fact that some hoses on the market are made of both rubber and vinyl, rubber-only designs are often stronger and longer-lasting.
Additionally, rubber fresh water hoses are more resistant to breaking, kinking, and UV deterioration.
Additionally, they can manage hot water better than hoses made of other materials.
A PVC coating is applied to certain hoses to increase insulation and temperature resistance.
It's crucial to keep in mind that PVV is generally utilized in external coatings that never come into direct contact with your drinking water, even if some hoses advertise a PVC-free design to improve water quality.
#4. Pressure Burst
The greatest pressure that a hose can bear before it, well, bursts, is known as the "burst pressure." Typically, this pressure is expressed in pounds per square inch (PSI).
Unfortunately, water pressure won't always be the same as it exits city water lines.
You'll need a hose with high pressure tolerance since there is no water pressure standard (at least not in the US).
There are hoses that are very resilient and can resist 200 PSI of pressure.
However, not all hoses prominently display the highest pressure they can bear.
Therefore, searching through customer evaluations on various online store sites is the most effective approach to discover this information.
Examine reviews on websites like Camping World, Wal-Mart, and Home Depot in addition to Amazon.
You may learn a lot more from these evaluations than from the manufacturer's advertisement.
However, you may also think about adding an RV water pressure regulator to each end of your hose if you're truly concerned that the burst pressure of your hose won't be sufficient.
#5. Fittings And Couplings
Your water hose's fittings at each end are the part that will most likely break or stop working over time.
This is due to the fact that when your hose is screwed into the side of your RV, these fittings are put under the highest stress.
I still don't understand why the majority of RV water hookups are made to screw a hose right into the side of the vehicle.
Because of gravity, this design exerts a lot of downward pressure on the hose, fitting, and water exit on the side of your RV.
The majority of the water taps on the exterior of your hose face downward and are designed to be screwed on vertically for a purpose.
Despite the fact that I have no power to alter the way RVs are produced, I can advise you to search for a heated water hose with fittings made of solid brass or other sturdy metals.
When that downward pressure is applied to these fittings over extended periods of time, they will become stronger and more resilient.
If you don't, you run the danger of damaging the faucet or fitting, which might leave you without water when you need it most.
In addition, RV water hoses are either equipped with female fittings on both ends or one end only, with a male fitting on the other end.
It is advantageous to have female fittings on both ends of the hose since you may attach it facing either way.
This is crucial for heated RV water hoses since it allows you to connect the heating coil to either your RV or the AC outlet at your campground.
Before installation, other models that have a male fitting on one end and a female fitting on the other need to be correctly aligned.
Additionally, although if it's not a major concern, I'd always choose a hot water hose that allows you the greatest flexibility.
#6. Price
To be honest, there's a risk that the cost of some of these insulated RV water hoses may take you by surprise.
However, you must keep in mind that the price of the finest heated fresh water hose for RV usage will be far greater than the cost of rebuilding a damaged water tank or pipes.
If you do decide to save costs, a heated RV water hose may be found for less than $40.
Additionally, there are fresh water hoses that cost more than $200 if you choose a premium type that will be very robust.
Our recommendation would be to locate a hose that costs between $60 and h$180.
So, Which RV Heated Water Hose Is The Best?
I've used the Camco 25ft TastePURE Heated Drinking Water Hose for a full winter of RV camping in below-freezing weather and have never had a problem, making it my pick for the finest heated water hose overall for RV usage.
It was really dependable and simple to setup.
You can be sure you're still receiving safe and clean drinking water with this insulated rv water hose since it is lead and BPA free and is rated to prevent water from freezing in temperatures as low as -40 degrees Fahrenheit.
However, if you're searching for a choice that will be a bit more cost-effective, we'd advise the Camco 22853 50ft Premium Drinking Water Hose.
The water flow won't be obstructed while the line is under pressure since this heated RV hose is 20% thicker than a standard RV water hose and has anti-kink characteristics.
This hose does not, however, include a genuine heating coil.
Therefore, RV camping is only suitable when nightly lows barely reach the mid-thirties.
But compared to the majority of the hoses on our list, it does provide a more durable and weatherproof hose alternative.
FAQs
The usage of these hoses is not too difficult.
The majority of them provide plug-and-play capabilities and installation takes just a few seconds.
That stated, your RV should never experience frozen water.
In order to assist you avoid frequent problems associated with RV life in cold climates, let's address a few more of these concerns.
How can I keep the water tank and pipes in my RV from freezing?
The first thing you need to keep in mind is that the temperature inside your RV will never be the same as the temperature where your water tank and pipes are.
As a result, it is never a good idea to use your rig's thermostat to determine whether or not your tanks and pipes are protected against freezing.
Your pipes' internal water will expand if it totally freezes.
Your pipes can split or explode due to this expansion.
However, if you have an older RV, you'll need to exercise even more caution when temps drop below freezing.
Most contemporary RVs have water lines that may slightly expand before shattering.
The simplest approach to prevent your pipes and tank from freezing if you don't have an RV-specific heated water line is to unplug it before it gets cold.
Additionally, you want to think about installing a heat lamp or drop light in the space beneath where your potable water tank sits.
If you decide to do this, be careful to choose a lamp or light that has a cage around it.
Otherwise, everything that comes into touch with the lamp's heat will be melted.
If left ignored, this may cause damage and provide a serious fire danger.
You may also think about purchasing an RV skirt to cover the whole space underneath your fifth wheel,
travel trailer, or RV.
A skirt for your RV will maintain a greater interior temperature, lowering the risk of frozen water tanks or pipes.
Will one frigid night harm anything?
It can! Sometimes it only takes one night of neglect for freezing temperatures to seriously harm the water tanks and pipelines in your RV.
Is a heated water hose truly necessary for MY RV?
Only if you intend to spend any time in temps below freezing! I never bothered about having a heated water hose when I went RV camping in areas where I knew the temperature would always stay above freezing at night.
Having said that, I've heard far too many terrifying tales of RV problems brought on by subfreezing conditions.
And from personal experience, I can tell you that if you intend to spend any time in regions where the nighttime low drops below freezing, a heated water hose is the best method to keep your RV's water system functioning efficiently.
I already have an RV water hose, can I simply put heat tape on that?
Sure.
I've seen a lot of people do that, but I'm aware that a good hot water hose is much more efficient.
Along with requiring extra material purchases and installation time, this do-it-yourself approach also generates more trash.
Therefore, even while it may seem better to just purchase some heat tape and wrap it over your current hose, the time required for this DIY application may need a bigger expenditure than if you simply purchase a new heated water hose for use with an RV.
Conclusion
Your first priority should be keeping warm throughout the winter, along with everyone else residing in your RV.
You can concentrate on making your winter RV trip more comfortable and pleasurable if you equip yourself with one of the best-heated RV water hoses.
You won't have to worry about pipes or tanks freezing.
But if you wait until the temperature regularly drops below zero to purchase and install one of these hoses, you could find yourself needing to deal with expensive RV repairs during a time of year when you'd prefer not be spending much time outdoors.
Therefore, we really hope that you would consider the evaluations and recommendations we've offered when you choose a new heated water hose for your RV.
Heated RV Water Hose Reviews Videos Suggestions From Youtube