Solar panels, batteries, and a rechargable Tesla electric car from Tesla may make your house entirely sustainable.
Although Tesla is often associated with premium, luxurious renewable technology, its solar panel business might be a little perplexing.
With the intention of optimizing the production of solar panels and battery storage, Tesla entered the solar market in 2016 by purchasing SolarCity.
Tesla assumed control and kept the same sales and marketing network, but they were unable to mass-produce solar panels.
Panasonic and Tesla formed their first partnership at the gigafactory near Buffalo, New York.
Solar cells, the part of solar panels that convert sunlight to electricity for energy production, were supplied by Panasonic to Tesla.
Due to limited demand from Tesla, Tesla and Panasonic's relationship to produce solar cells unfortunately came to an end in 2020.
However, they continue to work together to produce Tesla solar batteries for Tesla Powerwalls and electric automobiles.
Before producing two lines of solar panels bearing the Tesla name for use in home installation projects, Tesla first shifted to utilizing solar panels made by other manufacturers, such as Korean solar powerhouse Q CELLS.
It might be difficult to know exactly what panels you get when you buy Tesla panels since a variety of entities may come under the Tesla name.
This blog outlines what to anticipate.
Do Tesla's Solar Cells Come From Its Own Production?
No, Tesla does not produce its solar cells.
As mentioned above, Tesla and Panasonic had a joint venture up until recently to produce Tesla solar panels.
The foundation of the relationship was Tesla's use of Panasonic's renowned HIT cells to build solar panels.
We understand that Tesla stopped producing its solar panels when Panasonic stopped manufacturing solar cells for the company.
Instead, it seems to be sourcing solar panels for installation tasks from outside suppliers.
The Tesla Solar Roof, a solar shingle product, is the lone exception, with reports claiming that Tesla is producing its own solar cells for it.
However, cancellations and frequent delays have hindered the development and introduction of the Tesla Solar Proof.
What Precisely Are Tesla Solar Panels Then?
Tesla changes its solar panels often for its home solar installations.
Tesla first shifted to use solar panels from Q CELLS after Panasonic was eliminated from the picture.
The Tesla T420S solar panel was then set to debut in April 2021, according to Tesla.
Since then, homeowners who purchased solar panels from Tesla have had the option of selecting Q CELLS or Tesla-branded solar panels.
The fact that Tesla gives almost little information on its solar panels on its website furthers the uncertainty.
So what can you anticipate if you get solar panels from Tesla?
As of right present, it looks that Tesla uses the H-series and the S-series solar panel types for residential solar panel installations.
Both designs look to be Tesla-branded Q CELLS panels.
These solar panels' main characteristics are shown below.
Specifications For Tesla Solar Panels
| Model | Power output | Efficiency | Product warranty | 25-Year performance warranty |
| --- | --- | --- | --- | --- |
| Tesla T395H | 395 W | 20.1% | 25 years | 86% |
| Tesla T400H | 400 W | 20.4% | 25 years | 86% |
| Tesla T405H | 405 W | 20.6% | 25 years | 86% |
| Tesla T420S | 420 W | 19.3% | 25 years | 85% |
| Tesla T425S | 425 W | 19.6% | 25 years | 85% |
| Tesla T430S | 430 W | 19.8% | 25 years | 85% |
Here is a brief comparison between Tesla solar panels and other Tier 1 solar panel manufacturers:
#1. Performance
Each of the massive 72-cell panels used by Tesla has an output of around 400 watts.
However, compared to rival Tier 1 solar panel companies, Tesla's solar panels are distinctly ordinary in terms of important technical parameters like module efficiency and temperature coefficient.
For instance, SunPower, which provides a solar panel with a maximum efficiency of 22.8 percent, leads the market in solar panel efficiency, whereas Tesla solar panels have a module efficiency of 19.3 percent to 20.6 percent.
#2. Warranties
Three warranties are provided by Tesla.
The product guarantee for solar panels is 25 years, which is comparable to the warranty offered by the top solar panels on the market.
The following is a 25-year performance warranty under which Tesla guarantees a maximum yearly depreciation of 0.54 percent, which is a little worse than normal.
The 10-year comprehensive guarantee covers the complete system, including the solar inverter, the (optional) Powerwall, and the rest of the supporting hardware.
For inverters and solar batteries, a 10-year guarantee is quite normal, although it's more convenient to get all of these warranties from the same provider.
#3. Aesthetics
The visual attractiveness of a Tesla solar panel system is one of its main advantages.
In order to conceal all solar panel mounting gear from view from the ground and ensure seamless integration into the roofing material, most solar systems incorporate skirting.
The look of Tesla's panels is similarly black, making them as visually pleasant as possible.
Why Do Tesla Solar Panels Come From Outside Vendors?
For a number of reasons, Tesla employs third-party panels.
For its solar systems, SolarCity has always sold solar panels from other companies, and their business model carried over to their partnership with Tesla.
It makes sense for Tesla to tell consumers the price of the lowest solar panel, hence it is not in its best interest to reveal the brand of solar panel.
Those solar panels would officially be the "Tesla brand" solar panel under the prior Panasonic collaboration.
However, buying solar panels from other businesses, such as Q CELLS, was still common.
Currently, it seems that Tesla completes the majority or all of its home installation projects with Tesla-branded solar panels purchased from Q CELLS.
You should demand the model and spec sheet of the solar panels they will be utilizing if you are buying a solar panel installation.
This will enable you to evaluate the solar panels in comparison to other top solar panels available.
What Are The Prices Of Tesla Solar Panels?
Before subsidies, the cost of a Tesla solar panel may vary from $9,600 to $48,352, depending on the system size that is appropriate for your house.
Costs of Tesla Solar Panels
| System size | Cost before incentives |
| --- | --- |
| 4.08 kW | $9,600 – $12,048 |
| 9.60 kW | $19,200 – $24,096 |
| 14.40 kW | $28,800 – $36,144 |
| 19.20 kW | $38,400 – $48,192 |
Each Tesla Powerwall will add $11,000 to your system's cost before incentives if you decide to add energy storage.
Remember that solar subsidies may substantially lower your overall expenses.
In reality, all taxpayers are eligible for the 26% federal solar tax credit, and several states and utilities also provide extra incentives and rebates.
Use the solar cost calculator below to check whether incentives are offered in your area.
What Tesla Solar System Size Is Ideal For Your House?
Tesla used to charge a set fee for solar panel installations all throughout the United States.
Tesla revised their solar price structure in March 2022, and now there are considerable cost differences across states.
Tesla solar panel systems may range in price from $2.00 to $2.51 per watt, which is a common metric for evaluating solar panel pricing.
Fortunately, figuring out what your house may cost is not too difficult.
To get a price, visit the online portal and input your address and your typical monthly power bill.
In an experiment, we calculated the expenses for a 2,300 square foot house with a monthly power expenditure of either $140, $280, or $420.
Tesla suggested systems of 4.80 kW, 9.60 kW, and 14.40 kW, respectively.
Three of the typical system sizes that Tesla provides to all home solar clients are the ones that were just described.
A system of such magnitude would need an extremely high energy bill, while some markets provide a fourth, bigger system size of 19.20 kW.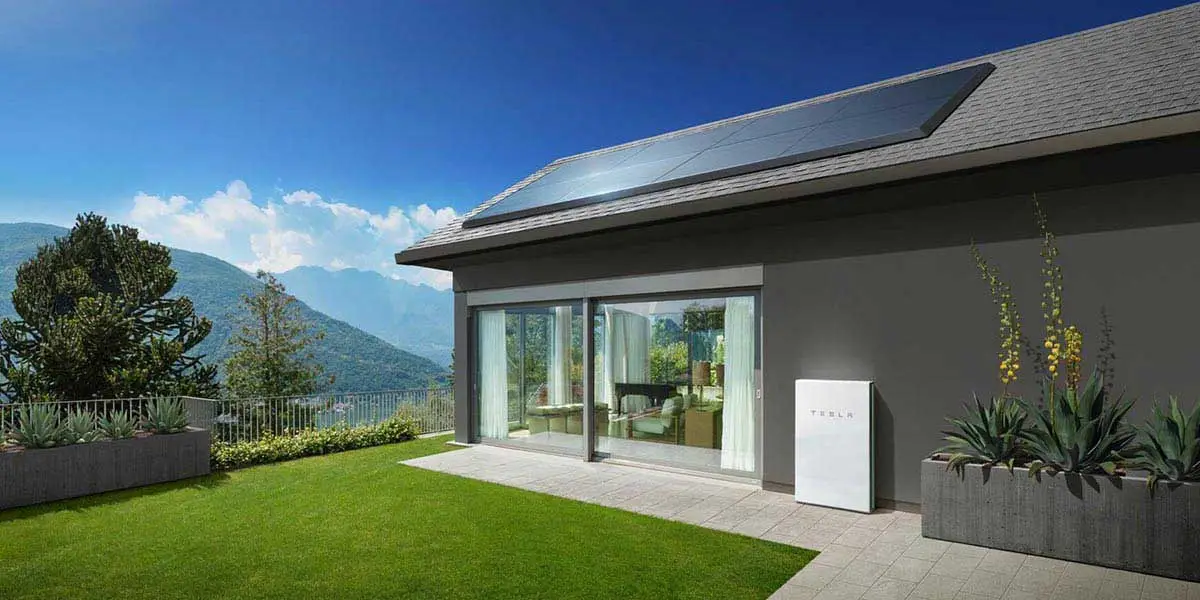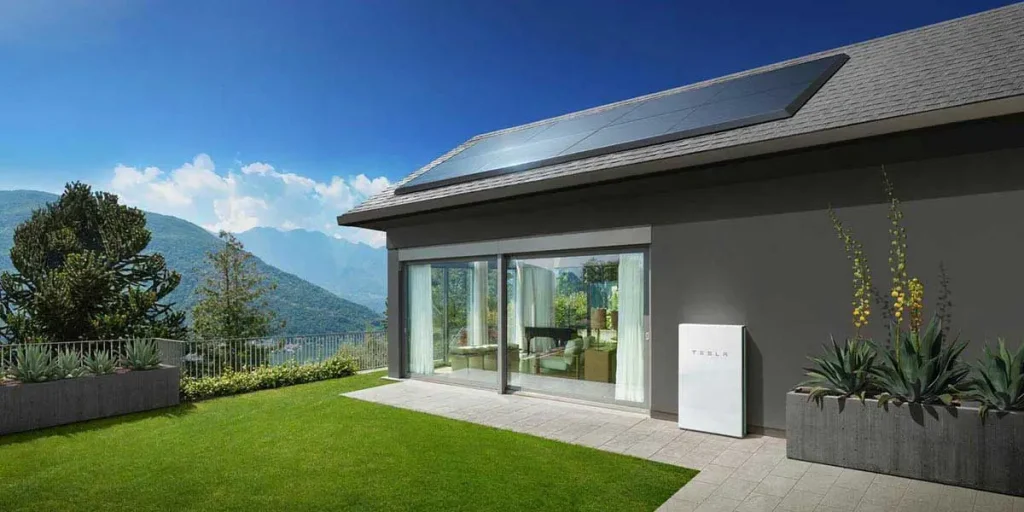 What Is The Price Of A Tesla Solar System For Your House?
Calculating the cost of Tesla solar panels for your house depending on your power demand is really rather straightforward.
Check your monthly power bill to find out how many kilowatt hours (kWh) your house consumes each day, and from there, the size of the system you need.
It will display how much kWh your house utilized in that particular month.
To calculate the daily use, divide it by the number of days in the month.
For instance, you would divide 1,200 by 31 to obtain an average of 38 kWh consumed each day if your house used 1,200 kWh in March.
You would likely need the 9.60 kW system based on estimations of the energy output of solar systems (shown in the table below).
Cost and production of Tesla solar panels according to system size
| System size | kWh produced* | Number of solar panels | Cost before incentives** |
| --- | --- | --- | --- |
| 4.80 kW | 19 – 24 kWh/day | 12 | $11,088 |
| 9.60 kW | 38 – 48 kWh/day | 24 | $22,176 |
| 14.40 kW | 57 – 72 kWh/day | 36 | $33,264 |
*Typical solar panel production based on four to five peak sun hours.
**Expected expenses for a house in Los Angeles, California; actual prices may vary by state
One More Thing About Tesla Solar Panels
If you're a fan of Tesla, installing Tesla solar panels with a Tesla Powerwall home battery is simple and results in a 100% sustainable home.
Even though Tesla may not be the only producer of the solar panels, as long as you are aware of its solar panel guarantee, you should have no trouble believing a Tesla quotation.
Tesla does provide a 10-year guarantee on craftsmanship and, after 25 years, at least 85% of the nameplate power capacity.
However, in terms of panel efficiency, Tesla solar panels are not the finest choice on the market.
If you decide to browse for solar panels primarily on their efficiency, SolarReviews suggests these companies.
Before deciding on a provider and solar panel brand, shop around and use our solar calculator to receive a few comparable prices.
If Tesla is your preferred brand, consider using its price matching feature after comparing prices.