For many RVers and campers, portable inverter generators have become indispensable.
They let you to leave the lights on at night, charge your home batteries, and power your RV refrigerator.
The RV lifestyle is all about being self-sufficient and efficient, and an inverter generator is essential for that.
When you want to be totally self-contained and run your RV lights and appliances without the need of a campground power pedestal or shore power, bring an RV generator.
An inverter generator will provide the 120 volts required for your computer, appliances, air conditioner, and other devices in your RV or trailer.
As an RV owner, I understand the necessity of having reliable portable electricity to keep my food from spoiling in the fridge and my air conditioning from shutting off when I'm not near another power source.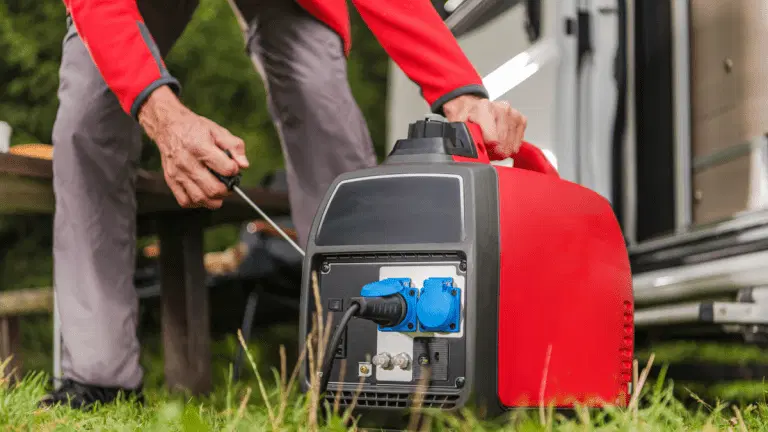 What Is An Inverter Generator, And How Does It Work?
Before you can grasp what an inverter generator is and how it works, you must first understand current.
There are two forms of electrical current: alternating current and direct current.
Current that flows in one direction
As well as alternating current (AC)
Alternating current (or AC) is what comes out of your home's wall outlets and powers our cellphones, computers, lablets, and other tiny equipment.
Inverter generators provide electricity in the same way that a wall outlet does.
These generators create alternating current but convert it to direct current before giving it to your RV's appliances and other devices.
The inverter generator avoids the possibility of electrical surges by doing so.
This is why the majority of inverter generators will have a label stating that they offer "clean electricity."
When compared to a typical generator, the modern technology regulating an inverter generator saves fuel by running at a lower engine RPM and minimizes operational noise.
This function allows you to operate your generator all day long while reducing the wear and tear on the internal components.
How to Use an Inverter Generator in Your RV
Inverter generators are a good option if you don't have access to shore power, such as an electrical pedestal at the RV park.
A 30A to 20A plug converter may be required to connect your RV power cable to an inverter generator.
Make sure the generator you choose operates on the sort of gasoline you want to transport in your RV or trailer.
Gasoline, diesel, or propane gas may all be used.
While camping, small, silent generators may be utilized to power electric coolers or even charge an ebike.
While modern generators are more energy efficient than traditional types, you may want to consider putting solar panels on your RV roof if you want a more environmentally friendly source of electricity.
What Are Inverter Generators and How Do They Work?
Inverter generators adjust the speed of the generator motor in response to the amount of current used by the devices connected to it.
Lowering the engine speed saves fuel and makes the operation more quiet.
As a result, the inverter generator only produces the amount of electricity your RV need at the time it requires it.
You won't use as much electricity if you have fewer appliances operating.
With inverter technology, you can reserve that additional electricity for when you really need it.
They are beneficial to both the environment and your financial account since they save energy and reduce gasoline use! A high-quality inverter generator will be more dependable, and you'll have less problems starting and operating it in the future.
I've included four of my favorite inverter generators below.
For Your RV, The Best Inverter Generators Are Available.
Before I begin, it's crucial to note that each of these inverter generators is best suited for an unique use.
With that in mind, I believe you'll have a better sense of what sort of generator you'll want based on your requirements, RV type and size, and budget.
#1. P2400 PowerSmart Series RV Generator by Briggs & Stratton
The Briggs & Stratton P2400 PowerSmart's LCD display makes it simple to monitor.
For its small, it boasts a large fuel tank and offers steady, clean power to sensitive electrical gadgets.
It's best for smaller RV appliances, since it may not be powerful enough to run an air conditioner in a bigger RV.
The loudness is reduced to 58 dB because to the lower size and Quiet Power Technology.
It has parallel capabilities as well as a connection kit for connecting two generators.
One generator has a starting power of 2400 watts and an operating power of 1800 watts.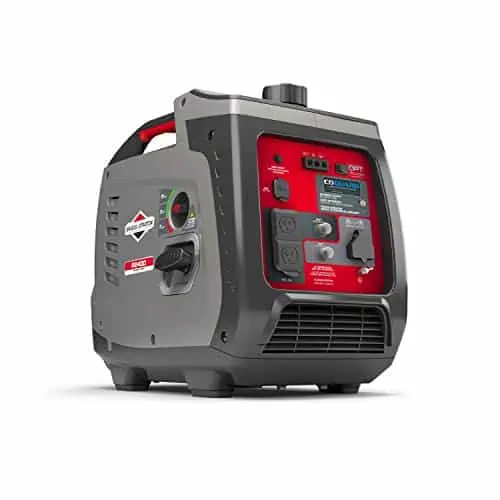 Briggs & Stratton P2400 PowerSmart Series Inverter Generator with Quiet Power Technology and CO…
Convenient Monitoring System – Low oil and overload warnings are shown via LED lights.
CO Guard Carbon Monoxide Shutdown Technology – When dangerous quantities of carbon monoxide are discovered, the generator is turned off.
Safe for Sensitive Electronics – It generates smoother power for sensitive gadgets like as laptops, phones, and other electronic devices using inverter technology.
#2. 4250-Watt Dual Fuel Portable Generator by Champion
This generator is one of the finest since it can run on either gas or propane, allowing you to buy whatever fuel type is less expensive and utilize whatever is available.
The 30A RV plug on the front panel makes attaching your trailer or motorhome to the unit a breeze.
A 12VDC connection, similar to what you'd find in your vehicle or truck, is also available, as well as a conventional double 120Vac wall outlet.
The circuit breaker, mode indications, and digital hour meter and display are all located on the front panel of the Champion 4250, which also houses the circuit breaker, mode indicators, and digital hour meter and display.
The gasoline tank has a capacity of 4 gallons.
The generator can produce 3500 watts of electricity and can run for 22 hours on a quarter load when using fuel.
It can produce up to 3200 watts and run for up to 21 hours on a quarter load using gas.
It's pricey, but it features an economy mode that helps it pay for itself by reducing the amount of gasoline you consume.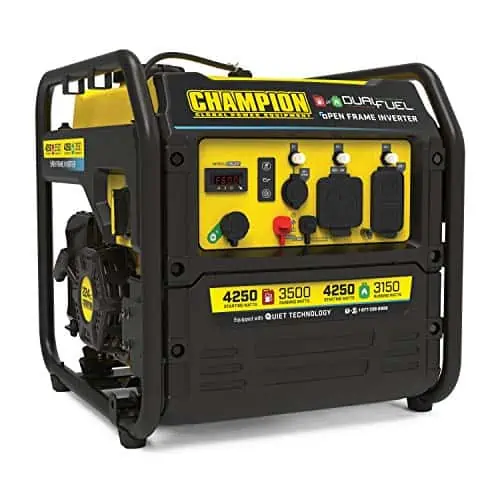 Champion Power Equipment 200914 4250-Watt Open Frame Inverter Generator, Dual Fuel Technology
ADVANCED DIGITAL HYBRID DESIGN: Plus, our Economy Mode feature makes it 50% quieter and 20% lighter than a standard Champion 3500-watt generator…
DUAL FUEL: This RV Ready inverter runs on gas or propane and contains a 120V 30A RV outlet, as well as two 120V 20A domestic outlets and a 12V DC…
QUIET TECHNOLOGY: With 4250 beginning watts and 3500 running watts, 64 dBA is ideal for RVs, tailgating, your next project, or home backup.
#3. IGen2200 RV Inverter Generator by Westinghouse
The little Westinghouse inverter has a noise level of just 53 dB and may operate for up to ten hours.
If you value peace and quiet above all else, this may be the model for you.
The controls are located in one place, making it simple to use.
It has a starting power of 2200 watts and a running power of up to 1800 watts.
If that isn't enough, it offers parallel capabilities, allowing you to run two of them simultaneously.
There has a "efficiency mode" that reduces fuel usage, similar to the eco modes on other models.
It will also shut off if the oil level drops too low, ensuring that the engine does not overheat.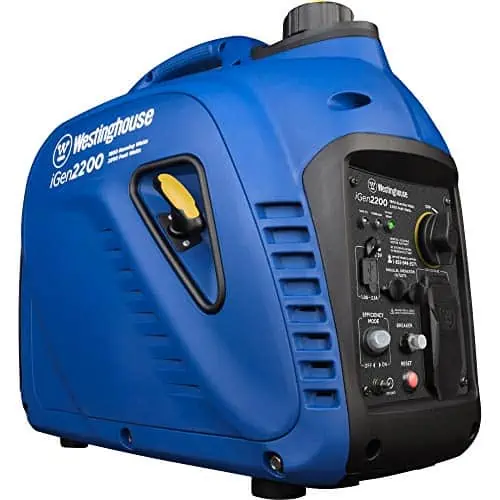 Westinghouse iGen2200 Super Quiet Portable Inverter Generator 1800 Rated & 2200 Peak Watts, Gas…
Gas Powered – Two 120V 20 Amp Outlets, Two USB Outlets – 1800 Rated Watts and 2200 Peak Watts at Less Than 3% THD – Weighs Only 46 Lbs.
Great for use at home as an emergency backup in the event of a power outage – powerful enough to run all of your household essentials
Extremely quiet and fuel efficient: noise output as low as 52 dBA and a 12 hour run time on a 1. 2 gallon gas tank – Features "The economic situation…
#4. 56225i Super Quiet RV Inverter Generator by WEN
Noise is multiplied by the number of generators.
Unless you're talking about the WEN 56226i Super Quiet 2250-Watt.
These silent generators have been designed to work in tandem.
At half load, they can run for up to 6 hours, and each one contains one gallon of fuel.
With the built-in fuel cutoff feature, which takes the gasoline from the carburetor before shutdown, their engines will live longer.
There is an eco-mode that uses the least amount of gasoline possible.
One generator has a starting power of 2250 watts and an operating power of 1800 watts.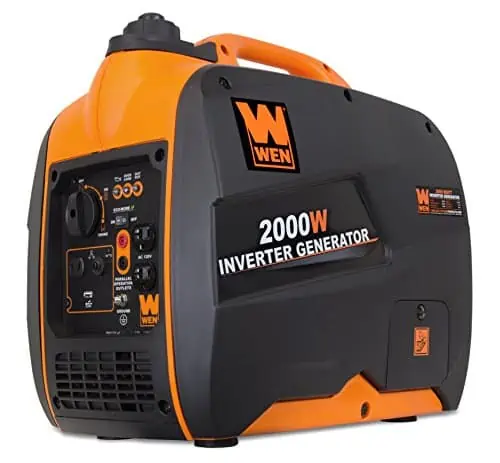 WEN 56225i 2250-Watt Gas Powered Portable Inverter Generator with Fuel Shut-Off, CARB Compliant ,…
18.2″ x 11.5″ x 19″ "| | 48.5 pound weight
Operating at 53 decibels
The 79.7 cc 4-stroke OHV engine is EPA III and CARB compliant and delivers 2000 surge watts and 1600 rated watts.
For My RV, What Size Inverter Generator Should I Get?
Your RV's inverter generator size will be determined by your power requirements.
The majority of these generators generate between 2,000 and 4,000 watts of power.
If you have a tiny trailer and just require a little amount of electricity, a 2,000 watt unit should enough.
A 4,000 watt unit, on the other hand, would certainly be required if you have a larger RV and want to power a range of larger appliances and equipment.
Will My RV's Air Conditioning Be Powered By A 2,000 Watt Generator?
A 2,000-4,000 watt inverter generator is required for common air conditioner systems in RVs.
However, the size that is appropriate for you will vary and be determined by a variety of circumstances.
A 3,000 watt unit can often run your air conditioning as well as several smaller appliances.
Because it's a smaller generator, the idea is to avoid trying to power everything at once.
Is It True That Inverter Generators Use Less Energy Than Standard Portable Generators?
Because of the way the final alternating current (AC) is created, inverter generators are more energy efficient than standard portable generators.
These generators, unlike traditional generators, feature engines that automatically adapt to the power demand.
This enables you to only get the electricity you need at the time you want it.
Inverter generators are also more fuel efficient and have smaller fuel tanks.
Last Thoughts
So, is an inverter generator required for your RV? The answer is contingent on your power requirements and the length of time (and frequency) that you will be without access to a shore power source.
Many RV owners, like myself, believe these generators to be essential.
While I can go for many hours without using it on every trip, I'm always glad I have one when other power sources are unavailable.
Portable generators (of any kind) are particularly crucial if your RV refrigerator is stocked with food and beverages, since food may rot if the fridge is left without electricity for an extended period of time.
Overall, think about your requirements and if the convenience of being able to power your RV from anywhere is vital to you.
Inverter Vs Generator For RV Videos Suggestions From Youtube