When dry camping, you'll need a power supply.
For many people, this is a generator that allows them to do things like cook, watch TV, or do anything else that needs power.
Some RVs are equipped with a built-in generator, while others need the use of a portable RV generator.
It might be difficult to choose the finest portable generator for your requirements if you want one.
Here's a list to assist you in making your decision.
Is it Possible to Use a Portable Generator to Power Your RV?
Yes, if the power is high enough, you can operate your RV with a portable generator.
Remember that you don't have to operate all of your appliances and gadgets at the same time, so if you're managing your power use, a lower-watt generator might suffice.
In most cases, you'll connect your RV to a generator in the same manner you'd connect to a campground connection.
The generator should be placed 5 to 10 feet away from your setup, with the exhaust vents facing away.
Keep in mind that you should never use your generator inside your RV.
Carbon monoxide, a dangerous gas, will flood your rig if you do so.
What Generator Size Do I Require for My RV?
Generators normally come with a rating so you can figure out which wattage is suitable for your RV.
A 2,000-watt RV portable generator is a normal size if you just require a little electricity.
If you want additional power, RV generators may produce up to 5,500 watts, and in some cases even more.
Consider the appliances that will be utilizing it when determining how much power you need.
Consider a generator with more than 2,000 watts if you have an air conditioner and a few other appliances that will utilize it.
Still unsure about the size you require? Take a look at our in-depth article: What Generator Size Do I Require for My RV?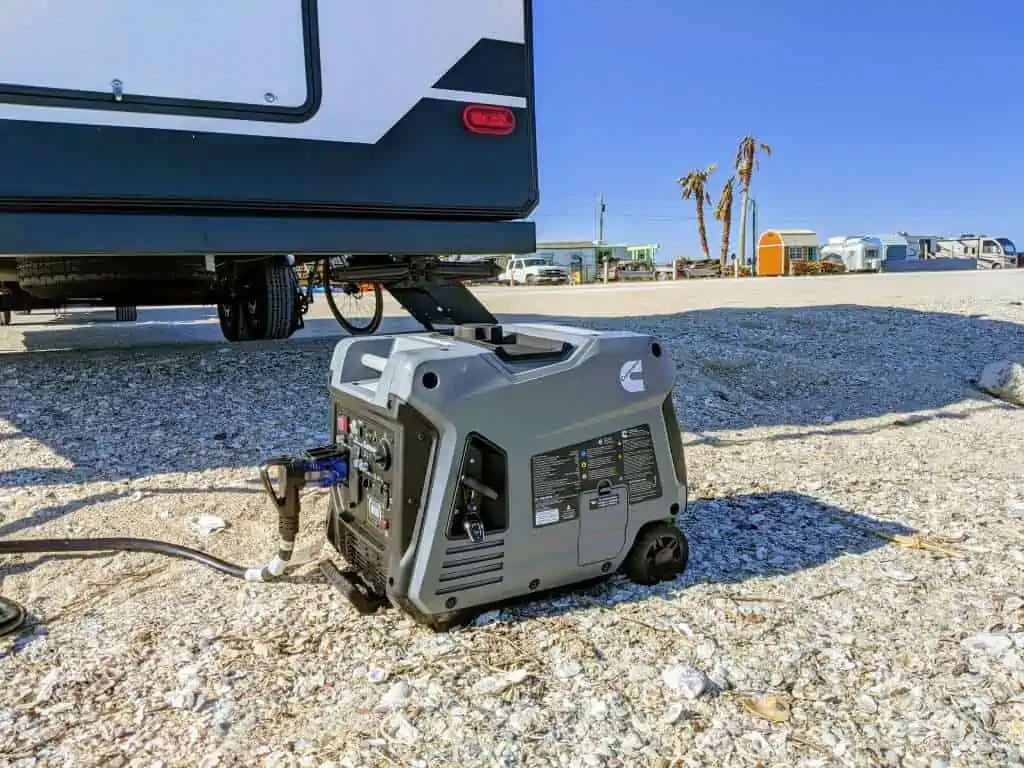 The Top 7 Portable Generators for RVs
We wish to assist you in making the finest generator decision for your requirements, since there are various competitive generator manufacturers on the market.
Take a look at our list to see which choice is best for your setup.
It's worth noting that the majority of the generators are inverter-based.
This raises the price, but it also makes them a better camping generator.
To discover more about what makes inverter generators unique, read this article.
#1. Honda Power Equipment EU3000IS 3000W
If generators are renowned for anything, it's for their loudness.
This Honda type, on the other hand, is quite quiet.
It has a noise level of 49 to 58 dB(A), which is lower than a regular conversation.
Its fuel economy allows it to run for up to 20 hours on only 3.4 gallons of gas, demonstrating its dependability.
When the engine oil is low, the generator will shut off due to built-in oil sensing.
For dependability, power, and sound, the Honda 3000 is one of our top recommendations.
Because of its widespread usage, this generator has a plethora of aftermarket components and adapters.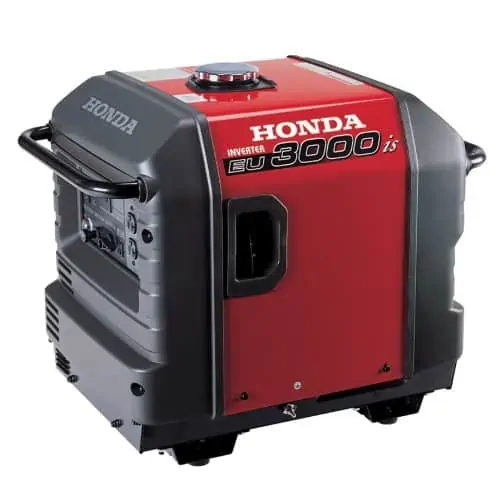 Honda Power Equipment EU3000IS 3000W 120V Portable…
This popular type is capable of controlling a broad range of appliances, including…
Extremely quiet: Your neighbors will appreciate you for being so quiet; the…
Thanks to…, it can operate for up to 20 hours on 3.4 gallons of petrol.
$3,077.00
#2. Champion Power Equipment Dual Fuel RV Ready Portable Generator
With a 3500 watt output, this portable RV generator costs little under $400.
Furthermore, the generator may be used immediately out of the box for your convenience.
With an Intelligauge system, you can conveniently keep track of run-time hours, hertz, and voltage.
You'll never have to worry about exceeding your power limit since you can simply monitor the generator's output.
Due to its low cost and propane capabilities, this is a popular option for folks who are just going on short journeys; nevertheless, it is not a viable choice for extended usage.
This isn't an inverter generator, so it'll be a lot noisier and use a lot more gasoline.
Many campers dislike this kind of generator because of the noise it produces.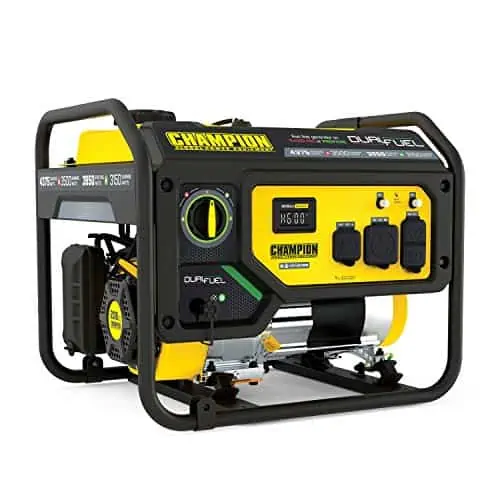 Champion Power Equipment 200965 4375/3500-Watt…
Right out of the box, this 3500-watt portable generator will…
A 120V 30A (TT-30R) RV outlet, as well as a 120V 30A (L5-30R) outlet
Keep track of voltage, frequency, run time every session, and overall run time…
$549.00
#3. Honda EB2200i
For good reason, the Honda 2200i portable RV generator is one of the most popular.
With this model, you receive greater power while maintaining excellent quality.
In reality, it has a 10% increase in power over the previous generation, EU2000i.
With continually monitored carbon monoxide levels, the CO-MINDER feature provides you peace of mind.
With a weight of little over 47 pounds, this model is both light and small.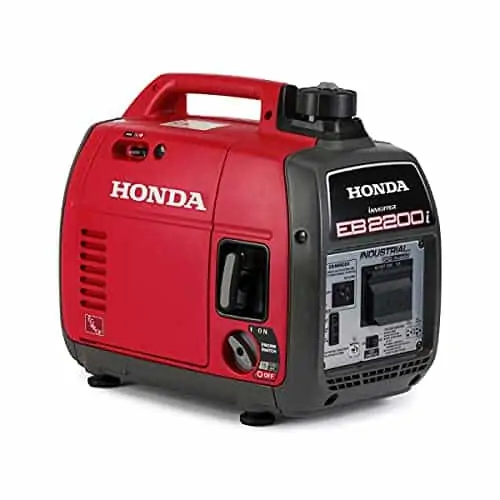 Honda EB2200ITAN 2200-Watt Super Quiet Portable…
MORE STRENGTH. EXACTLY THE SAME LEGENDARY QUALITY. – The EB2200i provides 10% more…
CO-MINDER – CO-MINDER is a carbon monoxide monitor that is always on (CO)…
THE EB2200i OFFERS PORTABLE POWER FOR YOUR JOB SITE – The EB2200i can power a broad range of…
$1,399.00
#4. Pulsar Products G450RN Portable Inverter with Remote Start
This model has a wireless remote start that allows you to operate the generator from up to 80 feet away.
With an extensible handle and Never-Flat wheels, this portable RV generator is simple to carry and store.
The tank holds 3.2 litres, and you can get up to 4,500 peak watts from it.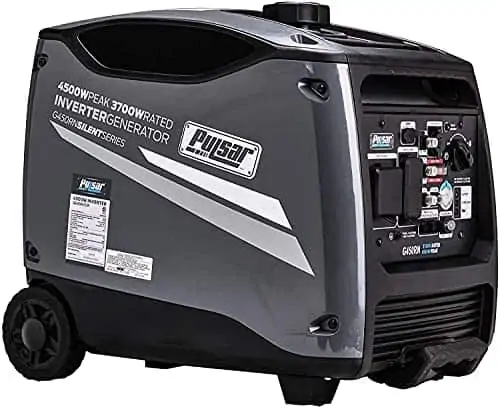 Pulsar Products G450RN, 4500W Portable Quiet…
3,700 operating watts/ 4,500 peak watts
At half load, this generator can run for up to 15 hours…
You may control the machine with the help of a convenient wireless remote start…
$799.99
#5. WEN 56380i 3800W Inverter Generator
This generator is not only silent, but it is also strong, producing 3800 watts, which is plenty for camping.
You may rest easy knowing that this generator provides clean electricity, which means your gadgets will not be harmed.
The WEN 56380i's fuel shutdown extends the generator's life by utilizing any remaining gasoline in the carburetor before turning it down.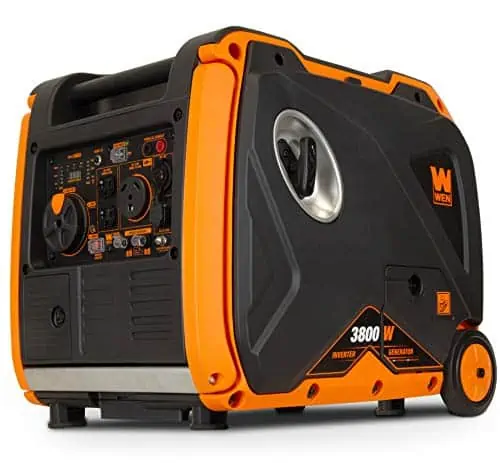 WEN 56380i Super Quiet 3800-Watt RV-Ready Portable…
23.2″ L x 18″ W x 20.1″ H | Dimensions: 23.2″ L x 18″ W x 20.1″ H 99.2 pound weight
Compliant with EPA III and CARB
3800 surge watts and 3400 continuous watts are produced by a 212cc 4-stroke OHV engine.
$629.15
#6. Generac 7127 iQ3500-3500 Watt Portable Inverter Generator
This Generac model operates at a whisper-quiet level.
The Advanced inverter technology, along with the enclosed construction, makes it 40 percent quieter than competing models.
You may examine the wattage meter, generator status, fuel level, and remaining run time on a compact digital smart LCD panel.
You may also use the built-in USB ports to charge mobile devices such as tablets and smartphones.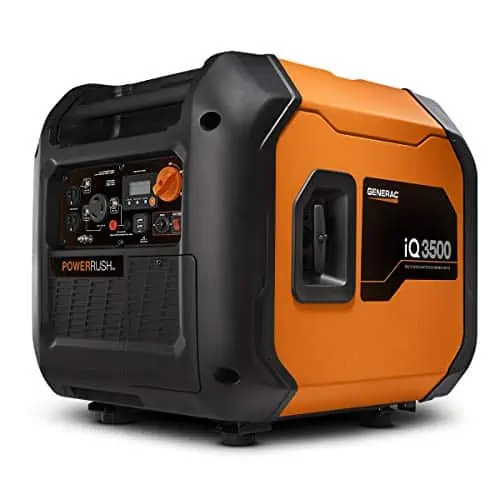 Generac 7127 iQ3500-3500 Watt Portable Inverter…
ULTRA-QUIET – 40% quieter than Honda* Advanced inverter technology
Durable steel casing, clean inverter…
Ideal for business or pleasure, 16 percent more power than Honda, with sophisticated power surge…
$999.00
#7. Generac 76711 GP 1200i 1200 Watt Portable Inverter Generator
This Generac model is praised by reviewers as one of the finest portable RV generators.
Because of its entirely enclosed design and very low noise levels, you won't annoy your neighbors while you use it.
You can depend on a consistent and clean power supply with True Power Technology, which is great for sensitive electronics and other appliances.
The handy Economy Mode adjusts engine speed automatically to conserve gasoline while lowering noise pollution.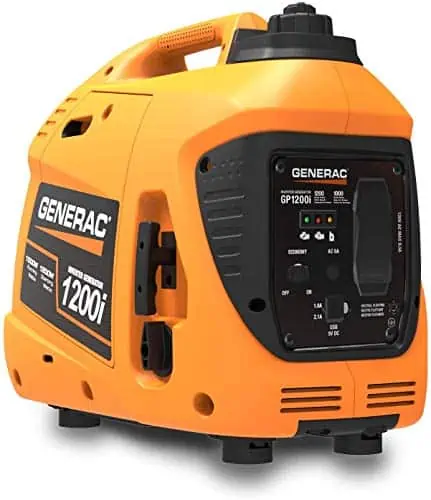 Generac 76711 GP1200i 1200 Watt Portable Inverter…
The totally enclosed, quiet, and neighbor-friendly design substantially…
True Power Technology delivers clean, consistent power that is suitable for…
With built-in storage, the compact and lightweight design makes travelling a breeze…
$729.00
What Should I Look for in a Portable Generator?
What do you do when there are so many great portable RV generator types on our list? Let's have a look at some key characteristics to think about.
Consider which gadgets you'll need to charge and use first.
Consider the operating watts of each appliance/device while calculating the generator's size.
When you add them all together, you'll have your minimum generator wattage.
(Keep in mind that not all appliances will need to be turned on at the same time.)
Next, figure out how long it will take to complete the task.
Will you use your generator all of the time, like you would if you needed to keep a refrigerator running? Will you use it to charge and operate small gadgets on a regular basis?
The run time is determined by whether the machine can operate at half or quarter load, not by the number on the box.
If your 2000W generator states it can operate for 12 hours at half load, it can run for 12 hours if you're not utilizing more than 1,000W of electricity.
It will operate for six hours if you use 2,000W all the time.
Consider noise levels, digital alarms, safety alerts, the number of outlets, running vs.
surge power, remote start, and the possibility to add a transfer switch, among other things.
Once you have your portable RV generator, doing comprehensive research on the different kinds of generators can help you prevent buyer's regret.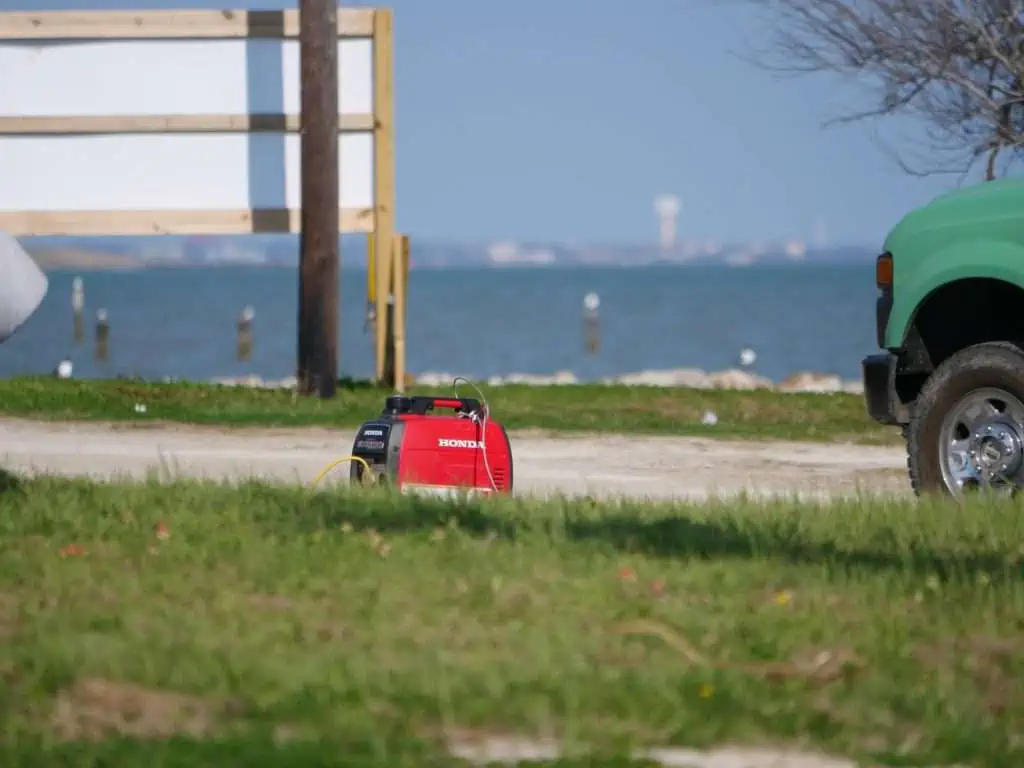 Is it Worth Buying a Portable Generator for an RV?
For those that boondock or dry camp, a portable generator is well worth the investment.
While you may get by without one, a generator can offer the electricity you need to operate your refrigerator or heater.
For your RV, weigh the advantages of a portable generator vs a built-in generator.
Built-ins often offer better power and convenience.
Portable generators, on the other hand, provide more flexibility.
You may even utilize them to power anything other than your RV.
Consider your power requirements and the things that are most essential to you.
Portable generators may be quite beneficial, but it all depends on your needs!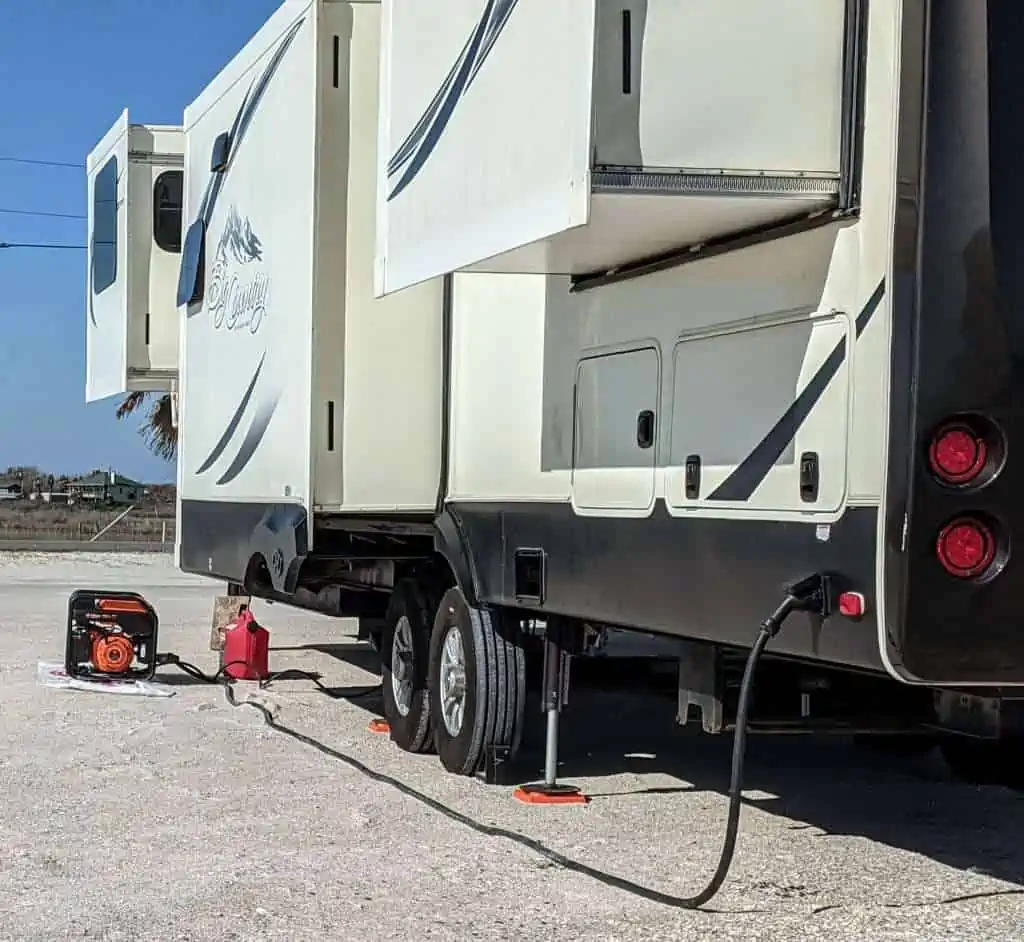 Have you ever relied on a portable generator to keep your RV running? Is it anything you'd recommend? Please let us know in the comments section.