Off-grid living is very popular right now, but it's not a fleeting trend.
It's a really wise way to live, and living in an RV is probably one of the safest and most comfortable ways to go off the grid.
Being able to use adequate electricity without plugging into an outlet is the fundamental challenge of off-grid RV life.
Even the greatest deep cycle marine battery can't keep your RV powered indefinitely.
But if you purchase mobile solar panel kits for RV usage, the situation can alter.
Since portable solar systems are far simpler to set up than permanent solar installations, they are very helpful for charging your RV batteries while dry camping.
Additionally, if you purchase a new RV or decide to sell your RV and move into an off-the-grid cottage, you may take them with you.
However, there are many different RV solar panel kits available.
For your benefit, we've examined the available options and selected seven of the top portable solar kits and panels for RV life.
After inspecting the panels, make sure to review our Buying Guide so you can decide which solar panels are best for your needs.
The Top 7 RV Portable Solar Panel Kits
These are our top seven picks for portable solar panel systems for use with RVs.
Each has been examined, with advantages and disadvantages listed, along with suggestions for where they shine.
So let's get started!
Best Overall: Renogy 200 Watt 12 Volt Monocrystalline RV Solar Starter Kit
With Charge Controller: Zamp solar Legacy Series USP1002 Solar Panel For RV
Best With Portable Suitcase: ACOPOWER 120W 12V Portable Solar Panel Kits
Best For Solar Generator: ECO-WORTHY 120W Foldable Solar Panel Charger Kit
Best Lcd Screen: WindyNation 100 Watt Solar Panel for 12 Volt Battery Charging
Best Budget Friendly: ALLPOWERS Bendable SunPower Solar Panel For RV
Best Versatility: Renogy 175 Watt Monocrystalline 12 Volt Solar Panel
#1. Best Overall: Renogy 200 Watt 12 Volt Monocrystalline Solar Starter Kit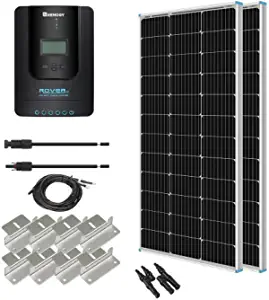 Our top pick for a highly effective portable RV solar panel that includes everything you need is the Renogy MPPT-Rover40 Solar Starter Kit.
With monocrystalline panels that have an efficiency of 18.4% and an MPPT charge controller that has a peak efficiency of 97%, this system is very effective.
The system has a 200 watt rating, but you may increase it to 800 watts with more panels thanks to the 40A charge controller.
The two included panels function admirably even in dim lighting situations, and the system's bypass diodes reduce the power loss often brought on by shadow.
I particularly appreciate that the metal frames supporting the solar cells are corrosion-resistant having seen the crippling effects of rust on RV parts.
In my opinion, this indicates a structure that will remain for years, even if you live in a location where the metal corrosion process is sped up by saline air.
Actually, this RV solar set has two 100 watt solar panels.
They are 42.2″ by 19.6″ by 1.38″ in size and weigh 16.5 lbs apiece.
These RV solar panels are covered by a 25-year transferable power output guarantee from the manufacturer as well as a 5-year material and workmanship warranty.
They are rated for a maximum system voltage of 600 volts DC.
The 40A MPPT charge controller, which weighs just under 4.5 pounds and provides a maximum battery voltage of 32 volts, is also included in the RV solar kit.
Eight-foot charging cables, mounting Z brackets, and an adapter kit set are also included in this package.
This kit's included charge controller also has a variety of safeguards that make the system as a whole quite secure.
This contains safeguards against overloading, short-circuiting, overcharging, and reverse polarity.
The panels also have pre-drilled holes on the back that make mounting them easier.
Items We Enjoy
Efficiency: The maximal efficiency of the MPPT charge controller is 97 percent.
Expandable: The charge controller permits expansion of the system to a maximum of 800 watts.
Bypass Diodes: Reduce power loss in the shadow and improve low-lighting efficiency.
Durable: The junction box has an IP65 ingress protection certification, and the panel frames are corrosion-proof.
Things That We Dislike
Construction Quality: Some panels are just made of better-quality materials overall.
#2. With Charge Controller: Zamp solar Legacy Series USP1002 solar panel for RV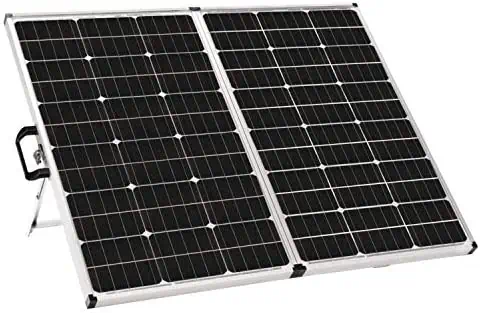 The monocrystalline Zamp Solar Legacy Series panel is a fantastic option if you're searching for a single RV portable solar panel that is portable, small, and simple to install.
As it only contains a single 140-watt panel but includes everything you need for a rapid setup, this solar panel is also a fantastic option for smaller RVs or camper vans.
Integrated within the portable solar panels for camping is a 5-stage, 10-amp charging controller.
RVs with 12-volt batteries work best with this controller since it helps prevent overcharging of batteries.
Additionally, the controller has a large digital display that you may use to monitor your power use and the effectiveness of the panel.
The complete paddle compresses into a protected carrying bag and may be folded up when you need to relocate to a different location.
This solar system is thus best suited for placement on the ground, but it may also be safely mounted on top of a small camper van if no strong winds are predicted.
The panel weighs 32.75 pounds, and the closed measurements of the whole package are 32.4″ by 21.5″ by 3.1″.
The solar panel uses high-grade monocrystalline solar cells that have been coated with an anti-reflective material.
In order to enhance the panel's ability to absorb light, this treatment procedure is carried out manually at Zamp's corporate headquarters in Bend, Oregon.
This panel can generate 7.8 amps in total, and its extensible legs make it easy to position it so that it receives the most sunlight.
If your RV has a sidewall solar port, the full solar system also includes alligator clips and an integrated SAE connector.
The following well-known RV manufacturers provide Zamp Solar ready ports: Winnebago, Forest River, Keystone, and Airstream.
However, it should be understood that this is not an exhaustive list of RVs that may use a Zamp solar port.
Items We Enjoy
Long Warranty: The 25-year output warranty is offered by Zamp Solar.
Charge Controller with Water Resistance: The charge controller is built within the panel.
Quality Construction: Each panel is handmade in the United States.
Portability: For safe transportation, the panel is provided in a protective container.
Things That We Dislike
Price: On our list, this is not the choice with the best price.
#3. Best With Portable Suitcase: ACOPOWER 120W 12V Portable Solar Suitcase For RV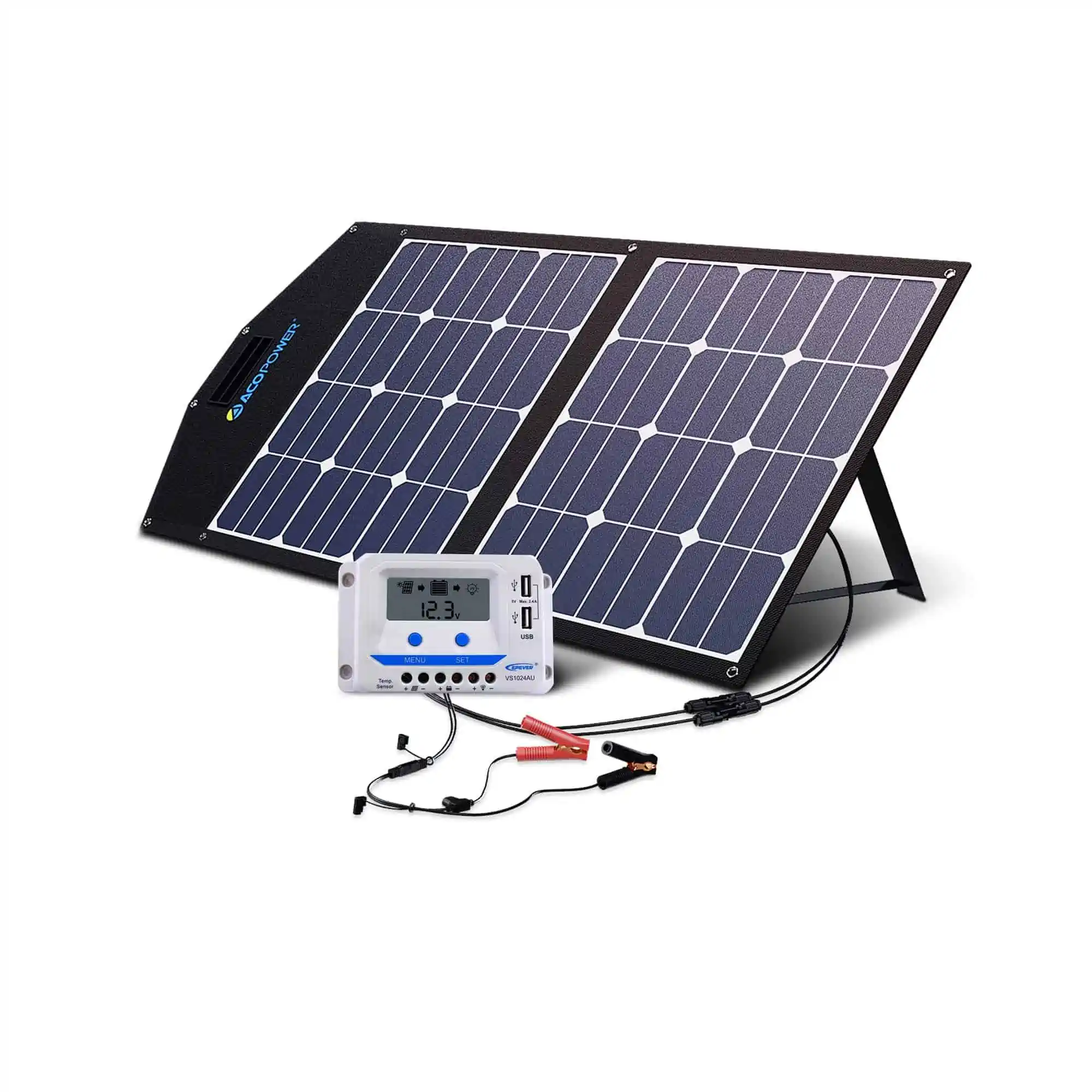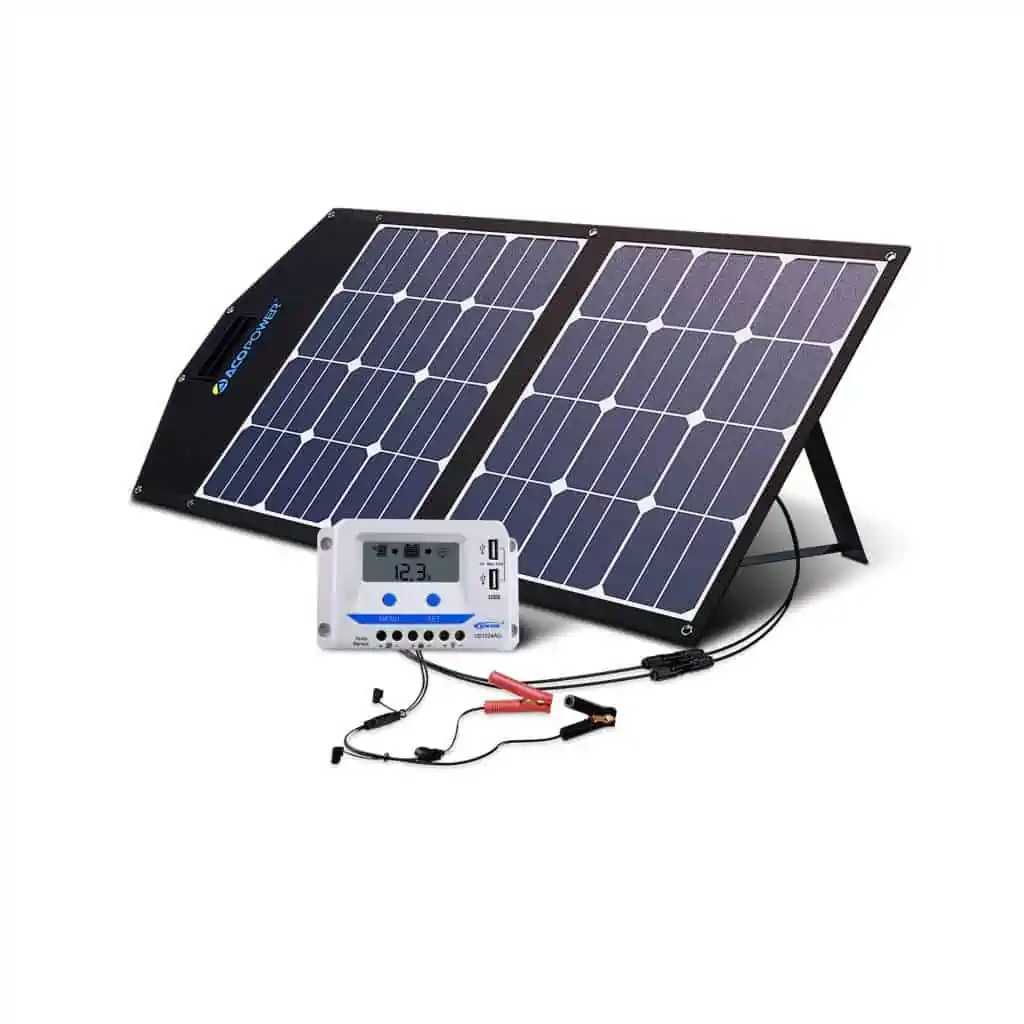 As one of the most transportable and small solar systems available, the ACOPOWER portable RV solar suitcase is the perfect solution for cab-over campers and camper vans.
The panels themselves compact into a suitcase-style box, making them very portable.
When the kit is fully assembled, it weighs less than nine pounds.
The monocrystalline solar cells utilized in this panel are manufactured by SUNPOWER, the global leader in high conversion efficiency modules.
For this reason, solar panels are capable of a maximum conversion efficiency of up to 25%.
This kit works best with 12-volt RV batteries, but it also includes alligator clips so you can quickly connect to your battery and start charging.
I appreciate that this kit is perhaps the simplest to put up on our list as someone who fantasizes about having a portable solar system for an on-the-go lifestyle.
It contains supports that velcro to the back of the panels to help you position them for the best sun exposure, and it can be set up in about a minute.
This kit is also among the most small ones available, measuring 22″ by 17.5″ by 1.2″.
The panels fold together and include a handle for carrying when you're ready to go.
Additionally, the panel has a compartment for its extras, such as the user handbook, alligator clamps, and detachable MC4 connection cables.
A 10-amp LCD charge controller that enables you to keep an eye on your power use is also included with this RV solar system.
The RV solar suitcase's fabric and cell surface are also waterproof for increased longevity when used outside.
Finally, even if you don't have much electrical or solar knowledge, this arrangement is quite user-friendly since the wiring on the back of the panels is pre-installed.
Items We Enjoy
Portability: This is one of the market's most small and lightweight panels.
High Conversion Efficiency: The efficiency of SUNPOWER cells may reach up to 25%.
Quick Setup: It takes around a minute to completely assemble this solar panel kit.
LCD Charge Controller: Shows how much electricity you are currently using.
Things That We Dislike
Durability: This panel is quite thin, making it more likely to sustain damage if you aren't cautious.
#4. Best For Solar Generator: ECO-WORTHY 120W Foldable Solar Panel Charger Kit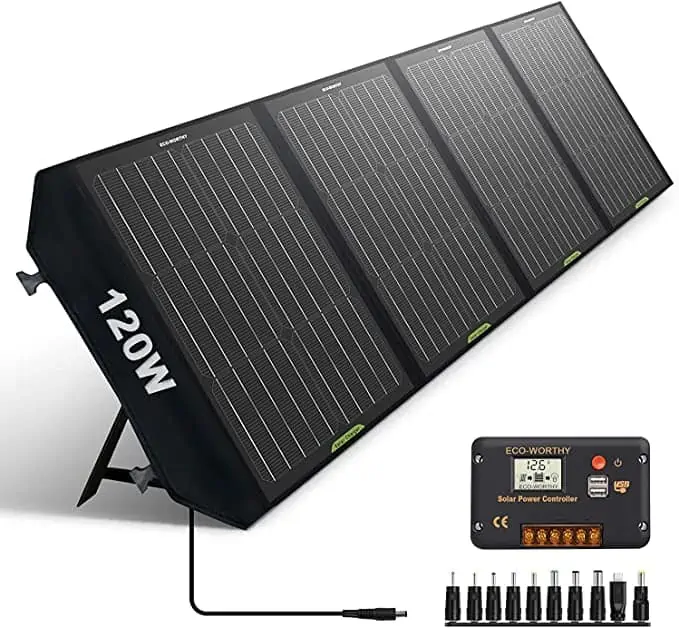 The ECO-WORTHY Solar Panel Kit is the best choice if you need an RV solar power unit that can work with a portable solar generator to help you construct an off-grid power station.
This kit works with a wide range of portable solar power systems, including those from the Prymax, Rockpals, Suaoki, Webetop, and ENKEEO brands.
The panels have the wires pre-installed, which speeds up and simplifies the installation process.
The main disadvantage of this design is that the wires are less than 10 feet long, so if you go this path, you'll need to position the panel near enough to your RV batteries to ensure a reliable connection.
Because of the potential limitations on where you may position your panels for best sun exposure, they are designed to power a portable solar generator rather from being connected directly to an RV battery.
Your RV may then get more electricity from the generator, but doing so will need another procedure.
The generator can be used for much more than just running your RV, which is the major advantage of this design.
Additionally, you may utilize it to completely cut down on the consumption of your RV batteries.
Two five-volt USB ports built into these panels let you plug in smaller gadgets immediately.
The battery of your RV won't be drained while charging phones, laptops, and other small gadgets thanks to this.
High-efficiency solar cells are used in the ECO-WORTHY 120 watt panel to improve energy collection and transmission.
Between 21.5 and 23.5 percent of solar energy may be converted by them into useful electricity for your RV.
The panels fold into measurements of 21.5″ by 14.6″ by 2.5″ for easy storage while you're in travel, and the cells are composed of monocrystalline silicon.
Items We Enjoy
Compatible with Solar Generators: This product is compatible with a variety of generators from top companies.
Device Charging: It features two USB ports for charging tiny electrical gadgets.
Foldable: A portable design makes it simple to fold and transport.
Durability: Oxford fabric that is resistant to the elements covers the panels.
Things That We Dislike
Cable Length: The pre-installed cables for this panel are less than 10 feet long, which may limit your ability to place the panel correctly.
#5. Best LCD Control Screen: WindyNation 100 Watt Solar Panel for 12 Volt Battery Charging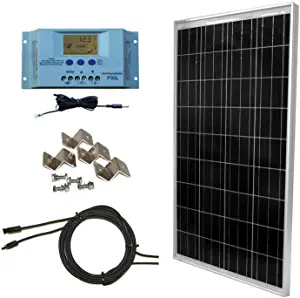 The WindyNation Solar Panel Kit is just what you need if you're looking for portable RV solar panels with an LCD display so you can better monitor consumption data.
Amperage, voltage, temperature, and other important data are shown on the control screen that comes with this package.
The practical UP and DOWN arrows on the LCD Control Screen make it simpler to modify your system settings and mode.
Additionally, this system has safeguards against overloading, short-circuiting, and overcharging.
To assist you make sure your battery isn't overheating while connected to the panel, it's one of the few kits that also includes battery temperature sensors.
The WindyNation panel may be used on the ground, but its ideal usage is as a roof-mounted panel.
You will need four sets of stainless steel fasteners and anodized aluminum Z-brackets to finish the installation.
When mounted on your roof, the components will be exposed to the elements, thus they are all corrosion-resistant to help them last longer.
You may extend this system if you want since the charge controller that comes with it can manage more panels.
If you can maintain the panels in direct sunshine, it is designed to give up to 400 watt-hours (33 amp hours) of charge every day.
However, the kit's included panel also works well in dimly lit areas.
This kit includes one pair of solar connections and has a high working temperature.
Between the solar extension cable and the solar connectors that are already fastened to the panel's back, these connections provide a watertight connection.
The 40 feet of solar extension wire included in this package also makes it simpler to choose a roof position while still being able to connect to your RV's 12-volt battery.
Items We Enjoy
LCD Control Screen: Shows vital system data including voltage and amperage.
Expandable: For extra wattage, more panels may be connected to the controller.
Easy Installation: All necessary parts are included for quick attachment to your RV's roof.
Battery Temperature Sensors: These devices assist you in keeping track of the battery temperature in your RV.
Things That We Dislike
Requires Inverter for AC: If you wish to use this panel to power outlets and other appliances, you will need an inverter.
#6. Best Budget-Friendly Panel: ALLPOWERS Bendable SunPower Solar Panel For RV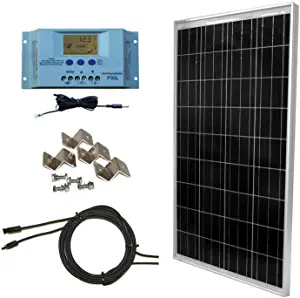 The ALLPOWERS Bendable Solar Cell is the most cost-effective solar panel option on our list for trickle charging your RV batteries if you want to install one but are on a limited budget.
Additionally, it is very strong and lightweight.
The panel is comprised of a flexible polymer that makes it more durable than the majority of conventional aluminum-framed panels and is water-resistant.
With a conversion percentage of up to 23%, this panel is likewise quite efficient.
Given the size of the panel and the fact that many bigger panels have an efficiency rating between 17 and 19 percent, this is a remarkable efficiency.
A 12-volt RV battery receives effective energy from this RV solar panel set.
Due to its flexibility, it is also ideal for use on curved roofs.
If you want to put the panel directly onto the roof of your RV, it may be bent into an arc up to 30 degrees.
Additionally, it is frameless and has four mounting holes in the corners that are reinforced with metal for simple installation.
Due to its versatility, this panel is especially excellent for tiny RVs and camper vans with limited roof space.
The panel's flat measurements are 22.05″ by 21.26″ by.01″ (i.e., it's incredibly thin!!) and it can be bent to match your preferred spot.
Unfortunately, despite the fact that the junction box that is linked to the panel has surge and short circuit safeguards, our investigation did uncover several cases where the junction box disengaged from the panel after just a few months of operation.
Despite this, it has a working current of 2.7 amps and a maximum system voltage tolerance of 1000 volts without experiencing any harm.
Items We Enjoy
Price: Without a doubt, this solar panel is the most cheap on our list.
Water Resistance: It is more durable than standard aluminum-framed panels.
Lightweight: This panel only weights a little over two pounds in total.
Bendable: The panel may be bent to a maximum of 30 degrees.
Things That We Dislike
Low Power Rating: This panel can only handle 50 watts at most.
Junction Box: According to some customers, the junction box was improperly fastened to the panel and came off after just a few months of operation.
#7. Best Versatility: Renogy 175 Watt Monocrystalline 12 Volt solar panel
The most adaptable RV panel in terms of installation is without a doubt the Renogy Flexible Monocrystalline Solar Panel.
Because of its adaptability, you can make this panel operate on RVs that other panels aren't always compatible with.
The panel can be bent up to 248 degrees so that it may be put on Airstream roofs, curved surfaces, and other desirable locations.
Its amazing 175 watt output is produced by a panel that is just 59.2″ x 26.5″ by 0.08″ in size.
If more power is required, it may easily be connected to other Renogy panels.
It weighs just 6.2 pounds and possesses an operational current of 8.75 amps.
The operational temperature range for this panel, while we're talking specs, is -40 to 185 degrees Fahrenheit (-40 to 85 degrees Celsius).
The rear sheet of the panel is completed with TPT material, which helps to disperse heat, which is one reason why this panel can still function well at high temperatures.
Due to its resistance to the damaging effects of extreme heat, this material also extends the panel's lifespan.
To further extend the lifespan of the panel, a corrosion-resistant finish is also provided by the metal frame that surrounds the solar cells.
Renogy Z-brackets or tilt mounts may be used to attach this panel to your RV roof more firmly.
Six pre-drilled, metal-reinforced mounting holes are already drilled into the panel itself to make installation simpler.
Once you've done that, you won't have to be concerned about bad weather harming your panel and its parts.
This panel's junction box has an ingress protection grade of IP68 and is equipped with cables with weather-resistant MC4 connectors.
The complete panel has a rating of 2400 pascals for wind strength and 5400 pascals for snow loads.
Additionally, you can feel secure knowing that this equipment is covered by a 25-year power output guarantee and a 5-year material and workmanship warranty from the manufacturer.
Items We Enjoy
Flexibility: The panel has a 248-degree range of flex.
Wattage Rating: Despite its small size, this panel is rated for an amazing 175 watts.
Durability: Has a corrosion-resistant structure and is designed to endure strong winds and snow loads.
Heat Dissipation: To raise the working temperature, heat is dissipated by the TPT sheet attached to the back of the panels.
Things That We Dislike
Accessories Needed: In order to connect the panel to your RV battery, you will need suitable cables, a charge controller, and perhaps an adapter kit.
How Can I Find The Best Portable Solar Kits And Panels For My RV?
However, how can you know which solar panel kit is ideal for your RV? It is crucial to comprehend the various kinds of panels and how they operate.
Additionally, you'll want to learn more about the exact attributes and details of these panels so you can compare them more effectively.
All of it will be included in this buying guide.
Portable Solar Panel Types
Three fundamental criteria may be used to differentiate portable solar panels.
So let's begin by identifying each and outlining the benefits and drawbacks of these three different kinds of solar panels.
#1. Single-Crystal Panels
The most known kind of panels are monocrystalline ones.
They resemble the well-known black panels that the majority of us undoubtedly connect with the harvesting of solar energy.
This kind of panel is very effective and produces a lot of electricity.
In comparison to other panels, they are less susceptible to high temperatures and are often the most lasting form.
However, because to their great power production and robustness, they are often the most costly solar panel on the market right now.
#2. Panes of Polycrystalline
The blue hue of polycrystalline panels is dotted or speckled in appearance.
Compared to monocrystalline panels, they are less expensive, but they are often less effective.
They also have a shorter lifetime than other panels since they are more susceptible to extreme temperatures.
#3. Solar Cells On A Thin Film
The most adaptable kind of solar panel, in my opinion, uses thin-film solar cells.
They are less expensive than monocrystalline and polycrystalline panels because they are simpler to make.
They further benefit from being flexible and the capacity to resist greater temperatures.
Since many RV roofs are curved, having additional installation choices is made possible by this flexibility.
These solar cells' drawback, meanwhile, is that they often resemble crystalline panels in size and mass.
Additionally, they often have shorter lives.
How Much Solar Power Will My RV Need?
How much electricity do your solar panels need to produce, then? Whether you're talking about installing solar panels on an RV or your whole house, this is the solar energy dilemma of the century.
However, let's naturally concentrate on RV applications.
Whether solar energy will be your main source of energy or just a supplement, will determine how much electricity you need your panels to produce.
A 50 watt solar panel can be plenty if all you need it for is to gently trickle charge your RV batteries in case of emergency.
However, you may want more than one 200-watt panel if you intend to use your solar panels to directly power wall outlets and appliances.
However, the issue with this plan is that if you want to install a family of panels, you can find yourself fast out of roof space.
For comparison, some large RV air conditioners may need up to 3500 watts to turn on and 1500 watts per hour to maintain operation.
Since the biggest portable solar panels have a 200 watt output, starting an RV A/C unit of this magnitude would need more than 17 solar panels (excuse us while we do a little arithmetic).
Simply said, this is unfeasible for an RV with a small roof.
Additionally, it doesn't take into consideration the possibility of concurrent use of other smaller appliances with your air conditioner.
There's a good reason why a lot of RV generators can provide more than 30 amps.
On the other hand, portable solar panels seldom provide more than 10 amps.
The best solar panel installation for your RV requires careful consideration of your power requirements.
The best option is to utilize your solar panels to power your onboard 12-volt batteries and tiny gadgets.
Naturally, a bigger panel will be able to power up little gadgets and charge your battery more rapidly.
#1. Effortless Use (Include Portability)
The installation of any of these solar panel systems will need some understanding of fundamental electrical principles.
Nevertheless, some are far simpler than others, and you have to always choose a solar panel kit that includes detailed instructions.
Examining customer evaluations to see what others are saying about the installation of the panel is a fantastic approach to verify this.
We're assuming that you're interested in these portable solar panels because you want to be able to move them about since, after all, they're portable solar panels.
You undoubtedly noticed that some of the evaluations looked more portable than others when you read through the ones up above.
If moving your panels is something you plan to do, make sure to take that into account.
The ease with which your panels will accomplish your goals also relies, well, on YOU.
For instance, a kit without a transfer switch would not be as simple to operate if you want to utilize solar panels to meet your RV's daily power demands.
The switch must be bought individually, and you must choose the best way to install it.
This is but one possible instance in which an RV solar panel kit that first seemed appealing could not fulfill your expectations.
In order to choose a product that will be simple for you to operate, make sure you are aware of your power requirements and the precise way you want to utilize your panels.
We do advise hiring a professional if you are at all uneasy about installing your solar panels since electricity is involved.
On this front, it's better to be safe than sorry, and it's always a good idea to hire a professional if you don't know the distinction between positive and negative terminals, how to connect fuses, where your inverter should connect, or any other crucial details of putting together a solar installation.
#2. Durability
The good news is that roof-mounted solar panels often tend to be less resilient than portable solar panels.
This is due to the fact that they were created to be moved about and linked and unplugged regularly.
But based on the materials used in their production, many portable panels are more or less robust.
Make careful to consider the quality of all parts, not just the panels themselves, when evaluating the longevity of a certain panel or solar system.
The wires, frame (if applicable), clamps, connections, and other accessories are included in this.
As with any other exterior RV equipment, such as roof antennae and tire pressure monitoring systems, durability in solar panels is crucial (TPMS).
#3. Operating Temperature Optimal
Your solar panels' ability to collect energy is only as good as your battery's capacity to store it, unless you've installed a transfer switch that enables your solar panels to deliver direct electricity to your RV's outlets and appliances.
The ambient temperature might also have a direct influence on battery capacity.
In general, RV batteries don't like to become too hot.
In fact, every time the temperature climbs by 15 degrees Fahrenheit, a battery's life will be halved.
Interestingly, with the same temperature increase, storage capacity will also rise by 10%.
On the other hand, a battery's lifetime actually increases in colder climates.
But a battery's storage capacity is decreased by 10% for every 15 degrees (still in Fahrenheit) of temperature drop.
Less storage capacity translates to less energy available for usage between solar charges.
This is significant when evaluating how fast a certain solar panel can recharge your batteries.
Additionally, there are ideal working temperatures for solar panels.
It's always a good idea to check the rating to make sure it will function well in the temperature range where you spend the most of your time in your RV, even though most are certified to perform properly at most temperatures, except for the very extremes.
Stages of Solar Charge
Charge controllers are installed in many of the panels we've described.
There are three broad phases that panels go through while they are charging and the charge controller is working correctly.
Bulk charge, absorption charge, and float charge are the names of these three phases, respectively.
#1. Large Charge
Bulk charge is the phase in which your RV battery is charged using all of the panels' available electricity (or batteries).
Until the absorption voltage is achieved (usually 14.4 to 14.6 volts), the bulk charging step will often continue.
#2. Absorptive Cost
Once the predetermined absorption voltage is obtained, the absorption charge step starts.
Your RV battery is typically at 85% of its full charge capacity at this stage.
The controller will now attempt to maintain that specified absorption voltage for a certain amount of time in order to prevent overcharging.
The absorption voltage and time duration of a controller are often pre-programmed by the manufacturer, and this is typically one or two hours.
You may alter these settings on certain controllers as well.
#3. Charge Float
After the absorption charge phase is over, the float charge stage starts (i.e.
the programmed time period in the controller passes).
By this time, your batteries should be almost completely charged, thus your controller will actually reduce the battery charge voltage to a range of 13.2 to 13.7 volts.
Once again, the precise figure will be determined by the manufacturer.
As long as the sun is still shining on your solar panels, it will then maintain this lower voltage.
It prevents overcharging of the batteries and boiling off of the battery acid by maintaining this lower voltage.
Optional Mounting
Thankfully, the majority of solar panels come equipped with all of the brackets and adapters needed for installation.
However, if this isn't the case, you should be aware of the additional materials you'll need when you buy your panels.
Of course, installation won't be a problem if all you want to do is leave your portable panels lying about throughout the day.
To make sure you have a mounting option that works with your RV layout, you still need to be aware of your mounting alternatives before buying a solar panel kit.
Which of the Best RV Portable Solar Panels Is Right For You?
Since this RV solar kit is especially designed to make it simple for individuals with very little solar knowledge, Renogy MPPT-Rover40 Solar Starter Kit is our choice for the finest portable solar panels overall.
The controller that comes with it enables you to extend the system for even more capacity, and it is also rated to provide the most wattage of any panel on our list.
However, we strongly advise taking a look at the Renogy Flexible Monocrystalline Solar Panel if you're searching for a backup plan.
This panel has great waterproof qualities, which we believe you'll like, and we love how versatile it is.
One of the better solutions for flexible solar panels that can be installed on curved roofs or other challenging surfaces.
FAQs
If you know the basics of electrical circuits, they are really pretty easy to grasp.
But if you've never used them before, they could seem complicated.
So let's fill up your figurative "electrical tool kit" by addressing some crucial inquiries concerning solar panels and their use.
How much energy do I require?
The answer to this issue will mainly depend on whether you want solar panels to only top up your battery charge or whether you're seeking for a bigger system that can provide your RV with all of its daily power requirements.
Before choosing a panel, you should assess your unique power requirements.
The typical individual panel has a maximum output of 200 watts.
Where should my panels be installed?
The purpose of portable panels is to be put or set up wherever it is most practical for best solar exposure.
However, the most typical place to put this kind of panel is on your RV's roof.
Of course, doing so will demand that you park your vehicle in a way that allows the bulk of the day's direct sunshine to strike your roof.
Understanding how many hours of direct sunshine solar panels need to operate at their peak efficiency may help you choose your installation location more wisely.
Make sure you have enough wire to extend from the panels to your RV batteries if you decide to just mount your panels anywhere on the side of your vehicle.
Keep in mind that less power will go from the panels to your battery when the wire is longer.
Therefore, if you want to get the most out of your solar panels, it's a good idea to position them as near to your battery as you can.
Does my arrangement need additional components than simply the panels?
Here, the quick response is "yes" You will need wires, at the absolute least, to connect your panels to your battery.
Additionally, you may need to make a fresh investment in your battery if it isn't compatible with the panels you wish to purchase.
Again, it will depend on how you want to set up and operate your panel arrangement if any further purchases are required.
You may need to buy an extra deep cycle marine battery if you want to buy a sizable number of panels to collect more watts in order to boost your energy storage capability.
A solar charge controller may also be needed for this, which will stop your batteries from being overcharged.
This is required because some panels generate voltage that is far greater than what batteries are designed to store.
Additionally, an inverter and/or a transfer switch are definitely required if you want to utilize your solar panels to meet your RV's daily power requirements.
An inverter's function is to convert direct current (DC) into alternating current (AC).
Normally, the batteries that your solar panel charges will create DC, but if you want your RV to fully work off-grid, you'll need an inverter that can give AC to your outlets and other appliances that need it.
With the use of a transfer switch, solar panels will be able to power your RV's outlets without first charging the batteries.
This is helpful if you want to utilize solar energy to meet your daily power demands, but it can need more initial electrical wire installation.
Should I choose roof-mounted or portable panels?
Depending on how much power you need, this may vary.
It's vital to remember that the majority of portable solar panels nowadays have a 200 watt maximum output.
So if you want to use solar energy to power your full 40-foot RV, you could need quite a number of them.
If so, you may think about putting in a few roof-mounted solar panels in addition to having a portable panel available for additional solar collecting and flexibility to sun conditions.
However, you most likely don't have enough roof space for bigger roof-mounted panels if you're attempting to utilize solar power for a tiny camper van, for instance.
Therefore, depending on your urgent demands, you'll need the kind of movable panels that may be put and removed more often.
So let's attempt a more brief summary.
We advise using roof-mounted solar panels if you're a full-time RVer who wants to use solar energy to power your whole vehicle.
Portable solar panels, however, are the ideal choice if you have a smaller setup and want more flexibility in how your panels are put up.
Is it crucial what kind of batteries my RV already has?
Yes! To choose solar panels that work with your RV's present batteries, you must be aware of their voltage and amp-hour ratings.
The majority of RV batteries are either 12-volt or 6-volt batteries, however there is greater variance in each battery's amp-hour rating.
It's crucial to understand that the amp-hour rating shown in the battery's specs is tested at a specified temperature, which is often about 77 degrees
Fahrenheit, when evaluating the storage capacity of your current RV batteries.
The outside air temperature, as we discussed in greater detail in the Optimal Operating Temperature section above, will have an impact on the amp-hour rating.
However, it bears repeating that the outside air's temperature will have a direct impact on a battery's capacity.
Additionally, you now understand why so many RVers seek for warm climates.
Conclusion
You can camp in more isolated locations and remain off the grid for longer if you purchase portable solar panels.
The beautiful thing about utilizing them for an RV is that you can carefully position your rig so your panels get the greatest solar exposure.
They're obviously ideal for regions that get considerable direct sunshine for numerous hours every day.
As someone who has nearly completely lived off the grid in an RV, I can attest that purchasing solar panels up front would have undoubtedly decreased my yearly power expenses.
Therefore, you should certainly invest upfront in high-quality portable solar panels if you have long-term intentions for your RV.