A silent RV generator is a vital equipment for your convenience and sanity, whether you travel rarely or spend a lot of time in recreational vehicles.
Thankfully, "quiet" doesn't have to imply "less efficient" or "less powerful"; today's generator manufacturers are capable of producing powerful generators that work at lower noise levels and are trusted by a large number of satisfied campers.
We've compiled a list of the quietest RV generators so you can simply add one to your camping gear.
What to Look for in a Quiet RV Generator
When purchasing a generator, several features and specifications should be carefully considered based on the RV's power demands, size, and comfort requirements.
When it comes to noise, a silent generator will enable you to spend more time near your car while also making evenings more serene.
It's also the most environmentally friendly option when it comes to your neighbors and the environment.
When it comes to electricity, there are a plethora of internet tools that can help you figure out how much watts you'll need to operate appliances like an air conditioner or a microwave, particularly if you need to run many of them as well as devices at the same time.
When evaluating a generator's operating duration, the kind of fuel and the size of the fuel tank are other crucial aspects to consider.
Most RV generators have parallel jacks and may operate in tandem with another generator (through a kit or cable, which is typically sold separately).
This is a viable alternative to a bigger and heavier RV generator if you want a smaller, lighter, quieter, and more portable unit in the range of 2,000–3,000 watts (with the possibility of adding a second one when required).
Other handy features include electric start at the touch of a button and remote start through a key fob or dedicated app—both of which are useful on a wet day or in the middle of the night.
#1. The Quietest RV Generator Overall—Honda Inverter Generator EU2200i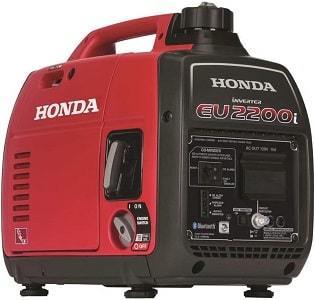 One of the top Honda RV inverter generators is the 663520 EU2200i, which runs on gas.
This highly rated silent RV generator may be readily carried from place to place, weighing less than 47 pounds.
CO-Minder technology from Honda monitors carbon monoxide levels and instantly shuts off the generator if unsafe amounts are detected.
To avoid stale fuel concerns, a fuel shut-off valve permits the engine to operate until the bulk of the gasoline has been spent.
For added convenience, the generator may be coupled with Honda's smartphone app, which allows for remote control and monitoring.
"Excellent quality," remarked one of the many delighted reviewers.
It's what I use in my RV and when there's a power outage.
Super quiet, simple to start, and efficient with gasoline."
Noise level: from 57 dBA
Starting watts: 2,200 watts
Running watts: 1,800 watts
Tank capacity: 0.95 gallon
#2. The Best-Rated Quiet RV Generator—Generac Inverter Generator GP3000i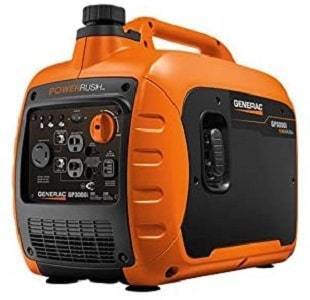 This portable gas RV generator by Generac is one of the most popular options, and it is also Amazon's Choice for best outdoor Generac generator, with over 2,000 reviews.
Its quiet inverter power decreases noise emissions while delivering outstanding performance, and its PowerRush technology boosts starting capacity by 50%.
With a built-in handle, the generator is lightweight, small, and simple to transport.
It has four outlets, including two 120V outlets and USB connections, and is RV-ready.
"There is nothing to dislike," a pleased client wrote.
It performs better than anticipated, starts up quickly, runs quietly, and is rather light.
My RV, including the air conditioner, works perfectly."
Noise level: up to 58 dBA
Starting watts: 3,000 watts
Running watts: 2,300 watts
Tank capacity: 1.06 gallon
#3. The Quietest RV Generator with Electric Start—Champion 3400-Watt Inverter Generator
This dual-fuel RV inverter generator from Champion has over 1,000 good reviews for its ultra-silent operation at 59 dBA and efficiency, making your travel experience more pleasant and peaceful.
This generator has a handy electric start button and can operate on gasoline for up to 7.5 hours or propane for up to 14.5 hours, making it a fantastic option if you're searching for an RV propane generator.
It has two extra 20-amp outlets in addition to having a 30 amp RV generator.
"The nicest feature of this generator is that it is incredibly quiet," one of the hundreds of satisfied customers remarked.
I can hear it marginally if I place it on the other side of the camper's awning, but I can have a complete conversation with people without having to raise my voice.
I've had it running overnight and can hardly hear it in the camper, despite the fact that it's just 10 feet away."
Noise level: from 59 dBA
Starting watts: 3,400 watts
Running watts: 3,100 watts
Tank capacity: 1.6 gallon
#4. The Quietest RV Generator with Remote Start—Champion 4500-Watt Inverter Generator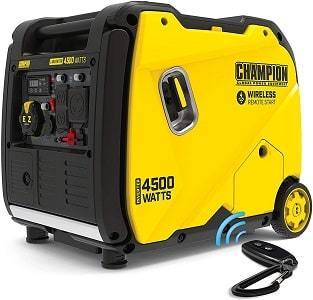 A wireless remote key fob is a fantastic feature that enables you to activate your generator without having to leave your RV, which is especially useful on cooler mornings or wet days.
This Champion portable gas RV generator gives the ease of starting and stopping your unit remotely within an 80-foot range at the touch of a button, in addition to its quiet operation at 61 dBA.
The generator has a 30-amp RV plug and two 20-amp residential outlets, and it may be used in tandem with other generators if more power is required.
"Very thrilled with our Champion generator," one satisfied reviewer remarked.
This is our second since we renovated our camper and required a bigger unit to power the air conditioning.
The units are reliable and quiet, and the remote start feature is great for those chilly mornings when you don't want to get out of bed."
Noise level: from 61 dBA
Starting watts: 4,500 watts
Running watts: 3,500 watts
Tank capacity: 2.3 gallon
#5. The Best Affordable Quiet RV Generator—WEN Inverter Generator 56235i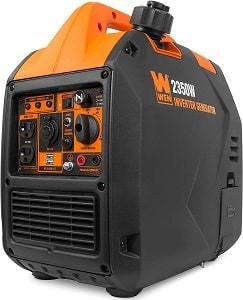 A quiet portable RV generator may be expensive, which is bothersome if you only require it on occasion.
WEN's 56235i gas RV generator, thankfully, is an excellent alternative for anybody searching for a tried and true inexpensive solution.
Many Amazon reviews point out that this generator is rather quiet and efficient, and it costs a fraction of what other generators on the market do.
It's compact, with two 120-volt outlets and a fuel shutdown button that permits the generator to burn through any residual fuel before shutting down.
"Bought this device for when I am working on my RV," one of the hundreds of satisfied customers said.
A tropical storm three weeks later took out the electricity for three days.
During a hurricane, I ran a refrigerator, a fan, and a few lights.
Super quiet, gasoline sipped (three-quarters of a gallon in ten hours).
"Amazing value."
Noise level: from 51 dBA
Starting watts: 2,350 watts
Running watts: 1,900 watts
Tank capacity: 1 gallon
#6. The Quietest Heavy-duty RV Generator—Westinghouse Inverter Generator iGen4500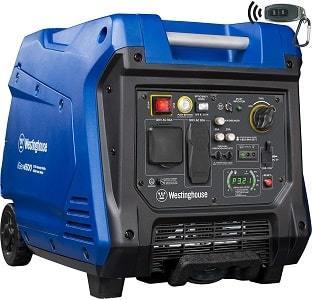 You may assume a heavy-duty RV generator wouldn't be quiet enough to make our list, but the Westinghouse iGen4500 is one such strong generator that has received great feedback for its low noise level when compared to comparable machines.
It has a TT-30R RV outlet, two 120V outlets, and a 3.4-gallon fuel tank that enables it to operate for up to 18 hours on gas, making it one of the finest generators for RV air conditioners and virtually anything else in your RV.
It also has a push-button electric start and a remote start key fob.
Despite its higher weight, its telescopic handle and wheels make it readily portable, and one of the hundreds of satisfied customers stated that it "runs our 15,000 BTU air conditioner with ease." Beautifully crafted.
It's so silent…
"I can chat right next to it," she says, adding that "the sound meter tests less than 60 dB right close to [it] and mid-50s 10 feet away."
Noise level: from 52 dBA
Starting watts: 4,500 watts
Running watts: 3,700 watts
Tank capacity: 3.4 gallon
#7. The Best Small Quiet RV Generator—A-iPower Inverter Generator SUA2000iV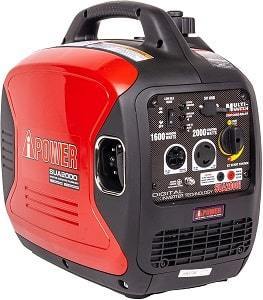 If you're searching for a unit for modest applications, this A-iPower generator is another economical option.
This dependable gas generator can operate for 4–7 hours, depending on the power demand, and delivers safe electricity for delicate equipment.
If more power is needed, a second unit may be connected in parallel to power more appliances or an air conditioner.
The generator is small and light, making it easy to move.
"Affordable, fuel-efficient, quiet, and trustworthy," commented one satisfied customer.
This is what we got for our camper, and it's fantastic! On environment mode, it lasts roughly 10 hours."
Noise level: from 52 dBA
Starting watts: 2,000 watts
Running watts: 1,600 watts
Tank capacity: 1.1 gallon
Summary of the Quietest RV Generators in 2023
We propose the famous Honda 663520 EU2200i portable inverter generator after reviewing the quietest RV generators.
It's a high-quality and dependable RV generator that also comes with the convenience of smart technology.
The Generac 7129 GP3000i inverter generator is a more inexpensive alternative that is as reliable for your power demands.
We hope you found our evaluation of the quietest RV generators useful.
Consult our further guides or visit the Thomas Supplier Discovery Platform for more comparable suppliers, such as providers of batteries, RV equipment, portable or residential generators, or other relevant services like generator installation and maintenance.
Quiet Generator For RV Videos Suggestions From Youtube