Those house batteries in your RV may be taken for granted, but they provide you with a lot of service! Because of this, it's crucial to safeguard them with an RV battery box.
This little piece of gear is essential for making sure your RV's electrical system operates as it should.
Let's look at the information you need.
What Is a Battery Box for an RV?
An RV battery box is, as its name suggests, a box or container created to house and shield your RV batteries from the weather.
These cheap, lightweight enclosures shield batteries from harm caused by severe temperatures, water, fuel, and other elements.
Who Needs a Battery Box for an RV?
Everyone! That is, if you are concerned about safeguarding your priceless and costly RV house batteries.
They are essential for RV owners who keep their batteries outside or on a trailer.
They are essential for anybody who travels to very hot or cold locales, or who must endure a lot of rain or snow.
But given their generally inexpensive cost and lengthy duration, they're a wise investment for all RV owners.
Is a Cooling Fan Necessary for an RV Battery Box?
No, battery boxes often include vents, allowing them to naturally cool and remove vapors.
However, there are vented cooling systems that release air from your exterior battery box if you need to place your batteries inside your RV.
The Best RV Battery Boxes for Safe Battery Storage
Which of the various options available is the best RV battery box for you? We looked at some of the top choices.
#1. Camco Heavy Duty Double Battery Box With Straps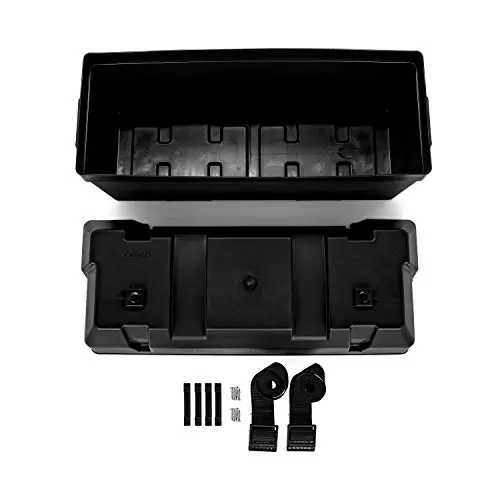 Camco Heavy Duty Double Battery Box with Straps and Hardware – Group GC2 | Safely Stores RV, Automotive, and Marine Batteries | Measures Inside 21-1/2″ x 7-3/8″ x 11-3/16″ | (55374)
Box Holds: Two 6V Group GC2 batteries or two 12V Group 24/24M cells may be stored in the box.
Inside Dimensions: 21 12 inches long, 7 3/8 inches wide, and 11 3/16 inches high (H)
$28.85
Order from Amazon
One of the most popular options for battery boxes is the Camco Heavy Duty Double Battery Box with Straps.
This robust, corrosion-resistant polypropylene box, measuring 21.57.411.2 inches, can keep two batteries safe for less than $25.
It can accommodate two 12-volt Group 24/24M batteries or two 6-volt Group GC2 cells.
Additionally, this battery box has straps that you may use to fasten the top and shield your batteries from the outdoors.
#2. NOCO Snap-Top Battery Box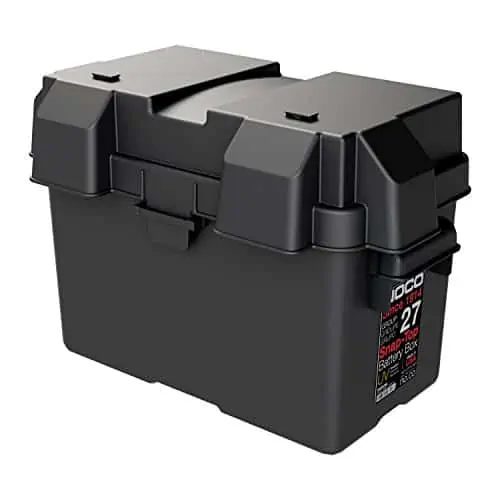 NOCO HM327BKS Group 27 Snap-Top Battery Box for Marine, RV, Camper and Trailer Batteries
Heavy-duty group 27 battery box for trailer, RV, boat, and marine batteries operating at 12 volts.
features strengthened handles to prevent cracking during use and innovative locking tabs to firmly affix the lid to the base.
$16.99 −$4.04 $12.95
Order from Amazon
One of the least expensive solutions for RV battery boxes is the NOCO Snap-Top Battery Box.
It's difficult to argue against a gadget that properly safeguards batteries that cost many times more money at such a modest cost.
Your batteries will be protected in this powerful group 27 battery box down to -20 degrees Fahrenheit, and it will also shield them from gas, oil, acid, and UV rays.
The NOCO has locking tabs that make it simple to securely snap the battery box top on and off for access.
#3. Camco Large Battery Box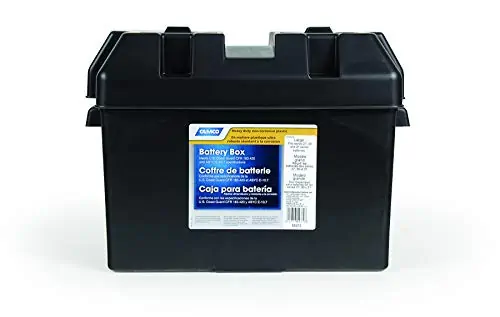 Camco Large Battery Box with Straps and Hardware – Group 27, 30, 31 |Safely Stores RV, Automotive, and Marine Batteries | Measures Inside 7-1/4″ x 13-1/4″ x 8-5/8″ | (55372)
Includes lift-off lid, robust woven hold-down strap, foot clamps and stainless steel screws
Corrosion-resistant, lightweight, polypropylene box
$19.93
Order from Amazon
The Camco Large Battery Box is a great option for batteries that need a little extra room.
Its dimensions are 13.257.258.6 and it is intended to suit batteries with group sizes 27, 30, and 31.
To accommodate the battery connections, it has an extra two inches in height.
This type has numerous advantages over the Camco alternative stated above, including lightweight and robust polypropylene construction that resists corrosion.
But it's a little less expensive.
If your batteries don't exactly fit in the other possibilities we spoke about, it's a great option for less than $20.
Ways to Prevent RV Battery Theft by Locking a Battery Box
Sadly, some people will steal your batteries in order to earn fast money.
It's a good idea to secure your RV battery box if at all feasible since nobody likes to wake up in or return to an RV with no batteries.
You can add third-party locking devices to some RV battery boxes that already have built-in locking mechanisms.
#4. RV Battery Lock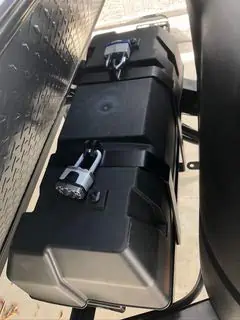 RV Battery Lock – Bracket for 12 Volt Box to Fit on Travel Trailers and Popup Campers * 1 Bracket only, You Need to Purchase 2 if You Have 2 Batteries***
Made of powder-coated thick gauge metal. Snugly encircles your battery box. Produced in the USA.
$45.95
Order from Amazon
This kind of RV Battery Lock is the best there is in terms of simplicity.
Your battery box's metal brackets wrap around the exterior and, when secured, prevent the lid from opening.
If you use your RV regularly, making the investment in these simple to install gadgets is worthwhile.
As the most of us are aware, batteries can be pricey!
In conclusion, it makes sense to preserve your RV batteries, which is why a battery box for your RV is essential! These simple gadgets essentially keep the lights on for you, offering a quick and affordable solution to provide your vital electrical system an additional degree of security.
Utilize this knowledge to keep your batteries safe!
RV Battery Lock Box Videos Suggestions From Youtube