Security is crucial for the longevity and excellent condition of your RV furnishings as well as for your own health.
One approach to preserve your dinette and chairs in excellent shape while you are on the go is to make sure everything is "nailed" down.
Choosing the appropriate mounting is equally crucial.
How to properly connect an RV dinette: Using the best mounts is one method for securely fastening your dinette to your RV.
Making sure that those mounts fit in the same locations as your RV studs or reinforcing materials is another method of fastening your RV furniture.
Continue reading our post to find out more about how to tie your dinette and chairs to your RV.
It contains the knowledge you need to travel safely and prevent interior or furniture damage to your RV.
Spend a few minutes determining if these fixes will be effective for you.
Wall-Mounted Table for RVs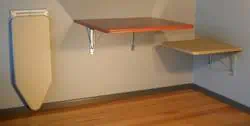 If your RV does not already have a wall-mounted table or dinette, you have a wide range of alternatives to choose from for this project.
You actually don't need to worry about much when it happens.
If the chairs are not already fastened or are not capable of being secured, they will be the only issue.
The disadvantage of this approach is the construction of an RV's walls.
Many do not have the studding necessary to effectively operate a wall mount device.
Sometimes you have to figure out a method to fasten the table to the wood holding the window or the floor beam holding the lower wall in place.
By selecting a pedestal mount option, you may fix your dinette table in the most typical method.
You have a lot more security with these pedestals attached to your flooring than you would have with a wall mount alternative.
But you'll need to choose a design that complements both the style of your RV and the items you wish to put there.
When you can locate the proper studding to connect it to, the wall mount option is incredibly secure.
Alternately, you may use plywood to strengthen your walls and attach the wall mounts to it.
The secret is to have plywood that is thick enough to perform that task.
How Is an RV Dinette Table Secured?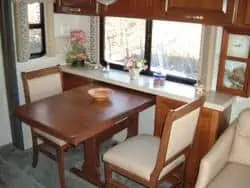 Screws are the ideal tool to utilize while employing hardware.
A few sturdy screws will keep your dinette in place no matter where you drive if your RV has wood studding.
Bolts could be the ideal choice if you're utilizing a pedestal-style table mount since you can use nuts to secure the bolts.
To firmly support the table, the bolts just need to be rated stronger than the table.
The table may be secured without any difficulty.
You can employ enough equipment, tools, and placement choices to prevent the table from moving.
When you begin to move, the issue will arise.
The majority of RV owners neglect to secure their free-standing dinette chairs, which causes them to sustain some damage during an emergency or hurried stop.
Finding the appropriate mounts to attach the chairs is a different challenge, and they may sometimes be a bit harder to acquire than typical table mounts and hardware.
To prevent the chairs from causing harm to other furniture or cupboards within your RV, you may need to be creative with the materials you employ.
How Can I Strengthen The Table In My RV?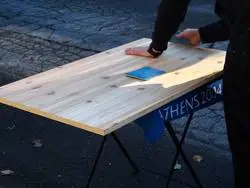 Checking the present screws in your pedestal table or wall mount device is the first step you may do in this situation.
You may need to use some shims to balance the table if they are loose and it is unsteady or uneven.
Once the balance is perfect, you should use longer screws to ensure that they are well embedded in the wood and holding the table steady.
The quickest and simplest way to secure your table and make it more sturdy, even without shims, is to use longer screws.
Checking the pedestal mount that is attached to the table's underside is a second approach.
Just tighten them up if the screws are loose.
Longer screws cannot be used in this location because their tips might puncture the surface.
In this assignment, you have a third choice: evaluate whether the pedestal's durability has been compromised.
If so, you may need to have the manufacturer create a brand-new pedestal for you so that it is more durable.
The leg within the pedestal mount is where the mount loses its strength.
This occurs often because RV manufacturers choose the least expensive solutions.
Obtaining and installing a new pedestal mount doesn't cost much.
You may be able to utilize the same holes as you used for the last mount if the component through which the screws are threaded is secure.
To ensure a secure fit, you may always use screws that are a little bit longer than the previous ones as a backup.
A support beam might be added as an alternative to keep the table steady.
To ensure that it does not obstruct access to and from the sitting area, the support beam must be positioned correctly.
You would need a piece of 2 by 2 wood, some L brackets, and metal screws.
Simply cut everything to size, make a few holes in the pedestal, and attach everything.
Even though it takes a bit more effort, it will guarantee that your table remains put.
Finally, you may always strengthen your wall with plywood that is at least 1/2 inch thick.
Purchase a wall mount next so you may attach both to the new wall.
This approach also requires some effort, but it is preferable than having your table shift or having food fall on you.
Wall-Mounting Options For An RV Dinette Table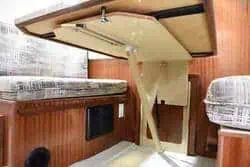 #1. Aluminum Extrusions
Extruded aluminum is a choice that seems to function fairly well.
A highly robust fit seems to be created by two metal parts that fit one piece over the other.
Depending on the size of your dinette, it may be either too long or too short at 30 inches.
Finding the ideal size for your circumstance could take some time.
Or, if it is too long, trim it to length.
Finding the proper spots on your wall and table for the two parts to join together is all that is required to utilize this option.
Once you've completed that, use the included hardware to secure the components in place.
Once you've completed that, all you have to do is put the parts together using the interlocking pattern.
#2. Installing Bracket
This alternative's architecture is straightforward, and it could be simpler to operate than the interlocking system I just described.
Two brackets are present, one of which is attached to the wall of your RV and the other to the table.
They are secured in place by four screws, and the bracket for the wall is bigger than the one for the table.
Once installed and fastened, the table bracket glides into the bigger bracket and is held there.
Because this bracket is manufactured of dependable aluminum, using it won't add much weight to your RV.
It works on RVs with walls constructed on 12- and 16-inch centers.
An RV wall mount that allows you to move the table for easier access to or exits from the bench seats is now available from Amazon.
This option requires a lot of components, and it will take some time to put them all together.
The good thing is that when you need more space, you can take the table component apart while leaving the wall bracket in place.
Additionally, because to the tabletop's technical design, you may elevate or lower it.
Produced from aluminum.
This is not just ordinary shelf bracket that you could use at home.
The surface may be moved out of the way when not in use thanks to its foldable design.
Due to its capacity to support up to 440 pounds at once, it works for the appropriate size RV table.
You can be certain that this bracket, which is made of stainless steel and will support your table while you redecorate your dining room, will be sturdy.
This kind of shelf bracket comes in many different styles and a few different colors.
It may be modified to suit with your RV table even though it was first created to work with coffee tables.
Here, the size of your table will be important; if it is too little, this choice could not be practical.
The brackets are made of sturdy steel that doesn't rust or corrode easily.
If you are skilled with tools and placed the studs correctly, installation shouldn't take very long, and your adaptation should be functional in no time.
#6. Angle Brackets
If you don't want the table to move at any point and won't ever use it as a bed, this is an option.
Good strong wall studs or a reinforced wall with plywood that is thick enough to hold the screws effectively are the two essential components you will need, and they do not have to be placed at the same time.
If they are the proper length, angle brackets may really keep your wall-mounted table in place.
They prevent swaying, keep the table steady, and other things.
This is more of a last-resort choice in the event that there is nothing acceptable nearby or you want a rapid cure.
Keeping RV Dining Table Chairs Secure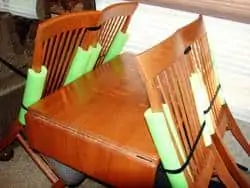 This is something you need to think about.
Dinette chairs might be an issue if you need to make a quick stop, even though many RV owners fail to fasten them.
If chairs are placed in the incorrect areas of your RV, they will fall and damage.
You have a variety of alternatives to consider.
Installing eye bolts or other comparable bolts on the floor of your RV is the first step.
One is required for every side of the chair.
You would then need bungee cords with hooks inside of them, and you would connect one hook to each bolt.
Simply make sure the bungee cords fit snugly.
The second option would be to cushion the chair portions that would come into contact with the table and then use cables or straps to attach the chairs to the table.
You could struggle a bit to find the proper orientation for such cables or straps due to the varying forms.
The issue with the first choice is that you have to be cautious while drilling the floor holes.
What is underneath that dinette area is always a mystery.
Additionally, there are items like Chair Buddy that are both useful and aesthetically pleasing.
Final Thoughts
No one likes to watch chairs and tables flying through the air in an RV or to dine at a table that is unstable or unsteady.
Your car or trailer's interior might suffer greatly from abrupt stops.
Finding the appropriate mounts for your RV's design is crucial for this reason.
However, there aren't many choices.
RV Dinette Table Videos Suggestions From Youtube