If you want to connect your RV to an unknown power source outdoors, a surge protector is a need.
Unsafe voltages are absorbed by the gadget before they may harm your equipment.
The RV surge protector and RV EMS are the two primary kinds of RV surge protectors (electrical management system).
To assist you choose which model to acquire for your RV, we'll discuss some distinctions between the two below.
Surge Protector For RVs
This simple surge protector helps shield your RV equipment from unexpectedly high or low electrical surges.
Additionally, it protects your electronics from being damaged by lightning strikes and erratic surges from the RV park.
This protector often has a simple, user-friendly design that makes it simple to install and use for total novices.
The majority of RV surge protectors are extension cords.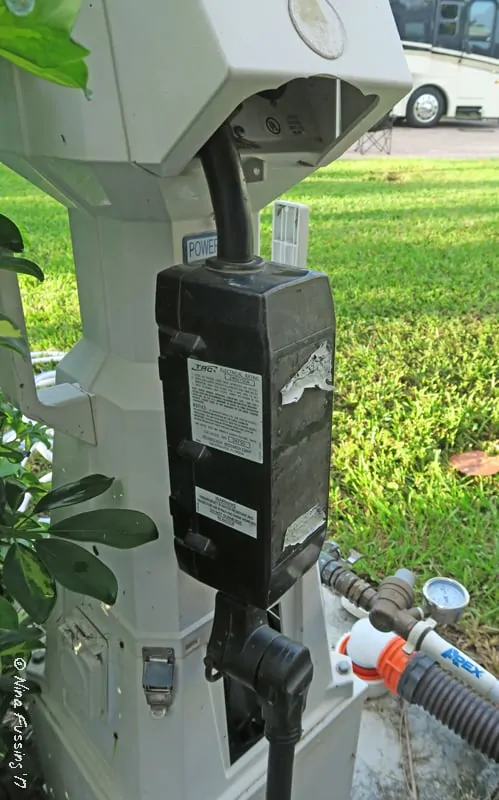 RV EMS (Electrical Management System)
On the other hand, an electrical management system (ems) is built to provide high-level protection for your surge protector against a number of common power problems, including power surges, low and high voltages, reverse polarity protection, open ground protection, open neutral protection, accidental 220V protection, AC frequency protection, and even previous code errors.
In other words, the EMS models provide you with complete electrical protection against ANY and ALL power-related difficulties you can imagine.
The cost of the EMS is more than that of the surge guard due to the more thorough protection it offers.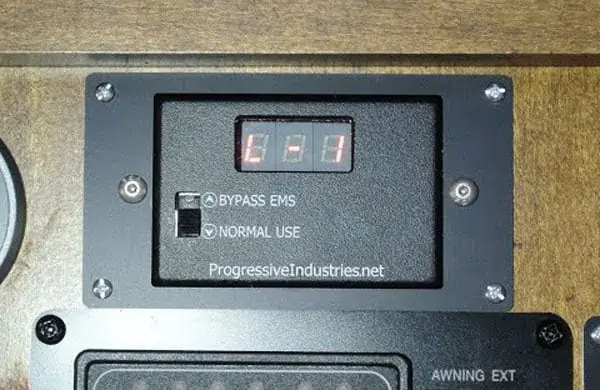 Key Similarities Between RV EMS And A Surge Protector
The Same Objective Is Being Pursued By Both Technologies.
Both the EMS and the surge protector are made with the same objective in mind: to prevent your RV's electronics and appliances from frying due to rapid changes in the current.
In order to protect your RV from damage and potential fire threats, you may depend on any of them.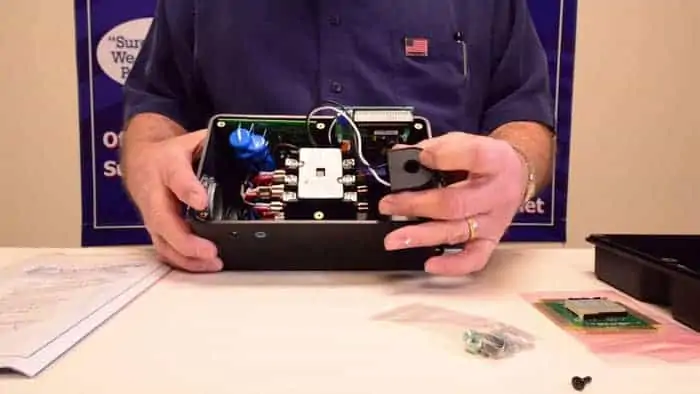 Both Have Wired And Portable Versions.
It's also noteworthy that the surge guard and ems devices are both available in portable and hardwired versions.
The permanent/hardwired type has to be wired into your RV, however the portable variant may be plugged into a pedestal power post and left outdoors.
Each Of These Models Has Benefits And Drawbacks Of Its Own;
Since there is no installation required for the portable, it is simple to use.
It is very simple to utilize with various RVs.
In the event that it burns out, replacing it is simple.
However, if you leave the portable device outdoors without locking it, it may be easily stolen.
At the campsite, it's simple to forget about it.
Additionally, working with a low power outlet forces you to leave the protector on the floor.
If the ground is wet, this is not a good idea.
You never have to be concerned about losing or leaving behind a hardwired surge protector or ems since it is built into your RV and becomes a part of it.
Additionally, since you don't have to leave it on the damp ground, you may use it in a variety of weather situations.
Unfortunately, particularly for novices, installing this safeguard may not be simple.
It is also a headache to replace it.
Additionally, you can't simply move it from one RV to another since it is a component of your RV.
Each Is Available In 30 And 50 Amp Variants.
Additionally, you don't have to be concerned about power surges or RV EMS that are incompatible with your RV's electrical service.
The most typical power supply you'll find in RVs are 30 amp and 30 amp versions of the two devices.
Simply link a protector with your RV's electrical service is all that is required.
For instance, an RV with a 50 am power supply should include a 50 amp surge protector.
Key Distinctions Between RV EMS And A Surge Protector
Performance
The way the two models accomplish their intended task is the KEY distinction between them.
An EMS offers you complete protection against all power-related issues including current surges, low and high voltage spikes, open ground, reserves polarity, high neutral, incorrectly wired power outlets, and more.
A surge protector only shields your appliances from sudden electric surges and high/low voltage spikes.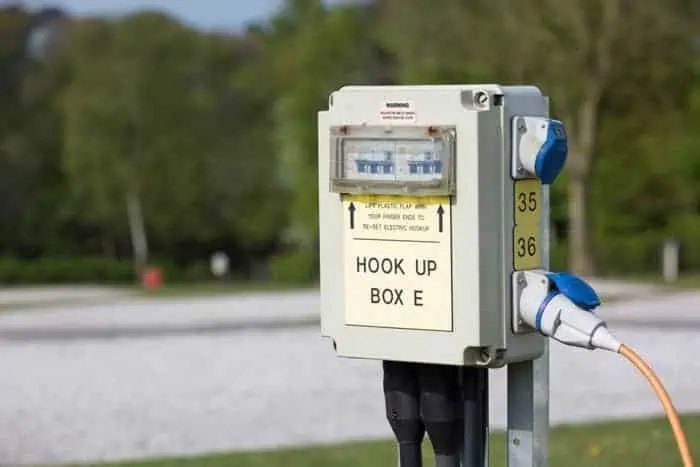 Cost
Although the prices of both surge protectors are reasonable, the ems will cost you more than a surge guard since it provides higher-level protection for your RV electronics than the latter.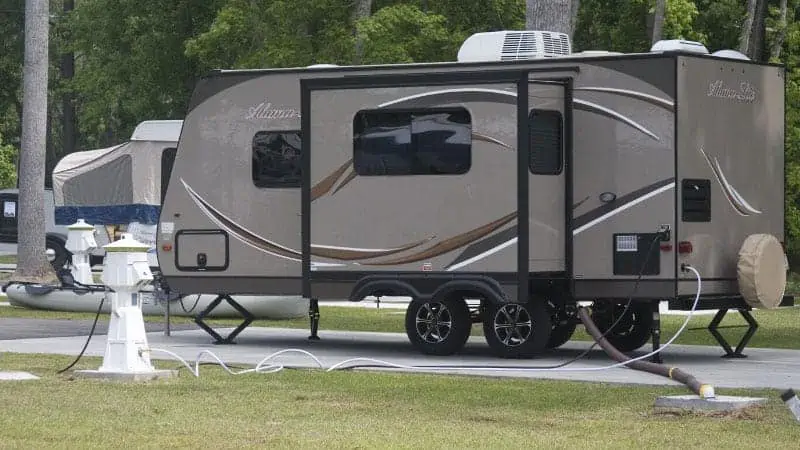 Which Should I Buy?
Choosing an RV surge protector or EMS should be simple now that you are aware of their primary differences and similarities.
The best option for you will rely on your spending limit and particular camping requirements.
We advise getting a surge protector if you're a novice RVer on a tight budget.
Do yourself a favor and get the EMS surge protector if you are a full-time RVer.
The expense of either an electrical management system or a surge guard is well worth it when you consider the expensive damages it will prevent.
FAQs
What distinguishes an EMS from a surge protector?
Although they have different functions, the terms "surge protector" and "EMS" (Electronic Maintenance System) are frequently used interchangeably.
An EMS is made to provide ongoing maintenance and support for electronic equipment, whereas a surge protector is made to shield electronic equipment from damage brought on by unexpected electrical surges.
There are some significant differences between surge protectors and EMSs, despite the fact that both devices have similar functions.
For starters, surge protectors are frequently employed on an interim basis to safeguard equipment during blackouts or other circumstances where a sudden spike in voltage might occur.
Contrarily, EMSs are intended for continuous use and offer support for electronic equipment.
Additionally, since EMSs frequently include features like battery backup and power conditioning, they typically provide more thorough protection than surge protectors.
Which one then is best for you? A surge protector could be the best option if you require short-term equipment protection.
An EMS is a better choice, however, if you're searching for ongoing assistance and all-encompassing security.
Does my RV really need an EMS?
A wonderful approach to monitor your energy use and prevent future expensive repairs is to install an electrical management system (EMS) in your RV.
But is it really required? Let's examine some of the benefits and drawbacks of having an EMS in your RV.
PROS:
1. An EMS can assist you in tracking your energy use and making changes to lower your power cost.
2. By automatically cutting off power to circuits that are overloaded or drawing too much current, an EMS may assist avoid harm to your RV's electrical system.
3. Having one less item to worry about when RVing or camping with an EMS might give you piece of mind.
CONS:
1. If you don't camp or travel in your RV often, an EMS may not be worth the expense.
2. It may be necessary to engage a specialist to install an EMS for you since it might be challenging to do so.
3. If there is a power outage or any issue with your RV's electrical system, an EMS could not function correctly.
All things considered, if you often camp or travel with your RV, an EMS might be a useful addition.
However, if you don't use your RV much, the expense of an EMS may not be justified.
In the end, it's up to you whether or not to install an EMS in your RV.
Are surge protectors for RVs worthwhile?
RV surge protectors are unquestionably worthwhile, yes!
They may assist in keeping your RV's electrical system functioning properly as well as protecting your RV from harm brought on by electrical surges.
Any RV owner would benefit from investing in surge protectors since they may improve the quality of your RVing experience.
Extension cable or surge protector: which is better?
When deciding between a surge protector and an extension cable, there are a few aspects to take into account.

A surge protector is a preferable option if you need to safeguard delicate electrical equipment

An extension cord will work, however, if your electrical cables only need a little bit more length.
Additional considerations for your decision-making include the following:
1. Power surges of up to 6,000 volts may be protected against using surge protectors. This degree of security is not possible with extension cables.
2. Circuit breakers installed inside surge protectors will off the power if there is an overload. This feature is absent from extension cords.
3. You can plug in many devices since surge protectors often include multiple outlets. Most extension cables feature only one outlet.
4.Extension cords cost less than surge protectors.
The best RV EMS: which one?
It might be challenging to choose which RV emergency medical services (EMS) is ideal for you and your family since there are so many different kinds available.

When selecting an RV EMS, keep the following in mind:
1. What kind of RV do you have, first? Only specific RV models are accepted by certain EMS providers.
2. What is your spending limit? Different EMS companies have different prices.
3. What are your unique requirements? More complete services are offered by certain EMS companies than others.
4. How well-known is the supplier? Before choosing an EMS provider, do your homework.
5. How do the reviews compare? To learn more about how others have interacted with the supplier, read online reviews.
6. What is the quality of the customer service? Make sure the EMS company you choose has an excellent track record for customer service and is simple to interact with.
7. What rules and regulations apply? Before choosing an EMS service, be careful to read the small print.
8. What is the refund procedure? In case you need to terminate your subscription for whatever reason, be sure to understand the specifics of the provider's cancellation policy.
9. What's your refund procedure? In the event that you are dissatisfied with the service, be sure to understand the provider's return policy in full.
10. What further services does the supplier provide? Some EMS suppliers also provide other services including RV storage, upkeep, and repairs.
You may start looking for the ideal EMS supplier now that you are aware of what to look for.
Before settling on a service, make sure to compare them all.
You may choose the ideal RV EMS supplier for your requirements by doing some investigation.
What is an RV EMS used for?
When a patient has a medical emergency while camping in an RV, an RV EMS is in charge of delivering emergency medical care.
They are able to react swiftly and efficiently to crises and are educated to give treatment in a range of contexts.
A variety of medical tools and supplies, like as oxygen tanks, defibrillators, and IV fluids, are often carried by RV EMS workers.
If required, they may also be able to transfer patients to a hospital via a helicopter or another kind of air ambulance service.
RV EMS professionals often get on the scene first in an emergency situation, and as a result, they are crucial in ensuring that patients receive the treatment they need.
It's crucial to contact 911 right away and ask for an RV EMS if you have a medical emergency while RV camping.
The treatment success for a patient may much depend on these professionals.
How do I choose a surge protector for my RV?
When selecting an RV surge protector, there are a few factors to keep in mind.
You must first pick how many devices you wish to secure.
You can plug in various devices thanks to the numerous outlets found on the majority of surge protectors.
The surge protector's power rating is another important factor to take into account.
This is critical since it establishes the surge protector's maximum power handling capacity.
Finally, you must choose the level of protection you need.
Different surge protectors will provide varying degrees of protection.
Pick the one that best suits your requirements.