After you've acquired a travel trailer, there's one more important purchase to make: a trailer generator.
This piece of equipment is essential since it powers all of your camper's appliances and lets you to utilize all of your camper's amenities even when you're not connected to a campground.
Generators, on the other hand, are huge and heavy, requiring the proper mounting mechanism to attach them to your travel trailer.
What is the best way to attach a generator to a travel trailer? A generator rack may be mounted on an RV bumper in five distinct ways:
Cargo ship with an A-frame
Generator installed on the bumper or a luggage tray
Carrier hitch mount
Hitch platform with a frame
Cargo box that is mounted
Which Generator Mounts Are the Best?
In this post, we'll look at the many kinds of camper generator mounts.
We'll go through each mount in detail so you can make the best choice possible on which one is right for your travel trailer.
#1. Trailer Tray A-Frame Cargo Carrier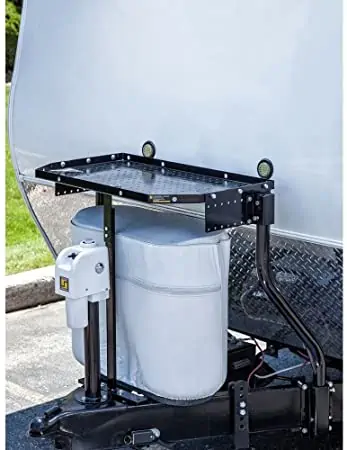 A generator mount for an A-frame cargo tray or carrier is installed over the propane tanks on the front of your travel trailer.
Weight Capacity: 300 pound limit
Benefits: Mounting your generator above propane tanks has the advantage that the area it takes up is otherwise unused, so you won't be wasting room that might be used for other storage.
More significantly, it is considerably more secure when the generator (a big piece of equipment) is installed on the front of the trailer rather than the bumper.
This also makes driving more comfortable and evenly distributes the weight of your trailer.
Installation: A screwdriver is all that is required to install this generator mount, however a power drill would be preferable.
Installation is straightforward, and unlike some of the other mounts on our list, it will not add additional stress to your camper's bumper, so you won't need to strengthen that section of your trailer before installing it.
You may also modify the tray of the mount to better distribute weight.
Drawbacks: Because this mount is mounted above your propane tanks, it may not fit if your propane tanks are bigger than typical.
Additionally, the generator mount may obstruct your propane tanks; if this is the case, you will need to remove the mount everytime you need to add fuel to the tanks.
#2. RV Bumper-Mounted Generator and Cargo Carrier Tray Kit
Using a bumper-mounted cargo box, many travel trailer owners prefer to put their generator on their bumper.
It's simply a huge platform that you attach to your trailer's back bumper and then secure the generator on top it.
Weight Capacity: Up to 400 pounds of weight capacity
Benefits: One of the advantages of a bumper-mounted luggage box is that it makes mounting your generator quite simple.
It's also more adaptable, as certain versions can be prolonged or enlarged to accommodate a bigger generator or more goods in addition to your generator.
These installations often have extra support arms to ensure that the tray can take the added weight.
Installation: While all of these generator mounts are simple to set up, this one may be the simplest.
Simply connect it to your travel trailer's bumper, tighten the attachments, load your generator, cable or chain it down, and you're ready to go.
Drawbacks: The biggest disadvantage of this strategy is that it depends on the capabilities of your travel trailer's rear bumper.
It may throw off the weight distribution of your camper if it isn't intended to support the weight that a generator adds.
The added weight on your bumper might also make the ride a little more bumpy.
#3. Hitch-Mounted Cargo Carrier Designed For Generators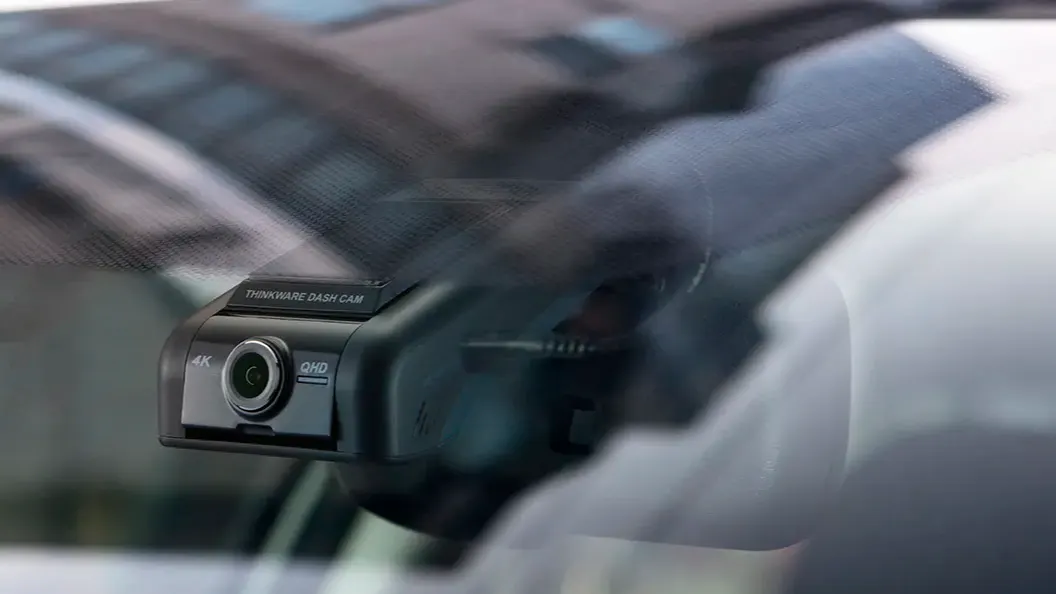 A hitch carrier mount hangs on the rear of your travel trailer, similar to a bumper-mounted cargo tray, except instead of connecting to the bumper, it connects to a towing hitch.
If your trailer does not have one, you will need to install one or find another way to attach your generator to your travel trailer.
Weight Capacity: 500 pound limit
Benefits: A hitch carrier mount is very durable, corrosion-resistant, and simple to set up and use.
Some versions also include a foldable ramp to make loading your stuff simpler.
The major advantage of a hitch-mounted cargo tray is that it is easy to install and remove.
When not in use, certain mounts are designed to fold so that you may ride with less wind resistance and drag.
Installation: Installing a hitch carrier mount is as simple as attaching the cargo tray to the hitch below the bumper on your travel trailer.
It's a good idea to buy some more safety struts to help attach the mount to the hitch and handle greater weight securely.
However, you should get expert advice to ensure that your trailer hitch is capable of supporting the weight.
The hitch weight capacity may be found in your trailer's owner handbook or on the manufacturer's website.
Drawbacks: Many travel trailers are not built to bear such a large amount of weight on the hitch and bumper.
As you move along the road, the carrier may bounce up and down, and the generator may get free from its holding straps or chains.
The carrier may be broken or detached from the hitch in this instance.
#4. Rear-Mounted Frame Connected Hitch Platform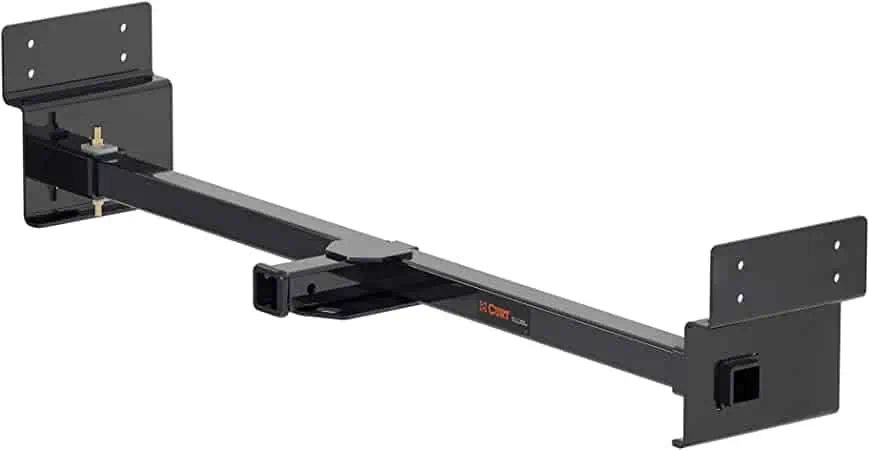 Because the cargo tray is linked to your trailer's structure, this choice for a generator setup is more robust than the hitch carrier mount.
The mount consists of a broad, robust bar that attaches to the frame of the travel trailer below the bumper.
Weight Capacity: 350 pound limit
Benefits: A frame-connected hitch platform's large stabilizing bar helps you to securely hold additional weight.
It's a lot stronger and safer than conventional bumper attachments since it's linked to the trailer frame, which is significant because many trailer hitches aren't strong enough to bear the weight of large equipment like a generator.
The structure of your trailer is significantly stronger, and our mounting option takes use of that.
Installation: As previously stated, this sort of attachment connects to the frame of your trailer using a long bar with a towing hitch that you firmly screw into place.
This hitch mount is simple to install and only takes a few basic tools.
When you add a hitch to this mount, your bumper can bear a lot more weight than it could previously.
It may take two persons to attach it to the frame, making it a little more difficult to install than some of the other generator installations on our list, but the increased safety may be worth it.
Drawbacks: Because the hitch mount is tied to the trailer's frame at the back, it may cause problems while going up or down steep slopes.
This is because when you ascend up off of an incline or drive up from a lesser slope, the carrier may drag or scratch the ground.
Buying a cargo tray with an angled shank will allow your travel trailer to manage steeper slopes since the tray will be elevated higher.
#5. Rear-Mounted Bumper Storage Box For Travel Trailer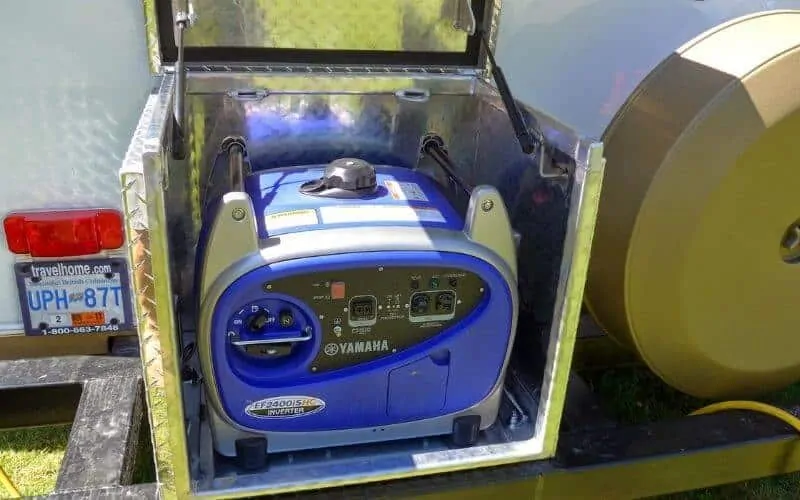 Attaching an enclosed storage box to your travel trailer is another option for installing your generator.
Although generators can withstand the outdoors, putting them in a covered box may help them last longer.
It will also keep it more safe when you travel, maybe preventing it from being stolen.
Weight Capacity: 500 pound limit
Benefits: Enclosed cargo carriers can frequently carry greater weight than some of the other cargo mounts I've described, but this is only useful if your trailer can also withstand the weight.
The front of the trailer's towing tongue can normally bear greater weight than the bumper.
Even for bigger and heavier generators, most installed cargo crates can hold about 500 pounds, which is sufficient.
Just make sure the generator is securely fastened within the box so it doesn't bounce around while you drive.
Installation: Cargo boxes may be mounted on the rear bumper or the front bumper of your travel trailer, and rest on the tongue hitch.
It's as easy as securing it with a bolt.
Drawbacks: Depending on where you want to put the cargo box, verify the weight capacity of your travel trailer's bumper or hitch.
Even though the box itself can hold up to 500 pounds, the location where it will be installed must be able to support the weight.
Otherwise, your generator's mounting point may fail, causing it to tumble onto the road.
The Best Generator Mounts for a Trailer Conclusions
As you can see, you have a variety of alternatives for mounting your generator on your travel trailer.
Although rear installations over the bumper seem to be the most common option, mounting your generator to the front of your camper, over or next to the propane tanks, may be able to accommodate a bigger generator.
Before purchasing and installing a generator mount, be sure to verify the weight capability of the bumper or tongue hitch.
No one wants their trailer to be damaged or the bumper to fall off, allowing your generator to collapse to the road and endangering traffic behind you.
As a result, I recommend the frame-connected hitch platform as the finest generator mount for a travel trailer since it can withstand greater weight and enhances the robustness of the mounting system, ensuring that the weight of the generator does not pull your bumper off.
Regardless of whatever mounting mechanism you pick for your camper's generator, be sure you strap it down and secure it properly so that it remains connected to the mount.