Investing in an inverter generator for RV usage provides you with reliable portable electricity.
You may not always be able to hook into an electrical stand at an RV park to ensure that your appliances and devices have a consistent power source.
An inverter generator is the best option to power major RV appliances if you haven't invested in solar electricity for your RV air conditioner.
The majority of portable inverter generators have adequate power to start and operate a typical RV air conditioner.
However, before choosing a quiet and portable generator for RV usage, you'll need to know precisely how much power your appliances use.
If you don't, you risk squandering money on a portable generator that won't provide enough electricity for your RV.
Fortunately, we've already done all the legwork for you! It might be tedious to sift between portable generators, but we've simplified the process to help you pick the best option for your RV.
In this post, I'll go over five great options for the best inverter generator for RV usage, as well as a detailed discussion of the most critical elements to consider when purchasing an inverter generator for camping.
I'll wrap up with a section dedicated to assisting you in selecting the finest generator for YOUR requirements, as well as answering some of the most often asked concerns regarding portable inverter generators for campers.
In [Year], The Top 5 Portable Inverter Generators For RVs And Camping
Before we begin, it's important to realize that each of these generators is ideally suited for a certain purpose.
Please read the Buying Guide below to have a better understanding of how to purchase the perfect generator for you!
Read on for evaluations and ratings of the finest portable inverter generators for RVs this year.
Don't ignore the Champion 3500-Watt Dual Fuel Inverter Generator if you're prepared to pay whatever it takes to have the greatest portable generator for campers and camping.
This camper generator is one of my favorites since it can operate on either gasoline or propane, depending on which is most convenient.
This is a fantastic feature for cutting down on your gasoline expenditures.
You may use whatever fuel (gas or propane) is the most cost-effective in your location to power this generator.
When operating on either fuel source, it produces a lot of power.
When driven by gasoline, this travel trailer generator generates 3500 watts, and when fueled by propane, it generates 3200 watts.
The Champion portable Inverter generator has a 1.6-gallon fuel tank capacity and can operate for up to 7.5 hours at a quarter load when using gasoline and up to 14.5 hours when using propane.
Parallel capabilities and a fast control panel for rapid access to all controls are two more characteristics of this Champion generator worth highlighting.
This generator may also be switched to Economy Mode to save money on gas, extend the life of the engine, and minimize noise.
Favorite Things
Dual Fuel: Gasoline or propane may be used.
Cold Start Technology: In frigid weather, it makes it easier to get going.
Lightweight and Portable: It's under 100 pounds and comes with a wheel kit to make it simpler to transport.
Economy Mode: In this mode, it runs faster and more silently.
Things We Disagree With
Price: Although this generator is pricey, it provides excellent value.
#2. Best Fuel Capacity: Briggs & Stratton P3000 Power Smart Series RV Generator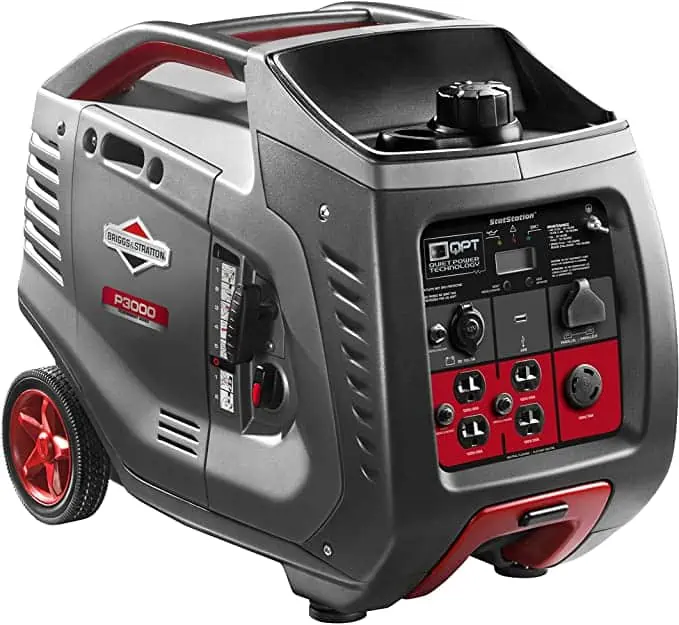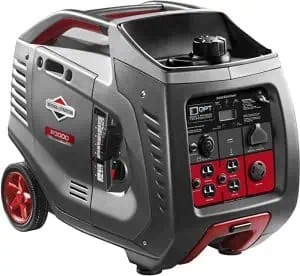 Check out the Briggs & Stratton P3000 PowerSmart Series portable generator if you're looking for a smaller RV inverter generator with a big fuel tank.
With its built-in 1.5-gallon fuel tank capacity, this portable RV generator can operate for up to 10 hours at a quarter load.
The fact that the P3000 includes an LCD display appeals to me as someone who enjoys knowing how their appliances are doing for them.
The performance of your generator may be easily seen and analyzed using this display.
It also notifies you of maintenance reminders so that your generator isn't overworked.
3000 starting watts and 2600 operating watts are available with this portable camper generator.
This portable generator is capable of starting and running minor RV appliances, but it may not be able to start and operate a big RV air conditioner, which is why it has parallel capabilities.
You may connect two of these generators to supply adequate power for bigger RV items like your air conditioner with the use of an approved parallel connection kit.
When used at a quarter load, this RV generator has Quiet Power Technology, which decreases noise output to only 58 decibels.
Favorite Things
Fuel Capacity: Approximately 1.5 gallons of gasoline may be stored in this container.
LCD Display: Performance data and maintenance reminders are sent to you through email.
Lightweight and Portable: It weighs under 86 pounds and has six-inch wheels.
Parallel Capability: Additional power may be provided by connecting to a second generator.
Things We Disagree With
Lower Wattage Than Competitors: Doesn't provide nearly as much power as inverter generators of comparable pricing.
Check out this tiny and portable Ryobi 150-Watt alternative for campers and camping if you're looking to spend less than $100 on an inverter generator.
It's a little camping generator that weighs less than a pound and is powered by an 18V Ryobi battery pack (sold separately).
This is a wonderful option for RVers who want additional power for their smaller devices or appliances on a regular basis.
It won't power your major appliances like the microwave or air conditioner, but it will help your RV's internal batteries handle lower loads.
When you start using a number of appliances at the same time, your RV's electrical system might get overworked.
Although this RV generator cannot power bigger appliances, it is ideal for handling modest loads so that your RV's built-in electrical system is not overloaded.
Favorite Things
Price: It's the cheapest generator on our list by a long shot.
Super Portable: It is one pound in weight.
Great for Small Electronics: Laptops, mobile phones, and tablets may all use this secure power source.
Things We Disagree With
Very Low Wattage: The power output is just 150 watts.
Not a whole RV solution: Power is insufficient to run huge RV equipment.
Requires Recharging: An 18V Ryobi battery pack, which is available separately, is used to recharge this inverter.
The WEN 56225i Super Quiet 2250-Watt generator features convenient parallel capability, so you may operate two of these models at the same time if you already know you'll need two smaller inverter generators to cover all of your RV's power demands.
Each WEN generator has a starting power of 2250 watts and an operating power of 1800 watts.
They have a one-gallon gasoline fuel tank capacity and can operate for up to six hours on a half load.
Inverter generators with efficient fuel use are uncommon, yet this one succeeds.
It includes a built-in fuel shutdown function that exhausts all residual gasoline in the carburetor before shutting down.
This helps to extend the life of the engine by reducing the amount of gasoline in the carburetor.
The WEN 56225i also has an Eco-Mode option that helps to save money on gas.
At the same time, this characteristic contributes to the generator's longer operating duration and engine life.
Favorite Things
Parallel Capability: To power bigger RV equipment, connect two of these units together.
Quiet Operation: The noise output is just 53 dB.
Lightweight: For convenient mobility, it weighs less than 50 pounds.
Eco-Mode: Reduces the amount of gasoline used and increases the amount of time the vehicle may be used.
Things We Disagree With
Low Fuel Capacity: Only holds one gallon of petrol.
Oil Consumption: This generator, according to some users, consumes oil at a rapid pace.
This compact Westinghouse inverter generator is your best bet if quiet operation is your top priority.
It generates just 53 dB of noise and has a lengthy run duration to match.
It has a built-in 1.2-gallon gasoline fuel tank that can last up to 10 hours.
This quiet rv generator has a starting power of 2200 watts and an operating power of 1800 watts.
It's really light, and the top handle makes it simple to move about as required.
It also has a simple control panel that provides "one-stop" access to all of the system's important settings.
As you may have noticed from my previous reviews, I am a big fan of generator companies that consider the environmental impact of their products.
That's why I like the fact that this model has a "Efficiency Mode" that lowers fuel consumption while increasing run time.
The Westinghouse iGen2200 super quiet RV inverter generator also has parallel capability, allowing you to connect it to another generator for more power.
It complies with both EPA and USFS rules and protects the engine with an automatic low oil shut down function.
Favorite Things
Noise Output: When in use, it emits just 53 dB.
Run Time: The 1.2-gallon gasoline tank may last up to 10 hours.
Lightweight: It barely weighs 46 pounds, making it simple to transport when required.
Parallel Capability: It's possible to operate two models at the same time to generate more electricity.
Things We Disagree With
Wheels: There are no wheels connected to make storage and traveling easier.
2023 RV Inverter Generator Buying Guide
Now that I've gone through five of the greatest inverter generators for RV usage, let's look at how to choose the right one for you.
We'll go over everything you need to know in our Buying Guide so you can make an educated selection.
#1. Output Power
The power requirements of your RV are mostly determined by the ratings of your electrical appliances and the number of appliances you want to use at the same time.
It's not a good idea to turn on all of your appliances at the same time, since this can overload your circuit breaker.
In most RVs, the air conditioning unit has one of the highest power pulls of any item.
This is why, when evaluating how many starting and operating watts you'll need from an inverter generator, it's an excellent equipment to look at.
2750 beginning watts and 1250 operating watts are required by many 13,500 BTU RV A/C systems.
Your necessary starting and operating wattage will vary depending on whether you have a smaller or bigger air conditioning machine.
If you want to use a portable inverter generator to power your air conditioner, check sure the generator has enough wattage to meet your unit's requirements.
#2. Type of Fuel
The majority of these portable RV generators are gasoline-powered.
Some are capable of running on gasoline or propane.
Some of them even operate on diesel.
When a battery pack's power capacity is gone, the final kind I'm aware of just plugs into it to recharge.
When buying an inverter generator for an RV or camping, the kind of fuel you use is vital since it will be your major ongoing expenditure.
The optimal fuel type for you will frequently be determined by your location and the changing pricing of various fuels in that location.
This is why many users with the financial means do so, opting for a "dual fuel" inverter generator.
These generators can operate on either gasoline or propane, although they are often more costly than gasoline-only ones.
Having said that, if you purchase one of these generators, it's fantastic to have the choice to always use the less expensive fuel source.
Just keep in mind that depending on which fuel you choose to power a dual fuel generator, wattage ratings may differ.
#3. Size of the Fuel Tank
The capacity of a generator's fuel tank influences how long it can operate.
The length of time it takes for the generator to run is also determined by the amount of load you put on it.
In most circumstances, though, a bigger fuel tank means a longer run time.
The main disadvantage of a bigger fuel tank is the additional weight it adds to your generator when it's full.
If mobility is more essential to you than run duration, choosing a generator with the biggest fuel tank feasible may not be a top concern.
#4. Capability To Work In Parallel
A generator's parallel capacity enables it to be connected to another (through a connection kit, which is normally provided separately).
When these two generators are linked together, they may create more power than either generator is capable of producing on its own.
Even the greatest RV inverter generators don't always have enough beginning wattage to run a major RV device like your air conditioner.
If you want to purchase an inverter generator for this purpose, make sure you get one with parallel capabilities.
#5. Noise
The majority of these portable RV generators are far quieter than older generators.
When working, they normally generate between 50 and 60 dB.
The quantity of noise emitted by a generator varies based on the load it is subjected to.
Carefully read the tiny print to see how many decibels the generator generates under various loads.
Many of their marketing brochures state that the generator should be rated at a quarter load for a minimum decibel level.
As a result, it's important to know how much noise the same RV generator will generate when it's fully loaded.
#6. Portability
If you don't intend on permanently placing a generator under your RV, portability is essential.
The weight of these RV inverter generators ranges from one pound to over 100 pounds, thus the ease (or difficulty) with which you can move your generator depends on the type you pick.
If you're considering a larger inverter generator, be sure it has wheels and a handy handle.
Although you may need to lift it sometimes, being able to roll it the remainder of the way will make your life much simpler and lessen the danger of harm associated with lifting and moving a huge generator.
Even the lighter RV generators should have a handle on top to make them easier to maneuver.
Because inverter generators may be used for a variety of purposes, opting for a portable type is a wise decision.
#7. Information About The Warranty
Because many of these RV inverter generators are so expensive, it's crucial to read the warranty information supplied by each manufacturer.
Each of these camping generators should come with some kind of guarantee, although the specifics of each warranty may vary.
Before you buy a portable generator to power your RV, be sure you understand the conditions of the manufacturer's guarantee.
This will determine your ability to get your generator repaired if problems emerge.
In the worst-case scenario, it will also decide if your generator will be replaced entirely by the manufacturer.
A longer warranty period is preferable in general.
A longer warranty means you'll have access to free repairs and replacements for a longer length of time.
A longer warranty also indicates the manufacturer's trust in their product, which may tell you a lot about the generator's quality even before you purchase it.
#8. Price
More than simply glancing at the price tag on the generator itself might help you determine your budget for an inverter generator.
You should also consider possible maintenance expenses, fuel usage, and the generator's estimated lifetime.
It's also worth noting that internet prices change a lot.
If a certain generator is now out of your price range, you may want to wait a few days or shop around to see if you can locate a better offer.
So, Which Portable Inverter Generators Are The Best For Rvs And Camping In 2020?
Look no farther than the Champion 3500-Watt Dual Fuel Generator if you just want the greatest RV inverter generator money can buy.
Because it can operate on either propane or gas, depending on which is more economical, you could even save money in the long run.
Check out the Briggs & Stratton P3000 PowerSmart Series if you're seeking for an inverter generator with a high fuel tank capacity.
This generator has a 1.5-gallon fuel tank and can operate for up to 10 hours at a quarter load.
It also features an LCD display that tells you when your generator needs maintenance.
The Ryobi 150-Watt Small Camping Inverter Generator is a good option for anybody who doesn't require a generator to power bigger equipment.
It's a terrific way to relieve your RV's electrical system of a weight of smaller equipment.
You'll almost certainly need two inverter generators to run a big RV air conditioner.
The WEN 56225i Super Quiet 2250-Watt Inverter Generator is one of the top generator solutions for parallel capabilities.
Connect two of these men at the same time to get more power.
Check out the Westinghouse IGen2200 inverter generator if you don't want to worry your neighbors with the sound of your generator operating.
It generates just 52 decibels of noise while working, which is quieter than a standard dinner conversation.
This is the quietest RV generator available.
FAQs
Now that you've (hopefully) found the proper inverter generator for your RV, it's time to address some of the most often asked issues regarding them.
This will assist you in effectively operating and maintaining your generator.
What is an inverter generator and how does it work?
To comprehend the solution to this question, you must first comprehend that there are two forms of electrical current: direct and alternating current (see the movie The
Current War for a more complete explanation).
In a nutshell, alternating current (AC) is the electricity that comes out of our wall sockets and powers our phones, laptops, tablets, and other tiny electronics.
Inverter generators are similar to the electricity we obtain from a wall socket.
This generator generates alternating electricity but converts it to direct current before sending it to your RV and/or appliances.
Inverter generators decrease the possibility of electrical surges by doing so, which is why many of these generators are marketed as "clean power."
What are the advantages of using an inverter?
To begin with, inverter technology makes it simpler to adjust the generator's output to the power requirements of your RV.
This technique only generates the amount of current that is required on the circuit.
This lowers the chance of a surge and electrical damage to your RV and its equipment.
This technique also improves the fuel efficiency of these generators.
They save peak performance for those times when it's really necessary, so they're not wasting fuel in the middle of the day when no appliances are in use.
As a result, inverter generators are both ecologically and financially favorable.
Which companies are the finest to purchase from?
All of the RV inverter generators mentioned in this article are from well-known manufacturers.
Champion, on the other hand, is one of the most well-known and respected names in the generator sector.
Conclusion
A portable inverter generator might be considered an RV necessity.
You may not use it for hours on end on every trip, but you'll be pleased you have it when other power sources are unavailable.
It's preferable to have it and use it just when necessary than to not have it when the time comes.
If you don't have a steady power source, your RV may rapidly swing from toasty and comfy to frigid and spoiled food.
Take advantage of this chance to plan ahead and get the greatest inverter generator for RV usage!