Upgrading The Audio And Video In Your RV Is Simpler Than You Would Believe.
It doesn't have to be difficult to improve the A/V equipment in an RV.
Simple modifications like these may make a big difference in how much fun your family has on weekends.
Continue reading to get some inspiration.
The great thing about having an RV is that you can travel almost wherever you desire without giving up any of your home comforts.
And if your house has a wonderful audio/visual system, so should your RV.
We've been working on RVs a lot recently.
We've completed some impressive work and learned a great deal about how to enhance the audio, video, and general usability of any RV.
Here's a peek at some of our most recent projects and the equipment we used.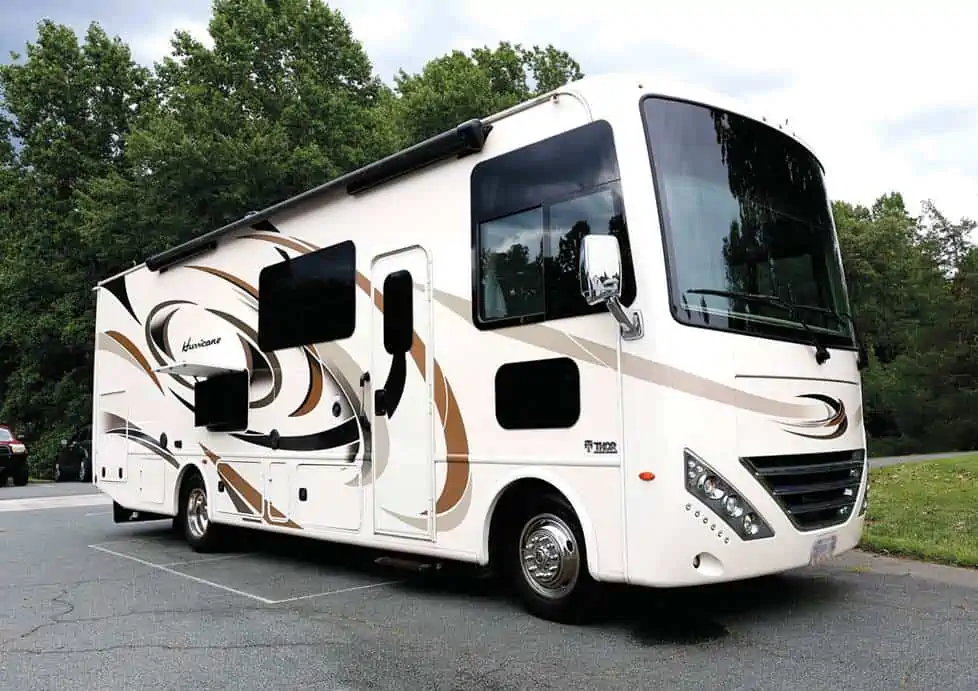 Larger Sound From Better Speakers
Joe and Nickie, the uncle and aunt of one of our marketing team members, own this Thor Hurricane.
The RV is comfy and well-equipped, although the sound isn't great.
We chose to improve the speakers on the inside and add amplifiers to the speakers on the exterior.
The projects were quick to complete and had remarkable outcomes.
Increasing The Volume Of The External Speakers
An outboard television is one among the many unique and useful features in this Thor.
When Joe, Nickie, and their kids go to the campsite, they use it a lot, but the two outdoor speakers weren't up to the task.
It was strange that you could hear them better inside the RV than outside, which was peculiar and in need of repair.
We fixed it by replacing the OEM speakers with a pair of Rockford Fosgate PM100X1K mono amps.
These small, marine-rated amplifiers employ Rockford's patent-pending "FreeLoad" technology, which draws power from the receiver's output.
Instead of extending a power cable to the battery, we had to rely only on ground wires.
Each IPX6-rated amp fit nicely behind a speaker, and apart from a little tinkering, the setup was quick.
We took a break in the middle to do a very unscientific A-B test, which comprised strolling from one side of the room with only a speaker to the other side with the amp attached.
The contrast was significant, with an instant sense of depth and richness.
Although it was not scientific, the ears do not lie.
These amps are a game-changer in terms of audio for this RV.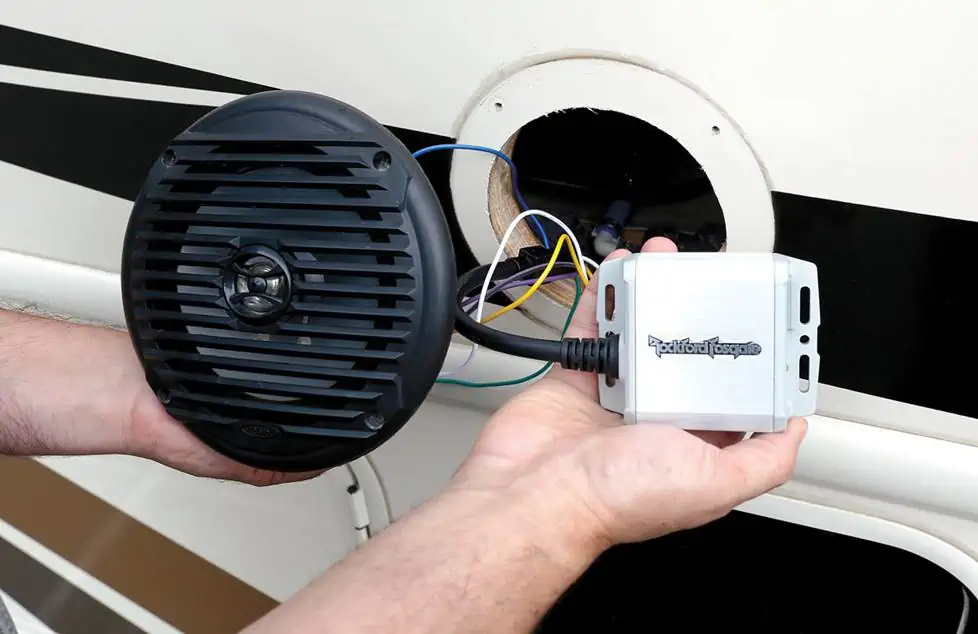 Replacement Speaker For Indoors
The inside A/V system included four speakers that were very "blah," two each for the TVs in the main living room and the back sleeper.
We swapped out four 6-1/2″ Fusion shallow-mount speakers, and the "meh" became "marvelous" in about 25 minutes, if memory serves.
It's a work that any ordinary DIYer can do, and given the time-to-value ratio, we'd suggest it to any RV owner who wants better sound inside.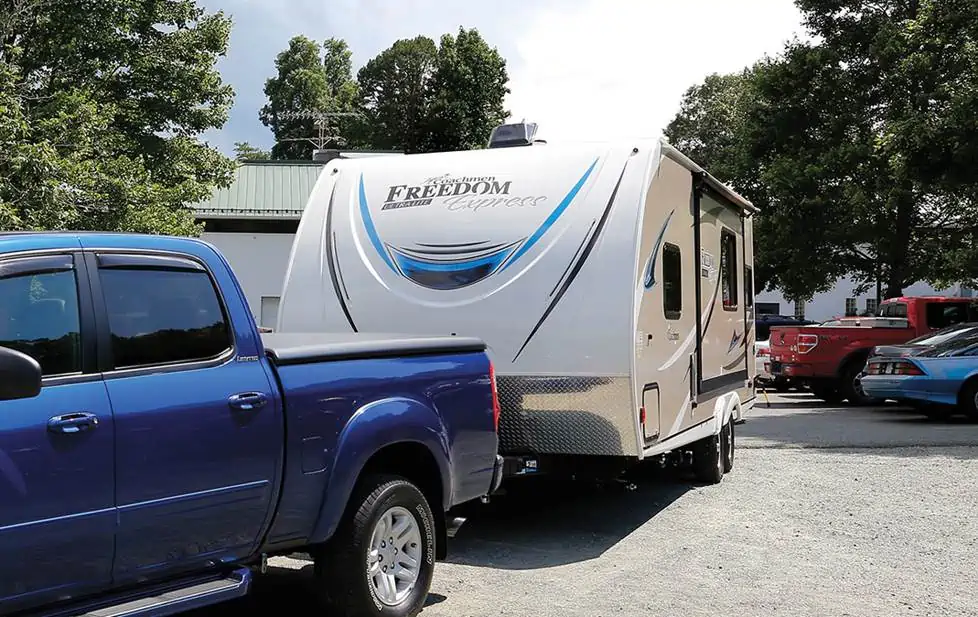 For A Coachmen Trailer, An A/V Upgrade Is Required.
Robbie, the Director of Materials at our distribution facility, enjoys his Coachmen RV with his family over the summer.
This is also a hardcore RV-ing family, so they go camping at least once a month, if not more often.
For The Big Outdoors, Television
This RV didn't come with an outside TV, so Robbie had his dealer install one and then bought a TV from us.
Because the screen will only be installed while the RV is parked and the weather is beautiful, Robbie went with a regular indoor-only type.
We do, however, have several outdoor-friendly TVs, so have a look and give us a call if that's something you're interested in.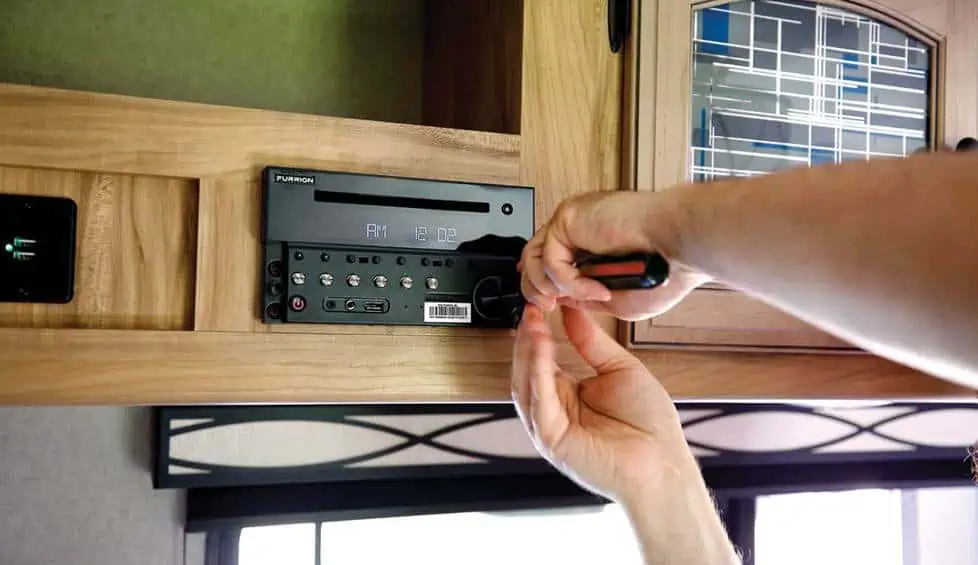 A New Furrion Receiver Produces Better Video.
Although the standard receiver was adequate, it lacked the HDMI output required to provide the finest possible image to the outdoor and inside TVs.
We replaced it with a Furrion DV3300S-BL 2-zone DVD player, which is the market leader in the RV business.
This receiver fit well in the OEM cavity and included Bluetooth® connection as well as the HDMI output we needed.
Robbie was impressed with the crystal-clear signal it sent to both the indoor and outdoor TVs after it was installed.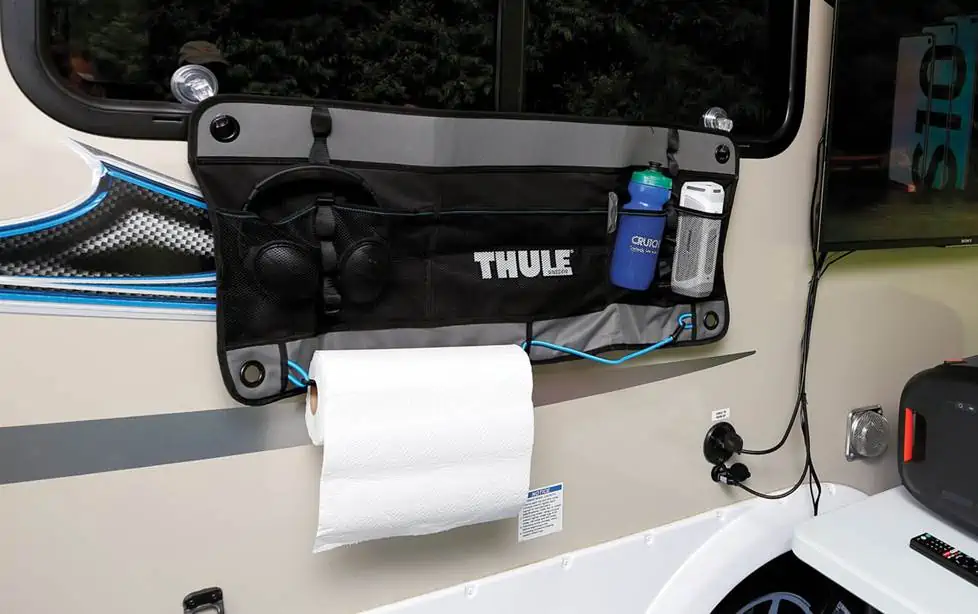 There's A Place For Everything, And…
When you're camping, there's a lot of items in your RV that you'll want to have nearby.
The Thule Countertop Organizer provides enough storage for all of these items and more.
This weather-resistant bag has 5 mesh pockets, 14 elastic loops, a pen holder, and even two paper towel holders, so you can grab everything you need outdoors while you're trying to relax.
There are a variety of ways to put this organizer on your RV or awning.
We tried a few during our picture session, but we'll have to wait and see what Robbie chooses as the summer progresses.
Related: 10 Best RV Speakers of 2023
Big Changes Don't Have To Take A Long Time.
As you can see, improving the audio, video, and general functionality of an RV doesn't require much effort.
Simple modifications like these may make a big difference in how much fun your family has on weekends.
Indoors, replacing the faulty stock speakers will significantly improve the sound quality of movies and music.
Compact amplifiers will significantly improve the sound quality of your RV's external speakers.
Upgrading to a better receiver with Bluetooth and HDMI inputs is a simple task that has significant advantages.
You and your family may watch a movie or the big game on an outside television.
The addition of a more advanced portable navigation device will alleviate some of the stress associated with route planning.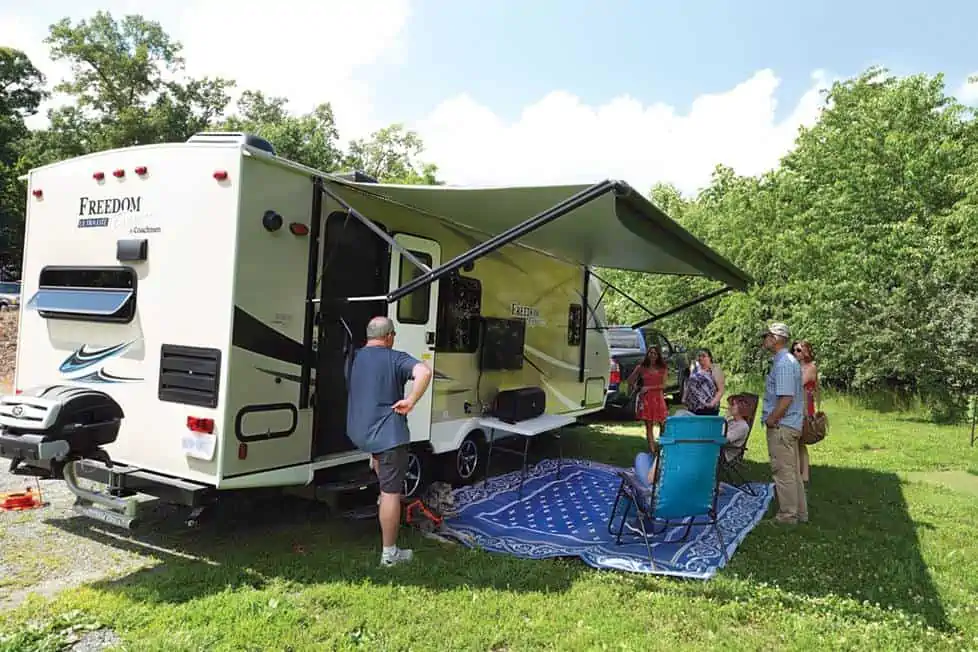 Other Suggestions For Useful Enhancements
Of course, there's a lot more you can do with an RV.
If you can think it up, there's a good chance you can make it happen.
Who says the enjoyment has to be limited to the passengers? The captain and co-pilot will be able to enjoy the flight more if the front speakers are upgraded.
With RVs, an enhanced rear-view camera is virtually a need. It'll take a lot of the tension off of getting into your position or navigating in tight spaces.
You may also discuss a security system with your Crutchfield Advisor. They're not as simple to install (we normally recommend hiring a technician), but we can assist you in selecting a system that will work in your car.