Don't you hate that when you're driving a truck and you end up on the wrong side of the road?
It might be a low bridge, a weight limit, or just a route that doesn't allow large vehicles.
While a standard GPS for automobiles or a smartphone is adequate, you may find yourself befuddled on new state highways.
Truck GPS, on the other hand, are specifically built to prioritize trucking routes and make long-distance trips simpler for truckers to plan.
We've done our research and researched the finest trucker GPS available.
Cheapest Price
Garmin dezl 580 LMT-S
It includes a database of truck and trailer service providers.
It has Wi-Fi and Bluetooth capabilities built in.
It may be used in conjunction with a smartphone.
Truckers get free map and traffic updates for the rest of their lives.
It keeps track of how many hours you've worked.
Runner-Up
Rand McNally TND 740
It helps you save money on gas by directing you to the quickest route.
If you provide latitude and longitude coordinates, it may locate a place.
It directs you in the right direction.
It's simple to set up.
Wi-Fi and Bluetooth are included.
The Most Value For Money
SIXGO 9 inch HD Touchscreen Truck GPS
On our guide, it has the biggest screen.
Users get free updates for the rest of their lives.
The maps may be seen in 3D mode.
It comes with a helpful voice assistant.
It has four different route options: quick, cheap, green, and simple.
Our Criteria for Selection
In a summary, we carefully analyzed the following considerations while deciding which trucker GPS to recommend in our guide.
1. Brand.
The most well-known truck GPS manufacturers are Garmin and Rand McNally.
When it comes to deciding which brand of truck GPS device is best, most truckers are divided 50/50 between Garmin and Rand McNally.
Although there are other respected companies, Garmin and Rand McNally have the most experience with GPS technology.
2. Special Features.
In addition to the basic capabilities that you'd expect in a truck GPS, we looked closely at the devices that featured additional features to set them apart from the competition. The majority of the GPS units we've looked at can be used with the most up-to-date technologies.
3. Feedback.
We looked at the GPS devices that received the most good comments from truck drivers throughout our study process.
Of course, no product is flawless, but as long as the shortcomings aren't deal-breakers, the top candidate may make a strong argument.
#1. Garmin dezl 580 LMT-S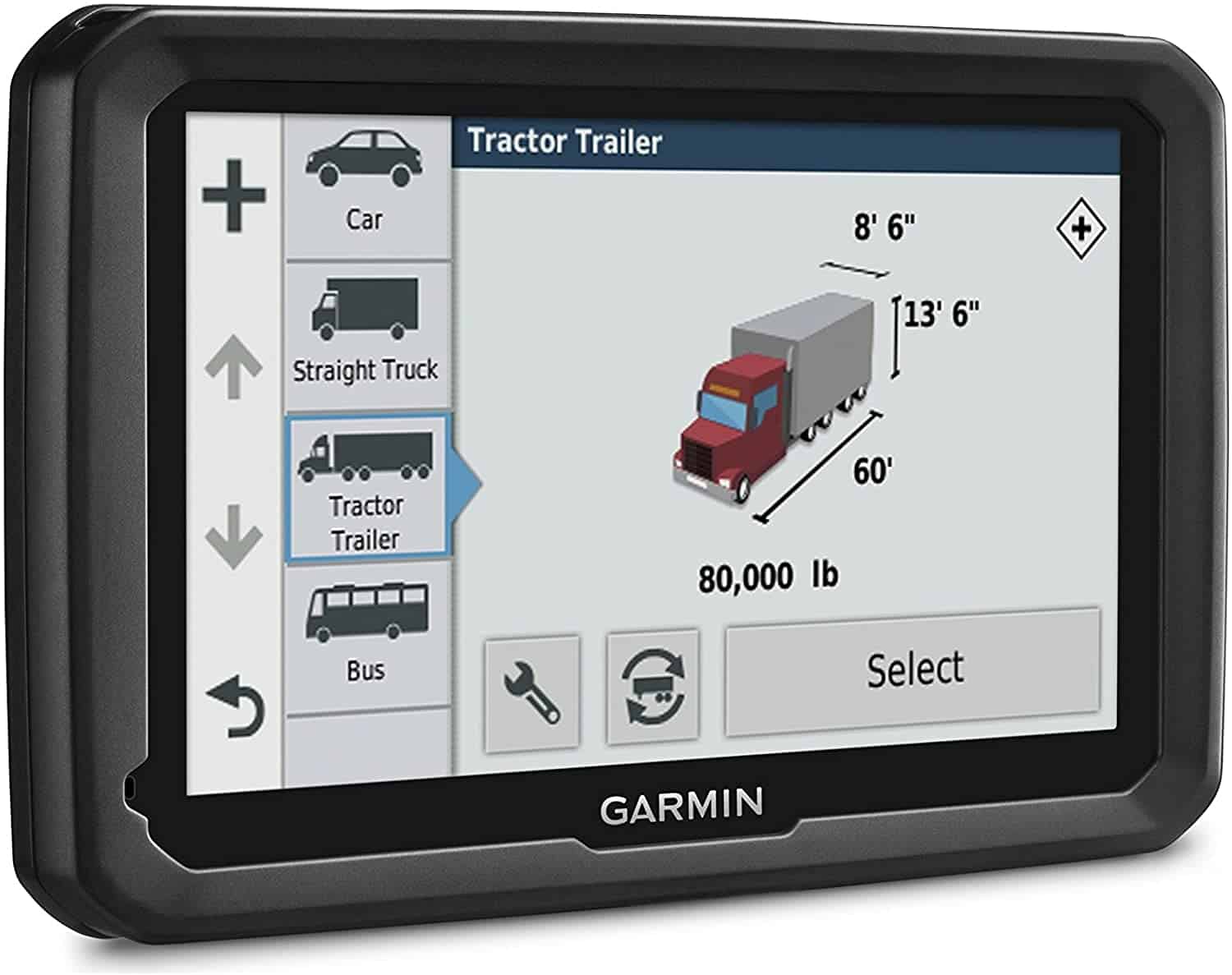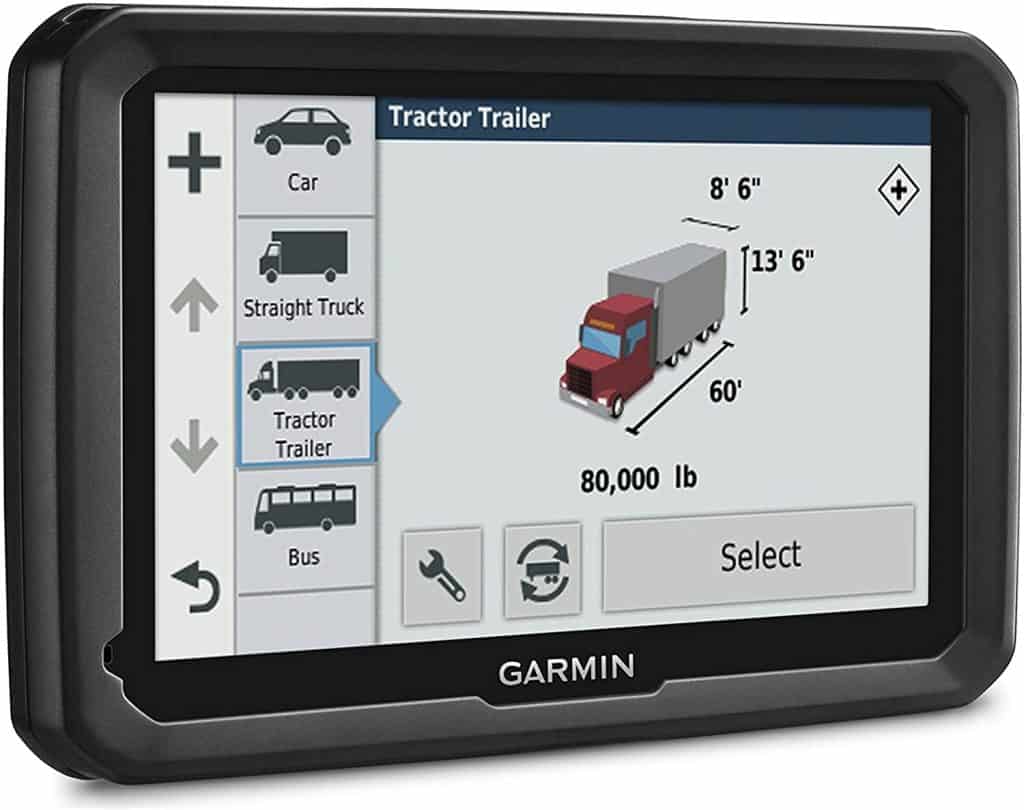 Type: Portable
Screen size: 5 inch
Bluetooth: Yes
Wi-Fi: Yes
Memory card slot: Upto 32 GB
Memory card slot: Up to 32 GB
What We Enjoy
Touchscreen display of 5 inches
Free updates for the rest of your life
Truck routing that is tailored to your needs
Bluetooth and Wi-Fi adaptor built-in
ELD Compatibility
Slot for external memory
Voice command
What We Don't Care For
The screen isn't very large.
The Garmin dezl 580 LMT-S has all of the features you'd expect in a high-end trucker GPS, including Bluetooth, Wi-Fi, voice control, and an external memory card slot with up to 32 GB of storage.
But it's the bespoke truck routing system that picks the best path for your vehicle based on its weight and size that truly sets it apart.
Furthermore, it has a 5-inch touchscreen display with auto-brightness, which makes it simple to read the map even in direct sunshine.
You may get free lifetime map and traffic updates thanks to the built-in Wi-Fi.
Not to mention that it keeps track of your service history and may be linked to a backup camera.
On the flipside, some drivers may find the 5-inch screen to be too tiny.
If that's an issue, you may turn on voice control and have the GPS speak to you.
#2. SIXGO 9 inch HD Touchscreen Truck GPS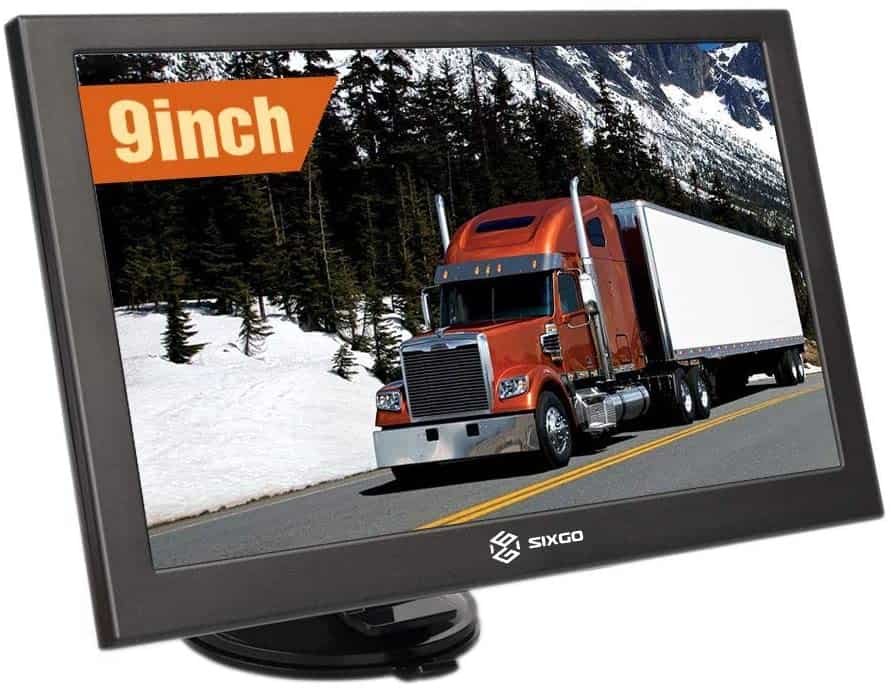 Type: Portable
Screen size: 9 inch
Bluetooth: No
Wi-Fi: No
Memory card slot: Up to 32 GB
What We Enjoy
Touchscreen in high definition
Assistant by voice
Routes designed specifically for trucks
Free map updates for the rest of your life
Viewpoint on a 3D map
Modes for night and day
Supports memory cards up to 32 GB
Support with suction
Radio stations that broadcast on FM
What We Don't Care For
There is no compatibility with wireless smartphones.
Consider a GPS device with a 9-inch screen if you want something huge.
Yes, it has suction support for mounting.
But that's not all; this trucker GPS also has a 32-GB memory card slot, a headphone plug-in socket, and a USB interface for connecting your smartphone or flash drive.
Because it's a truck GPS, you may personalize your route by entering your vehicle's length, weight, and height.
This is rather remarkable.
It comes with the most up-to-date maps of North America pre-installed (Canada, United States, and Mexico).
Unlike your smartphone, you may use the GPS maps without an internet connection.
When you're approaching a red light, a speed restriction zone, a high-speed camera, a gas station, a truck service, retailers, a hotel, or any other area of interest, the GPS voice assistant may alert you.
It also has an entertainment area where you may listen to an audiobook or MP3 and play games, as well as switch to FM radio.
Wireless smartphone compatibility, on the other hand, will be unavailable.
Using the USB port, you may transfer data from your smartphone to the GPS.
Otherwise, if you don't mind going with a less well-known brand, this truck GPS makes the cut.
#3. Rand McNally TND 740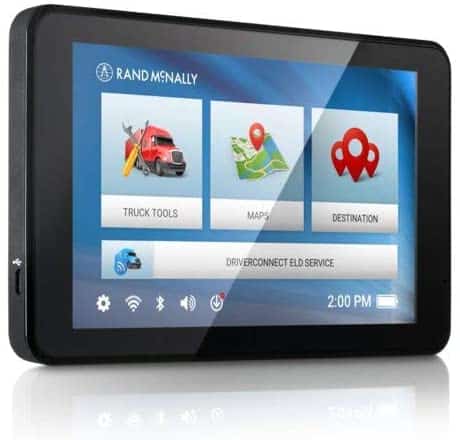 Type: Portable
Screen size: 7 inch
Bluetooth: Yes
Wi-Fi: Yes
Memory card slot: Upto 32 GB
What We Enjoy
7-inch HD display
Navigation for trucks is unique.
Guidance for advanced lanes
System for precise mapping
Wi-Fi and Bluetooth are built-in.
Customized alerts
Trip planning that is advanced
Radio via satellite
there are two USB ports
Alerts about service hours
Free map updates for the rest of your life
What We Don't Care For
It need regular upgrades.
It's pricey.
Forget about the 7-inch HD touchscreen for a moment and focus on the Rand McNally GPS's sophisticated route planning.
It seems to be capable of planning a vacation for you down to the last detail.
Simply enter the address or coordinates (latitude and longitude) of your next destination into the GPS, and it will compute two routes: the quickest and alternative routes.
After the GPS calculates the routes, it will estimate how much money you will spend on gasoline based on your truck's miles per gallon.
You will save money on gas if you choose the quickest route.
Aside from that, the Rand McNally TND 740 will notify you about all the rest stops, truck stops, parking areas, CAT scales, and weight/border stations along your route.
It will even inform you which lane to use and when you should expect to arrive at your location.
Still not persuaded? Bluetooth, Wi-Fi, Satellite radio, 2 USB ports, an audio output connector, and a driver logging monitoring system are all included.
In comparison to other GPS devices, it is a little pricey.
However, it is one of the finest GPS for trucks on the market, produced by a renowned company.
Just keep in mind that you'll need to update the maps from time to time, and it's completely free to do so.
#4. TomTom Trucker 620 GPS Navigation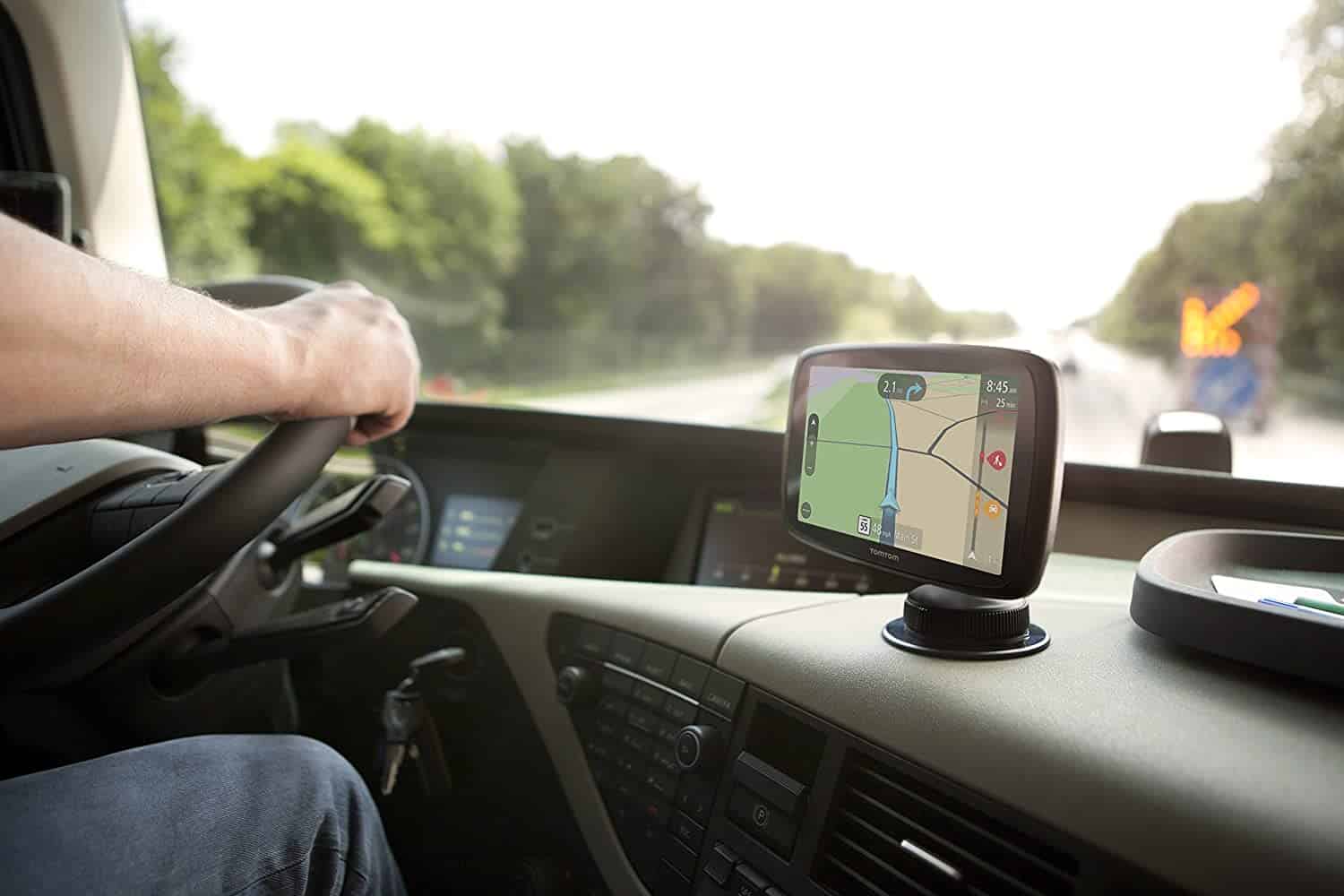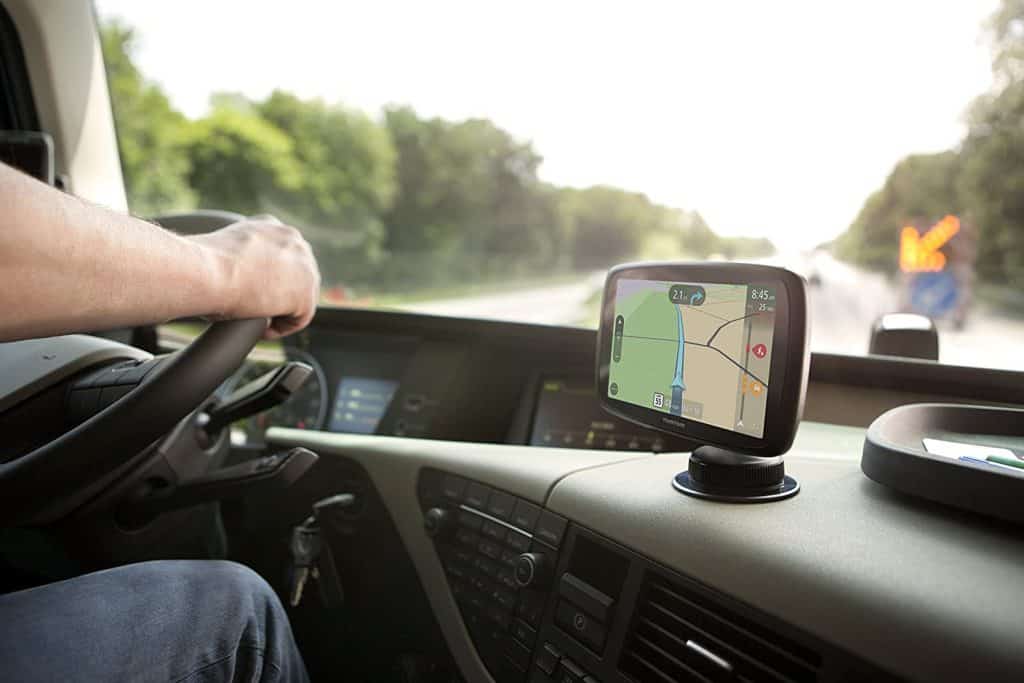 Type: Portable
Screen size: 6 inch
Bluetooth: Yes
Wi-Fi: Yes
Memory card slot: Upto 32 GB
What We Enjoy
Integration with smartphones
Touchscreen display of 6 inches
Traffic changes in real time
Map updates are always free.
Calling without using your hands
Assistant by voice
WI-FI and Bluetooth
Truck routing that is tailored to your needs
It is possible to place it on the windscreen.
What We Don't Care For
The battery isn't very long lasting.
You can conduct hands-free phone calls and perform voice commands with this TomTom Trucker 620 GPS Navigation gadget, which is compatible with Siri and Google Now.
You may also get the most up-to-date traffic and weather data, and it will direct you to avoid any weight limitations or low bridges on your route.
There is a magnetic attachment on the rear of the GPS device that you can suction to the windshield for better viewing.
Just make sure it's at a place where it won't distract you while driving.
The GPS is pre-loaded with the most recent maps for the United States and Canada, so you don't need an internet connection to travel.
You will, however, need to use a Wi-Fi connection to refresh the maps.
Unfortunately, the battery doesn't last very long, and you'll be lucky if you can use it for more than an hour without plugging it in.
As a result, you must continually plugging it into a charger to prevent the battery from getting low.
#5. Garmin dezl 770LMTHD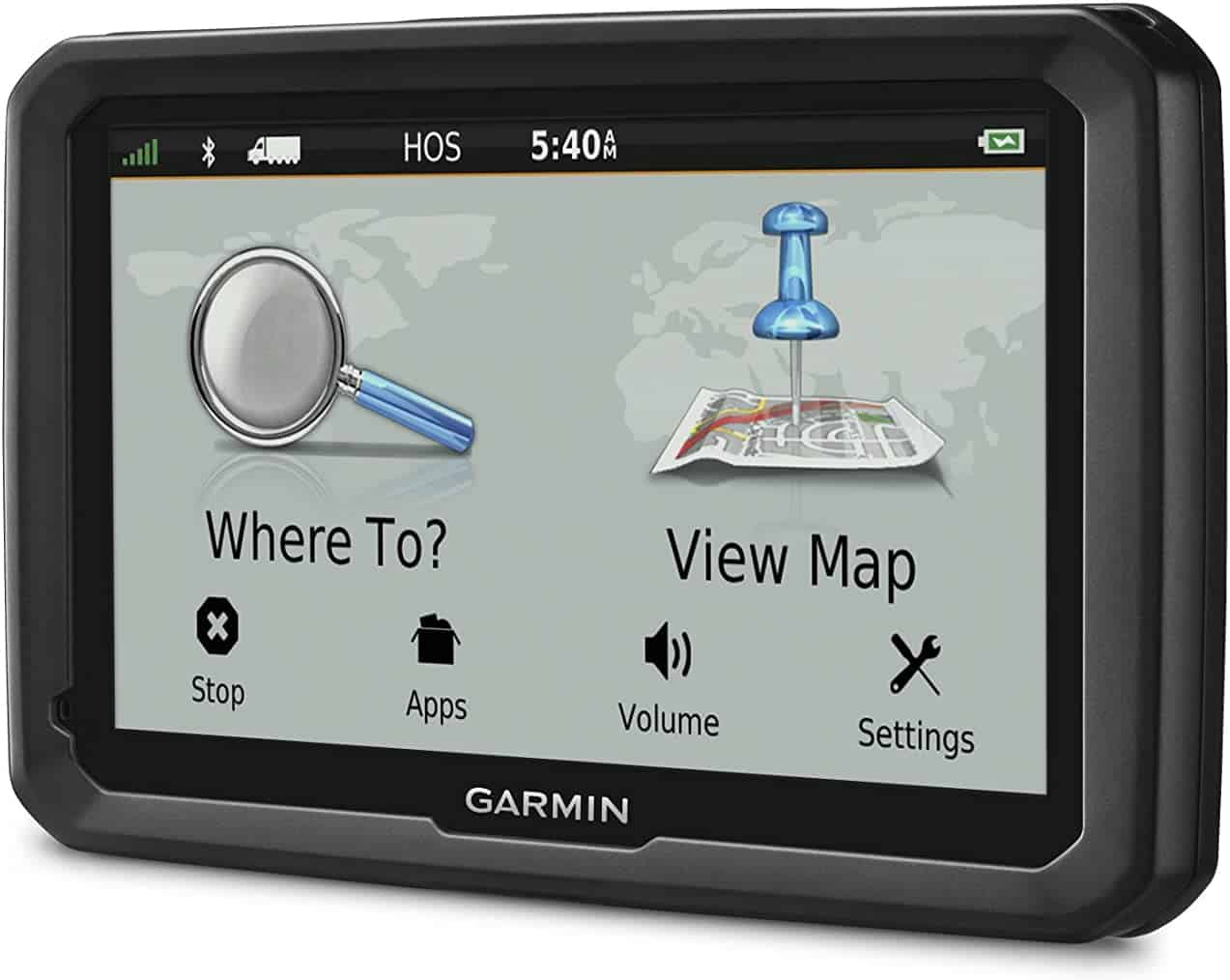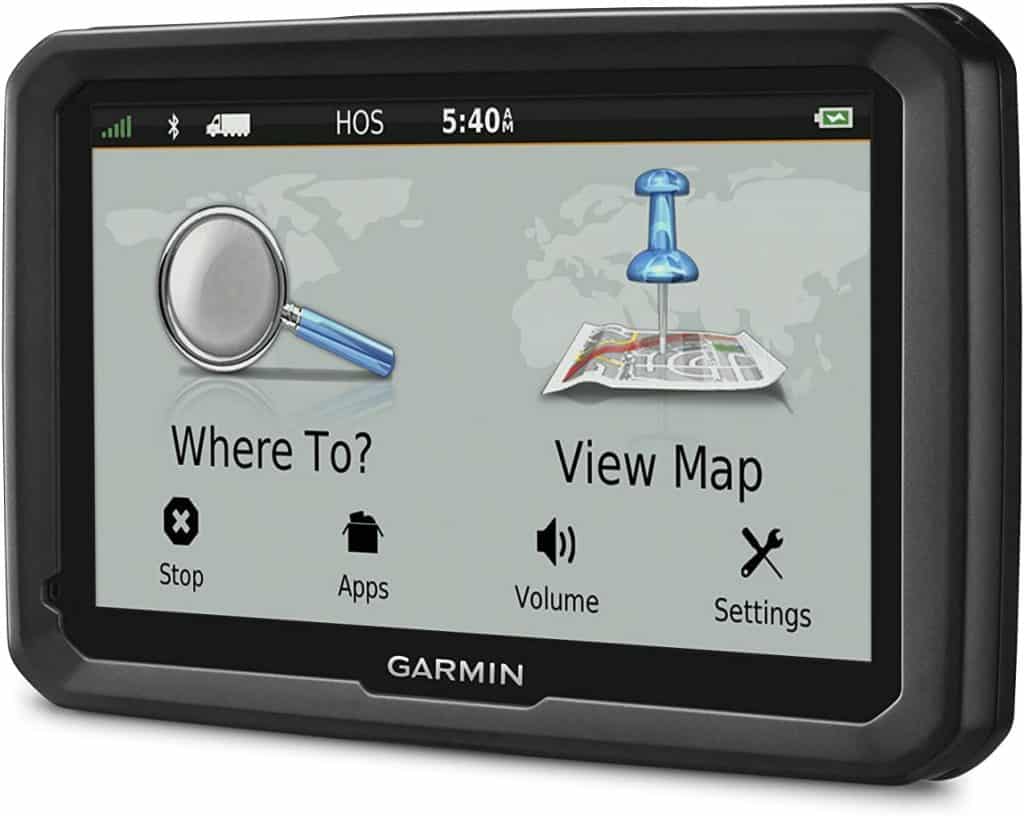 Type: Portable
Screen size: 7 inch
Bluetooth: Yes
Wi-Fi: No
Memory card slot: Up to 32 GB
What We Enjoy
Bluetooth compatibility
Screen size: 7 inches
Back-up camera compatibility
Keep track of your service hours.
Map updates are always free.
Split-screen functionality
Advanced lane guidance
ELD Compatibility
Audio output slot/headphone jack
Support for memory cards
Navigation using spoken commands
What We Don't Care For
It requires a smartphone connection to obtain real-time data.
The Garmin dezl 770LMTHD has a 7-inch HD touchscreen, memory card slot, backup camera compatibility, and an audio line-out connection for connecting external speakers.
The GPS is pre-loaded with United States and Canadian maps, as well as over 30,000 truck-specific points of interest.
The screen is frequently divided into two portions to increase precision: an overhead view of the map and a closer 3D point of view that tells you which lane to choose.
Simply say "voice command" to activate the voice control function and avoid staring at the screen and being distracted while driving.
It will respond and offer you precise directions, such as "turn right in two miles." It also works with an electronic logging device (ELD) and can alert you when it's time to change your oil or check your tire pressure.
On the other hand, if you want to get real-time information like weather or traffic updates, you'll need to link it with a smartphone.
To do so, you'll need to download the Smartphone Link app and link it to the trucker GPS on your iPhone or Android mobile.
What Are the Benefits of Purchasing a Truck GPS?
1. Legal Reasons.
Why not utilize your smartphone's applications as a trucker GPS?
It's straightforward.
Distracted driving rules have been implemented in most areas, prohibiting drivers from using cellphones while driving.
If you're spotted using a smartphone, regardless of whether you're checking your navigation app, email, or text message, you might receive a ticket.
A GPS for your vehicle, on the other hand, will not get you in trouble with the police.
2. Prioritize Truck Routes.
A pickup vehicle Trucking routes will be prioritized by GPS, something you won't find on other GPS devices or applications.
For example, you'll learn about truck weight limitations, speed limits, and designated roadways.
The last thing you want is to get caught under an overpass bridge that is too narrow for your vehicle to travel through.
3. Record Truck Reports.
A selection of the greatest trucks The mileage, fuel consumption, driving condition, and servicing hours will all be tracked via GPS.
Aside from that, your vehicle GPS may be utilized to double-check the accuracy of the data in your electronic logging device.
4. Access Truck Services.
It's not only about navigation; a truck is involved.
GPS will tell you where the closest truck stops, rest stops, maintenance services, weigh stations, eateries, and tow services for truck drivers are located.
5. Get Traffic and Weather Alerts.
Before you go on a journey and discover that the route is blocked due to poor weather or ongoing work, a truck GPS will notify you ahead of time so you don't miss out.
In fact, some of the finest GPS for truckers can alert you to traffic congestion and advise a different route to save time and money.
6. Navigate Without Internet Connection.
Here's the thing: most smartphone GPS applications need an internet connection.
A conventional truck GPS, on the other hand, does not need internet access to navigate; this might be very useful if you're in a remote region without access to the internet.
7. Manage Your Fleet.
Some GPS systems contain a feature that enables a fleet manager to keep track of a group of vehicles on the road.
The fleet manager may simply coordinate shippers and receivers by giving live information in this manner.
8. Compatibility.
Most trucker GPS devices that have Bluetooth and Wi-Fi capabilities are compatible with cellphones.
Aside from that, most truck GPS units come with backup cameras, hands-free voice control, built-in speakers, and microphones.
Related: Best RV GPS of 2023
The Different Types of GPS for Truckers
GPS System with In-Dash Display
Although you may buy an in-dash GPS system and install it yourself, the manufacturer will pre-install it into the dashboard.
An in-dash GPS is generally incorporated with the entertainment system in certain circumstances.
That is to say, the same interface that you use to switch on the radio or alter the playlist will also be used to access GPS navigation.
The most significant disadvantage of the in-dash GPS system seems to be that the pre-loaded maps might become obsolete after a few years.
In-dash GPS devices are much more costly than portable GPS units.
Of course, don't forget about the elephant in the room: an in-dash GPS can't be taken outside of your vehicle.
If you're transferring trucks and need to access your stored history, addresses, or sites of interest, this might be an issue.
In contrast to a portable GPS device, an in-dash GPS is more impossible to steal or lose.
GPS Handheld or Portable
In the 1970s, the first portable GPS gadget was developed for the United States military.
It was later permitted to be used by civilians in the 1980s.
Its greatest feature has been portability from its debut; you can take it anywhere and still access your stored addresses, history, or areas of interest.
Handheld GPS devices, on the other hand, are less expensive and more common than GPS systems with built-in GPS.
Although a portable GPS isn't included with the vehicle, it may still be mounted on the dashboard.
Our Opinion: So, which sort of GPS is better for truckers?
Because it is less expensive and more portable, handheld GPS seems to be a better alternative than an in-dash GPS.
When using a handheld GPS in your vehicle, be sure you utilize a mount to keep it from falling out when you hit a bump or rough terrain.
Suggestion: Best RV GPS Tracker of 2023
How to Select the Most Appropriate GPS for Truckers
#1. Display on the Screen
The screen size is, of course, the first thing you'll notice about a GPS device.
Because navigation routes are frequently shown on a screen, you should go for a GPS table with a screen size of at least 5 inches.
The map may be difficult to read if the screen is too tiny.
Furthermore, you will be driving a truck throughout the day, and you should have a GPS tablet with a brightness setting that allows you to adjust the brightness for better reading while the sun is out.
When it's dark, the best GPS for truckers automatically lowers the brightness level, and when it's light, it automatically raises it.
Almost every trucker GPS gadget on the market now, of course, has a touchscreen display as standard equipment.
#2. Information Mapping
How do you know the GPS you wish to purchase has a dependable mapping system?
For starters, most current truck GPS systems will allow drivers to zoom into various highways and observe them in 3D.
Even if you don't believe the 3D feature is vital, it's still a good idea to get a GPS that includes lifetime map updates in case anything changes.
A sophisticated mapping system should also contain street names, speed restrictions, and turn-by-turn instructions, with the GPS alerting you if you miss a turn.
That's not all, however.
To make planning your journey simpler, the GPS tablet should tell you whether there are any local restaurants, motels, truck stops, petrol stations, or other points of interest along your route.
#3. Routes That Have Been Approved
Any truck GPS worth its salt should have the ability to modify the right settings based on the weight, height, length, and load of your vehicle.
As a result, the truck GPS will pick a pre-determined path for your vehicle to avoid hitting with low bridges or weight limitations.
Because the top trucker GPS systems can handle numerous truck profiles, switching to a larger or smaller truck should be no issue.
Aside from that, the GPS tablet should calculate the quickest and shortest route to your destination.
#4. Assistive Technology
We now have GPS systems with built-in speakers that can offer you voice directions.
If you're approaching an intersection, for example, the voice assistant will direct you.
That means you won't be distracted by the GPS screen since you'll be listening to the voice assistant instead.
It might be even better: certain GPS devices have a voice command option that enables you to communicate with the program.
For what it's worth, you can use your voice to initiate a command by asking a question like "Where am I?" and the GPS will react by pinpointing your whereabouts.
#5. Connectivity
A GPS device with Wi-Fi and Bluetooth may be associated with your smartphone to make a hands-free phone call; however, a GPS with a built-in microphone and speaker may be required.
Aside from that, some of the best GPS for truckers have a socket for plugging in backup cameras, USB cables, flash drives, and other electronic devices.
#6. Weather and Traffic Alerts in Real Time
When it comes to connection, if your trucker GPS tablet can connect to the internet, accessing live traffic and real-time weather updates should be no issue.
A traffic update in this situation might be more than simply a traffic congestion warning; the GPS could alert you to accident hotspots, narrow roads, steep inclines, and sharp turns.
Some GPS devices can even tell you where the cheapest petrol is.
You should get current weather conditions, forecasts, and emergency warnings as far as weather updates are concerned.
Do you want to be stuck during a hurricane?
#7. Keeping Track Of Your Journey
Even though a truck GPS cannot be used to comply with the Federal Motor Carrier Safety Administration's (FMCSA) electronic logging device (ELD) requirement, it may record driving status, hours of duty, fuel data, miles, food breaks, and sleep hours.
Electronic logging devices attached to your truck's engine are compatible with certain GPS systems.
#8. Management of the Fleet
If you're in charge of a fleet, you'll need a GPS system that can connect with the GPS devices at the fleet base station.
To put it another way, you'll be able to track the whereabouts of the vehicles you're in charge of in real time.
As a result, you may calculate the projected arrival time and tell customers when their cargo will be picked up or delivered.
The fleet management tool, of course, is quite essential if you want to keep track of truck driver performance and dependability.
In fact, if a vehicle is stolen, the GPS may be used to locate it.
On a Truck, How to Mount a GPS Tablet
FAQs
Is there a GPS designed specifically for truck drivers?
Yes.
The most significant distinction between a trucker GPS and a conventional automobile GPS is that a trucker GPS will offer a specific route depending on your truck's weight, height, and length.
That is, it will inform you which roads or lanes you are not permitted to travel and which roads you are not.
What is the best Garmin unit for a trucker?
The Garmin dezl 580 LMT-S is the finest Garmin device for truckers.
However, if you prefer something with a larger screen, the Garmin dezl 770LMTHD is a good option.
What should I set aside for a truck GPS?
It is debatable.
For less than $150, you can get a vehicle GPS with rudimentary functions.
However, expect to pay between $200 and $400 for premium features such as voice activation, real-time data, a mounting system, and lifetime map updates.
Summary
Let's go through everything again.
All of the trucker GPS devices in our guide are top-of-the-line.
With that in mind, the Garmin dezl 580 LMT-S would be our choice for the finest overall GPS for truckers.
If we were on a limited budget and needed the most bang for our buck, we would choose the SIXGO 9 inch HD Touchscreen Truck GPS.
The GPS is an electronic gadget that might cause driver distraction.
This disadvantage must be recognized by professional drivers.
Make good use of your GPS.
Best GPS For Truckers Videos Suggestions From Youtube