When we turn on the faucet to wash our hands, do the dishes, or take a lovely, warm shower, we take hot water for granted.
But while we're camping, we rapidly develop a fondness for—or a profound need for—immediately accessible hot water.
This is where the RV tankless water heater comes into play.
Let's look at this miraculous device that gives everyone, whether they are connected to the grid or not, the power of ready-to-use hot water.
How Do Tankless Water Heaters Work in RVs?
A standalone appliance known as an RV tankless water heater provides hot water quickly and only when you need it.
If you're linked up to municipal water, you may have an endless supply of immediate, on-demand hot water from a single source, but if you're boondocking, your options are obviously limited by the capacity of your water tank.
This compact, more effective heater heats water as it passes through it.
A tankless device only warms the water when you turn on the faucet, as opposed to a tank storage water heater, which continuously heats the water stored in the tank.
Since it doesn't hold any water, utilizing hot water in your RV will save you both room and gasoline.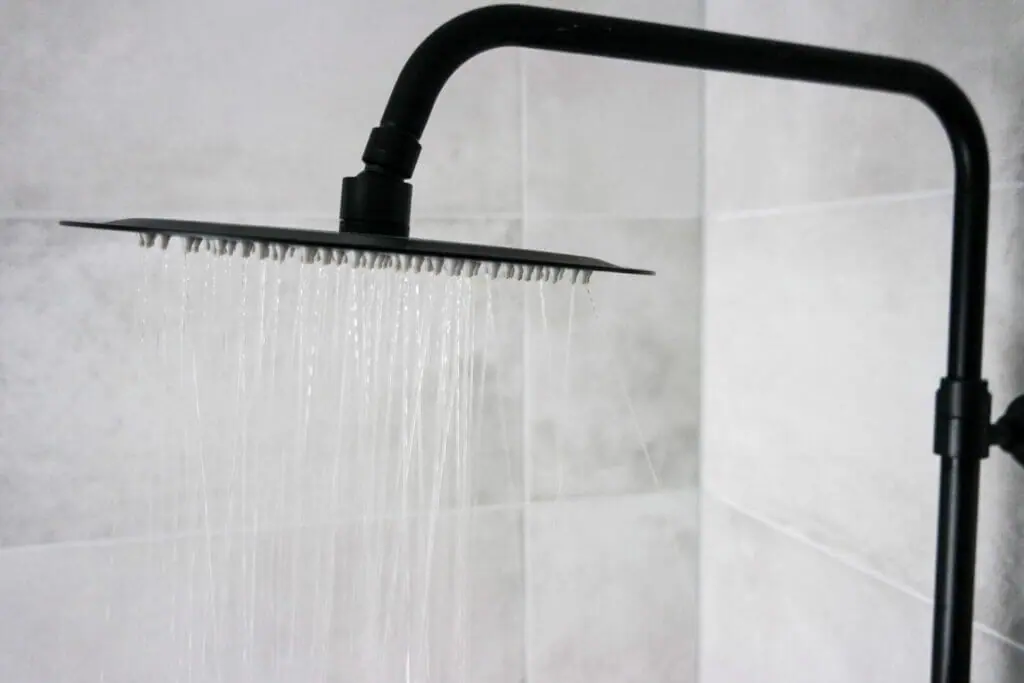 What Are the Prices of RV Tankless Water Heaters?
RV tankless water heaters typically cost between $400 and $1,000 at retail.
Some versions call for the purchase of extra components, such as access doors.
For them, you may pay an additional $30 to $40.
Depending on the size and capacity of the water heater you're upgrading, you'll need a certain kind of door.
The good news is that because installation is quite simple, there shouldn't be any extra labor expenditures.
The majority of heaters are compatible with current electric switches and operate on propane.
Advantages Of A Tankless Water Heater For RVs
The lack of waiting for the water to heat up is one of the main advantages.
(In reality, there is a little delay, but it doesn't last long.) Additionally, tankless water heaters use less energy.
Instead of heating six to ten gallons at a time, you just heat the water you really need.
Less propane or electricity is used in this.
Additionally, you won't have to pay to heat water that you don't use.
Additionally, you don't have to wait for the water to be warmed after another person's shower.
With an RV tankless water heater, there is no need for what is known as "recovery time."
Additionally, a tankless water heater's water won't abruptly become cold and scald you.
As long as there is a water source, it remains heated.
You may keep showering till you're wrinkled and red if you're in a full-service campground where you're connected to water.
Tankless water heaters are also more space-efficient.
Some are just about half as big as the conventional water heaters they may quickly replace.
Because there isn't a water tank, they are also much lighter.
In other words, using less fuel or diesel while towing may save money.
An Rv Tankless Water Heater's Drawbacks
Despite the fact that the majority of customers like their RV tankless water heater, there are a few drawbacks you should be aware of.
They may be pricey, to start.
The cost may not be worthwhile for you if you don't really appreciate having hot water available whenever you need it.
Second, propane fuels the on-demand heaters.
Even though they are energy-efficient, you should anticipate using gallons of propane each month.
Last but not least, despite RV tankless water heaters' claims of being "instant" or "on-demand," there is still a little delay before the hot water starts to flow.
When you open the faucet, you may anticipate a 10–20 second delay in the supply of hot water.
Most customers claim that this is merely something new users need to get used to and not a real drawback.
When Purchasing A Tankless Water Heater, What To Look For
Think about the kind of RVer who might benefit from a tankless water heater first.
An RV tankless water heater will be most useful to full-timers or families that travel often.
The likelihood of using a lot of hot water on demand is higher.
Before investing in a tankless water heater, you should think about the size of your present water heater.
Most must suit the space and are designed to replace the current water heater.
In addition, as we previously said, you will need to purchase the access door individually.
Therefore, before buying the door, carefully measure the length and breadth of your exterior compartment.
Finally, check the displays to be sure they are ones you can readily see and use.
Some are "user-friendly" and others are not!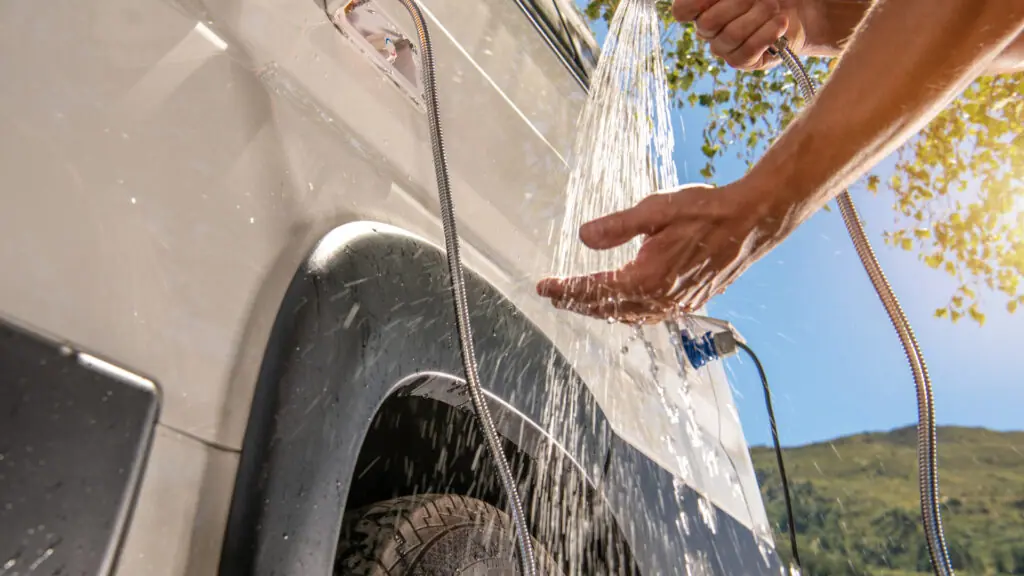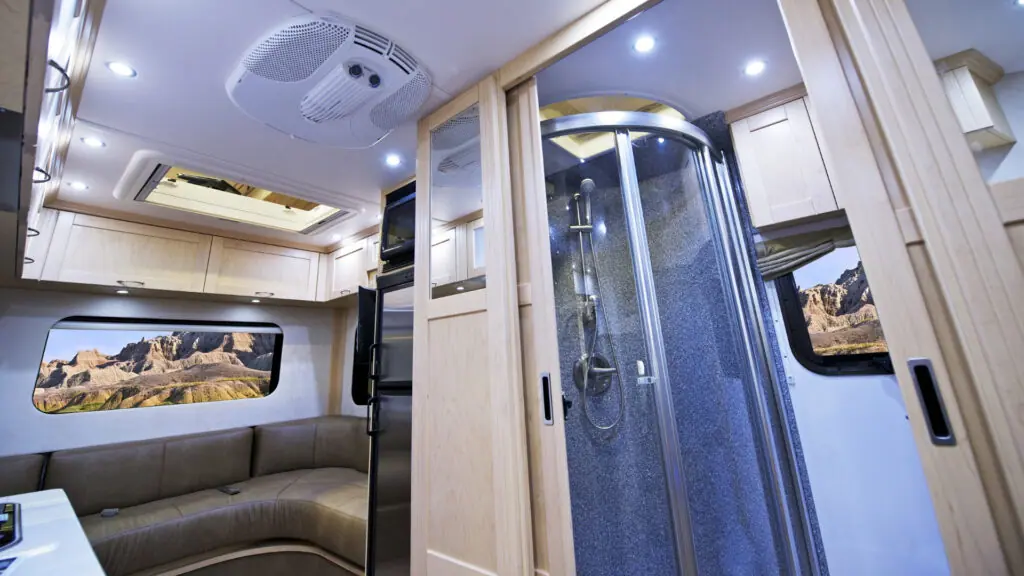 The Finest RV Tankless Water Heater Currently Available
You need to know where to begin your search for an RV tankless water heater now that you are aware of its advantages.
The top-rated RV tankless water heaters are listed below.
#1. Furrion 2.4GPM Tankless RV Gas Water Heater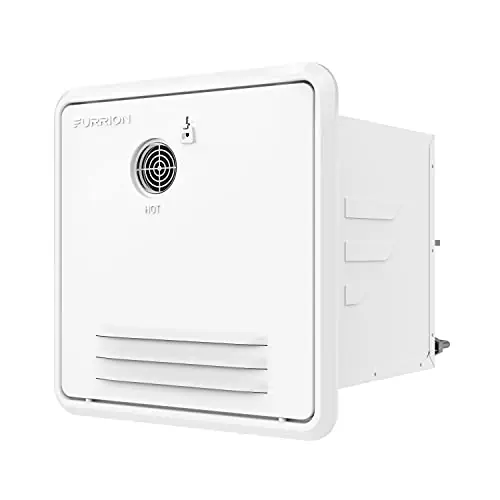 Furrion 2.4GPM Tankless RV Gas Water Heater with White 16.14" x 16.14" Door – FWH09A-1-A
High Heating Power: With a 2.4GPM capacity and a 60K BTU heating power, the Furrion RV Gas Water Heater will provide hot water whenever you need it.
Consistent Temperatures: Furrion's Vortex technology reliably heats water to the temperature you want. Dual-sensors…
$692.99
Even at 32°F outside temperature, this Furrion tankless RV water heater has a high heating capacity and will provide hot water fast.
If you're worried about safety, this water heater contains two sensors that will turn the power off immediately if the water temperature rises over acceptable levels.
This type also makes upgrading simple since it is the ideal size to swap out Suburban 4-6 gallon water heater units.
Even better, it incorporates Furrion VibrationSmart technology to guard against jarring road surfaces.
Finally, the 2-year Furrion Warranty is applicable.
It's clear from the 4.5-star rating on Amazon that customers like the Furrion tankless water heaters.
The reviews speak highly of their dependability and quality.
Here are just a few Amazon reviews:
Chris P. wrote: "My Suburban 6 gallon water heater's existing cutout was EXACTLY the right size for this wonderful piece of equipment.
Everything was perfectly in place and made sense.
I've already had two extremely relaxingly lengthy showers, and I didn't even have to turn the water off to lather up! I'm totally sold!"
The following was added by a person going by the username Jayhawkclint: "We have used tank and tankless heaters from Atwood and Suburban.
Our previous tankless had a 50k BTU and could provide hot water, but it was flow sensitive.
All other water heaters pale in comparison to this Furrion model.
It resembles a hot water shower at home in every way.
I wish this one could have been done years ago.
Last but not least, user Roy J. kept his review brief and to the point, stating that he would definitely suggest Furrion if he ever needed another tankless water heater or if asked to recommend a tankless water heater.
#2. RecPro RV Tankless Water Heater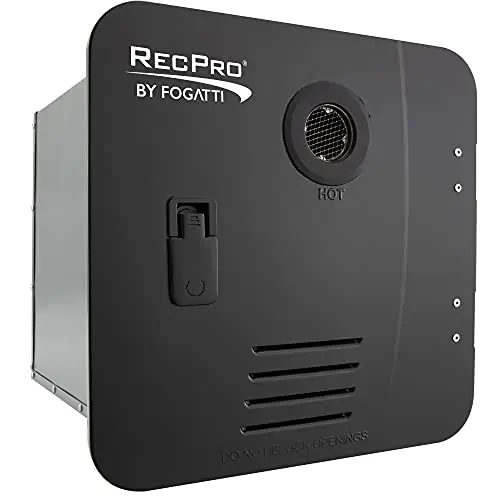 RecPro RV Tankless Water Heater | On Demand Hot Water Heater | Gas Water Heater | Remote Control Included (Black)
No more having to wait for the water tank to warm up or having your shower run out of warm water in the middle. Due to this…
The air is kept safe and sterile before it enters the combustion chamber and after it exits as well thanks to a forced exhaust system.
$549.99
With this RV on-demand water heater, there's no need to wait for the water tank to warm up.
For a constant supply of hot water, just turn on the faucet.
This camper's tankless water heater includes a forced exhaust design that maintains the air hygienic and safe.
Even a dust net that keeps out dirt is included.
It is a small device, measuring just 15.3′′ in depth by 15.3′′ in height.
#3. Girard Tankless RV Water Heater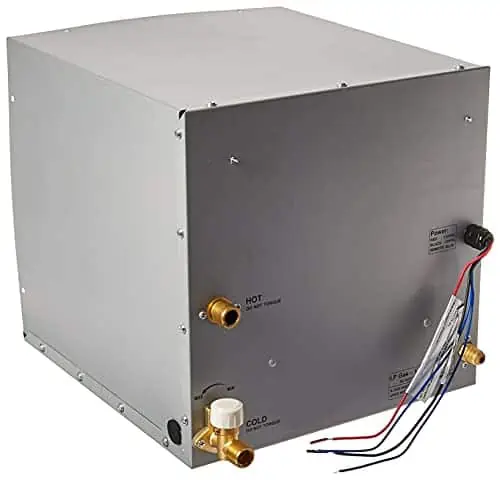 GIRARD 2GWHAM Tankless Water Heater
Controls the burner to maintain the desired hot water temperature.
Note: Girard's 2Gwham Water Heater Must Be Ordered With Water Heater Door, Which Is Not Included.
$752.87 −$184.46 $568.41
The Girard Tankless RV Hot Water Heater is simple to use and provides limitless hot water.
To get the required temperature, just turn on the hot water and add cold water.
To ensure a consistent, steady flow, the onboard computer continuously checks the temperature of the entering cold water, the flow rate, and the temperature of the hot water being discharged.
The operational features are shown on a wall-mounted digital controller, which supports temperatures between 95°F and 124°F.
The size is 14.5 x 17.8 x 14.6 inches.
Note: The door must be bought separately and is not included.
#4. Suburban On Demand RV Water Heater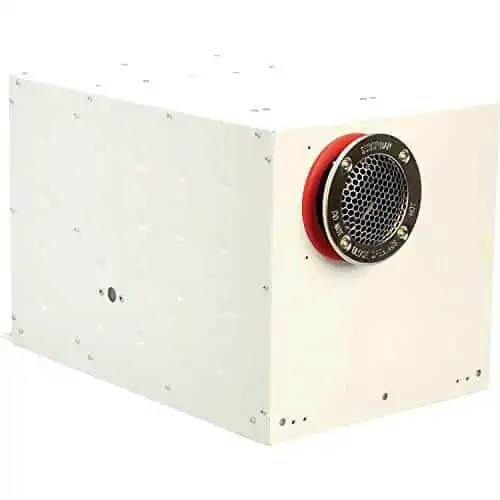 SUBURBAN MFG Co Suburban Co 5286A Iw60 with H On Demand 60K Btu
Size of the package: 58.42 cm
Size of the package: 40.64 cm
$785.50 −$199.17 $586.33
With this RV on demand water heater, you can say goodbye to waiting for the water to reheat in a typical tank.
The Suburban On Demand RV Water Heater doesn't have a storage tank, so it is lighter and more efficient since it only turns on when hot water is needed.
The tankless water heater has direct spark ignition, freeze prevention, and weighs just 36 lbs with the vent assembly.
It measures 12.5 by 12.5 inches.
Reminder: You must buy the door and exhaust vent separately.
#5. Fogatti Tankless RV Water Heater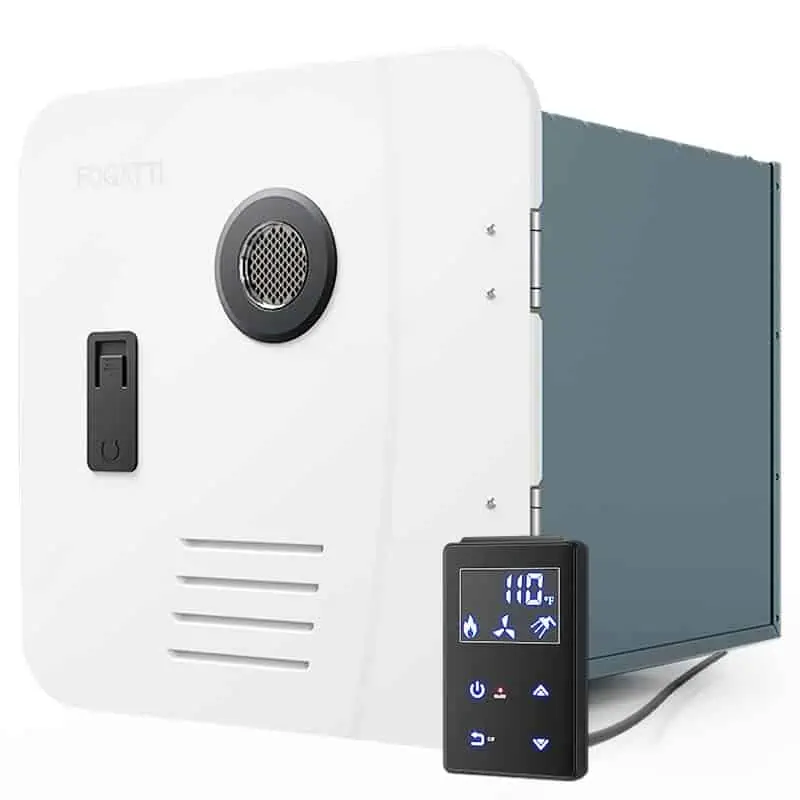 RV Tankless Water Heater, FOGATTI 2.9 GPM, 55000 BTU Hot Water Heater with 15 x 15 Inches White Door, Remote Control Included
The door is 15 by 15 inches in dimension, with a 13 x 13 inch hole for the water heater. 55000 BTU more powerful heating capability and…
The Fogatti tankless water heater can provide limitless instant hot water for your RV lifestyle and offers a broad range of retrofit compatibility.
$599.99
Certain Suburban, Girard, Furrion, RecPro, and Dometic heaters may be converted with this tankless RV water heater, making replacement simple.
The heating capability of this model is 55,000 BTUs and 3.5 gallons per minute.
The water heater also has a wall-mounted remote control so you can use it from within your vehicle.
The 2-year guarantee on this product covers any issues you may have with it.
Pro Tip: After choosing one, you should understand how to install a tankless water heater in your RV.
With An RV Tankless Water Heater, You May Enjoy The Convenience Of Endless Hot Water.
The advantages of a tankless water heater for your camper are obvious, especially for full-time RVers or RVers with large families.
One of the biggest comforts campers may enjoy is more effective continuous supply of endless hot water on demand.
The finest tankless water heater is the one that consistently provides you and your family with all these benefits.
RV Tankless Water Heater Reviews Videos Suggestions From Youtube