For your RV, do you really need a UV water filtration system? If you want to be sure that your drinking water is free of germs and viruses, the quick answer is YES.
You can immediately notice the need for a water filter on your RV's water line when you turn on the water tap at your campground.
This brown tinge goes away within the first 30 seconds, and the water comes out clear.
However, we all know that using a new inline water filter or an RV water filter replacement cartridge gives us the purest drinking water possible—or does it?
By employing an ultraviolet water purifier, bacteria, viruses, and other microorganisms are eliminated after all the chemicals and sediment have been removed.
The most pure water is what is left.
An RV-friendly ultraviolet LED water purification system was developed by Acuva Technologies.
We'll explain how it works, which model may be ideal for you, and why it's a fantastic addition worth making to your motorhome or travel trailer.
Acuva Is A Who?
Acuva was founded in 2014 with the intention of promoting health and improving quality of life.
This Canadian business now operates satellite offices in the US, Germany, India, and is developing a branch in China.
The leader in UVC-LED surface, air, and water disinfection technology is Acuva Technologies Inc.
Manoj Singh, the company's president and CEO, has approximately 20 years of experience in the clean technology leading sector in North America and South Asia.
Singh collaborates with Fariborz Taghipour, the organization's chief technology officer and a reputable professor in the Department of Chemical and Biological Engineering at the University of British Columbia.
Technologies are developed by Acuva Technologies for:
Drinking fountains for businesses
Ice producers at hotels and restaurants
Water dispensers
Home refrigerators with built-in ice and water dispensers
Purifiers for both commercial and residential tap water
RV/Marine water purifiers
Portable surface sanitization tools
Is It Worth It To Buy An RV UV Water Purification System?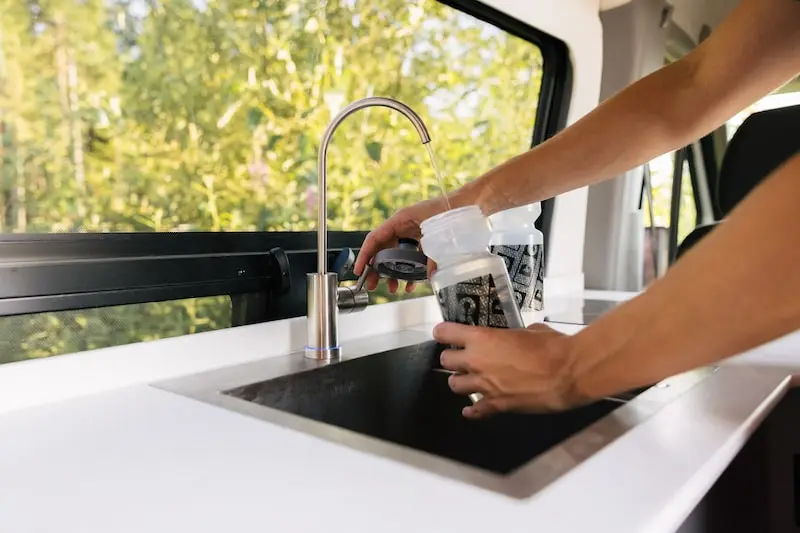 The UVC LED water sterilizer performs what RV water filters can't, making UV water purifiers worthwhile.
Some of the chemicals, silt, heavy metals, and other impurities will be eliminated by carbon water filters.
Unfortunately, even 1 millimeter RV water filters with multistage canisters may allow bacteria and viruses to get through since the smallest bacteria have a diameter of roughly 0.4 microns, while viruses have a size range of 0.02 to 0.25 microns.
Usually, these invaders are dealt with by our immune system.
There may be a problem if the water you consume has a high concentration of these microbes.
Inhaling ultra-violet radiation rapidly destroys the viruses and bacteria.
You can get up to a 99.9999% germ-free glass of water with Acuva's ArrowMax UV-LED water purifiers that plug into your RV's water system.
They can last over half a million gallons, consume very little power, and activate quickly.
Forbes estimates that a million bottles of water are bought every minute worldwide.
In order for our children and grandkids to be able to have RV experiences, we RVers do our best to contribute to the preservation of the natural environment.
Leaving your campground cleaner than you found it is another one of the main norms of the RV community.
You may have confidence in the campsite water supply or your freshwater tank by using a sophisticated water filter and the Acuva UV-LED water purifier combination, which prevents you from adding to the contamination issue with plastic bottles.
Do RV UV Water Filtration Systems Really Work?
UV water purifiers really function by genetically eradicating bacteria.
By deactivating the essential processes of the microbes, the potent short-wavelength radiation (UVC 250–280 nanometers) destroys bacteria and viruses.
The internal mechanisms and DNA of these microbes are destroyed by this exposure before the water reaches the waterline feeding your faucet.
Comparatively, the public water systems of large cities like Vancouver, New York, and Paris are industrially disinfected using this technique.
To put this into perspective, the typical amount of UVA and UVB radiation we get from the sun ranges from 280 to 400 nanometers.
You don't need to worry about exposure since the Acuva water purifiers employ UVC 250-280 nm light within a stainless steel container.
For its products, Acuva Technology has received NSF/ANSI 55 Class "B" accreditation from IAPMO R&T.
Product performance, quality, safety, and sustainability are all guaranteed by this designation.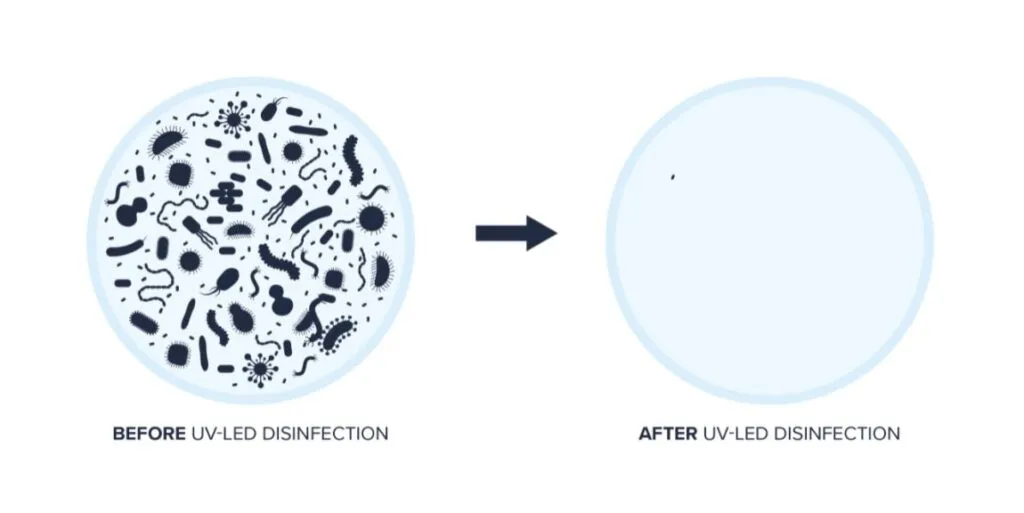 Could UV Light Clean Water?
By using log reduction research, scientists consistently demonstrate that UV light cleanses water.
This technique counts the number of microorganisms that are present in the water sample both before and after exposure to UV radiation.
A single log corresponds to a 10-fold drop in the number of microorganisms.
The Acuva research team demonstrated that each sample examined after a 6-log reduction had up to 99.9999% of the germs and viruses removed.
You'll note that the ArrowMax UV water purifiers are all rectangular when you take a closer look.
To assure the safety of drinking water, their unique IntenseBeam technology exposes fluid to intense UV light.
Is UV Light Produced by LEDs?
LEDs may instantaneously create UV light in an energy-efficient manner that consumes less watts and lasts longer than traditional UV lamps.
Every time a business introduces a necessary RV item to the market in The Modern Era (2008-Present), off-grid camping employing solar panel technology must be taken into account.
Allocating power for clean, nutritious water is a must when it comes to something as essential as water, but you shouldn't have to give up another important function in order to get a glass.
Conventional, heavy UV lights consume more electricity, take longer to warm up, need to be replaced annually, and contain mercury.
The list of issues with this technology generates plenty of cautionary tales even if you're utilizing shore power.
The UVC LED bulbs used in Acuva water purifiers are long-lasting, safe to use when properly sealed, and suggested for use in RV and marine UV water purifiers.
We'll go through the many types they have available and which one could be the ideal for you now that you understand how they operate and their advantages.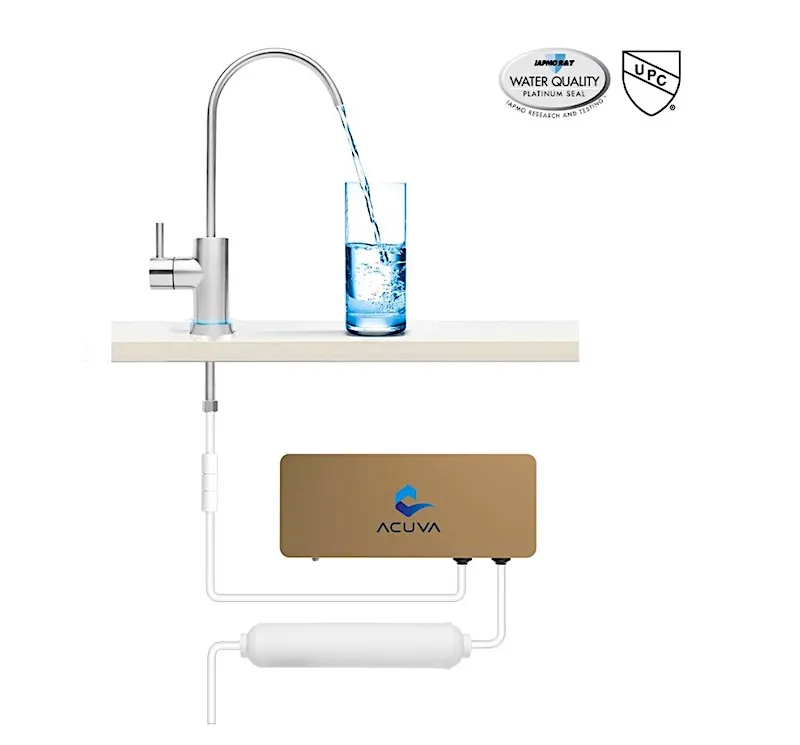 How Does UV Light Clean the Water in Your RV?
For My RV, Which Acuva UV-Led Water Purifier Should I Pick?
Three variants ArrowMax UV-LED water purifiers are available from Acuva.
The two key distinctions between them are the flow rate and lifespan of the RV water filters.
Look at the details in the following chart to get the solution to this query:
| | | | |
| --- | --- | --- | --- |
| | ArrowMax 1.0L | ArrowMax 2.0L | ArrowMax 5.0L |
| Flow Rate (Liter per Minute) | 1 LPM | 2 LPM | 5 LPM |
| Liters in its Lifecycle | 60,000 liters | 120,000 liters | 900,000 liters |
| Casing | High-Quality Polymer | High-Quality Polymer | Metal |
| MSRP (as of Aug 2021) | $449 | $599 | $1,099 |
The ArrowMax 1.0L will, as you can see, provide you with lots of trustworthy service.
You must consider what is practical for your camping lifestyle, however, while looking at it from an RV's point of view.
For instance, couples don't often purchase 10-person travel trailers, and part-timers typically don't purchase RVs designed for full-timers.
Instead, they decide on travel trailers and RVs that meet their requirements.
For weekenders and part-timers who use the appliance for their kitchen and bathroom sinks, the ArrowMax 1.0L is perfect.
Some of the most polluted water you'll encounter may be completely sterilized by the water purifier.
In reality, you are connected to the water system of the campsite and very seldom utilize your freshwater tank.
Gasoline Class A motorhome The ArrowMax 2.0L could be preferred by RVers with two bathrooms.
When someone is getting ready in the back master bathroom and another person uses the kitchen sink, the additional flow rate will be helpful.
Additionally, for proper operation, the washing machine requires a strong flow.
The ArrowMax 5.0L could be preferred for full-timers with various water source requirements.
If you own a luxury fifth wheel RV with two bathrooms, an outside kitchen, and a residential refrigerator with an icemaker in addition to the kitchen sink, you need to connect seven water sources (including the two showers).
You may want to ask for help with the plumbing on this one.
Advanced Features and Accessories
#1. Smart Faucet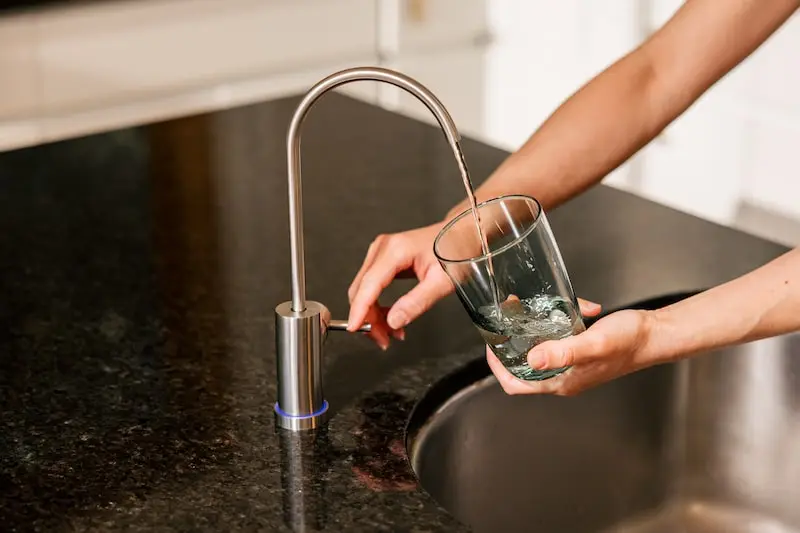 Your RV's built-in faucets, including the secondary kitchen faucet meant for filtered water devices, are compatible with any of the ArrowMax UV-C LED sterilizers.
You may swap out the secondary faucet with Acuva's Smart-faucet if you'd like.
The blue light around the base of the Acuva Smart-faucet indicates that the system is functioning properly when you switch on the water.
The Acuva gadget has a self-cleaning feature that activates UV light once every 12 hours to keep it clean.
Your ArrowMax gadget will continue to operate for an extra five seconds after you switch off your Smart-faucet in order to treat any remaining water in the water lines.
Your waterlines will remain clear of bacteria thanks to this additional defense.
#2. Second-Generation Pre-Filter (For ArroMax 1.0 & 2.0)
Use the Acuva sophisticated water filter as your first line of protection.
It eliminates impurities such heavy metals, chlorine, chemicals, smells, sediment, and others.
You'll discover that this first-level filter is worth the greater than normal cost since it has a 4,000-gallon water flow rating.
The ideal strategy to optimize the sterilization of the UV-C LEDs at the camping water connection is to use a first-stage carbon or mixed media water filter.
The bacteria can no longer hide behind silt or other pollutants thanks to the removal of these pollutants.
Additionally, it prevents harm to your RV's water system.
Discover more about how to connect your water system and other crucial components with an RV.
Checklist from a blogger on how to set up your RV campsite for beginners.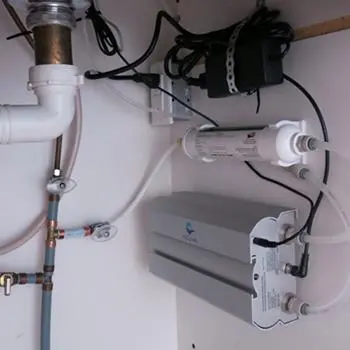 #3. ArrowMax 1.0/2.0/5.0 AC 120/240V to DC12V Power Adaptor
AC power is used by the ArrowMax UV-LED Water Purifiers.
You may discover that it would be simpler to connect the Acuva device into a DC power source depending on where you decide to place your 1.0, 2.0, or 5.0 device.
There's a simpler option, so try it before you dig out your RV's wiring diagram.
Due to the fact that Acuva provides a 12-volt power adapter, maybe one of the designers or another member of the team dealt with this issue.
At worst, establishing a new electrical line from the fuse box is easier than installing an outlet.
Do UV Water Purification Systems Lower The Pressure Of The Water?
Water pressure is not decreased by RV UV water filtration systems.
Engineers always keep the pressure as unrestrained as feasible in mind while designing systems.
Charcoal and other materials are used in carbon water filters to absorb pollutants.
Additionally, they use filtering barriers with gaps as small as one micron, which largely gate everything else while allowing water to travel through unhindered.
However, these water filters might lower water pressure as they age.
The water is channeled via a transparent tube by the UVC-LED water filter from Acuva.
UVC light exposes the water as it flows through the apparatus using a collimated IntenseBeam.
If the equipment doesn't function properly, the manufacturer does provide a one-year replacement guarantee.
If you do see a drop in water pressure, it can be caused by a clog in the water line, your pre-filter, the water source, or another issue.
You must examine all of your interior and exterior plumbing to find that clog.
To avoid causing harm to the plumbing in your RV, either seek expert help or learn how to inspect PEX pipe.
For your RV, do We Recommend the Acuva UV Water Purification System?
The Acuva UV Water Purification System is a must-have for any camper, RV, or motorhome.
Why? Because UV light is the most effective technique to eliminate viruses and germs from the drinking water in your RV.
We used well water at home, so I made sure my family was safe by installing a UV water filtration system.
We strongly suggest that you install one in your RV, motorhome, or camper to keep your family safe.
Previously, this technology was only accessible for domestic usage.
We even got in touch with Acuva to provide our readers a discount code that would allow them to buy the product for 10% less.
Simply use the coupon code RVBLOGGER at checkout to get your savings.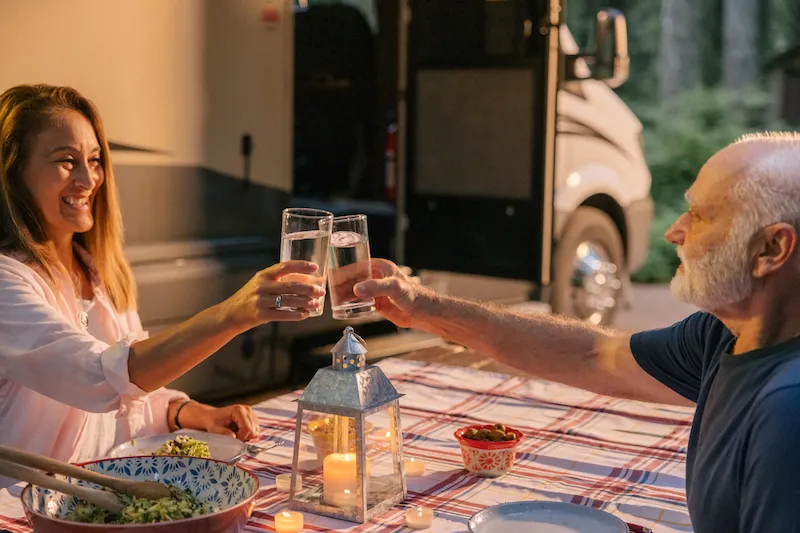 The RVBlogger website has comprehensive information about PEX plumbing as well as other parts of your RV.
There are hundreds of articles on our site that take you through repairs, maintenance, and everything else connected to RVs.
Visit our Facebook page, RV Camping for Newbies, and ask some of the other seasoned RVers who are friends of the RVBlogger Community if you can't find what you're looking for there.
You may find us on Instagram as well.
Check out our weekly YouTube films, in which Mike and Susan examine the newest RVs while pointing out important details and providing measurements with a tape measure.
Additionally, they provide interesting movies on gear, advice, bargain RV clubs, and other subjects.
You may see a video announcing the new edition of their FREE monthly digital magazine, RV Camping Magazine, at the beginning of each month.
The subjects covered by Mike, Susan, and guest writers range widely within the RV Community and Industry.
Every month, readers are provided with a brand-new maintenance or repair approach by the National RV Training Academy, a premier institution that teaches RV Service Technicians.
After reading it, you may see the process-illustrated video that is embedded.
Other highlights include following the exploits of other RVers in a fantastic location, touring an incredible RV renovation, and diving deeply into the newest fashions.
You'll discover exciting new products or accessories on the market, as well as discover more about the YouTubers and other RV influencers.
RV UV Water Filter Videos Suggestions From Youtube