We switched to the Truma AquaGo Hybrid On-Demand Propane water heater in March 2018 from our 12-gallon Suburban water heater.
This machine, an on-demand water heater, is designed to provide an endless supply of hot water, which, for RVers, means LONG HOT SHOWERS! Check out our favorite things about this Truma water heater.
An Innovative RV Water Heater
At the 2018 Florida RV Supershow in Tampa, we came upon Truma.
We had been wondering why there were so many brand-new RVs around with large blue "Truma" badges.
When we finally came across their display, we were instantly curious.
We spoke with the salespeople, looked at the displays, and discovered how they operated.
We were satisfied with the goods, and during the exhibition, we continued going back to their stand as we had additional inquiries.
By the end of the week, we were certain that we need the Truma AquaGo Water Heater.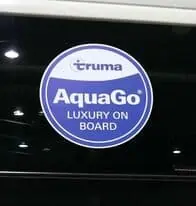 Truma's Identity.
German firm Truma has been in business since 1949 but just relocated to the United States in 2014.
Ninety percent of RVs in Europe include one of their products.
Fun fact: Truma's founder founded the company, and they were given enough funding to get off the ground thanks to President Truman's implementation of the Marshall Plan following World War II.
Watch the video below to discover more about their business, history, and an overview of their most well-known products:
Introducing AquaGo Hybrid On-Demand Water Heater with Truma.
Truma Aquago Water Heater Installation (Video)
Just before we left Florida, we arranged to have the Truma AquaGo Water Heater installed at their service facility in Lakeland, Florida.
Installing the Truma AquaGo is a component of owning a unit, unless you purchase a brand-new one with it already done.
We describe the process of having it installed aftermarket (and having our old water heater removed!) in the video down below.
We were quite happy with the installation's expertise and quality!
Truma AquaGo On Demand Water Heater Installation in Our RV
Review of Truma AquaGo Comfort Plus (Videos)
We discussed our opinions and experience with the Truma AquaGo Comfort Plus Water Heater in the movies below after using it for a while:
RV water heater Truma AquaGo On-Demand: Overview and Opinions
Review of the Truma AquaGo On-Demand RV Water Heater
The Truma AquaGo Water Heater: How Does It Operate?
The Truma AquaGo water heater is a hybrid on-demand RV water heater that uses LP gas (propane) to power the "brains" of the device and a modest supply of 12V DC electricity to run the rest of it.
With a tiny tank to mix and pre-heat the water, the Truma water heater has an advantage over conventional on-demand devices in that it only warms the water you really need.
In contrast, tank water heaters need regular heating of their 6–12 gallons of water in order to provide hot water, and they also require you to lug an additional 50–100 pounds of weight about all the time.
We discovered that this method works really well to reduce temperature spikes—a major issue with other tank and on-demand water heaters—and fast provide hot water that is constant.
Although we never had a temperature problem with our Suburban Water Heater, we always had to wait 15 to 20 minutes for it to reach its full heating capacity.
In order to avoid wasting energy, we would then feel the need to try to utilize all the water, so we would attempt to take showers and wash the dishes at the same time.
Now that we just use what we need, when we need it, we have a lot more flexibility and don't have to wait until the sink is overflowing with filthy dishes before we can wash them.
Eco And Comfort Modes For AquaGo Comfort Plus
We have a control panel for the Comfort Plus model that allows us to switch the AquaGo between settings.
When in "Eco" mode, the appliance runs like a typical tankless water heater, with the heating element turning on as soon as the water begins to flow.
It takes a little while for this to heat up—possibly 15 to 20 seconds—before you can turn on your faucet and start using hot water.
It consumes somewhat more water while saving gas.
The little tank in the appliance warms water to over 102F before you request it, so it's already hot when you turn on the faucet when you choose the second option, "Comfort." This tank heats up in a very little amount of time.
This consumes a tiny bit more propane but uses less water, which is wonderful if you're boondocking.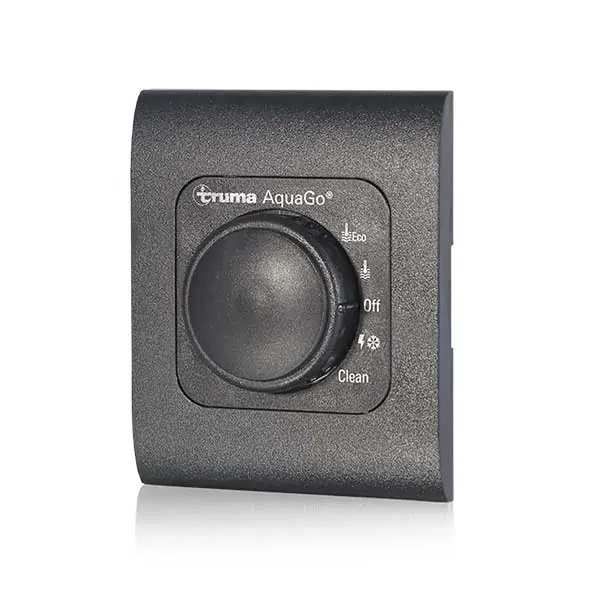 Other choices include "Clean" and "Winterization." For use with the electric antifreeze kit, choose the "Winterization" option.
An industry-first automated decalcification procedure is started when you click "Clean." Below, we go through these choices in greater depth.
Pros and Considerations for AquaGo
Pros
We reduce RV weight using the Truma AquaGo Water Heater.
We lugged an additional 96 pounds of water around with us everywhere in our 12-gallon hot water heater.
In addition to being the most powerful heater on the market with 60,000 BTU, this water heater is also incredibly energy efficient.
Because of the on-demand feature, we have an endless supply of hot water.
Instantaneous hot water is possible in Comfort mode because to the creative hybrid tank design.
This eliminates the need to wait for the heating system to turn on.
The scorching problem that existed with prior on-demand water heater types was resolved with the Truma RV water heater.
Even at low flow rates, it delivers a steady stream of hot water.
The Truma water heater has simple settings, automated cleaning cycles, and an easy drain lever for winterization, making maintenance simple.
The cutting-edge decalcification procedure cleans and prolongs heater life.
If the RV is built for winter circumstances and the water pipes aren't frozen, the Truma Comfort Plus model can work in temperatures as low as -4F.
Additionally, built-in safety measures keep an eye on the flame, water temperature, flue fan speed, low voltage, overvoltage, and overcurrent.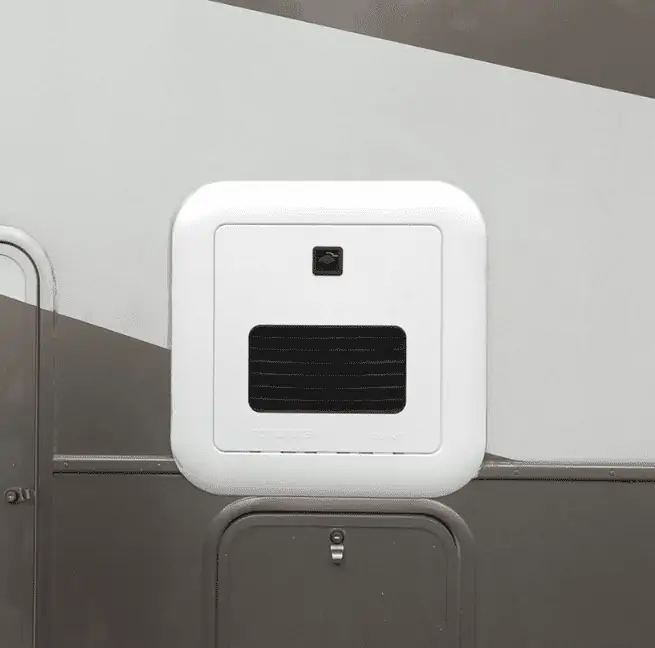 Considerations
There are a few disadvantages or things to keep in mind with the Truma AquaGo.
Continue reading to understand how we overcame these obstacles.
These were some of our worries before making the transfer, and we discuss each one individually in the sections following.
First and foremost, there is just a gas heating option available for the Truma AquaGo.
There is no way to entirely convert the heater to DC or AC power, even though it needs 12V DC to power its circuits.
Second, the Truma AquaGo Basic model is incompatible with situations that include frost (below 45 degrees Fahrenheit).
Third, there is no DIY installation option for this water heater, and dealers sometimes charge a lot for installation.
If you can, we advise visiting a Truma Service Center!
The whole price is likewise fairly high.
Finally, while it is heating and churning the tank, there is a very tiny noise.
Taking Into Account the Factors
Even if the list of benefits is considerably larger, let's focus on these "considerations" and thoroughly explain what they represent for your experience with an RV water heater:
#1. No Electric Heat Option – It Makes No Difference!
Although the unit doesn't offer an electric heating option as our previous Suburban tank water heater had, utilizing propane instead of electricity has proved to be far more efficient.
If you want hot water, all you have to do is make sure you always have propane (typically not hard to do).
#2. Frost Temperatures: Be Alert
The inbuilt thermostat that the Comfort and Comfort Plus versions feature, which turns on the burner and circulation pump automatically anytime the interior temperature drops below 41F, is absent from the Basic Model.
We advise upgrading to the Comfort or Comfort Plus versions if you anticipate encountering frost conditions while RVing to lessen the likelihood that the vehicle may sustain damage in these chilly circumstances.
Page 13 of their Working Instructions provide extra information regarding operating in frosty conditions.
#3. Not Available For DIY Installation
The DIY installation of these devices is not permitted by Truma.
This will guarantee that the appliance is set up correctly.
Our followers have informed us that dealers' quotations for the Truma AquaGo installation might be expensive.
At the time of writing this blog post, the Truma AquaGo Basic retails for $1099, while the Comfort variant costs $1299.
The access door color/size that is wanted or required, as well as a gas connection kit, may incur additional installation costs from the installer.
Everything costs more in Canada.
The dealer and the length of time it takes to install the product determine the labor cost.
It usually takes 3 hours to install, and according to Truma, the typical hourly rate for dealers is roughly $120.00.
(Potentially changing)
#4. More Expensive, But It Could Be Worthwhile For You.
The Truma costs a little bit more than a typical tank water heater.
It isn't the most affordable on-demand RV water heater option on the market, costing between $1100 and $1300 with installation.
Other on-demand heaters may be obtained for as little as $800 or less, and standard RV tank water heaters are less than half the price.
However, always do your homework before making a purchase and take factors like safety and quality of life into account.
Long-term savings on propane are another benefit.
#5. Truma Water Heater 'Comfort' Mode Noise
When it is in use, the AquaGo emits some noise.
When the water is not presently being utilized and it is set to the "Comfort" option, the sound is the loudest.
When it is silent, you may hear a little electrical whirring sound that it generates.
This is only a problem if you have trouble falling asleep, as Tom does.
We always make care to put the device back into "Eco" mode before retiring for the evening.
Regular Upkeep And Cleaning
The water input filter may need to be cleaned on occasion.
Fortunately, the AquaGo makes this operation quick and straightforward by shutting off the appliance and the water supply (or the water pump if it is not connected), emptying the water using the drain lever, and removing the water input filter for inspection and rinsing.
Why Should Your Truma RV Water Heater Be Cleaned?
Like many water heaters, this one may accumulate scale, which are mineral deposits, over time.
To get this done if you have the AquaGo Basic, get in touch with a Truma approved service partner.
Using the AquaGo Comfort model's "Clean" Mode and the Truma water heater decalcification tabs, you may accomplish this quickly and simply on your own.
Every year or after using around 1585 gallons of hot water, you should do the cleaning procedure.
The table on page 17 of the Operating Instructions, together with the detailed cleaning instructions, may be used to determine the frequency of decalcification.
For more information on our AquaGo decalcification experience, see the video below!
How to Decalcify and Clean the On-Demand RV Water Heater from Truma
Truma AquaGo Winterization
When we placed our RV in storage for the Go North excursion, we winterized our Truma AquaGo.
The Truma AquaGo may be easily winterized.
To empty the little tank, we just had to pull the lever.
The tank was dumped into a bucket, and the filter was kept within the housing.
It took roughly 5 minutes to complete the procedure.
The procedure may be seen around 12:40 in Go North Episode 3:
Packing the Lance 1172 Truck Camper and Leaving on the Road: RV Downsizing | Go North Ep 3
We followed the directions on Page 14 of the Operating Instructions to complete our winterization.
*Be careful to fully adhere to the instructions, as any damage brought on by freezing or using an inappropriate winterizing fluid will not be covered by the guarantee.*
Bye-Bye To Anxiousness About Hot Water And Short, Depressing RV Showers!
The Truma water heater completely changed how comfortable our full-time RV lifestyle might be.
When we are connected to water, there is no more waiting and we may use as much hot water as we desire.
This RV water heater is so effective that we don't even feel guilty about using extra hot water.
We like using the AquaGo a lot overall, we must say! When you turn it on, hot water starts to flow out, just like a typical household water heater does, with the distinction that never scalding water does.
With this device, we use a lot less gas and like not having to wait for the water to boil up.
Our RV had barely an inch of propane in the tank when we recently returned to it after having it stored.
We made the decision to solely heat water to see how long it would last.
Before it ran out, it took two people using it constantly for more than a month! This unit has exceeded our expectations, and we consider it to be one of our greatest RV modifications to date.
Operating And Installation Instructions For Truma Aquago
Consult the user manual for complete instructions on use and maintenance:
Truma AquaGo – Operating and installation instructions (from www.truma.com)
Truma AquaGo Coupon for Rebates
Remember to bring your rebate coupon! Receive a $50 rebate when you buy a Truma AquaGo.
How to get paid:
On Truma's website, you may register your warranty HERE.
Use this code in the Promo Code section: DLE60C-28110003.
Get $50 back on your debit card from Truma! We will also get one:) ​
Truma RV Tankless Water Heater Videos Sugegstions From Youtube