The selection of the appropriate water hose size for your RV appears like a straightforward process.
But if you don't choose the appropriate size, you can find yourself tripping over your enormous water hose or trapped with your campsite's hose bib being just out of reach.
Depending on where you're camping, you'll need a different length water hose for your RV.
Most RVers utilize two 25-foot drinking water hoses or a 50-foot pipe with an inner diameter of 5/8″.
There are several hose types and attachments available, such as fast disconnects and non-kink hoses, that will assist them work with your system.
Is the size of your drinking hose in your RV really that important? You don't want to be forced to use a hose that is too short and to modify your camper in order to have flowing water.
You'll quickly see why, while looking for your new RV freshwater hose, you should consider both the length and the diameter.
How to Choose the Correct RV Drinking Water Hose Length
It is quite difficult to survive without water for any period of time, but you can live without sewer connections and even without power if you have a generator.
Sure, you can survive for a while using your fresh water tank, but life will be much simpler if you can avoid having to leave camp to get to the closest filling station.
Your water hose will help with that.
It depends, is the deceptively easy response to the question of what size water hose to buy for RV camping.
The spigot is often placed within 25 feet, if not 10 feet, of the site in many private campsites.
In these circumstances, a 25-foot hose will suffice, although not all campgrounds will allow for this.
For instance, State and National Parks are infamous for having spigots only sporadically around the campsites, so you're often required to fill up your freshwater tank and run off of that.
A 50 foot water line would be perfect in certain circumstances, and it could even be helpful to have a 10 or 25 foot extension just in case.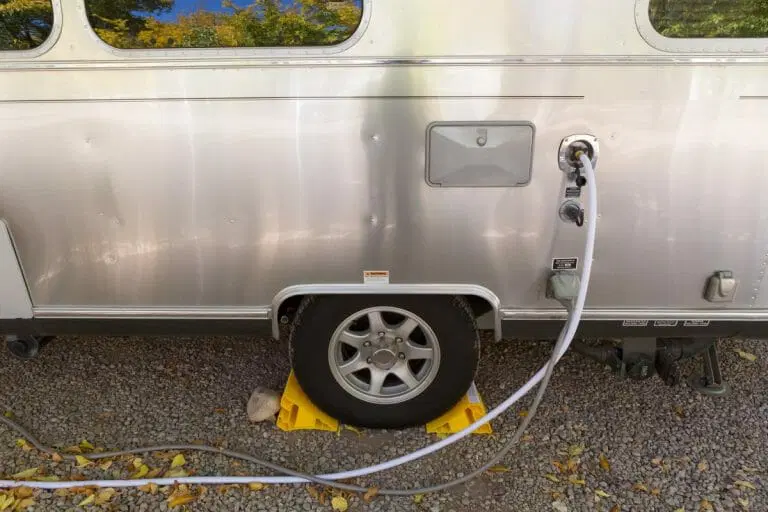 I use a 50-foot hose with my camper, and when I'm at a location with a close-by spigot, I just uncoil the ends, connect them, and tuck the extra coil beneath the camper.
You can always carry a 50 footer and a 25 footer and then use whichever one you need if you'd rather not to deal with the extra hose.
Another thing to consider is whether you want a single long hose or many smaller ones that may be joined together to make a single long hose.
Consider my arrangement as an example: I could substitute two 25 foot pipes for the 50 foot hose I now use for everything.
When the spigot is near by, I simply use one hose; when it is further away, I use two hoses connected in series.
Leak possibility is one benefit of having a single long hose: the less connections you have to make, the less likely it is that you will spring a leak.
Sanitation is another benefit; the less exposed ends you have, the less likely it is that your drinking water will be polluted.
Alternatively, a single hose's disadvantage in terms of sanitation is that lengthy hoses are more difficult to clean and dry out.
You can get more water out of a 25 foot hose than a 50 foot hose, and a wet hose is the ideal environment for the growth of mold and mildew.
Another issue to think about is storage.
Although storing hoses that come in smaller pieces may be simpler, numerous shorter hoses theoretically take up the same amount of room as a single large hose.
For information on how to store it, see our post How to Care for your RV Water Hose.
The diameter of the hose is the last factor you should consider.
The majority of the water pipes in your RV will have a diameter of 1/2 inch, although hoses are available in a range of diameters, including 7/16ths, 1/2 inch, and 5/8 inch.
For your RVs, the most typical hose diameter of 5/8″ should be enough.
RV Maintenance Course for Do-It-Yourselfers
The most expensive costs associated with owning an RV are repairs and upkeep.
I advise learning how to maintain and repair your RV on your own for this reason.
The best approach to learn how to do the most frequent repairs and maintenance on your RV is to take the Fix It Yourself RV Maintenance Course.
You may trust that the content in the course was written and narrated by a Certified RV Technician.
Additionally, it may be downloaded so you can access it from any location, even while boondocking in a remote area without connectivity.
Different Water Hoses
Right, a hose is a hose.
However, mixing up your hoses when camping might really be harmful to your health.
Make sure you have a hose or hoses specifically designated for your drinking (potable) water needs and a different hose for your non-potable water needs.
Non-potable water is not safe to drink by definition and should not be placed in the same hose as your fresh water.
However, non-potable water may be used for things like cleaning your RV and flushing out your sewage line.
Numerous factors may make water unfit for human consumption.
It could have more trace minerals than is deemed healthy or it might contain parasites and bacteria that are contagious germs.
Or maybe it's just because the fueling station is right close to the landfill, and the campgrounds don't want to take a chance on cross-contamination.
A great way to reduce the possibility that your drinking water will become contaminated is to designate one hose for your potable water and another for your non-potable water.
To ensure that there is no confusion at all, I use a white hose for my potable water and an orange hose for my non-potable water.
You may discover hoses with unique qualities like non-kink hoses in addition to potable vs. Non-potable hoses.
Our water hose developed a kink early in our RV trip, and while it still functions well, it periodically twists up.
You won't have to stress about battling your hose every time you try to set up or break camp if you get a hose that doesn't kink.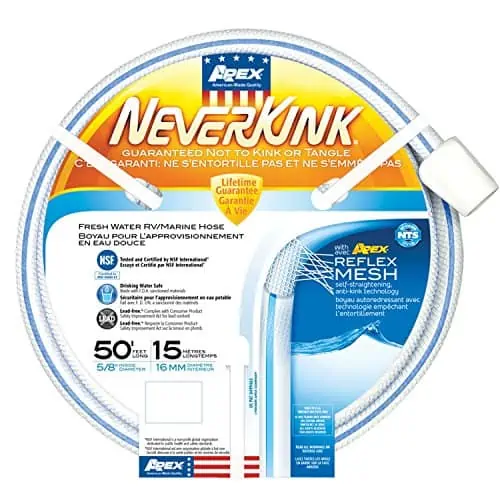 Teknor Apex 8602-50 NeverKink RV/Marine Hose – 5/8″ x 50′
NTS Reflex Mesh proprietary technology used in construction prevents kinks, twists, and tangles.
Lead-free; meets lead content requirements of the Consumer Product Safety Improvement Act.
For simple, leak-free connection at the faucet, use the Grip-Tite coupler.
View Current Offers
The ends of your hose are particularly susceptible to crimping because of the often sharp angles they are forced to adopt; kinks don't simply occur during setup.
A great technique to avoid this crimping and increase both your water flow and the durability of your hose is by using a spring coil hose protector.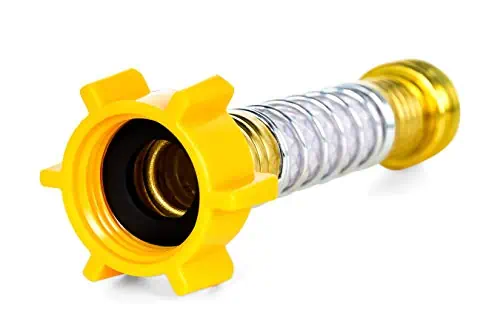 Camco Flexible Hose Protector-Eliminates Hose Crimping and Straining at Faucets and Water…
Removes the need for hose crimping at the faucet
Simple Gripper for quick installation
Installation and usage are simple
View Current Offers
You don't typically need to plug in your water hose, but if you're visiting a very cold region, you absolutely should.
If you want to stop using heated water hoses during the summer months, just remove the power source.
They are excellent for preventing water from freezing up in the winter.
Sale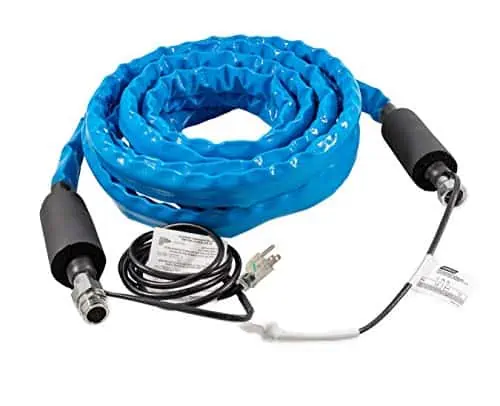 Camco Heated Drinking Water Hose for RV, 25 Feet (22911)
With an energy-saving thermostat, it is ideal for water line freeze prevention down to -20 degrees Fahrenheit (-28 degrees Celsius).
Made with drinking water safe hose certified by NSF-61
Depending on where the electrical outlet is, the included female-to-male adaptor enables connecting to the water supply at either end of the hose.
View Current Offers
Hose Additives
There are certain "extras" that may make life simpler and safeguard you from potential harm after you've determined what length of hose would work best for you and your trailer or RV setup.
Here are the hose attachments I consider must-haves for making camp and tearing it down.
Ed Wilcox, a qualified RV technician, leads you through all the processes you need to know to properly maintain your vehicle and repair issues as they arise in the self-guided online course Fix It Yourself.
#1. Instant Disconnects
Quick disconnects make it much simpler to connect several hoses to one another and eliminate the hassle out of setting up your hose(s).
These are handy to have around since they are designed to not seize up.
You should seek for a set of fast disconnects that can be easily used with one hand, are constructed of high-quality materials like brass, and can handle high pressure.
Since not all brands of hoses are interchangeable, you'll also want to make sure you have enough for all of your hoses.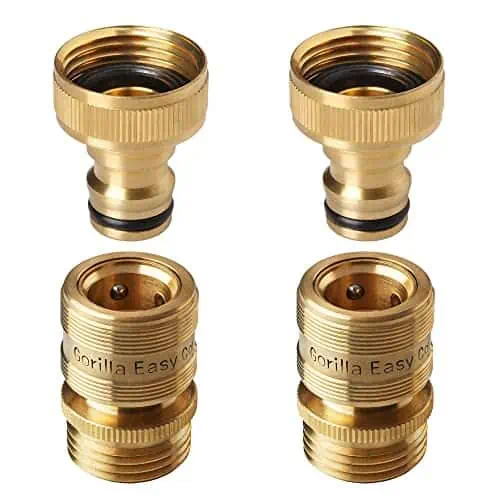 GORILLA EASY CONNECT Garden Hose Quick Connect Fittings. ¾ Inch GHT Solid Brass. (2)
ONLY OTHER GORILLA EASY CONNECT PRODUCTS WORK WITH Products from GORILLA Easy Connect should be bought together.
DURABLE SOLID BRASS CONSTRUCTION OF STANDARD 3/4 INCH All varieties of garden hoses, faucets, watering cans, and pressure washers are compatible with GHT Fittings.
The Gorilla Easy Connect Fitting provides a constant water flow at 200 psi of pressure and is an excellent addition to your garden accessories.
View Current Offers
#2. Water Pressure Control Devices
Unfortunately, a campground's water pressure cannot be relied upon to be excellent or reliable.
Some water sources drip water out so slowly that you doubt you'll be able to take a shower on this trip, while others push the water through with zeal strong enough to drive a dam.
While dealing with an excessively low water pressure is unpleasant, an excessively high water pressure might potentially harm the components of your RV.
You may avoid the problems associated with either too high or too low water pressure by setting your pressure to 40–50 psi using a water pressure regulator.
You may tune your water pressure to the ideal level for your rig by purchasing an adjustable water pressure regulator.
Just keep in mind that these regulators simply reduce the water pressure, so if a campsite has low pressure, you could also need to use your water pump.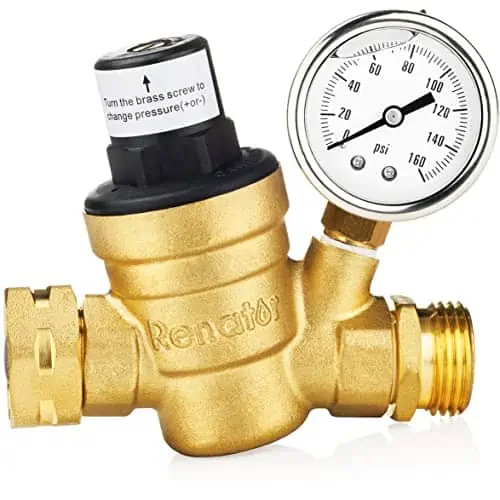 Renator RV Water Pressure Regulator for RV Camper. Brass Lead-free Adjustable RV Water Pressure…
EASY TO USE AND EASY TO INSTALL Enjoy vigorous showers and adequate water flow as you easily check and change your water pressure.
US-BASED PHONE AND EMAIL SUPPORT AND A 1-YEAR WARRANTY. Renator is one of only businesses established in the United States, and we provide secondary grade…
LEAD-FREE. The least quantity of lead of any regulator on the market is found in this one thanks to modifications. Every regulator batch is examined.
View Current Offers
#3. Filters for Water
Although potable water is safe to drink, neither you nor your RV will get the most from it.
Fortunately, you can purchase a water filter to ease your concerns and guarantee that you have access to the purest water possible.
In addition to extra minerals and detritus, certain bacteria are also captured by water filters.
Maintaining the safety of your water will be greatly aided by replacing your water filter as often as is advised.
Since more junk will be filtered out, using a water filter when you fill your fresh water tank will help increase the lifespan of your water pump.
In this post, you can read more about How to Care for your RV Water Pump.
Sale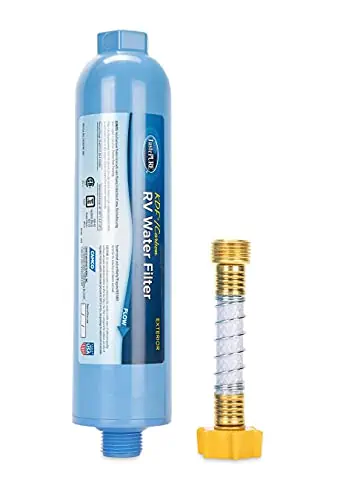 Camco TastePURE RV Water Filter with Flexible Hose Protector (40043)
20-Micron Hose Filter: Our GAC (Granular Activated Carbon) camper water filter lowers chlorine, chlorine taste, and larger sediments than…
Secure Installation: The flexible hose protector on this RV water filtration system lessens pressure on connections while maximizing…
Standard Fit: An RV water filter may be connected to any common garden or water hose to provide cleaner and healthier drinking water.
View Current Offers
#4. Storage Options for Hoses
Although there are many various methods to store RV water hoses, the main objective is to maintain the cleanliness of your drinking water hose and reduce setup-related hassles.
The two most common options are to store your hose on a reel in the compartment or in a transparent plastic container since they both make setup simple and preserve maximum cleanliness.
You may either attempt to create shelves or anything else to hang the hose on in the chamber, or you can purchase hose bags designed specifically for this purpose.
To understand more, see our post on how to store your RV water hose.
There are many different alternatives and suggestions for the best and safest method to store your water hose, however.
Final Thoughts
If you often camp in isolated areas, you'll probably use the 50-foot hose more frequently than someone who only stays in big, opulent parks.
Overall, deciding on the appropriate size of an RV water hose mostly depends on personal choice and what will function best with your arrangement.
What Length Water Hose For RV Videos Suggestions From Youtube