A tire blowout in an RV is a risky situation.
RVs have a lot of momentum, and losing control not only risks more damage to your RV, but it also puts your life and the lives of everybody travelling with you in danger.
It's always preferable to prepare ahead of time than to cope with the consequences of a disaster.
Tire care, whether it's checking your tire's air pressure or keeping track of their wear, is unquestionably 'important maintenance.'
A tire pressure monitoring system (TPMS) can make tire maintenance considerably simpler if you travel a lot in your RV.
The sensors on these RV tire pressure monitors are installed directly on your travel trailer tires.
Sensors provide data to a central monitoring screen, which is normally positioned on your dashboard.
The pressure in your tires is continually monitored by an RV TPMS.
You'll have a centralized tire pressure monitor, which removes the need to go around your RV and check each tire separately.
If the pressure in any of your trailer tires goes below a specified level, the finest trailer tire pressure monitoring system will immediately notify you.
Some even keep track of your tires' temperature, leaking, and other vital data.
The most important reason to obtain a TPMS for your RV is to ensure its safety.
A sudden tire blowout might put your life in jeopardy.
A TPMS, on the other hand, is meant to warn you before this occurs.
These systems can assist you enhance your RV's fuel efficiency by extending the life of your tires.
But how can you choose the right RV tire pressure monitoring system for your situation?
Fortunately, I've done my homework and prepared a list of eight top-tier RV tire pressure monitoring systems for your travel trailer or motorhome.
To assist you in narrowing down your selections, I've analyzed the characteristics and features of each system.
We've also recommended the optimum use for each of the TPMS on our list.
I've also included a detailed Buying Guide that will teach you all you need to know about these monitoring systems so you can make the best decision possible.
Finally, the FAQ section addresses any remaining TPMS-related queries you may have.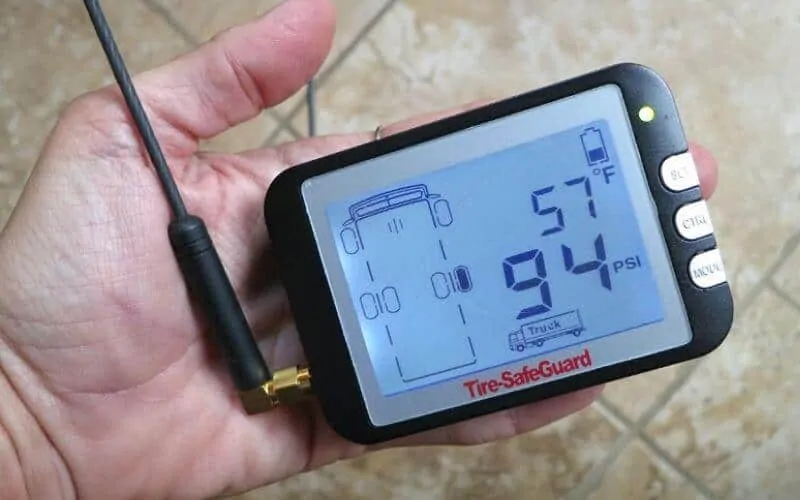 Reviews of the Best RV Tire Pressure Monitoring Systems in 2023
Tire pressure monitoring systems for RVs come in a wide range of configurations.
So, for each of the eight RV TPMS for your travel trailer that I've chosen to include in this study, I've added a 'best usage' section.
The Tymate 6 TPMS is ideal for those who value overall performance and forward-thinking design.
This RV tire pressure monitor incorporates an 850 milliamp-hour battery for energy storage as well as solar panels on the top for solar recharging.
With six sensors, this RV TPMS is excellent for RVs or trailers with six wheels.
For bigger RVs, it may also be utilized in conjunction with a backup TPMS.
For example, if your RV is like mine, you could utilize this configuration for the six tires in the rear and then construct a separate system for the front two tires.
Instead of hooking into your vehicle's cigarette lighter, this rv tire monitoring system uses an internal battery as its power source.
This means you'll still be able to use your cigarette lighter for other devices like a phone charger or a GPS.
It has a rather long battery life, while relying completely on solar radiation for recharge.
The battery is expected to last up to two years and can be readily changed rather than needing to purchase a new TPMS monitor.
Slow and quick leaks, high and low pressure, high temperature, and other conditions that might harm your RV's tires are all detected by this system.
Things We Enjoy
Solar Charging: Solar panels that can be recharged and an 850 mAh battery are included.
Doesn't Use Cigarette Lighter: Instead than depending on your RV's cigarette lighter for electricity, it uses an internal battery.
Long Battery Life: This TPMS' battery is expected to last up to two years.
Multiple Alarms: Slow leaks, quick leaks, low pressure, and other issues will be detected by this TPMS.
Things We Don't Appreciate
Relies only on solar energy for recharging: Even though it has a lengthy battery life, this means you'll have to replace the battery entirely when it runs out.
Check out the EEZTire-TPMS if you're worried about installing an RV TPMS that will drain your battery while you're not using it.
When no activity is detected for 15 minutes, the built-in power-saving mode of this RV tire monitoring system kicks in.
Even if the monitor isn't presently showing data, the system will continue to transmit signals to the monitor every six seconds as long as the sensors are under pressure.
If it detects pressure difficulties, this trailer tire pressure monitoring system will deliver both auditory and visual alarms.
This increases your chances of noticing an alarm and safely pulling over before further harm is done.
These sensors can not only monitor tire pressures up to 210 psi, but they can also communicate information on the temperature within your tires.
Although this system is intended for RVs or trailers with six tires, extra sensors may be added to detect the pressure status up to 26 times.
The fact that this unit's battery can be recharged appeals to me.
For starters, this means you won't have to depend on the cigarette lighter in your RV to keep the system running.
When the battery is drained, you won't have to completely replace it.
This system's battery is claimed to last up to 60 hours on a single charge.
Things We Enjoy
Power Saving Mode: If no activity is detected for 15 minutes, this device will put the display screen to sleep.
Audio and Visual Alerts: Increases your chances of detecting a pressure problem before it's too late.
Continuous Monitoring: Every six seconds, sensors provide tire pressure data to the monitor.
Rechargeable Battery: This system has a rechargeable lithium battery that can last up to 60 hours on a single charge.
Things We Don't Appreciate
Might Require Signal Extender: For longer RVs or trailers, a signal extension may be necessary to ensure that sensor signals reach the monitor.
The Tire-Safeguard 6-Tire RV RV tire pressure monitor is a good option for those who don't want to squint to see the information on their TPMS monitor.
This system's LED display is huge and bright enough to read from a distance of several feet.
I particularly enjoy that the RV TPMS's thresholds may be adjusted.
If the default settings aren't to your liking, you may customize the system to notify you when tire pressure falls below (or increases beyond) your particular threshold.
Low and high pressure, gradual leaks, and high temperatures within your tires will all trigger alarms from this system.
This system's flow-through sensor has a removable battery, so you won't have to replace the whole device if the battery dies.
The battery in the monitor is rechargeable, despite the fact that the flow-through sensor's battery isn't.
Tire pressures up to 199 psi may be monitored with this device.
The sensors on the tires have outstanding range, which is the final thing I want to note about this TPMS.
This makes it an excellent TPMS choice for RV or travel trailer owners who don't want to use an extension or booster to amplify the signal from the sensors to the monitor.
Things We Enjoy
Large LED Display: Tire pressure information is shown on a bright screen that is simple to read.
Adjustable Thresholds: With this technology, you may customize the high and low tire pressure thresholds to your liking.
Multiple Alerts: High and low pressures, sluggish leaks, and other issues are among them.
Good Signal Range: If you use this TPMS, you shouldn't need to use a signal extension.
Things We Don't Appreciate
Requires Power from Cigarette Lighter: To operate, this system must be connected into a cigarette lighter.
The TireMinder A1A TPMS offers a smartphone-like small display that is simple to use and installs straight to the dashboard of your RV for younger RV owners who are incredibly familiar with their smartphones.
It comes with an adjustable mounting bracket, allowing you to place it anywhere you choose.
Both the monitor and the transmitters have changeable batteries with a two- to four-week battery life.
While it doesn't have the longest battery life of the TPMS devices I've reviewed, the ability to quickly change the batteries means you won't have to purchase new transmitters.
The monitor includes a micro USB vehicle charger, allowing you to keep charging small gadgets while the TPMS is in operation.
This system is designed for RVs with six tires, but extra sensors may be purchased to monitor the pressure in up to 22 tires. Pressures of up to 232 psi may be monitored using the system.
I really enjoy how small this TPMS is, weighing less than two pounds. For each tire, it will transmit both tire pressure and temperature data.
It also gives audio and visual alarms for low and high pressure, excessive temperature, and other conditions that might cause your RV tires to be damaged more severely.
Things We Enjoy
Compact Display: This system's display monitor resembles a typical smartphone.
Replaceable Batteries: This system's transmitters all have replaceable batteries.
Multiple Alerts: There are both auditory and visual alarms with this system.
Lightweight: The monitor is just two pounds in weight, and the transmitters are only half an ounce.
Things We Don't Appreciate
Price: This system is one of the most expensive on the market.
Short Battery Life: While the monitor and transmitters of this system have removable batteries, their normal battery life is between two and four weeks.
Check out the B-QTech Wireless System if you want an RV TPMS that successfully recharges utilizing the sun's electricity.
There are two different ways to charge it. If you can locate regular exposure to the sun, you'll be able to replenish the internal lithium battery. However, a USB port may be used to replenish the battery.
This is a wireless system, which means data is sent wirelessly from the sensors on your tires to the monitor.
This technology has a strong signal and can send a reliable signal over a long distance. This technology can send a strong, consistent signal up to a distance of 6 meters.
This system's increased signal range also helps to guarantee that the data presented on the monitor is correct.
This system will also generate auditory alarms if tire pressure, temperature, or battery power surpasses its predefined high and low limits, in addition to the LED visual display on the monitor.
Finally, one of my favorite aspects of this TPMS is that it helps you maintain tire pressure balance by synchronizing the sensors on all of your tires.
Because you won't be operating one (or more) tires at inefficiently low pressure, this may extend the life of your tires and increase your fuel efficiency.
Things We Enjoy
Two methods of charging are available: solar power or USB connection.
Wireless Connection: No need to connect additional electrical wires.
Good Signal Range: The requirement for a range extender is reduced.
Real-Time Monitoring: Tire pressure, temperature, and battery power are all included.
Things We Don't Appreciate
Recharging Methods: For solar recharging, this method either needs a connection to a USB port or depends on continuous UV exposure.
Made for 4 to 6 Tires: Larger RVs are not extendable.
The Tymate TPMS is a modest device best suited for vehicles towing small trailers or small RVs with just four tires.
It only comes with four tire sensors, but it's a more cost-effective solution for towing a small trailer or driving a four-wheeled RV.
This system's tiny monitor is powered by your cigarette lighter and has a vivid LCD digital screen.
The tire pressure, temperature, and battery voltage are all shown on this panel. It may be adjusted to BAR or PSI pressure units and Celsius or Fahrenheit temperature units.
Multiple alarms are included in this rv tire monitoring system to assist you keep on top of different tire-related concerns.
Fast and slow leak alarms, high pressure and high-temperature alerts, sensor failure signals, and low power alerts are all examples of this.
This is a comprehensive list of warning modes that will keep you safer on the road in the long run.
I particularly like the fact that this TPMS is reasonably priced and has a lengthy sensor battery life.
Each of the four sensors' batteries is rated to last up to two years. When they run out, they may be readily changed with a regular CR1632 battery.
Things We Enjoy
LCD Digital Display: Displays tire pressure, temperature, and more in a bright, easy-to-read format.
Compact Design: Your dashboard will not be obstructed by the small screen.
Multiple Alert Modes: Alerts for quick and slow leaks, excessive temperatures, and more are available.
Good Sensor Battery Life: Batteries have a two-year lifespan and are simple to replace when they run out.
Things We Don't Appreciate
For power, you'll need a cigarette lighter: This TPMS will need to be powered by your cigarette lighter.
Only Includes Four Sensors: This TPMS can only monitor up to four tires at a time.
The Truck System Technologies TST507RV6C TPMS System is a great option for 5th wheelers.
It has a total of six sensors, allowing you to monitor both the tires on your truck and the tires on your fifth wheel.
Additional sensors may be bought to allow a single monitor to monitor up to 38 tires.
I appreciate how the sensors in this system have coverings on them that make it much more difficult to remove them.
For proper removal, each sensor needs the use of a cap wrench, which is a helpful addition for anybody who goes to locations where the risk of theft is greater.
This system's display may be readily mounted to your dashboard using a variety of mounting options.
A suction cup and a non-slip rubber cradle are included. You'll be able to tailor your monitor arrangement to your truck's specific model as well as your own preferences.
It's simple to view crucial information like tire pressure and temperature thanks to the full-color display.
This method updates the values every 12 seconds, ensuring that you're seeing real-time data on the display.
I particularly like that the display comes with a tiny USB cord and converter, allowing you to charge small items while driving.
Things We Enjoy
Anti-Theft Protection: Theft is less likely with the use of sensor covers.
Full-Color Monitor: The color display makes crucial information simpler to read.
Multiple Mounting Options: This enables you to place the monitor in the most convenient spot for you.
Signal Strength Booster: Assists in the transmission of precise data and the reduction of electronic interference.
Things We Don't Appreciate
Monitor Battery Life: On a single charge, the monitor battery lasts just five to seven days.
Price: This isn't the most cost-effective tire pressure monitoring system on the market.
#8. Best Budget: WonVon Wireless Solar Auto TPMS For RV
If obtaining an excellent RV TPMS at a reasonable price is your top goal, you'll appreciate the WonVon Wireless tire pressure monitor system for RV's affordability.
It is definitely one of the most cost-effective versions on the market, yet it still offers a wide range of features and practical functioning.
This technology offers wireless signal transmission in addition to being a cost-effective choice. This means you won't have to connect the tire sensors to the monitor with a lot of extra electrical connections.
Signals from the sensors will be routed to the monitor, which will show tire pressure and temperature data.
This panel is a bright LCD that makes it simple to read pressures and temps even while driving.
The display also makes it simple to see which readings correspond to particular tires. This makes it easy to spot an issue before it becomes more serious.
If you have abnormal tire pressure or temperature, the device will notify you vocally. This increases your driving safety and helps you to fix concerns before they become serious.
This item is also attractive and simple to install on your dashboard. The sensors themselves attach to your tire valves and have anti-theft features that make them difficult to remove without the right equipment.
Things We Enjoy
Price: This is certainly one of the most cost-effective tire pressure monitoring systems on the market.
Wireless Signal Transmission: This implies you won't have to run any additional wire to get this system to function.
LCD Screen: Real-time tire pressure and temperature information are shown in a bright, easy-to-read style.
Easy to Install: This gadget weighs about 7 ounces and installs to your dashboard with ease.
Things We Don't Appreciate
Only comes with four tire sensors: If you drive a bigger RV, you'll need to look into expansion possibilities.
Relies on Solar Power: This may have an influence on the system's operation in the event of a power outage.
Consider These Factors While Selecting The Finest Tire Pressure Monitor System For Your RV.
Now that I've gone through the advantages and disadvantages of eight different RV tire pressure monitoring systems, it's time to look at how to choose the right one for you.
We'll go over the most critical variables to consider when purchasing an RV TPMS in our Buying Guide.
Types of TPMS
Direct and indirect TPMS are the two most common forms. Let's start by going through some of the advantages and disadvantages of each.
#1. Direct TPMS
The sensors within your tires are used by a direct TPMS. Pressure, temperature, and other factors are measured using these sensors. This implies that a direct TPMS can do more than just monitor your wheels' rotations.
The sensors within your tires will provide data to a central monitor through a connected or wireless link.
The information gathered and relayed by the tire sensors will be shown on this monitor, which you, the driver, will be able to view.
In a direct TPMS, the dashboard monitor is also in charge of evaluating and interpreting the data received from the sensors.
In other words, the monitor will record any irregularities that it has been designed to detect. A warning light or alarm will be triggered when certain irregularities are detected.
A direct TPMS system needs a separate sensor for each tire. Greater precision and a longer lifetime are two of its main benefits. The sole disadvantage of a direct TPMS is that it is usually more expensive than an indirect TPMS.
#2. Indirect TPMS
The pressure sensors within your tires are not used by an indirect TPMS. Instead, it examines the wheel rotational rates as well as other information from outside your tire.
An indirect TPMS checks tire pressure by comparing rotation speed to tire size instead than using real pressure sensors.
A vehicle's computer can determine if your tire is rotating faster or slower than the appropriate rotation rate by analyzing these signals.
The computer may then determine whether the tire is under-inflated or over-inflated based on this information.
The key advantage of an indirect TPMS is the cost savings. These systems are usually less expensive than their direct equivalents.
Getting an indirect TPMS, on the other hand, generally means sacrificing accuracy and necessitating more frequent maintenance.
Internal Battery Capacity
When it comes to choosing a TPMS, battery life is crucial. It's also one of the simplest measures to use when comparing various models.
However, what you should look for in a TPMS battery life depends on how often you expect to use it.
If you're a full-time RVer who plans on traveling around often, you'll want the greatest battery life possible.
You'll have to replace or recharge fewer batteries on a regular basis as a result of this.
If you only take a few excursions in your RV each year, you may be able to get away with a TPMS with a battery life of a week to ten days.
This is because the battery will only be used for the duration of your journey, and you won't mind changing it before your next vacation.
Installation Procedural Ease
Fortunately, all of the TPMS devices I've included in this post are rather simple to set up.
The majority of them are meant to attach to your dashboard or connect straight into your cigarette lighter. The latter, of course, is the most straightforward to set up.
Any TPMS meant to affix to your dashboard, however, should have the necessary hardware.
Check out the "extra components and accessories" that come with a TPMS to make sure you're comfortable placing it where you want it.
The Display's Quality
Because the data it gathers is only relevant if you can read it, an RV TPMS is only as good as its display.
One of the most significant features of a TPMS display is that it clearly displays which pressure (or temperature) value corresponds to which tire.
To put it another way, if you have a number of pressure measurements shown in a list format, it will be much more difficult for you to figure out which pressure corresponds to which tire.
A good TPMS display should resemble the shape of your car so that you can readily comprehend the data it collects.
If, on the other hand, all you want is a TPMS that will alert you to any issues that develop, you may not need a screen that is very wide or bright.
In this situation, you'll depend more heavily on auditory alerts, with the goal of pulling over to investigate the problem more thoroughly every time one rings.
Durability
When we speak about a TPMS's endurance, we're largely talking about the sensors' design and quality.
While the display will undoubtedly be jostled while you drive, the sensors themselves must be the most resilient.
The finest TPMS sensors have a waterproof and ingress protection certification of IPX5 or above. Everything from iPhones to dry bags uses this grading system.
It indicates how effectively a thing is protected from the elements. When it comes to tire sensors, they'll be exposed to the whole range of weather as you put more and more miles on your RV.
Which RV Tire Pressure Monitoring System Is The Best?
I'll make the answer to this question even more straightforward than you would expect. Each of the eight RV tire pressure monitors that I studied above has a distinct function, which I outline below.
If I didn't cover your particular requirement, please leave a comment below and we'll respond as soon as possible!
You can't go wrong with the Tymate 6 RV TPMS if you're seeking for the ideal combination of performance and price.
The inbuilt 850 mAh battery in this RV tire pressure monitor has a lifetime of up to two years and employs wireless technology to relay readings from sensors to the monitor.
The EEZTire-TPMS is a tire pressure monitor system for RVs that does not spend extra battery power when not in use.
This RV TPMS includes a built-in power-saving mode that puts the monitor to sleep after 15 minutes of no activity is detected.
The sensors will continue to convey important information every six seconds even if the display is turned off.
The Tire-Safeguard 6-Tire System is the perfect option for anybody seeking for a TPMS with a large, vivid display.
You'll be able to quickly examine the tire pressure and temperature information shown by this monitor, and you'll be able to modify the high and low thresholds to your liking.
If you want a TPMS that looks virtually identical to your smartphone, the TireMinder A1A may be mounted to your RV's dashboard in the same way you would a smartphone for GPS instructions.
This system has six pressure sensors in total, but it may be extended to detect pressure and other essential data on up to 22 tires.
The B-Qtech Wireless System is a solar-powered system with a dependable internal lithium battery.
If you're on the road and the weather is cloudy for many days, this item may be charged through a USB connection in addition to being able to recharge using the sun's power.
The Tymate TPMS is a good option for owners of compact RVs or travel trailers. It's one of the smallest TPMS devices on our list, and it connects into your cigarette lighter with ease.
It also has a single USB connector that enables you to charge small gadgets via your cigarette lighter while the system is turned on.
Check out the Truck System Technologies TST507RV6C TPMS if you tow your 5th wheel behind your truck when you want to go on vacation.
This system can monitor up to six tires, but it can easily be extended by buying additional sensors that can be wirelessly linked to a single display located on the dashboard of your vehicle.
The WonVon Wireless System is ideal for those who simply wish to spend as little money as possible on a TPMS.
It has more features and functionality than practically any other TPMS on the market at a lower price.
FAQs
There will almost always be a few queries, no matter how well crafted an essay is.
So, although I think I did a fairly decent job with the reviews and Buying Guide above, I'm going to take a few extra minutes of your time to address some of the most common TPMS questions.
What is a tire RV pressure monitoring system and how does it work?
Sensors mounted on each wheel are used in these systems.
Those sensors provide important air pressure information to a central display, which is normally mounted in front of the driver's seat.
Certain versions also track the temperature of the air within your tires, alerting you to low pressure, excessive
pressure, and rapid leaking.
A TPMS sends notifications to its central screen through a basic electrical wire connection.
If the air pressure goes below a certain threshold, the driver will get an alarm.
Some types have the air pressure level pre-programmed, while others enable the user to change it to their liking.
Is it possible to add a range extender to my RV's TPMS?
Range extenders make it easier to connect a TPMS to its sensors from afar.
This is only relevant if you're utilizing a wireless system, however in a long recreational vehicle, a range extender may be useful for gathering data from the back tires.
Because the distance between the tires and the central display unit is very small, most four-wheel cars do not need a range extender.
However, if you have a longer RV or are driving a vehicle with a 5th wheel trailer, you may want to consider utilizing a range extender to improve the signal and make tire pressure data transmission more dependable.
 
How do I test and replace the battery in my tire pressure monitoring system?
The batteries in your TPMS should be analyzed on a regular basis as part of your normal maintenance.
A sensor's usefulness will be harmed by a failing battery, and the most typical early symptom of a low battery is an inconsistent signal from a specific sensor.
If a sensor fails to transmit many times, a warning light will appear on the TPMS monitor in most systems.
As a result, your TPMS should notify you when a sensor's battery needs to be replaced.
Regrettably, this frequently necessitates the replacement of the complete sensor.
The majority of TPMS sensors are built in this manner.
The reason for this is because the sensor (and its components) must be shielded from the elements in order to avoid shorting out while driving on wet roads or hitting a water-filled pothole.
Sensors employ potting material to surround all of the necessary components, therefore if a sensor's battery dies, the simplest solution is to replace the whole sensor.
Will these systems operate with tires that have been filled with nitrogen?
Yes is the quickest response to this question.
Whether your tires are filled with air or nitrogen, the sensors on these systems are intended to produce reliable readings.
So, regardless of whether your tires are filled with air or nitrogen, the sensors (and the system as a whole) will perform the same.
However, it's worth noting that these sensors are designed to endure the effects of nitrogen, which are plainly different from those of air.
The sensors are designed to withstand the impacts of nitrogen without corroding or otherwise being harmed.
What is the average battery life of a sensor?
The manufacturer of the RV TPMS you're enquiring about will determine the answer to this query.
Lithium-ion batteries, which have a lifetime of five to ten years, are used in the systems with the longest battery life.
However, the majority of the RV TPMS devices I mentioned included changeable or rechargeable batteries.
As a result, you won't have to worry about replacing an internal lithium battery, which is more costly.
That being said, it's a good idea to know what kind of battery your system needs and to have at least one spare on available just in case.
Conclusion
I hope the notion of getting a new RV tire pressure monitoring system is much less daunting than it did when you first began reading this article.
A lot of the newer systems have a lot of bells and whistles.
At the end of the day, you need an RV TPMS that can detect low pressure and notify you to it so that you can repair it before worse problems arise.
The eight systems I've mentioned in this post are all excellent possibilities, albeit each has its own optimum usage.
If you need more information or to view any of these items in person, don't hesitate to visit a local merchant, but when all is said and done, you'll nearly always receive the greatest deal online.
Good luck with your TPMS purchases!
Best RV Tire Pressure Monitoring System Videos Suggestions From Youtube