The tire pressure monitoring system (TPMS) in your vehicle is designed to alert you if one or more of your tires are considerably under-inflated, potentially resulting in dangerous driving conditions.
The TPMS low tire pressure indication is a yellow sign in the form of a tire cross-section (that resembles a horseshoe) with an exclamation point that glows on the dashboard instrument panel.
Your vehicle's indicator light has a history.
It's a history that dates back to years of confusion about correct tire pressure and several severe automobile accidents that may have been prevented if drivers had understood their air pressure was low.
Even today, it's expected that a significant number of cars go on the road with underinflated tires on a daily basis.
Proper tire care with the assistance of a TPMS, on the other hand, may and does help to avoid many major accidents.
Related: How Do You Reset The Tire Pressure Monitoring System?
Before this indication light, determining if your air pressure had dropped to dangerous levels required getting out of your car, stooping down, and using a tire measure.
With a few exceptions, this was the sole pressure-testing equipment available to regular customers.
The US government then enacted the Transportation Recall Enhancement, Accountability, and Documentation (TREAD) Act in response to an increase in accidents caused by underinflated tires.
As a result of this law, most automobiles sold in the United States since 2007 have had some kind of tire pressure monitoring device.
Not all TPMS are created equal.
The last stage in the process of either an indirect or direct TPMS is the lighting of the low tire pressure indicator.
Indirect TPMS: What Is It And How Does It Work? Indirect TPMS: What Is It And How Does It Work?
The anti-lock braking system's wheel speed sensors are often used in an indirect TPMS.
On-board computer systems may utilize these sensors to compare the rate of rotation of each wheel to each other and to other vehicle operating data such as speed.
The computer can determine the relative size of your vehicle's tires based on the rate of rotation of each wheel.
When a wheel begins to spin quicker than normal, the computer determines that the tire is underinflated and notifies the driver.
As a result, an indirect tire pressure monitoring system does not detect tire pressure directly.
It isn't electronically processing the same kind of measurement as a tire gauge would.
An indirect tire pressure monitor, on the other hand, just detects how quickly your tires rotate and transmits signals to the computer, which activates the indication light when anything in the rotation seems to be wrong.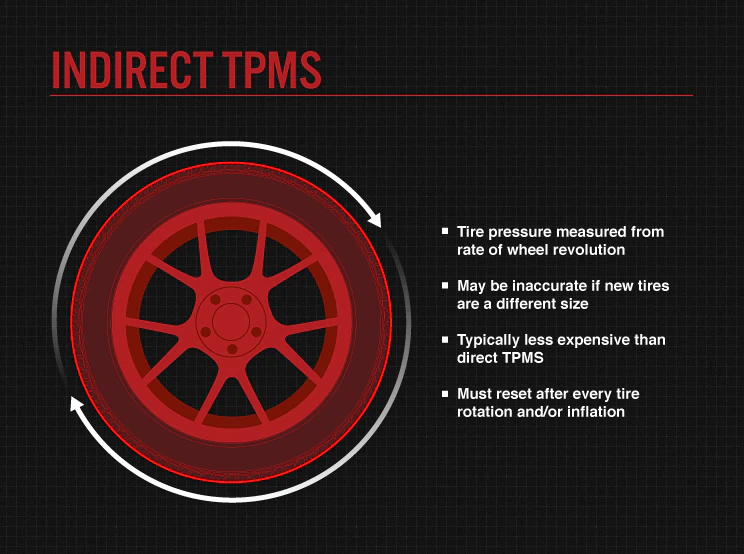 Advantages Of Indirect TPMS
In comparison to a direct TPMS, it is relatively affordable.
Over time, requires less programming/maintenance than a direct TPMS.
It requires less overall upkeep than its direct equivalent.
Disadvantages Of Indirect TPMS
If you buy a larger or smaller tire, the measurement may become erroneous.
Tires that are unevenly worn may be unreliable.
After correctly inflating each tire, it must be reset.
After a standard tire rotation, it must be reset.
Suggestion: How To Disable Tire Pressure Monitoring System?
Where Does Direct TPMS Come From And How Does It Work?
Direct TPMS relies on pressure monitoring sensors embedded in each tire to track particular pressure levels rather than wheel rotation data from the anti-lock braking system.
A direct TPMS's sensors may potentially offer tire temperature measurements.
All of this information is sent to a centralized control module, where it is evaluated, interpreted, and, if tire pressure is lower than it should be, delivered immediately to your dashboard, where an indication light lights.
All of this information is often sent wirelessly via a direct tire pressure monitor.
A serial number is assigned to each sensor.
This is how the system identifies itself not just from other cars' systems, but also from individual tire pressure measurements.
Because many manufacturers employ proprietary technology for these highly specialized systems, changing a TPMS in a consistent and compatible manner with your vehicle would need the assistance of a skilled technician.
Advantages Of Direct TPMS
Actual tire pressure measurements are sent from the interior of the tire.
Tire rotations and tire replacements do not create errors.
After tire rotations or tire replacements, simple resynchronization is required.
The sensors' batteries normally last for around a decade.
It's possible that a spare tire will be supplied in a vehicle.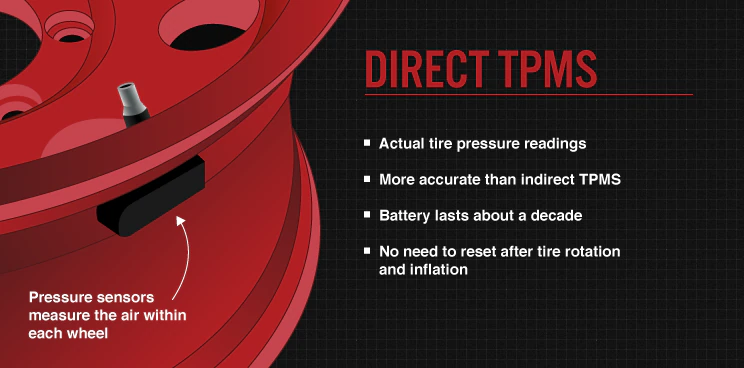 Disadvantages Of Direct TPMS
In the long run, a direct TPMS is more costly.
Resynchronization, although easy, may need the use of expensive instruments.
The battery is seldom replaceable; if the battery is completely depleted, the whole sensor must be replaced.
Consumers and auto shops are confused by proprietary systems when it comes to installation, repair, and replacement.
Sensors might be damaged during installation and demounting.
Safety And Tire Pressure
Despite the differences in techniques, both systems accomplish the same goal and trigger the same indication light.
Even while a well maintained TPMS may provide accurate alarms, it is not a substitute for manual air pressure checks; instead, think of it as another tool in your auto maintenance kit.
Recommended: 5 Differences Between the TST TPMS vs TireMinder
What Is Tire Pressure Monitoring System Videos Suggestions From Youtube