There Are Three Different Methods To Access Bluetooth Streaming And Calling In Your Car.
Bluetooth technology enables two devices to interact wirelessly.
Hands-free earpieces for mobile phones and wireless speaker systems are the most frequent examples.
Install Bluetooth In Your Vehicle.
You can hear callers' voices through your vehicle speakers, view incoming call information on your stereo's display, and perhaps stream music from your smartphone to your stereo by incorporating this wireless technology into your car stereo.
Some universal Bluetooth adapters don't even need to be connected to your car's sound.
Most importantly, when chatting to callers, you can maintain your eyes on the road and your hands on the wheel.
Many Bluetooth devices allow you to stream music to your vehicle audio from a Bluetooth-enabled smartphone, tablet, or other device.
In your automobile, you may utilize your Bluetooth device in three ways:
A global Bluetooth car kit that may be used in any automobile
A Bluetooth car adapter that links to the OEM radio in your vehicle
A new vehicle radio with Bluetooth connectivity
Related: 10 Best RV Stereos of 2023
Option 1: Bluetooth Automobile Kits That Are Universal
Bluetooth car kits are universal and may be used in almost any vehicle.
Some are basic stand-alone devices with a tiny speaker and microphone that attach to your sun visor or install on the dash and have no connection to your vehicle sound.
These are convenient since they may be moved from one vehicle to the next.
The disadvantage is that they can only be used for hands-free calling.
Other automobile Bluetooth adapters are hooked to the stereo so that when calls come in, the music mutes and the calls are played via your car's speakers rather than a small stand-alone speaker.
Some of these kits can also stream music.
The disadvantage is that installing the kit requires removing the vehicle audio and connecting a few cables.
It takes a bit more time, but the end product is well worth it.
Related: What Is Stereo Audio?
Option 2: Bluetooth Car Radio Adapters For Specified Vehicles
A vehicle-specific Bluetooth adapter is a device that connects your car's stock audio to Bluetooth.
The factory radio is normally removed, the wire is connected to the car wiring and the radio, and a microphone for hands-free calling is installed.
Caller information appears on the OEM stereo's display, and you use the stereo's controls to answer and make calls.
Callers are heard over your vehicle audio speakers thanks to an attached microphone that hooks onto your sun visor or installs someplace on the dash.
When you want to retain the factory radio, this is a fantastic alternative.
You'll end up with a Bluetooth system that's completely integrated into your vehicle music for hands-free calling, albeit some installation effort.
Many of these systems are also capable of streaming music.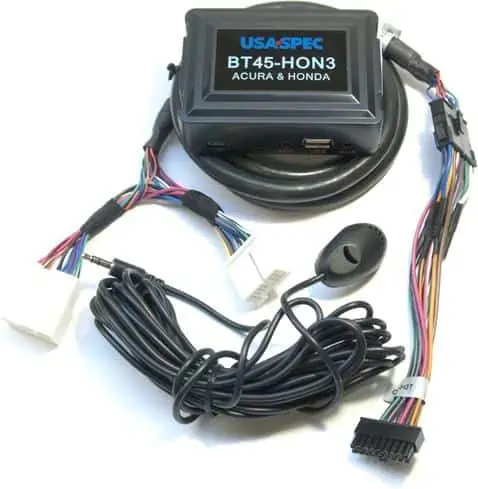 This Bluetooth integration package was developed by USA Spec for use in specific Honda and Acura automobiles.
Related: How To Find Ignition Wire For Stereo?
Option 3: Aftermarket Stereos With Bluetooth Integration
Installing a new vehicle stereo that contains Bluetooth or provides an adaptor to accommodate it is the last option for adding Bluetooth to your automobile.
You can manage several of your smartphone functionalities including music streaming from your stereo, depending on the stereo you choose.
You won't need to install a separate hidden adaptor box if you choose a radio with built-in Bluetooth.
Built-in Bluetooth allows for hands-free calling and music streaming on the Jensen CR271ML digital multimedia receiver.
Because of its widespread usage, Bluetooth may now be found in a wide range of modern stereos.
That implies you won't have to spend a lot of money to purchase a stereo with wireless technology.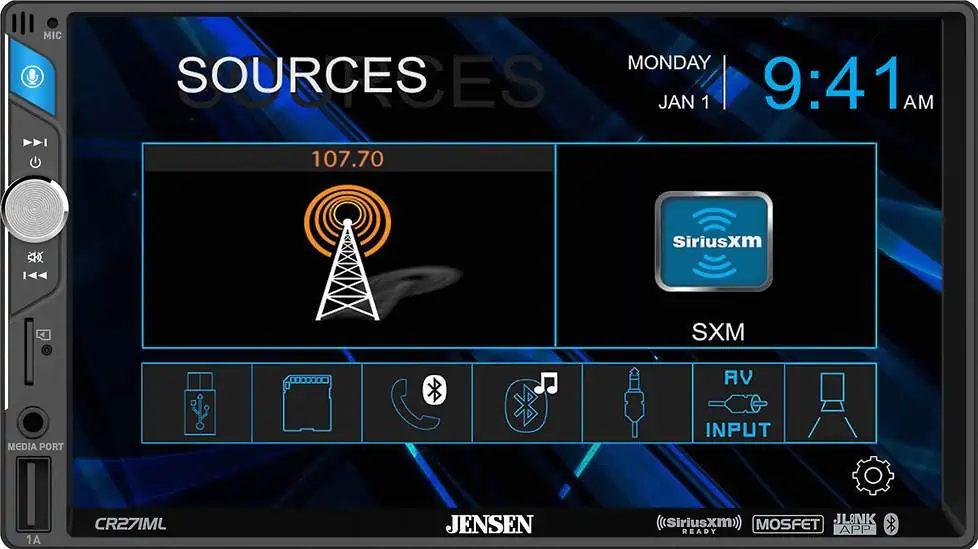 So, if you're going to get a new vehicle audio anyhow, look for one that has Bluetooth integrated in.
It's As Simple As 1, 2, Or 3.
It's simple to integrate Bluetooth technology into your vehicle.
At the very least, Bluetooth makes using your phone while driving simpler, safer, and — in an increasing number of jurisdictions — legal.
Bluetooth technology will become even more beneficial in the automobile as the number of uses for it grows.
Contact us by phone or chat if you have any queries regarding the best approach to establish a wireless connection between your phone and vehicle audio.
Our consultants would be pleased to assist you in determining the best option for your needs.
Related: How To Install A Car Stereo?
How Do I Add Bluetooth® To My Car? Videos Suggestions From Youtube